Road Trip From Portland To Seattle
Thanks to the Pacific Coast and rugged mountains, Oregon and Washington are filled with natural beauty. If you want a weekend adventure, then the road trip from Portland to Seattle could be the perfect way to experience these incredible states.
The 300-mile road trip from Portland to Seattle will take 5 hours to drive. Between the Pacific Coast route and the scenic mountain route, notable stops include Mount St. Helens, Mount Rainier, Seaside, and Lewis and Clark Historic State Park.
Instead of rushing, taking a more scenic route will turn this road trip into the perfect weekend adventure. Read on for more information about where to stay, the best route, and what to do along the way.
How far is Seattle from Portland and how long will the road trip take?
Route comparison
Route
Distance
Driving Time
Coastal Route
270 miles
5 hours 0 minutes
Mountain Route


Note: mountain route may be unavailable during winter due to road closures

330 miles
7 hours 0 minutes
The best route for a road trip from Portland to Seattle depends on the time of year you want to travel. If you are going in winter, follow the coastal route, which will cover 270 miles and take you about 5 hours to drive.
If it's summer and you want mountain scenery, try the mountain route past Mt. Rainier, which will take about 7 hours and cover 330 miles.
Neither of these routes is the most direct one, because the shortest route is straight up Interstate 5, and isn't particularly interesting. Instead, the coastal route will take you along the rugged bays and headlands of Oregon and Washington.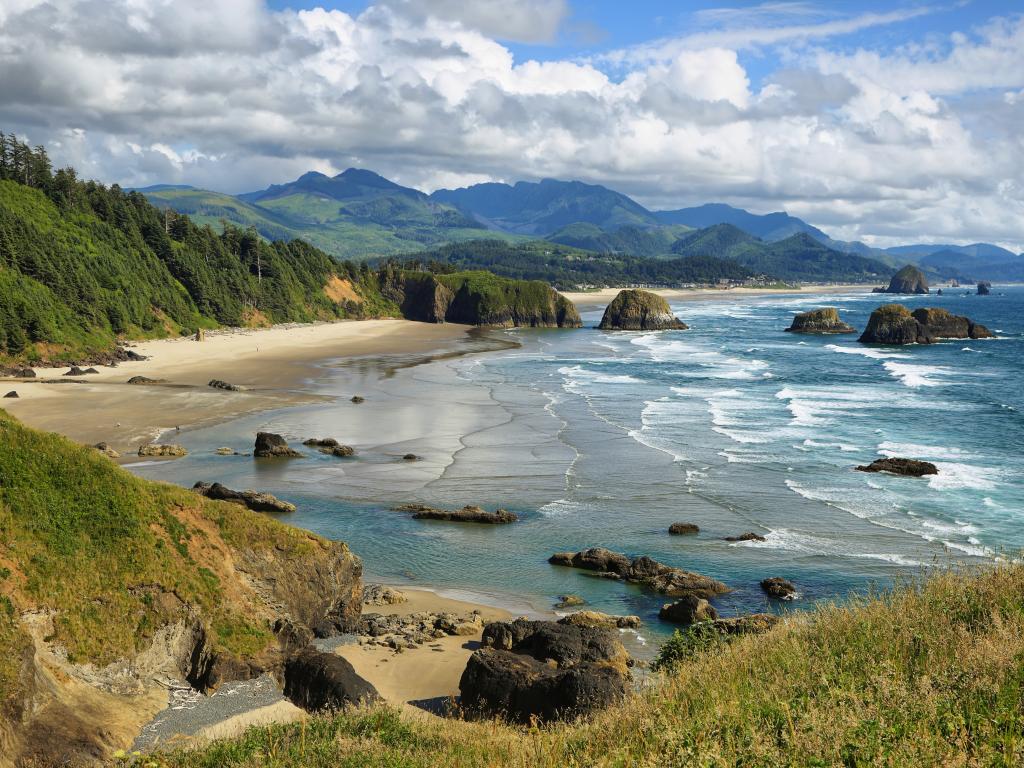 The mountain route will take you past the famous Mount St. Helens and into the spectacular Mt. Rainier National Park. Both routes take place mostly on highways and smaller roads, making the driving interesting.
Both routes avoid large cities until you reach Seattle. This means traffic shouldn't be a problem anywhere along the route.
Best road trip route from Portland to Seattle
The best route depends on what type of scenery you want and the time of year. If it's winter, the coastal route is a better choice. If it is summer and you enjoy hiking and mountain scenery, then take the mountain route.
How to drive from Portland to Seattle
The map above shows our suggestions for the best road trip routes between Portland and Seattle. Keep reading for detailed descriptions of both routes, where to stay on either, and the best things to do on the way.
Coastal Route
Head west out of Oregon along Highway 26. This will take you through Nehalem County Park and eventually to the coast. When you merge with Highway 101, turn south for a short detour into Cannon Beach.
Leave Cannon Beach on Highway 101 heading north, towards Seaside. Cross the Columbia River and enter Washington. Remain on Highway 101 as it takes you around Willapa Bay.
You will pass through the Bone River Natural Area Preserve and the town of Raymond. You will then reach the Chehalis River. Cross the river and merge with Highway 12 and then Route 8, which will take you past Capitol State Forest.
Route 8 will lead you directly into Olympia, where you will need to merge with Interstate 5. Follow Interstate 5 through the suburbs and into the center of Seattle.
Mountain Route
Follow Interstate 5 north out of Portland alongside the Columbia River. After the town of Longview, take Route 504 towards the famous Mount St. Helens.
Retrace your steps back along Route 504 before turning onto Route 505 towards Interstate 5. You will only be on Interstate 5 for a short period, as you will turn off onto Highway 12.
Follow Highway 12 past Riffe Lake towards Mt. Rainier National Park. You will have to turn off Highway 12 onto Route 123, leading to the Mt. Rainier National Park Southeast Gate.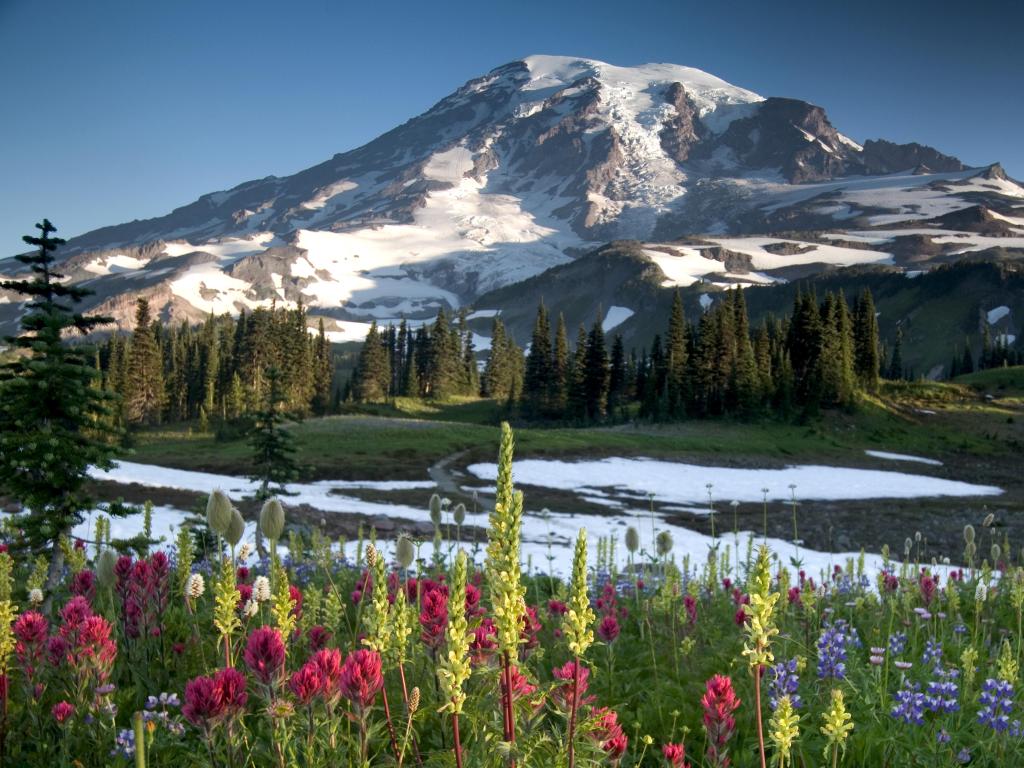 You can then follow Stevens Canyon Road, which is closed in winter, into the park. Return to Route 123 after visiting the park and follow it north. Merge with Route 410 and follow this all the way to Enumclaw.
At Enumclaw, turn onto Route 164, then onto Route 18. In the Suburbs of Seattle, you will merge onto Interstate 5 to take you into the city center.
Best places to stop on a road trip from Portland to Seattle
The road trip from Portland to Seattle isn't very long, but this makes it a great weekend getaway. Below are some recommendations or places to stop overnight along the route. If you plan on making this drive over a weekend, you should stop once halfway and then another night in Seattle.
Enjoy the best of Oregon in Seaside
The Kathryn Riverfront Inn is a spectacular beachside hotel with a gorgeous interior, located right at the center of the town of Seaside. It is only a short distance from the famous Cannon Beach. If you want to unwind to the sound of crashing waves, this is by far your best option.
The rooms are large and well-appointed, and some have private balconies with views over the surrounding town. The Kathryn Riverfront Inn also has special king rooms with fireplaces and hot tubs.
The Inn has a great set of amenities like an indoor pool, a hot tub, a sauna, and a gym. They also offer a complimentary breakfast and free coffee and cookies in the lobby.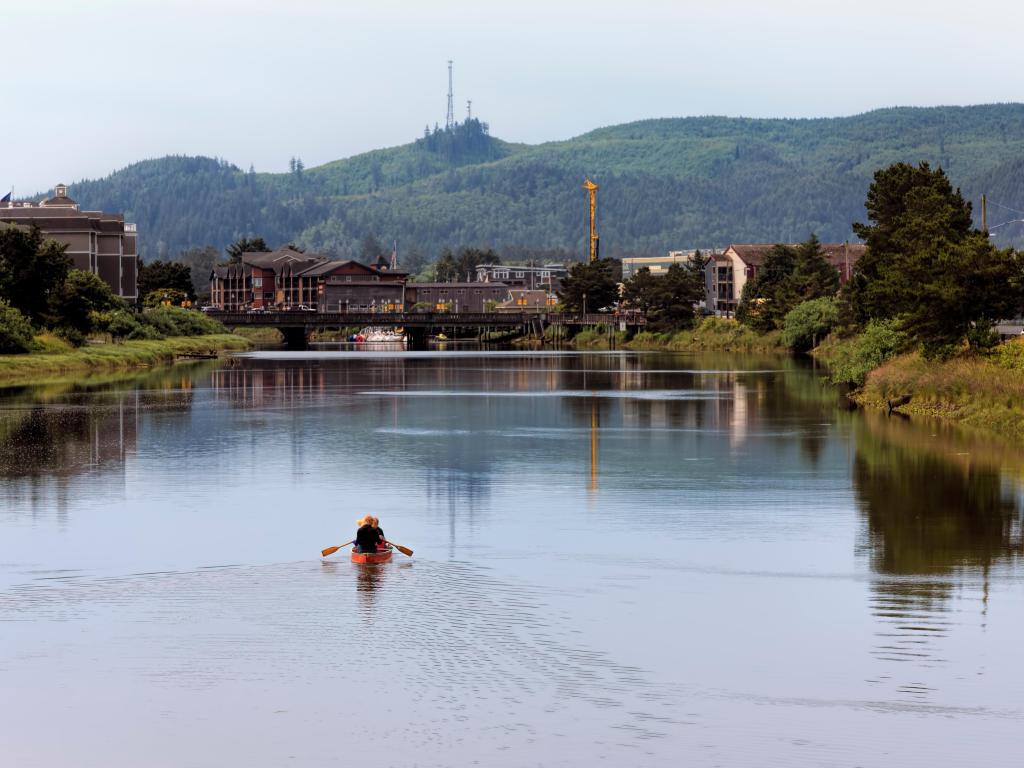 Seaside has a nice range of shops and dining options, and the beach is popular with surfers. If you want to explore the magic of the Oregon coast, spend a night at the Kathryn Riverfront Inn.
As far as prices go, this hotel is right down the middle in terms of Seaside resorts. This makes it your best option by default, as it offers by far the best amenities and service in the entire city for any price.
See the sights of downtown Seattle
There is so much to see and do in downtown Seattle you are going to want to spend at least one night there. The Lotte Hotel has the perfect combination of location, price, and luxury to make your stay in Seattle very memorable.
The 5-star hotel is very modern, and bedrooms have large windows, affording great views of the city and bay. Every room is stylishly designed and has every amenity you could need.
The hotel has private parking, perfect for your road trip. They also have a fitness center, a business center, and a sauna. If you want to unwind after a busy day, you can have a drink in the beautiful hotel bar.
The location is perfect to see the sights of downtown Seattle giving you access to everything on offer in this amazing city. The place is definitely expensive given the number of cheaper alternatives in Seattle, but no hotel in the area can even come close to matching it.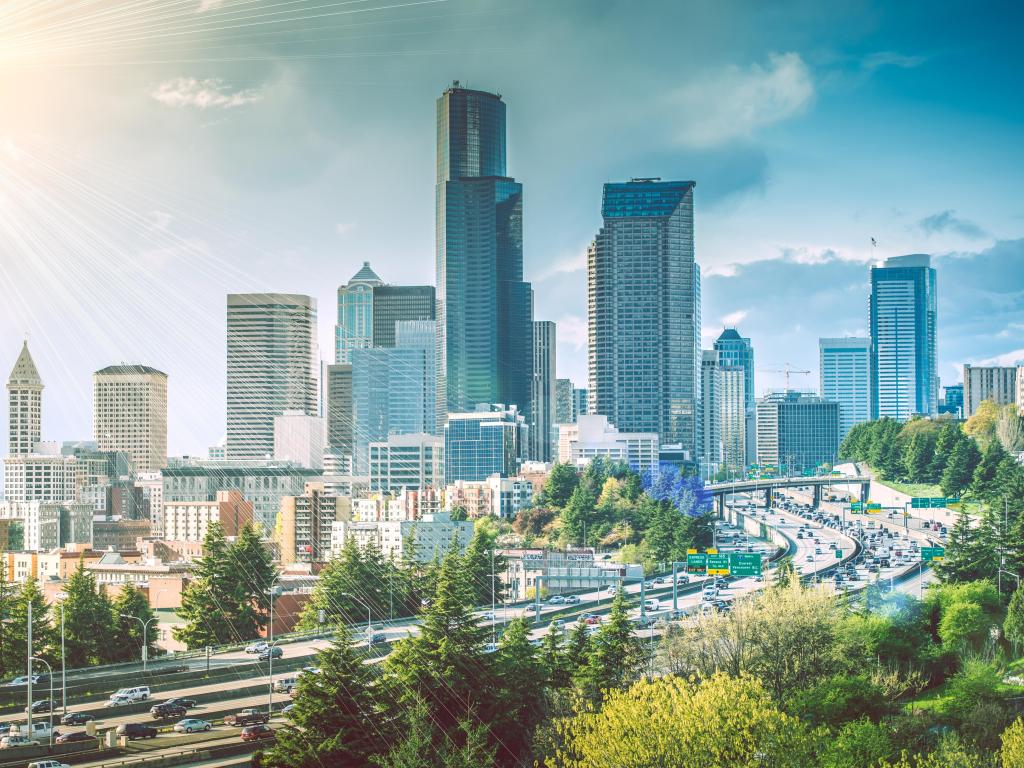 Things to see on a road trip from Portland to Seattle
A road trip from Portland to Seattle is short but mighty. There is plenty to see and do along the way, so try to give yourself at least a weekend to enjoy the trip. To help you get the most out of your road trip, here are some of the main attractions along the way.
Coastal Route
Seaside and Cannon Beach - These two beautiful coastal towns are great places to spend a night. Enjoy the local art scene inspired by the rugged Oregon Coast.
Lewis and Clark National Historical Park - Visit Fort Clatsop to remember the intrepid explorers Lewis and Clark and learn about the heritage of native people.
Sunset Beach - A spectacular place for a walk on the beach to immerse yourself in true Oregon Scenery.
Fort Stevens - This fort was built at the end of the American Civil War to defend the Columbia River, an interesting place to explore.
Wreck of Peter Iredale - Visit the haunting wreck of this old steel sailboat from 1906.
Kurt Cobain Memorial Park - Nirvana fans should visit this memorial to Kurt Cobain, located just over the Chehalis River in Aberdeen.
Capitol State Forest - Plan a hike or picnic in Capitol State Forest near the end of your road trip to Seattle.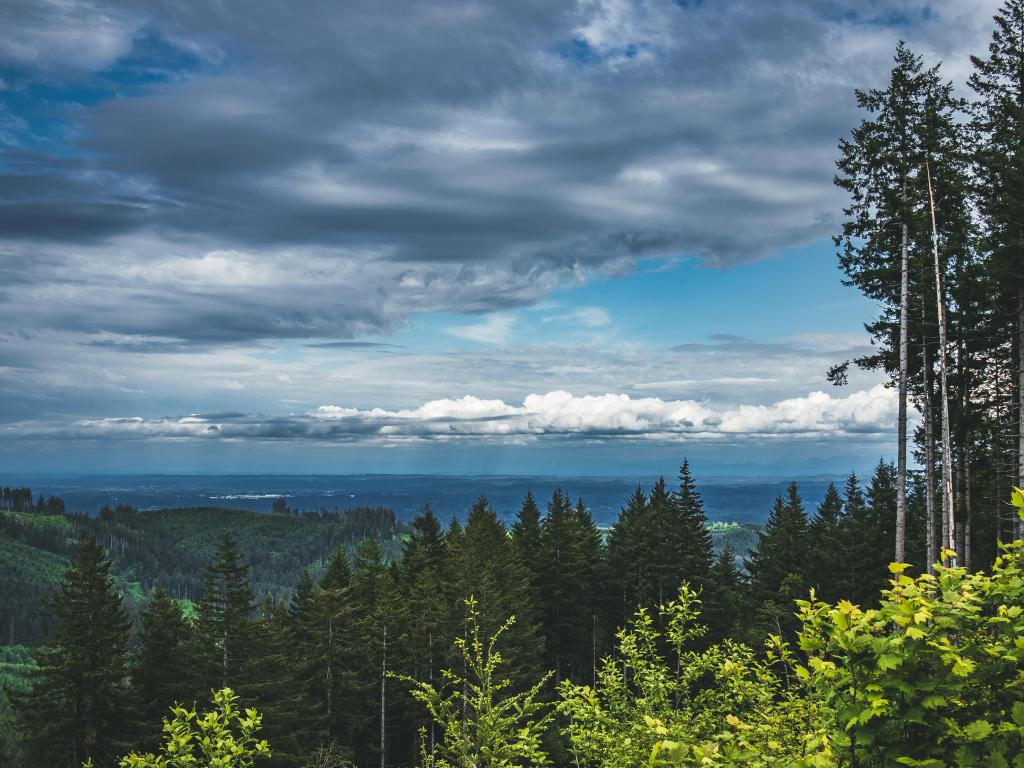 Mountain Route
Johnston Ridge Observatory - Travel into the heart of the blast zone to visit Mt. St. Helens and learn more about the eruption.
Reflection Lake - This lake is well-known by photographers as a great vantage point for viewing the mountain. On calm days there is a perfect reflection of Mt. Rainier in the water.
Skyline Loop Trail - A 5.5-mile hike that will immerse you in the Beauty of Mt. Rainier, encompassing spectacular views of alpine meadows, glaciers, and tumbling waterfalls.
Myrtle Falls - Another iconic view of Mt. Rainier, a short and easy hike, less than half a mile to a beautiful waterfall.
Crystal Peak Trailhead - A great starting point for a more arduous hike to Crystal Peak.
Sun Top Lookout - This fire lookout sits at an elevation of 5,270 feet, commanding outstanding views of the surrounding valleys. The multiple trails to the lookout range from easy to highly challenging, giving hikers of all levels of experience something to look out for.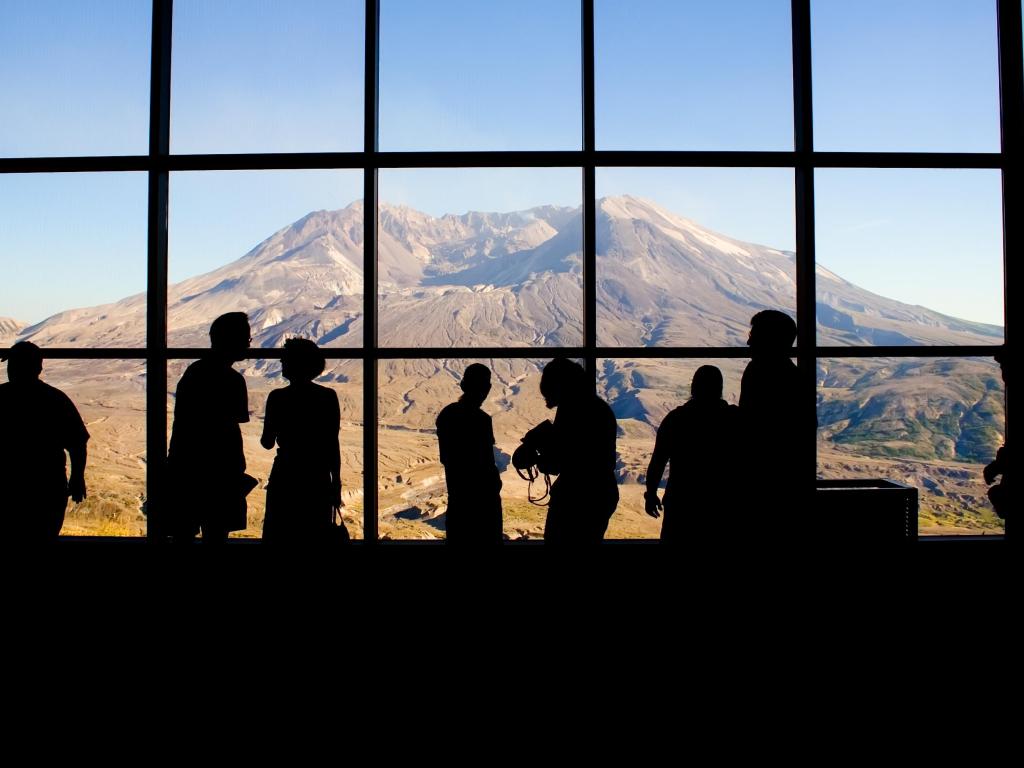 Best time to go on a road trip from Portland to Seattle
The fact that there are multiple routes for a road trip from Portland to Seattle means you can go at any time of year. The coastal route outline is suitable for a road trip all year round. However, the mountain route is not as suitable for winter use.
The Mount St. Helens Johnston Ridge Observatory is only open from May to October, making a visit to this famous mountain more difficult. Furthermore, Stevens Canyon Road near Mt. Rainier is inaccessible during winter.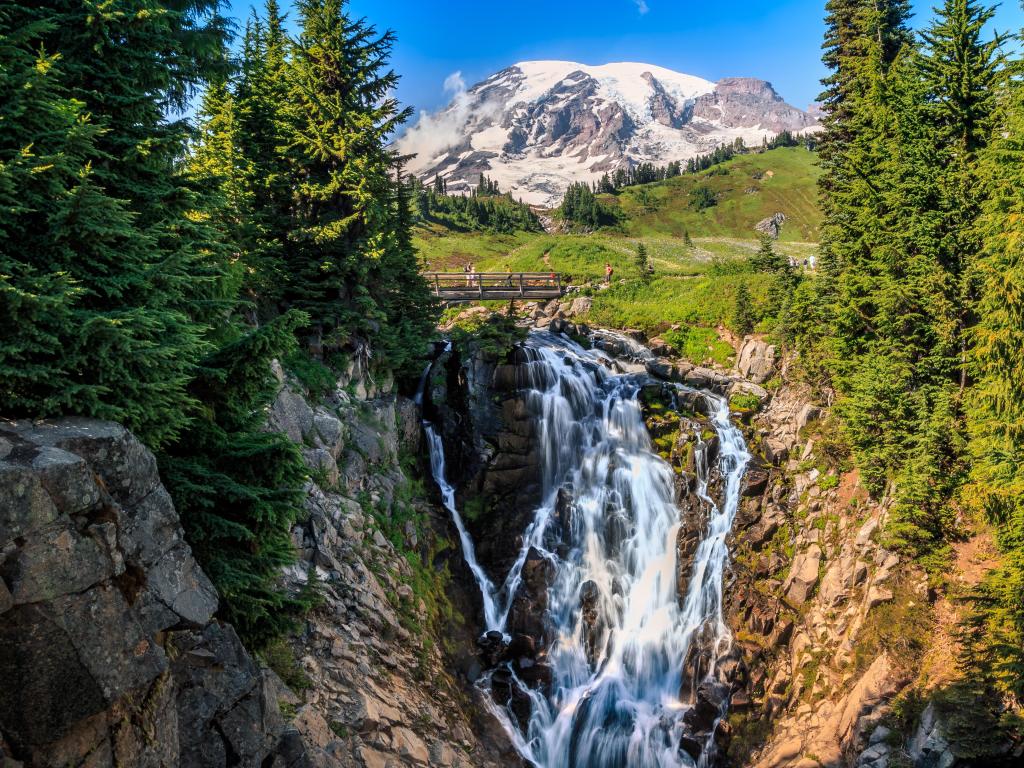 The only Mt. Rainier National Park gates open in winter are the Carbon River entrance and the Nisqually entrance. Accessing Mt. Rainier by the mountain route in winter is not possible.
The weather on the coast in winter is typically very wet, although there can be quite a lot of variation depending on the month. The winter is a quieter season to be traveling on the coast, meaning hotels may be available at discounted prices.
The weather in Seattle in winter can be cold and overcast. The coldest time of year is December, although it remains cold through January and February.
The shoulder seasons can be a great time to visit Mt. Rainier, as it is typically quieter, and the weather is cooler. However, be vigilant for early snowfall that could affect the roads.
Despite the weather being slightly worse, shoulder seasons are definitely a great time to do the road trip from Portland to Seattle. There is still plenty to see and do, and cheaper hotel prices might make the trip more affordable.