Road trip from San Francisco to Banff
The Pacific Northwest is renowned for its coastal beauty, sparkling beaches, towering redwood forests, iconic cities and rugged mountains. If you have been looking for an adventure embodying all of these wonders, the road trip from San Francisco to Banff is just what the doctor ordered.
The 1,635-mile road trip from San Francisco to Banff will take around 30 hours to drive nonstop. Amazing highlights include Santa Rosa, Redwood National and State Parks, Cannon Beach, Astoria, Seattle, Mount Shasta, Klamath Falls, Bend, and Spokane.
Few road trips will be as full of fun, natural wonders, and adventures as this road trip from San Francisco to Banff. Read on below to learn more about our recommended routes, top highlights, the best places to stay along the way, and the ultimate seasons to travel.
How far is Banff from San Francisco, and how long will the road trip take?
Comparison of road trip routes between San Francisco and Banff

| Route | Distance | Driving Time |
| --- | --- | --- |
| The Inland Route | 1,275 miles | 22 hours |
| The Pacific Coast Route | 1,635 miles | 30 hours |
The Pacific Coast Route runs approximately 1,635 miles and takes around 30 hours of drive time without side detours.
Alternatively, the Inland Route is a bit shorter, covering 1,275 miles and taking about 22 hours to reach Banff.
Though it's possible to complete either trip in a few days, given the amount of sights and attractions on both routes, we recommend dedicating 5-6 days for the ultimate experience.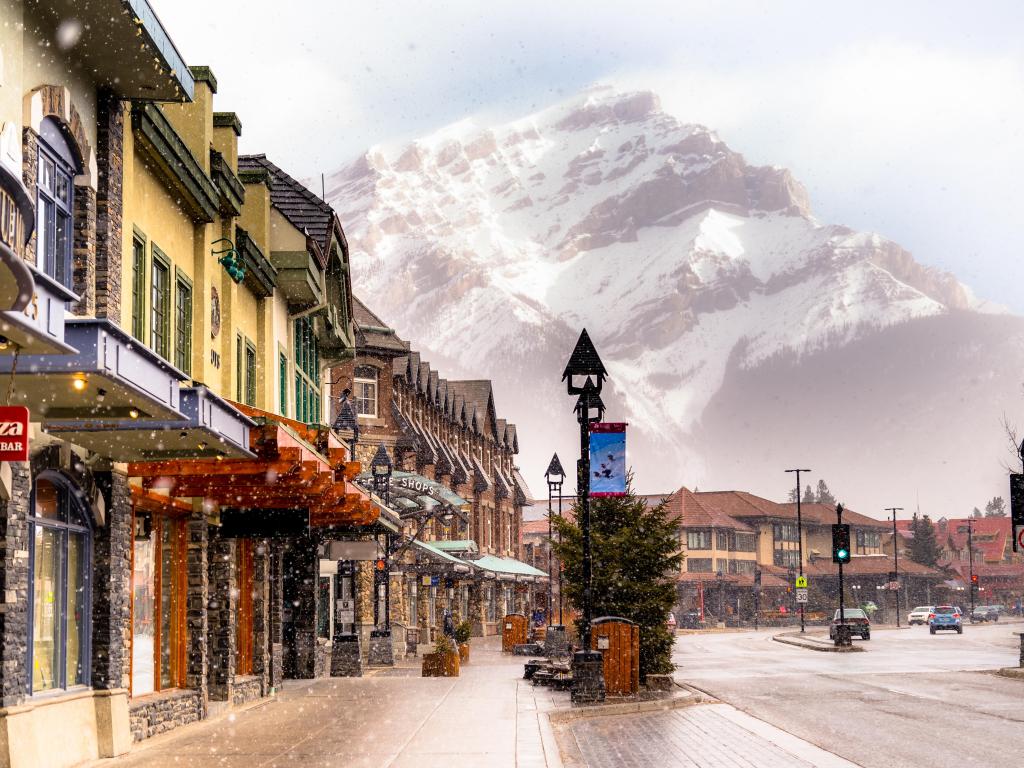 Best road trip route from San Francisco to Banff
Both routes will give you a unique experience with diverse landscapes and highlights to experience. Which route you take depends on what you want to see the most.
The Pacific Coast Route begins as you leave San Francisco across the iconic Golden Gate Bridge. As you journey onward, the road weaves through quaint towns, forests, and vineyards of California's famous wine country.
As you head north, you'll get to see the majestic Redwood forests before you leave California and Oregon and reach Tacoma and Seattle. As you approach the Canadian border, the terrain becomes even more rugged and forested.
Along this route, there are several national parks to immerse in, such as Redwood National and State Parks, and with a brief detour, you can visit Olympic National Park. You will also get to detour to the legendary Pacific Coast Highway if you wish to follow the coast more closely.
The alternative Inland Route brings you near Lassen Volcanic National Park before heading up to Mt. Shasta. From here, you'll head into Oregon and visit Klamath Falls.
From here, you'll drive through rugged forests and hills and into Crater Lake and the winter sports hub Bend, before reaching the state of Washington.
Once you're in Washington, you'll go through the state's semi-arid interior to Spokane before reaching Idaho's Sandpoint and the Canadian border.
As you ascend into the Canadian Rocky Mountains, you're greeted with breathtaking panoramas that only intensify as you approach Banff.
How to drive from San Francisco to Banff
The map above shows our suggestions for the best road trip routes between San Francisco and Banff. Keep reading for detailed descriptions of both routes, where to stay on either, and the best things to do on the way.
The Pacific Coast Route
Start your adventure in the heart of San Francisco and, leaving the city behind, head north on US-101 through California wine country, making sure to stop by Santa Rosa and the Francis Ford Coppola Winery in Geyserville.
As you continue north, you'll drive through Redwood National and State Parks. Travel along the coast and veer off towards Newport, Oregon pas Siuslaw National Forest.
Head north on US-101 and make your way to Cannon Beach, Oregon. From here, proceed further north, passing by Brewery Park in Tumwater, Washington.
As you make your way to Seattle, consider taking a detour to the Lookout Arts Quarry near Bellingham.
Pushing further north on Interstate 5 (I-5), you'll enter Vancouver, British Columbia. From Vancouver, head inland on BC-5 N towards Kamloops and explore the lakeside charm of Canoe Beach.
Journey onward to Golden, British Columbia, and Crazy Creek Waterfalls before passing through the Canadian Rockies to Banff, Alberta.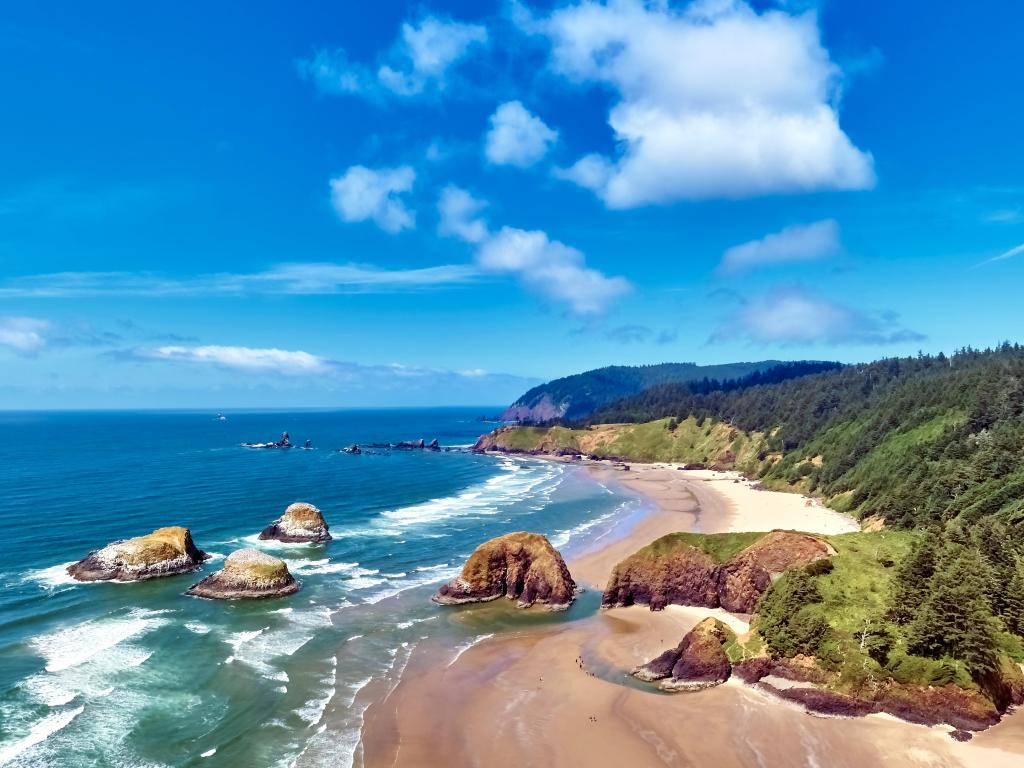 The Inland Route
Kick off your journey in San Francisco and head north on I-80 towards Sacramento. Your first major attraction lies in Vallejo - the thrilling Six Flags Discovery Kingdom.
Continue north, making your way on I-5 and soon, you will get the opportunity to make a detour to Lassen Volcanic National Park past Red Bluff. After your visit, return to the interstate and keep driving north to Mt Shasta through Shasta-Trinity National Forest.
Press on to Mt Shasta and then into Klamath Falls, Oregon. Heading north, you will soon reach Crater Lake National Park on your way to Bend.
The next stretch leads you to Spokane, Washington via I-90 E. Proceed to Sandpoint, Idaho on the shore of Pake Pend Oreille and then drive north on US-95 to Bonners Ferry.
Venturing into Canada, head north on BC-95 to visit Fort Steele Heritage Town and explore the local art scene at the Invermere Farmers and Artists Market in British Columbia. From here, you'll travel to the beautiful outdoor paradise of Banff.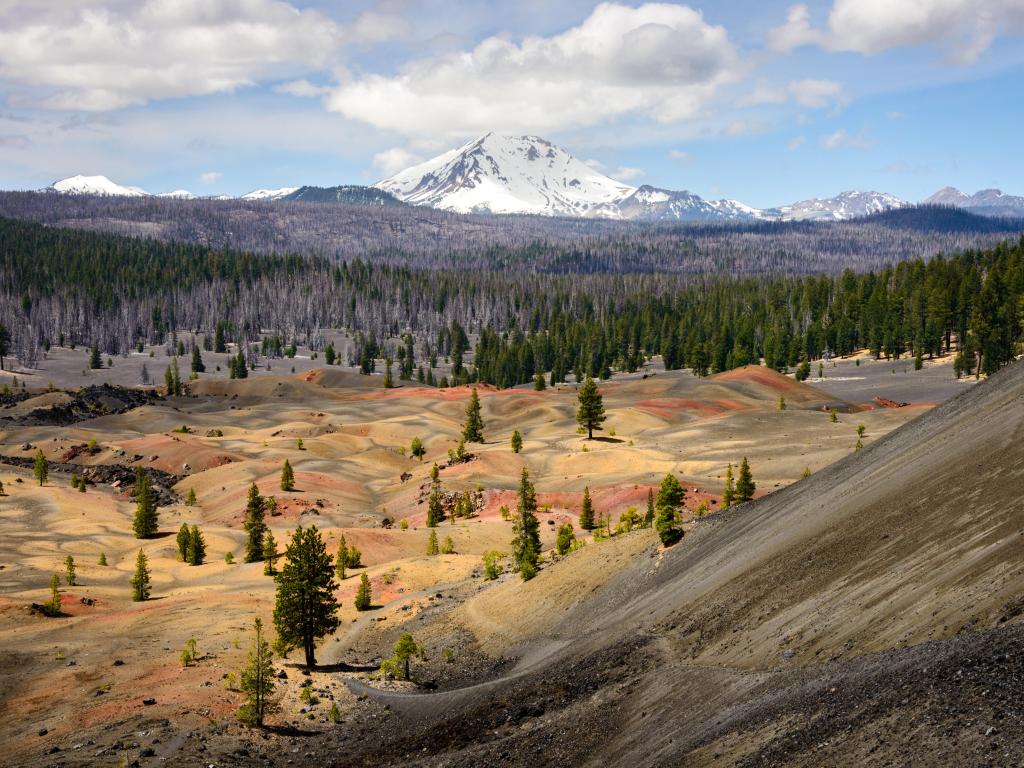 Best places to stop between San Francisco and Banff
With so much to do and see on the way, you'll want to split the trip up and stay in one of the wonderful destinations below. This will give you all the opportunities you need to enjoy this highlight-rich region.
A coastal retreat in Newport, Oregon
Newport is the perfect location to take a breather on the Pacific Coast Route, nestled roughly halfway at about 655 miles in. The town's historic beaches, like Nye Beach and Agate Beach, will sweep you off your feet.
Newport's all about its beaches and historic structures that have been the heart of local tourism since the early 1900s. When in Newport, a visit to the renowned Oregon Coast Aquarium is a must.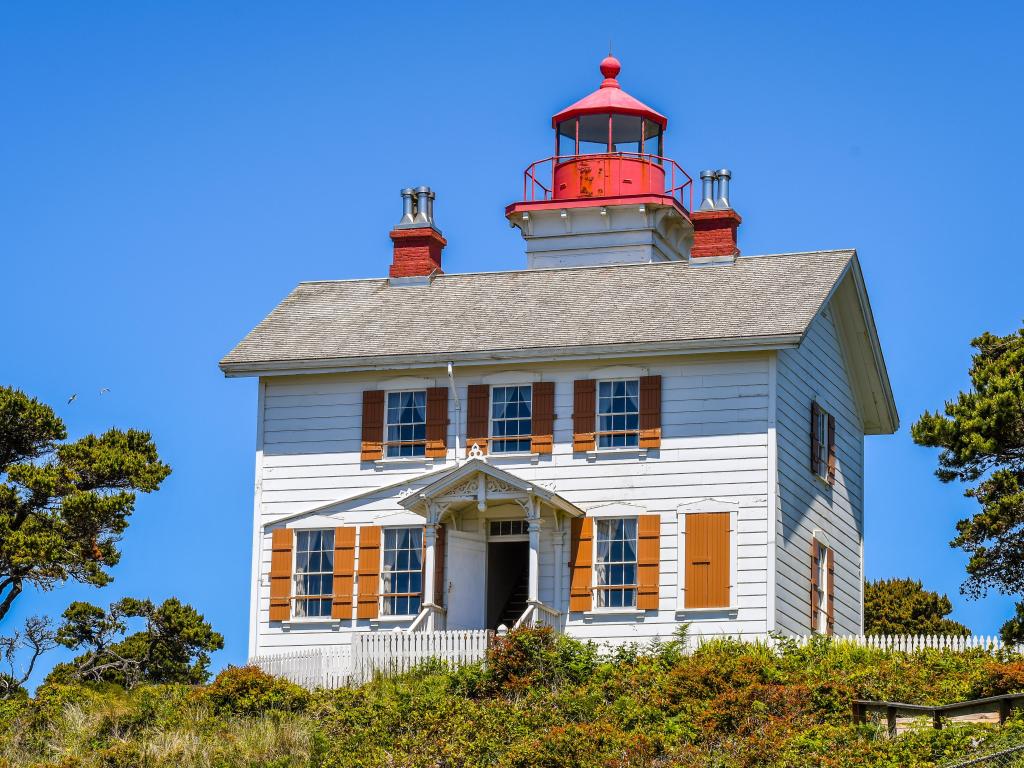 Not far from there, you'll find the Yaquina Bay Lighthouse. From here, you can enjoy walking along the coast, where you may even spot dolphins or whales in the distance.
For a luxurious stay in Newport, we recommend the splendid Hallmark Resort. Located directly on the oceanfront, this resort boasts spectacular ocean views from every room and easy access to the sandy beaches right at your doorstep.
After a day of exploring, dive into the resort's relaxing saltwater pool and spa. Afterwards, head to the restaurant and bar on site before stepping onto the sand and watching the famous sunsets over the Pacific Ocean.
If you wish to explore the vicinity of Hallmark Resort, the Newport Historic Bayfront is just a short 20-minute walk away. This lively area is teeming with shops, seafood eateries, and gorgeous views of the harbor.
Additionally, the Yaquina Bay Lighthouse is only a 15-minute walk from the resort.
Take in the scenery in Bend
Approximately 495 miles into the Inland Route journey, Bend is a beacon of adventure and natural splendor. Located between the Cascades and the high desert, Bend enjoys comfortable temperate days and crisp evenings.
Whether you want to paddle in the pristine waters of the Deschutes River, indulge in a craft beer-tasting session, try out river surfing, or strap on snowshoes for a winter wonderland exploration, Bend has it all.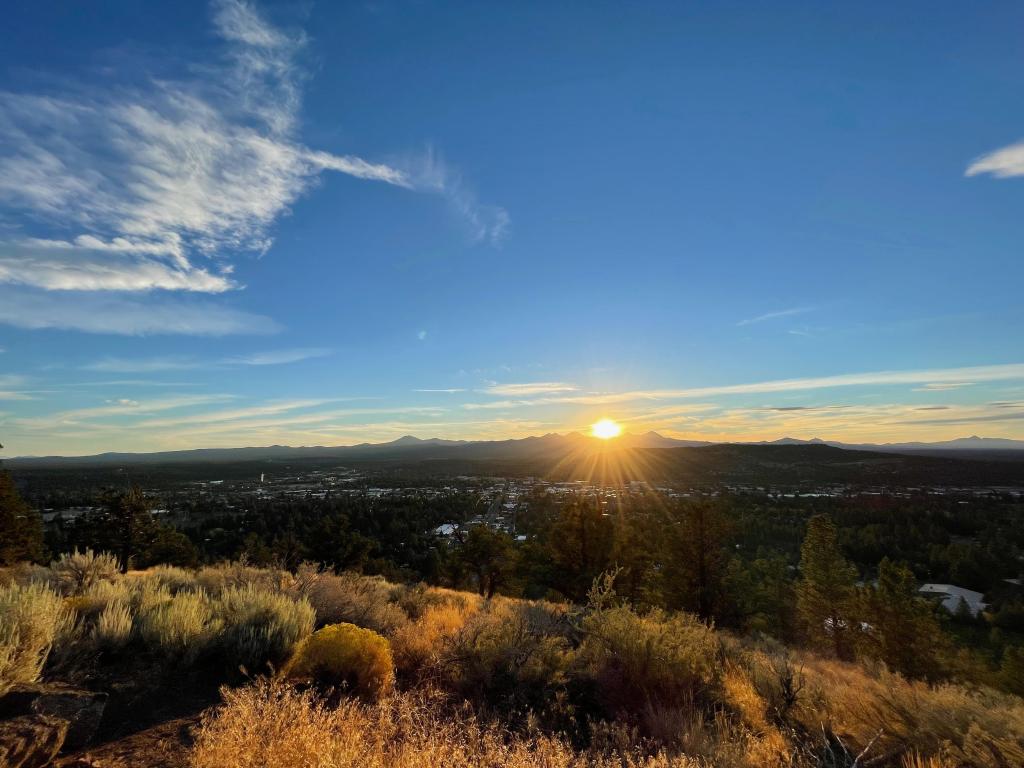 Bend's reputation as an adventurer's paradise is well-earned. With miles upon miles of hiking and biking trails crisscrossing the town, and the looming presence of attractions like Mt Bachelor and Smith Rock, it's no wonder Bend is celebrated for world-class recreation.
As you explore, take the time to hike up Pilot Butte for panoramic vistas or take in the natural beauty of the Deschutes River State Recreation Area.
We recommend resting at the highly rated and luxurious Tetherow Hotel overnight. Set against the breathtaking backdrop of the Cascade Mountains, this hotel is more than just a place to rest. With three gourmet on-site restaurants and an award-winning 18-hole golf course, Tetherow is a destination‌ of its own.
After an exhilarating day, you can unwind at the heated outdoor pool area, complete with a hot tub, cabanas, and welcoming fire pits.
During your stay, don't miss out on visiting the High Desert Museum. Just a 15-minute drive from the hotel, this museum is a gateway to understanding the rich history, art, and culture of the region.
Where to stay when you reach Banff
Banff, nestled amidst Canada's majestic Rockies, has an unparalleled natural beauty that led to its distinction as Canada's first National Park. Now, it is part of the Canadian Rocky Mountain Parks UNESCO World Heritage Site.
Once you get there, check out the Banff Gondola, which offers a bird's-eye view of the forests, serene lakes, and towering mountain peaks. Next, visit the Cave and Basin National Historic Site to learn more about the region's history.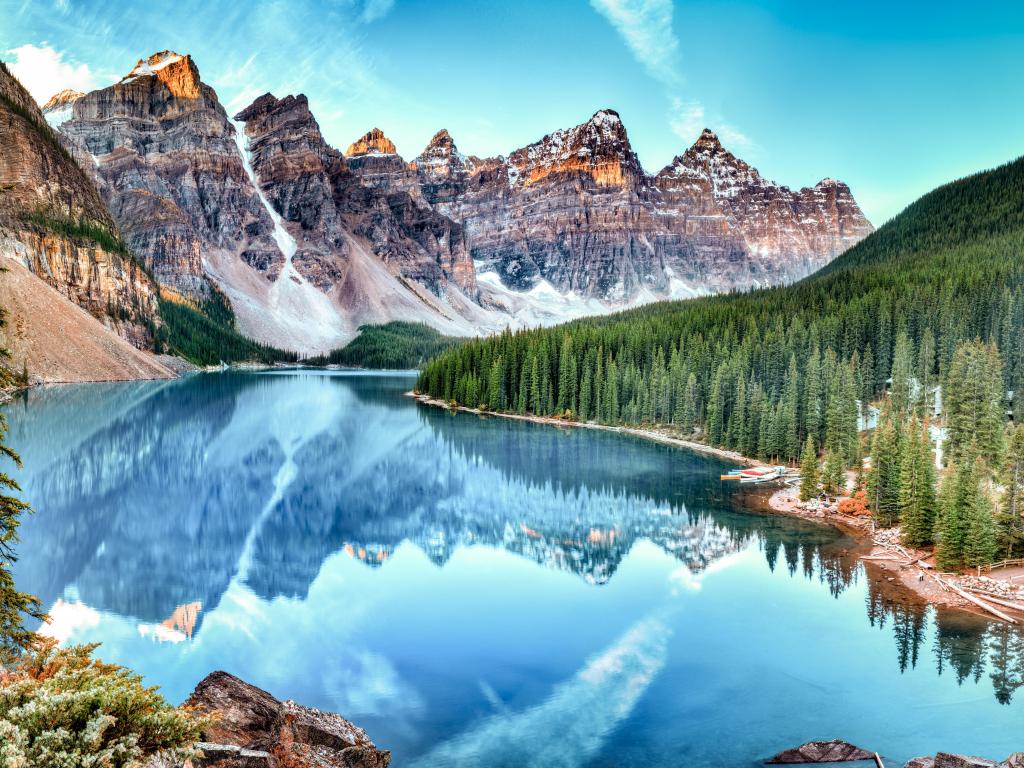 In the heart of this historic town stands the elegant and highly-rated Peaks Hotel and Suites. Despite its central downtown location, stepping into the hotel feels like entering a relaxing mountain retreat.
The establishment seamlessly marries the rustic charm of the Rockies with chic modernity. Each room has clear mountain views. There's even a heated underground car park for your convenience and comfort.
After checking in, you can easily get to Banff's top highlights, including a short drive to the bars and restaurants downtown.
Things to see on a road trip from San Francisco to Banff
There are almost limitless highlights to experience in this naturally rich region. Below, we've listed our top highlights to help you make planning your ultimate road trip easier.
Pacific Coast Route
Charles M. Schulz Museum - Located in Santa Rosa, this museum pays tribute to the creator of the beloved "Peanuts" comic strip. Visitors can explore original comic strips, memorabilia, and learn about the life of Charles Schulz.
Francis Ford Coppola Winery - Nestled in Geyserville, this winery is an embodiment of director Francis Ford Coppola's vision, combining wine, food, and adventure.
Confusion Hill Gravity House - A quirky roadside attraction in Piercy, this spot defies the laws of physics and gravity, leaving visitors scratching their heads in wonder.
Redwood National and State Parks - Encompassing a vast expanse along the northern California coast, Redwood National and State Park is home to the world's tallest trees, providing visitors with awe-inspiring forests and pristine coastline views.
Sea Lion Caves - Located near Florence, Oregon, these are the largest interconnected sea caves in America, home to a bellowing chorus of wild sea lions.
Munson Creek Falls - As Oregon's tallest coastal waterfall, Munson Creek Falls is a serene natural retreat offering hiking trails and picturesque views.
Cannon Beach - Cannon Beach is renowned for its stunning coastal beauty, marked by the iconic Haystack Rock jutting out from the ocean. With its sandy shores, tidal pools, and artsy ambiance, the beach is both a relaxation spot and an inspiration for artists.
Columbia River Maritime Museum - Located in Astoria, this museum celebrates the maritime heritage of the Columbia River with exhibits on lighthouses, shipwrecks, and fishing.
Brewery Park - A popular recreational spot, Brewery Park offers visitors green spaces, playgrounds, and a perfect setting for a relaxing day outdoors.
Space Needle - An iconic symbol of Seattle's skyline, the Space Needle offers panoramic views of the city, Puget Sound, and Mount Rainier from its observation deck. Built for the 1962 World's Fair, this futuristic tower has since become a must-visit landmark for travelers.
Lookout Arts Quarry - Situated near Bellingham, this former quarry is now a thriving arts community and venue, hosting workshops, festivals, and performances.
Steveston Harbour - Located in Richmond, BC, Steveston Harbour is a bustling waterfront area with fish markets, seafood restaurants, and scenic views.
Canoe Beach - A tranquil spot near Salmon Arm, Canoe Beach offers sandy shores, clear waters, and a range of water activities.
Crazy Creek Waterfalls - Located in British Columbia, these cascading falls are surrounded by lush forests, making it a picturesque nature retreat.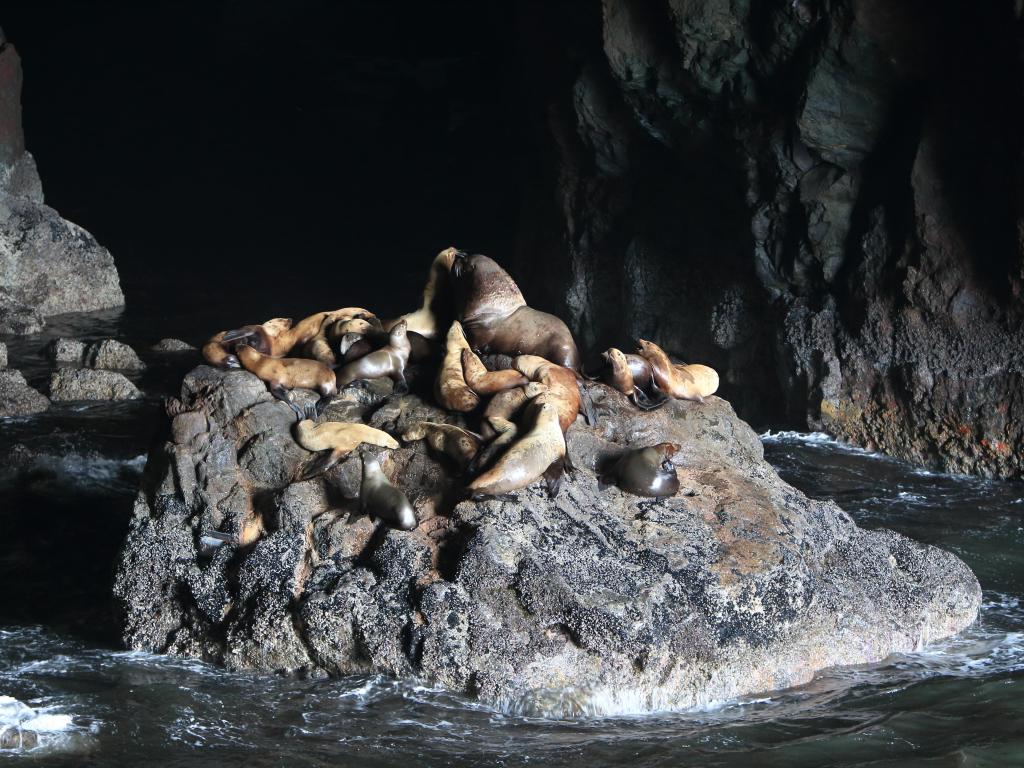 Inland Route
Six Flags Discovery Kingdom, Vallejo - A thrilling combination of wildlife park and amusement park, it offers roller coasters, animal encounters, and live shows.
Castle Crags State Park - Nestled in Northern California, this park boasts impressive granite peaks, hiking trails, and panoramic views of the surrounding wilderness.
Living Memorial Sculpture Garden - This serene garden in Weed pays homage to veterans through thought-provoking sculptures and artworks.
Lassen Volcanic National Park - Located in northeastern California, Lassen Volcanic National Park boasts a striking landscape shaped by volcanic activity, featuring bubbling mud pots, fumaroles, and hot springs.
Mount Shasta - Dominating the landscape of northern California, Mount Shasta is a potentially active volcano and the second-highest peak in the Cascades Range. Its snow-capped beauty, alpine meadows, and spiritual significance make it a magnet for hikers, spiritual seekers, and nature lovers.
Klamath Falls - Often termed Oregon's "City of Sunshine," Klamath Falls is a gateway to the stunning Crater Lake and is surrounded by high desert landscapes and lush wetlands, making it a hotspot for birdwatching and outdoor recreation. The city also has geothermal hot springs, historic downtown, and vibrant cultural festivals.
Wizard Island, Crater Lake National Park - A volcanic cinder cone located within Crater Lake, Oregon, Wizard Island offers hiking trails and breathtaking views of the lake's blue waters.
Bend Ale Trail - Situated in Bend, Oregon, this is a must-visit for craft beer enthusiasts, offering a journey through the city's finest breweries.
Maryhill Museum of Art - Overlooking the Columbia River in Goldendale, Washington, this museum showcases diverse artworks, from Native American artifacts to European paintings.
Spokane Falls - Located in downtown Spokane, these urban waterfalls offer scenic beauty amidst city life, best viewed from Riverfront Park or the pedestrian bridges.
Panida Theater - A historic theater in Sandpoint, Idaho, Panida is known for its diverse shows, including films, concerts, and live performances.
Bonners Ferry - Situated in Northern Idaho, Bonners Ferry is a picturesque town offering outdoor adventures, historical sites, and a serene riverside setting.
Fort Steele Heritage Town - Located near Cranbrook, BC, this living history museum transports visitors back to the 19th century with its restored buildings and interactive exhibits.
Invermere Farmers and Artists Market - A bustling market in Invermere, BC, it showcases local artisans, fresh produce, and handcrafted goods.
Stanley Glacier - Nestled in the Canadian Rockies near Banff, this glacier offers challenging hikes, fossil findings, and breathtaking alpine views.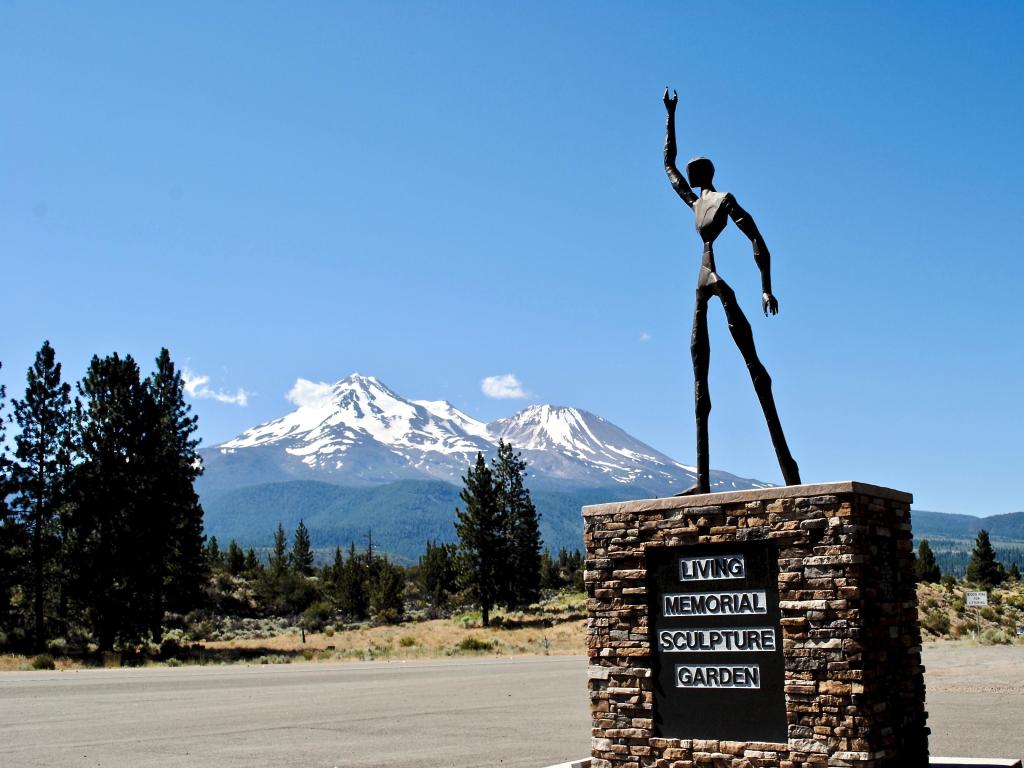 Best time to go on a road trip from San Francisco to Banff
Banff is a destination that dazzles all year round. However, the season you visit will have a huge impact on what you can see and do.
During the summer months, you'll share the roads with huge surges of tourists, so be ready for a bit of traffic, especially during the height of vacation season.
Summer temperatures remain pleasant in Banff, often between 60 to 80 degrees Fahrenheit. This season, though lovely, can sometimes have high humidity, making late spring or early fall slightly more appealing for travel.
There are plenty of summer festivals and events in Bend. One highlight is Bend's Summer Festival in July.
Spring and fall offer cool and pleasant temperatures and plenty of fun festivals and activities. If you visit in November, the Craft Beer Festival is a treat not to be missed.
If you travel in spring on the Pacific Coast Route, check out Seattle's International Film Festival in May
Winters do get cold in Banff, with average daily high temperatures below 32 degrees Fahrenheit. Keep in mind to check about weather warnings and road closures if you choose to travel during the colder months.
Because winter sees quite a bit of snowfall, the town becomes a winter paradise, especially with events like the Ice Magic Festival at Lake Louise in January. If you come in February, you can enjoy the Chinese New Year Parade and Festival.
Regardless of when you travel to Banff, you'll have the trip of a lifetime in one of the most stunning regions of North America.