Road Trip from San Francisco to Bend, Oregon
Are you ready to head to the heart of Oregon through some of the most beautiful national parks, glittering lakes, and drive on the sunny Pacific Coast? The road trip from San Francisco to Bend, Oregon is the perfect journey for adventurers, history buffs and photographers alike.
The 750-mile road trip from San Francisco to Bend, Oregon, will take 14 hours to drive, passing Sacramento, Lake Tahoe, Mount Shasta and Crater Lake National Park. Or follow the Pacific Coast to visit giant redwoods and Napa Valley's vineyards.
With so many miles of stunning coast and mountain scenery to explore, a road trip from San Francisco to Bend makes for a stunning adventure. Find out more about our favorite routes and what you'll experience along the way: from clifftop views to soaring redwood forests.
How far is Bend, Oregon from San Francisco, and how long will the road trip take?
Comparison of road trip routes between San Francisco and Bend, Oregon

| Route | Distance | Driving Time |
| --- | --- | --- |
| The Pacific Coast Route | 800 miles | 16 hours |
| The National Parks and Forests Route | 750 miles | 14 hours |
The Pacific Coast Route, on a drive from San Francisco to Bend, takes around 16 hours to complete and covers roughly 800 miles of scenic coastal roads and cities.
Opting for the alternative National Parks and Forests Route brings its own set of wonders, spanning approximately 750 miles and lasting around 14 hours of drive time.
Though you could theoretically cover either of these routes in a couple days, the incredible array of sights and attractions along the way just begs you to slow down and enjoy a more leisurely pace. We'd recommend spreading the journey across 5-6 days for the best experience.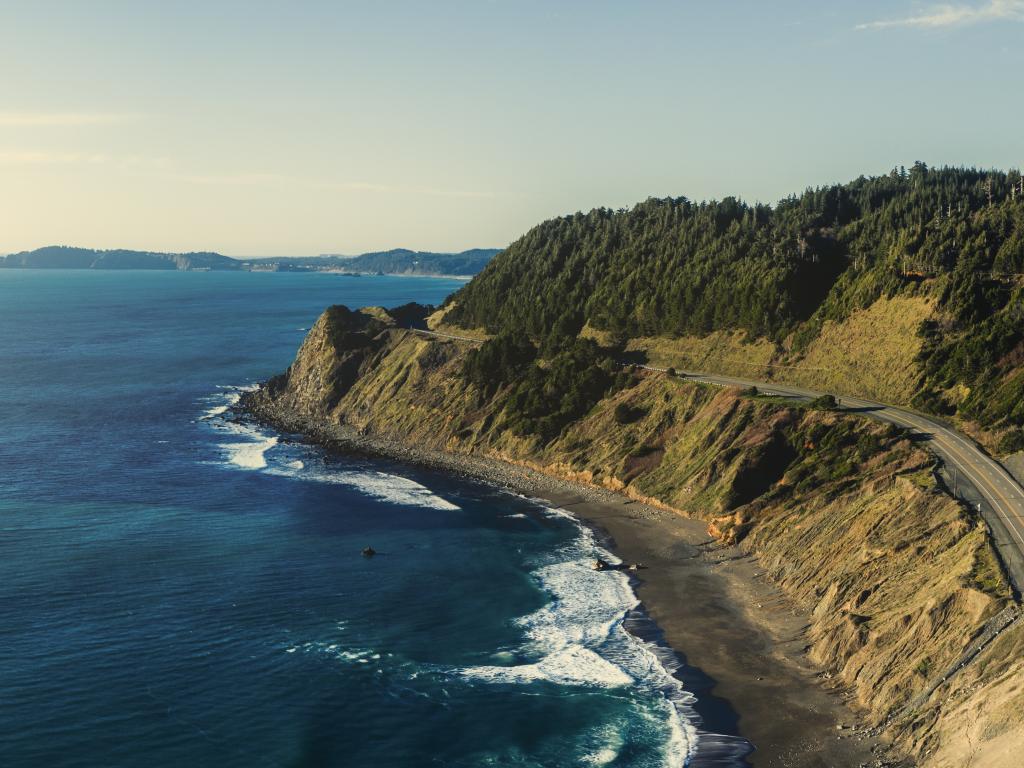 Best road trip route from San Francisco to Bend, Oregon
Both the Pacific Coast Route and the National Parks and Forests Route showcase the diverse beauty and rich history of the West Coast, with each offering a myriad of picture-perfect places to visit and some of the most iconic landmarks of the Pacific Northwest.
The Pacific Coast Route is an ocean lover's dream, but it also takes you through some stunning stretches of forest too, making it a harmonious blend of sea and land.
Winding through the iconic vineyard-studded cities of Napa and Sonoma, you will soon turn your views to the coast, where you will be treated to spectacular views, especially as you drive along the famed Pacific Coast Highway.
Highlights include Mendocino Coast Botanical Gardens, the mesmerizing beauty of Glass Beach in Fort Bragg, and the towering redwoods of Redwood National and State Parks, as well as the stunning Coos Bay.
On the other hand, the National Parks and Forests Route offers a dive into the lush interiors and majestic landscapes of California and Oregon. At Lake Tahoe, you will get a chance to take a dip in turquoise waters and admire the breathtaking mountains that surround it.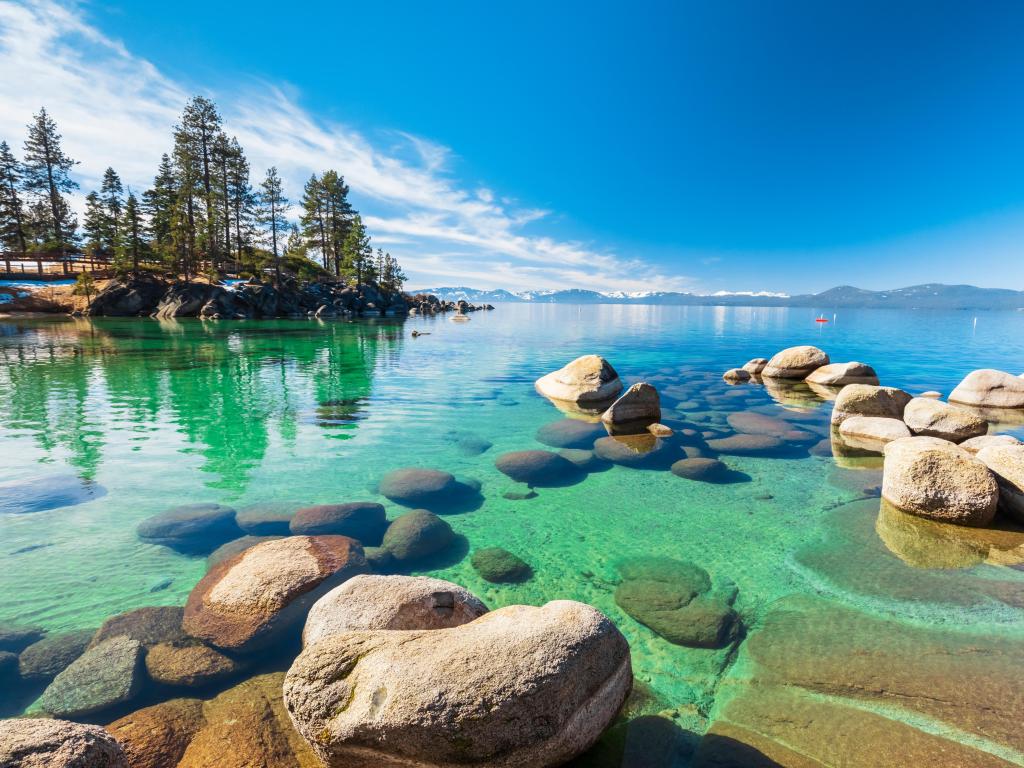 Nature truly takes center stage on this route, and you can stop to admire Lake Almanor, beautiful Mount Shasta, and the deep blue waters of Crater Lake in Oregon. Volcanic wonders, especially the Newberry National Volcanic Monument, also add to the unique attractions on this route.
How to drive from San Francisco to Bend, Oregon
The map above shows our suggestions for the best road trip routes between San Francisco and Bend, Oregon. Keep reading for detailed descriptions of both routes, where to stay on either, and the best things to do on the way.
The Pacific Coast Route
Head north on Pacific Coast Highway and you'll be greeted with views of the Pacific Ocean. Soon you'll reach Napa and a brief journey further north will lead you to Sonoma. There are more opportunities to enjoy California's wine making expertise here, including the renowned Francis Ford Coppola Winery.
You'll pass breathtaking Trione-Annadel State Park, a haven for hikers and nature lovers just outside Santa Rosa. As you make your way further north, you'll see the elevation starting to change, and you can enjoy views of Pine Mountain, Cleland Mountain and the Laughlin Range.
At Willits, turn onto CA-20 which winds its way through a stunning forest landscape, taking you to Fort Bragg for another view of the sparkling Pacific. Glass Beach and Mendocino Coast Botanical Gardens are perfect for travelers looking to connect with nature.
From here, you'll start to follow the legendary Pacific Coast Highway north, with unforgettable views of the ocean stretching out to your left. The road swings inland again, approaching Leggett, where it merges with CA-101 to continue on towards Eureka.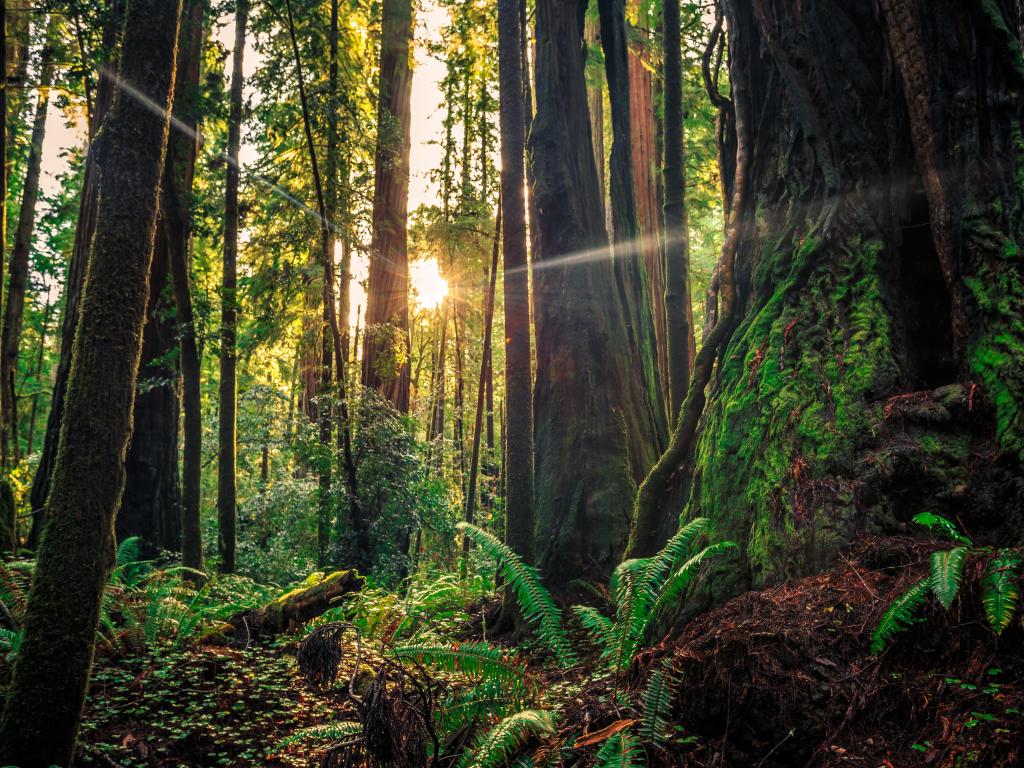 From Eureka onwards the road hugs the coast again, taking you past Redwood National and State Parks. A few miles north of Klamath, you'll cross the state border into Oregon.
Follow the road through Coos Bay before turning inland to reach the artsy city of Eugene, then pick up OR-126, which follows the McKenzie River through more impressive forest landscapes. From here, you will soon reach your destination in Bend.
The National Parks and Forests Route
This route starts out by heading inland from San Francisco on Interstate 80 (I-80), driving through Sacramento, then skirting Tahoe National Forest before turning off onto CA-89 which takes you to Tahoe City, on the shores of stunning Lake Tahoe.
If you have time for extra time to explore here, you can follow the road all around the lake - stop at Heavenly to ride the gondola for unparalleled views of this beautiful natural landscape.
Continuing northwest, you'll follow state roads through Plumas National Forest and past Lake Almanor to reach Lassen Volcanic National Park. Then drive through Mineral and Paynes Creek which takes you onto the interstate at Red Bluff.
Stop in Redding to visit the awe-inspiring Lake Shasta Caverns National Natural Landmark. As you continue northward on I-5, Mount Shasta emerges on the horizon, an imposing volcanic peak surrounded by mysteries and legends.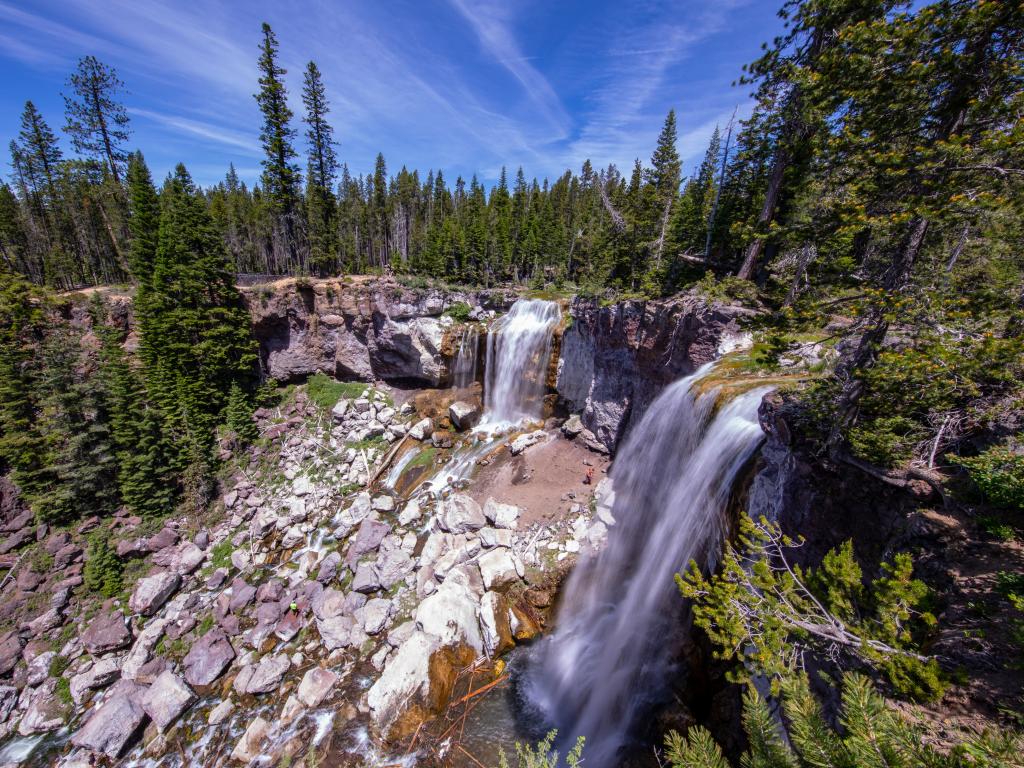 Your first stop in Oregon will be stunning Klamath Falls before you enjoy fabulous views across the water as you drive around the eastern side of Upper Klamath Lake. Next, detour off the highway to visit the majestic Crater Lake.
Returning to the highway, you'll pass the unique rock formations and lava flows of Newberry National Volcanic Monument. Continue north and you'll soon reach the scenic city of Bend, Oregon.
Best places to stop between San Francisco and Bend, Oregon
You'll need to make a few overnight stops on your road trip from San Francisco to Bend, Oregon, so we've picked out some places that will make this amazing road trip even more memorable.
Admire the majestic redwoods in Klamath
Klamath is a picturesque pitstop on the Pacific Coast Route, roughly 8 hours and 20 minutes from the bustling city of San Francisco. Nestled on the majestic banks of the Klamath River, this charming town is not only a halfway point on your coastal journey but also a gateway to the dense and awe-inspiring Redwood National and State Parks.
One of Klamath's signature features is its world-class salmon fishing, which attracts enthusiasts from across the globe. It's not just about nature, though; Klamath boasts a rich tapestry of Native American history, being home to the Yurok, California's largest Native American tribe.
Immerse yourself in this history at the Yurok Country Visitor Centre, where you can learn more about the tribe's rich traditions and legacy. For a quirky detour, drive through the Klamath Tour-Thru Tree, a unique example of the gargantuan size of the region's redwoods.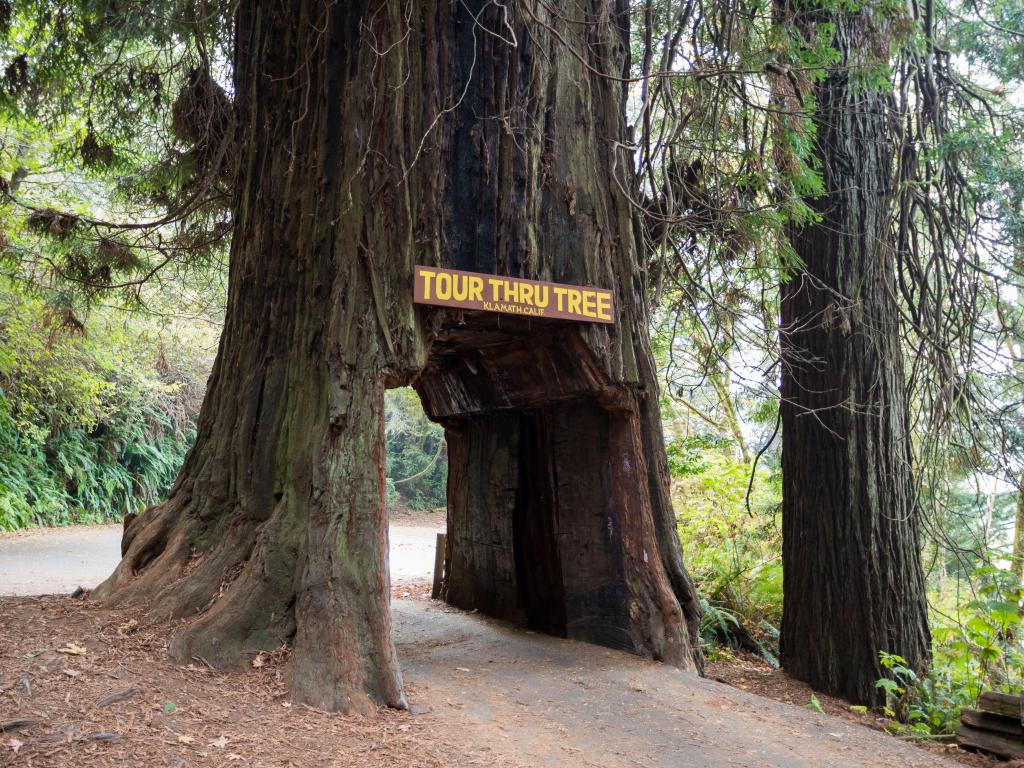 For an authentic and luxurious overnight experience, we recommend the Shiraz Boutique B&B located in Crescent City, a mere 30 minutes from Klamath. True to its description, this B&B, adorned with antiques from far and wide, will be your home away from home during your stay.
Wake up to a gourmet breakfast tailored to your dietary preferences, lovingly prepared by the owner. As dusk sets in, you can gather around the outdoor fireplace, reminiscing about the day's adventures.
While staying at the Shiraz Boutique B&B, make the most of the surroundings. The Point St. George Beach Trails are just a 10-minute drive away, with serene coastal views and pristine sands. Pebble Beach, is also a quick 10-minute drive.
Marvel at the rugged scenery of Mount Shasta
If you're taking the National Parks and Forests Route, you'll reach picturesque Mount Shasta roughly 9 hours and 50 minutes after departing San Francisco. Mount Shasta is the second-tallest volcanic peak in the Cascade Range.
Summer or winter, the varied landscape surrounding the peak teems with recreational activities, from hiking trails to skiing slopes. After an exhilarating day in the great outdoors, the scenic town at the mountain's base offers restaurant options to recharge. For a dive into the region's history, the Mount Shasta Sisson Museum is a must-visit too.
Seeking a unique experience? The Pluto's Cave promises intrigue. And for those with a penchant for mystery, the rumors of the ancient 'City of Light' called Telos, believed to be hidden deep beneath Mount Shasta, adds a layer of intrigue to this majestic location.
Our favorite place to stay here is the Mount Shasta Resort. Nestled between dense woods and a shimmering lake, this haven is the epitome of a mountain retreat. Yet, its accessibility ensures you never feel too far from civilization.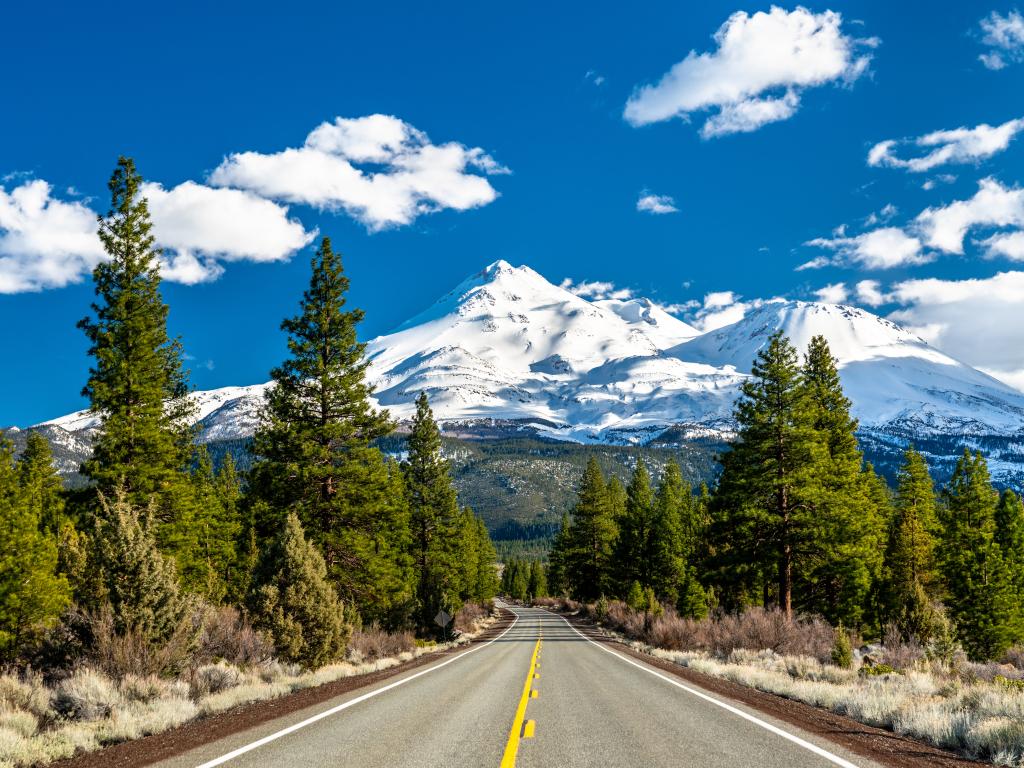 The hotel's upscale restaurant proudly sources local ingredients, so make sure to sample their delicious offerings. As the day comes to a close, the resort's outdoor deck provides panoramic views of Mount Shasta, ensuring a serene conclusion to a day of exploration.
Just a short drive from the resort, you can enjoy breathtaking views across the clear waters of Castle Lake. A little further on, the enchanting Mossbrae Falls cascades down, providing yet another stunning photo opportunity.
Where to stay when you reach Bend, Oregon
Nestled at the base of the Cascade mountain range and in between the tranquil bends of the Deschutes River, Bend stands as a mecca for outdoor enthusiasts, regardless of the season.
In the city itself, the Old Mill District beckons with its rich history and unique shopping outlets, a reflection of Bend's transformation over the years. For the adventurers, Smith Rock State Park offers a stunning landscape, sculpted by the elements over centuries, which is the perfect place to hike or climb.
And a lesser-known fact for history buffs: George Putnam, the spouse of the legendary aviator Amelia Earhart, once called Bend his home.
Ensuring a sumptuous stay that encapsulates the essence of Bend is the Tetherow Hotel. Set against the scenic backdrop of the Deschutes National Forest, the hotel promises unparalleled views, especially at sunset, painting the skies with hues of gold and crimson.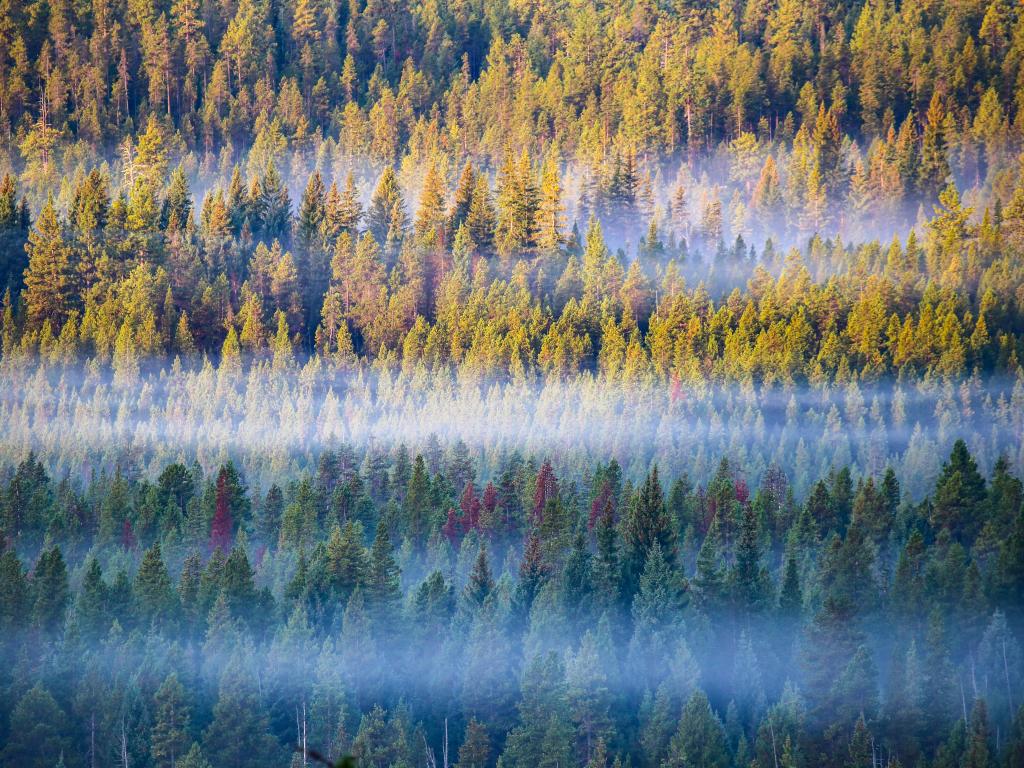 For golf enthusiasts, Tetherow's award-winning course is an oasis. And as the stars come out, sinking into the hot tub under the vast night sky makes for an experience like no other.
There's plenty to do on-site. Mountain bike trails promise an adrenaline rush for the adventurous, but if a day of relaxation is on the agenda, the hotel's two on-site restaurants are highly recommended.
Things to see on a road trip from San Francisco to Bend, Oregon
Both of our routes from San Francisco to Bend are packed full of beautiful landscapes and exciting attractions. Here are some of our top picks, but don't forget to allow some time to simply stop and admire the view.
Pacific Coast Route
Golden Gate Bridge - This iconic suspension bridge connects San Francisco to Marin County, offering breathtaking vistas of the Pacific and the bay.
Alcatraz Island - Once an infamous prison housing notorious criminals, this island now serves as a gripping museum set against the scenic backdrop of San Francisco.
Viansa Sonoma Winery and Tasting Room - Nestled amidst the rolling hills of Sonoma, this winery offers an exquisite blend of Italian heritage wines and panoramic vineyard views.
Sonoma Mountain - Hike through the serene oak woodlands to explore Northern California's diverse ecology.
Trione-Annadel State Park - This mosaic of meadows, forests, and tranquil lakes is a haven for hikers, bikers, and nature lovers.
Healdsburg Historic Plaza - A charming town square surrounded by gourmet eateries, boutique shops, and wine-tasting rooms, capturing the essence of Healdsburg.
Mount Saint Helena South Peak - Towering above Napa Valley, this peak offers challenging hikes and unparalleled views of Northern California's wine country.
Francis Ford Coppola Winery - More than just wine, it's an ode to cinema and vino, merging the director's passions into an immersive experience.
Jackson Demonstration Forest - A lush expanse where sustainable logging meets conservation, providing trails that meander through the redwoods and pines.
Mendocino Coast Botanical Gardens - These coastal gardens flourish with diverse flora, featuring everything from fern canyons to vibrant blooms set against a rugged ocean backdrop.
Glass Beach - A unique shoreline in Fort Bragg, where decades of dumping have turned discarded glass into gleaming, colorful pebbles.
Coast Highway Lookout - Look out from this clifftop vantage point to enjoy sweeping views of the craggy Pacific coastline and endless blue horizon.
Confusion Hill Gravity House - A quirky roadside attraction that plays with perception, challenging the laws of physics and logic.
Carson Mansion - This stunning Victorian-era masterpiece in Eureka is often considered the grandest example of Queen Anne-style architecture.
Prairie Creek Redwood State Park - Home to pristine meadows and ancient redwoods, this park is a timeless testament to nature's grandeur.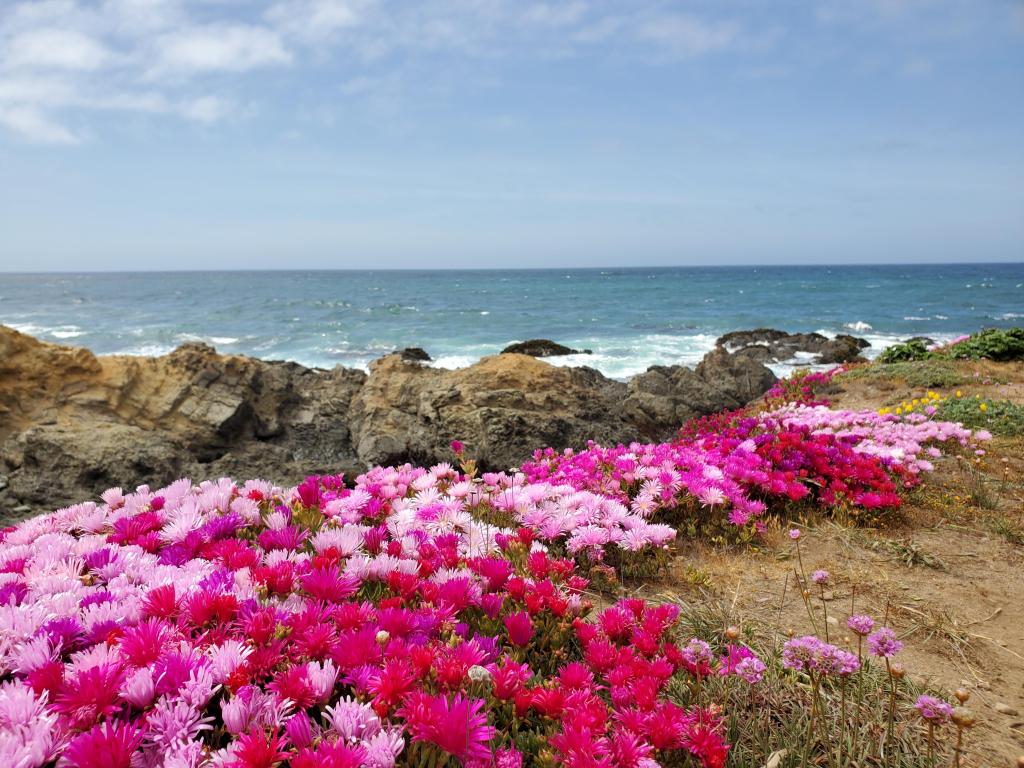 National Parks and Forests Route
Jelly Belly Factory Tour - Dive into a colorful world of jelly beans, where whimsy and sweet magic come alive.
Gold Bug Park & Mine - Step back in time in Placerville, exploring California's gold-rush era through authentic mining experiences.
Eldorado National Forest, Placerville - A vast expanse of thick pines, shimmering lakes, and rugged terrain that welcomes adventurers and solitude seekers.
Gondola at Heavenly - An aerial ride offering mesmerizing views of Lake Tahoe's sapphire waters, framed by snow-capped peaks.
Plumas County Museum - A treasure trove of regional history, showcasing artifacts and stories from the Gold Rush to the Indigenous Maidu.
Lake Almanor - With tranquil waterscapes and recreational opportunities, there are many ways to enjoy the shimmering waters of this mountains lake.
Interstate 5 Forest Stretch - A scenic drive enveloped by towering trees, making the journey as enchanting as the destination.
Lake Shasta Caverns National Natural Landmark - Delve into a subterranean wonder, with limestone formations narrating a tale millions of years in the making.
Mount Shasta Sisson Museum - Chronicle the history, geology, and cultural significance of the majestic Mount Shasta through engaging exhibits.
Living Memorial Sculpture Garden - An evocative outdoor gallery near Mount Shasta, paying homage to veterans through poignant metal sculptures.
Plaikni Falls - Nestled within Crater Lake National Park, this cascading beauty is a serene testament to nature's artistry.
Wizard Island - An intriguing volcanic cinder cone arising from the azure waters of Crater Lake, steeped in geological wonder.
Lava River Cave - Journey into Oregon's longest lava tube, a subterranean realm sculpted by volcanic fury.
Newberry National Volcanic Monument - A vibrant showcase of volcanic landscapes, from cinder cones to obsidian flows, narrating Earth's fiery history.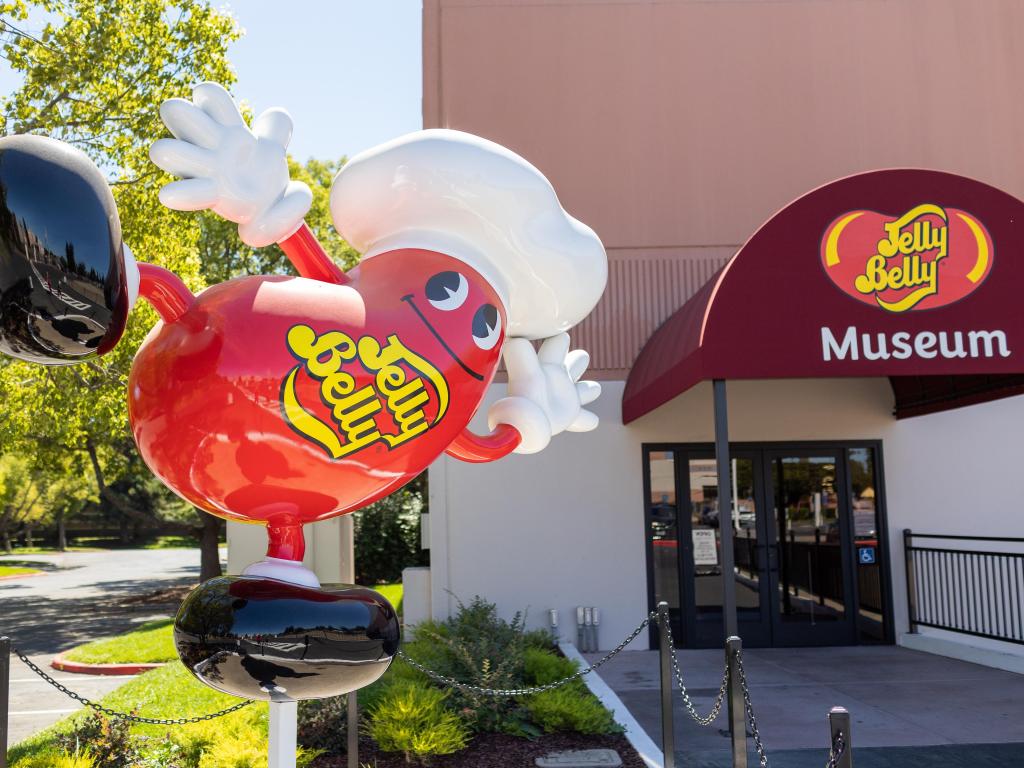 Best time to go on a road trip from San Francisco to Bend, Oregon
Each season brings its own unique flavor to Bend, making it a fabulous place to explore whatever time of year you visit.
As you might expect, winter brings cooler temperatures that can dip down to freezing even in California. Further north, there's a risk of rain, snow and ice, which can all make driving conditions more challenging if you're taking the Pacific Coast Route.
Winter can be a magical time to travel on the National Parks and Forests Route, and it's possible to stop and enjoy winter sports around Lake Tahoe. However, check ahead for local closures, especially if you hope to visit Crater Lake. The national park is open to visitors all year round, as long as road conditions allow you to get there.
Keep in mind that temperatures in Bend range from 20 to 40 degrees Fahrenheit in winter, so make sure to pack warm.
If you're hoping for a warmer road trip, then summer is a great time to visit Bend. Summer days, with temperatures reaching the mid-80 degrees Fahrenheit, are the perfect backdrop for the Bend Summer Festival, which takes place in July.
The occasional rain that's likely even in summer can add to the allure of this route, keeping its lush wilderness a vibrant green that contrasts with the drier landscapes of southern California.
If you're taking the Pacific Coast Route in the summer months, especially at weekends or during the busiest vacation period through July and August, expect congestion in places.
Travel earlier in the year to beat the crowds and see the Mendocino Whale Festival in March, or the colorful Brookings Harbor Azalea Festival in May. If you're taking the National Parks and Forests Route, the Redding Rodeo is another May highlight.
Bend can feel cool through the spring, with snow possible well into April, but by May, you can expect temperatures in the low 60 degrees. If you are visiting during spring, make sure to check out the Bend Brewfest.
Temperatures stay comfortable through September and October, but rainfall increases significantly as you head through the fall, so if you're hoping to spend a lot of time outdoors, this is something to factor in when you're planning your trip.