Road Trip From San Francisco To Yellowstone National Park
When it comes to national parks, there are few more famous than Yellowstone. With the majority of the park located mostly in Wyoming, you'll see wildlife, amazing canyons, and the famous Old Faithful geyser itself.
Plus, starting out in San Francisco, you'll get to enjoy sights in sunny California, as well as a few beautiful stops in Nevada and Idaho along the way.
The drive from San Francisco to Yellowstone National Park can be done in a full day of driving taking at least 16 hours including stops on the way. You will really want to break it up into 2 to 3 days to make the most of the stunning sights along the way.
Keep reading to learn more about what you'll see along the way, plus some ideas for amazing places to stop by.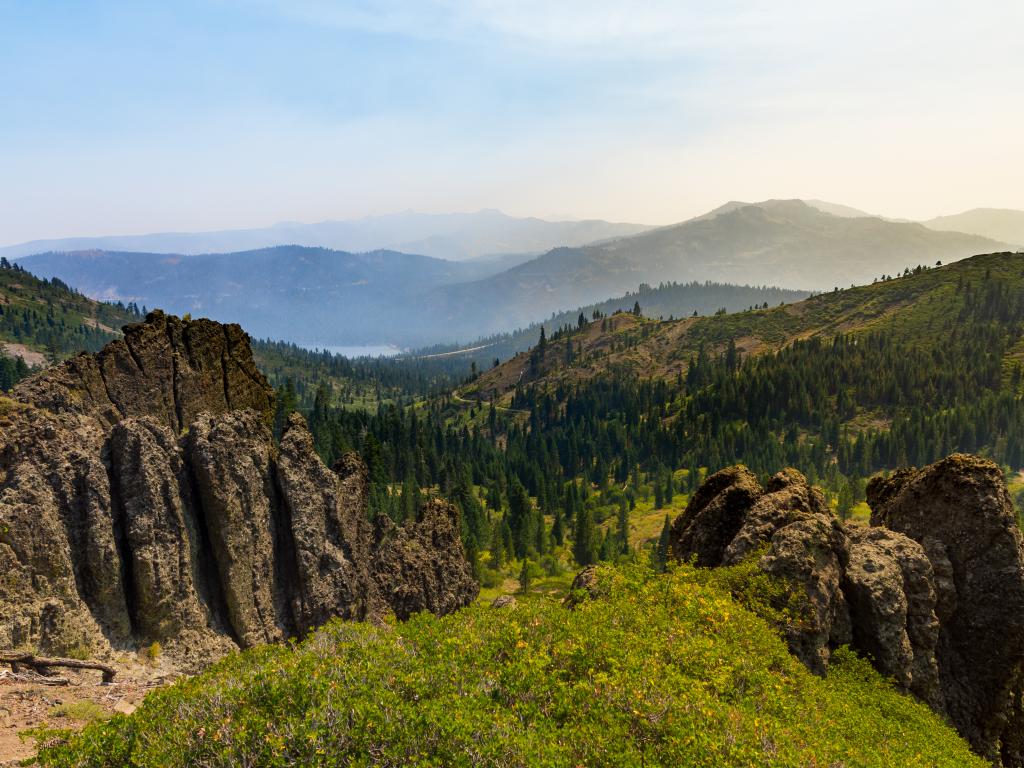 How far is it from San Francisco to Yellowstone National Park, and how long will the road trip take?
The most direct route from San Francisco to Yellowstone is around 950 miles and will take just over 14 hours of straight driving to get there. That's not counting stops to eat, use the washroom, and load up on gas.
So even if you did set out early in the morning from San Francisco, and kept breaks to a minimum, you wouldn't be arriving at Yellowstone until late in the evening.
If you're planning to camp, you'll be arriving too late to set up the tent and even if you're staying in a hotel, you'll most likely be coming in way after dinner service is finished.
Since you're driving anyway, a much better idea is to break up the road trip into 2 or more days so you can enjoy some of the sights along the way.
With so many amazing places to see, stunning national parks and must-see detours along the way, taking 3-4 days to drive each way will give you lots of options on the way and when you come back, keeping the amount of driving per day to a more relaxing 4 to 5 hours.
Best road trip route from San Francisco to Yellowstone National Park
The best route for your San Francisco to Yellowstone Road trip is also the fastest. It'll take you a little over 14 hours, and you'll get the chance to see plenty of amazing sights and wildlife.
Road trip route from San Francisco to Yellowstone National Park
To get to Yellowstone from San Francisco, you'll first need take the I-80 towards Sacramento. Continue along the I-80 towards Tahoe National Forest with rivers, groves, and amazing mountains en route as you pass just to the north of Lake Tahoe.
The I-80 will then take you to Reno, Nevada before going all the way across the Great Basin Desert covering northern Nevada. Take exit 352 as you pass the town of Wells onto US-93 and head north into Idaho.
From Twin Falls, you can follow interstates I-84, I-86 and I-15 all the way to Idaho Falls. From there, US-20 will take you past Rexburg and all the way to the West Entrance into the national park near West Yellowstone.
Best places to stop between San Francisco and Yellowstone
With such a scenic route, you absolutely must make a few overnight stops along the way to make the most of the sights and nature. Depending on how much time you've got on your hands, here are some places to stop for you to consider on your way from San Francisco to Yellowstone.
Relax on a short detour to Lake Tahoe
Although it'll add about 45 minutes onto your journey, a detour to Lake Tahoe might be the perfect way to spend a night en route to Yellowstone.
If you're planning to set off from San Francisco after work, it'll take you around 3 hours 30 minutes to reach South Lake Tahoe - perfect for stopping over allowing plenty of time for driving the next day.
Hotels here can be incredibly expensive but Black Bear Lodge is a perfect combination of luxury and great value for money in South Lake Tahoe.
Sitting right between the emerald waters of the lake and Heavenly ski resort, every room in this boutique hotel comes with a cozy fireplace and you're a short walk away from a selection of restaurants.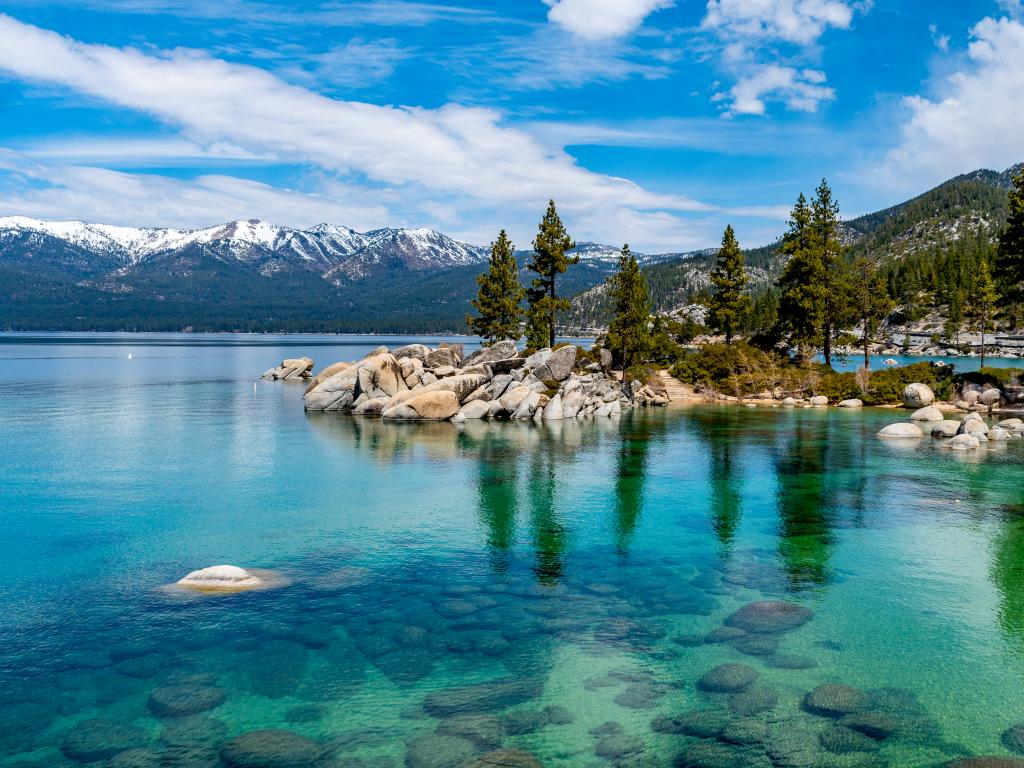 Stop over in Twin Falls, Idaho
Twin Falls is the first major city on your road trip after you enter the state of Idaho. There isn't much to do or many places to stop in northern Nevada so if you've made the long drive in one day, Twin Falls is the perfect place to set up camp.
The Shoshone Falls on Snake River are a few minutes away and well worth seeing whether you're stopping or not. Further out, you can make visits to Boise or Sun Valley or go see the lava fields in the Craters of the Moon National Monument.
Your choice of hotels is limited to the usual chains so you can pick your favorite option - I'd go with La Quinta Inn & Suites for its perfect location and a selection of places to eat within walking distance.
Whether you've driven the 11+ hours straight from San Francisco or made the 8 hour road trip from South Lake Tahoe, you'll want to stretch your legs!
Things to see on a road trip from San Francisco to Yellowstone National Park
As I mentioned above, although you COULD do the entire road trip in one day, I'd recommend you actually see some of the amazing nature and sights along the way. Take a few days, stop over and add some of the below to your itinerary.
Sacramento: California's capital is a quirky city and a great spot for brunch if you're setting off from San Francisco in the morning.
Tahoe National Forest: directly on the route, you'll pass through the groves and mountains as you make your way up the I-80
Yosemite National Park: if you're up for a significant detour (about 3 hours added onto your trip), you can cross the Sierra Nevada further south and head for Yosemite National Park. This way you'll visit arguably the two most famous national parks in the country on the same trip
Lake Tahoe - on the way if you pass further south across the Sierra Nevada Mountains and a perfect place to relax with the beautiful lake surrounded by snow capped peaks
Shoshone Falls: Located in Twin Falls, Idaho, these magnificent falls drop more than 200 feet down into Snake River. There are plenty of viewpoints around, so you'll be sure to get a good angle of these falls.
Perrine Memorial Bridge: Also located near Twin Falls, the southern canyon of Snake River features ten miles of walking trails, plus an incredible view of the Perrine Memorial Bridge. For the adrenaline junkies, tandem BASE jumping off the bridge will definitely get your heart rate going.
Craters of the Moon National Monument and Preserve: If you've wondered what it's like to be on the moon, wonder no longer - this desolate landscape with buttes and lava fields has an otherworldly feel.
Grand Teton National Park: Located just South of Yellowstone National Park, you can hike through the breathtaking Teton Mountain Range. Bring your camera along so you can photograph the hundreds of different bird species living in the area
Jackson: a charming town famous as the gateway to the Jackson Hole ski resort.
Island Park: You'll pass through the valley and the adjoining Caribou-Targhee National Forest on your way up to West Yellowstone. There are endless activities whether you're coming in the summer or winter and this is one of my favorite secret places in the United States.
Yellowstone National Park: Let's not forget the reason you came here! Head over to visit the Old Faithful geyser, which continues to erupt on schedule. Stand in awe at the colors of the Grand Prismatic Spring. Visit Yellowstone Lake, the Mammoth Hot Springs, and the Yellowstone Caldera along with endless other sights and natural wonders.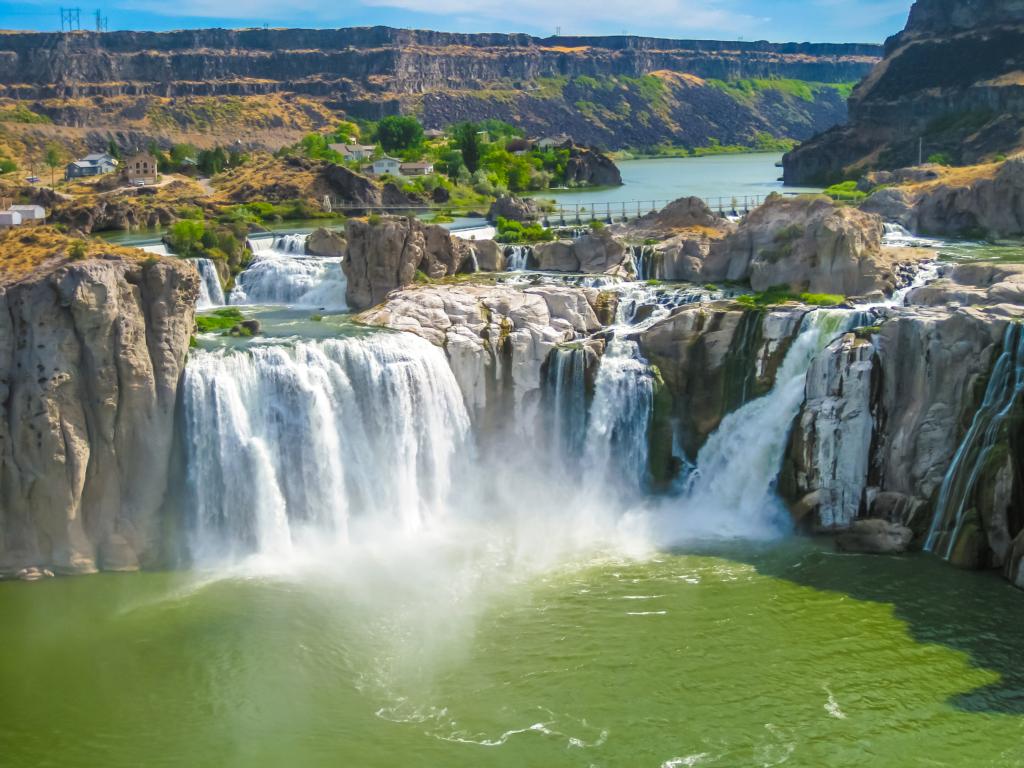 Best time to go on a road trip from San Francisco to Yellowstone National Park
If you're interested in exploring Yellowstone National Park, the best time to go is during the milder months of April to May or September to October. You'll find the weather isn't too harsh, plus the park itself won't be too crowded.
July and August are still amazing months to visit Yellowstone, but the warm weather will bring in more crowds. The good news is that Yellowstone National Park is so huge, you won't be running into other hikers or campers too often even in peak season.
The route you decide to take from San Francisco to Yellowstone will also help determine when the best time to go is. Driving across Nevada in the summer will feel very hot. From June to August expect temperatures to frequently break the 100° F (38° C) mark.
While the milder spring and fall months are the best time to go visit the park, don't discount a winter trip. It will be very cold and you'll need to remember that the roads leading into Yellowstone close for the winter season, but you can stay just outside in Island Park or West Yellowstone and head into the park on a snowmobile.
Alternatively, pack your skis for some cross-country skiing, and make sure you carry your camera with you. Animals will stand out better against the white snowy background.
No matter when you decide to go, you'll want to spend a few days as a minimum in Yellowstone to really appreciate the park. The longer you can stay the more you'll discover and the more time you'll have to visit different parts of the park.