Road Trip From San Francisco To Yosemite National Park
A drive doesn't have to be particularly long to be scenic and extravagant, and the road trip from San Francisco to Yosemite National Park is a testament to that. In just a matter of hours, you can explore a long list of gorgeous landscapes as a warm-up for the beauty of Yosemite.
The road trip from San Francisco to Yosemite National Park takes about 3 hours. On the way, visit Reinhardt Redwood Regional Park and Stanislaus National Forest, go for a swim at Del Valle Regional Park, and explore the refuges near the city of Merced.
As short as this route is, there's plenty to unpack here, so read until the very end to make sure you're ready for this road trip.
How far is Yosemite National Park from San Francisco and how long will the road trip take?
Comparison of road trip route options between San Francisco and Yosemite National Park
Route
Distance
Driving Time
Groveland Route


(via via I-580 and CA-120)

165 miles
3 hours 20 minutes
Mariposa Route


(via CA-99 and CA-140)

200 miles
3 hours 40 minutes
The Groveland Route from San Francisco to Yosemite National Park will take 3 hours and 20 minutes to drive, covering 165 miles. This does not take any stops you might want to take into account.
The Mariposa Route is slightly longer at 200 miles, which will take 3 hours and 40 minutes to drive without any detours.
With that said, there's a surprising amount to unpack in these couple of hundred miles, so you should definitely consider stopping for a night somewhere along the way and doing some off-road exploration.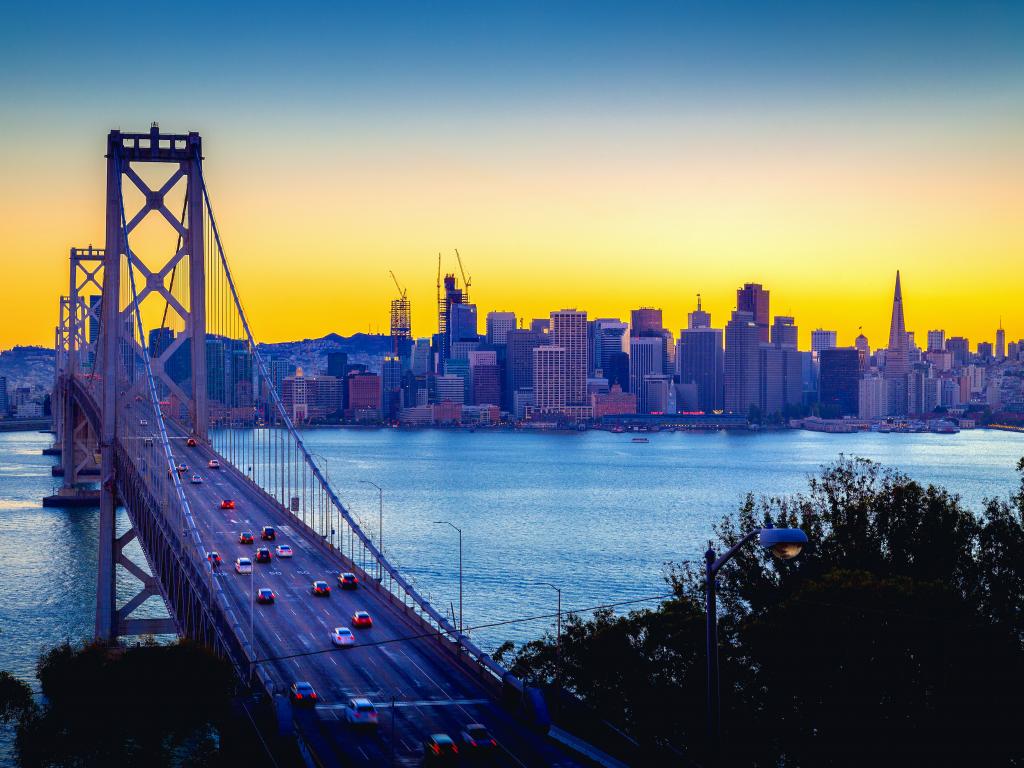 Best road trip route from San Francisco to Yosemite National Park
There is no "best route" going from San Francisco to Yosemite National Park – these routes never really step on each other's toes, as each comes with its own set of landmarks and advantages.
Your first option is to enter the park through Groveland – this is the shorter route, and the increase in elevation as you approach Yosemite gives you a stunning view of the Valley.
The tradeoff is that these higher altitude segments of the drive can be hard to traverse with a larger vehicle or in poor weather, especially considering the abundant twists and turns in the second half of the route.
A safer bet would probably be to drive south through Mariposa instead – it takes a little bit longer to get to the park, and you just don't get the same epic views and dramatic elevations, but you can compensate by making some minor to moderate detours to a number of parks and wildlife refuges on the way.
If the conditions allow for it, your best option would be to take one on the way to Yosemite and the other on the way back.
With that said, if there happens to be a lot of rain or snow or if you drive an RV or other larger vehicle, you'll probably have an easier time driving through Mariposa. Otherwise, you can't go wrong with the amazing scenery of the Groveland itinerary.
Groveland Route
To start with, take Interstate 80 (I-80) out of San Francisco, followed by Interstate 580 through Oakland and by Reinhardt Redwood and Anthony Chabot Regional Parks. Just past the Brushy Peak Regional Preserve, take Interstates 205 and 5 to a fork in the road at Manteca, where you can officially choose your route.
Follow State Route 120 across the Stanislaus River, past Woodward Reservoir Park and all the way to Oakdale. Continue driving east along the river for a while, then drive around Red Hills Recreational Management Area and take the Golden Chain Highway over the James E. Robers Memorial Bridge.
After checking out Moccasin and the various vista points in the area, you can choose to take either the curvier New Priest Grade Road or the straighter, but steeper Old Priest Grade Road – the latter will shave around 10 minutes off your trip, and it's probably the better option if you want a better view of the Valley.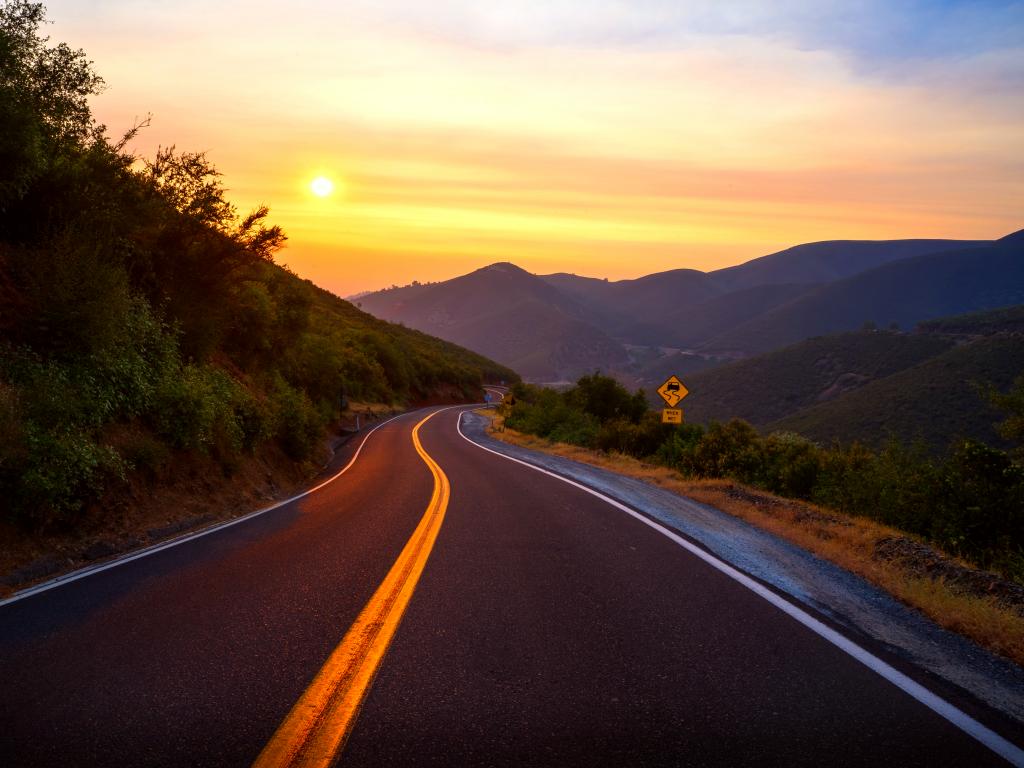 Whatever the case, follow the state route through Groveland, and you'll start seeing Yosemite's lodgings and RV camps on either side of you as you continue east.
Mariposa Route
From Manteca, take State Route 99 through Modesto, Turlock (check out Donnelly Park!), and take a break at Merced - this is a good time for a small detour to spots like Merced and San Luis National Wildlife Refuges.
At Merced, follow State Route 140 to Mariposa. From Briceberg onwards, follow the Merced River through Arch Rock Entrance near El Portal to enter the park.
Best places to stop between San Francisco and Yosemite National Park
After cutting through the heart of California, you'll be met with a large assortment of accommodation options in and near Yosemite National Park, some much better than others. Here are some of the best hotels to book during your trip:
Turn off your mind and relax at Yosemite Village
Located less than half a mile from Yosemite Valley, the Village is the perfect place for you to spend the night after a day of exploring. The best hotel in the area would have to be The Ahwahnee.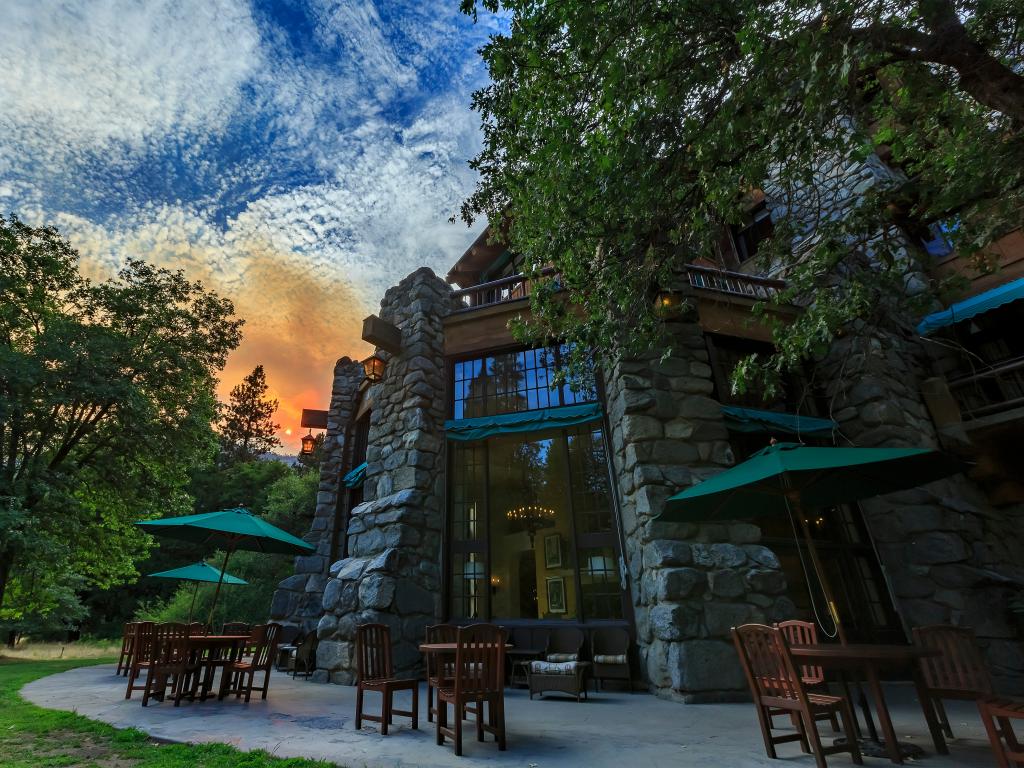 Whereas many resorts in Yosemite opt for a more homey, rustic aesthetic, The Ahwahnee goes above and beyond with its glowing exterior, breathtaking lounge area, gigantic dining hall, and some of the most impressive mountain views you're ever likely to see.
On top of all that, guests have access to an outdoor swimming pool, a bar, and even in-room massage services. At the end of your stay, check out the gift shop and fill your shelves and wardrobes with Yosemite memorabilia.
While this is definitely one of the most expensive hotels in the Yosemite area, the amazing connectivity to everything in the park and the scenic backdrop from outside the hotel are justification enough for its price.
Become one with nature at Fish Camp
Fish Camp is home to a few interesting resorts, but very few places in Yosemite can compare to the quality of service in the Tenaya Lodge.
Featuring simple, yet elegant rooms with an unpretentious aesthetic, you'll feel right at home at this lodge (and the gorgeous fireplace probably helps). With everything from a bar and restaurant to 2 large swimming pools and pet-sitting services, Tenaya Lodge is the quintessential family getaway at Yosemite.
The biggest draws of this resort are the outdoor activities – you can rock climb, hike, cycle, ski, practice archery, or just enjoy a simple game of pool. After working up a sweat, end your day with a spa visit and a massage for a perfect night's sleep.
The Tenaya Lodge is also very fairly priced – hotels that are more centrally located in Yosemite will often overcharge you by virtue of their good location, but this resort outclasses them in most regards and is only a fraction of the price.
Things to see on a road trip from San Francisco to Yosemite National Park
Considering the length of the trip, there's quite a substantial number of things to see between San Francisco and Yosemite. You'll definitely need more than just a day if you want to check everything out – here are some of the places to keep an eye out for:
Joaquin Miller Park – located mere minutes from the city of Oakland, the beautiful redwood trees and beautiful hiking trails make this one of California's standout parks
Reinhardt Redwood Regional Park – a beautiful expanse of redwood forests extending all the way to Leona Canyon Regional Open Space Park
Anthony Chabot Regional Park – the entire park, especially the parts near Lake Chabot, features enough campsites to house hundreds of campers at a time
Garin & Pleasanton Ridge Regional Parks – scenic parks featuring both high summits and lush forests alike
Del Valle Regional Park – based around Lake Del Valle, this park is home to some of California's most beautiful trails and campout spots
Stockton – one of the larger cities along this itinerary, Stockton is home to some amazing parks, gardens, and wineries
Woodward Reservoir Park – just north of Oakdale, this park is the perfect place to hike and camp among wildlife
Oakdale – the self-proclaimed "Cowboy Capital of the World" is home to Jacob Myers Park, the Cowboy Museum, and a number of other attractions
Red Hills Recreational Management Area – this area houses a wide range of animals, rare flora, and various difficult hiking trails
Rainbow Pool – a gorgeous swimming hole just off the side of State Route 120, perfect for cooling off during your drive
Stanislaus National Forest –one of the oldest and most scenic forests in California, this forest features old-growth trees and countless rivers and lakes
San Luis and Merced National Wildlife Refuges – on top of beautiful wetlands and grasslands, these refuges are home to rare species of cranes, geese, and other waterfowl
Merced – a mainstay of many Yosemite trips, this charming city is practically in the center of California, and it's home to various parks and the unique Castle Air Museum
Mariposa – on top of featuring exquisite wineries, this town is an excellent vantage point for exploring Yosemite and other surrounding landmarks
Yosemite Valley – arguably the highlight of Yosemite National Park, this valley beautifully combines lush greens, lakes ,and granite peaks into a unique marvel of nature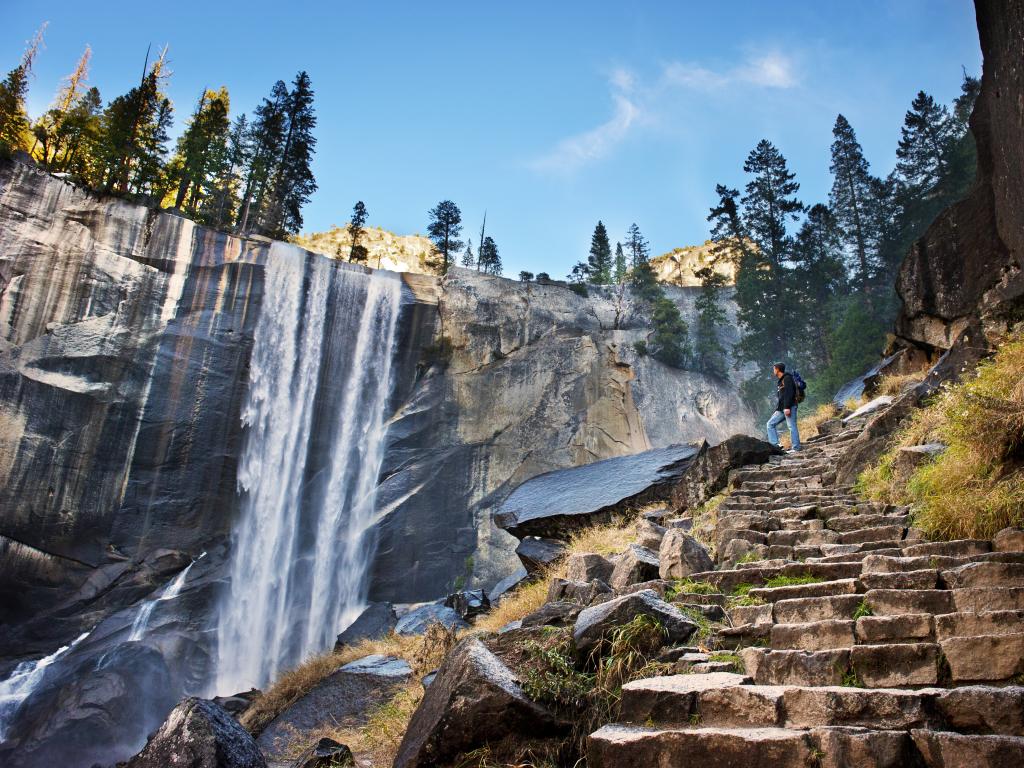 Best time to go on a road trip from San Francisco to Yosemite National Park
The road trip from San Francisco to Yosemite National Park can be done any time of year – you can make the case for any season being the best time to visit the park.
You really have nothing to be concerned about as far as the drive is concerned – as mentioned above, if you're driving in bad weather, just take State Route 140 and you shouldn't have any trouble getting to the park.
Naturally, you can expect summer and winter to draw in the largest crowds at Yosemite, the former thanks to its great views and open access to all parts of the park, and the latter offering a wide range of snow activities. It's not always easy to avoid crowds at Yosemite, so if they're a major deal-breaker for you, avoid visiting during these two seasons.
May and September might just be the best time to make this trip – September's a little too early for snow (and the hiking trail restrictions that come with it), so it makes for a great time to explore, and May is when most if not all of the roads in the park open for business.