Road Trip from Santa Fe to Grand Canyon
If an adventure to explore the Grand Canyon and the wonders of the Southwest US excites you, look no further than this epic road trip from Santa Fe. This ultimate drive will take you through vibrant cities, famous World Heritage sites, lovely hot springs, gorgeous national forests, and diverse landscapes.
The 480-mile road trip from Santa Fe to the Grand Canyon takes just over 7 hours to drive, visiting Albuquerque, and Petrified Forest National Park, on a direct route or Taos, Pagosa Springs, Durango, and Oljato-Monument Valley via the longer route.
To make the most of this incredible road trip, we recommend you check out our highlights of different places to visit, things to do along two distinct yet beautiful routes, and the best time to indulge in this short yet exciting drive.
How far is Grand Canyon from Santa Fe, and how long will the road trip take?
Comparison of road trip routes between Santa Fe and Grand Canyon

| Route | Distance | Driving Time |
| --- | --- | --- |
| The Southern Route | 480 miles | 7 hours |
| The Northern Route | 610 miles | 11 hours 30 minutes |
The drive to the Grand Canyon from Santa Fe via The Southern Route is short and direct, taking over 7 hours to cover 480 miles without food breaks and stopovers.
A long leisurely drive via The Northern Route covers 610 miles over 11 and a half hours of driving, not accounting for any gas breaks and detours.
Although this drive to the Grand Canyon is shorter than most road trips across America, which you may cover in a day, we suggest you take at least 3-4 days to enjoy the many fun tourist attractions and optional detours en route.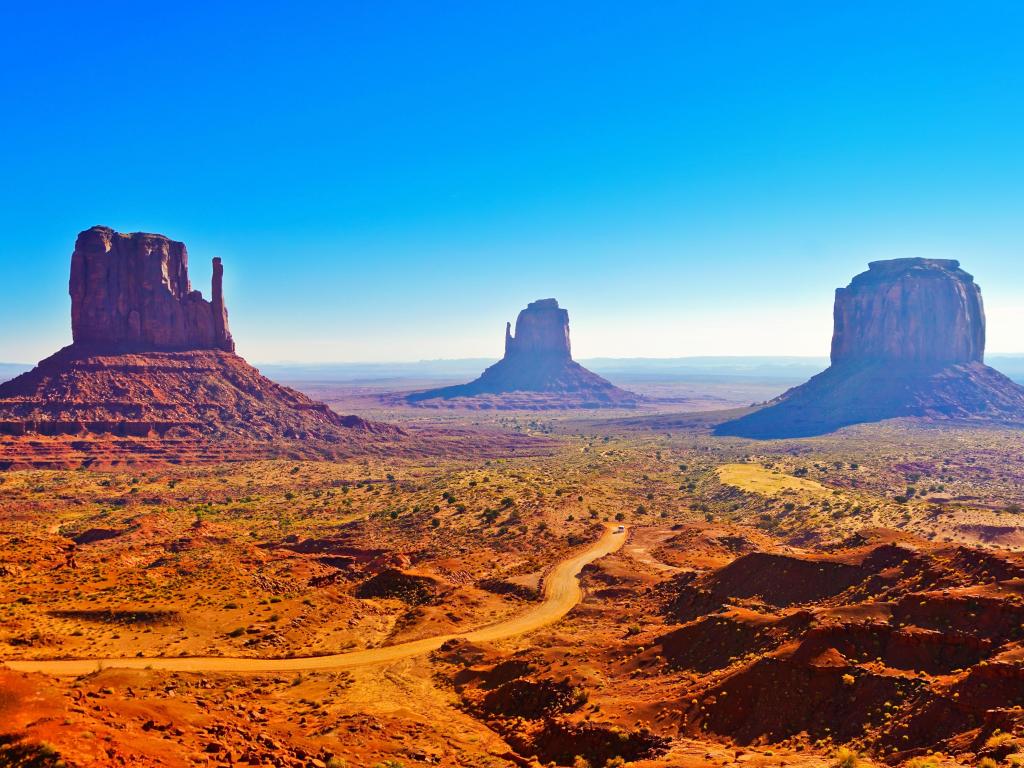 Best road trip route from Santa Fe to Grand Canyon
We have curated two distinct yet fantastic routes to drive from Santa Fe. The best route for you will solely depend on what you'd like to see on this amazing adventure.
The Southern Route to the Grand Canyon will take you through the colorful states of New Mexico and Arizona, visiting the lively city of Albuquerque on the way. This terrific route is the most direct and the shortest way to get to the Grand Canyon and is super easy to navigate.
The drive includes an outstanding balance of urban and natural attractions, including a one-of-a-kind Petrified Forest National Park visit.
Or you could take a leisurely drive through a less direct and longer Northern Route, crossing the beautiful New Mexico and Colorado states before entering Arizona. This scenic path will take you through the iconic Taos, home to Taos Pueblo, a UNESCO World Heritage Site and a National Historic Landmark.
You'll also love the picturesque water bodies spread along this road, including the famous site of Durango, known for gorgeous waterfalls, natural preserves, and marvelous natural hot springs.
The Southern Route
Exit Santa Fe by taking the Old Santa Fe Trail, which eventually merges into the Old Pecos Trail, before taking a right toward Albuquerque on Interstate 25 (I-25).
Head west passing the massive flat landscapes and the occasional mountain sights before reaching Albuquerque. After exploring this quirky New Mexican city, hop on to I-40 to continue your journey through American Southwest.
Follow the road to the Petrified Forest National Park and discover the stunning natural wooden wonders. As you navigate your way through the rocky terrains, arrive at Flagstaff and use this opportunity to take a detour to Coconino National Forest.
After crossing the Bearizona Wildlife Park, head right on AZ-64 toward the Grand Canyon. Head North through the read rocky scenery before passing through the scenic Kaibab National Forest.
Jump off the AZ-64 to take a slight left to arrive at the Grand Canyon Village to begin your Grand Canyon explorations.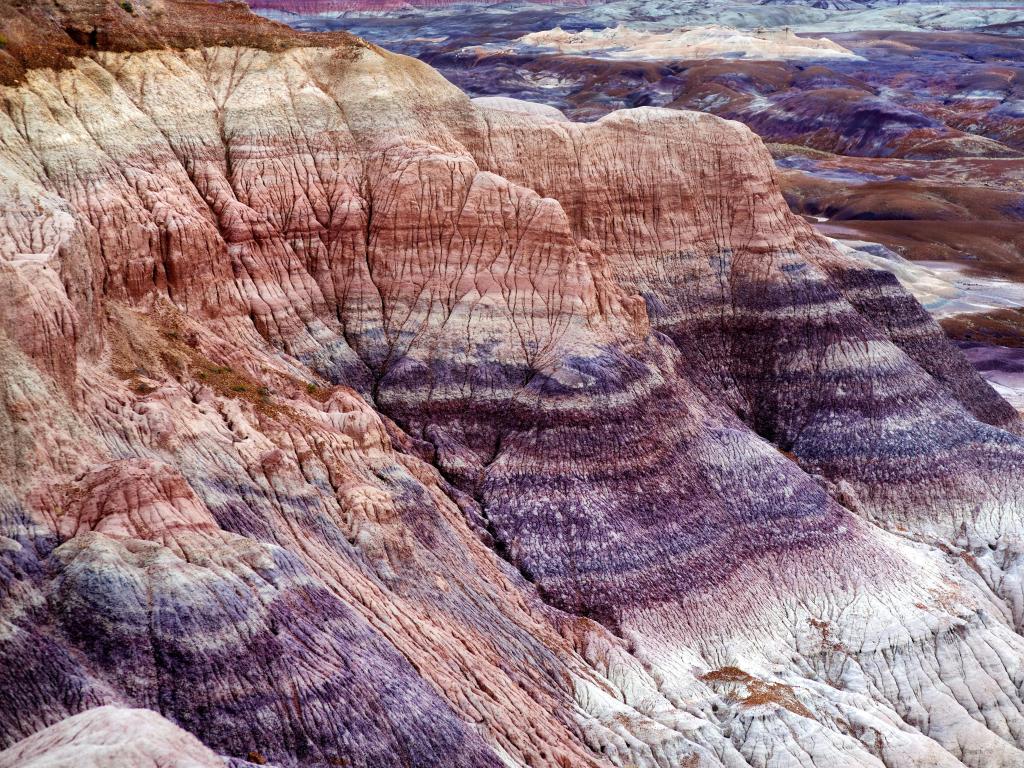 The Northern Route
Head North from Santa Fe on US-84 while enjoying the scenic outdoors of the Santa Fe National Forest. Take a slight right on the NM-68 to Taos for a detour to the legendary Taos Pueblo.
Stretch your legs and explore the trails near Taos before heading west on US-64. Drive through the gorgeous Carson National Forest, following a road of twists and turns to rejoin US-84 to Pagosa Springs.
To continue your westward journey, head to the US-160 highway and follow it to Durango. After a retreat to the natural hot springs, continue US-160 through the changing landscapes till you reach Cortez.
To detour to Oljato-Monument Valley, take a right on CO-41/UT-162 to enter Utah and drive along the San Juan River. After enjoying splendid views, join US-160 to pass by red rock views.
Take a left on US-89 to head South toward Cameron before hopping on AZ-64 soaking in the desert view to finally arrive at the Grand Canyon Village.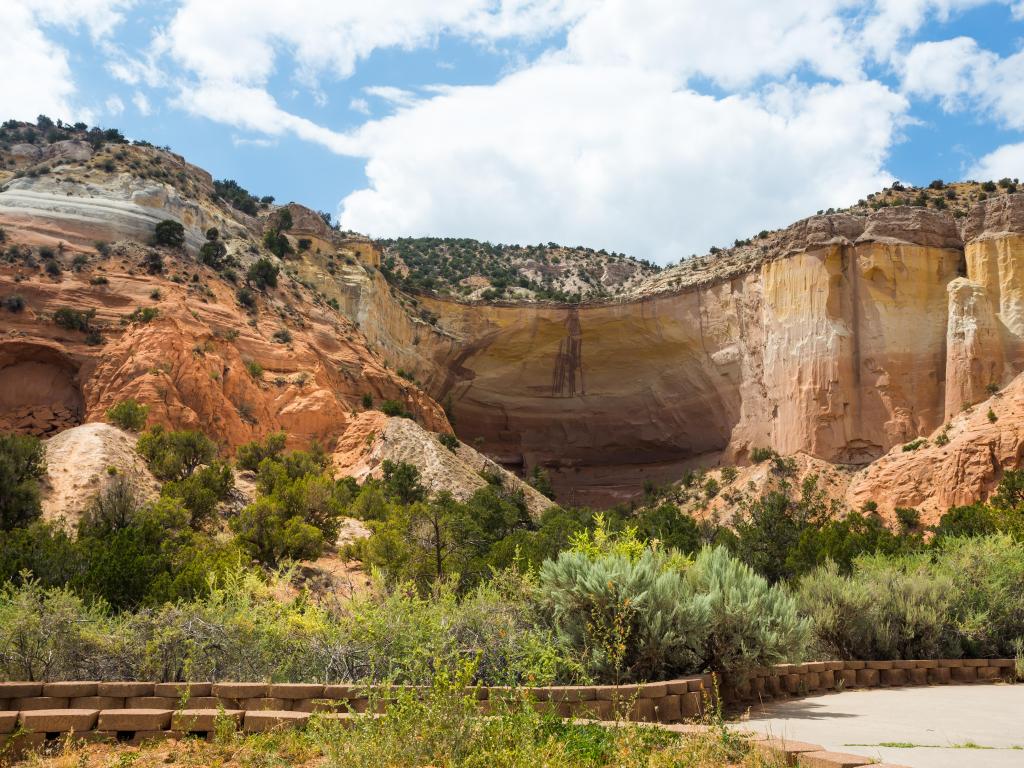 Best places to stop between Santa Fe and Grand Canyon
It's easy to drive between Santa Fe and the Grand Canyon without an overnight break, but when you have time and some great sites to explore, why not spend a few nights in some fantastic cities?
Since there are only two major cities en route, the choice of stopovers is straightforward, yet to help you plan your stay better, we have picked our favorite hotels highlighting their best features.
A vibrant urban stay at Albuquerque
Driving halfway along the Southern Route, you'll arrive at the eclectic city of Albuquerque, known for its vibrant nightlife and many popular attractions. Being the only large city on the Southern Route, this becomes an obvious point for a stopover.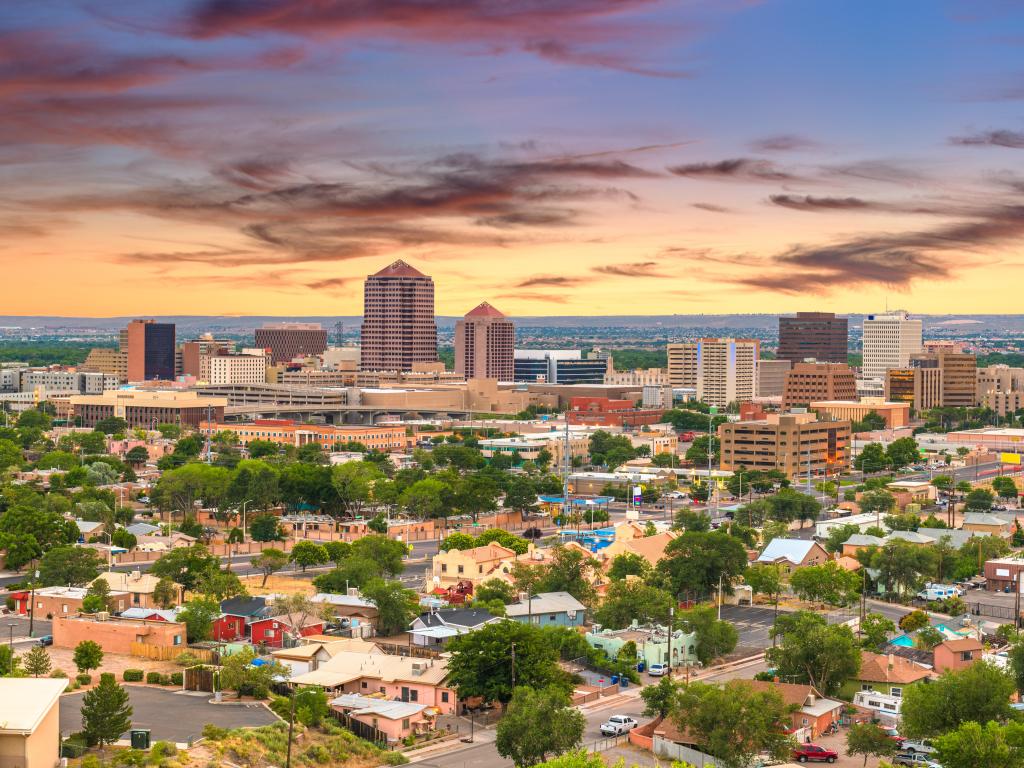 If you love indoor attractions, then Albuquerque offers plenty of opportunities to do so. Start with a visit to the New Mexico Museum of Natural History and Science, which showcases some rare dinosaur skeletons and a stellar planetarium.
Stroll the beautiful ABQ BioPark botanical garden at leisure for a quiet afternoon amidst greenery. Notice the exotic flora and check for special events and unique tours.
Located minutes away from the highway and a 15-minute drive from the downtown region, Isleta Resort & Casino is a fantastic hotel to rest and restore before continuing the journey ahead.
This luxurious hotel has so much to offer. From a fun bowling alley, a crazy casino, a premium steakhouse, and multiple on-site dining options, this property has it all.
Because it is a tad isolated from the bustling city, you can enjoy a peaceful stay in some of the most aesthetic rooms. Soak in the relaxed vibe, indulge in the diverse food scene, and explore the beautiful surroundings in Albuquerque.
Enjoy a historic stay at Taos
You'll arrive in the historic city of Taos after covering half of the road trip on the Northern Route. This overnight stop offers many educational, interactive, fun indoor and outdoor tourist attractions and activities that are perfect for a family trip.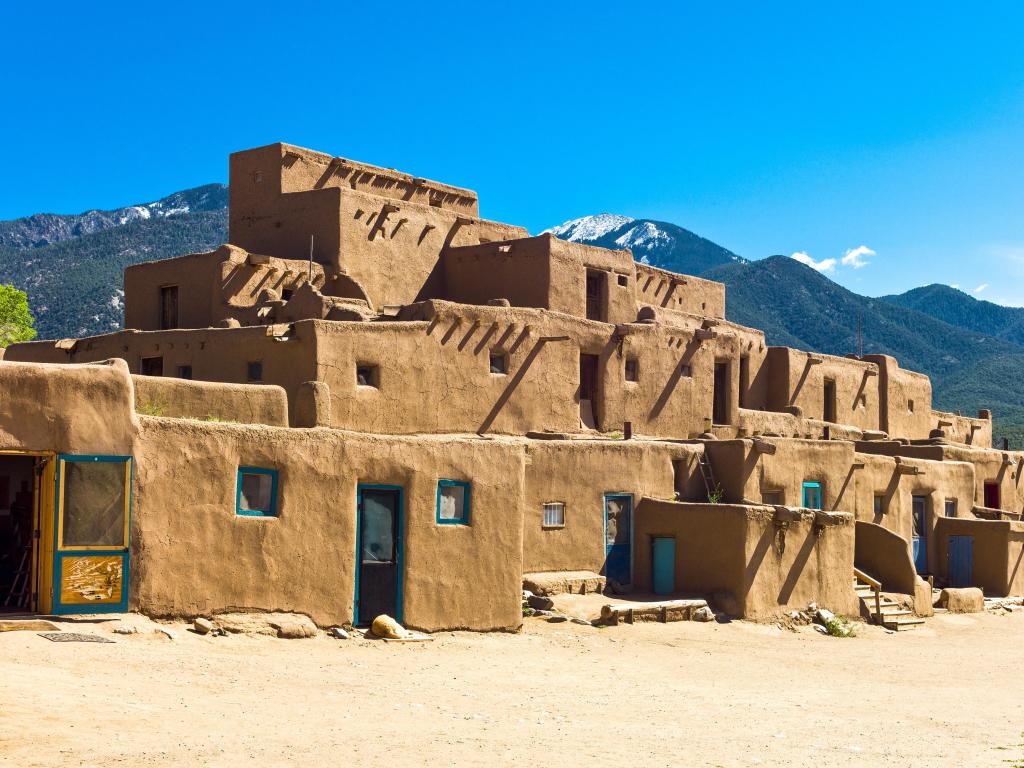 Enjoy the best and the most authentic Native American experience at Taos Pueblo. Known for a rich tradition spanning over 1000 years, this unique village is the biggest highlight of Taos. It has been designated as a UNESCO World Heritage Site and a National Historic Landmark.
For an unparalleled view of the Rio Grande Gorge, do visit the stunning Rio Grande Gorge Bridge. This steel arch bridge is no short of an engineering marvel and ranks high on America's list of highest bridges.
Our top hotel recommendation for your Taos stay is the gorgeous El Monte Sagrado Resort & Spa. Stay close to all the major tourist attractions of Taos and yet be surrounded by unforgettable outdoor landscapes.
The hotel boasts two excellent on-site restaurants and a splendid bar called Anaconda Bar. After a hectic drive, book a relaxing spa or chill by the indoor pool, sipping cocktails. You'll also find a fully functional fitness center, so you don't miss your daily workout.
Also, because it is located right off the highway, you won't spend unnecessary time combating morning traffic to get back on the Northern Route.
Where to stay when you reach Grand Canyon
Once you arrive at the Grand Canyon National Park, we cannot think of a hotel better suited for a more extended stay than The Grand Hotel at the Grand Canyon.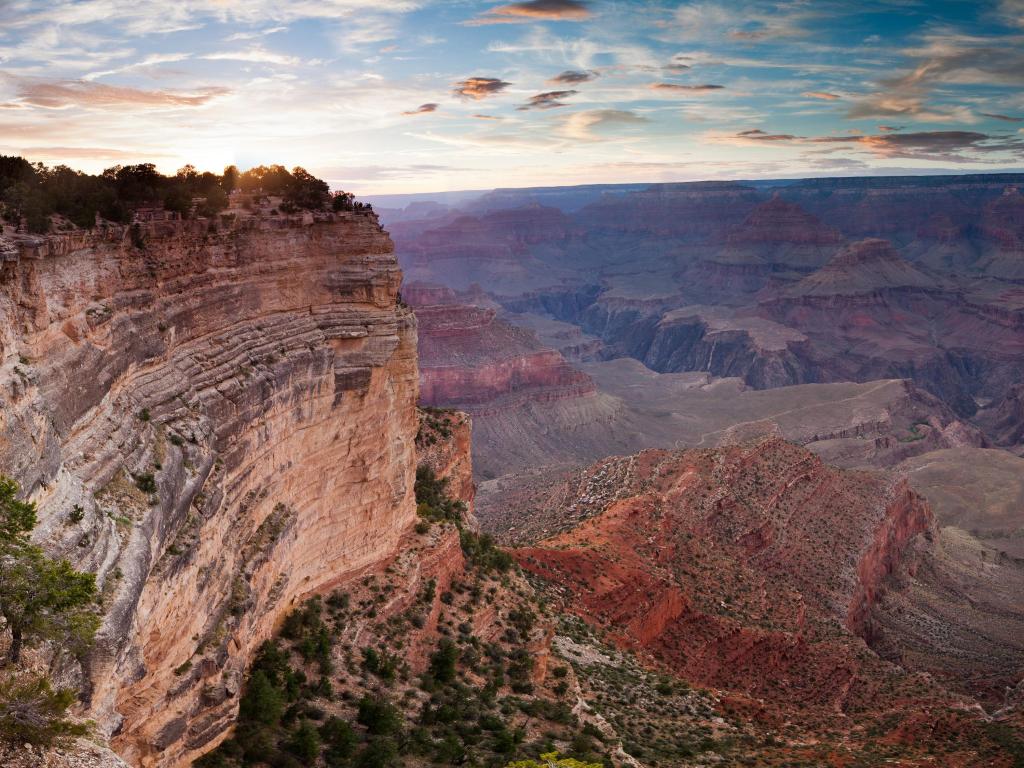 Located at the edge of the forest park and mere minutes of drive from the village, this hotel is perfect for a long stay. The free parking is a massive bonus for people who wish to hike and trail different paths to explore the Grand Canyon.
This 5-star hotel boasts a fantastic fitness center, a spa, a hot tub, and an indoor pool to refresh after a long excursion. The rooms are spacious, comfortable, and squeaky clean. Should you visit during winter, enjoy a cozy evening next to the fireplace in the lounge.
Things to see on a road trip from Santa Fe to Grand Canyon
This road trip from Santa Fe to the Grand Canyon has some of the USA's most spectacular natural and historical landmarks.
You'll find amazing things to see and do on both routes, and we have curated a list of our top favorite attractions so that you don't miss out on exciting experiences.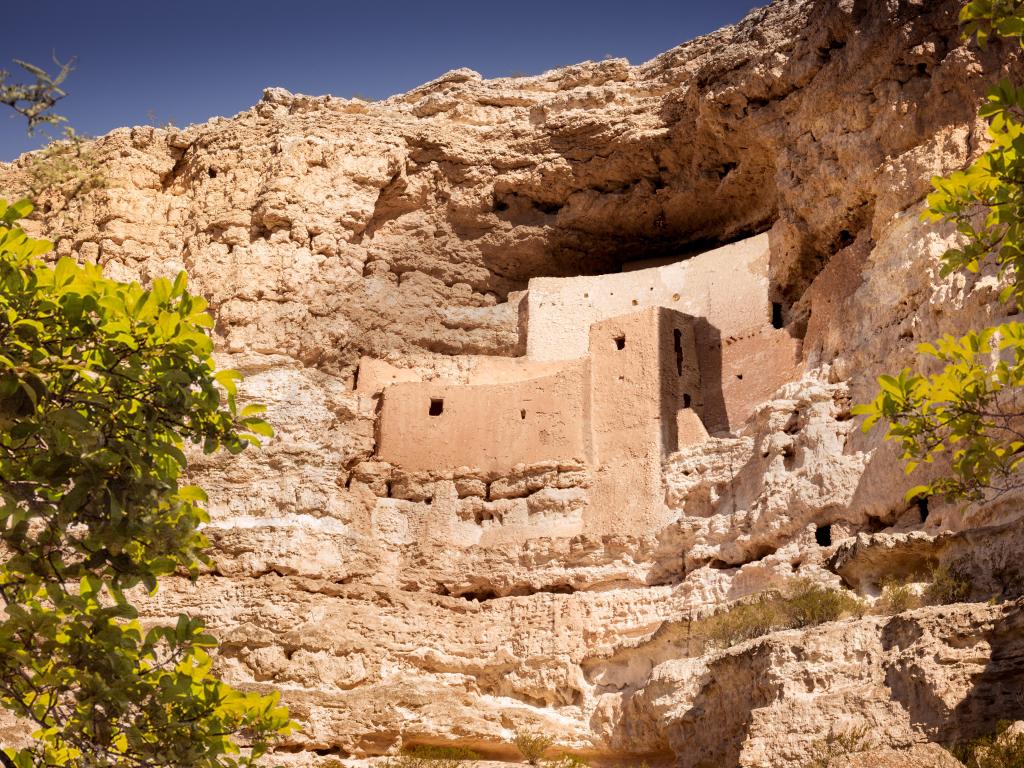 The Southern Route
National Museum of Nuclear Science & History, New Mexico – This museum offers a wonderful opportunity to learn about the history and developments in nuclear science.
El Malpais National Conservation Area, New Mexico – Spend an afternoon hiking and exploring the gorgeous conservation area of this canyon and engage in outdoor activities like camping and rock climbing.
Petrified Forest National Park, Arizona – Discover the world's largest forest with the maximum density of petrified wood at this unique National Park, a bona fide highlight of the region.
Museum of Northern Arizona, Arizona – Take an educational visit to this museum to learn about the region's history through the exhibits and artifacts recovered from the Colorado Plateau.
Lava River Cave, Oregon – Located near Bend, it is estimated that 700,000 years ago, a volcanic eruption caused molten rocks to flow and create this mile-long tunnel cave.
Coconino National Forest, Arizona – Spread over 1.8 million acres, this massive national forest is dominated by pine trees and Sedona's signature red rocks.
Montezuma Castle National Monument, Arizona – A short detour of 90 minutes on the Southern Route will take you to this magnificent castle which has successfully preserved the Native American culture. Carved into limestone, it stands tall against the surrounding desert and once served as a home to the Sinagua people.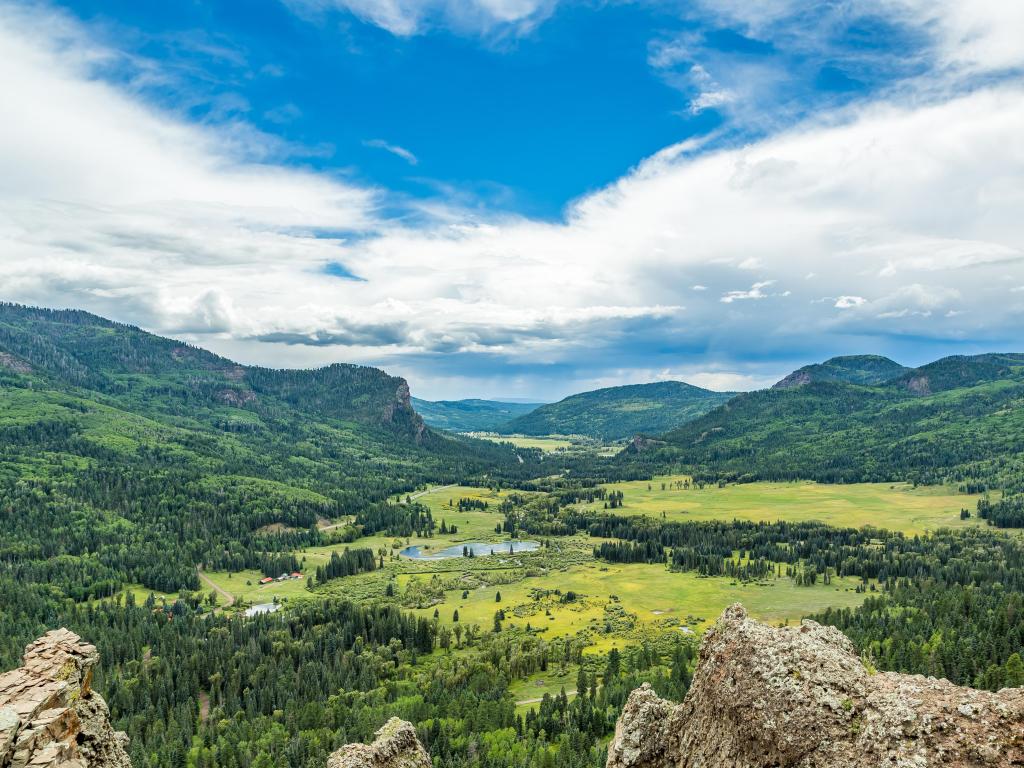 The Northern Route
Taos Pueblo, New Mexico – You cannot afford to miss this gorgeous tourist attraction when taking the Northern Route. This iconic site marks the biggest living community of Native Americans inhabited for more than a thousand years and has been recognized as a world heritage site.
Pagosa Springs, Colorado – Not only is this site a wonderful place to relax, but you'll also find the World's deepest hot spring there.
Hovenweep National Monument – Marvel at the prehistoric buildings and towers in the collection of the six villages built around AD 1200. If you travel during winter, don't miss the breathtaking view of the snow-clad monuments.
Double Arch Canyon, Arizona – Hike to this incredible location to capture unforgettable moments at the iconic double naturally formed sandstone arches.
Hole-In-The-Rock, Utah – This gigantic home carved into a sandstone is over 100 years old and spans over 5000 square feet area. The painted name of the destination - "Hole N" The Rock, "is hard to miss, and the souvenir shop is worth visiting.
Lone Rock Beach, Utah – A short detour of an hour on the Northern route will lead you to this dreamy location. Enjoy a lovely sunset on this gorgeous sandy beach amidst a massive desert.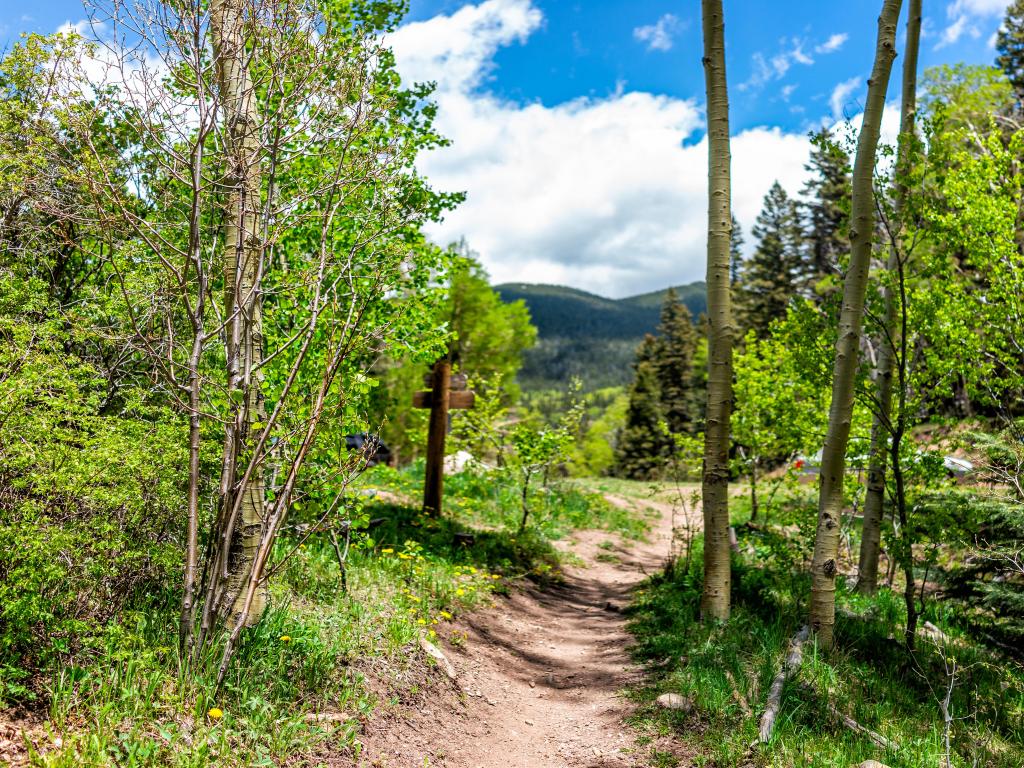 Both Routes
Santa Fe National Forest, New Mexico – Sitting right by Santa Fe, this stunning forest covers an area of over 1.6 million acres. You can enjoy many outdoor recreational activities like fishing on this vast land.
Best time to go on a road trip from Santa Fe to Grand Canyon
You can easily plan this trip all year round, but some shops and facilities shut down during the peak winter due to the harsh weather, snow, and holiday season. The North Rim sees snow and is open only from May 15 to October 15. However, you can visit the South Rim with minimal difficulties all year.
While summer remains the most popular time to visit the Grand Canyon, thanks to the favorable climate, it becomes challenging to find affordable accommodations because of excessive tourism.
The temperature during summer averages between 42 and 84 degrees Fahrenheit, and you may experience some showers during July and August. Should you plan a trip during summer, we suggest you plan well ahead of time.
The view of the snow-covered Grand Canyon is breathtaking. So, you may choose to take this trip during the winter. Ensure you carry enough layers as the lowest temperature goes as low as 17 degrees Fahrenheit. Also, since the North Rim is closed, you'll only be able to explore the South Rim of the Grand Canyon.
Spring and fall seasons are excellent for planning this road trip. The temperature during spring is still low and averages around 20 degrees Fahrenheit, whereas the fall is much more pleasant, with the temperature averaging 70 degrees.
Because there are fewer tourists, the accommodation is reasonable, and you can visit both the Rims of the Canyon without any significant compromise.
Plenty of seasonal events occur throughout the year in the Grand Canyon and surrounding regions. If planning a trip during summer or fall, try to catch the Grand Canyon Star Party, a Celebration of Arts and Echoes from the Canyon, and the famous Grand Canyon Music Festival.
During winter, Native American Heritage Days is a major festive event in November. It celebrates the Native American tribes that have been around throughout history spanning centuries. Also, the holiday season brings more festivities during December, which people look forward to.