Road Trip From Denver To Santa Fe
A road trip from Denver to Santa Fe would make for a beautiful experience, as the so-called "City Different" is home to some of America's most unique architecture, art, and cuisine. On this amazing adventure, you will follow one of the most scenic routes in the American Southwest.
The 390-mile road trip from Denver to Santa Fe will take about 6 hours to drive. Notable sights en route include Alamosa, Taos, Red Rocks Park and Amphitheater, Santa Fe National Forest, Bandelier National Monument and Great Sand Dunes National Park.
It can be hard to plan out a trip when there are so many places to see, so continue reading to get an idea of what you can expect.
How far is Santa Fe from Denver and how long will the road trip take?
Route
Distance
Driving Time
Fastest Route


(via I-25 S)

390 miles
6 hours
Scenic Route


(via US Highway 285)

360 miles
6 hours 30 minutes
Following The Scenic Route, the road trip from Denver to Santa Fe is roughly 360 miles and takes about 6 hours and 30 minutes of uninterrupted driving.
If you need to reach Santa Fe faster, then the Fastest Route will take about 6 hours to drive, covering 390 miles. Despite being longer, this route will take you to your destination in the most direct way.
There's plenty of incentive to make detours along this beautiful route, and devoting at least 1 day to each location or landmark is the best policy for nature trips. On top of that, there are plenty of places to stay overnight, so there's no need to power through this trip in a single day.
Best road trip route from Denver to Santa Fe
Although taking the I-25 south through Colorado Springs is theoretically the Fastest Route, it may take a while longer to leave Denver, and you won't get to see quite as many beautiful sights.
Instead, I would suggest a drive through the mountains along a route nestled between countless forests and ranges. That way, you'll have something to explore whichever way you turn.
How to drive from Denver to Santa Fe
The map above shows our suggestions for the best road trip routes between Denver and Santa Fe. Keep reading for detailed descriptions of both routes, where to stay on either, and the best things to do on the way.
Road trip route from Denver to Santa Fe
Take US-6 west through Lakewood and go left into Highway 470, along William F Hayden Green Mountain Park. Follow this highway south past Forsberg Park and Red Rocks Park, and head right into Highway 285 just past Mt Glennon Park. You'll be staying on this highway for most of the trip from here on out.
Past Mt Falcon, you'll start getting a lot of mountains on all sides. You'll be driving through Tiny Town & Railroad and Ranch Park, then past James Q Newton Park. Further on, you'll see the massive Staunton State Park to your right, as well as a number of scenic ranges on either side.
Past Pike and San Isabel National forests, you can either make a temporary switch to SH 17 and drive past the Great Sand Dunes National Park, or stay on Highway 285 and go through Monte Vista National Wildlife Refuge. Either way, the roads connect further south, and you'll soon cross over into New Mexico.
Not long after that, you'll find yourself between Carson National Forest to the west and Taos a bit further east. After passing Ojo Caliente Hot Springs and crossing the Rio Chama, it won't be long before you reach Santa Fe.
Best places to stop between Denver and Santa Fe
You'll want to split the trip from Denver to Santa Fe into several days, and there are several good spots to spend the night. These are some of the best ones in terms of location and comfort:
Recharge your batteries at Alamosa
Driving through mountainous terrain can be quite tiring, especially if you stop to do some hiking along the way. Fortunately, the city of Alamosa is right in the middle of the route just past the mountain expanse, making it great for an overnight stay.
There are a number of great picks for hotels in town, but the best would have to be Fairfield Inn and Suites. Located near the Alamosa National Wildlife Refuge and a number of other places of interest, this is a perfect resting point and a great hub for further exploration.
The spacious rooms come with extremely comfortable bedding, huge bathrooms with a walk-in shower, and even a working desk area to keep the vacation productive.
Also, you can round off your long, tiring day of exploration by taking a dip in the swimming pool or the hot tub with the great window view. Or, if you're the type that just can't stop moving, get a few more miles in by running on the treadmills in the fitness area. Rested and refreshed, you can enjoy a hot breakfast and prepare for the next adventure.
This hotel feels tailor-made for people traveling from Denver to Santa Fe along this route. On top of everything else, the prices are very reasonable for the services you'll be getting, so you can stick around for a few nights if you'd like to do some off-road exploring in the area.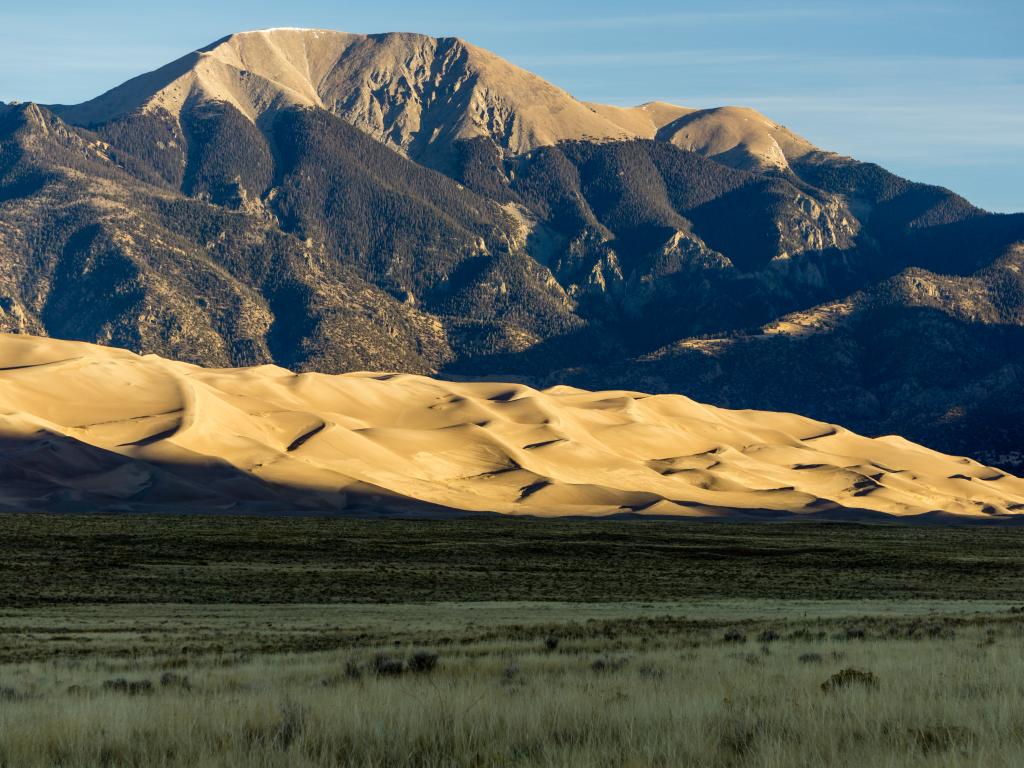 Get a taste of history in Taos
Although Taos is quite close to Santa Fe, the town's rich history and unique aesthetic make it one of the best stops to make on this trip. If you're looking for something different from the conventional hotel stay, you should definitely consider booking the Adobe and Pines Inn Bed and Breakfast in Taos.
This hacienda is unlike any rental you've probably ever seen. As the name suggests, the house is predominantly made of clay and wood, and it's extremely well-furnished while still feeling like a beautiful relic of the past. Every aspect of the interior design is gorgeous – the warm colors of the walls and furniture create a vibrant, homely atmosphere, and the entire house is meaningfully and tastefully decorated.
Spend an evening huddled around the fire pit, pop a movie into the DVD, relax in the outdoor hot tub, or chat and mingle in the communal dining area with breakfast prepared on-site – once you settle into this rental, you'll have a hard time getting back to exploring.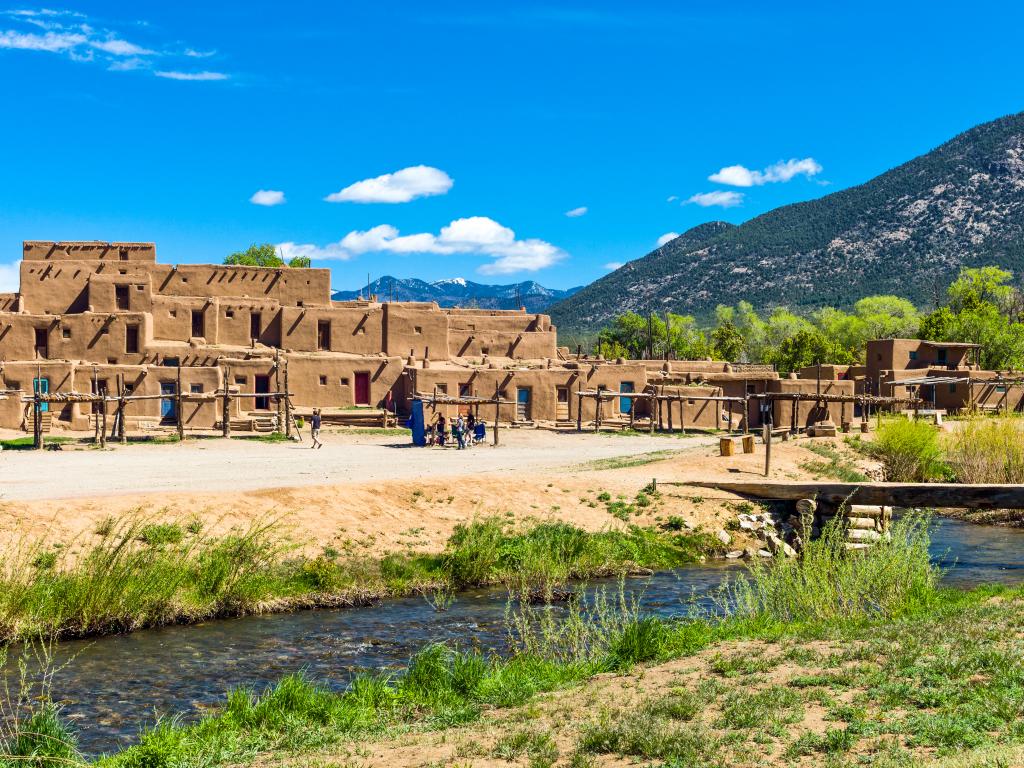 Where to stay once you reach Santa Fe
Santa Fe, the heart and soul of New Mexico, is a melting pot of history and culture, seamlessly fusing Native American, Hispanic, and Anglo influences. It's got a style all its own.
When you walk around this city, you'll find yourself captivated by the unique adobe architecture, the historic Palace of the Governors, and the beautiful the Cathedral Basilica of St. Francis of Assisi.
Now, if you're into art, well, you're in luck. With more than 250 art galleries and the celebrated Museum Hill, it's easy to lose yourself in the endless stream of traditional and contemporary works.
The absolute cherry on top, Meow Wolf is an immersive, interactive experience that throws you headlong into an alternate reality. It's a wild ride through an imaginative jungle gym and a haunted house wrapped up in an art exhibit, and it's not something you'll want to miss.
While in Santa Fe, we recommend staying at the beautiful Inn on the Alameda. You will feel immersed in the perfect Santa Fe experience during your stay on this property, built in a traditional style.
The art galleries on Canyon Road and the Cathedral Basilica of St. Francis of Assisi are only a short walk away, so you can easily explore the city on foot, using this stylish hotel as your base.
Things to see on a road trip from Denver to Santa Fe
A quick glance at a map is enough to tell you just how much there is to see while driving from Denver to Santa Fe – making a list of the route's gorgeous mountains alone is next to impossible, given how many there are. Here are some of the places that'll take your trip to the next level:
Red Rocks Park and Amphitheater – Red Rocks Park and Amphitheater is a spectacular, world-renowned venue nestled within stunning natural rock formations; it's a visual feast that's worth experiencing even without a scheduled event.
Matthews/Winters Park – Matthews/Winters Park is an unparalleled hiking paradise, offering visitors majestic, high-altitude panoramas that truly capture the beauty of Colorado.
William F Hayden Green Mountain Park – William F Hayden Green Mountain Park is a sprawling oasis of greenery, boasting unrivaled mountain vistas and a breathtaking overlook of Denver city.
Staunton State Park – Staunton State Park is a majestic showcase of nature, featuring towering granite cliffs, expansive meadows, and diverse wildlife, a picturesque spectacle that is not to be overlooked.
Mt Falcon Park – Mt Falcon Park offers stunning hiking trails and the historical intrigue of John Brisben Walker's castle ruins, a structure famously struck by lightning.
Tiny Town & Railroad – Tiny Town & Railroad is a charming amusement park featuring a delightful small-town theme and a fun miniature railway, perfect for a family outing.
Pike & San Isabel National Forests/Cimarron & Comanche National Grasslands – Pike & San Isabel National Forests/Cimarron & Comanche National Grasslands offers an endless sea of green, punctuated by Colorado's highest peaks, including the lofty Mount Elbert.
Great Sand Dunes National Park – Great Sand Dunes National Park is a geological wonder, featuring an expansive sea of dunes, including the towering Star Dune, all testament to the area's rich lacustrine history.
Monte Vista National Wildlife Refuge – Monte Vista National Wildlife Refuge is a unique landscape home to a myriad of wildlife, including a variety of elk and cranes, providing visitors a glimpse into a fascinating ecosystem.
Taos Pueblo – Taos Pueblo stands as one of the oldest continuously inhabited communities in America, making it a significant touchstone of U.S. history.
Ojo Caliente – Ojo Caliente is renowned for the mineral-rich Ojo Caliente Hot Springs, an extraordinary natural feature offering therapeutic waters.
Bandelier National Monument – Bandelier National Monument presents awe-inspiring remnants of the Ancestral Puebloans, with countless ancient dwellings and cavities etched into the landscape.
Santa Fe National Forest – Santa Fe National Forest is a scenic wonder for all visitors to Santa Fe, offering sprawling, elevated woodland vistas that stretch as far as the eye can see.
Pecos National Historical Park – Pecos National Historical Park offers more than just superb hiking opportunities; it is also home to the historic Pecos Pueblo community, enriching every visit with a touch of history.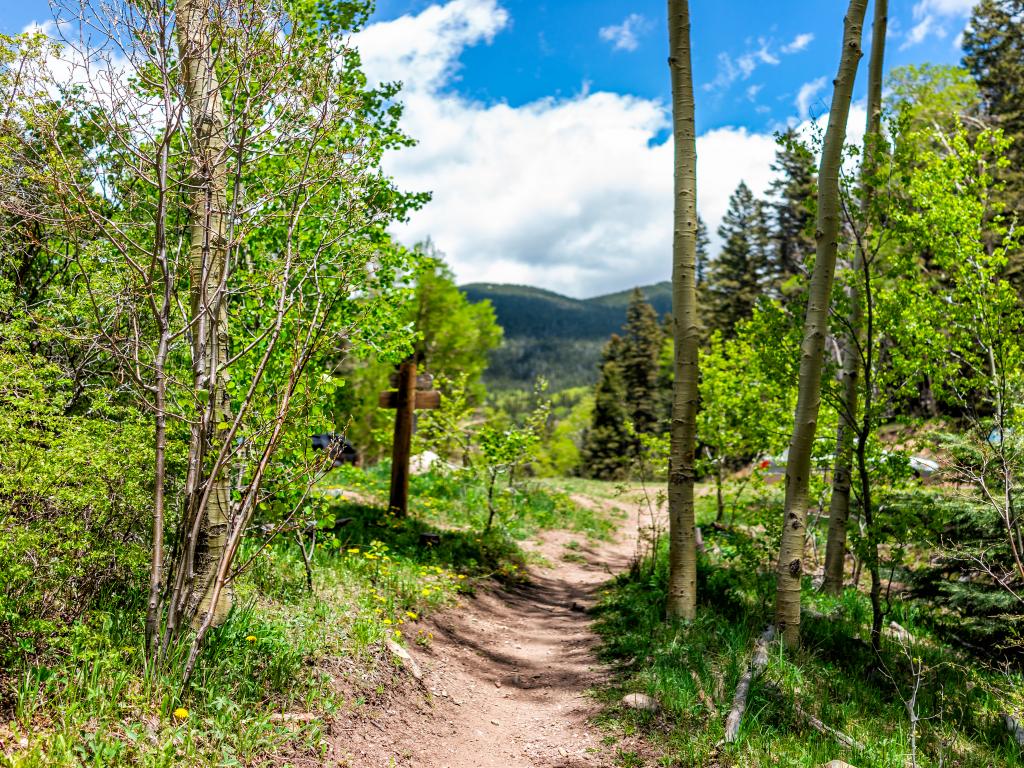 Best time to go on a road trip from Denver to Santa Fe
Considering the terrain of the route and Santa Fe's climate, certain seasons are definitely better suited than others for a road trip from Denver to Santa Fe.
Santa Fe is sunny for most of the year, but there's a very clear difference between the seasons – the summers are fittingly warm while winters are cold and snowy.
In addition, the nights tend to be quite cold because of the high desert climate, often leading to drastic temperature swings in the summer. With that said, extreme heat and cold are very rarely recorded out of season.
The city itself attracts visitors all year round since there are heaps of events and festivals in the area.
To strike the perfect balance between good weather and fun things to do, I'd recommend visiting in the fall – the daytime temperatures are quite pleasant, and notable events include the Burning of Zozobra, the Santa Fe Independent Film Festival, and a bit further south, the Albuquerque International Balloon Fiesta.
Winter, on the other hand, might not be the best time to visit Santa Fe, at least not via this route. Not only is the city cold (with the occasional snow in March!), but you'll need to be careful while driving through the largely mountainous trail in the first half of the route.
This is especially true if there's lots of snow – because of the terrain, it's harder to keep Hwy 285 consistently clean in the winter. If you do decide to go for it, keep a close eye on the forecast and pack extra blankets and warm clothes!