Road Trip from Scottsdale to Sedona
If you're looking for a short but sweet road trip to immerse yourself in the history of the Wild West, stories about the roots of the nation and landscapes of rock arches, canyons, and red rocky outcrops, look no further: the road trip from Scottsdale to Sedona is the right fit for you.
The 185-mile road trip from Scottsdale to Sedona takes 4 hours to drive non-stop. You can drive via Black Canyon City, Prescott, and Red Rock Scenic Byway, or via Tortilla Flat, Tonto National Forest, Payson and West Clear Creek Wilderness.
Continue reading to discover what the best routes are to take, what are the best things to see and do along these routes, and where to stay overnight during your road trip.
How far is Sedona from Scottsdale, and how long will the road trip take?
Comparison of road trip routes between Scottsdale and Sedona

| Route | Distance | Driving Time |
| --- | --- | --- |
| The Direct Route (via Prescott) | 185 miles | 4 hours |
| The Payson Detour | 210 miles | 5 hours |
The road trip from Scottsdale to Sedona is 185 miles long and takes about 4 hours to drive non-stop, following the Direct Route.
Alternatively, the slightly longer Payson Detour is 210 miles long and takes 5 hours to drive without stopping.
You might easily do this road trip in a day, but then you'd miss out on many amazing natural and cultural landmarks. We recommend taking 2-3 days for doing this road trip, to have enough time to explore all that it has to offer.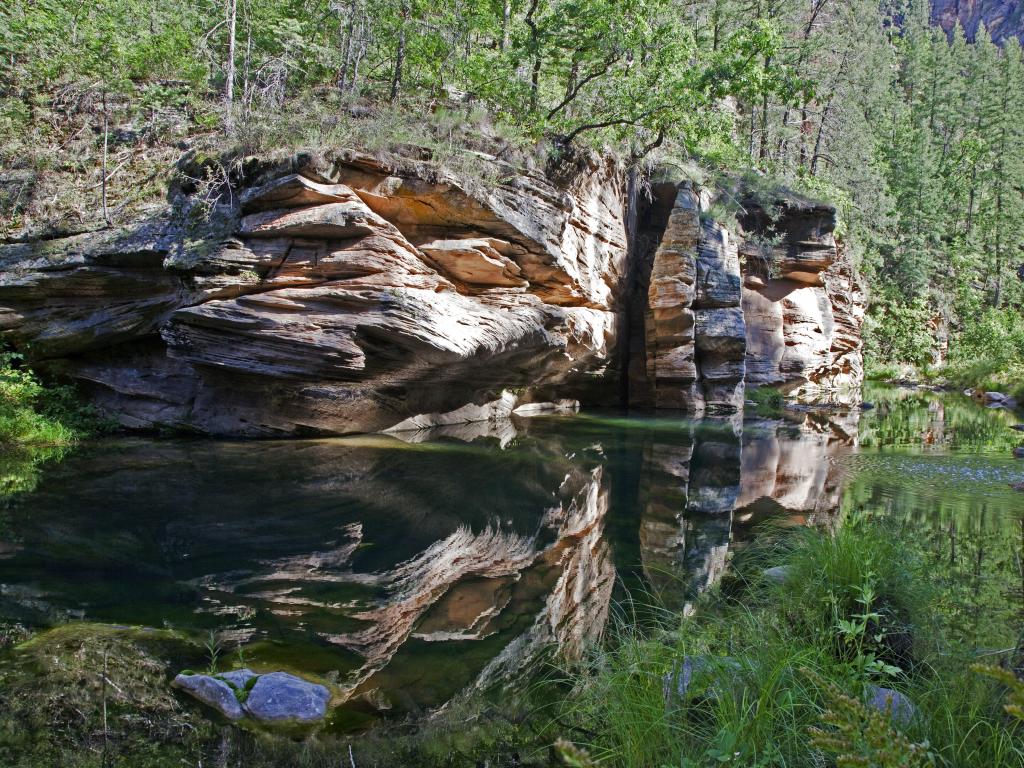 Best road trip route from Scottsdale to Sedona
The best road trip route from Scottsdale to Sedona ultimately comes down to how much time you have available to make your journey.
Both of our suggested routes traverse the geographical transition zone of Arizona consisting of mountains and valleys, and include fascinating historic stops and beautiful natural areas to explore. The Payson Detour, however, takes you via the beautiful Red Rock Scenic Byway.
The Direct route allows you to visit towns and sites with rich pioneer history, and explore some beautiful nature trails. Cities you'll pass by include Black Canyon City and New River, and you have the option to visit the popular, unique Prescott City.
You can enjoy the waters and beaches by Lake Pleasant Regional Park, have a walk at the Black Canyon Heritage Park, and enjoy the beautiful scenery along the Red Rock Scenic Byway.
Alternatively, the Payson Detour takes you via several stunning nature areas consisting of mountain ranges, valleys, canyons and waterfalls.
You will drive through Tonto National Forest, have the option to take a detour to Sitgreaves National Forest, and will pass close by the West Clear Creek Wilderness with some amazing hiking and waterfalls. You'll also drive along the Red Rock Scenic Byway on this route.
Cultural sites include Tortilla Flat, a real Old West town, Roosevelt with ancient Native American dwellings, and Payson, an interesting historic city and a vibrant farming community.
How to drive from Scottsdale to Sedona
The map above shows our suggestions for the best road trip routes between Scottsdale and Sedona. Keep reading for detailed descriptions of both routes, where to stay on either, and the best things to do on the way.
Direct Route (via Prescott)
To start this route from Scottsdale, take Arizona State Route 101 northwest, until Deer Valley, turn north onto Interstate 17 (I-17).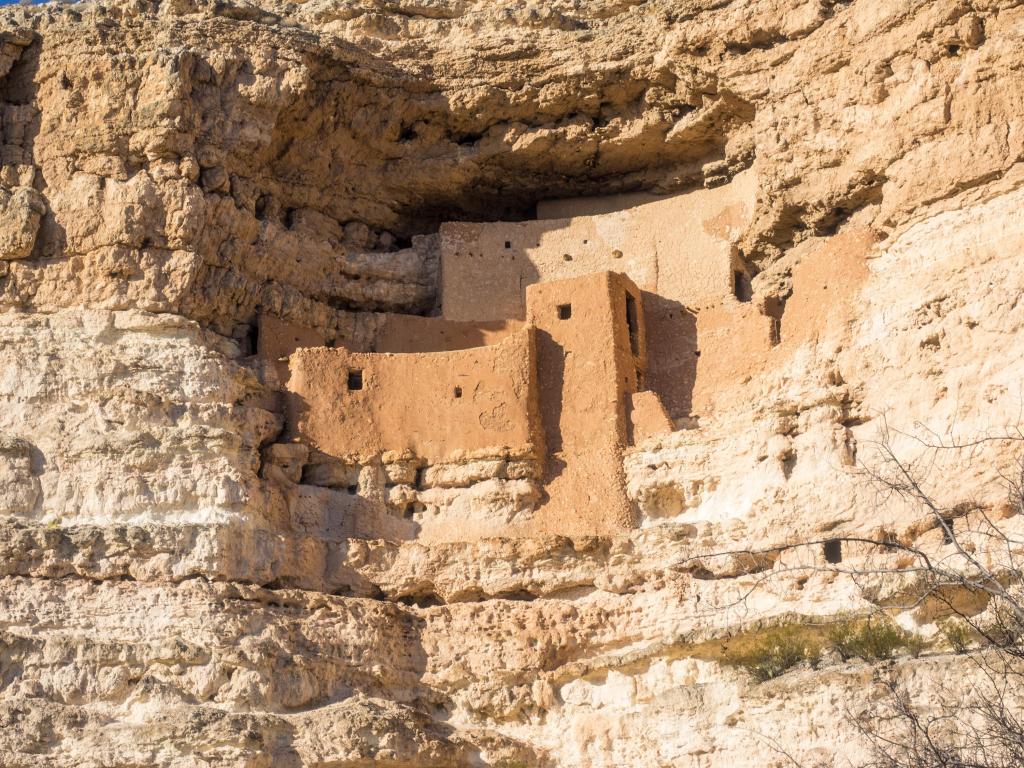 You'll drive through New River and Black Canyon City. At Cordes Lakes, take a northwest turn onto Arizona State Route 69. This road will take you to picturesque Prescott with rich wild west heritage and beautiful lakes and nature areas to explore.
After visiting Prescott, follow Arizona State Route 69 and 169 east, back to I-17. You can then visit cultural and historic sites at Camp Verde and Lake Montezuma.
After this, turn onto Arizona State Route 179, also known as Red Rock Scenic Byway. Along this route you'll pass by stunning red rock formations, and you can visit the interesting historic town, Village of Oak Creek, before you reach Sedona city.
Payson Detour
Take Arizona State Route 202 east from Scottsdale, direction Tortilla Flat. You can visit real Wild West saloons and boutiques in this small town before heading further northeast, to Roosevelt.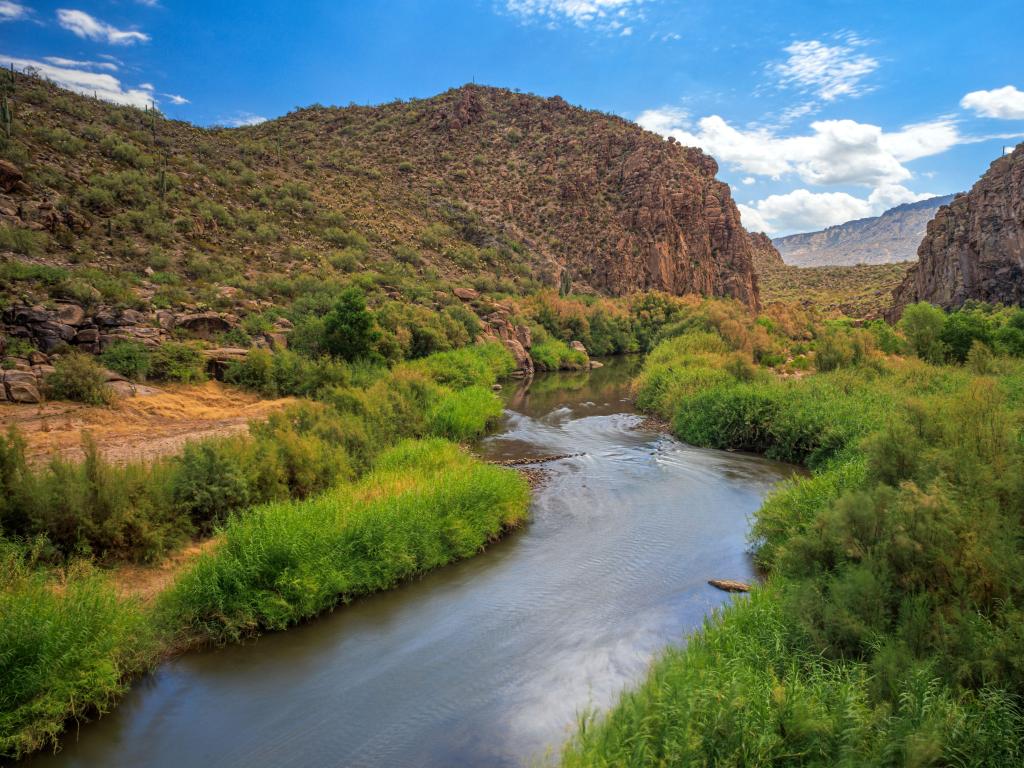 Here, close to Theodore Roosevelt Lake, you can admire ancient Native American rock dwellings.
Afterwards, follow Arizona State Route 188 north through Tonto National Forest, then carry on further north to Payson. You'll find beautiful hiking trails, restaurants, churches and other cultural sites in this central Arizona town, or you can venture slightly eastward to visit the diverse Sitgreaves National Forest.
After Payson, you'll drive along the scenic Arizona State Route 260, past breathtaking mountain views and rock formations, to Camp Verde.
Then, as with the Direct Route, drive towards Sedona past Lake Montezuma and then along the Red Rock Scenic Byway.
Best places to stop between Scottsdale and Sedona
This scenic road trip has amazing towns, cities and nature areas to stop at, from small Wild West towns to bigger cities with museums and other cultural attractions, and wonderful nature areas with central Arizona fauna and flora.
Of all the wonderful places to stop at during the road trip, we present here some of our recommendations to stay overnight. Continue reading to discover what they are, what to see and do in these places, and some of our favorite hotel suggestions.
Visit picturesque Prescott and explore its museums
Prescott is found about two-thirds of the way along the Direct Route option. It is a beautiful city and a popular tourist destination, due to its stunning historic buildings, cultural landmarks, and lovely outdoor recreation opportunities.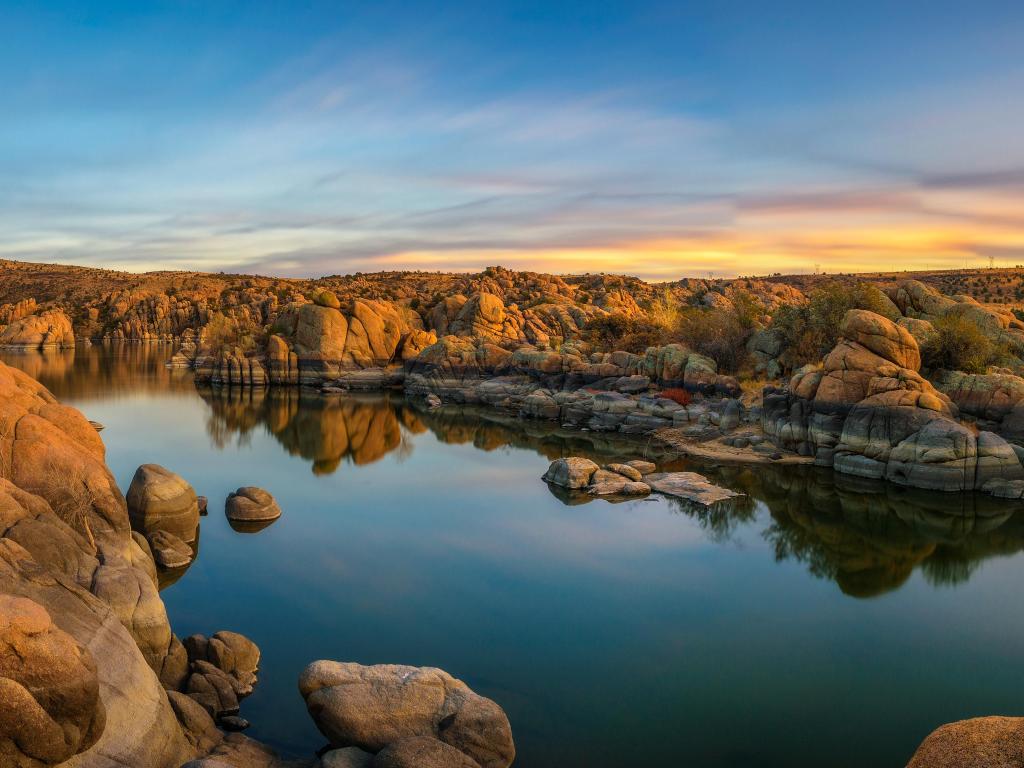 The city is especially known for its Western character and history. It is also the site of the four most valued museums in Arizona.
Notable attractions in Prescott include the Sharlot Hall Museum where you can learn about the area's rich pioneer history, and the Smoki Museum with artifacts of the Indigenous Peoples of the Southwest.
Wander around Prescott's Downtown Historic Area, called Whiskey Row, to admire the several interesting historic buildings found here such as saloons and old stores.
You can also enjoy exploring the nearby Prescott National Forest, with beautiful vistas of hills, lakes and valleys, and lovely hiking trails.
As a place to stay overnight, we can recommend Hilton Garden Inn Prescott Downtown. This hotel offers spacious, comfortable rooms and a lovely breakfast in a beautifully decorated, modern building.
The hotel is close to downtown Prescott, and so you can easily walk to the historic district, Sharlot Hall Museum, and the Courthouse Plaza, a historic gathering place. Nearby, you'll also find lovely cafés, restaurants and breweries.
Stay over at Payson, a gateway to enchanting scenic areas
Payson, and Kohls Ranch right next to it, are found about two-thirds of the way along the Payson Detour route option. Payson is known as the site of the oldest continuous rodeo in the world, and traditionally as a town of Native Americans, cowboys, ranchers and farmers.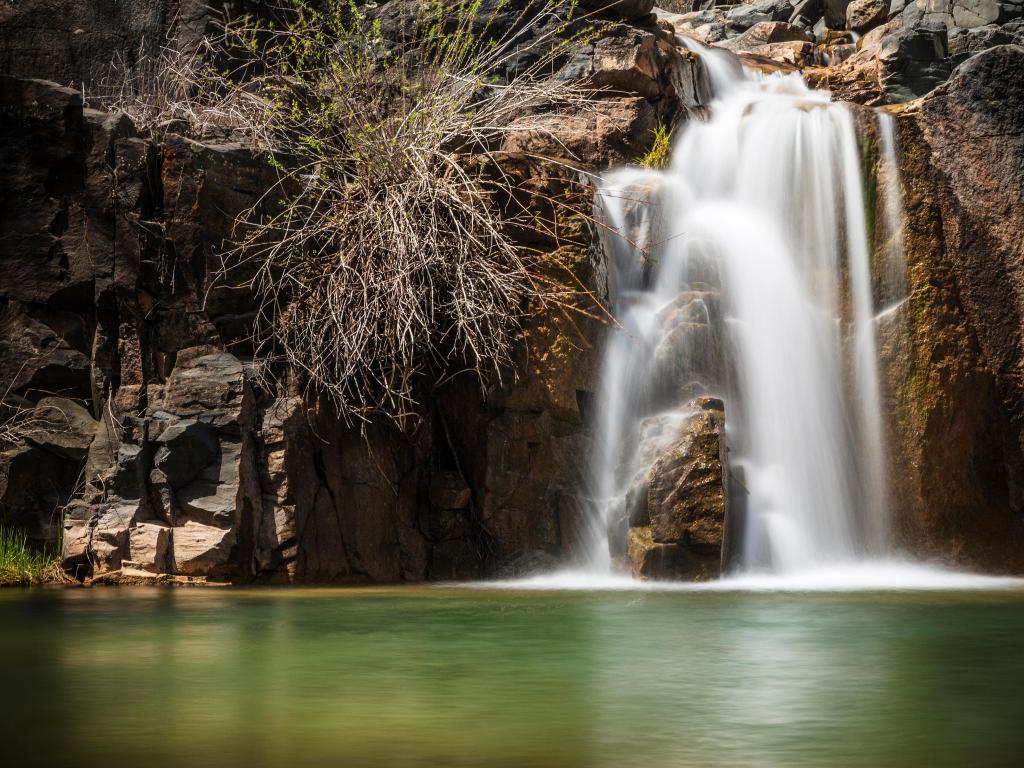 Even today, farming is an important livelihood in the area. You can admire local fresh produce at the Payson Farmers Market that runs in the summer months. It features wonderful local products, music, and fun for the whole family.
Other attractions in the area include Green Valley Park, a beautiful community park where you can stroll in the gardens or do fishing and other water activities, and Rim Country Museum and Zane Grey Cabin, a charming museum displaying local history from 800 AD to modern times.
For a place to stay overnight, our top choice is Kohl's Ranch Lodge, about ten miles east of Payson. Staying at this lovely lodge you can enjoy both nature and relaxation or go explore Payson and its surrounds.
The lodge offers luxurious accommodation in charming wooden cabin-style studios. There is an outdoor swimming pool, a hot tub, a fireplace, and free parking for guests at the lodge. The lodge's restaurant Zane Grey Steakhouse & Saloon serves western-style foods and ale.
Kohl's Ranch Lodge is located in peaceful surroundings, and you'll enjoy listening to the Tonto Creek flowing just a few yards from the lodge. Furthermore, just a few hundred meters from the lodge, you'll find Tonto Creek Waterfalls, Paleo Site Monument, and other wonderful hiking trails.
Where to stay when you reach Sedona
Once you reach the beautiful city of Sedona, with its incredible red rocks and colorful arts scene, you'll want someplace to stay that is central yet close to scenic areas.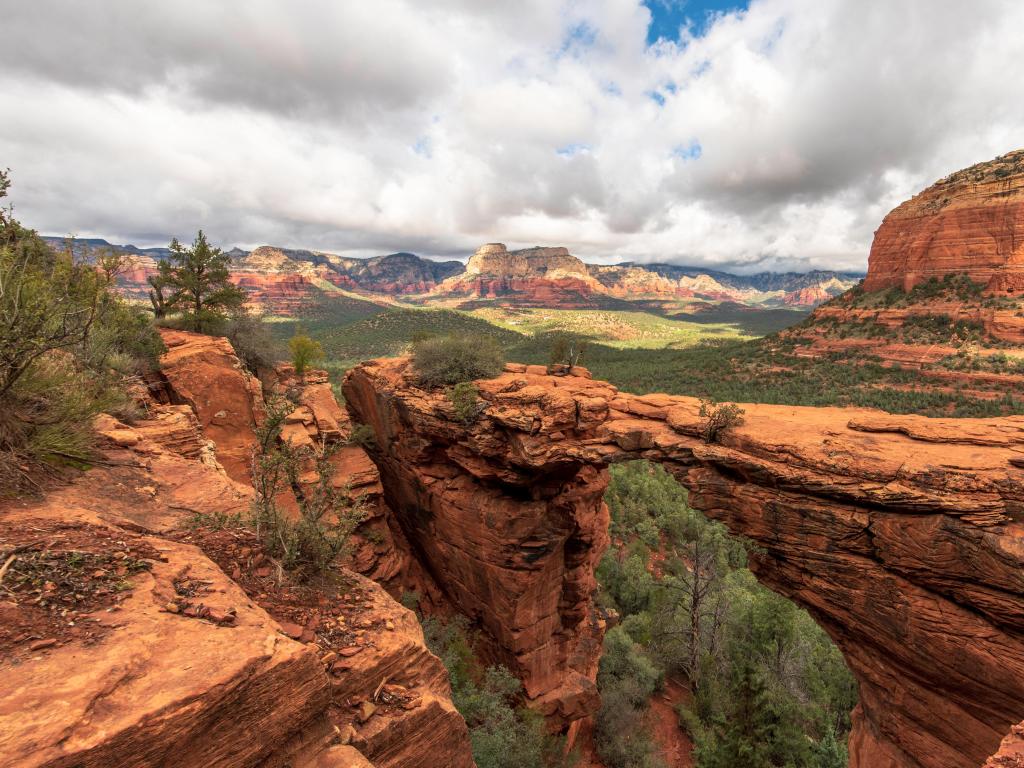 A Sunset Chateau is a wonderful option. This cozy bed and breakfast has characterful rooms and comfortable beds. You can enjoy a lovely breakfast on the patio with views over the mountains, and some of the rooms have views of the surrounding area as well.
There is a hot tub, a swimming pool, a wellness center and free parking at the B&B. You'll also have use of the garden, the terrasse, and a waterfall with a pond.
Sedona is not a very big city, and you can easily walk to some of the nearby attractions, such as Sunset Park which is right next to the bed and breakfast, or Sedona Heritage Museum which is about 2 miles away.
Close to the accommodations you'll find starts of lovely hiking trails, and close by on the main road there are lovely restaurants, bars, and cafés.
Things to see on a road trip from Scottsdale to Sedona
This road trip taking you from southern Arizona's Sonoran Desert, through the mountainous transition zone and into the northern Colorado Plateau area, holds amazing treasures all along, from small towns with rich pioneer history to ancient Native American rock dwellings.
Read on to find out our recommendations for the best things to see and do during this road trip.
Direct Route (via Prescott)
Sonoran Preserve Desert Vista Trailhead - This stunning park on the outskirts of Phoenix offers superb hiking trails, amid beautiful desert with lush, green areas of cacti and other desert vegetation.
Lake Pleasant Regional Park - Enjoy desert landscapes, cool waters, and sunny beaches at Lake Pleasant Regional Park. This is a wonderful outdoor recreation area, where you can swim, kayak, and engage in other water sports and outdoor activities.
Black Canyon City, Arizona - Black Canyon is a city with museums, restaurants and cafés to enjoy. The river Agua Fria flows through the city, as well as through the Black Canyon Heritage Park, where you can enjoy a trail along a riparian area with lovely birding and butterfly viewing opportunities.
New River, Arizona - In New River, you might enjoy visiting some of the several attractions in the area, such as Frontier town with costumed Old West performers, the Elephant Mountain natural monument, or the Pioneer Arizona Living History Museum.
Prescott, Arizona - Do take a little detour to visit the Prescott area. The city's historic downtown area has vibey bars and live music venues. You can visit museums, such as the Sharlot Hall Museum to learn about pioneer history, or the Smoki Museum to view artifacts of indigenous peoples. The city is also surrounded by stunning lakes and pine forests, and you can view these in the nearby Prescott National Forest.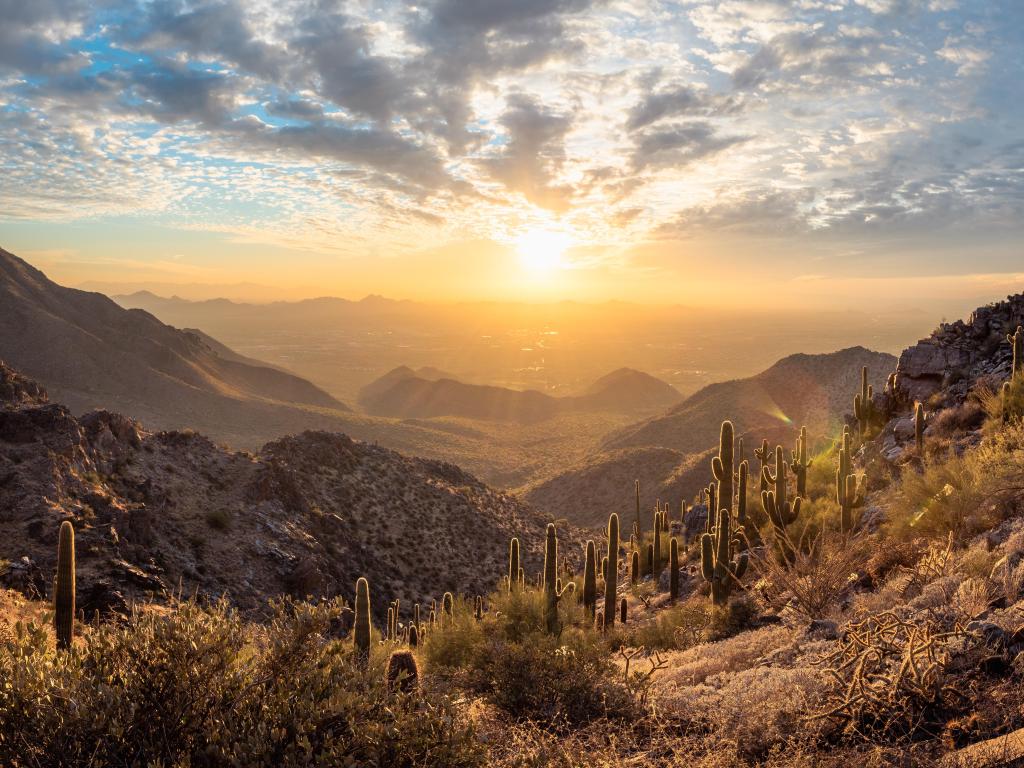 Payson Detour
Tortilla Flat, Arizona - Tortilla Flat is an iconic small town with a real Old West feel. You'll find a couple of small shops and restaurants here. Nearby the town you'll also find several starts of hiking trails to reach the Superstition Mountains in the vicinity.
Roosevelt, Arizona - Roosevelt, Arizona, is home to historic Native American dwelling sites, Tonto National Monument and Tonto Upper Cliff Dwelling. You can also enjoy water sports and activities by the Theodore Roosevelt Lake.
Tonto National Forest, Arizona - Tonto National Forest harbors rugged, beautiful landscapes of the Sonoran Desert, the Mogollon Rim mountains, and canyons and pine forests. There are plenty of stunning hiking trails in this large national forest.
Payson, Arizona - Payson, known as "the heart of Arizona" due to its geographical location close to the center of the state, is home to fine restaurants and culture as well as superb outdoor recreation. There are lots of interesting historic buildings in Payson, as well.
Sitgreaves National Forest - This national forest consists of pine and juniper forests, and diverse wildlife such as black bear, mountain lion and elk call it home. The forest is located on mountains, and contains lakes, rivers, and wonderful hiking trails. It is a little off your road trip route, but from Payson, you could easily do a day trip to visit this beautiful nature area.
Tonto Natural Bridge State Park, Arizona - This state park is home to one of the largest natural limestone bridges in the world: it is 400 feet long and 183 feet high. The park harbors lovely walking trails and picnic areas.
West Clear Creek - This natural landmark consists of a river and canyon that are mostly only reachable on foot. However, the wilderness contains breathtakingly beautiful rock formations and waterfalls, well worth seeing should you be feeling adventurous.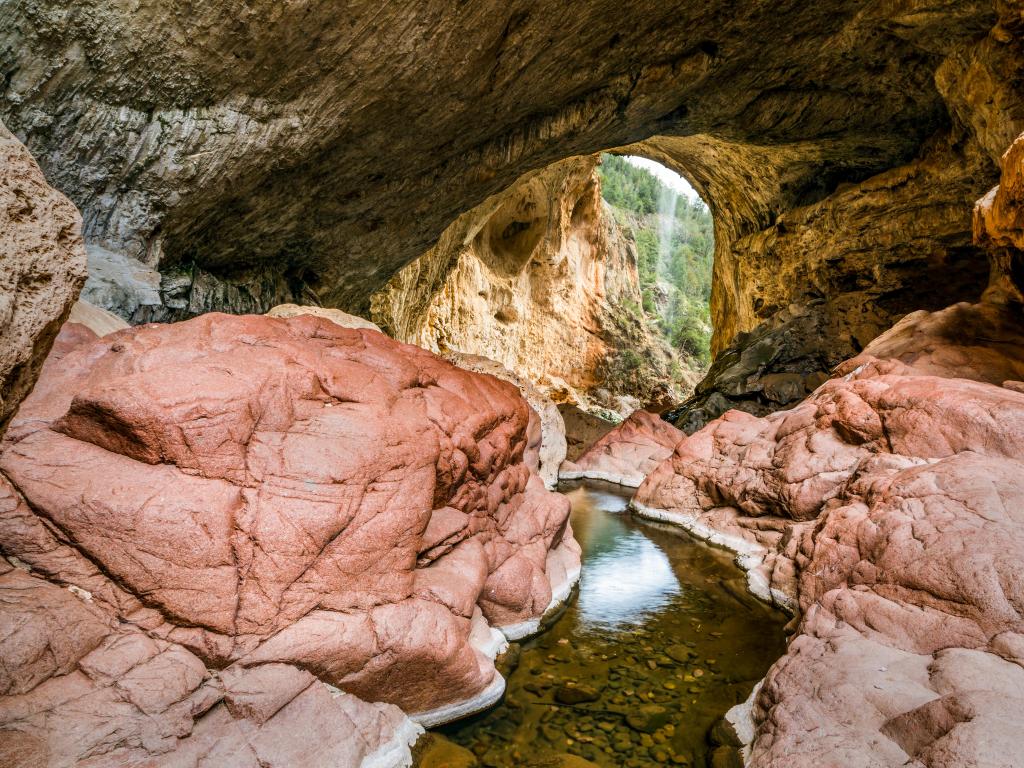 Both Routes
Camp Verde, Arizona - Camp Verde is known for the nearby Verde Valley with wonderful wineries and tasting rooms. You can also visit the special wildlife park Out of Africa nearby or learn about history at the Fort Verde State Historic Park.
Montezuma Castle National Monument, Arizona - Visit these well-preserved ancient dwellings, built by Sinagua indigenous people hundreds of years ago.
Lake Montezuma, Arizona - Lake Montezuma is a base for viewing the Montezuma Castle National Monument and V Bar B Heritage Site with conserved rock art. The town also harbors lovely restaurants and markets.
Red Rock Scenic Byway, Arizona - This scenic stretch of road takes just 20 minutes to drive non-stop, but it is suggested you take it slow and allow several hours to take in the wondrous sights and landmarks along the byway. The route is especially known for the many red-rock formations that dot the landscape here. You can also do hiking, biking or golfing along the way.
Village of Oak Creek, Arizona - At Oak Creek, you'll find lovely restaurants, shops and galleries to visit. You can also enjoy visiting the Chapel of the Holy Cross, or hiking up to Cathedral Rock, one of the several vortexes, or high energy centers, that are said to exist in the landscape surrounding Sedona.
Best time to go on a road trip from Scottsdale to Sedona
Sedona is located in the Colorado Plateau area of Arizona, thus experiences a semi-arid climate. Summers here are mild to hot, and winters can get fairly cold, albeit with not much snowfall.
You can certainly visit Sedona at any time of the year, although spring, from March to May, is generally considered the best time of year for visiting the area.
Summer temperatures in Sedona range between 65 and 95 degrees Fahrenheit. The peak tourism season in Sedona is during the summer months, which is something you can wish to take into account when planning the timing of your road trip.
In winter, you can see the surrounding mountains covered with a light dusting of snow on some winter days. Temperatures range from 30 to 60 degrees Fahrenheit in the winter months. Thus, if you do visit Sedona in winter, equip yourself with some warm clothing, and you're good to go.
March to May are probably the best times to visit Sedona. Temperatures then aren't too chilly or too hot, making this a wonderful season for enjoying the many hikes and other outdoor activities in the beautiful red stone hills surrounding Sedona.
Sedona hosts wonderful festivals and events throughout the year. You may wish to consider some of these when planning the timing of your road trip.
Sedona Film Festival is a well-known and well-attended event. It is an eight-day festival taking place in late February – early March. During the festival, all sorts of films are screened from feature films to documentaries and short films, and there are also workshops for aspiring filmmakers.
July is a time to spot hummingbirds in Sedona. Indeed, to honor these birds, Sedona Hummingbird Festival takes place in July, to celebrate the peak hummingbird population. The festival includes garden tours, educational talks, entertainment, and much more.
Finally, something to attend and enjoy in November is the Sedona Food Truck Festival. This fun event features wonderful foods, beers, and music performances.