Road Trip From Denver To Phoenix
Although it's definitely a huge undertaking, one of the most scenic drives you can make in the American South would be a road trip from Denver to Phoenix. Featuring lush forests, arid deserts, and skyscraping mountains, this trip is bound to leave a lasting impression.
The 820-mile road trip from Denver to Phoenix can be done in 13 hours. Places to see include Rocky Mountain, Arches, and Grand Canyon National Parks,Tonto and Coconino National Forests, the Taos Historic District, and the rock formations of Sedona.
You'll want be well-prepared for your journey, so be sure to read until the very end to learn as much about this epic trip as possible.
How far is Phoenix from Denver and how long will the road trip take?
| Route | Distance | Driving Time |
| --- | --- | --- |
| The Rocky Mountains Route | 820 miles | 13 hours |
| The New Mexico Route | 865 miles | 13 hours 20 minutes |
Taking the most straightforward route, the road trip from Denver to Phoenix takes around 13 hours and covers 865 miles. Ideally, you'll want to make at least one overnight stop during the trip, but preferably even more so you can check out as much as possible on the way.
Never straying from the interstate, this route will take you along the Rocky Mountains in Colorado before cutting through Santa Fe and Albuquerque, then concluding the epic journey in Phoenix.
Another way of approaching the trip is to cut through the Rockies themselves. This takes you through Utah instead, not to mention you get to enter Arizona from the North – you get to pass through Moab, Flagstaff, and Sedona on your way to Phoenix, or even visit the Grand Canyon.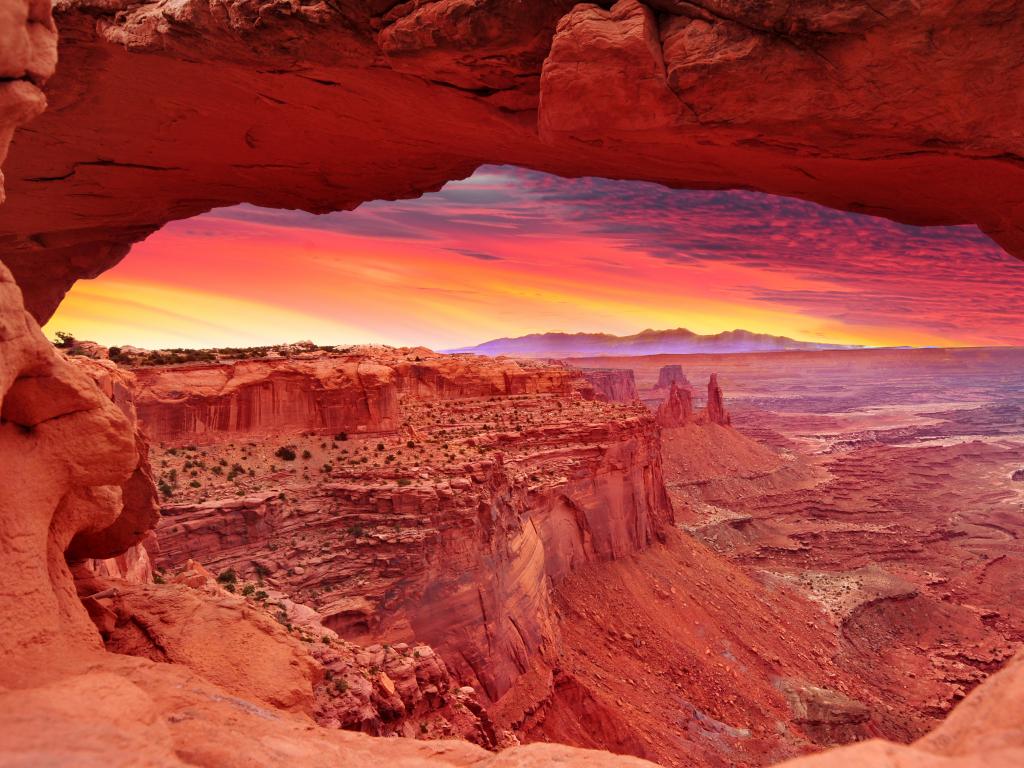 Keep in mind that taking the Red Rock Scenic Byway out of Sedona will add some obligatory stops and extend your travel time, although that's definitely an option worth considering.
With all that said, be mindful of traffic on the latter route. Along the first route, you can easily avoid traffic in Albuquerque (the route's biggest city) thanks to the grid plan of the residential areas.
However, places like Flagstaff and Sedona are tourist magnets and draw large crowds on weekends and holidays, so you may find yourself staring at tail lights for a few extra hours.
Best road trip route from Denver to Phoenix
In general, there's no best route for the trip from Denver to Phoenix – both are immeasurably scenic and work great together, so definitely consider taking one on the way to Phoenix and the other on the return trip to make the most of it.
If you are visiting Rocky Mountain National Park, keep in mind that the national park uses a timed entry permit system. Please check the national park's website to see if you need to make a reservation before your visit.
How to drive from Denver to Phoenix
The map above shows our suggestions for the best road trip routes between Denver and Phoenix. Keep reading for detailed descriptions of both routes, where to stay on either, and the best things to do on the way.
The New Mexico Route
Leave Denver via Interstate 25 to the south, passing by San Isabel National Forest and through Colorado Springs. Past Great Sand Dunes National Park Preserve, cross over into New Mexico. From Santa Fe, be sure to check out Taos and Carson National Forest to the north.
Once you're done, follow the interstate past Cibola National Forest and into Albuquerque. Hop onto Interstate 40, following it past El Malpais National Conservation area and Bluewater State Park before reaching Arizona.
Stay on the interstate all the way through Petrified Forest National Park. Not long after exiting the park, follow Routes 377, 277, 260, and 87 the rest of the way to Phoenix – you'll drive through Apache-Sitgreaves and Tonto National Forests, and past McDowell Mountain Regional Park.
Almost immediately after reaching Arizona, you'll connect to Route 160 – you can either follow it east for a quick detour to Mesa Verde National Park via the Four Corners Monument, or stay on the main route and follow it to Route 89, just east of Grand Canyon National Park.If you detour west, you can drive through Monument Valley which has some of the most famous desert rock formations in the world.
After passing Kaibab National Forest, make a stop at Flagstaff. From here, either take Route 89A to Sedona and the Red Rock Scenic Byway on the way out, or save some time by taking Interstate 17 through Coconino National Forest.
Either way, you'll eventually pass Montezuma Castle National Monument on the interstate – stay on it the rest of the way until you've reached Phoenix.
The Rocky Mountains Route
Cutting directly through the Rockies, take Interstate 70 west past Rocky Mountain National Park, Arapaho and Roosevelt National Forests. And McInnis Canyons National Conservation Area.
Just out of Thompson Springs, take Route 191 south past Arches and Canyonlands National Parks, as well as Glen Canyon National Recreation Area.
Once in Arizona, take Route 160 west and follow it past the Grand Canyon, then cut through Coconino National Forest via Route 89 and hop onto Interstate 17, following it the rest of the way to Phoenix.
Best places to stop between Denver and Phoenix
Thanks to the abundance of landmarks and attractions around every corner, there are plenty of great place to stop on the way from Denver to Phoenix. Be sure to take at least a couple of weeks to explore everything there is to see. Here are some hotels for your consideration:
Enjoy the unique vibe of Albuquerque
Offering the perfect blend of urban and tranquil, Albuquerque is the perfect place to spend a few nights while exploring New Mexico. If you're looking for something extravagant, the best-looking rooms in town are in the beautiful Hotel Chaco.
The interior is extremely fashionable, and the suites feature amazing window of the property, which is in itself a treat. On the topic of views, the terrace sitting area overlooks the city, and it's a great place to enjoy your morning coffee.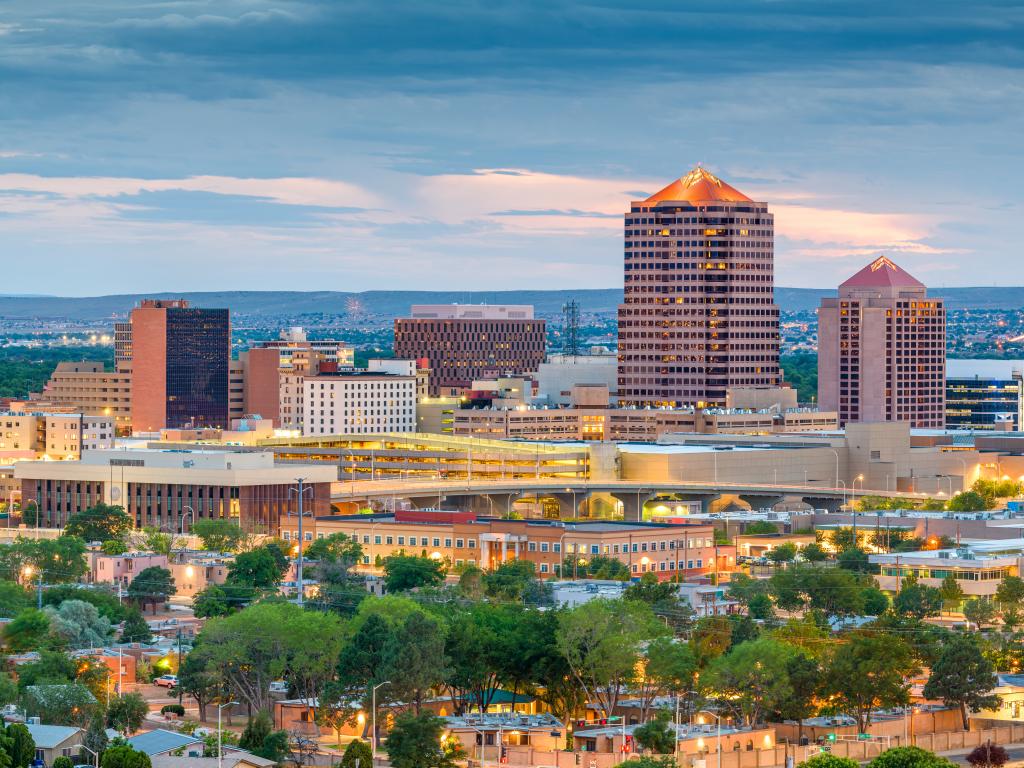 The outdoor swimming pool is a great place to cool off after a long day of exploring Albuquerque, and as far as food goes, you can order a la carte to start your day off on the right note.
Considering you'll be staying in a major city, the price of the hotel is actually quite reasonable. You'll be about a mile and a half from the center of the city, putting you within walking distance of most places of interest in Albuquerque
Explore Utah National Parks in Moab
Surrounded by the stunning Utah desert and 2 of the best National Parks, Moab makes for an ideal stopover during your road trip, and the best hotel in town with the most incredible morning view is definitely Hoodoo Moab.
The rooms are everything you'd want them to be – comfortable, spacious, and in keeping with the desert ambient, very easy on the eyes with their shades of beige and light brown.
Stepping onto the balcony, you get a beautiful view of the gorgeous exterior, which features a lovely swimming pool that few in the region can come close to matching.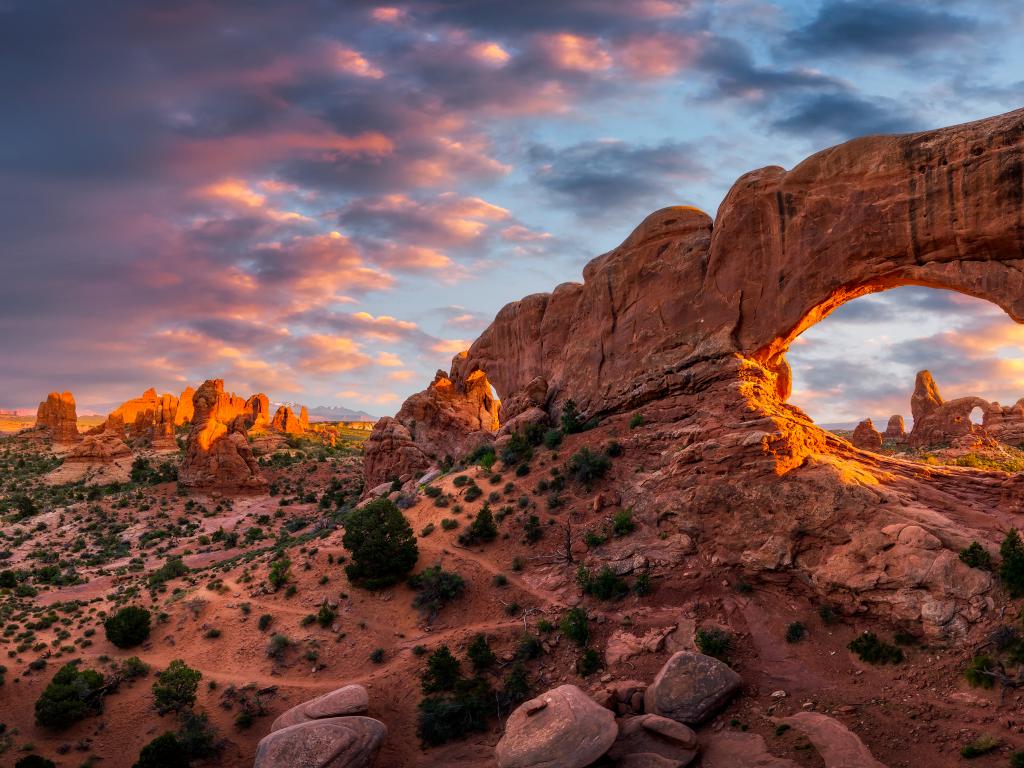 If walking around Moab doesn't do you in, you can blow off some steam at the on-site fitness area. Jose Wyatt's Grille is an on-site restaurant (and a great one at that), and even spending time in the fancy lounge area is a treat after hours spent outside in the heat.
The nearest landmark is Arches National Park, located only 2 miles away, and Uncompahgre National Forest and Canyonlands National Park aren't far off either.
What's more, the accommodation is quite cheap despite how luxurious it is, potentially allowing you to use Moab as a vantage point for extended exploration of the area.
Things to see on a road trip from Denver to Phoenix
The road trip from Denver to Phoenix has enough beautiful landmarks to keep you coming back for years on end. While making a complete list is practically impossible, these are the places you absolutely have to visit:
San Isabel National Forest – This beautiful forest is home to roughly a third of Colorado's tallest peaks, including the highest summit, Mount Elbert.
Colorado Springs – The red rocks of the Garden of the Gods make for a lovely precursor to the Arizona portion of your trip.
Great Sand Dunes National Park and Preserve – As the name suggests, this preserve is home to the States' largest dunes.
Taos –The Taos Downtown Historic District and the area's trademark pueblos are a must-see for anyone passing by this region.
Santa Fe National Forest – Featuring Truchas Peak, a wide array of green meadows, and a portion of the Rio Grande, this is one of the more scenic and colorful parts of northern New Mexico.
Albuquerque – A beautiful blend of Latino and Native American cultures, this city features unique adobe architecture, amazing cuisine, and a slew of natural wonders.
Petrified Forest National Park – This park is renowned for its abundance of fossils, particularly petrified trees that date back to tens of millions of years ago.
Apache-Sitgreaves National Forest – Featuring beautiful terrain and dramatic changes in elevation, this forest makes for the perfect hiking and camping spot for experienced outdoorsmen.
Tonto National Forest –Arizona's largest national forest is also arguably its most scenic, courtesy of the lakes, desert flora, and varied wildlife.
Rocky Mountain National Park – The best way to experience this park is by enjoying the 12,000-foot view from Trail Ridge Road.
Arches National Park – This aptly named park is home to Delicate and landscape Arches, along with hundreds of others. You might need to make a reservation for a timed-entry permit while visiting Arches National Park. Please check the national park's website for up-to-date information.
Canyonlands National Park – Split by the Green and Colorado Rivers into 3 beautiful regions, this park is Utah's largest (and perhaps most scenic) national park.
Four Corners Monument – Due to major historic events, the meeting point between Utah, New Mexico, Colorado, and Arizona makes for a popular tourist attraction.
Monument Valley - One of the most iconic desert rock formations in the world on Navajo Nation territory.
Glen Canyon National Recreation Area – This park combines the beautiful San Juan River with its gorgeous cliffs and rock formations for a beautiful backcountry experience.
Vermilion Cliffs – Home of countless sandstone formations and buttes that are estimated to be millions of years old.
Grand Canyon National Park – One of the most iconic natural landmarks in all of the States (and the world, for that matter), the Grand Canyon is often considered one of the natural wonders of the world.
Coconino National Forest – A forested area that also features desert terrain and various volcanoes, located just south of Flagstaff.
Sedona – A beautiful tourist town surrounded by red rock formations, connected to the gorgeous Red Rock Scenic Byway.
Montezuma Castle National Monument – Built by the Sinagua people around 3000 years ago, these dwellings are thought to have been vacant for about half a millennium.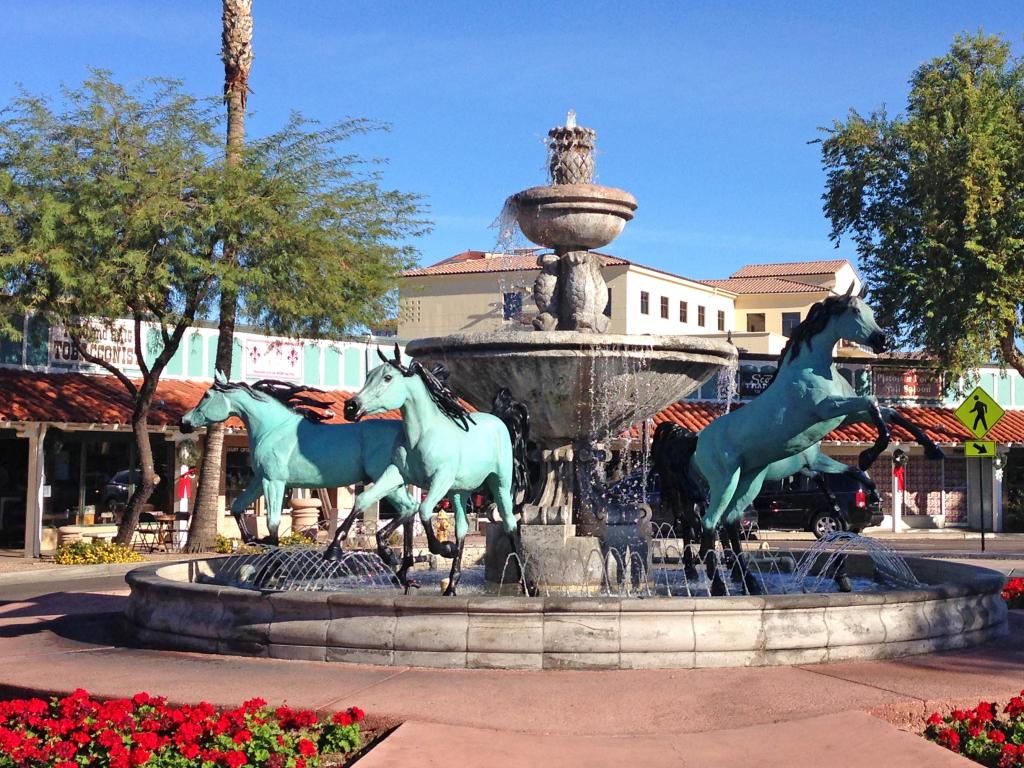 Best time to go on a road trip from Denver to Phoenix
There are most definitely better and worse times for the road trip from Denver to Phoenix, both because of the lengthy drive and the Arizona climate.
Along with its southern cousin Tucson, Phoenix is a strong contender for the hottest city in this part of the States. With that in mind, anyone not accustomed to these temperatures should probably stay out of southern Arizona in the summertime.
On top of that, the number of tourist attractions on the way is staggering, so avoiding crowds this time of year is essentially out of the question, no matter which route you take.
However, the high temperatures in Phoenix generally mean less visitors, so you should have no trouble finding cheap accommodation once you've reached your destination.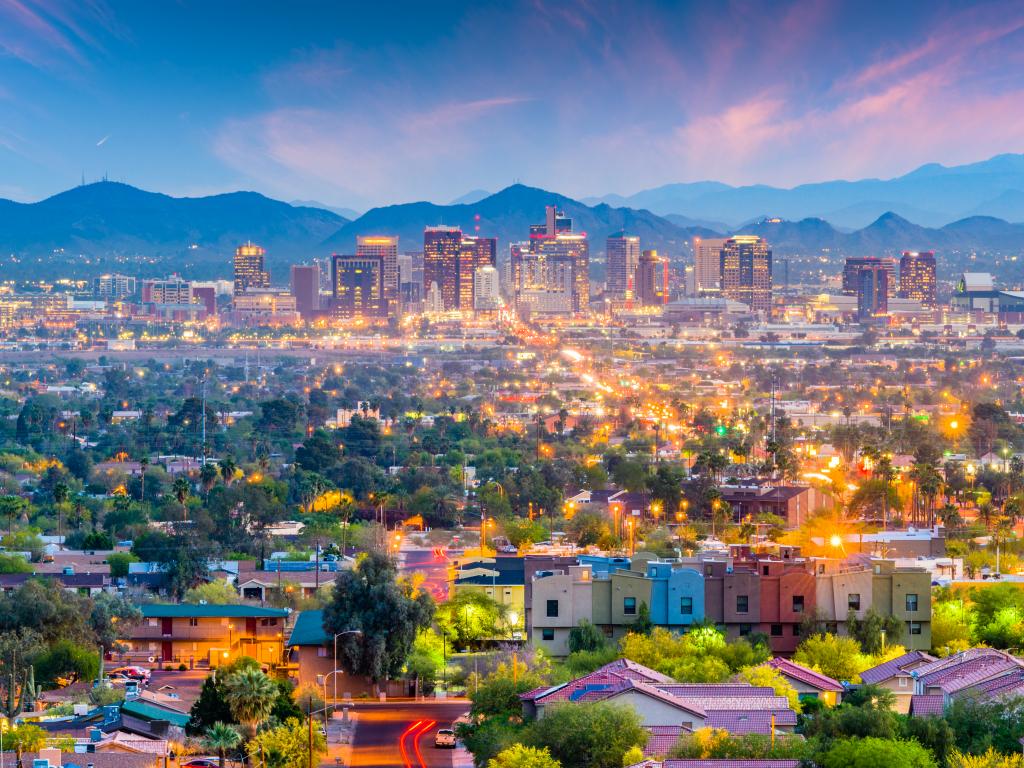 While transitional months like May and September are practically indistinguishable from summer in terms of heat, months that are milder in the rest of the States (such as April or October) sit at around 85 degrees in Phoenix, making these great windows of time for exploring the city.
With all that said, late fall, early spring, and the entirety of winter are all amazing times to visit Phoenix – with temperatures at or around 70 degrees and events like the state-wide Arizona Beer Week and the Fiesta Bowl in Phoenix, you'll find no shortage of things to do.
Still, keep in mind that optimal weather conditions and plenty of activities also mean larger crowds of tourists, so be sure to book a room well in advance.