Road Trip From Phoenix To Sedona
If you're looking to take a scenic trip with Phoenix as a starting point, but you simply don't have the time for a cross-country adventure, consider going on a road trip from Phoenix to Sedona. On the way, you'll see some amazing desert scenery and Sedona's signature sandstone formations.
The road trip from Phoenix to Sedona takes around 2 hours without breaks. On the way, you can admire the beautiful Lake Pleasant, Montezuma Castle National Monument, and the Red Rock Scenic Byway's sandstone formations, trails, and other landmarks.
To get an idea of just how much there is to see and do, read until the end and learn the ins and outs of this amazing route.
How far is Sedona from Phoenix and how long will the road trip take?
The road trip from Phoenix to Sedona clocks in at just under 2 hours without accounting for breaks. The route spans around 115 miles, starting with the I-17 in Phoenix and reaching Sedona via the Red Rock Scenic Byway.
Although you can make the drive in a single morning or afternoon, you'd be much better off making frequent stops, as the route packs a surprising number of landmarks in the relatively short distance it covers.
On top of being scenic, this route is also incredibly accommodating if you decide to make spontaneous changes to your itinerary - since the route is located in the very center of Arizona, even the 'detours' aren't that far out of the way. For reference, you can get from Sedona to the South Rim in only a couple of hours.
If you do have time, take full advantage of Sedona's great location and extend your trip with a visit to Flagstaff and the Grand Canyon, or at least do an extensive tour of the city's incredible wineries.
Best road trip route from Phoenix to Sedona
Choosing the best route from Phoenix to Sedona is a no-brainer, as the quickest and best-known one also happens to be the most scenic.
You'll be following the I-17 for the majority of the trip, up until the very last stretch when you get on the aptly named Red Rock Scenic Byway (Highway 179).
Road trip route from Phoenix to Sedona
Take the I-17 north and out of Phoenix, right through the Phoenix Sonoran Preserve. Passing Lake Pleasant Regional Park on your left, you'll soon go through the towns of New River and Black Canyon City. After Camp Verde, you'll drive past Montezuma Castle National Monument.
After passing Lake Montezuma, take the Red Rock Scenic Byway to your left. Along this route, you'll start seeing the gorgeous rock formations as you drive through Village of Oak Creek and past Red Rock State Park and Coconino National Forest. Check out the Crescent Moon Picnic Site and the Chapel of the Holy Cross, and follow this route all the way to Sedona.
Best places to stop between Phoenix and Sedona
With this being such a popular itinerary, there are plenty of great places to stop between Phoenix and Sedona. Consider booking a room at one of these hotels:
Spend the night at The Views Inn Sedona
If you're traveling during the tourist season and need a peaceful respite from the hubbub of Sedona, consider exploring the city in the day then sleeping at the nearby Village of Oak Creek – it's a bit easier on the wallet too.
Although it's not quite as urban as Sedona, Village of Oak Creek acts as a gateway to the red rock segment of the byway, so it offers plenty of accommodation options – a great one is The Views Inn Sedona. As you pull in at the hotel, you'll find yourself captivated by the gorgeous red rock backdrop and desert vegetation that define this route.
Accommodation-wise, the rooms are very comfortable, and you'll have access to a continental breakfast. For your other meals, walk to a number of nearby restaurants and explore the charming Oak Creek.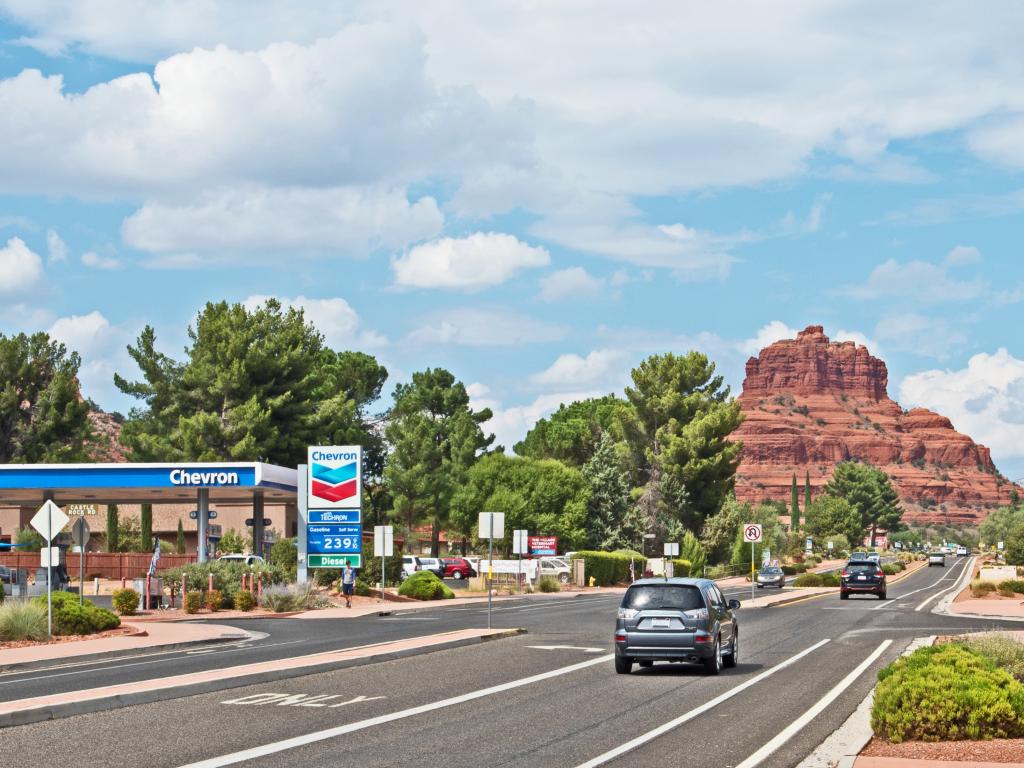 If you don't feel like hiking but just can't get enough of those amazing red rocks, go out into the swimming pool or hot tub and enjoy the amazing view. You can also take a quick drive to one of two golf courses in the area.
The inn is in the very middle of Oak Creek, which in turn is in the middle of the Red Rock Scenic Byway. This means you'll be within less than 20 miles of Red Rock National Park and about a 15-minute drive from Sedona itself.
Get cozy at A Sunset Chateau
Once you reach Sedona, you'll want comfortable accommodation that also capitalizes on the city's beautiful landscapes. Although there are plenty of amazing hotels in town, Sunset Chateau is definitely one of the standouts.
Besides having soft, comfortable bedding, your room will woo you with its plethora of art pieces and vintage furniture, carpeting, and decor. On top of that, thanks to the large fireplace, you'll be warm and comfortable here no matter the season.
If you want to beat the Arizona heat, step outside and relax in the swimming pool, or enjoy yourself in the hot tub. Provided that the weather's not too hot, you can put on your sports shoes and play a game of tennis at the on-site court.
The real highlights of this hotel, however, are the amazing views –looking out your window, the view of the green desert trees and the red rocks off in the distance is like something out of a painting. The experience is magnified tenfold on the balcony – pour yourself a glass of Sedona wine and soak in some of the most beautiful landscapes in Arizona and beyond.
Located less than a mile from the center of town and just over 5 miles from Red Rock Crossing, the Chateau's couldn't be in a better position. Between that and the amazing accommodation, the somewhat hefty price tag is more than justified.
Things to see on a road trip from Phoenix to Sedona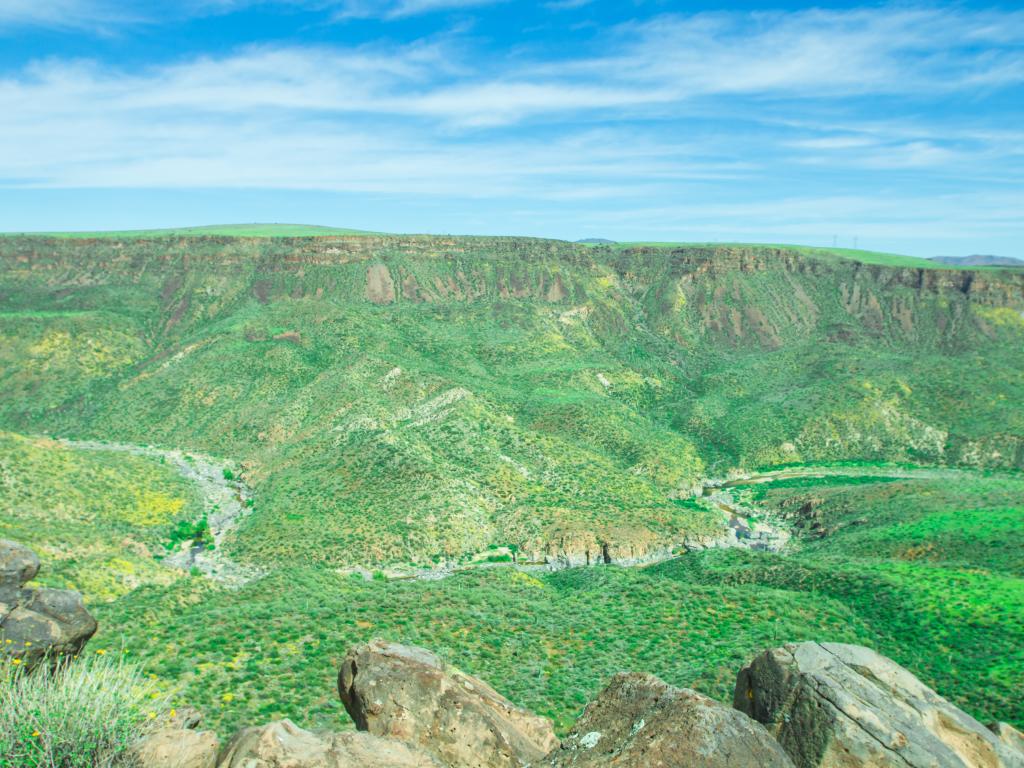 Despite its length, you can get the most out of this route by exploring it over a few days. Although there are likely countless obscure trails and landscapes for you to discover, here is a relatively comprehensive list of everything you should see on your trip from Phoenix to Sedona:
Phoenix Sonoran Preserve – located just outside of Phoenix, this preserve features various sports fields and some of the best hiking spots in all of Arizona
Lake Pleasant Regional Park –a stark contrast to its arid surroundings, the beautiful Lake Pleasant is a great spot for water-based recreational activities
Black Canyon City –this charming town is the starting point of a 70-mile biking trail, and it features the historic Rock Springs Cafe
Cave Creek Trails –this scenic desert area features plenty of hiking trails and camping spots alike
Spur Cross Ranch Conservation Area –this cacti-covered area is perfect for mountain biking and even features equestrian trails
Sunset Point – a beautiful, romantic vista with amazing views of the area (incredible sunsets included) that also overlooks Black Canyon City
Agua Fria National Monument –this historic monument houses hundreds of Native American structures, most notably the gigantic pueblos which featured dozens of rooms
Out of Africa Wildlife Park – located in the town of Camp Verde, this park lets you see all manner of exotic animals up close
Montezuma Castle National Monument – once inhabited by the Sinagua, the monument's dwellings are an impressive precursor to the modern apartment buildings
The Crack at Wet Beaver Creek – a short, pleasant hike leading up to an isolated creek, the best place to cool off in the desert while avoiding large tourist groups
Village of Oak Creek – a small, charming desert town with red rock surroundings that closely resembles the neighboring city of Sedona
Bell Rock & Cathedral Rock – these uniquely shaped buttes are surrounded by great hiking trails and are the telltale sign you're approaching Sedona
Red Rock State Park – thanks to its gorgeous manzanita, juniper, access to Oak Creek, and network of scenic trails, this park is a popular environmental education spot for schools from across the country
Crescent Moon Ranch – an amazing spot for fishing, swimming, picnics, and admiring the beautiful scenery near Red Rock Crossing
Chapel of the Holy Cross – a Roman Catholic chapel tucked between the buttes at the very entrance of Sedona
Coconino National Forest – this breathtaking forest features deserts, forests, and epic mountain views, and it's a great pivot for taking your road trip a bit further north
Tlaquepaque Arts & Shopping Village – although there's plenty to do in Sedona, this Mexican-style "shopping village" is one you won't want to miss out on
Grasshopper Point Swimming & Picnic Area – located just north of Sedona, this shaded cliffside area along Oak Creek is the perfect retreat on a hot summer day
Best time to go on a road trip from Phoenix to Sedona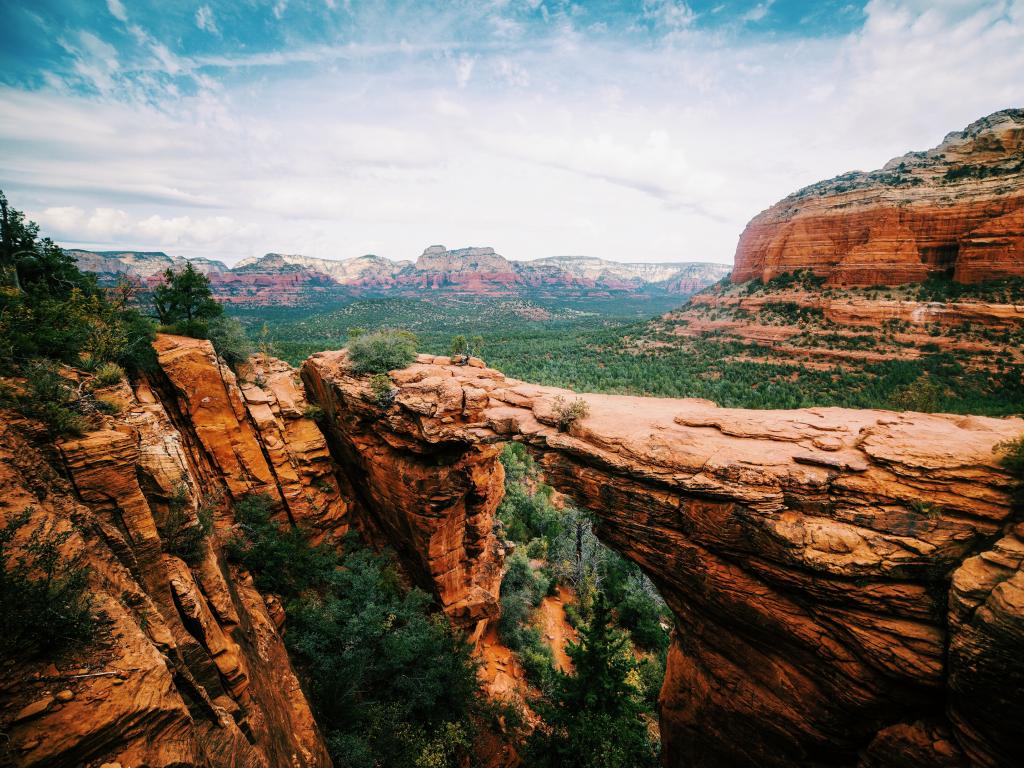 The best time for a road trip from Phoenix to Sedona probably depends on the type of weather you're used to. If Phoenix's scorching temperatures don't get to you, Sedona should suit you just fine in the summer as it's generally a few degrees cooler.
With that said, Sedona is a very outdoorsy place, as is every major landmark within a 50-mile radius. Bearing that in mind, doing demanding outdoor activities like hiking in 90-degree weather (with the occasional triple-digit temperatures too) might not appeal to you.
For the perfect blend of epic scenery and pleasant temperatures, consider visiting between March and May – the desert flowers will be in bloom, and daytime temperatures will rarely exceed the mid-70s. Fall temperatures are also pleasant, although September is usually only a few degrees chillier than peak summer.
If you don't mind the somewhat cold nights (and especially if you're from the Midwest just visiting Arizona), winter is actually a very good time for a Sedona trip as well. Daytime temperatures can range from 30 to 60, and a thin layer of snow only adds to the red rock aesthetic without detracting from your hikes and exploration prospects.