Road trip from Toronto to Miami
From Canada's largest city to the non-stop party atmosphere of south Florida, a road trip from Toronto to Miami will be full of fun and adventure. You'll travel from the shores of the Great Lakes, through the Appalachian Mountains and east coast of America, and end at the tropical beaches of the Sunshine State.
A road trip from Toronto to Miami is 1,735 miles long and will take 31 hours to drive. Highlights on the way include Niagara Falls, Buffalo, Washington DC, Richmond, Williamsburg, Virginia Beach, Myrtle Beach, Charleston, Savannah, Cape Canaveral, Erie, Pittsburgh, Asheville, Columbia, Daytona Beach, Orlando
You'll see American history, culture, and natural wonders along the way that are sure to leave you with lifelong memories. Read on below to learn more about our recommended routes, top highlights, places to stay, and the best seasons to make this amazing journey.
How far is Miami from Toronto, and how long will the road trip take?
Comparison of road trip routes between Toronto and Miami

| Route | Distance | Driving Time |
| --- | --- | --- |
| Coastal Route | 1,735 miles | 31 hours |
| Blue Ridge Parkway Route | 1,670 miles | 28 hours |
We have two wonderful routes for you to consider, taking you from Toronto to Miami. Both are full of exciting stops and sights along the way.
The Coastal Route covers a distance of 1,735 miles and requires approximately 31 hours of drive time without detours.
Opting for the Blue Ridge Parkway Route isn't vastly different in terms of duration or distance, totaling around 1,670 miles and an estimated 28 hours on the road.
Although you could complete this trip in a couple of days, we recommend taking at least 5-6 days for your journey. This way, you'll be able to experience the wealth of attractions on the way while staying well rested.
Best road trip route from Toronto to Miami
While both routes have a huge amount to see and experience, they're very different in terms of destinations and overall vibe. Which one you choose will depend on what you want to see and do the most.
The Coastal Route will lead you through some of the East Coast's most iconic cities. An undoubted highlight is the U.S. capital, Washington, D.C., with its historical landmarks including the famous National Mall.
As you continue, you'll visit cities like Virginia Beach, Myrtle Beach, Charleston, Savannah, and Cape Canaveral. You'll also explore historic districts, monuments, museums like the Charleston Museum, and the Castillo de San Marcos National Monument in St. Augustine.
If you love nature, this route won't disappoint. From serene natural escapes such as Pennsylvania's Allegheny National Forest to the biodiverse Francis Marion National Forest, you'll get plenty of outdoor time.
However, for even more untouched nature and views, the Blue Ridge Parkway Route is a treasure. Starting your journey on the shores of Lake Erie, you'll pass charming towns and natural coastal areas before hitting the mountains.
As the journey unfolds, you'll be treated to the scenic mountains of Virginia and North Carolina. Then, you can visit the Monongahela National Forest with its breathtaking hills, forests, and cascading waterfalls along the Blue Ridge Parkway.
This route has plenty of scenic spots, mountains, shimmering rivers, and mountain towns. As you reach Florida, the bustling city of Orlando awaits you, offering world-famous attractions like Universal Orlando and Walt Disney World Resort.
How to drive from Toronto to Miami
The map above shows our suggestions for the best road trip routes between Toronto and Miami. Keep reading for detailed descriptions of both routes, where to stay on either, and the best things to do on the way.
The Coastal Route
Starting in Toronto, hop on highway 403 and take the exit to the Queen Elizabeth Highway.
Drive along the shores of Lake Ontario to beautiful Niagara Falls, one of the largest waterfalls in North America.
From here, drive into the state of New York, through the city of Buffalo. Continue south through the rural hills of Pennsylvania.
Carry on to Washington, DC, the capital city of the USA. After exploring a selection of the numerous museums and landmarks of this amazing city, head on I-95 South to Richmond.
After Richmond, get back on route and drive to the coast, with a visit to Virginia Beach. After enjoying the coastal vibes, make your way south to Myrtle Beach and Charleston.
From here, drive to Savannah and then into Florida, with a visit to Jacksonville and St. Augustine.
From here, you'll continue along the Atlantic coast, through cities such as Cape Canaveral, famous for its rocket launches and space history.
Continue on route south through the beautiful cities of Florida's east coast until you reach Miami.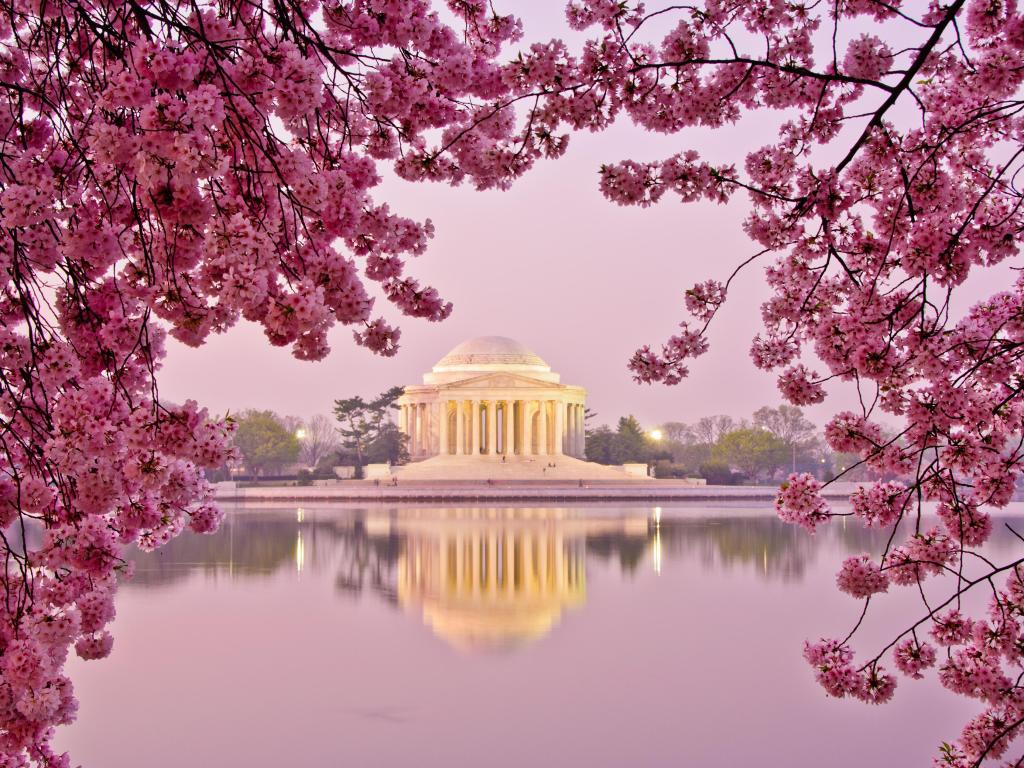 The Blue Ridge Parkway Route
From the big, bustling city of Toronto, take highway 403 and exit onto the Queen Elizabeth Highway south.
Continue along Lake Ontario to Niagara Falls and head into Buffalo, New York. Take the exit to I-90 west and drive on the coast of Lake Erie to the city of Erie.
Make your way south on I-79 to Pittsburgh. After enjoying the city and its famous bridges, make your way to the natural paradise of Monongahela National Forest.
Then, continue on route to the city of Roanoke. After getting the most out of the city's Appalachian charm and wonderful restaurants, head on route to the famous Blue Ridge Parkway.
You'll wind through the mountains, with stunning views and natural wonders, like waterfalls and canyons visible with every turn.
Then, you'll arrive at Blowing Rock. From here, make your way south to Charlotte.
Continue on I-77 to Columbia. Drive for a few miles on I-26 and take the exit to I-95 South.
You'll drive through the city of Savannah and reach the city of Jacksonville. From here, make your way to Orlando, the theme park capital of the world.
Finally, hit the road south, through West Palm Beach and soon, you'll arrive at your destination of Miami.
Best places to stop between Toronto and Miami
With so much excitement and things to see, you'll want to break the trip up. Below, we've listed our favorite stops, so you can easily rest and explore.
Have a peach of a stay in Savannah
Savannah is an ideal rest stop on the Coastal Route, about halfway into the 22-hour journey. The city's historic charm, with cobbled streets and classic architecture, makes it a must-see destination.
While in Savannah, make sure to visit Forsyth Park, Savannah's sprawling green heart. Covering 30 acres, it offers both locals and visitors a serene space for relaxation.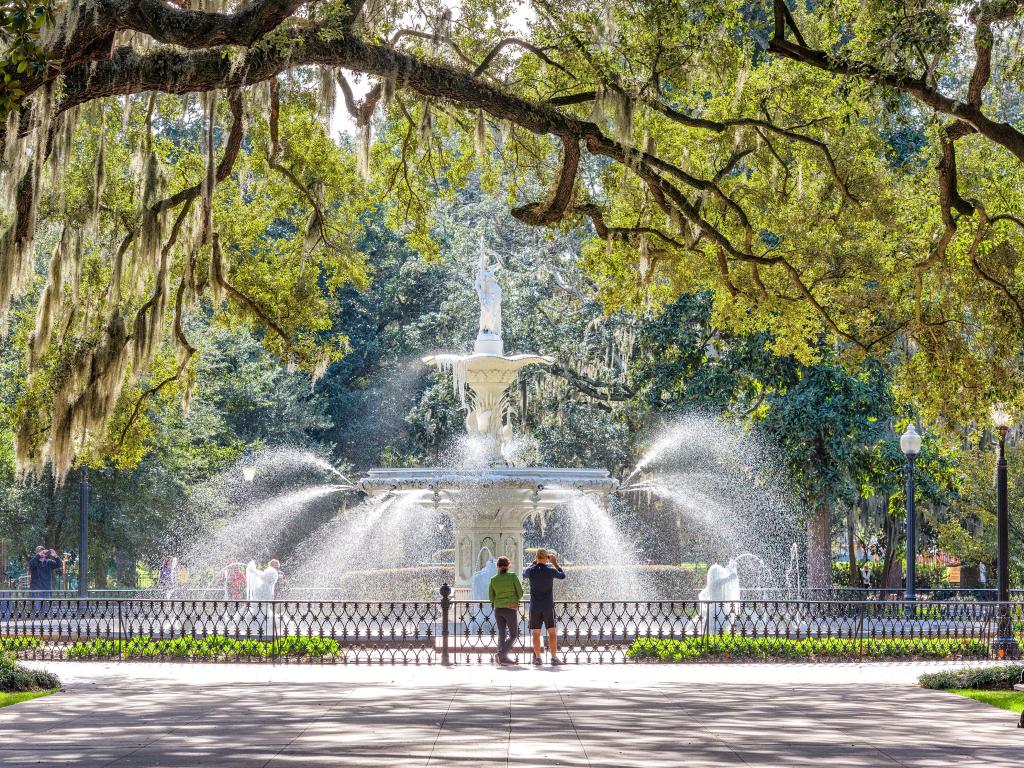 For those who appreciate architectural wonders, The Cathedral Basilica of St. John the Baptist is a must-visit. Its breathtaking interiors, intricate stained glass, and historical significance make it one of Savannah's most treasured landmarks.
While in Savannah, we recommend staying at the luxurious Hamilton Turner Inn. This adults-only bed-and-breakfast blends history with luxury. Located in the heart of the Historic District, it's the perfect base for exploring the city.
You'll enjoy amenities such as free Wi-Fi, excellent breakfast, and a spa bath. Guests also love the inn's architecture and surrounding green spaces.
Just a stone's throw away is Lafayette Square, placing you at the epicenter of Savannah's historic wonders. And if you're keen on delving into the city's African American heritage, the Beach Institute African American Cultural Centre is a mere 200 yards away.
Be blown away by Blowing Rock
Blowing Rock is a beautiful place to stop on the Blue Ridge Parkway Route, roughly halfway into the 15-hour drive. This mountain town, with its historic charm, is a highlight of the North Carolina high country.
Blowing Rock showcases the essence of Appalachian culture. Wander its streets and you'll discover restaurants, unique craft and gift shops, captivating art galleries, and historic buildings.
One of the town's iconic sites is The Blowing Rock, a renowned rock formation offering panoramas of the Blue Ridge Mountains.
If you want a deeper dive into the area's history and natural beauty, Moses H. Cone Memorial Park is worth a visit. With its sprawling estate and picturesque trails, the park is like stepping into the Appalachian wilderness.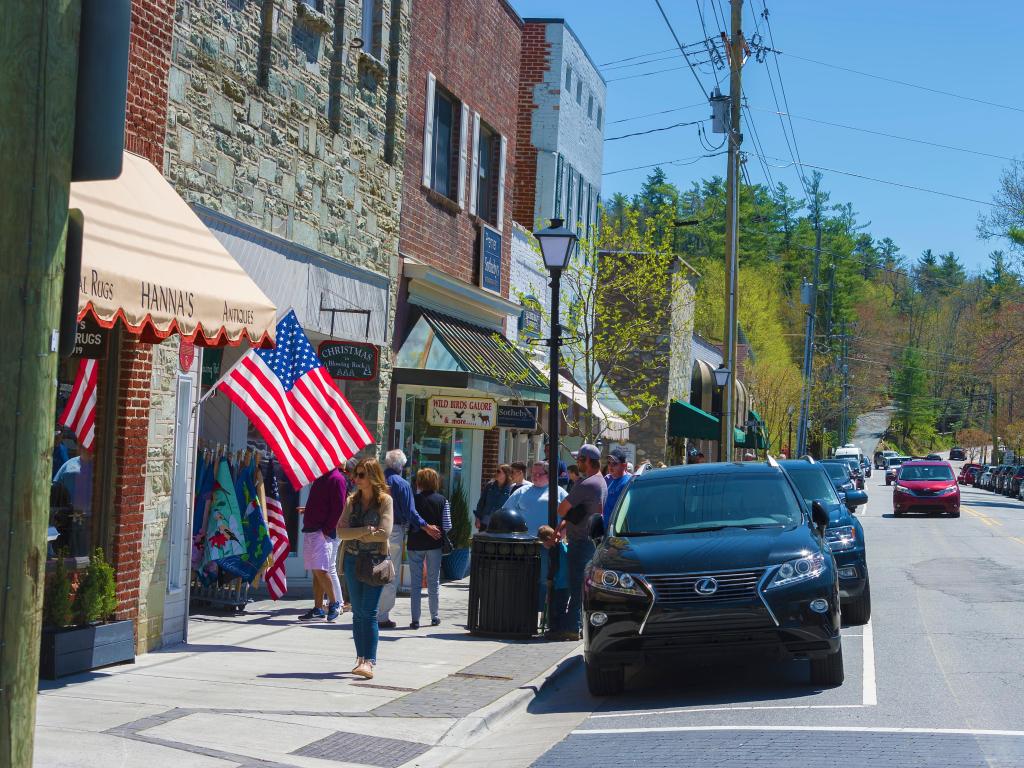 Once you're ready to rest, we recommend staying at The Manor. Located in the heart of town, it blends modern comfort and homey ambiance.
Its spacious rooms are adorned with cozy interiors, and if you opt for a room with a balcony, the mountain vistas are a bonus. There's also an on-site fitness center and amenities like free Wi-Fi.
In terms of nearby attractions, the Blowing Rock Art & History Museum is just a short 600-yard stroll away. Dive into the region's artistic and historical narratives, and then visit Doc's Rocks Gem Mine, just half a mile from The Manor, for a hands-on gem mining experience.
Where to stay when you reach Miami
Miami is a destination that promises a fusion of nightlife, beach vibes, and plenty of culture. Famous for its modern architecture and stunning ocean views, the city also has a rich Cuban influence that's magnetic.
For a bit of nature, Everglades National Park offers a rare glimpse into unique wildlife. Journey through its vast wetlands and you might spot a Florida panther or an alligator.
If shopping and dining are more your scene, Bayside Marketplace has got you covered. This bustling waterfront mall, packed with stores, restaurants, and daily live entertainment, perfectly captures Miami's spirit.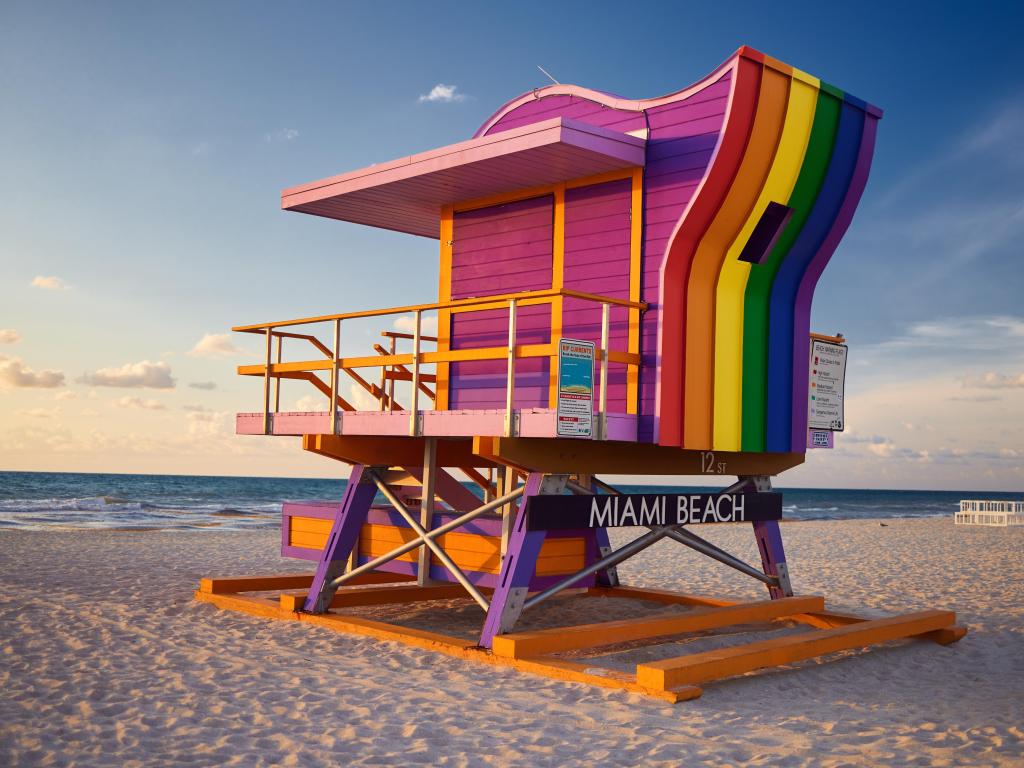 When it comes to accommodations, Uma House by Yurbban South Beach stands out as the perfect choice. Located a mere 500 yards from the iconic Miami Beach, the hotel epitomizes modern luxury with a hint of vintage charm.
The comfortable, roomy, and contemporary rooms promise relaxation, but if you're looking to elevate that experience, the garden and rooftop pool await.
As a guest, you'll get sun chairs on the beach at no extra charge. Plus, amenities such as free Wi-Fi and an excellent breakfast will make your stay even more rewarding.
Things to see on a road trip from Toronto to Miami
This journey will be full of memories, adventures, and photo opportunities at every stop. To help you plan your ultimate road trip, we've listed our favorite highlights below.
Both routes
Niagara Falls - A stunning natural wonder straddling the US-Canada border, Niagara Falls comprises three separate waterfalls. Tourists flock here year-round to witness the falls' mesmerizing cascades and partake in various activities like boat tours and scenic overlooks.
Buffalo AKG Art Museum -The AKG Art Museum has an impressive collection of modern art. The museum is renowned for its dedication to cultural enrichment and the promotion of visual arts.
Buffalo City Hall, Buffalo - An architectural masterpiece of the Art Deco era, Buffalo City Hall dominates the city's skyline with its ornate details and towering presence.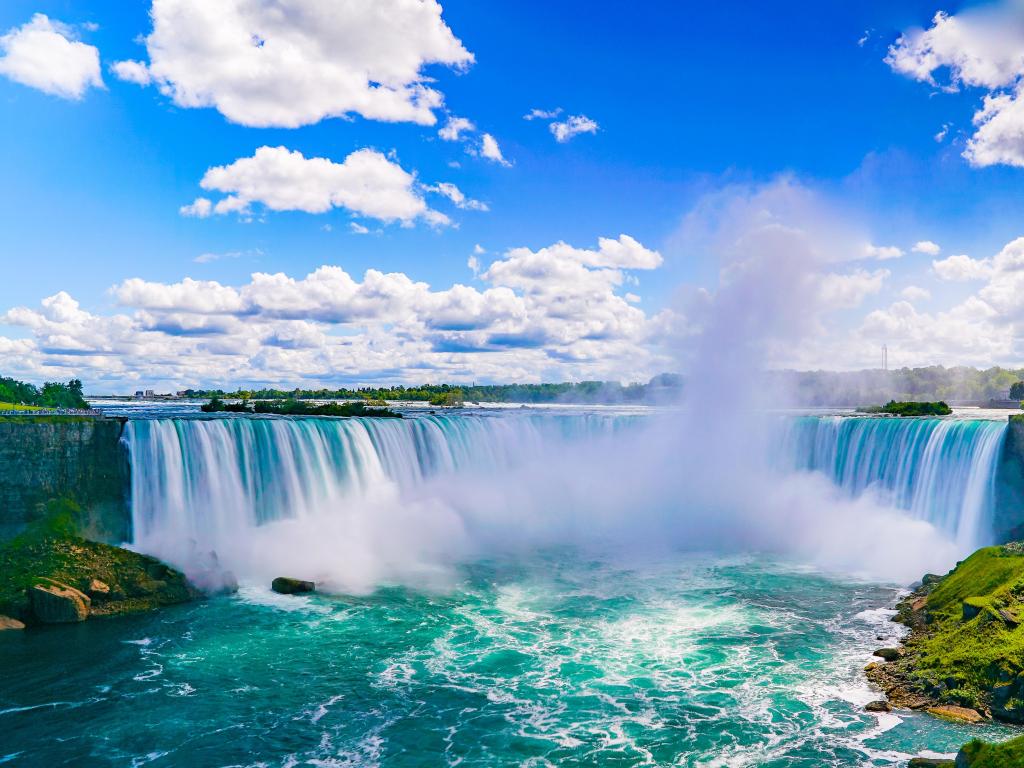 Coastal Route
Allegheny National Forest - Spanning over half a million acres in Pennsylvania, the Allegheny National Forest is home to lush woodlands, serene lakes, and diverse wildlife. It offers an array of recreational activities, from hiking to boating, amidst picturesque landscapes.
National Mall, Washington DC - The heart of the nation's capital, the National Mall features iconic landmarks such as the Washington Monument, Lincoln Memorial, and numerous national museums. It's a hub of history, culture, and public gatherings.
Kenmore Plantation, Fredericksburg - Kenmore Plantation is a beautifully preserved Georgian-style mansion that was home to George Washington's sister, Betty Washington Lewis. The estate offers a glimpse into the 18th-century elite life with its intricate architecture and decorative arts.
Virginia Museum of Fine Arts, Richmond - Located in Richmond, this museum boasts an extensive collection of world art ranging from ancient to contemporary pieces. It's recognized for its Art Deco and Art Nouveau collections, among other global treasures.
Busch Gardens, Williamsburg - A thrilling theme park in Williamsburg, Busch Gardens offers an array of roller coasters, live shows, and attractions set against European-themed backdrops. The park uniquely combines exhilarating rides with animal encounters and entertainment.
Cape Henry Lighthouse, Virginia Beach - Standing tall on the entrance to Chesapeake Bay, the Cape Henry Lighthouse is the first federally funded lighthouse in the US. Visitors can climb its steps for panoramic views of the bay and learn about its historic significance.
Wilmington Historic District - This district in Wilmington showcases an array of antebellum architecture, brick-lined streets, and historic buildings. It offers a nostalgic journey through the city's rich maritime and cultural history.
Myrtle Beach Boardwalk and Promenade - Stretching along the coast of Myrtle Beach, this boardwalk offers entertainment, dining, and shopping amidst stunning ocean views. From festivals to the iconic SkyWheel, it's a hotspot for family-friendly activities.
The Charleston Museum -Recognized as America's first museum, The Charleston Museum in South Carolina documents the cultural and natural history of the Charleston region. Exhibits span from ancient fossils to Civil War artifacts.
Savannah Historic District - Encompassing cobblestone streets, antebellum architecture, and leafy squares, Savannah's Historic District is a testament to the city's rich history and southern charm. Walking tours and carriage rides offer insights into its storied past.
Jacksonville Beach - This coastal gem in Jacksonville boasts expansive sandy shores, a lively boardwalk, and an array of waterfront activities. Whether for surfing, dining, or relaxation, it's a top Florida beach destination.
Castillo de San Marcos National Monument, St. Augustine - The oldest masonry fort in the continental US, Castillo de San Marcos symbolizes the Spanish empire's influence and resilience against sieges. Its coquina walls and historic reenactments transport visitors back to colonial times.
Manatee Sanctuary Park, Cape Canaveral - A peaceful park set against the Banana River, this sanctuary is dedicated to ensuring a safe haven for the gentle manatees. Visitors can enjoy boardwalk views, picnic spots, and the occasional manatee sighting.
Downtown, West Palm Beach - The vibrant heart of West Palm Beach, Downtown offers a mix of upscale shopping, diverse dining, cultural venues, and waterfront views. Clematis Street and CityPlace are popular hubs for nightlife and entertainment.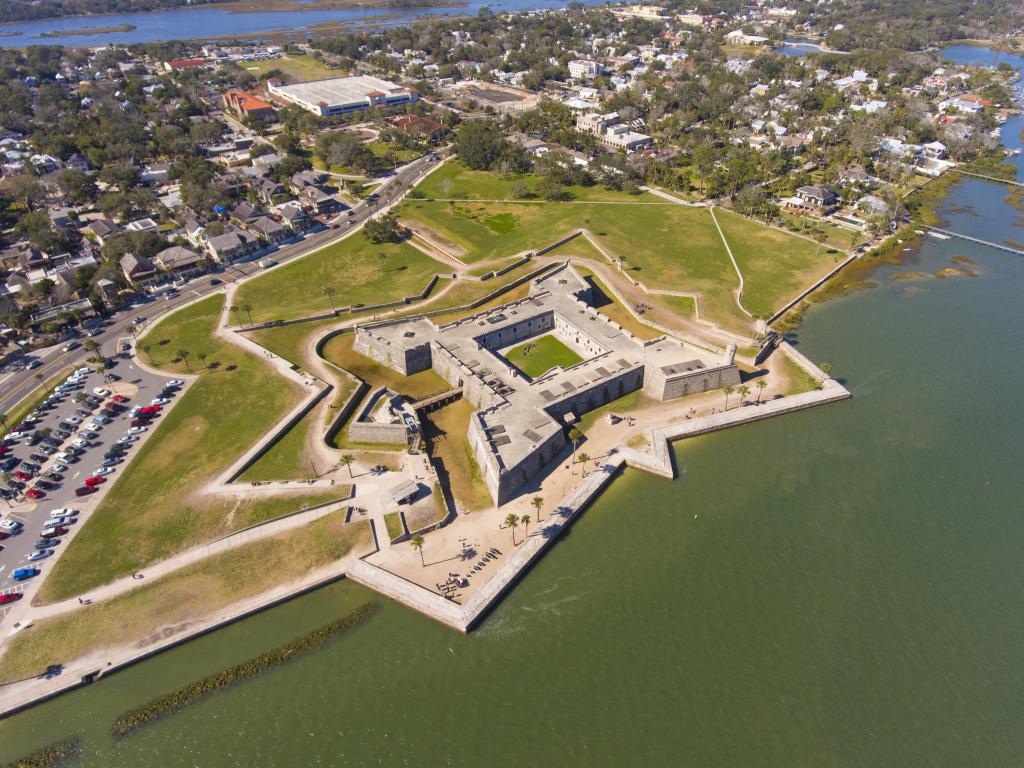 Blue Ridge Parkway Route
Bicentennial Tower, Erie - Celebrating Erie's bicentennial, this tower offers visitors a chance to ascend and behold panoramic views of Lake Erie and its surroundings. It stands as a landmark of Erie's history and lakeside beauty.
Phipps Conservatory and Botanical Gardens - Situated in Pittsburgh, this conservatory is a verdant oasis showcasing diverse plant collections, themed gardens, and seasonal flower shows. Its Victorian greenhouse and sustainable designs make it a must-visit for nature enthusiasts.
Monongahela National Forest - Spanning West Virginia, this national forest offers dense woodlands, pristine lakes, and a haven for diverse wildlife. It's a prime destination for hiking, fishing, and camping amidst Appalachian beauty.
George Washington and Jefferson National Forests - Together, these forests cover vast expanses of the Appalachian Mountains in Virginia, offering dense woodlands, serene waterways, and miles of trails. Outdoor enthusiasts find solace in its vast wilderness and recreational opportunities.
Virginia Museum of Transportation, Roanoke - Located in Roanoke, this museum celebrates the history of transportation with exhibits on locomotives, vintage cars, and aviation. It's a journey through time showcasing how travel and trade evolved in Virginia.
Cumberland Knob Recreation Area - This recreation area marks the southern starting point of the Blue Ridge Parkway and offers hiking trails, picnic areas, and scenic vistas. It's a serene spot to immerse in nature before embarking on the parkway's scenic drive.
Blue Ridge Parkway - Winding through the Appalachian Highlands, this scenic drive offers breathtaking vistas, diverse flora and fauna, and numerous overlooks and hiking trails. Often referred to as "America's Favorite Drive," it's a journey through nature's grandeur.
Doc's Rocks Gem Mine - Located near the Blue Ridge Parkway, this attraction offers visitors a chance to mine for precious gems and learn about geology. It's an interactive and educational experience set amidst mountainous beauty.
Grandfather Mountain State Park - This North Carolina park boasts rugged trails, diverse wildlife, and the famous Mile High Swinging Bridge. Its peaks offer panoramic views and challenges for avid hikers.
River Arts District, Asheville - A vibrant hub in Asheville, the River Arts District teems with studios, galleries, and murals showcasing local and international art. It's a testament to the city's thriving artistic community.
South Carolina State Museum, Columbia - The state's largest museum, located in Columbia, offers four floors of exhibits showcasing art, history, natural history, and science. Its planetarium, observatory, and 4D theater enhance the learning experience.
St. Simons Island Lighthouse Museum - Overlooking Georgia's coast, this historic lighthouse and accompanying museum delve into the maritime history of St. Simons Island. Visitors can climb the lighthouse for captivating ocean views.
Main Street Pier - A landmark of Daytona Beach, the pier stretches into the Atlantic offering fishing spots, dining options, and panoramic ocean views. It's a lively hub for entertainment and relaxation.
Walt Disney World Resort - Located near Orlando, this iconic resort encompasses four theme parks, two water parks, and numerous hotels and recreational facilities. It's a magical realm where fairy tales come to life and adventures await around every corner.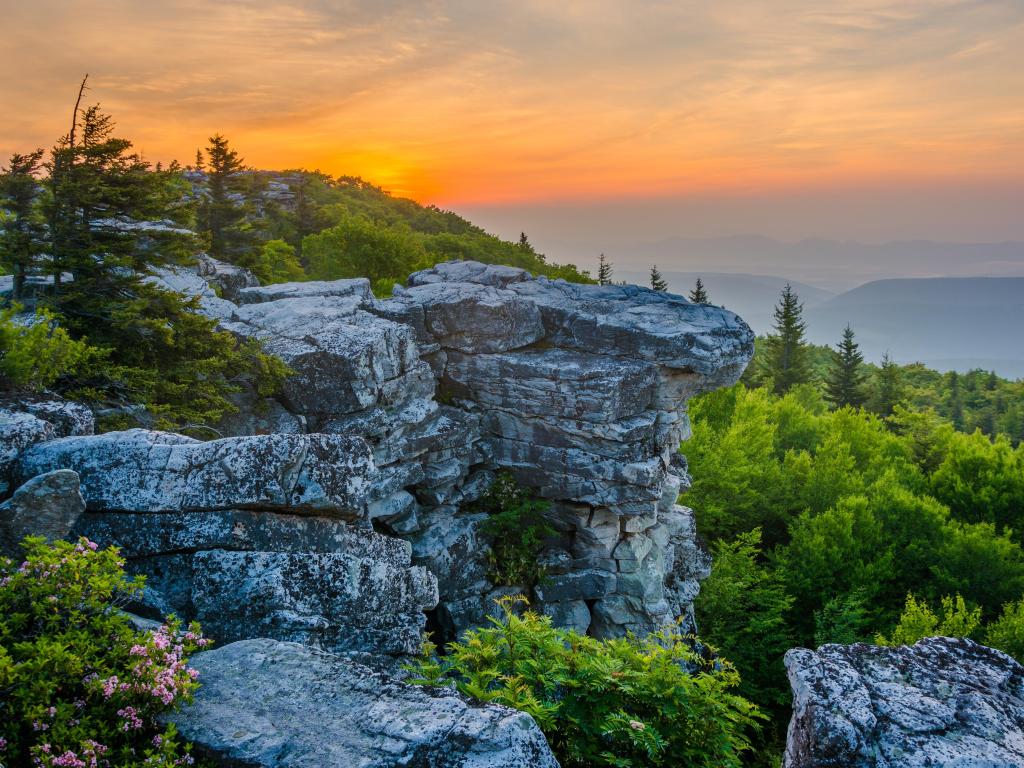 Best time to go on a road trip from Toronto to Miami
Miami is a year-round destination, with each season offering a unique charm. When planning a road trip to this city, it's essential to consider the route and the time of year you choose to travel.
Winter months in Miami are mild, with slightly cooler temperatures, typically ranging from 65 to 75 degrees Fahrenheit.
However, for those considering the Coastal Route, be cautious of potential snowstorms, especially in regions like New England, Pennsylvania, and Virginia.
If you're choosing the Blue Ridge Parkway Route, remember that many sections of this route and areas in Monongahela National Forest might experience temporary closures due to snowfall.
There are plenty of fun festivals and events in winter. You'll see some of the biggest Christmas and New Year celebrations in North America plus events such as the Night of Lights in St. Augustine from November to January and Art Deco Weekend in January.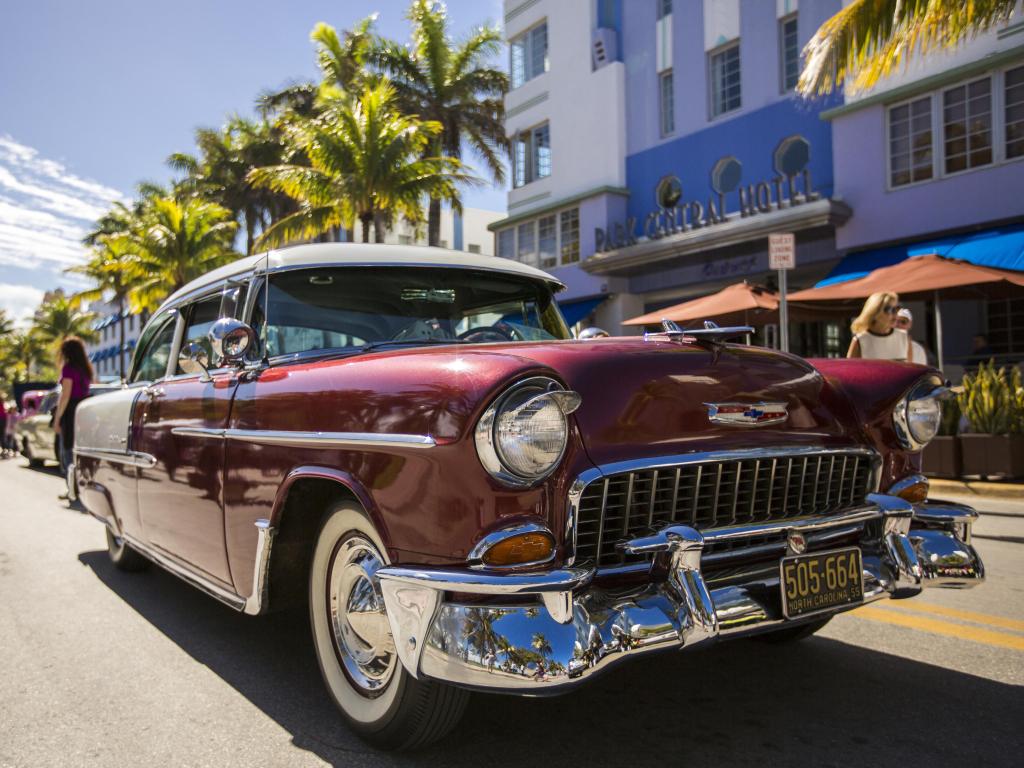 Spring in Miami sees temperatures of 75 to 85 degrees Fahrenheit, with fewer crowds. The city - and the drive to get there - feels alive with blooming flowers and events such as the Asheville Beer Week in May. Travel a little earlier and you can also hit the Miami Ultra Music Festival in March.
The heat turns up during the Miami summers, with temperatures soaring between 85 to 95 degrees Fahrenheit. The weather can be humid, especially in July and August.
If you choose the Coastal Route during this season, you could experience the Virginia Beach Neptune Festival around September.
Fall in Miami offers relief from the summer heat, with temperatures ranging from 75 to 85 degrees Fahrenheit. On top of fall colors, you can see festivals such as the LEAF Festival in Black Mountain in October.
Regardless of when you travel, once in Miami, you'll feel like you're in another world. So get ready, and start planning this unforgettable journey from Toronto to Miami!