Road Trip from Tucson to Las Vegas
Is there anything closer to the quintessential American road trip adventure than a journey through the desert? Blue skies, vast canyons, and open roads await you on this epic wild west road trip from Tucson to Las Vegas.
The 670-mile road trip from Tucson to Las Vegas will take about 12 hours to complete. The inspiring sights on the way include Phoenix, Sedona, Flagstaff, the Grand Canyon, Tonopah, Lake Havasu City, Mojave National Preserve and Picacho Peak.
The desert landscapes, mountains, and valleys are a dream drive for road trippers. On the way, stop in charming cities with tons of western US history and learn more about cowboy country. Here's everything you need to know before setting off.
How far is Las Vegas from Tucson, and how long will the road trip take?
Comparison of road trip routes between Tucson and Las Vegas

| Route | Distance | Driving Time |
| --- | --- | --- |
| The Lake Havasu Route | 520 miles | 8 hours 40 minutes |
| The Grand Canyon Route | 670 miles | 12 hours |
The Grand Canyon Route will cover 670 miles, which will take you about 12 hours to drive nonstop without accounting for any stopovers.
The shorter option is the Lake Havasu Route at 520 miles and an 8-hour and 40-minute drive, but this does not take any detours you might want to make into account.
We recommend setting aside two to four days for this road trip from Tucson to Las Vegas to make the best of your time and see some amazing landmarks on the way.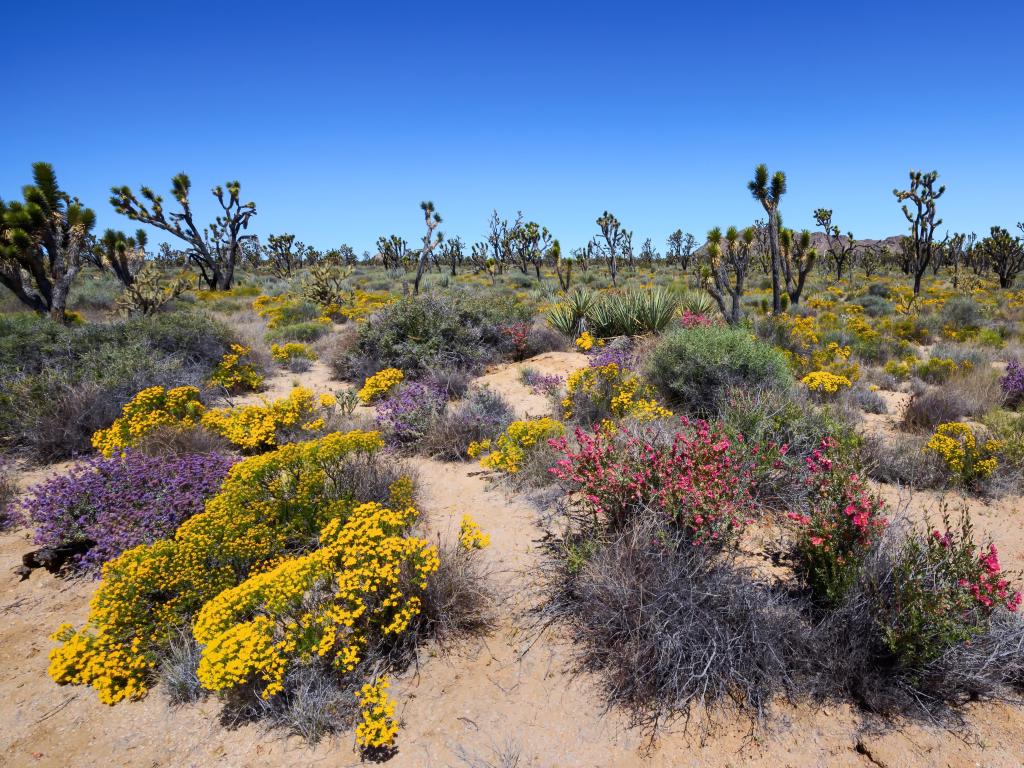 Best road trip route from Tucson to Las Vegas
Whether you take the Grand Canyon or the Lake Havasu Route, you will be greeted with stunning landscapes as you make your way to Sin City. The best route will depend on what you'd like to visit on the way.
If you've always wanted to explore Arizona's mountain towns and see the Grand Canyon, take the Grand Canton Route. You'll find breathtaking beauty at Picacho Peak, Watson Lake, and Slide Rock State Parks.
Kaibab National Forest is a welcome reprieve from the desert. Arizona has some charming and vibrant cities to explore – you can do this in Phoenix, Prescott, Sedona, and Flagstaff.
Lake Havasu Route features miles of scenic desert and mountain roads through Arizona, with stops in Buckskin Mountain and Cattail Cove State Park. Once you get to Mojave, you can enjoy stunning views around the Dead Mountains Wilderness Area and the Mojave National Preserve.
The Grand Canyon Route is longer, with rugged roads, and the Lake Havasu Route is shorter, with long stretches. Both routes are scenic ways to get to Las Vegas, a sweet oasis in the desert.
The Grand Canyon Route
From Tucson, get on Interstate 10 (I-10) W to Picacho Peak State Park. This beautiful landmark has expansive views of a cactus-studded desert. Get back onto I-10 W and head to Phoenix. Stop to sightsee in this vibrant capital city. There are a lot of outdoor activities in this urban/desert jungle.
When ready, take I-17 N to Prescott, a charming cowboy town. Explore this city's historic Whiskey Row before getting on the AZ-89 N to Cottonwood.
This quaint town has an old town charm and is your gateway to Sedona, which is about 30 minutes away on N State Route 89A. Sedona is well-known for its majestic red rock mountains and evergreen pine forests.
From here, head over to Flagstaff on the iconic Route 66. Stop overnight and rest in this mountain town, where the hospitality is as charming as the city. Make your way to the Grand Canyon on the US-180 W and take a minute to enjoy this stunning natural wonder.
When ready, follow I-40 W towards Las Vegas. Make a pit stop at beautiful Lake Mead on the way, before driving to Sin City.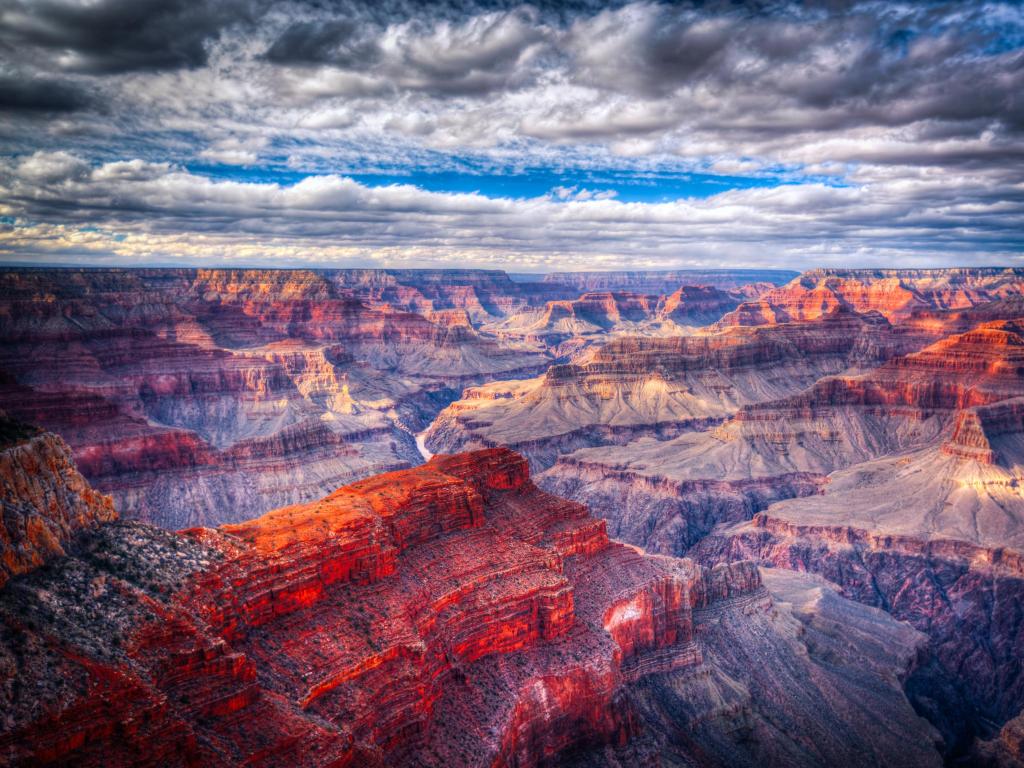 The Lake Havasu Route
Leave Tucson on I-10 W and head to Picacho Peak. This prominent landmark looks like a witch's hat in the middle of the beautiful but scorching desert.
When ready, head back onto I-10 W to Phoenix. It's a beautiful capital city with tree-lined avenues, Spanish-style architecture, and mountains. Do some hiking, climbing, and sightseeing before setting off on I-10 W to Tonopah.
This small town has a rich history (and allegedly ghosts) and is your gateway to Nevada. From here, head to Buckskin Mountain State Park on AZ-72 W. There is a beautiful lake where you can swim, fish, jet ski, and go boating. Relax and enjoy yourself before heading to Lake Havasu City.
Stop overnight in this base town. Lake Havasu and Cattail Cove State Parks are beautiful reserves to explore nearby.
When ready, get on I-40 W to the Mojave National Preserve. Enjoy the stunning Joshua Trees and rugged rocky landscape before heading to Primm. Fill up your tank and double back on I-15 N to see the Seven Magic Mountains – an intriguing art installation in the desert.
Get on I-15 N from here, and head to your final destination, Las Vegas.
Best places to stop between Tucson and Las Vegas
From Arizona to Nevada, traveling through the desert is a magical frontier experience – thankfully with GPS! The mountains are breathtaking, and the natural scenery will keep you company, with chances to explore and appreciate the beauty of the west.
You will need good stopovers for this adventurous road trip from Tucson to Las Vegas. Here are some recommendations for overnight stops on both routes.
Explore the City of Pines, Flagstaff
Stop overnight in Flagstaff, Arizona, about halfway on the Grand Canyon Route. Flagstaff is about an hour away from the UNESCO World Heritage Site.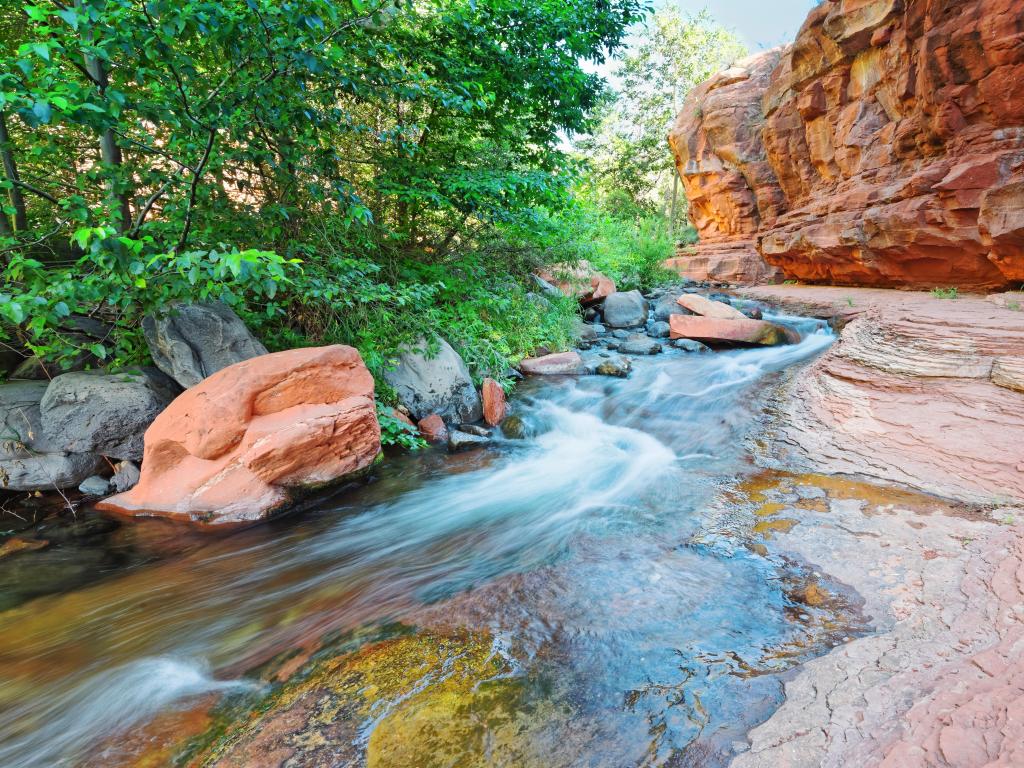 Known as the City of Pines, pine forests surround this lovely town. There are several notable natural attractions within 80 miles of the city. Visit National Monument, Oak Creek Canyon, Sunset Crater Volcano, San Francisco Peaks, Coconino National Forest, Walnut Canyon, and the Grand Canyon.
Flagstaff has a lively downtown district with shopping, dining, and nightlife. Visit the Lowell Observatory and the Arizona Snowbowl – where there are spectacular views of the mountains and forests in all seasons. The Museum Club at the Riordan Mansion State Park has neat tours.
Flagstaff is the base city for nearby attractions, so it's a popular destination. We suggest staying at the High Country Motor Lodge. This retro-modern motor inn is made for road trippers and has free private parking.
The rooms are comfortable with a trendy rustic design. Enjoy the patio or head to the garden and swimming pool area. There is a fitness center for guests with a bar and restaurant on site. The spa comes highly recommended, with a hot tub, sauna, and steam room. The hotel has some vibey evening events with entertainment.
High Country Motor Lodge is on historic Route 66, which is how you will get to the Grand Canyon. Nearby attractions include Riordan Mansion State Park, Lowell Observatory, The Museum Club, Walnut Canyon National Monument, and Sunset Crater.
Enjoy Arizona's Outdoor Playground, Lake Havasu City
Just over halfway on the Lake Havasu Route, stop in Lake Havasu City. The weather is generally mild year-round, so this city is an outdoor playground.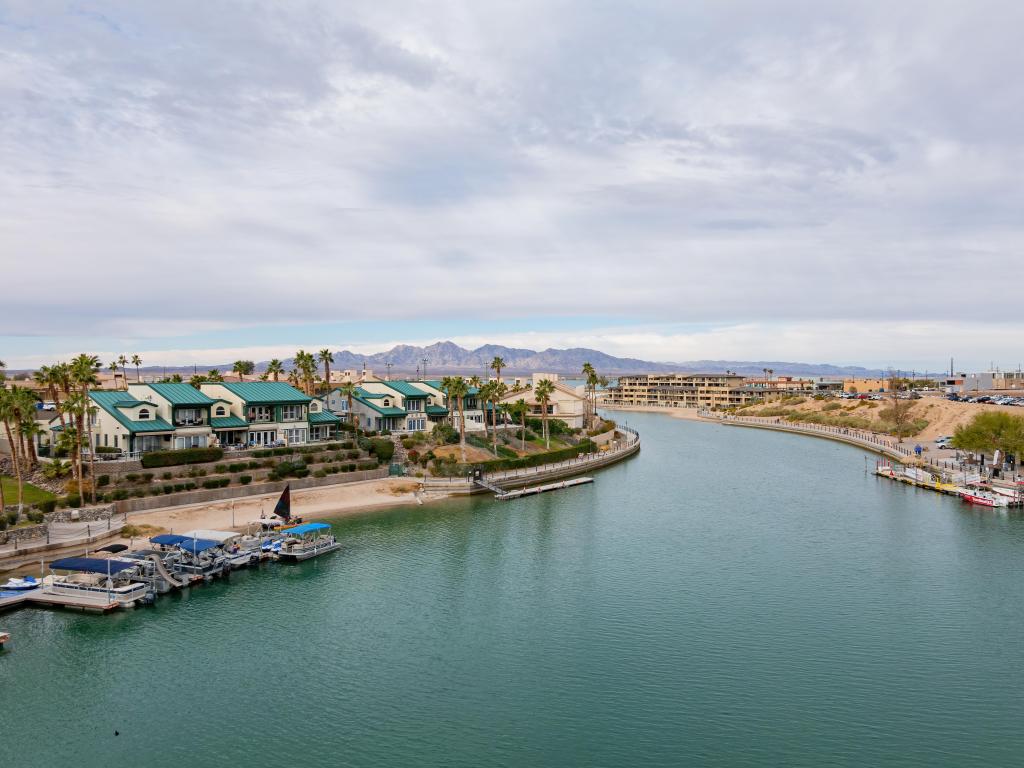 Choose your own adventure around the lake, with fishing, boating, swimming, kayaking, and more. The city has beautiful beaches, so you can relax and get a tan or go hiking on one of the many nature trails.
Lake Havasu City is home to the iconic London Bridge, an interesting and exciting attraction for tourists and history lovers. Walk around the Marina and visit the Museum of History while here.
As a year-round destination, this city is quite popular with tourists. We suggest staying at Heat Hotel. There is free parking for road trippers, and the hotel overlooks the Bridgewater Channel and London Bridge.
Spread out in the comfortable apartment-style rooms and enjoy lake views from the balcony or patio. The hotel is central, with restaurants and bars within walking distance. There is an on-site bar to enjoy drinks with a gorgeous view of London Bridge. The hotel offers bike and paddleboard rentals for guests.
Heat Hotel is near the waterside, less than a mile from the London Bridge, Lake Havasu Visitor Center, and Marina. Body Beach is about 1.5 miles away.
Where to stay when you reach Las Vegas
Dubbed the adult Disneyland, the neon-lit Las Vegas is an entertainment and party capital.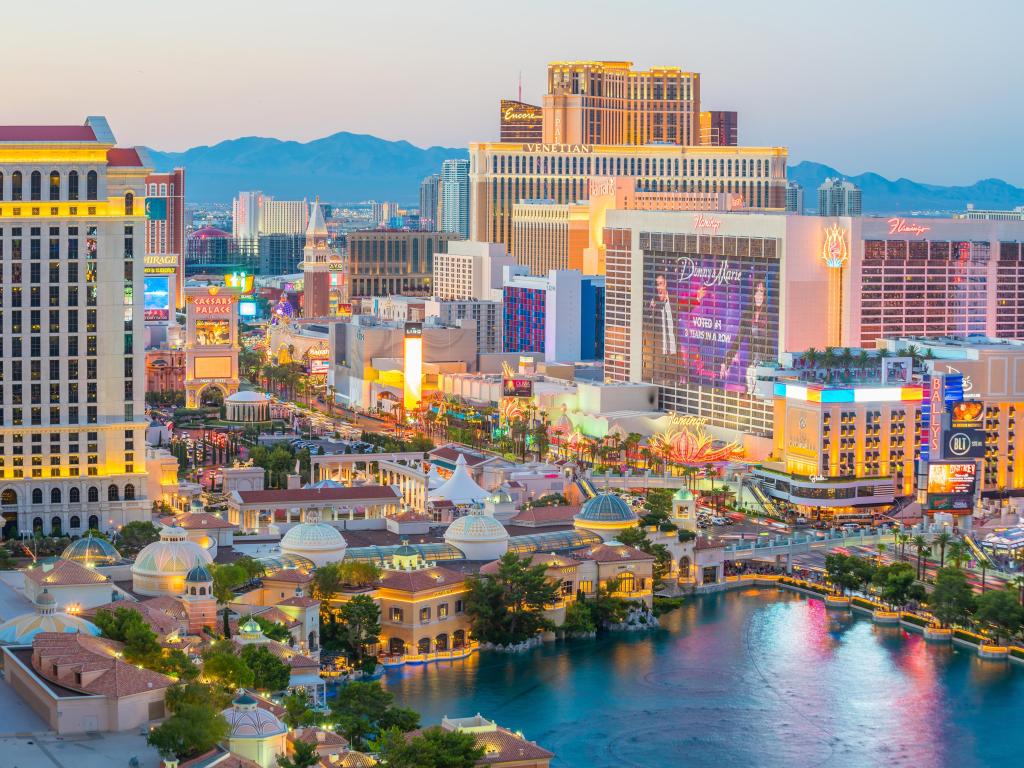 The Strip is iconic and is the heart of the city. Whether this is your first, second, or tenth time here, try your luck at any of the famous casinos: the Venetian, Caesar's Palace, and the Bellagio. Fremont Street is a vibey boulevard of bars, restaurants, shopping, and non-stop nightlife.
Visit the quirky Mob Museum, with interactive exhibits. Catch stunning aerial views of the city from the High Roller, a 550-foot-tall Ferris Wheel.
Vegas is a grand city, and you should stay here in style. We recommend Bellagio to experience the best that Las Vegas has to offer. This iconic luxury hotel is just what you need after trekking through the desert.
The rooms are gorgeously designed, open, and spacious. Enjoy bright city views from your window. If you can't sleep, head downstairs for entertainment. The Bellagio has beautiful courtyards and a great selection of high-end boutique shops.
It's right on the Strip, so you're never too far away from the action and excitement. If you're worried about splurging on this world-class hotel, walk outside and enjoy the colorful Bellagio fountains. It's a good reminder that you only live once.
Things to see on a road trip from Tucson to Las Vegas
There are some incredible natural landmarks and sights to see on this road trip from Tucson to Las Vegas. The Grand Canyon and the Lake Havasu Routes have open stretches of desert and craggy mountains to keep you company on your drive.
Here's a list of some great stops and things to see on both routes.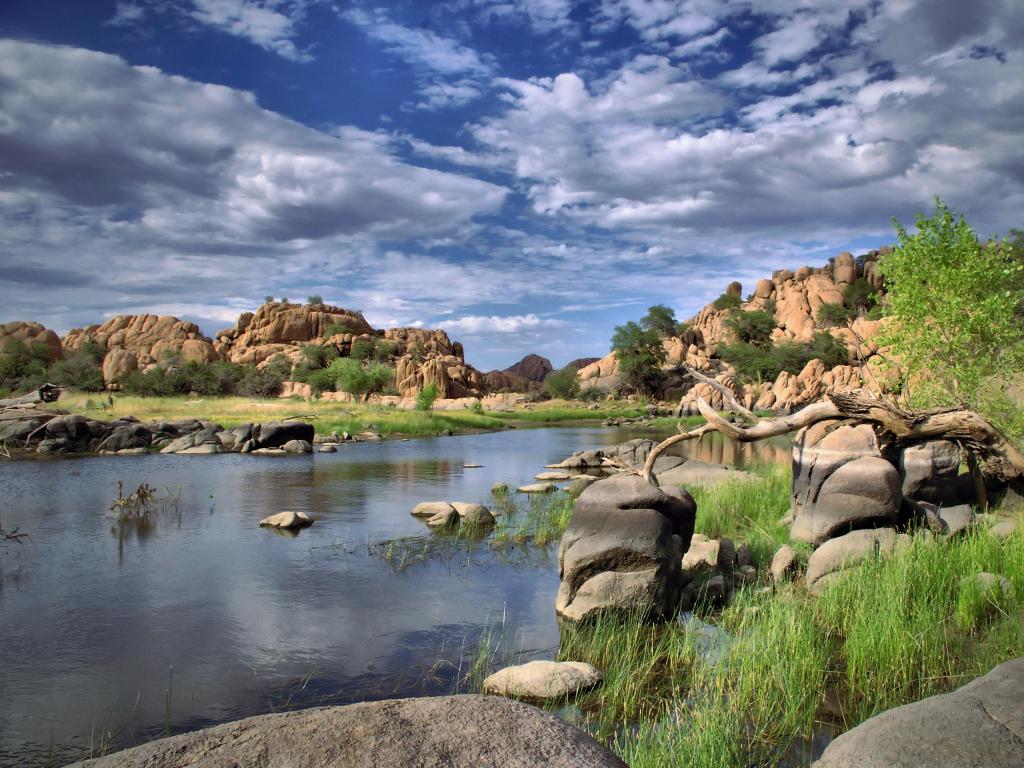 The Grand Canyon Route
Prescott, Arizona – This quaint cowboy town has a great history, and you can learn all about it on the famous Whiskey Row. Visit the city's art galleries, shops, and charming saloons.
Watson Lake Park, Arizona – A beautiful camping, picnic, hiking, and climbing area, this lake has stunning rock formations in the water.
Jerome, Arizona – Nicknamed "The Wickedest Town in the West", this mining county has beautiful mountain views and a few ghosts to spice things up.
Cottonwood, Arizona – A quaint day trip in the heart of wine country. You can also enjoy outdoor activities near the Verde River.
Sedona, Arizona – Known for beautiful, natural red rocks, Sedona also has some neat tours and canyon hikes to enjoy.
Slide Rock State Park, Arizona – The slippery rock beds of Oak Creek transforms this area into a natural water slide, which makes for a thrilling hike.
Kaibab National Forest, Arizona – Just before the Grand Canyon, this beautiful forest is a great place to get lost in.
Grand Canyon, Arizona – The UNESCO World Heritage Site is a mile-deep canyon with breathtaking views of the natural valleys.
Lake Mead, Nevada – A small and peaceful recreation area. Enjoy camping, swimming, hiking, and water sports. You can take a walk over to the Hoover Dam while here.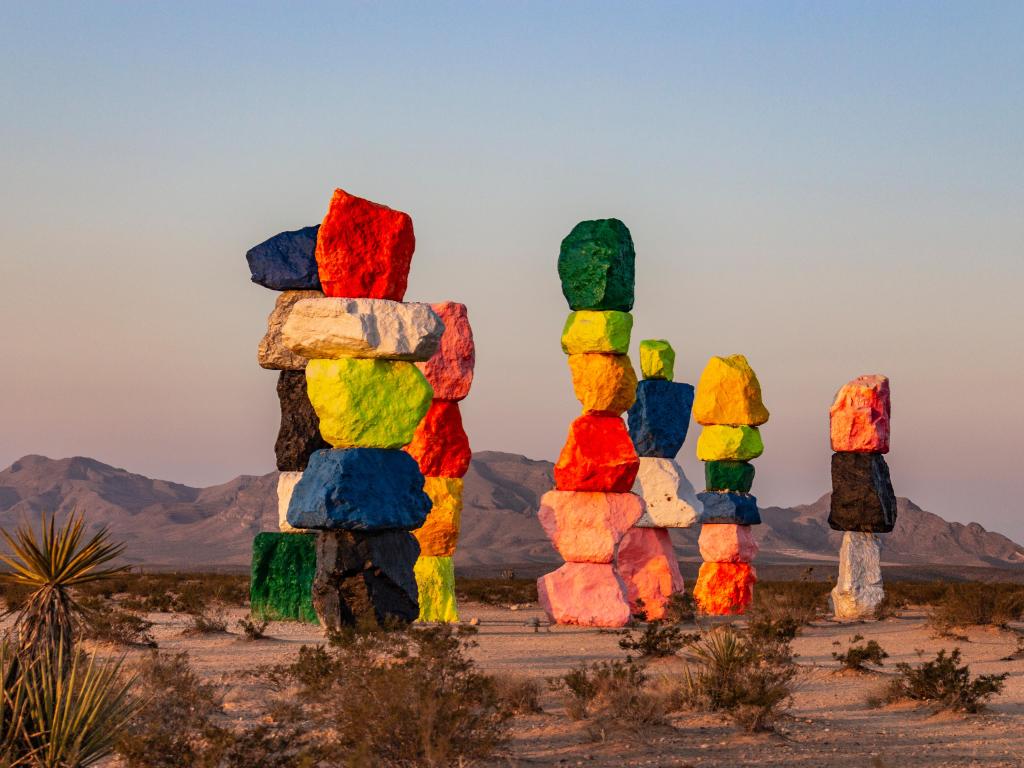 The Lake Havasu Route
Tonopah, Arizona – This historic town has the most haunted hotel in America.
Buckskin Mountain State Park, Arizona – Set along the Colorado River, you can go hiking, boating, or camping in this desert oasis.
Rovey's Rock, Arizona – These stunning natural rock formations have distinctive honeycomb markings. The hike is challenging, but the views are absolutely worth it, and you can take a jeep tour to get there.
Cattail Cove State Park, Arizona – This is an idyllic park with sandy beaches, campsites, and hiking trails. It's a great place for a rest stop and picnic.
Dead Mountains Wilderness Area – This jagged mountain area is for nature lovers and outdoor enthusiasts. You can expect to see rattlesnakes, roadrunners, lizards, and coyotes, so beware.
Joshua Tree Highway, Nevada – Right before you arrive in Mojave, you will drive along this scenic highway, surrounded by gorgeous Joshua Trees.
Mojave National Preserve, California – The park has beautiful views and lovely desert landscapes. Be sure to check out the Cima Dome – a volcanic field.
Primm, Nevada – There is a resort and casino here where you can find the Bonnie and Clyde Death Car attraction – with bullet holes.
Seven Magic Mountains, Nevada – This curious art installation in the desert is a nice detour and a colorful photo op.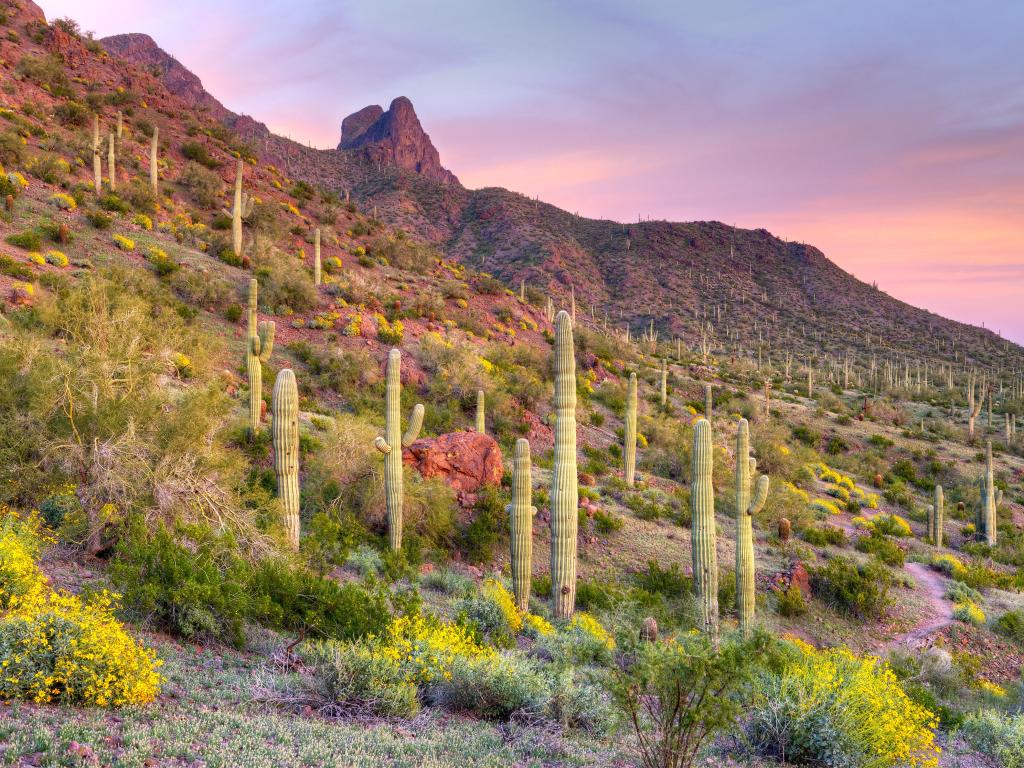 Both Routes
Picacho Peak State Park, Arizona – The Sonoran Desert is best experienced through scenic hikes. Take the easy route, the Children's Cave Trail, or challenge yourself on the Hunter Trail.
Phoenix, Arizona – The capital city is a lively and fun place to sightsee, shop and dine. Take a hike on Camelback Mountain and head to the summit for stunning city views.
Best time to go on a road trip from Tucson to Las Vegas
Las Vegas is a year-round destination. Driving through the desert can be challenging, depending on the season. Expect high temperatures in summer and snow in some areas during winter.
Summers are hot in Vegas, with temperatures between 80-90 degrees Fahrenheit. June, July, and August are the hottest months and can exceed 100 degrees. The heat sometimes keeps tourists away, which means budget-friendly rates.
Winter has temperatures between 40-60 degrees Fahrenheit. November, December, January, and February are cool months. January is said to be the quietest month, with fewer visitors. December is busy with Christmas events, so rates are higher than usual.
Spring is considered the high season. Temperatures are between 60-77 degrees Fahrenheit. March, April, and May are mild, with cooler weather at night. The fall months, September and October, are peak seasons for visitors. Temperatures average around 70-80 degrees Fahrenheit.
Vegas is the entertainment capital of the world. There are tons of events and festivals throughout the year.
New Year's Eve is a popular time for visitors, with many events in and around the Strip. Super Bowl Weekend is in February, and Memorial Day Weekend in May attracts crowds. July 4th is a peak holiday, and so is Halloween in October. Expect higher rates around these holidays.
The Viva Las Vegas Rockabilly Weekender and The Great American Food Festival both take place in April. The EDC music festival and Punk Rock Bowling happen in May. The King of Las Vegas Festival is in July, and the popular iHeartRadio Music Festival is in September.