Road Trip from San Antonio to Las Vegas
A road trip from San Antonio to Las Vegas is an epic drive that will take you through large stretches of stunning desert scenery and awe-inspiring wilderness, together with some vibrant cities that really punctuate the journey. You will be surrounded by history and the natural features that characterise the southwest USA.
The 1,280-mile road trip from San Antonio to Las Vegas will take about 19 hours to drive. Highlights include Route 66, El Paso, Tucson, Phoenix, Kingman, Big Bend National Park, Franklin Mountains State Park, Coronado National Forest, and Hoover Dam.
This monumental journey will take you past many amazing places, attractions, and landmarks. Keep on reading to find out the best route, the best places to stay and the best time of year to travel.
How far is Las Vegas from San Antonio, and how long will the road trip take?
Comparison of road trip route options between San Antonio and Las Vegas
Route
Distance
Driving Time
Southern Route


via El Paso

1,280 miles
18 hours 55 minutes
Northern Route


via Albuquerque

1,300 miles
19 hours 20 minutes
A road trip from San Antonio to Las Vegas is an epic journey which will cover 1,280 miles and take about 19 hours of non-stop driving without accounting for any stops and detours you might want to make.
There is another alternative route which will take you through the same states with an extra 20 minutes of driving time. This Northern Route covers 1,300 miles where you will get to learn about the history of this frontier region as well as appreciate some of the iconic landscapes.
Since you will be covering massive distances on both routes, you're realistically going to be looking at doing this trip over at least a week - and ideally more, if you have extra time to dedicate to this amazing journey.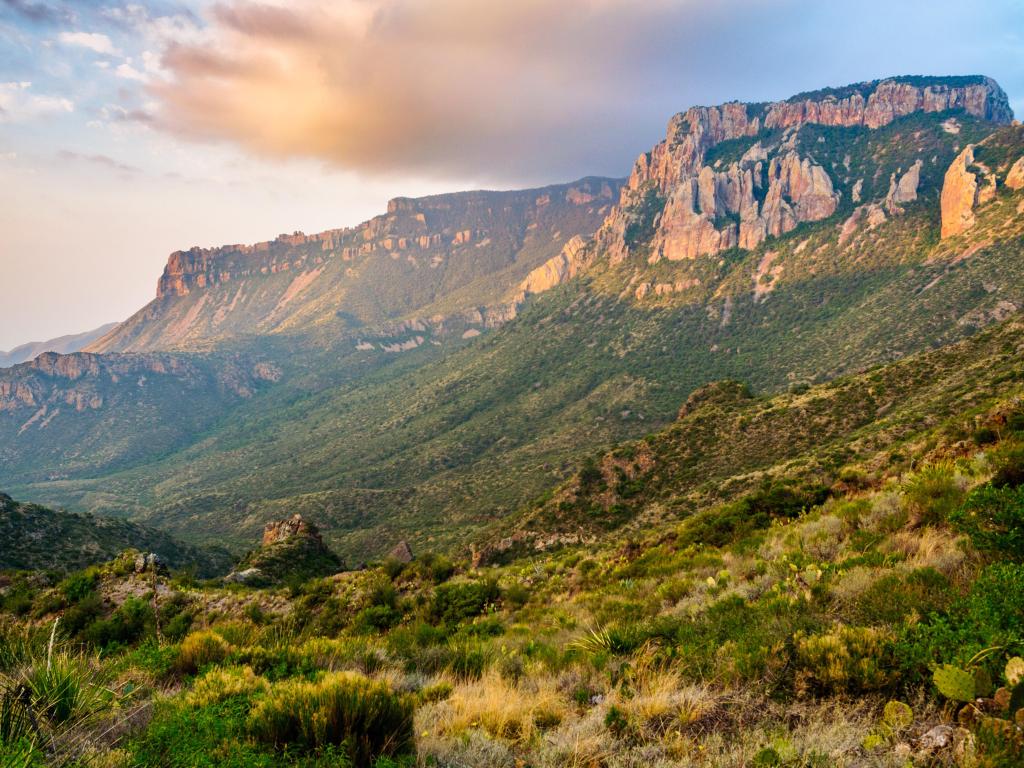 Best road trip route from San Antonio to Las Vegas
The fantastic road trip from San Antonio to Las Vegas will take you through Texas, New Mexico, Arizona and Nevada, which will give you the opportunity to travel through a huge variety of terrain, scenery and attractions.
When it comes to choosing which route to follow, the best one will depend on what you want to see and do on your journey. Both routes cover similar distances - mainly on the interstates - each with its share of colorful cities and incredible landmarks.
The Northern Route will give you the option to visit the Grand Canyon, which is a bucket-list attraction for many, as well as the historic city of Albuquerque and the quirky Roswell.
If you follow the Southern Route, you will have the option to visit Mexico. Just remember to pack your passport and proper documents before you start your amazing journey!
How to drive from San Antonio to Las Vegas
The map above shows our suggestions for the best road trip routes between San Antonio and Las Vegas. Keep reading for detailed descriptions of both routes, where to stay on either, and the best things to do on the way.
The Southern Route
Take Interstate 10 (I-10) out of San Antonio passing through Comfort, Segovia and Sonora, where you can visit the Caverns of Sonora to marvel at its unusual and stunning rock formations.
You will have the option to make a detour to the Big Bend National Park past Fort Stockton. The interstate will then take you all the way to the Mexican border and to El Paso, where you can stop to explore the history of this border city just before you cross from Texas into New Mexico.
Drive past Coronado National Forest before you reach Tucson, experienced hikers should not miss Dos Cabezas Mountain Wilderness which offers unspoiled landscapes and true solitude.
After your visit, head north to Phoenix, followed by Kingman, past Hualapai Peak. At the border of Arizona and Nevada, you'll cross the mighty Colorado River near the impressive Hoover Dam before arriving in Las Vegas, a city that needs no introduction.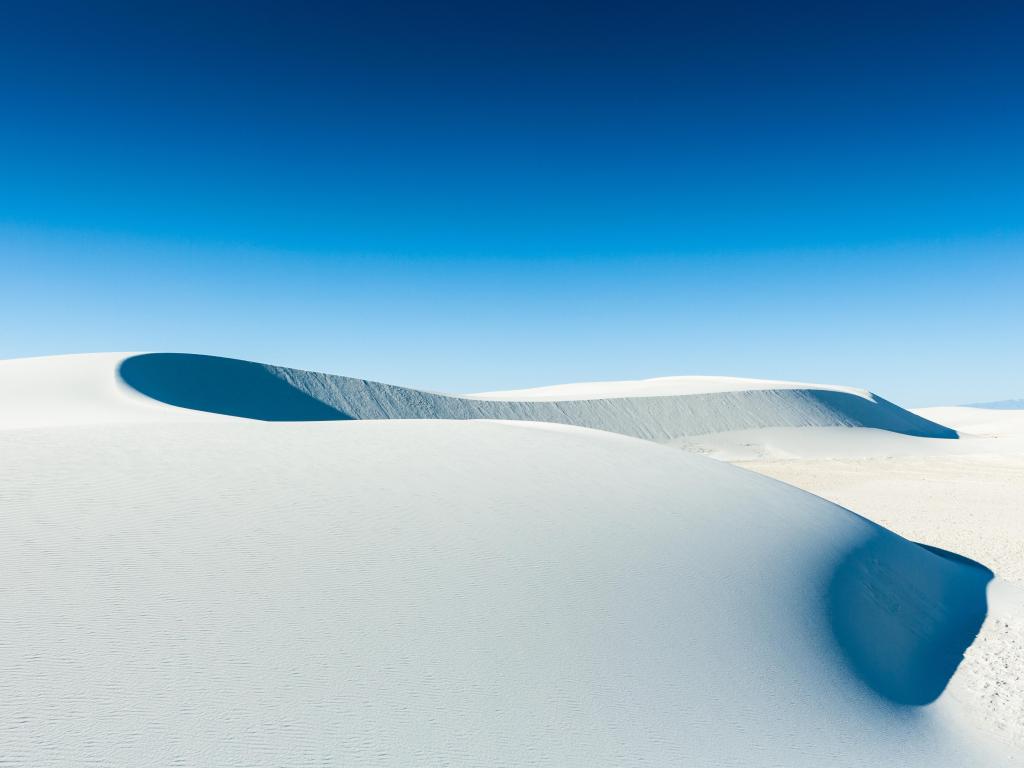 The Northern Route
This route also starts on I-10, which you'll follow north until you reach the town of Junction. At Junction, head towards Eden, where you'll turn onto US-87 which will take you through San Angelo and Big Spring.
Following the highway, you will soon reach the quirky city of Roswell. You will then have the option to make a detour to the fantastic city of Santa Fe by following US-285 past Clines Corners. This will also give you the opportunity to visit the Santa Fe and Carson National Forests.
From Flagstaff, you can detour to Coconino National Forest or Walnut Canyon National Monument. Passing through the mountains, here you'll find cooler weather in summer and winter snowfall that makes this a ski destination as well.
Another fantastic detour option is to follow US-180 out of Flagstaff and towards Kaibab National Forest and the Grand Canyon. After your visit, follow I-40 until Kingman, where you'll join up with the Southern Route to take you into the buzzing heart of Las Vegas.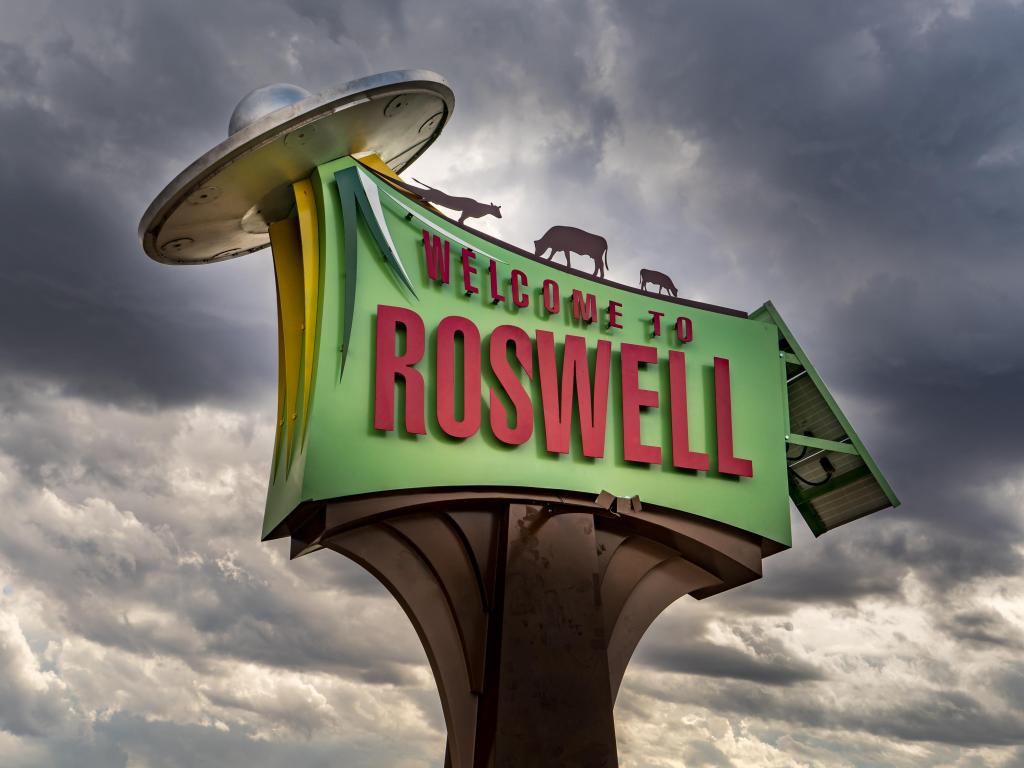 Best places to stop between San Antonio and Las Vegas
This is a trip of epic proportions, which means that you will have to split your journey into several days and find overnight stops filled with things to do and see while you're there.
There are several fantastic options for where to stop on both routes and to make it easier for you, we have listed some of our favorites here:
Discover the cultural heritage of El Paso
Located about 8 hours from San Antonio on the Southern Route, the border town of El Paso is almost at the halfway point of this trip. Known for its stunning views of the Franklin Mountains, this is a vibrant, multi-cultural city and a great place to spend a day or two.
The Franklin Mountains State Park sits just outside the city and is easily accessible by car. Boasting breathtaking scenery, this park sits on the westernmost point of Texas and offers fantastic opportunities to hike, bike or even rock climb if you are feeling adventurous.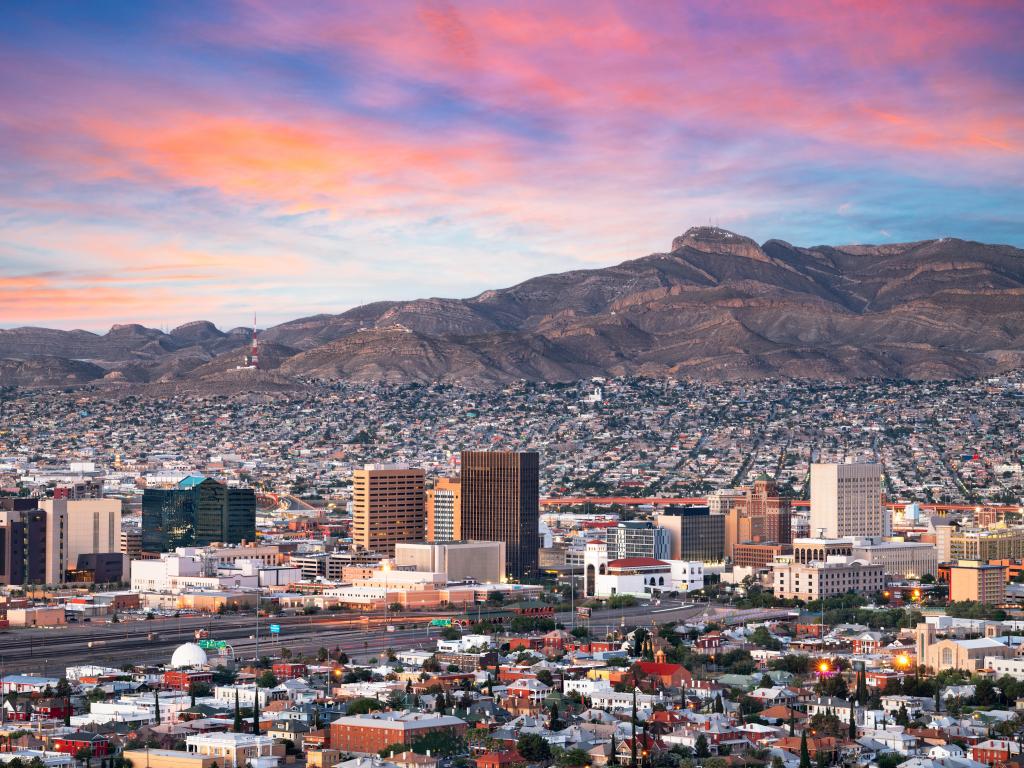 While visiting El Paso, you can explore the multicultural heritage of this border city on the Mission Trail, which is a historic trail that is home to museums, state and national landmarks, art galleries, award-winning restaurants and a host of other attractions.
Downtown El Paso also offers great options for entertainment and dining. You can visit the El Paso Museum of Art, which features work by American, Mexican and European artists, and the El Paso Museum of Archaeology while visiting this area.
After exploring the great outdoors or the historic past of El Paso, you will want to relax in luxury and Hotel Indigo El Paso Downtown will meet all your needs. Located in the heart of downtown, this chic adults-only hotel boasts 2 restaurants, a cocktail lounge and a stunning terrace.
Admire the beautiful scenery in Tucson
Tucson is a city known for its close proximity to the breathtaking Sonoran Desert and its Southwestern cuisine, located 6 hours and 30 minutes away from Las Vegas on the Southern Route.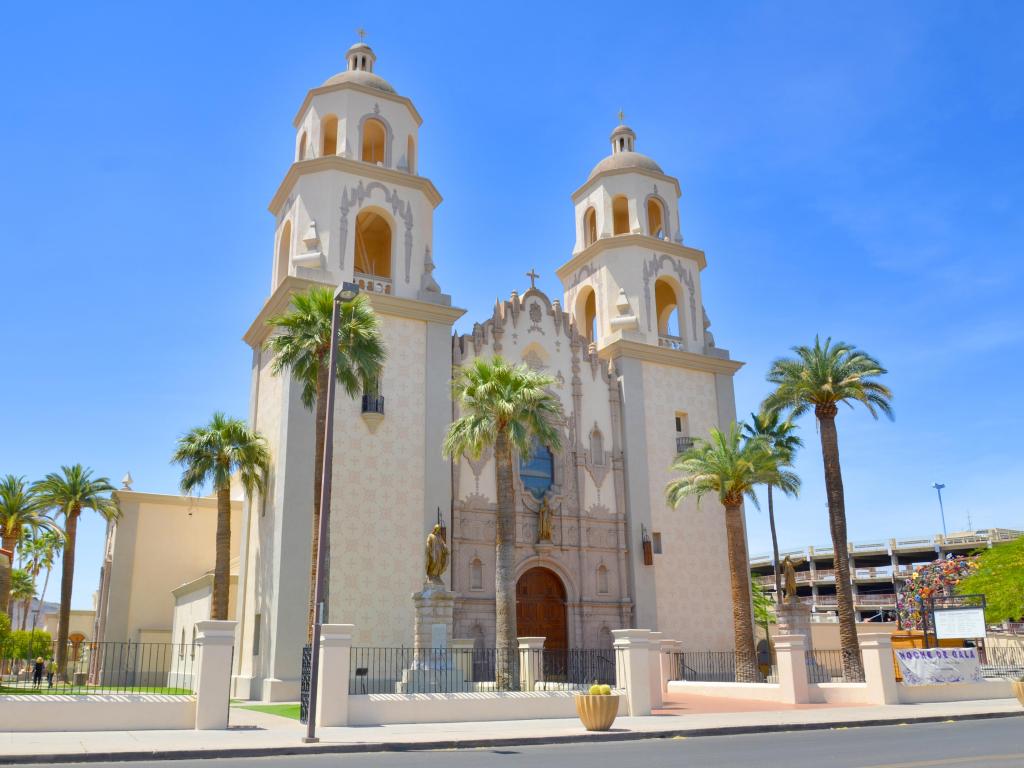 With its stunning scenery and convenient location, Tucson is a fantastic option for an overnight stay and a stay at the historic Arizona Inn is a great way to relax and rest in luxury while visiting this city.
Located in landscaped gardens right in the city center, this fantastic hotel has 3 on-site restaurants and a fabulous outdoor heated pool. The accommodation also houses tennis courts, badminton, croquet and table tennis facilities.
You might not even want to step out with so much comfort and entertainment right at your fingertips, but the hotel is located nearby some exciting points of interest. Reid Park Zoo, Arizona State Museum and the University of Arizona Museum of Art are only a short distance away.
If the weather and your energy levels allow, you can take a half an hour drive to the stunning Tucson Mountain Park and Saguaro National Park to admire some of the most beautiful landscapes and flora that are symbols of Arizona.
Follow Route 66 to Albuquerque
Albuquerque sits almost at the halfway point on the Northern Route and is located about 8 hours and 30 minutes from Las Vegas. This city is known for its unique architecture and city planning, which makes it an exciting location to explore.
Famous Route 66 passes through Albuquerque and runs through the heart of the city along Central Avenue, which means there is plenty to explore on this historic route that passes through the historic Old Town and downtown, including museums, galleries and restaurants.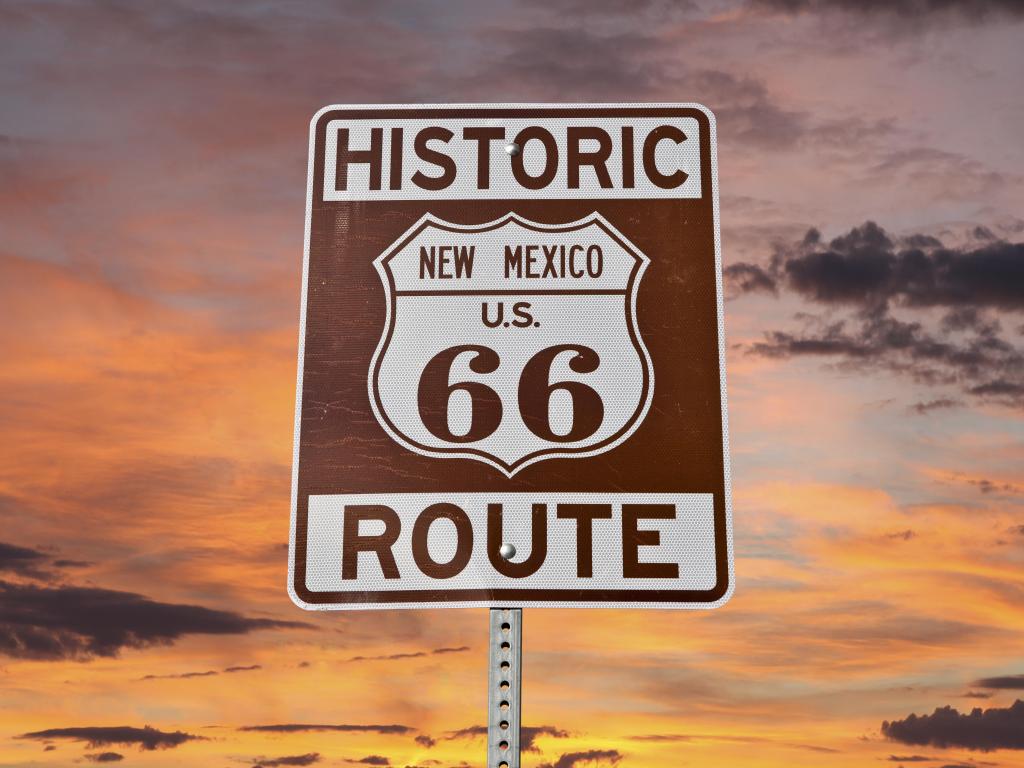 If you are looking for a luxurious hotel to base yourself in as you explore all this city has to offer, look no further than the Clyde Hotel, located right on Route 66. This tallest hotel in Albuquerque offers luxurious accommodations in the unique Pueblo Deco decor the city is known for.
Just a short walk away from the accommodation, the West Park is a major attraction in the city and houses ABQ BioPark, Albuquerque Zoo and the beautiful Rio Grande Park, where you can spend a whole day exploring.
The curious Petroglyph National Monument is a short drive away from the hotel and you can enjoy scenic and leisurely hikes on the Rinconada Canyon Trail before heading back to your hotel to enjoy a cocktail at the lounge or a delicious meal at Carrie's Restaurant on-site.
Things to see on a road trip from San Antonio to Las Vegas
Given that you will be covering many miles on this road trip from San Antonio to Las Vegas, it isn't surprising that you will have many exciting attractions and amazing landmarks to explore on the way.
We have compiled some of the best things to see and do on both routes to make your planning easier:
The Southern Route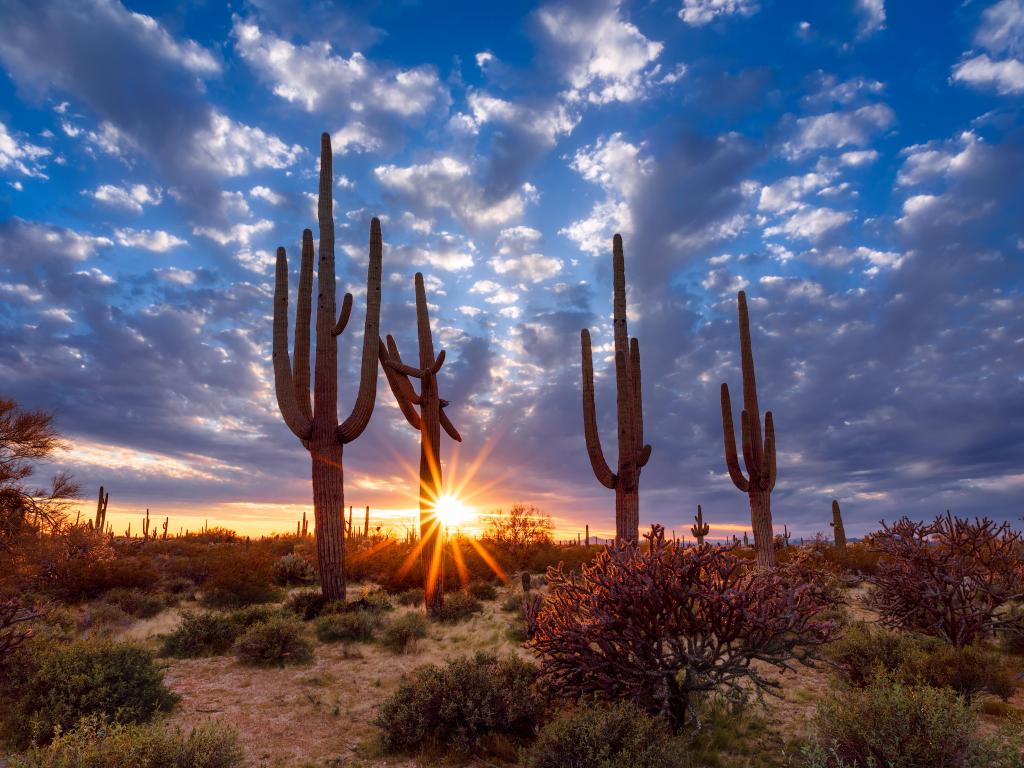 Caverns of Sonora, Sonora - These caverns are known to feature one of the most beautiful show caves in the world and are designated as a National Natural Landmark.
Big Bend National Park, Texas - Explore canyons and desert landscapes in this vast national park, which is also home to a huge variety of flora and fauna.
Fort Davis National Historic Site, Fort Davis - This frontier outpost originated to protect travelers taking the route from San Antonio to El Paso. Nowadays it's a great place to learn about the history of the Southwest and to enjoy short hiking trails.
Davis Mountains State Park, Fort Davis - For a longer hike, you can Follow trails through the high desert to scenic overlooks of the Davis Mountains in this beautiful and historic park.
White Sands National Park, New Mexico - Magical looking glistening white sands of New Mexico are a true natural wonder which will make you feel like you are on a different planet. The mineral that gives the sand its white color is called gypsum.
El Paso Museum of History, El Paso - You can visit this museum and learn about 400 years of change and growth in this fascinating border region through more than 10,000 artefacts, documents, and images.
El Paso Mission Trail, El Paso - A nine-mile stretch across time in El Paso County's Mission Valley, this historical trail features museums, myriad state and national landmarks, art galleries, and award-winning restaurants.
Franklin Mountains State Park, El Paso - This is the perfect option for one-day hikes and cycle trails across stunning landscapes, including many options which are accessible to less experienced hikers.
Gila National Forest, Silver City - This enchanting forest boasts majestic mountain scenery and its cool summer temperatures and relatively warm winters allow recreational activities all year round.
Dos Cabezas Mountain Wilderness, Arizona - Find real solitude with a trip into this mountain area just outside Tucson. When you're ready to rejoin the hustle and bustle, you could also stop to visit Dos Cabezas winery in nearby Sonoita.
Tucson, Arizona - Known for the breathtaking Sonoran Desert and its Southwestern cuisine, Tucson is also home to Reid Park Zoo, Cathedral of Saint Augustine, Arizona State Museum and the University of Arizona Museum of Art.
Saguaro National Park, Arizona - Situated just outside Tucson, this national park is home to many giant saguaro cacti – the largest in the US. Hike, cycle or drive on the several marked routes through.
Desert Botanical Garden, Phoenix - This 50-acre site allows you to get up close to many of the desert plants you'll drive past on this trip, as well as hosting many live events and art installations.
Phoenix, Arizona - You can relax in Phoenix after a long drive and enjoy the luxurious resorts, hot air balloon rides, Musical Instrument Museum and Papago Park.
Tonto National Forest, Chandler - This stunning national forest features some of the most dramatic and rugged terrains in Arizona, where you can escape the heat and cool down in lake beaches or cool pine forests.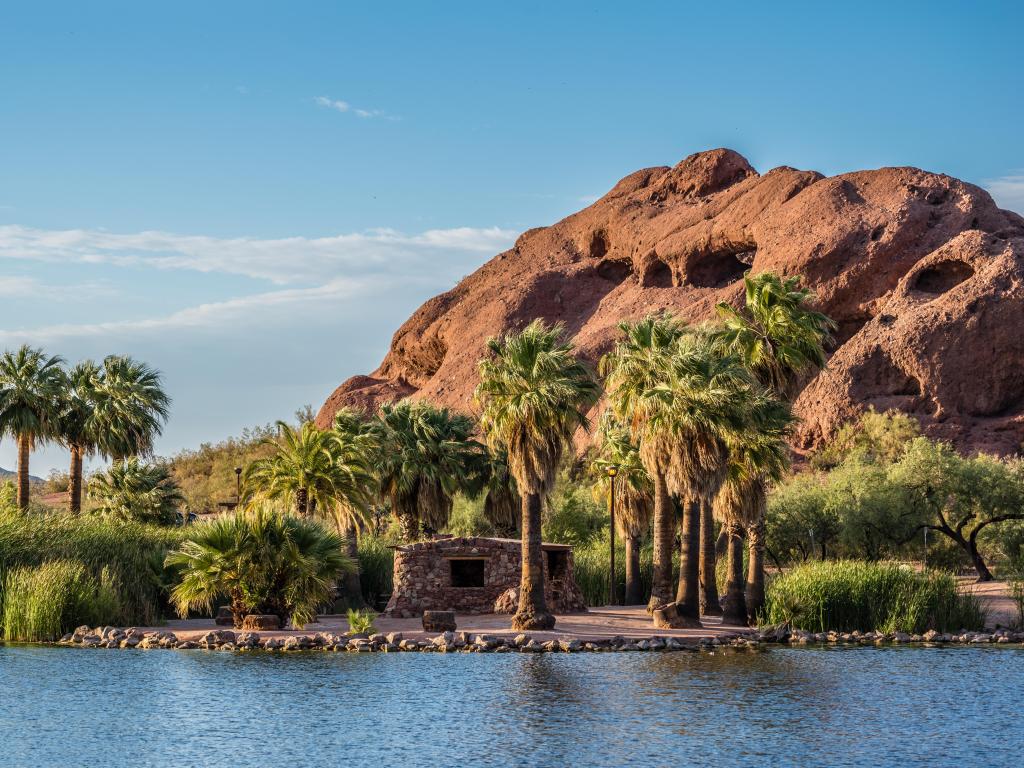 The Northern Route
Roswell, New Mexico - As well as the nearby site of the notorious UFO incident, Roswell has a number of outstanding museums ranging from contemporary art, the history of New Mexico and of course, the International UFO Museum.
Albuquerque, New Mexico - The largest city in the state of New Mexico and home to the unique adobe architecture, Albuquerque is home to ABQ BioPark, Albuquerque Zoo and the beautiful Rio Grande Park, New Mexico Museum of Natural History and Science.
Route 66 - This famous highway is one of the most legendary routes in the entire country, known for its scenic views. Route 66 spans over 2,400 miles and crosses 8 states.
Petroglyph National Monument, Albuquerque - One of the largest petroglyph sites in North America, this area features designs and symbols carved onto volcanic rocks by Native Americans and Spanish settlers.
Corrales Wineries, Corrales - Just outside Albuquerque, a number of vineyards offer on-site tastings and a chance to learn about wine growing in the Middle Rio Grande Valley.
El Malpais Monument and National Conservation Area, Grants - This conservation area is built up by ancient volcanic activity throughout the years. You can enjoy hikes and scenic drives here as well as lava tube diving.
Petrified Forest National Park, Arizona - A recommended stop for hiking and camping in the wilderness where you can check it out and see over 550-square miles of petrified wood, painted desert, dinosaur fossils and Native American sites.
Flagstaff, Arizona - Flagstaff has four distinct seasons, making it an interesting destination year-round, with great skiing in the winter. It was also the world's first "International Dark Sky City" so come here to see the stars!
Coconino National Forest, Flagstaff - This forest is home to awe-inspiring red rock formations of Sedona and the largest Ponderosa pine population in an American forest.
Meteor Crater, Winslow - In the Arizona desert, explore this massive crater with guided hikes around the rim and information and activities at the nearby Barringer Space Museum.
Grand Canyon, Arizona - You can visit this epic natural monument during a day trip from Flagstaff, either to take in the stunning views or to enjoy the area with a hike or rafting trip.
Kaibab National Forest, Arizona - You will drive through this beautiful forest as you reach the Grand Canyon and if you are lucky, you can spot buffalo herds in this beautiful forest.
Kingman, Arizona - Explore historic buildings and follow the old wagon trail, an essential part of the mining industry that brought many settlers to this area. Also known for its beautiful turquoise, which makes perfect souvenirs.
Hoover Dam, Nevada - An arch-gravity dam responsible for producing electricity for the majority of the southwest coast, where you can take a guided tour of this massive feat of engineering, built during the Great Depression.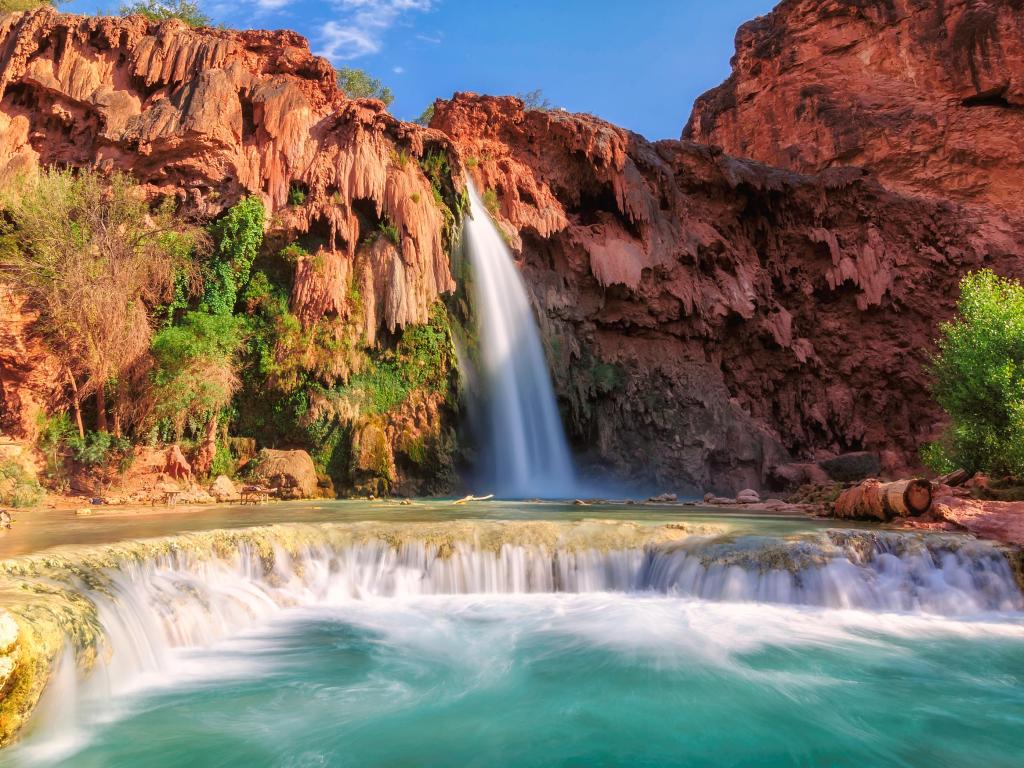 Best time to go on a road trip from San Antonio to Las Vegas
A road trip from San Antonio to Las Vegas can be done during any month of the year, as the roads and attractions are open all year round on both of the routes.
However, it is a good idea to keep in mind that Las Vegas tends to get really busy and hot in summer, with temperatures reaching around 95 degrees Fahrenheit. It is not surprising that summer is not the peak of the tourism season in Sin City.
If you want to avoid the crowds, and Las Vegas is notoriously always busy, winter is a great time to visit the city, make sure to pack warm. The temperature sees lows of around 35 degrees Fahrenheit, especially at night.
As the winter is mild on these routes, you're unlikely to come across road closures on the main highways but check ahead where the route crosses the mountains around Flagstaff, as this area does experience snowfall in the winter.
If you are visiting during winter, you can check out the National Finals Rodeo in Las Vegas, a big event in December. Remember that prices might be higher during these periods, and accommodation is likely to be at a premium.
March and April mark the peak season in Vegas, and while the weather around these months is pleasant, with temperatures around 80 degrees Fahrenheit, fall is a better time to visit if you wish to avoid crowded attractions.