Road Trip from Vancouver to Edmonton
The road trip from Vancouver to Edmonton is an epic adventure, taking you through some of the most beautiful towns and stunning national parks that Canada has to offer, before arriving at the capital city of Alberta.
The 1,160km road trip from Vancouver to Edmonton will take you about 12 hours to drive. Key stops include Abbotsford, Calgary, Red Deer and Kamloops, as well as Kootenay National Park, Morant's Curve, Glacier National Park and Banff National Park.
There are numerous iconic destinations to visit and interesting things that you can do along the way. So please keep reading until the end to find out about all of them, as well as our recommendations on where to stay and the best time to make this fantastic trip.
How far is Edmonton from Vancouver and how long will the road trip take?
The road trip from Vancouver to Edmonton spans a distance of 1,160 km and takes around 12 hours and 22 minutes of non-stop driving.
That said, in order to take in some of the stunning attractions that this part of Canada has to offer, a slightly longer route of 1,352km is recommended. Taking 15 hours and 25 minutes, the extra time and distance will enable you to visit the ever popular Glacier National Park and Banff National Park.
While you could complete the journey over two days if you followed the quickest route, a better move would be to take things slow and spread the drive out over several days, ideally a minimum of three.
The extra time will give you more opportunities to stop at the different sightseeing spots along your way and will ensure that your road trip is truly memorable.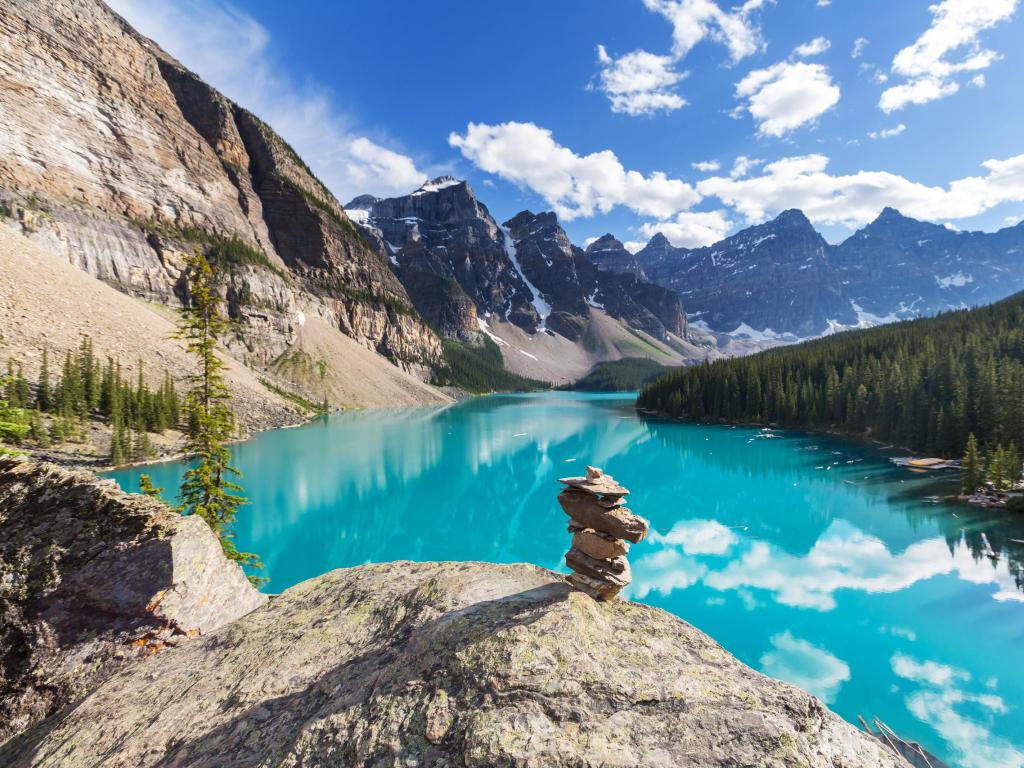 Best road trip route from Vancouver to Edmonton
There are a number of routes that you can take on the road trip from Vancouver to Edmonton, including the before mentioned quick route.
However, in order to maximize the enjoyment of your journey, we're going to recommend the Trans-Canada Highway, British Columbia Highway-1 and Alberta Provincial Highway-2 route.
This alternative route will enable you to take in some of the most exceptional scenery, as well as give you the opportunity to visit a number of delightful towns, cities and other noteworthy places of interest.
Road trip route from Vancouver to Edmonton
From Vancouver take the Trans-Canada Highway heading east through Abbotsford. You will pass through some pretty towns of Hope, Yale and Boston Bar before arriving at Lytton where you could stop to visit Stein Valley Nlaka'pamux Heritage Park.
Continue on the Trans-Canada Highway until you reach Kamloops, a great contender for an overnight stop. Follow the road through the stunning landscape and towns of Revelstoke before exploring Glacier National Park of Canada.
A short drive on and you will arrive at the simply stunning Banff National Park. From here you could stop at Banff itself, or continue to Calgary, the cosmopolitan city of Alberta. From here you will need to take the Alberta Provincial Highway-2 towards Edmonton.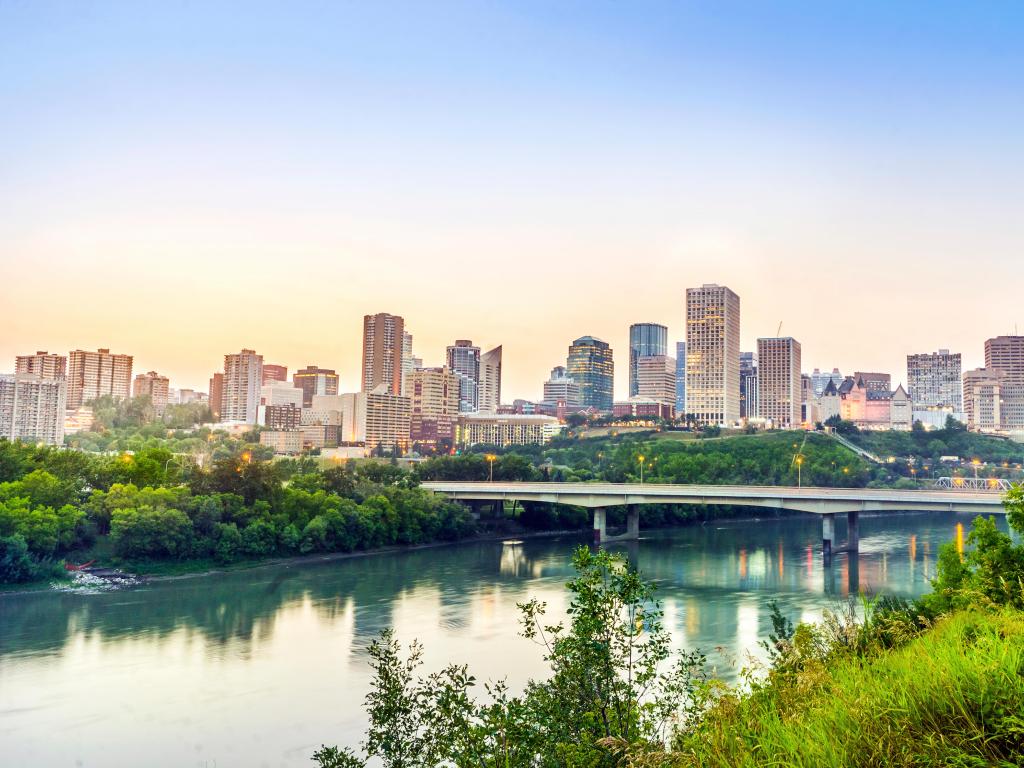 Best places to stop between Vancouver to Edmonton
There are a huge choice of fabulous towns, cities and places of outstanding natural beauty on the road trip from Vancouver to Edmonton.
Of all the spectacular places to stop en route, these are the ones you are going to want to look out for:
A stunning stop at Banff National Park
Around 900km from Vancouver, Banff is an ideal location for an overnight stop. Surrounded by Banff National Park, this town combines perfect location with fantastic nearby attractions.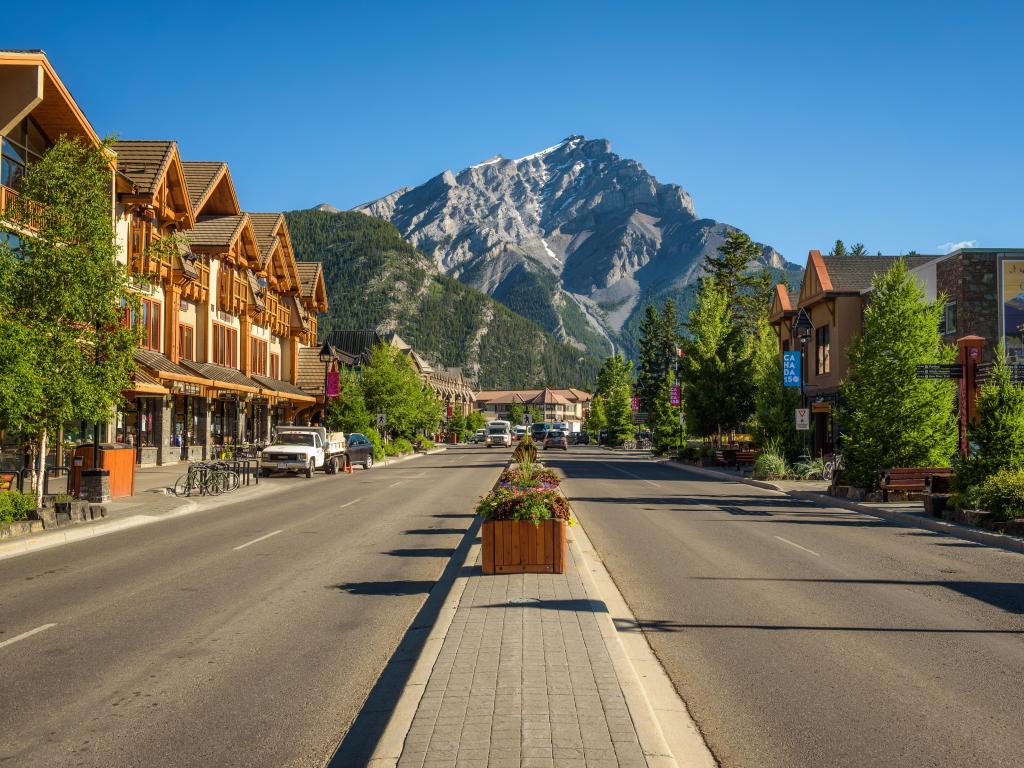 The resort town in the province of Alberta, Banff is a popular destination in its own right. With the peaks of Mt. Rundle and Mt. Cascade, part of the Rocky Mountains, dominating its skyline, it's also a great base to explore Banff National Park.
Visit Banff's Avenue, the main thoroughfare, and you'll find boutiques, restaurants and souvenir shops. The surrounding 6,500 square kilometres of parkland are also home to wildlife including elk and grizzly bears.
For a truly luxurious stay, it's hard to beat the beautiful Fairmont Banff Springs. This 5-star hotel, built in 1888, is a National Historic Site and was created in the style of a Scottish Baronial castle.
Offering 11 restaurants and 14 shops, as well as an indoor heated swimming pool, a fabulous spa facility, onsite golf course and within close proximity to a number of different ski locations, the Fairmont Banff Springs is a destination in its own right.
This hotel is quite pricy, but it is without doubt the best that Banff has to offer. And after all that trekking across Banff National Park, you'll want nothing more than a truly relaxing rest - and Fairmont Banff Springs will certainly guarantee that!
A city break at Calgary
For a complete different experience, an overnight stop at Calgary is another excellent option. At just over 3 hours from Edmonton, this city is well placed to give tired travellers a rest before embarking upon the final stretch of the road trip.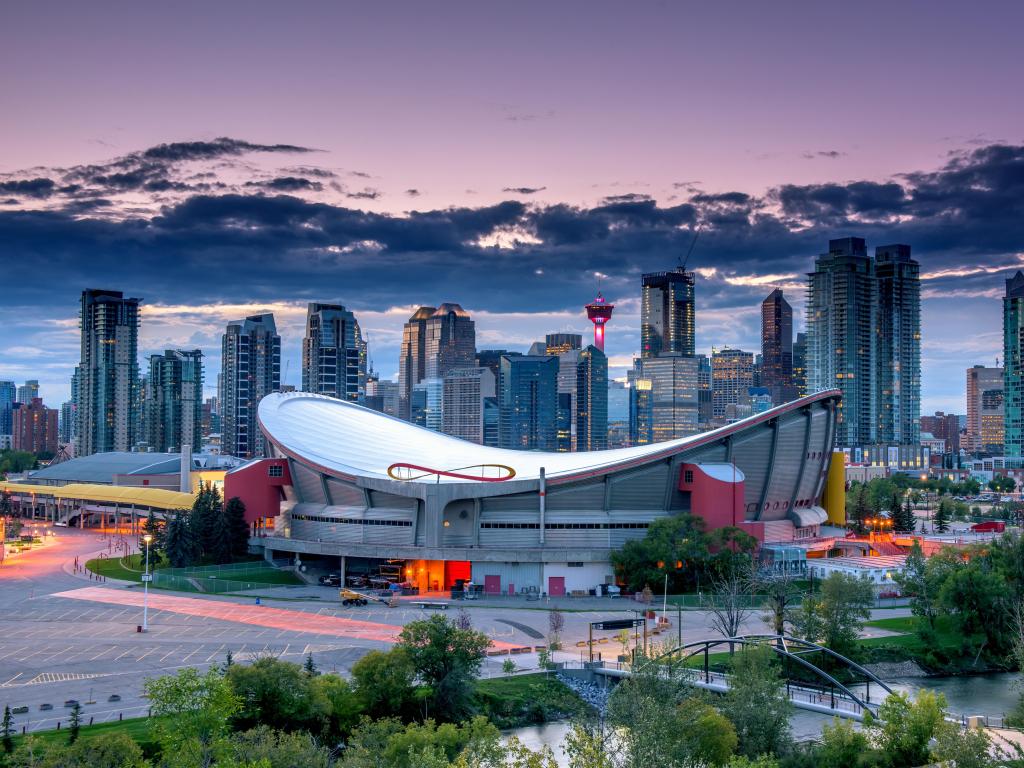 Famous for the Calgary Stampede and hosting the 1988 Winter Olympics, Calgary actually receives around 333 days of sunshine every year. This cosmopolitan city is a great way to spend a couple of days and has plenty of points of interest for the visitor.
Combining skyscrapers with its western culture, Calgary is also known for its great museums and stunning parks. Take a visit to Calgary Tower or its zoo, before spending time at Prince Island's Park.
When it comes to hotel options, Calgary has a fair share of great options. For its fantastic location and setting, the Hotel Le Germain Calgary is a great choice.
Set across the street from Calgary Tower and less than a 5 minutes walk from the Glenbow Museum and The Art Gallery of Calgary, this luxury hotel offers modern and stylish interiors, an onsite restaurant and fabulous bar serving cocktails.
After a long drive, why not make the most its spa facilities before relaxing in the bar and taking in the great city view that this hotel offers. There's even parking at the Hotel Le Germain, making it both a practical and luxurious option for this trip.
Catch a tournament at Kamloops
For those looking to combine the road trip with seeing an event or two, then a stay at Kamloops is a great alternative option. This city in British Columbia is only a short drive from Vancouver, making it an ideal first stop.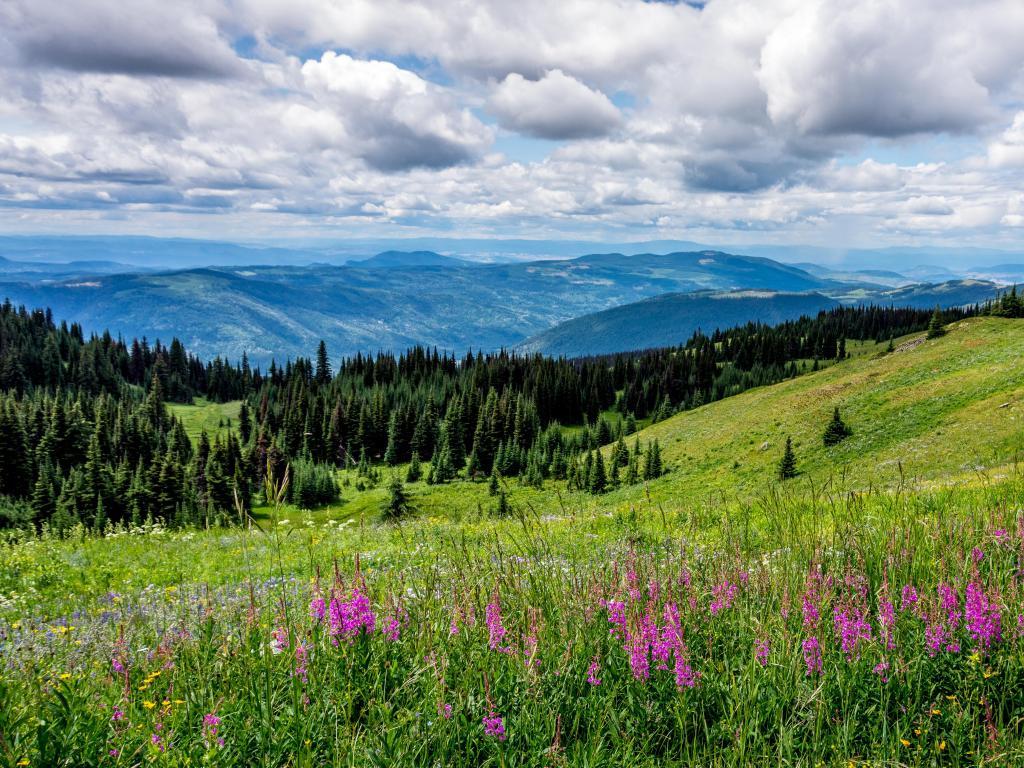 The city of Kamloops is a great base for visiting Sun Peaks Resort's hiking trails, bike park or enjoying the numerous ski runs which lie to the northeast. There's also the British Columbia Wildlife Park and the stunning clay hoodoos (or spires) at Kamloops Lake to explore.
Known as the Tournament Capital of Canada, hosting more than 100 events every year at superb facilities like the Tournament Capital Centre, Kamloops Bike Ranch and Tournament Capital Ranch, there's plenty of opportunities to an event or two while visiting.
For a great place to stay, the DoubleTree by Hilton is ideal. Located just 5 minutes from Riverside Park, this hotel has a fantastic outdoor pool as well as onsite restaurant, free parking and superb views of Kamloops.
Things to see on a road trip from Vancouver to Edmonton
There are loads of fabulous sights and attractions, as well as interesting towns and cities, to visit on a road trip from Vancouver to Edmonton.
If you are pressed for time, this list includes some of the best attractions that this route has to offer: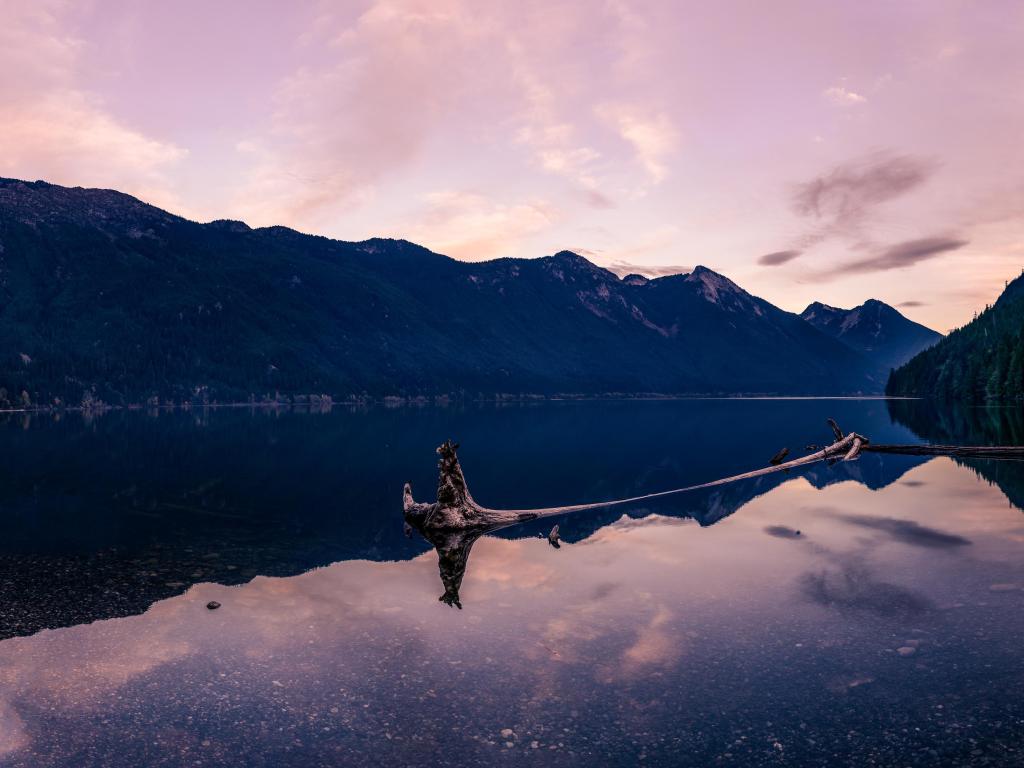 Mount Seymor Provincial Park – Visit this lovely park which showcases fantastic views of Vancouver and the Indian Arm Provincial Park. A great spot for mountain biking and bird watching, there are also a number of beautiful lakes and ponds here.
Golden Ears Provincial Park – A stunning provincial park in British Columbia which has terrific opportunities for hiking and horseback riding. Also features Alouette Lake which is a popular spot for swimming, boating, water-skiing, windsurfing, canoeing and fishing.
Abbotsford – This city is best known for the Abbotsford International Airshow. Also houses the Reach Gallery Museum, an impressive art gallery and a museum, and the oldest Sikh temple in North America.
Chilliwack Lake National Park – Nestled in the upper Chilliwack River Valley, this park is about 150km from Vancouver. It features alpine ridges and a picturesque lake that is a splendid spot for boating, kayaking, canoeing, swimming and fishing.
Skagit Valley Provincial Park – Featuring glaciers that remain from the ice ages, this park also possesses over 50km of the most engaging of hiking trails, as well great opportunities for river and lake fishing, camping and horseback riding.
E.C. Manning Provincial Park - Located in the heart of the Cascade Mountains, this beautiful destination is the perfect place to partake in a range of wonderful outdoor recreational activities like hiking and skiing. It is also known for its beautiful flora and varied fauna.
Coquihalla Summit Recreational Area - A spectacular region that has four different bio-geoclimatic zones and imposing granite peaks. Also known for the stunning views along the Coquihalla Highway and the Kettle Valley Railway.
Lac Du Bois Grasslands Protected Area – A beautiful area of rolling grasslands and open forests, that provides plenty of excellent hiking trails and photo opportunities.
Kamloops - The Tournament Capital of Canada, hosting over 100 major events every year, Kamloops is also home to a number of pretty parks, golf courses and fabulous ski resorts. As well as excellent opportunities for waterskiing and boating.
Mount Revelstoke National Park – A small yet breathtaking national park with an eye-catching meadow full of colorful wildflowers and lots of delightful walking trails.
Glacier National Park of Canada – One of North America's most incredible national parks. Prepare to be blown away by towering peaks, massive boulders, intriguing caves, exquisite alpine forests, shimmering lakes and lush, scenic valleys.
Yoho National Park - A must visit destination in the Rocky Mountains, this park boasts huge vertical rock walls, a number of raging waterfalls and giddying peaks. Blessed with outstanding natural beauty, this is a terrific spot for hiking and camping.
Kootenay National Park - Another stunning national park located in southeastern British Columbia. Known for its fantastic mix of deep canyons, towering mountains, icy rivers, hot springs, cascading waterfalls and miles of picturesque backcountry trails.
Banff National Park - The oldest national park in Canada and one of the best places to see the Canadian Rockies. Discover an awe-inspiring terrain of rugged mountains, stunning glaciers and ice fields, and a thrilling alpine landscape of bosky coniferous forest.
Morant's Curve – Close to Lake Louise, this incredibly picturesque scenic vista runs along the bend of the Canadian Pacific Railway, through the Bow River. It's also especially beautiful when covered in snow.
Bow Valley Provincial Park - Stretching along the Bow River, this delightful park features spring water that is famous for not freezing in the winter. It also boasts beautiful scenery and abundant wildlife.
Calgary – A popular city famous for the Calgary Stampede, Calgary is also known for its fabulous skyline, the magnificent Calgary Tower which offers 360 degree views of the city, and the wonderful Heritage Park Historical Village.
Red Deer - A charming city in Alberta, well known for housing the Alberta Sports Hall of Fame & Museum, it also boasts the Red Deer Museum + Art Gallery and the lovely Bower Ponds park which features an ice skating rink.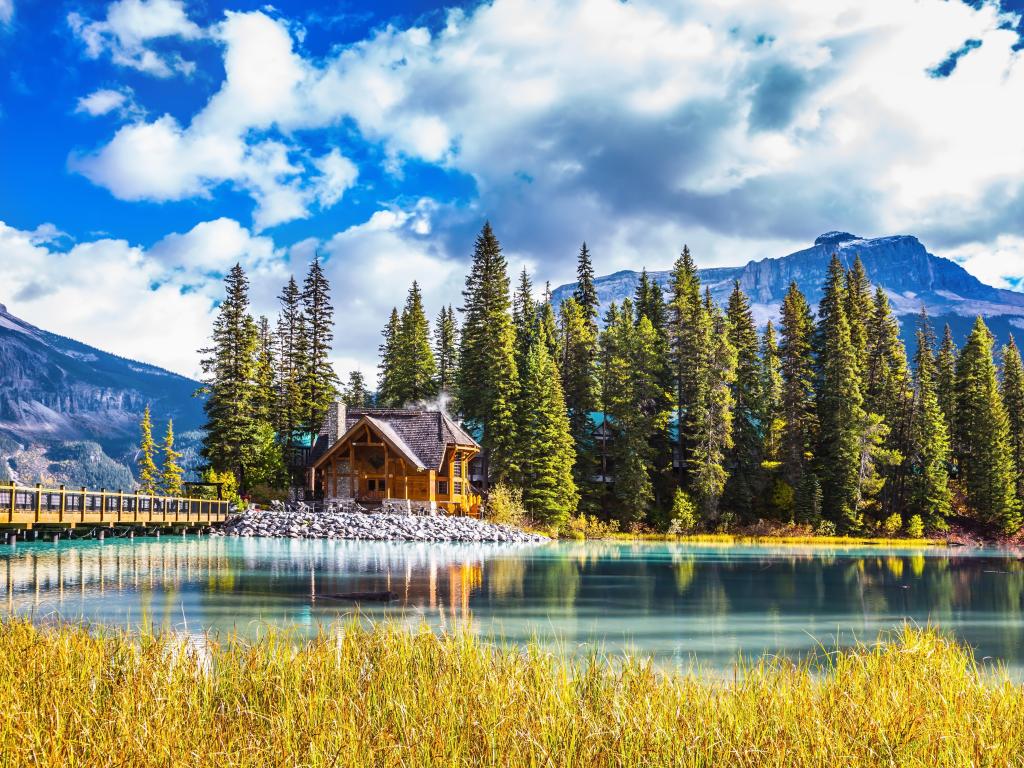 Best time to go on a road trip from Vancouver to Edmonton
A road trip from Vancouver to Edmonton can be undertaken at any time throughout the year. By and large, you will get the best weather around July and August when temperatures in some of the stunning parks reaching highs on average of 72 degrees Fahrenheit.
Banff and the surrounding areas enjoy warm, sunny summers but cool temperatures are not uncommon, being at an elevated position, you will find it cools off significantly at night - therefore it's wise to pack extra layers even at this time of year.
That being said, you are likely to encounter more congested traffic and peak rate hotel prices, plus larger crowds at the big tourist draws, so factor that in when planning your trip and book early.
Alternatively, winter is also a popular time to visit, despite the cold temperatures as low as 7 degrees in December. If you like to ski or just enjoy seeing snowy mountains, visiting between November and February will give you the best cold weather.
Be aware that snowfall can affect some sections of roads, especially around the mountains, and you might find your route disrupted. Ensure if you are travelling during these colder months that you plan ahead and pack plenty of essentials in your car.
For quieter parks and less extreme weather, taking the trip in late spring or early fall is a great option. You can still enjoy some of the best views of the national or provincial parks, just without the big crowds. For a really fun twist on your trip, why not time your visit with the famous Calgary Stompede, held in July for 10 days. It's one guaranteed way to get into the Canadian swing of things!