Road Trip from Vancouver to Grand Canyon
Looking to explore some of the most incredible forests and parks along with lively, fun, city stops, before arriving at a bucket-list destination? Then this irresistible road trip from Vancouver to Grand Canyon is for you.
The 2,640 km trip from Vancouver to Grand Canyon takes 26 hours. Stop-off favorites include Portland, Fremont and Modoc Forests, Las Vegas, Salt Lake City and Spokane, and stunning Lake Tahoe or make a detour to Yellowstone and Teton Parks.
Get the chance to visit some of America's most beautiful landscapes and iconic cities in this wonderful road trip, where you can be sure to get both your nature and urban fixes. Keep reading to check out all the amazing things to do, places to visit and where to stay along the way.
How far is Grand Canyon from Vancouver, and how long will the road trip take?
Comparison of road trip routes between Vancouver and Grand Canyon

| Route | Distance | Driving Time |
| --- | --- | --- |
| Las Vegas Route | 2,640 kilometers | 27 hours |
| Salt Lake City Route | 2,680 kilometers | 26 hours |
The Las Vegas Route to travel to the Grand Canyon from Vancouver takes around 27 hours to complete and covers 2,640 km with no detours.
Taking the alternative Salt Lake City Route instead is not vastly different in terms of length or time, with this journey covering 2,680 km and taking 26 hours before arriving at the Grand Canyon.
Whilst this trip could be done in a few days, there is so much to see and explore on the way that we suggest taking 5-6 days. There are also options to extend this glorious road trip further, detouring to even more beautiful National Parks and natural wonders along the way.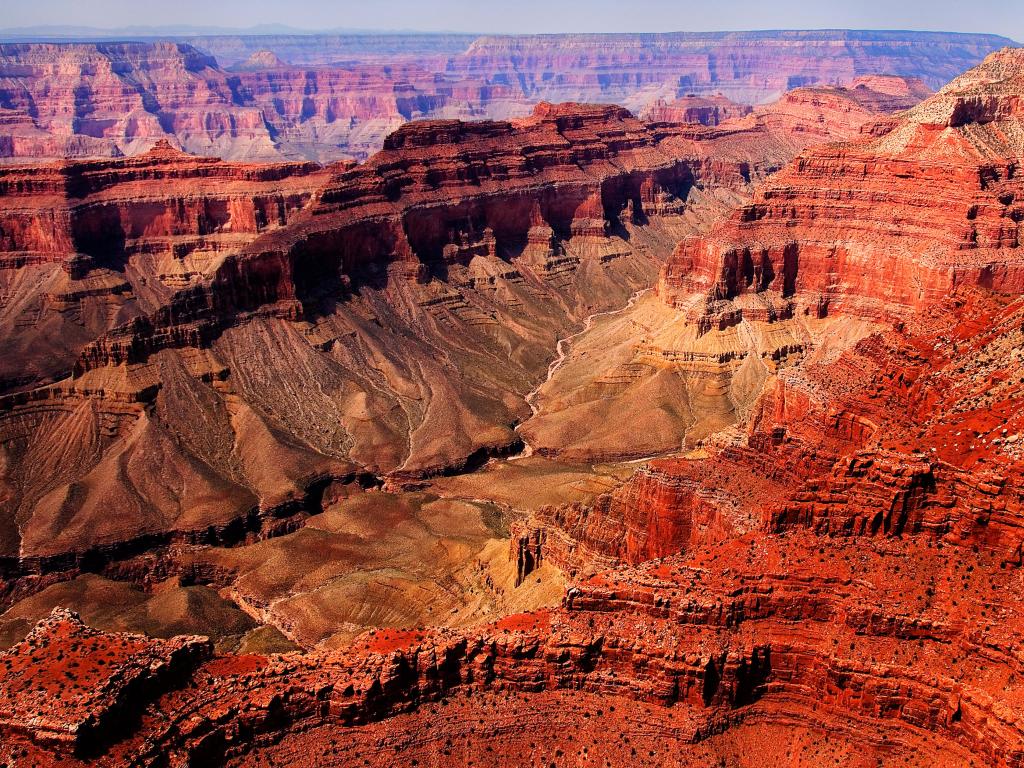 Best road trip route from Vancouver to Grand Canyon
Both the Las Vegas and Salt Lake City Routes start out passing pretty North Cascades National Park and Mount Baker-Snoqualmie National Forest before enjoying a city fix, visiting Kerry Park for unrivalled views over Seattle. From there on, the best route will depend on what you'd like to see and visit.
Continuing on the Las Vegas route then takes you through the interesting landscapes of Portland and Fremont both teeming with wildlife, and Klamath Falls where a canoe on Upper Klamath Lake provides the best view around.
A stop-off at Lake Tahoe is recommended where stunning scenery is world-renowned, and a visit to Emerald Bay State Park is a must. As you then enter Death Valley National Park and onto Las Vegas you can be sure the agenda is packed day and night.
Enjoy a memorable visit to the Hoover Dam, and an interesting tour around the iconic Lowell Observatory in Flagstaff, before reaching the epic red rocks of the Grand Canyon.
If you head along Salt Lake City Route then there are also plenty of parks and forests to enjoy past Seattle, with the first stop Beaverhead-Deerlodge National Forest, the biggest forest in Montana, a perfect spot to stop for a swim.
From here there is the opportunity to take a detour to several recommended stops. You could enjoy hot springs and geysers at Yellowstone National Park, rocky mountain ranges at Grand Teton National Park, or the unique landscape of Craters of the Moon National Monument, during some of these diversions.
Las Vegas Route
From Vancouver head South along Interstate 5 (I-5) with its scenic surroundings, to the lively city of Seattle.
From Seattle continue on I-5 South to reach Portland, Salem and Eugene. Then take Highway 97 which passes beautiful Fremont and Modoc Forests and Klamath Falls.
Highway 395 then leads you to Reno before stopping off in the incredible surroundings of Lake Tahoe.
After a relaxing stop in Lake Tahoe, Highway 95 takes you to Walker River State Recreation Area, a brand-new state park in Nevada, before arriving in the iconic Death Valley National Park – where star gazing is a must!
Shortly afterwards you will arrive at iconic Las Vegas to dance the night away, before driving the last I-40 stretch to reach Flagstaff ahead of Grand Canyon.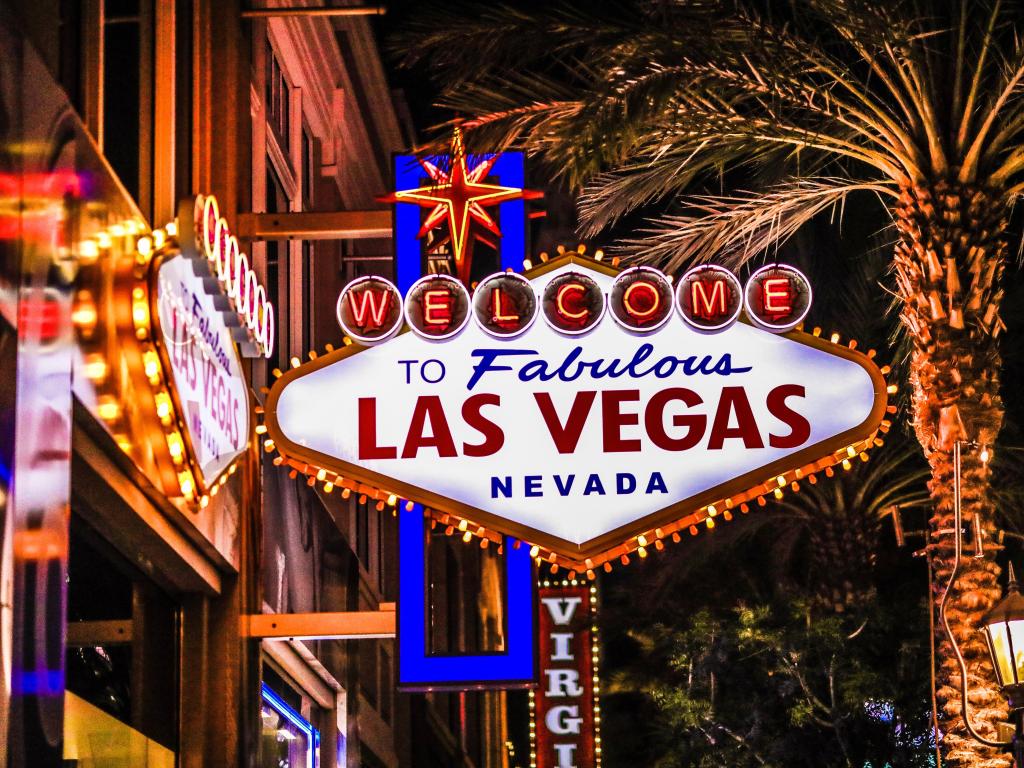 Salt Lake City Route
As with the Las Vegas Route, head South along I-5 from Vancouver before arriving in Seattle.
From Seattle, I-90 will take you through Washington past Spokane and Coeur d'Alene, with the chance to stop off at several national forests along the way.
After arriving at Deer Lodge on I-90, I-15 South then takes you past hiking hot spots Beaverhead-Deerlodge National Forest before arriving at Salt Lake City.
You can also detour here to Yellowstone and Teton National Parks along I-20, where the John D. Rockefeller Memorial Parkway takes around 50 km to travel between the two. Or detour West to see the Craters of the Moon National Monument along Highway 26, which is also worth a stop-off.
Enjoy the sights and sounds of Salt Lake before heading back on the I-15 through Utah, where a final detour of Monument Valley, along Highway 160, is also an option before arriving at the final destination Grand Canyon.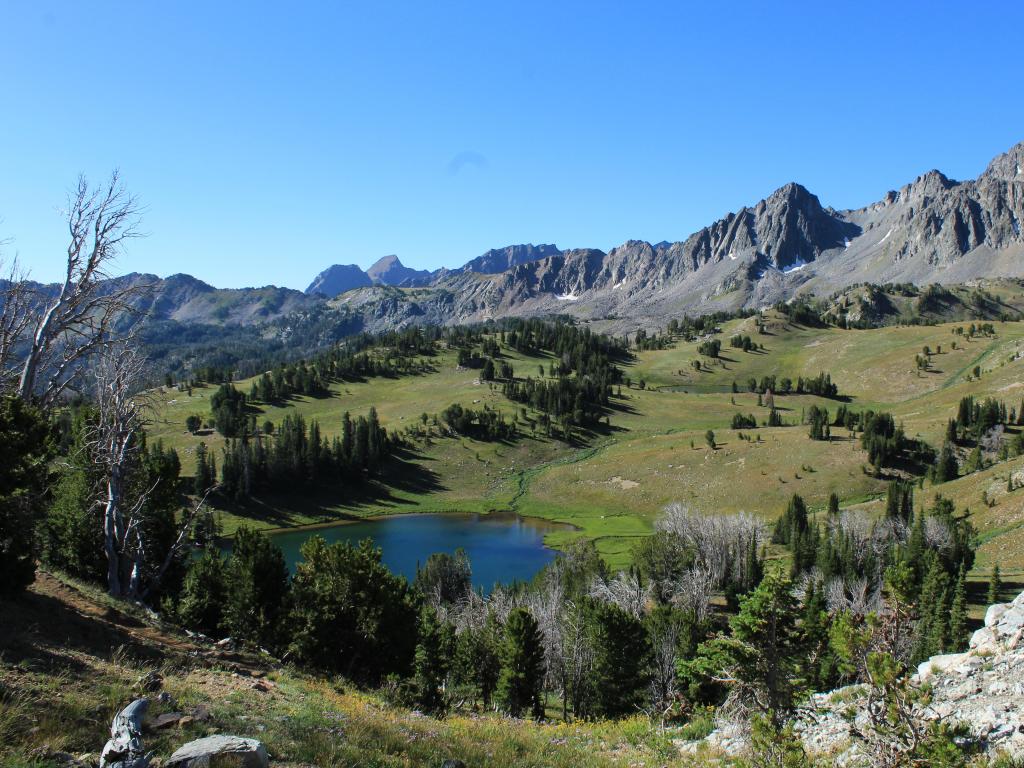 Best places to stop between Vancouver and Grand Canyon
Both the stunning routes we suggest from Vancouver to Grand Canyon travel past the most beautiful forests, waterfalls, parklands and city skylines.
This road trip is full of exploration and admiration, and we suggest taking your time and staying over to really enjoy what this epic road trip has to offer.
Relax at picturesque Lake Tahoe
Around halfway along the Las Vegas Route, you will arrive at what feels like paradise – Lake Tahoe. This world-renowned freshwater lake is one of the world's deepest and is perfect for relaxing and outdoor pursuits.
A must-visit is Emerald Bay State Park, one of the most scenic spots in Lake Tahoe. Make sure to visit Vikingsholm Castle which sits within the grounds.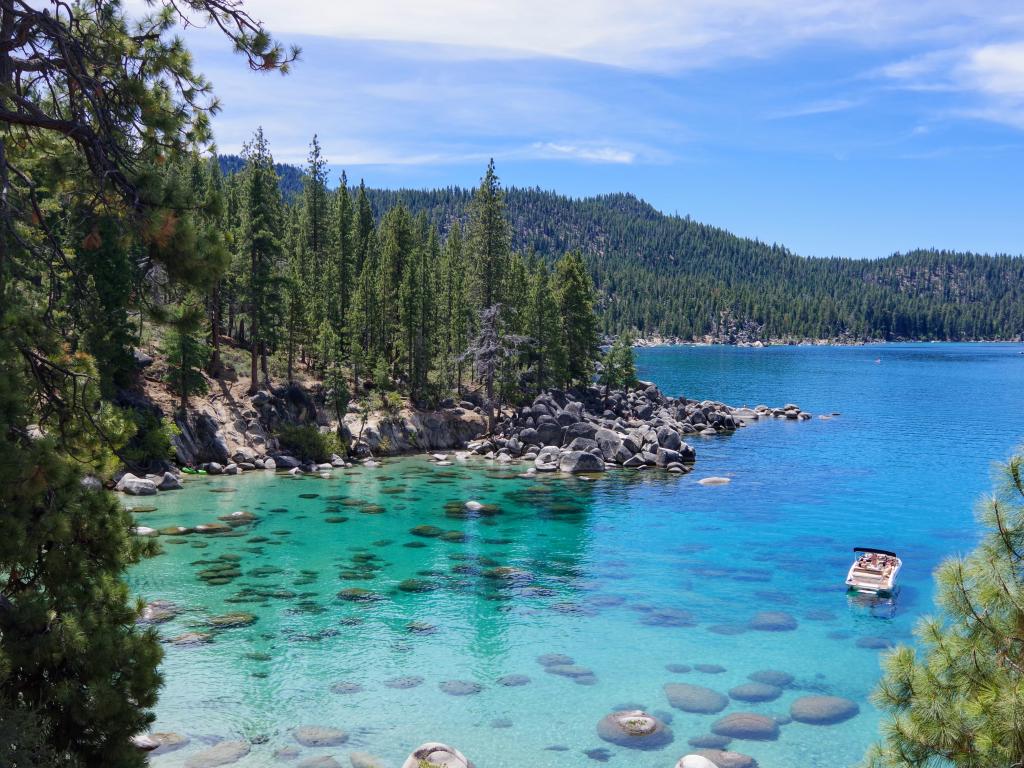 Take on one of the many outdoor adventures such as Clear Kayak Tours which is perfect to see Lake Tahoe in all its glory. The crystal-clear waters are divine to paddle across.
From the water to the skies, The Gondola at Heavenly is a beautiful gondola ride to get panoramic views of this awe-inspiring area. There is a restaurant at the top too for a memorable meal with a view.
After a relaxing day, you'll need a tranquil spot for the evening, and The Landing Resort and Spa provides just that. You won't need to travel far to the excellently located hotel in the best-rated area in South Lake Tahoe, which is super close to beautiful beaches including Lakeside Beach and El Dorado Beach only a short stroll away.
This beautiful, authentic, lodge-style accommodation will make you feel right at home, and you'll never want to leave the rooftop terrace with fire pits and lake views to enjoy a pre-dinner beverage.
Hungry? Then make sure to head to the delicious Jimmy's Restaurant, offering wood-fired and Mountain Chic California Cuisine. A stunning full-service spa is also on-site to relax after a busy day, as well as a hot tub and a heated swimming pool.
Enjoy a nature and city fix in Salt Lake City
Just over halfway along the Salt Lake City Route enjoy a stop-off in Salt Lake City itself. The capital of Utah is vibrant and lively but surrounded by the most incredible mountains and lakes.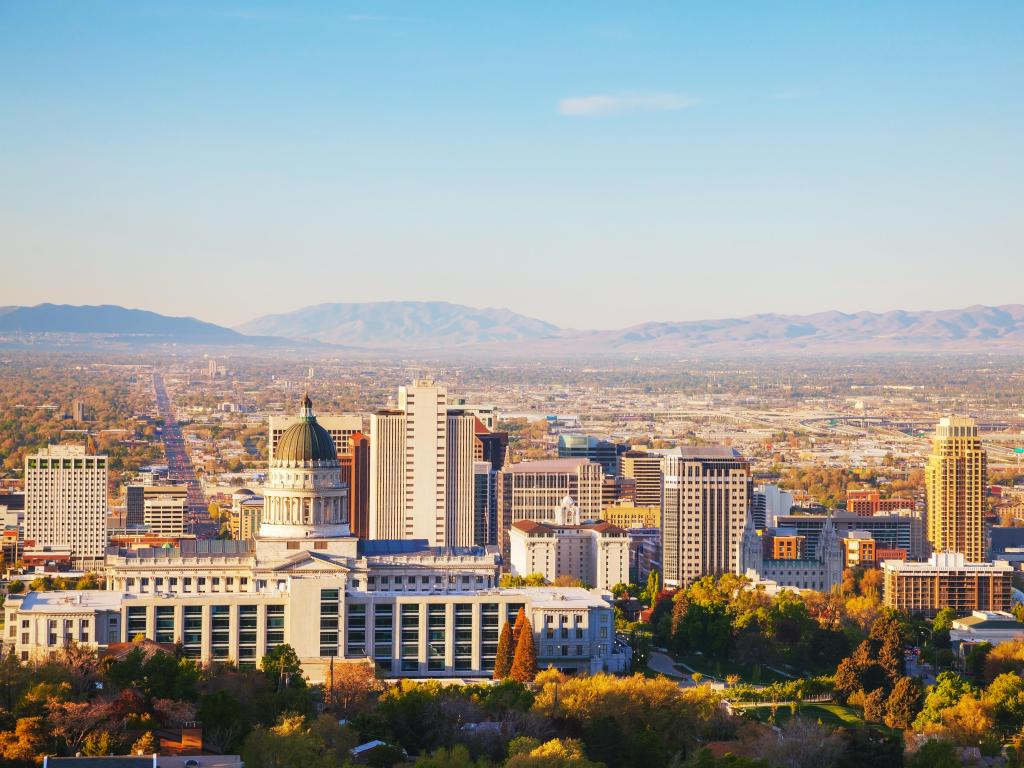 Firstly, make sure to head to Salt Lake City Park to see this impressive site, where an enjoyable sail across the salty waters is likely to result in an abundance of wildlife along the way.
A popular attraction, Utah Olympic Park 2002, is ideal for any sports fans. If you fancy more than a self-guided tour, then there is also the option of ziplining or extreme sliding here!
The stunning Bonneville Salt Flats are stunning and well-known for being where land speed records are made, or famous photos are taken. A worthy selfie spot.
After covering so much ground rest easy after arriving at Crystal Inn Hotel and Suites. The excellent location of the hotel is close to many of the top attractions and outdoor spaces including Pioneer Park, Washington Square and the Utah Museum of Natural History.
With so much to do locally, you'll be pleased to be able to head easily back to enjoy the hotel's indoor pool, sauna and hot tub to wind down in, before relaxing on the outdoor terrace before heading out to dinner.
Where to stay when you reach Grand Canyon
The perfect place to head before or after visiting the iconic red rocks of the Grand Canyon is the High Country Motor Lodge in Flagstaff, where the stunning chic lodges are just lovely to head back to after exploring.
Enjoy sitting back and relaxing on the beautiful sun terrace and garden to enjoy a beverage, or two, or unwind in the huge games room, outdoor pool or sauna.
Boasting an amazing location, the hotel is a stone's throw away from many great attractions such as the bucket-list sights of the Grand Canyon, and also close to Coconino County Fairgrounds.
Things to see on a road trip from Vancouver to Grand Canyon
Both the Las Vegas Route and Salt Lake City Route are teeming with incredible scenery and city sights on this memorable adventure travelling from Vancouver to Grand Canyon.
Take a look at our recommendations below for the best places to head to, to make the most of your epic road trip.
Las Vegas Route
Portland Forest Park - With 110 km of trails this park is teeming with beautiful landscape and plenty of wildlife to explore via hiking or biking.
Fremont National Forest - Hikers will love the opportunity to wander Fremont National Forest, with over two million acres to uncover. Tired legs? Take to horseback to see more of this amazing landscape.
Klamath Falls - If you head just North of Klamath Falls there is the opportunity to canoe Upper Klamath Lake, where you can paddle the calm waters and see eagles, herons and raccoons along the way
Modoc National Forest - There is a huge array of different landscapes to enjoy, from canyons and lakes to woodland. A hiker's paradise.
Emerald Bay State Park - One of the most scenic spots in Lake Tahoe, this is the place to go, where the views will leave a lasting impression. Afterwards take to the waters of Lake Tahoe for an alternative view.
Walker River State Recreation Area - One of Nevada's largest and newest parks, where much of 12,000 acres of land have not yet been explored. Kick off your trip at the information center at Pitchfork Ranch.
Death Valley National Park - Take a night tour here and you will see the breathtaking starry sky, unspoilt by light population and one of the best places to see the sunset and the starlit sky. Amazing.
Las Vegas - Needing little introduction, this will be a real change of pace. Head to the main strip and be mesmerized by the sights and sounds of this bucket-list attraction.
Hoover Dam - A 45-minute drive from Las Vegas, this incredible sight is on the Arizona-Nevada border. Over a million people visit each year to see the views, and when you arrive you can see why.
Flagstaff - Although a gateway to the Grand Canyon, this is not the only reason Flagstaff is popular. Make sure to visit Lowell Observatory to see the telescope used that found Pluto!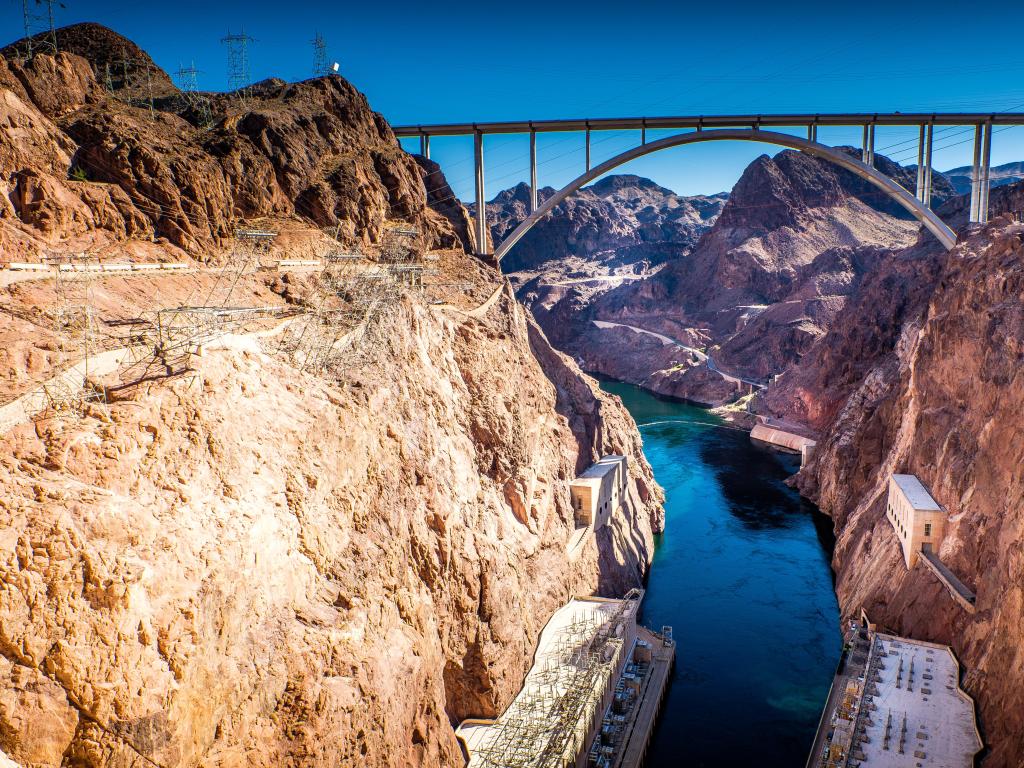 Salt Lake City Route
Mount Spokane State Park - With an impressive length of trails here to explore, mountain biking is popular for adventurous tourists. Head to the Spokane Falls Skyride for great views over the park.
Beaverhead-Deerlodge National Forest - This largest forest in Montana has breath-taking scenery. Head out for a swim, or enjoy fishing, in one of the hundreds of lakes and ponds.
Yellowstone and Teton National Parks - There is an opportunity to take a detour to Yellowstone National Park to experience the hot springs and geysers. A short drive along John D. Rockefeller Memorial Parkway will then carry you to the rocky mountain ranges of Grand Teton National Park – both are definitely worth the detour.
Craters of the Moon National Monument - An additional detour to the Craters of the Moon National Monument is recommended. Take a tour across this unique landscape.
Kaibab National Forest - 1.5 million acres of beautiful forest. For wildlife watchers you are likely to see deer, elk and coyote throughout.
Monument Valley - A detour here before arriving at the Grand Canyon is recommended. For hiking fans head along the only self-guided Wildcat Trail.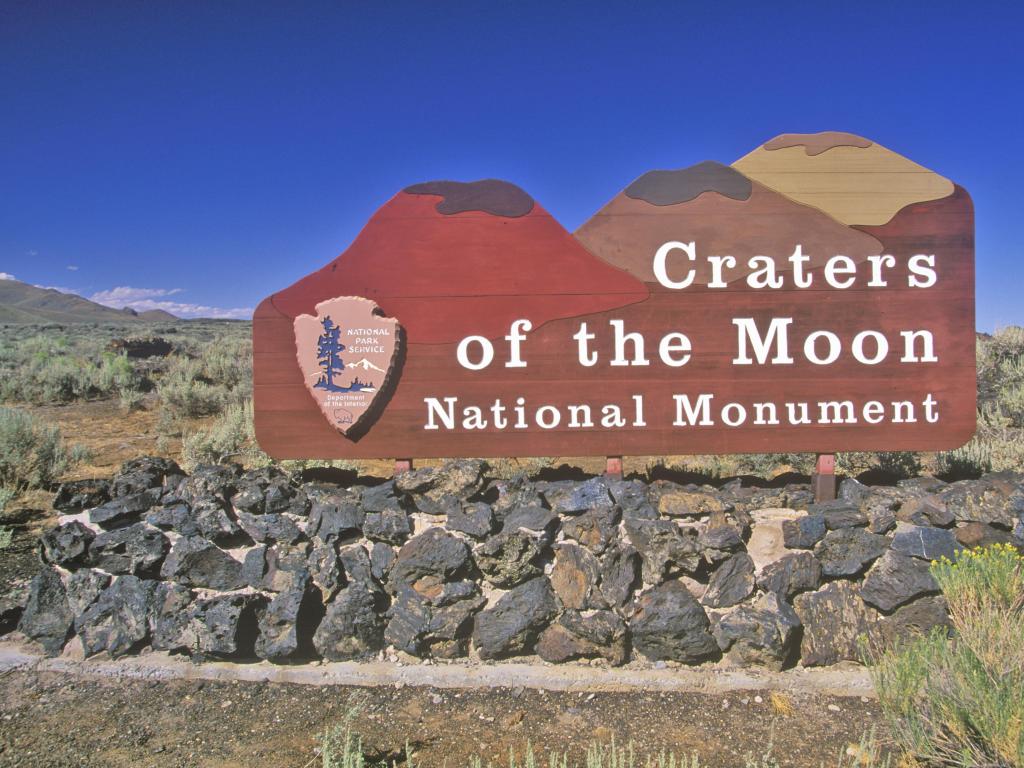 Both Routes
North Cascades National Park - Spread over 500,000 acres of land, one of the best places to see the beautiful mountain range is heading up the Sterling Mungo Trail.
Mount Baker-Snoqualmie National Forest - One of the most popular forests visited in the country, the views and lush woodlands are stunning. Heather Meadows in the summer months is particularly pretty.
Seattle - Up the ante with a stop-off in Seattle. Visit Kerry Park for the best skyline views, with attractions such as Space Needle in view.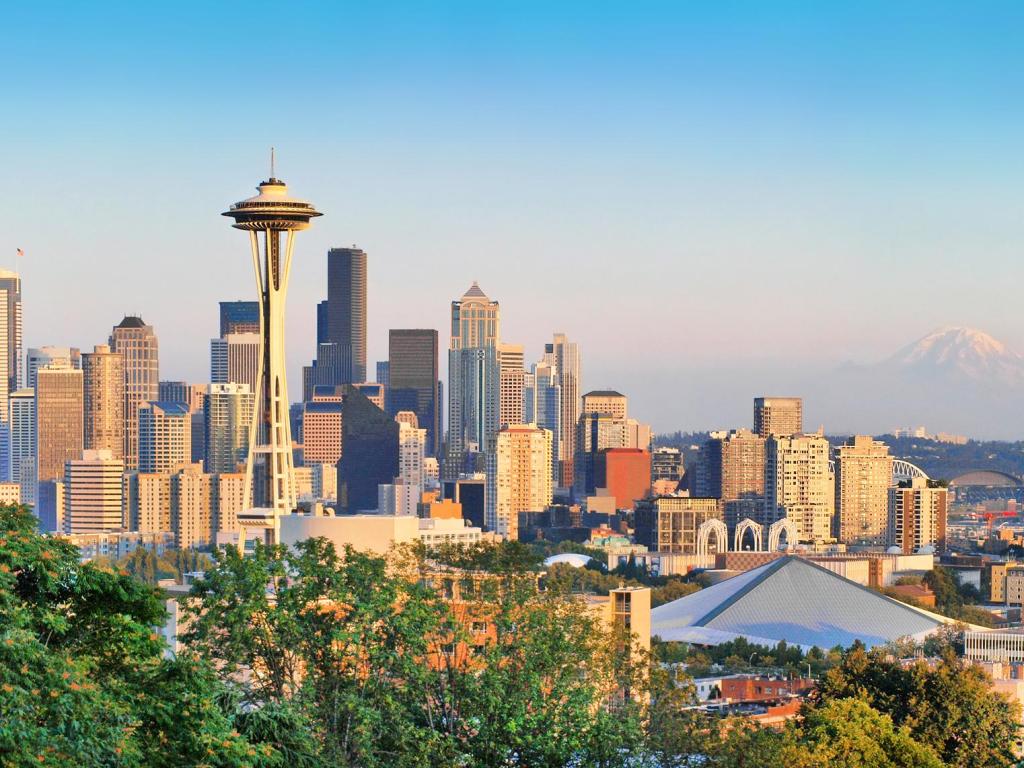 Best time to go on a road trip from Vancouver to Grand Canyon
An amazing place to visit all year round, certain places in the Grand Canyon are accessible every season. However, the North Rim is closed during winter, so if you are heading in the colder season then the South Rim is the place for you.
In the summer temperatures can get very hot and humid at the Grand Canyon, ranging between 80 degrees up to 100 degrees Fahrenheit.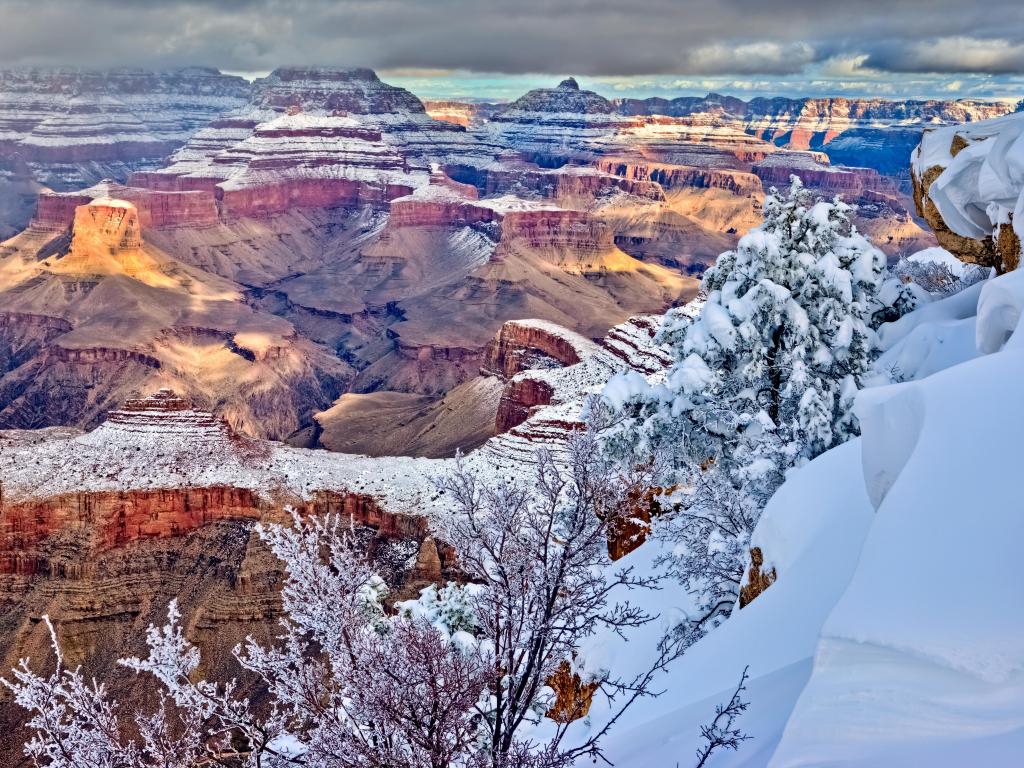 As well as being pretty hot for exploring, it is also particularly busy with tourists. With this comes a peak in accommodation costs, so if you plan to travel during this time make sure to book ahead to get the best deals.
During winter months temperatures can range between 40 and 60 degrees Fahrenheit, and the South Rim does get some snow. This can make it less crowded, but also very pretty, so it can be an extra special time to visit!
Spring and fall are great times to visit when tourist numbers are a little lower, but the weather is mild.
In spring temperatures are around 60 and 75 degrees Fahrenheit, so the weather-wise is a great time to visit – although best avoid spring break. The landscape during fall is also especially scenic, so it is also a great time to hit the road.
The Grand Canyon is impressive to visit as it is and is sure to leave a lasting impression. However, there are events running there throughout the year, and a detailed calendar by day is worth checking during your stay.
A regular event is the Grand Canyon Music Festival which happens in August and September each year near the South Rim. Launched in 1983 this is one of the most treasured annual events, with a variety of music genres to enjoy.