Head to Zuma Beach, and a day of sunbathing, swimming, and surfing awaits. Ticking plenty of boxes with sandy shores, and crystal blue waters, stay as the sun is setting and you'll be rewarded with one of the most breath taking sunsets around. This pretty beach has plenty going on, and less than an hour from the bright lights of Los Angeles.
A quick overview of Zuma Beach, Malibu
Street Address
📍 30000 Pacific Coast Highway, Malibu 90265
Facilities at this beach

🕒 Opening hours (sunrise until sundown)

🚗 Parking ($0.25 per 10 minutes parked, max 90 minutes)

🛟 Lifeguard station

🚻 Public restrooms

🧺 Picnic tables
Where can I find Zuma Beach along the Pacific Coast Highway?
If you're travelling from the closest major city, Los Angeles, it'll take around 50 minutes to arrive at Zuma Beach. There are several parking lots at Zuma Beach that run parallel to Pacific Coast Highway, providing easy access to different parts of the beach.
Zuma Beach is one of the most popular beaches in Malibu, so even though there are over 2,000 car parking spaces, it can still get busy pretty quickly.
Why we love visiting Zuma Beach
If you are looking for a stop off for either some high energy water sports or relaxing downtime, then a visit to Zuma Beach should be included in your itinerary as you travel along the Pacific Coast Highway.
You will enjoy golden sands, crystal-clear blue waters and breath taking sunsets, with the chance to spot migrating gray whales during winter and spring. It really is the ideal spot for surfers, nature lovers, and those seeking stunning sunsets.
How we rate the different aspects of Zuma Beach
Feature
Our rating
Natural beauty and scenery
⭐⭐⭐
Cleanliness and water quality
⭐⭐⭐
Peace and quiet
⭐⭐⭐
Activities on offer
⭐⭐⭐
Accessibility
⭐⭐⭐⭐
Zuma Beach is best known for its long stretches of golden sand and clear blue waters. It is the ideal spot for sunbathing, picnicking, and beach volleyball.
Zuma Beach offers breathtaking sunsets. Positioned perfectly on the west coast, head in the evening for insta-worthy photographs.
The waves at Zuma Beach are ideal for surfing. Surf schools and rental shops dot the area, catering to all the surfing community.
Zuma Beach is perfect for spotting migrating gray whales between December and April. This annual migration attracts plenty of nature enthusiasts and photographers.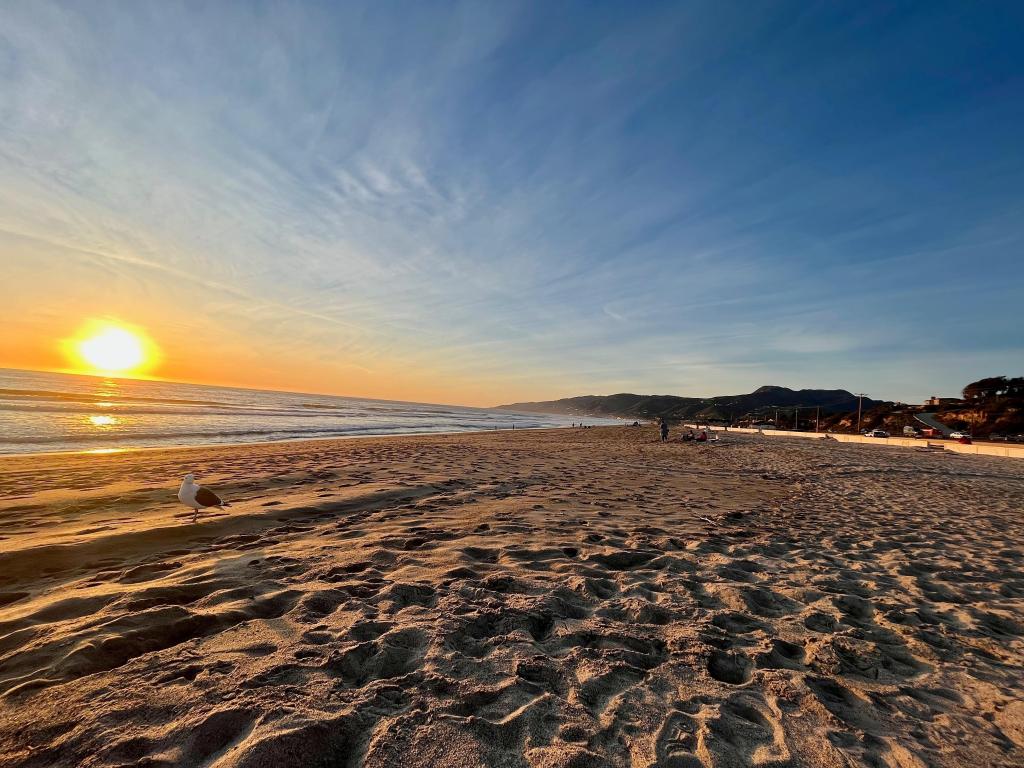 What else is there to do near this beach?
After you've spent time surfing the waves or relaxing on the sandy shores of Zuma Beach, there are plenty of other attractions close by to discover. Take a look at some of our favorites.
Point Dume State Beach and Preserve - Dotted with dramatic headlands, cliffs, and rocky coves, it is a perfect spot for hiking, beachcombing, and wildlife viewing
Getty Villa - Located in Pacific Palisades, this educational center and museum is dedicated to the study of the arts and cultures of ancient Greece, Rome, and Etruria.
Westward Beach - Nestled next to Point Dume, Westward Beach is known for its vast sandy stretches, clear waters, and surfing spots
Trancas Canyon Park - Full of hiking trails to explore and panoramic views of the Pacific Ocean to admire.
Broad Beach - Broad Beach in Malibu is a secluded shoreline, known for its luxurious beachfront homes and natural coastal beauty.
Trancas Country Market - Offers a charming shopping and dining experience with boutique shops and eateries.
Common questions about visiting Zuma Beach
Zuma Beach is easy to access and geared up for those seeking fun at the beach. However there are some considerations if you have pets with you, or are planning to hire out equipment during your visit.
Is Zuma Beach accessible and open year-round?
⭕ Yes, Zuma Beach it is open year round.
❗ There is no overnight parking permitted at Zuma Beach (or any of the other LA county beaches)
Can I enjoy water sports at Zuma Beach?
⭕ Yes, at Zuma Beach surfing, swimming, bodyboarding and snorkelling are all popular
Is Zuma Beach easily accessible for those using wheelchairs or strollers?
⭕ Yes, at Zuma Beach there are designated points and ramps along the beachfront. The Los Angeles County Department of Beaches and Harbors also offers free beach wheelchair rentals at Zuma Beach
Is there anywhere to buy refreshments at Zuma Beach?
⭕ Yes, food stands are located at either end of Zuma Beach
Are dogs allowed on Zuma Beach?
❌ No, dogs are not allowed at Zuma Beach
Are there any changing facilities at Zuma Beach?
⭕ Yes, there are outdoor rinse-off stations, and plenty of restrooms to change during your visit at Zuma Beach
Are there any beach chairs or umbrellas to hire at Zuma Beach?
❌ No, there are no beach chairs or umbrellas to hire at Zuma Beach
Is there anything else to watch out for when I visit Zuma Beach?
The beach is known for its excellent waves, making it a popular spot for surfing. However, there are designated areas for swimming and surfing, so make sure to stay in the right zones.