Road Trip from Vancouver to Whitehorse
If you're up for an impossibly scenic drive through the Canadian wildness, then the epic road trip from Vancouver to Whitehorse, with its picturesque scenes that frame every inch of your drive, is the perfect city break for you.
The 2,560km road trip from Vancouver to Whitehorse will take you 30 hours to drive. The route passes Prince George, Rocky Mountains and Muncho Lake as well as Rancheria Falls, Cottonwood Island Nature Park, Pink Mountain, Marsh Lake and Miles Canyon.
There is so much to see on this drive north through British Columbia into Yukon territory, so read on and create your ideal itinerary. We outline the best route to take, where to stop along the way, the best attractions to add to your trip, and the best time of year to make this epic journey.
How far is Whitehorse from Vancouver and how long will the road trip take?
The epic road trip from Vancouver to Whitehorse will take around 30 hours to complete and is a mighty 2,560km long.
You could put your feet firmly on the pedals and complete this trip in a couple of days, but with so much scenery and wildlife en route, you'd definitely be missing out.
A much better option would be to split this trip over four to five days and include a couple of fantastic overnight stops.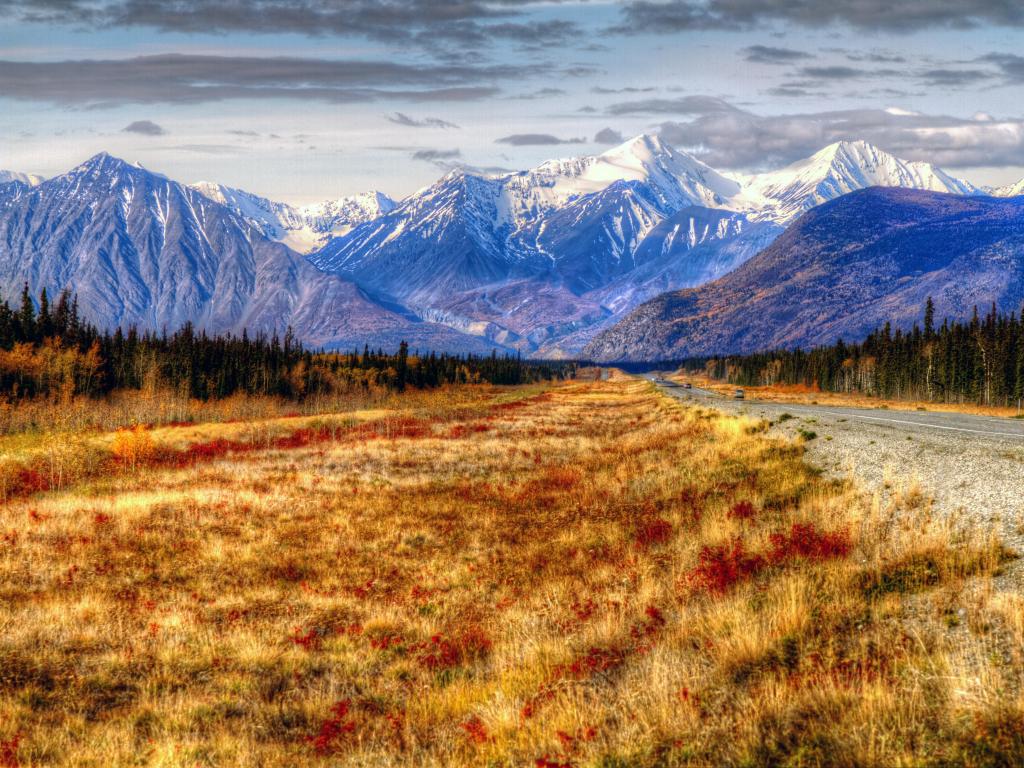 Best road trip route from Vancouver to Whitehorse
The beautifully scenic route from Vancouver to Whitehorse will take you through Prince George, up to the Northern Rocky Mountains and onto the final destination of Whitehorse, Yukon.
There is no disputing this route is long, but while there is a fastest route available at 2,400km, at only two hours quicker it's worth taking a little more time to see what Northern Canada has to offer.
Road trip route from Vancouver to Whitehorse
Leave Vancouver on the Trans-Canada Highway heading east, through Abbotsford, Hope and Boston Bar and to Lytton. Stop here for a visit to Stein Valley Heritage Park, or continue north to Cache Creek.
You could take a detour to visit Kamloops, or on BC-97 north and alongside Churn Creek Protected Area and through some pretty towns before arriving at Prince George.
Next continue on the BC-97 north to Muncho Lake, passing the Northern Rocky Mountains Provincial Park. After passing the town of Coal River, take Yukon 1 west and follow this road all the way to your destination of Whitehorse.
Best places to stop between Vancouver and Whitehorse
With such a lengthy journey, you will need at least a couple of overnight stops on the road trip from Vancouver to Whitehorse.
There are some beautiful hidden gems for places to stay on this trip. Here are just a few of the ones you won't want to miss:
Explore and unwind in Prince George
About 9 hours away from Vancouver, an ideal early overnight stop for those wanting to stretch their legs and explore after the first stint of driving, Prince George awaits.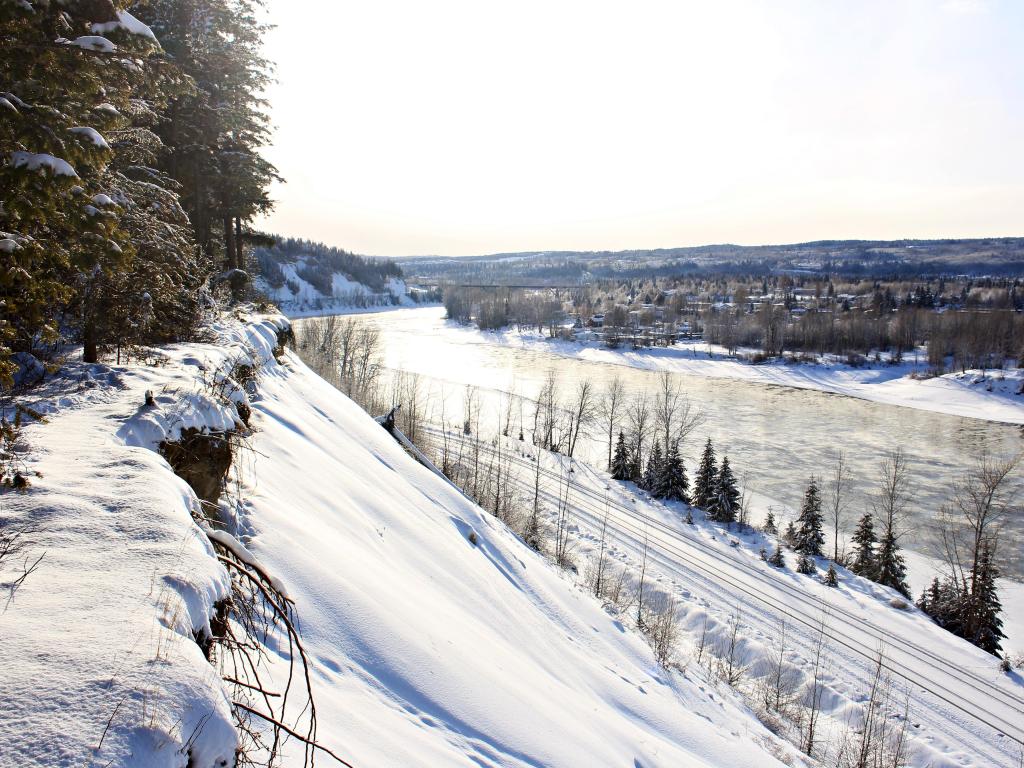 Packed with stunning natural sites - from the Fort George Canyon Provincial Park to the Eskers Provincial Park - Prince George is full of character and history. Discover several nature parks, in addition to wineries, distilleries, museums and ski villages.
Prince George is the largest city in northern BC, so there are ample ways to explore this charming place. From dramatic whirlpools at Fort George Canyon Provincial Park to the Prince George Railway and Forestry Museum, there's something in this city for everyone.
There are several options for places to stay here, but something special has to be said for the Coast Prince George Hotel by APA which is only 4km from Cottonwood Island Park and the Prince George Railway and Forestry Museum.
This 4-star, modern hotel has a fantastic indoor pool, whirlpool and sauna, making sure that when you arrive you can rest and recuperate. Rooms are well presented and there's free parking, a Japanese steakhouse and bar and lounge onsite.
With great hotel amenities and stunning scenery around, there's endless land to explore and a comfortable room to relax in afterwards - what more could you want?
Overnight stop in Muncho Lake, British Columbia
Close to the stunning scenery of the Northern Rocky Mountains, Muncho Lake is the ideal setting for another overnight stop. Just over 8 hours from your destination, it's the perfect place for a rest before arriving at Whitehorse.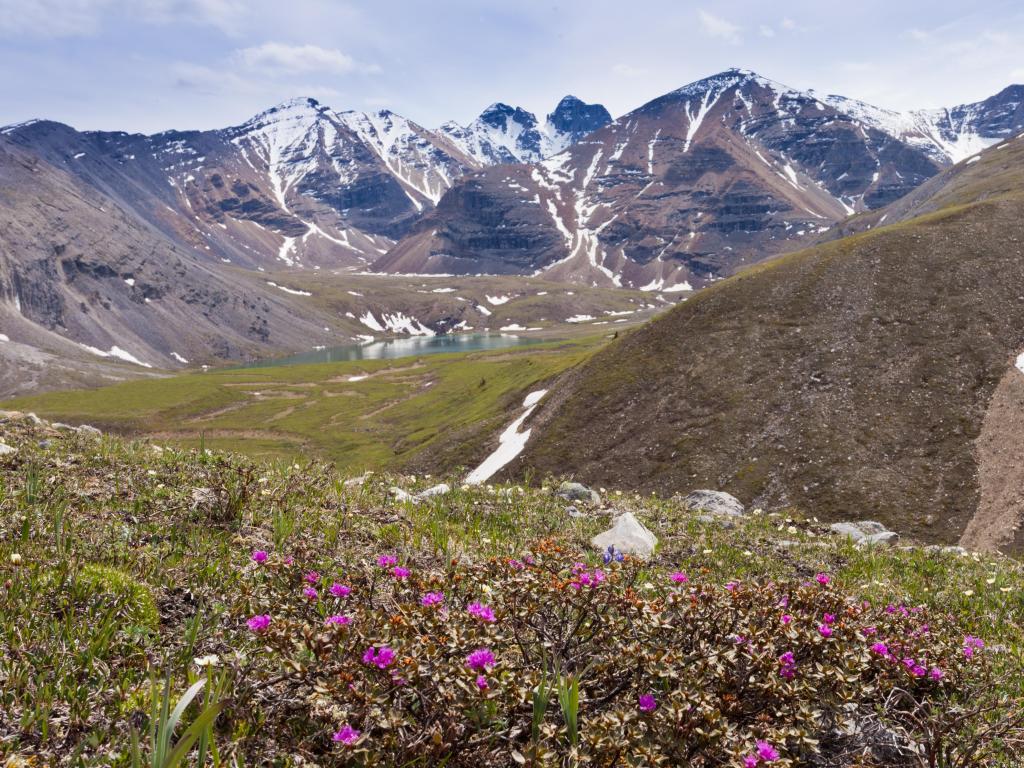 The Northern Rocky Mountains, a short drive from Muncho Lake, paint a far more raw image of British Columbia. The majestic mountain peaks and vast, towering trees are nothing short of magic and will imprint memories for a lifetime.
Spend some time exploring Muncho Lake Provincial Park or visit nearby Stone Mountain Provincial Park. You can also spend time in Road River or Liard River, more superb locations for great trails and wildlife hunting.
With stunning waters and the ultimate scene of the Northern Rocky Mountains, The Northern Rockies Lodge is the perfect place to put your feet up or your hiking boots on.
This 4-star resort is located directly on the Alaska Highway halfway between Fort Nelson and Watson Lake and is open year-round. Featuring the only restaurant and bar in town, plus a rustic wood-fired sauna, this lodge has incredible mountain views and comfortable rooms.
With an array of activities from fishing and water sports to the nearby Liard River Hot Springs, the lodge is sure to awaken the adventurer within and allow your wild side to come to life!
Things to see on a road trip from Vancouver to Whitehorse
There is such an abundance of activities and sights on offer along the way from Vancouver to Whitehorse, that you could easily spend several weeks exploring them all.
However, if you have limited time to spare, below is a list of some of the best things to do along the way: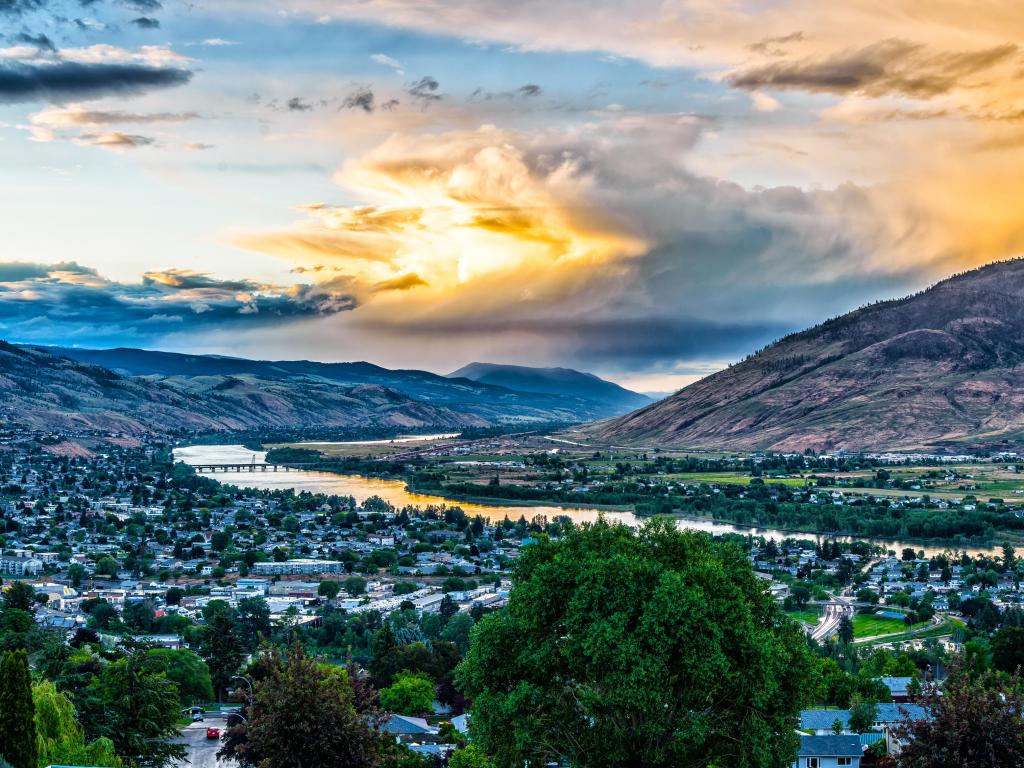 Garibaldi Provincial Park - Offering over 90km of established hiking trails, this park with stunning monitions and lakes is a year-round destination for outdoor enthusiasts.
Kamloops - This Canadian city is a popular destination with nearby Sun Peaks Resort's hiking trails and numerous ski runs to the northeast. Explore the British Columbia Wildlife Park east of town or spot clay hoodoos at Kamloops Lake.
Cache Creek - A historic village full of character with trails and beautiful bodies of water perfect for canoeing and boating. The Historic Hat Creek is worth a visit with more than 20 of the original indigenous buildings remaining to explore.
Northern Lights Estate Winery - Boasting glorious views on the Nechako riverfront, this unique and carbon-neutral winery promises to tickle your taste buds and provide a feast for the eyes.
Cottonwood Island Nature Park - This park is located where the Nechako River and Fraser River collide and is a must for keen walkers. At the park, there is a stunning viewpoint looking down over the Nechako River.
Pink Mountain - During wildflower season, this mountain lives up to its name and produces a magnificent fuchsia array due to the fireweed blossoms. This is a pure treat for the eyes so check your road trip aligns with this season if you want to experience the magic!
Prophet River Hot Springs - Nestled about 60km from the Alaska Highway, these black spruce surrounded hot springs are the ideal spot to melt worries away in the warm, tranquil waters.
Northern Rocky Mountains Provincial Park - Offering an exciting array of visual and recreation features, this park is ideal for those looking for outdoor or wildlife exploring.
Toad River - Offering stunning trails and even more hot springs, the opportunities for exploration here are endless. As the name suggests, large toads were spotted in the 19th century so be sure to keep an eye out for these on your travels around the river.
Liard River - Another stunning example of Canadian beauty, the Liard River offers a sanctuary for visitors looking to breathe in fresh, crisp air and delve into the mild waters.
Rancheria Falls - The cascading waters of the Rancheria Falls provide a marvellous companion for the trails available. Though there is no singular dramatic waterfall along this trail, the many smaller falls create such a fairytale feel as they envelop together one by one.
Marsh Lake - Surrounded by wildlife, raw scenery and offering activities such as fishing and boating, this is the ideal place to slip into an oasis of relaxation.
Miles Canyon - Recognised as one of the most beautiful sites in Whitehorse, Miles Canyon possesses fast-flowing, turquoise waters to mesmerize its visitors while they explore the Yukon River.
Stone Mountain Provincial Park - Discover spectacular landscapes and incredible wildlife viewing opportunities at this 26-hectare mountain wilderness.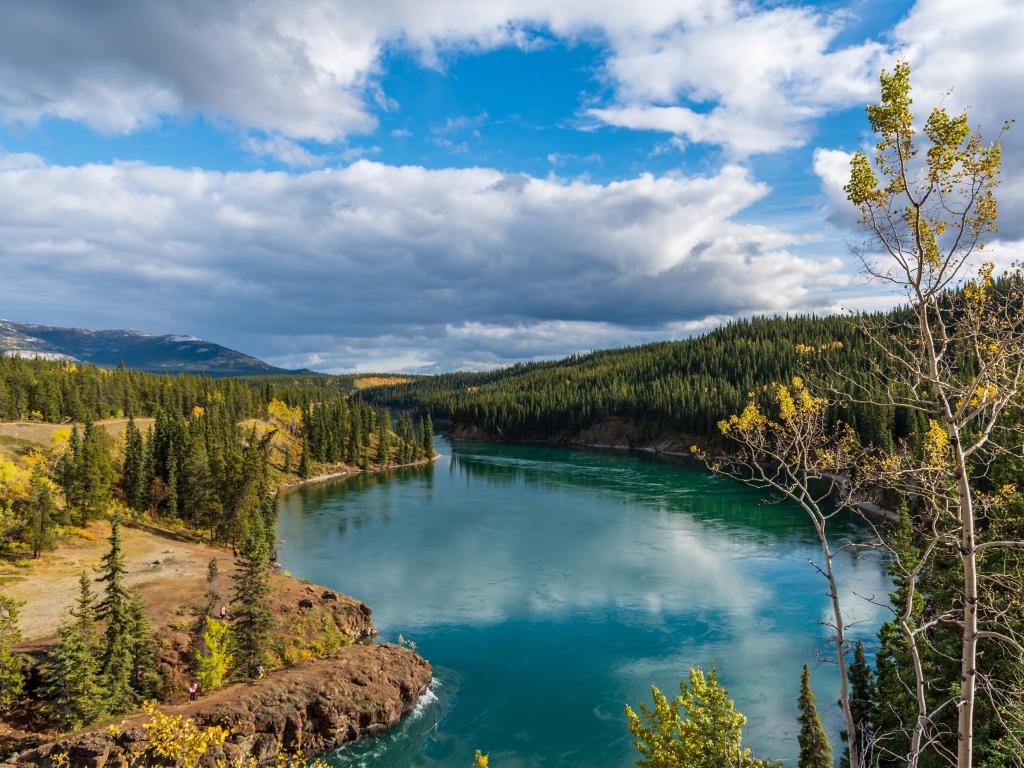 Best time to go on a road trip from Vancouver to Whitehorse
The best time to embark on a road trip between Vancouver to Whitehorse very much depends on what you're after in terms of attractions and things to do.
That said, a popular time to visit Yukon territory is in the late spring, summer or early fall. The warm months in this part of Canada will be busier, but with temperatures averaging 77 degrees Fahrenheit, the attractions en route will be open and there will be plenty of activities on offer, such as hiking or canoeing.
For quieter parks and attractions, the spring and fall months bring in fewer crowds, great scenery (think spring flowers and orange, red and yellow leaves in fall) and mostly pleasant weather. Just remember to pack some extra layers for cooler evenings.
If you're after snow and skiing conditions, you might prefer the colder months. Starting in November and lasting for three months, winter can see temperatures as low as 29 degrees. While January sees the most snow, there's a chance of catching it from late September to early April.
For a truly memorable experience, why not time your trip with a festival or two. Every summer the Yukon International Storytelling Festival sets a stage for storytellers from all over the world. Alternatively, why not visit Kamloops between July and August to enjoy their Music in the Park events?