Road Trip from Vancouver to Yellowstone National Park
Passing towering mountains, legendary national parks and great cities and rivers en route, the epic road trip from Vancouver to Yellowstone National Park is a real get-back-to-nature experience. So pack your bags with all you'll need for the great outdoors - and don't forget to bring a sense adventure!
The 1,530km road trip from Vancouver to Yellowstone National Park takes 15 hours to drive. Key stops include Seattle, Spokane, Missoula, Three Forks and Boise as well as Snoqualmie Falls, Lolo National Forest and Helena-Lewis and Clark National Park.
There are some stunning things to see on this fantastic journey, so make sure you read until the end to learn about them all - as well as our top tips on the route to take and where to stop over along the way.
How far is Yellowstone National Park from Vancouver and how long will the road trip take?
Comparison of road trip routes between Vancouver and Yellowstone National Park

| Route | Distance | Driving Time |
| --- | --- | --- |
| The Missoula Route | 1,525km | 15 hours 40 minutes |
| The Boise Route | 1,710km | 17 hours |
The road trip from Vancouver to Yellowstone National Park takes at least 15 hours and 40 minutes to drive and covers a distance of 1,525km.
Taking you from the most populous city in British Columbia via Missoula, to the oldest national park in America, this route includes fantastic attractions along the way and is the quickest route.
An alternative option, taking you through Boise, is slightly longer at 1,710km and closer to 17 hours of non-stop driving.
While you could complete this in a single day if you didn't stop anywhere en route, a much better idea would be to break up the journey over several days to ensure you have plenty of time to enjoy what the road ahead has to offer.
With that in mind, we would recommend taking at least three days to complete this trip.
As both route options will take you from Canada through to the US, you will need to ensure that you have the correct documentation and proof of identification in order to have a smooth border crossing.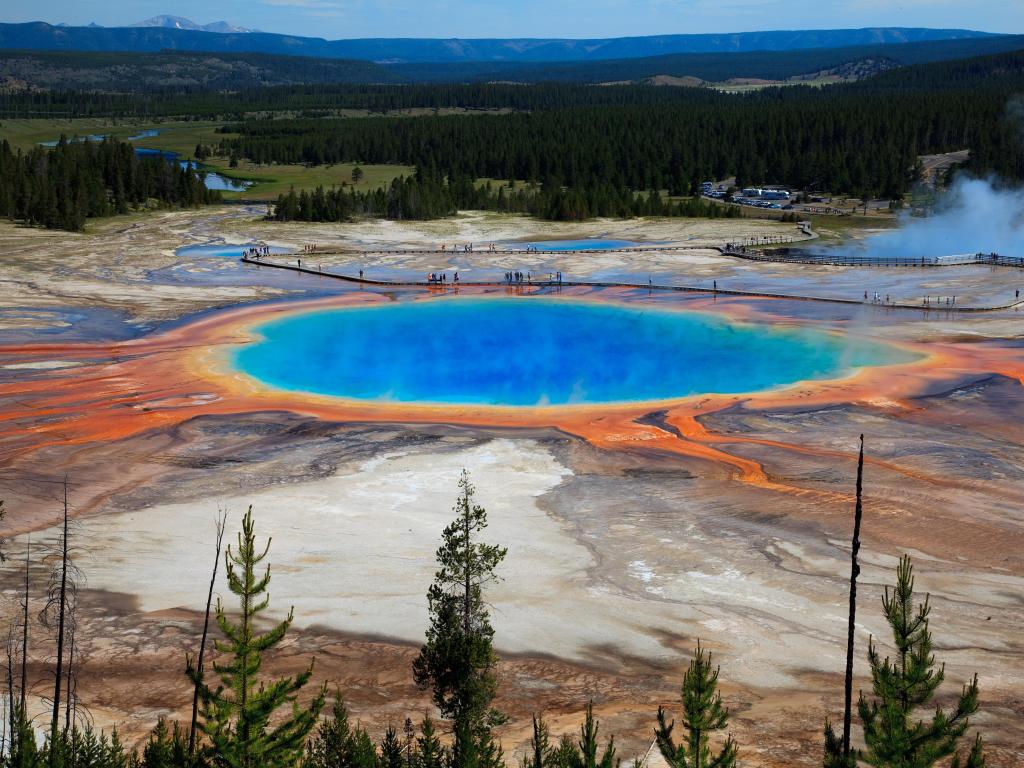 Best road trip route from Vancouver to Yellowstone National Park
There are two great route options for the road trip from Vancouver to Yellowstone National Park. While both will see you pass through Seattle, our Missoula Route takes you past Spokane and Three Forks while driving the stunning Lola National Forest.
Our alternative option takes you further south and through Wallowa-Whitman National Forest and through Boise and Idaho Falls.
Both routes are relatively straightforward and as there's not a huge difference in terms of time and distance between the two, your preference really will depend on the places you want to visit.
How to drive from Vancouver to Yellowstone National Park
The map above shows our suggestions for the best road trip routes between Vancouver and Yellowstone National Park. Keep reading for detailed descriptions of both routes, where to stay on either, and the best things to do on the way.
The Missoula Route
Start by going south on British Columbia Highway 99, until you reach Peace Arch Park on the US-Canadian border. Once you've passed into America the road will become Interstate 5, which will take you through several towns to Seattle.
Next take exit 164 to switch onto I-90 east and proceed to follow it east, passing the towns of George and Sprague to the city of Spokane, which offers some great attractions if you have time for a longer stay.
Continue heading east on I-90 and take in the stunning views of Coeur d'Alene National Forest, through St Regis and Westfall. You will pass Lola National Forest, before arriving at Missoula, a great overnight option to explore the nearby stunning landscape.
Following I-90 through several more towns, you will eventually arrive at Three Forks in Montana. Here you'll join US-287 and take it south. It will then merge with US-191 and take you the remainder of the way into Yellowstone National Park.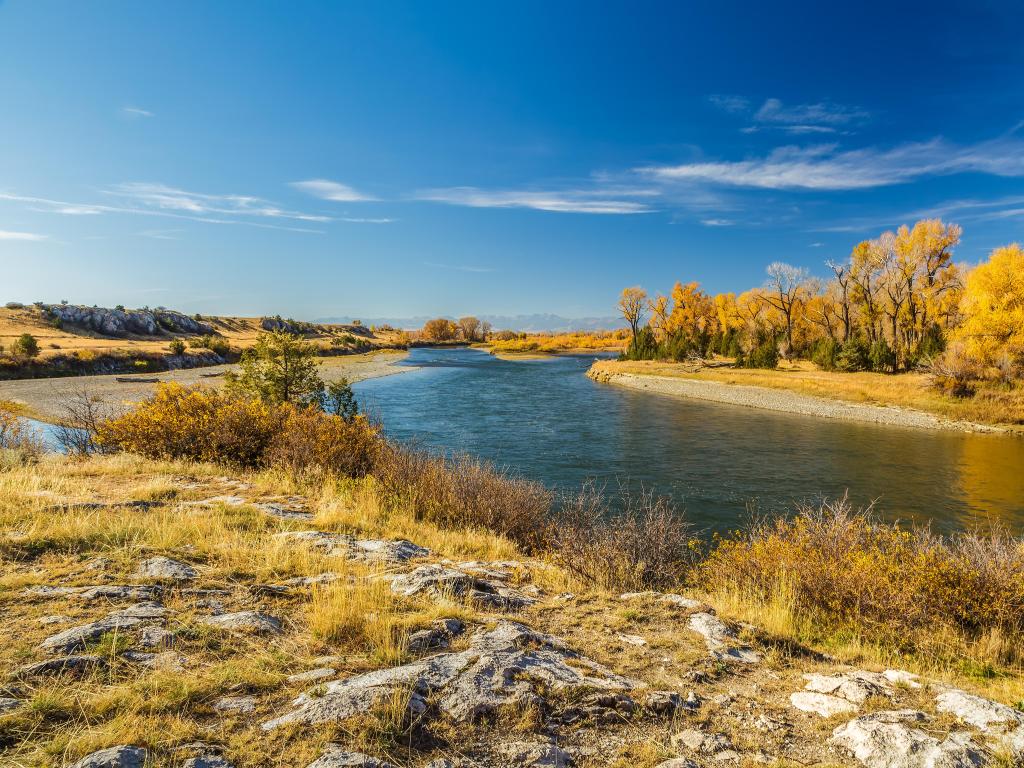 The Boise Route
Just like the Missoula Route, you'll begin by leaving Vancouver on British Columbia Highway 99, until you reach Peace Arch Park on the US-Canadian border, passing into America and merging with Interstate 5 all the way to Seattle.
Continue south on I-90 until you Ellensburg whereby you'll take I-82 and follow it past Yakima and alongside Yakama Indian Reservation. Continue south through several towns until taking the exit for I-84.
You will follow this road south alongside Umatilla National Forest and Wallowa-Whitman National Forest and through Ontario and Caldwell before arriving in Boise - an ideal overnight stop on this route.
After a rest, you will continue on I-84 and follow it through stunning scenery. You could consider a short detour to Ketchum and explore nearby Boise National Forest, or take I-15 north at Pocatello and then US-20 east all the way to your destination.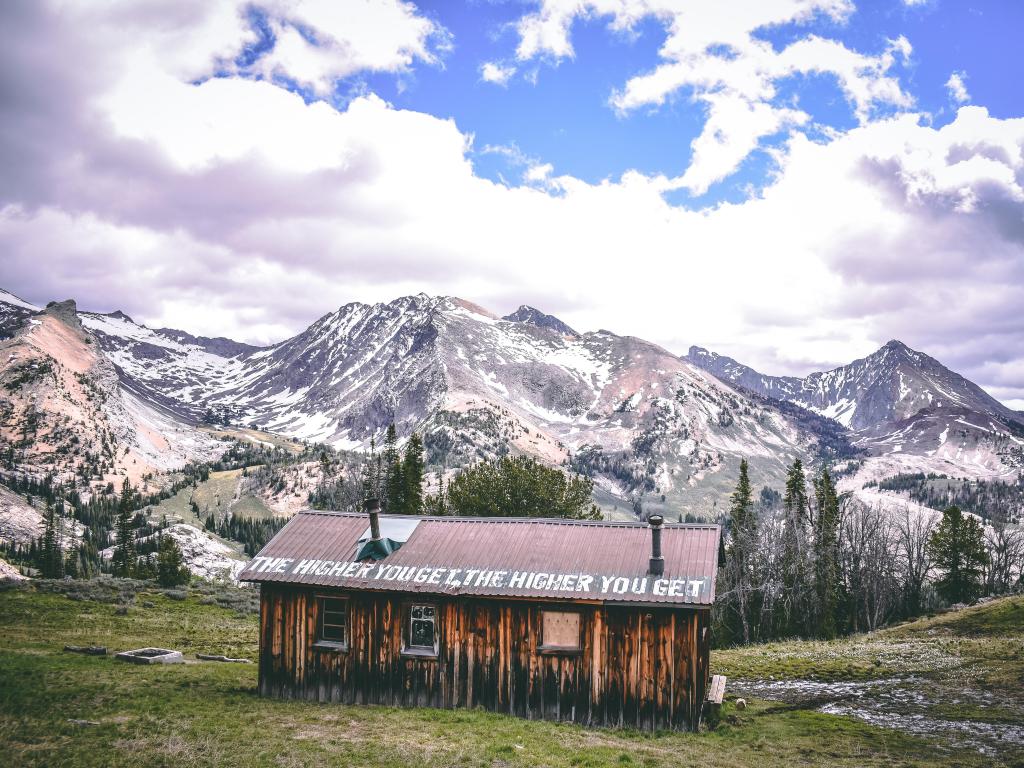 Best places to stop between Vancouver and Yellowstone National Park
If you have decided to split your road trip from Vancouver to Yellowstone National Park over at least three days, you will need a couple of places to stay along the way.
While there are plenty of overnight stop option, these are some of the best places to stay to really make the most of the setting and nearby attractions.
An out of this world experience in Seattle
As both of our routes pass through Seattle, our first suggestion might be an obvious one, but as the biggest, most famous and most populous city in not just Washington but the entire Pacific north-west, it's also a great city to explore.
Located just a few hours drive from Vancouver, a stop in Seattle is not a great idea to get a rest from driving but with so much to see in the city itself, it's a great opportunity to explore and take in more attractions.
Discover the Space Needle, the iconic building that almost everyone will recognize, or visit the institutions created in Seattle, from grunge music to Starbucks coffee. There's also a lot of history to explore while you're in town and some fascinating museums and galleries.
Then there is, of course, the city's place in the entertainment industry. From being known for the blockbuster "Sleepless In Seattle" and the Emmy Award winning "Frasier" tv show, to having some of the most beloved sports franchises in the country.
With plenty of places to stay in Seattle, one great option simply has to be Warwick Seattle. This luxurious 4-star hotel is located a short walk from the famous Pike Place Market and features an onsite restaurant, indoor pool and whirlpool.
The 18-storey imposing hotel is beautiful presented inside and offers the most gorgeous views of the surrounding city, there are even private Juliet balconies and floor-to-ceiling windows on offer.
Set just four blocks from downtown Seattle and The Space Needle and Seattle Center just eight blocks away, what better way is there to experience the city than to wake up at The Warwick Seattle to with views of its most famous attractions each day?
Don't miss out on staying in Missoula
If you've opted for our first route to Yellowstone National Park, then a stay at Missoula is ideal. Set just under six hours from your destination, this city offers a great place to rest and unwind before embarking on the final stretch of your trip.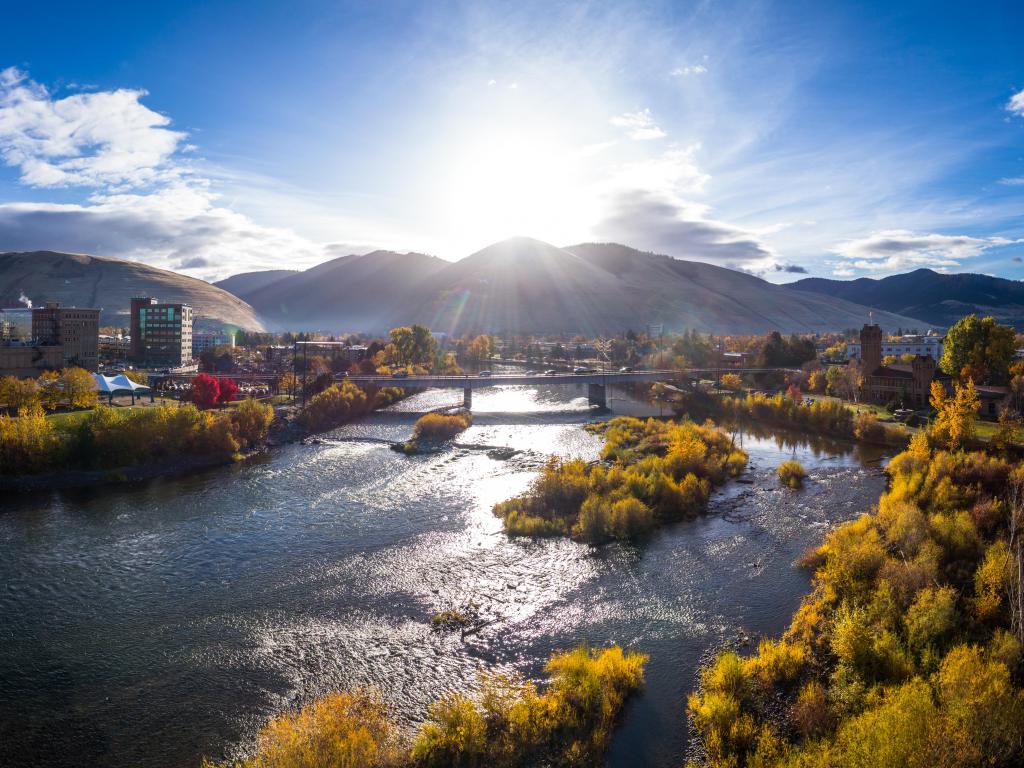 A much less famous destination than the previous one, Missoula is still a fantastic place to stop in its own right. The second most populous city in Montana, it is affectionately known as the cultural centre of the state.
Discover restored buildings and the Historical Museum, or visit the Missoula Art Museum displaying contemporary art. There are also great restaurants and shops in this Montana city.
However, being surrounded by incredible natural features, three rivers and five mountain ranges, Missoula offers great outdoor attractions.
With trails across rugged Mount Sentinel and Mount Jumbo and nearby Rattlesnake National Recreation Area & Wilderness and Lolo National Forest to visit, there are a huge amount of peaks, forests and waterfalls to explore.
Of all the places you could stay locally, the Doubletree By Hilton Missoula Edgewater is a great option. Located on the banks of the Clark Fork River, this beautiful hotel features stunning views, a hot tub and an onsite restaurant.
Guest rooms at this hotel are modern and stylish, while the free parking and stunning setting make the Doubletree By Hilton the perfect setting for taking in the scenic views while treating yourself to a little well-earned luxury.
Stay in the heart of Boise
Alternatively if you have chosen to take the second route option, then a stay at Boise is a great base for exploring the nearby scenery and attractions. At just under second hours to Yellowstone National Park, this capital city of Idaho has so much to offer.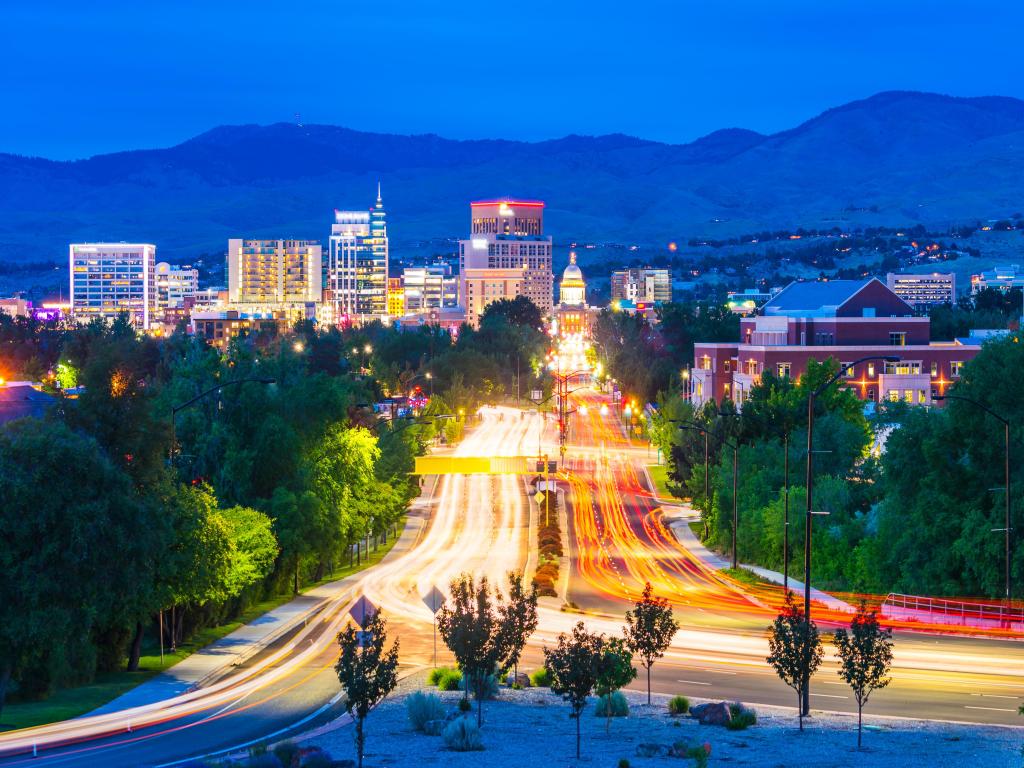 Explore the Boise's River Greenbelt, a series of tree-dotted trails and parks that hug the water's edge or visit its fascinating buildings including the downtown art deco museum which has contemporary works and an outdoor sculpture garden.
Discover the grand, sandstone Idaho State Capitol Building or nearby Old Idaho Penitentiary which contains 19th-century prison cells and gallows, or if nature and hikes are more your thing, then a short drive away is the stunning Boise National Forest.
For a stay in the heart of the city, The Grove Hotel is an excellent choice. This imposing 4-star hotel is beautifully decorated throughout and features a sauna, hot tub and indoor swimming pool.
Making the very most of its fantastic city center setting, The Grove Hotel also features a wonderful terrace - an ideal spot for looking out at Boise or watching the sun set.
Things to see on a road trip from Vancouver to Yellowstone National Park
With at least 15 hours ahead of you on a road trip from Vancouver to Yellowstone National Park, how much you see along the way depends largely on how you approach it.
If you are able to split it over three days, you will have plenty of time to sightsee along the way. Of all the great places to visit and attractions to see en route, here are some of the best ones you won't want to miss:
Both routes
Peace Arch Park - First established in 1939, this international park is located on both sides of the US-Canada border. Covering just 42 acres, the central attraction of the park is the Peace Arch itself.
Seattle, Washington - The largest and most populous city in the state of Washington, its claims to fame include being the birthplace of both the grunge genre of music, as well popular coffee chain Starbucks. It is also home to the iconic Space Needle.
Tiger Mountain State Forest - Established in 1981, it is home to Tiger Mountain itself, which features stunning views of Seattle and is the most popular spot for paragliding in the state.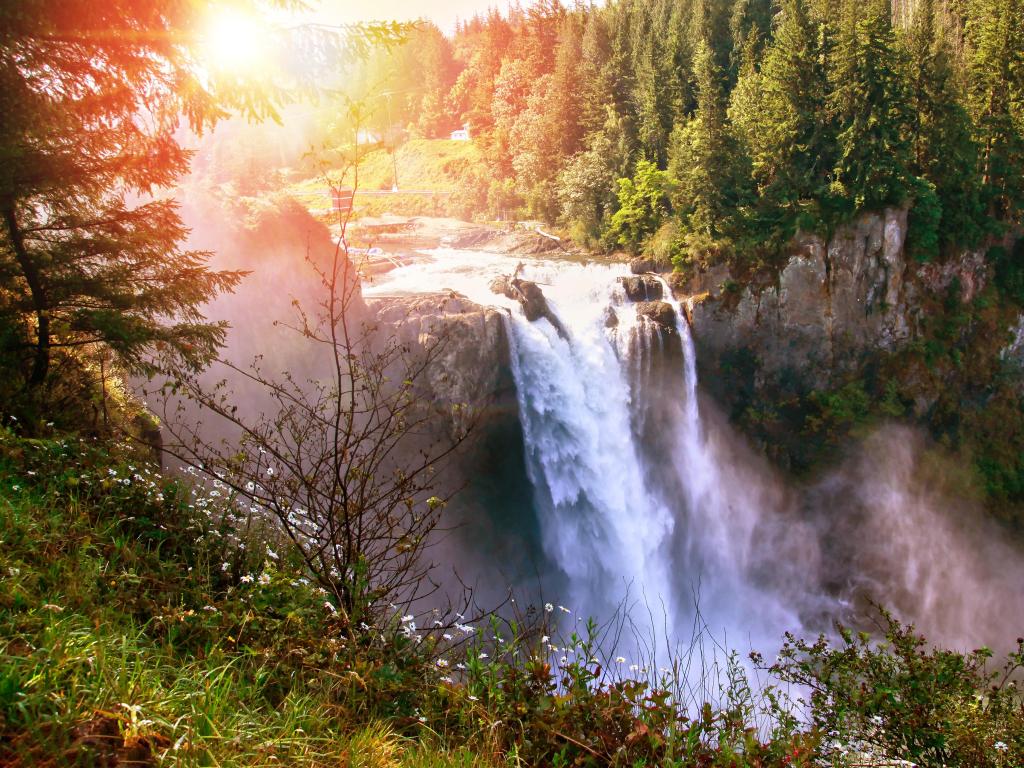 The Missoula Route
Helena-Lewis and Clark National Park - Explore expansive public lands with wilderness areas, mountains and grassy fields ideal for hiking, camping and more.
Snoqualmie Falls - One of the most popular natural attractions in the state of Washington, drawing more than 1.5 million visitors a year. The local tribes in the area believed the incredible spray as the base of the falls connected heaven and earth.
Snoqualmie Pass - A hotspot for outdoor recreation, featuring numerous hiking and climbing trails in the summer and ski and snowshoe paths in the winter.
Spokane, Washington - Ranking second in the state in terms of both land and population, the area was first settled as Spokane trading post in 1810, before seeing growth boom with the arrival of the railroad and the creation of Fort Spokane in 1880.
Lolo National Forest - First established in 1906 and covering 2-million acres, Lolo contains the largest trees in the state of Montana. A perfect location for nature lovers, it contains numerous mountain peaks and hot springs.
Missoula, Montana - the second most populous city in Montana, it is located at the convergence of three rivers and five mountain ranges, earning it the nickname "the hub of 5 valleys".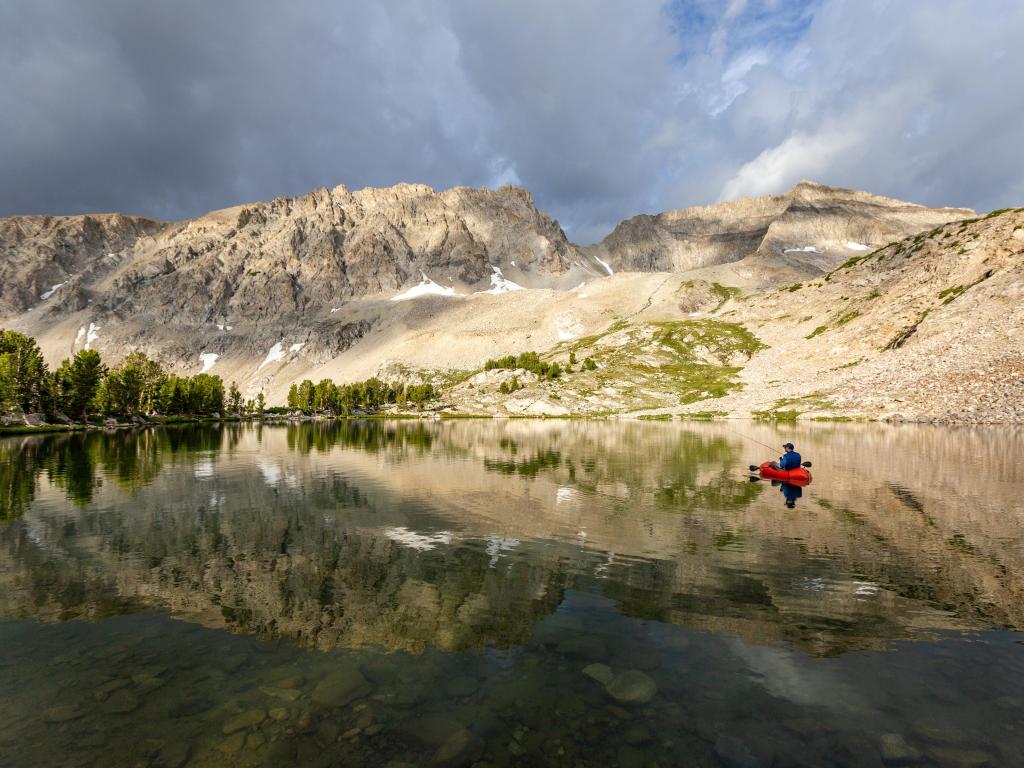 The Boise Route
Umatilla National Forest - This sprawling forest is great for those who love the great outdoors and offers recreation such as canoeing, camping, fishing and cross-country skiing.
Boise, Idaho - Discover historic buildings, great museums and galleries, Boise is also a stunning setting to enjoy a park walk or explore the nearby landscape.
Boise National Forest - A vast forest, the landscape spans over 2.5 million acres and features diverse forests and grasslands. There are more than 500 trails and over 250 lakes to discover.
Ketchum, Idaho - Another city worthy of an overnight stop, Ketchum lies within Idaho's Wood River Valley and near some of the world-famous skiing area.
Sun Valley, Idaho - This resort town is best known for its location close to the popular skiing Bald Mountain and nearby Dollar Mountain. In the summer this area is great for nature walking.
Arco, Idaho - For a quirky stop, Arco is home to some of the country's most otherworldly landscapes and unexpected historic breakthroughs making this an "atomic city" hugely popular with science and outdoor fans.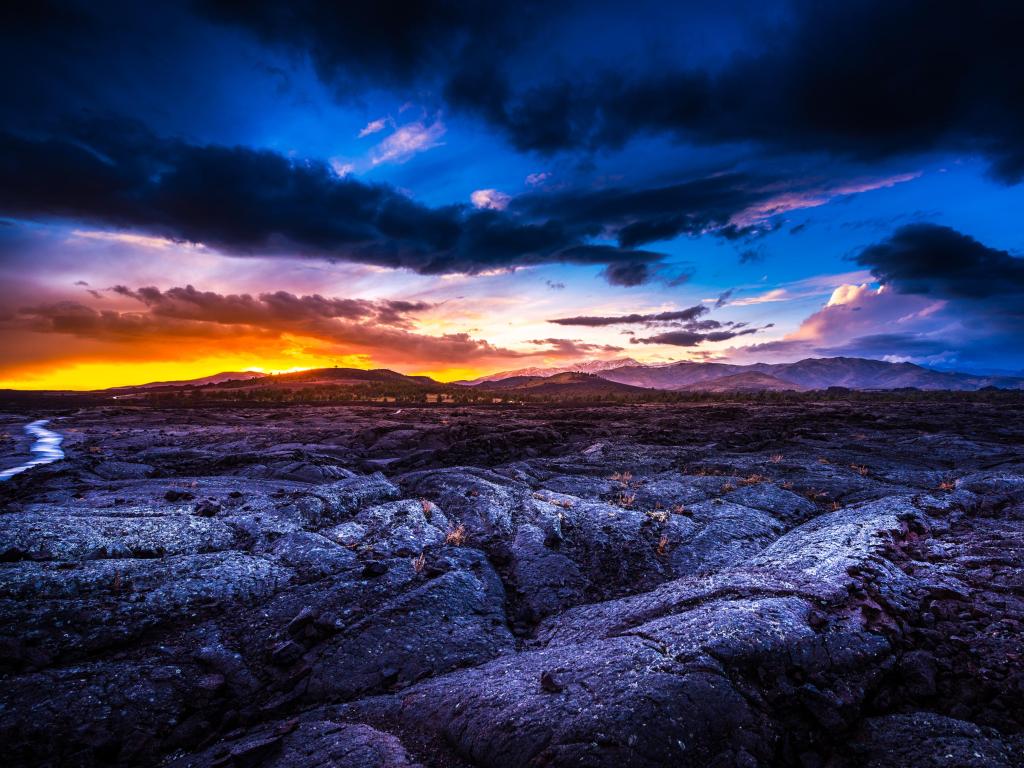 Best time to go on a road trip from Vancouver to Yellowstone National Park
With a road trip from Vancouver to Yellowstone National Park taking you to a stunningly beautiful natural attraction, it is certainly worth noting that choosing the right time to go will play a large part in just how successful your trip is.
That's especially true for a location such as this, which not only suffers from incredibly harsh winters but will also have access to large parts of the park limited during this time.
Winter at Yellowstone National Park can get as cold as 5 to 20 degrees Fahrenheit, which means that unless you are planning your trip with ski season, you might want to avoid November to March.
A popular time to visit this part of the US is between late June and early September. With temperatures at a much more pleasant average of between 70 and 80 degrees, you will certainly be able to enjoy all of the outdoor attractions en route.
That said, timing your visit during the park's busiest tourist season in July and August will mean that you'll experience large crowds as well as busier hotels and cities on your trip. If you'd like to avoid the crowds, a trip in spring or fall is another great option.
Finally, if you'd like to tie your visit in with a big event, there are a number of great annual festivals including Seattle's Pride held in June or its International Beerfest in July.