Road Trip from Washington DC to Miami
Head out on the journey of a lifetime from America's capital, Washington DC to sunny Miami, Florida. You'll cover endless stretches of sandy coastline, adventure-packed islands, rolling country roads, and some of the country's most beautiful mountain landscapes on this epic road trip.
The 1,160-mile road trip from Washington DC to Miami will take 18 hours and 30 minutes to complete. You'll get to visit Richmond, Myrtle Beach, Charleston, Savannah, Orlando, Blue Ridge Parkway, Charlotte, Savannah and Jacksonville on the way.
Whichever route you choose, this unforgettable road trip will take you through some of the most exciting landscapes in the country. Read on to learn about our recommended routes, top sights, and best places to stay along the way.
How far is Miami from Washington DC, and how long will the road trip take?
Comparison of road trip routes between Washington DC and Miami

| Route | Distance | Driving Time |
| --- | --- | --- |
| The Coastal Route | 1,160 miles | 18 hours 30 minutes |
| The Blue Ridge Parkway Route | 1,240 miles | 20 hours |
There are two excellent routes to choose from: the Coastal Route and the Blue Ridge Parkway Route. Each will take you through some of the most incredible sections of the USA.
The Coastal Route will take you 1,160 miles through photogenic coastlines and history-rich cities. You'll drive around 18 hours and 30 minutes total.
The Blue Ridge Parkway Route will cover 1,240 miles of rural countryside and mountains. You'll be on the road for a total of 20 hours.
Because of the number of sights along the way, we recommend taking three or four days to enjoy this road trip. Continue on to learn more about the routes, places to see, and places to stay on the way.
Best road trip route from Washington DC to Miami
Starting in the capital of the USA, this road trip will take you through many states in the Southeastern USA where you will end up in sunny Miami, Florida. With excellent routes to choose from, the best route will depend on what you'd like to see on this amazing adventure.
The Coastal Route will take you along the Eastern Coast of the USA where you will get amazing views of the Atlantic Ocean through Savannah, Jacksonville, and Orlando.
The Blue Ridge Parkway Route will take you through the inland countryside where you can stop at many national forests and drive along the Blue Ridge mountain range.
Whichever way you choose, the routes will meet up in Savannah and take you down the coast of Florida where you will end up in Miami. Known as the Magic City, Miami is home to many pristine beaches and incredible nightlife. It will be a great place to unwind after a long journey.
How to drive from Washington DC to Miami
The map above shows our suggestions for the best road trip routes between Washington DC and Miami. Keep reading for detailed descriptions of both routes, where to stay on either, and the best things to do on the way.
The Coastal Route
Head out from Washington, DC on Interstate 95 (I-95). Drive through the beautiful countryside of Virginia and into Richmond.
Continue on south through rural North Carolina and into South Carolina. Drive through the beautiful coastal cities of Myrtle Beach, Charleston, and into the historic city of Savannah, Georgia.
After getting your fill of Savannah's rich culture and food scene, get back on I-95 and drive into Jacksonville, Florida. From here continue south along Florida's Atlantic coast.
Drive further south through some of the most spectacular beaches in the United States. You'll pass incredible cities like West Palm Beach and Fort Lauderdale before getting to your destination in Miami.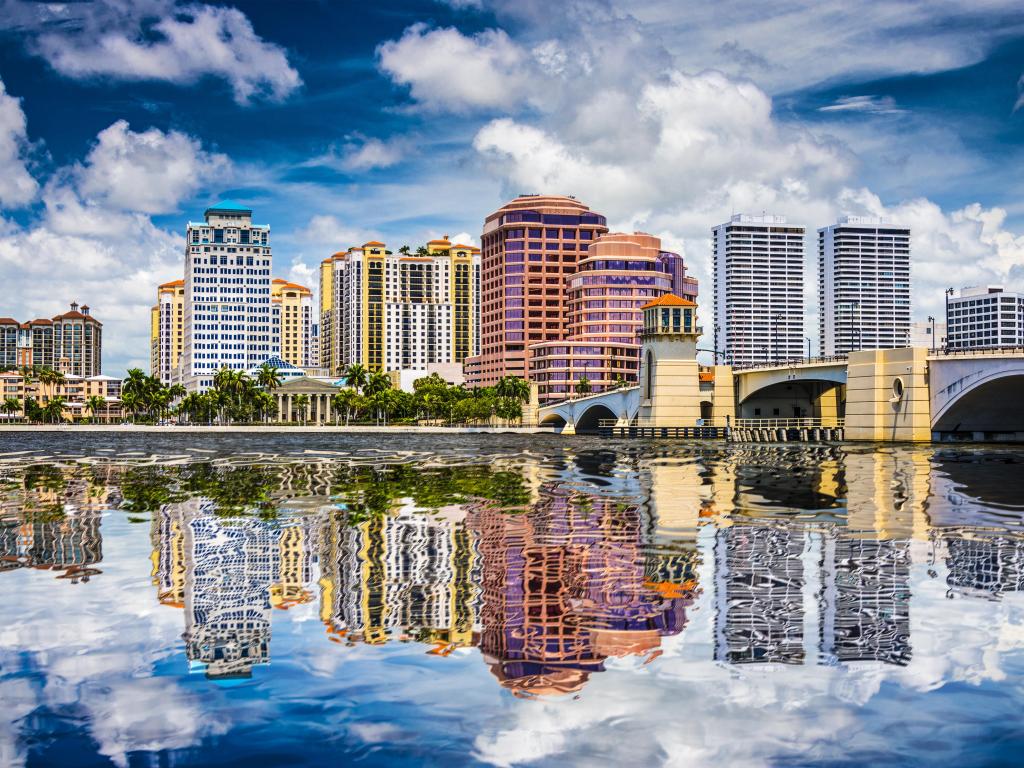 The Blue Ridge Parkway Route
Head west on I-66 and hop on I-81. Drive south along the hills of the Appalachian Mountains.
Continue south into the city of Roanoke, Virginia. Next, venture on into the incredible mountain paradise of northern North Carolina and make your way to Charlotte.
After taking in the fun and excitement of North Carolina's biggest city, continue on I-77 into South Carolina. Drive into Georgia and the history-rich city of Savannah.
Make your way from Savannah to Florida. Along the way on I-95, you'll pass beautiful cities like Jacksonville and West Palm Beach on your way to the world-famous city of Miami.
Best places to stop between Washington DC and Miami
On this beautiful drive, you'll be passing some incredible sections of America. Below, we've listed our favorite places to stop between the nation's capital and the fun beaches of Miami.
Explore the rich history and delicious cuisine of Savannah
About halfway on the Coastal Route is the charming city of Savannah, GA. In this southern city, you'll experience a community rich in history. Take your time to enjoy spooky ghost tours if you dare, delve into the exciting nightlife, and sample some of the best seafood on the East Coast.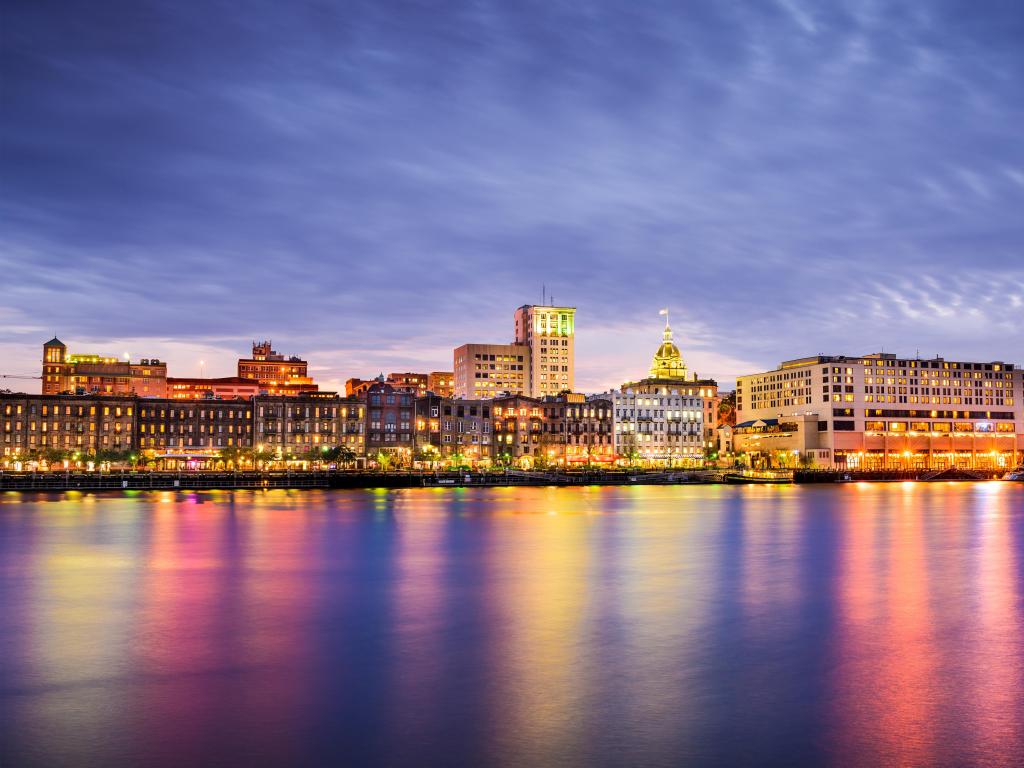 Make sure to visit the Savannah Historic District. This area is filled with old mansions and churches. The district is perfect for walking around and experiencing the history of this city. Be sure to visit Forsyth Park, which has been occupying 30 beautiful acres since the 1840s.
Another excellent stop is Juliette Gordon Low Birthplace. Home to the creator of Girl Scouts in the USA, this was one of Savannah's first registered National landmarks.
Once you reach Savannah, we recommend staying at the luxurious River Street Inn. Located in the historic district, this notable 4-star hotel is situated on the Savannah River and features a modern mixed-with-classic Parisian experience.
After your drive and sightseeing, take advantage of the daily wine and hors d'oeuvres reception for guests. There are excellent dining opportunities offering an incredible variety of exquisite seafood dishes. Extra perks include receiving discounts at a variety of restaurants, cafes, and the Old Savannah Tour Company.
Overlooking the river, this hotel is easily accessible from the highway and provides stunning views. The Historic District offers access to many popular things to do in Savannah so prepare for a jam-packed adventure mixed with the ultimate in relaxation.
A perfect balance of indoor and outdoor adventures in Charlotte
About one-third of the way to Miami is Charlotte, North Carolina. This charming city attracts guests from all over the world with its beautiful nature, friendly people, and incredible food scene.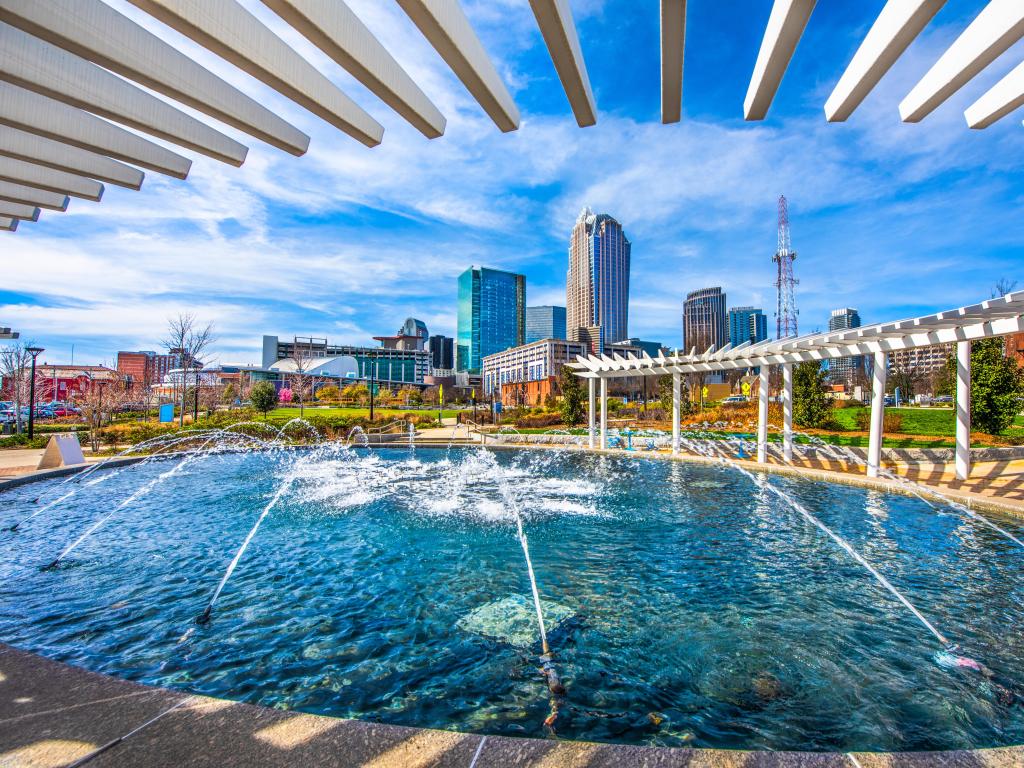 Famous for its numerous activities, museums and outdoor life, there is always something to do in Charlotte. The city is also known as the pimento cheese capital and the "Mint City" as it was once home to the first US branch mint in 1838.
There are plenty of places to visit including the NASCAR Hall of Fame. This museum provides many amazing artifacts, interactive exhibits, and simulator rides.
Make a stop at the US National Whitewater Center. This local adventure park is home to pools that are perfect for whitewater rafting or is a perfect place for a walk along the trails.
Finally, experience the incredible Mint Museum. Composed of 5 floors and 4 institutions, this museum is a cultural campus showcasing art and design from all over the world.
Once you reach Charlotte, the best place to stay is The Ivey's Hotel. This is a luxury boutique hotel situated in the heart of Charlotte. Inside, modern décor fills this historic building. Check out the incredible cocktail lounge featuring craft custom cocktails and library lounge offering pastries and fresh local coffee.
The hotel offers private parking. Here, you're surrounded by many attractions that are within walking distance including the Mint Museum of Craft, Blumenthal Performing Arts Center and the Epicenter.
Where to stay when you reach Miami
Once you reach your destination in Miami, Florida, we recommend staying at the Sentral Wynwood. This hotel offers full-size apartments so guests will be able to stay short or long-term.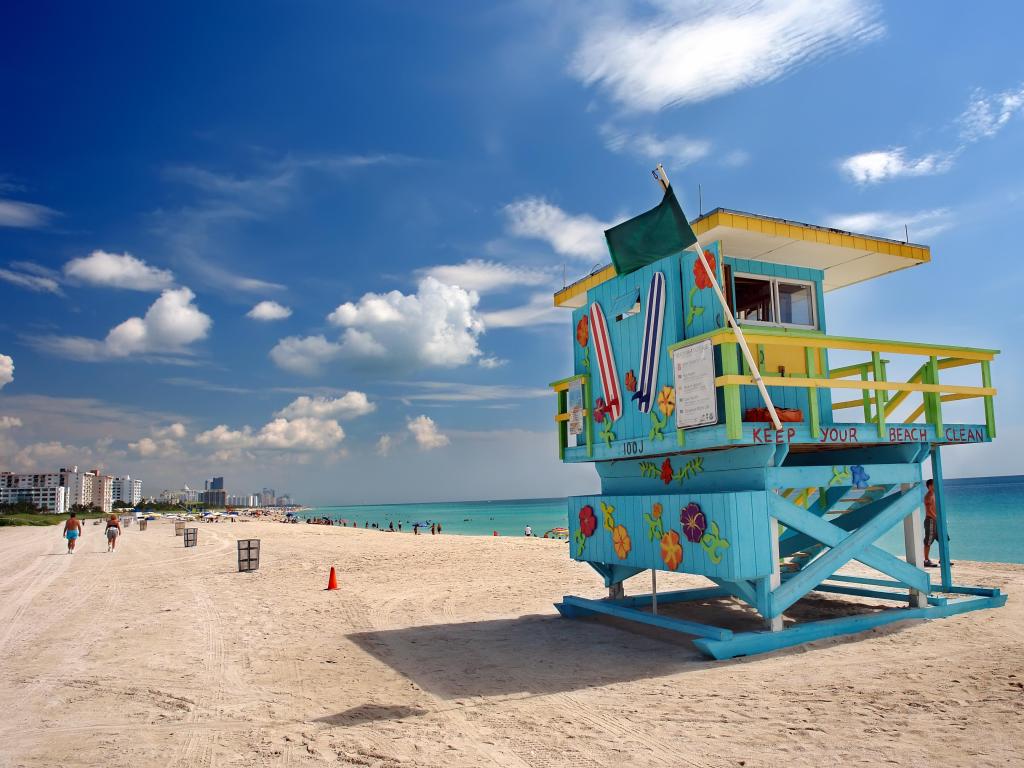 You'll get to enjoy the fun and colorful apartment furnishings and a rooftop pool and terrace. The hotel is within walking distance of many trendy restaurants and breweries in the Wynwood District.
Many attractions are a short drive away including the Adrienne Arsht Center for the Performing Arts and the American Airlines Arena. This being Miami, you're also only a short drive from the fun under the sun vibes and endless blue water of Miami Beach.
Things to see on a road trip from Washington DC to Miami
With so much fun and excitement and grand vistas to experience along the way, it's no wonder so many people love this road trip. Below, we've included our tip highlights to enjoy along the way so you can make the most out of your journey.
The Coastal Route
Fredericksburg National Military Park - This facility was once a U.S. Civil War battlefield. A walking tour is offered, reliving the historic events to guests that are unfamiliar with this civil war.
Jamestown Settlement, Williamsburg - Discover about the Virginia First Nations who occupied the land before the arrival of Western settlers.
Durham Performing Arts Center - One of the best live entertainment centers in North Carolina, you can often find this venue hosting Broadway productions and comedy events.
North Carolina Museum of Natural Sciences, Raleigh - Composed of 4 buildings, this museum is dedicated to the natural sciences. Learn about the preservation of nature and see the collection of over 1.7 million species.
Croatan National Forest - National forest located on the East coast; this forest is surrounded by water but still a great place to see a diversity of wildlife.
Ripley's Aquarium of Myrtle Beach - Open 365 days a year, visit this aquarium where you can find yourself on a moving path beneath the reef.
Magnolia Plantation and Gardens, Charleston - Incredible garden dating from 1676, these gardens are recognized as one of America's oldest where you can take a 40 min train ride.
Hunting Island - State park with many beaches and lagoons. Be sure to stop and see the lighthouse offering incredible views across the Atlantic Ocean.
Sea Pines Forest Preserve - This protected area is a great stop for nature lovers where you can take a boat tour and visit an archaeological site made of seashells.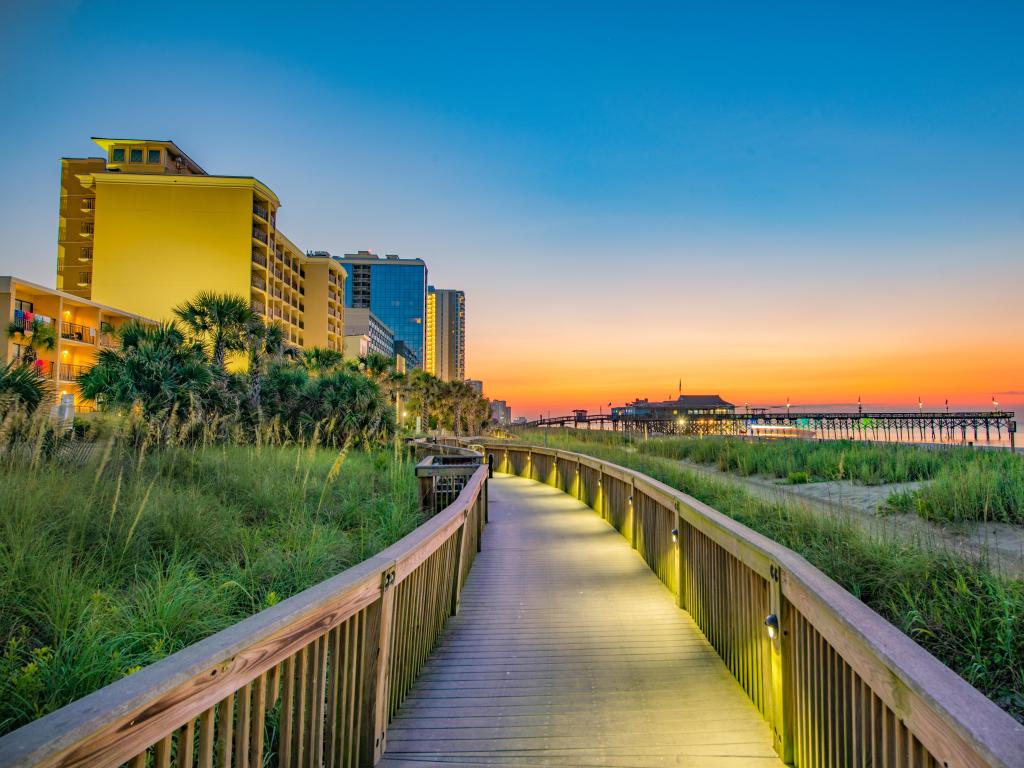 The Blue Ridge Parkway Route
Steven F. Udvar-Hazy Center, Chantilly - This center displays thousands of space and aviation artifacts. Stop and climb inside one of the incredible planes on display in their large hangars.
Great Falls Park, McLean - Close to Washington, this park has spectacular waterfalls and offers stunning views outside the city.
Car and Carriage Caravan Museum, Luray - This museum features antique and vintage cars dating back to the early 1700s. Amazing stop for history or car lovers!
Monongahela National Forest - Classified as one of the most ecologically diverse areas of the USA.
Mabry Mill - This original mill built in 1910 is one of the most photographed spots along the Blue Ridge Parkway.
Linville Falls, Blowing Rock - A popular hike, head to Linville Falls outside Blowing Rock on the easily-accessible trails for some jaw-dropping views.
Pisgah National Forest - Home to the Blue Ridge Mountain range, this forest is built of whitewater rivers, cascading waterfalls, and miles of walking trails.
Pilot Mountain State Park - Pilot Mountain State Park is popular for its hiking and rock-climbing community where visitors come to climb this 2400 ft mountain.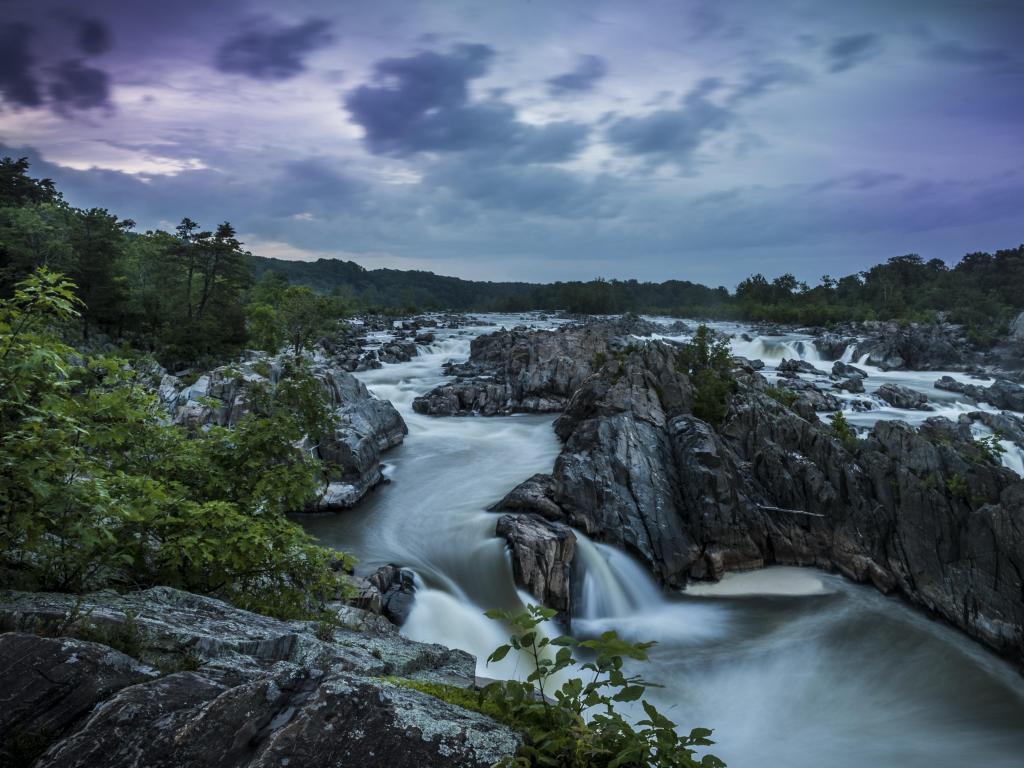 Both Routes
Congaree National Park - This park is one of the largest intact parks where water has swept through the land, but the land continues to stay preserved.
Forsyth Park, Savannah - Take a stroll through this historic park that has been standing since the 1840s. Take in the fragrant gardens and visit the iconic fountain.
Cummer Museum of Art & Gardens, Jacksonville - Dedicated to Ninah Cummer, this museum is a personal art collection and includes over 5,000 works of arts dating back to 2100 BCE.
Daytona International Speedway - Since opening, this racetrack has been home to NASCAR since 1959.
Walt Disney World Resort, Orlando - Comprising 4 theme parks and 2 water parks, this world-famous amusement park will give you fun for days.
Kennedy Space Center, Merritt Island - Many interactive exhibits and shows outlining space travel and those that have reached the furthest corners from the world.
Sebastian Inlet State Park - One of the best spots along the Florida coast for salt-water fishing and other activities like surfing and scuba diving.
National Navy SEAL Museum, Fort Pierce - Museum devoted to the Navy SEALs filled with historical artifacts and helicopter exhibits.
Hollywood Beach Boardwalk - One of Florida's most popular boardwalks, this promenade features over 50 restaurants and 30 shops for guests to enjoy along the coastline.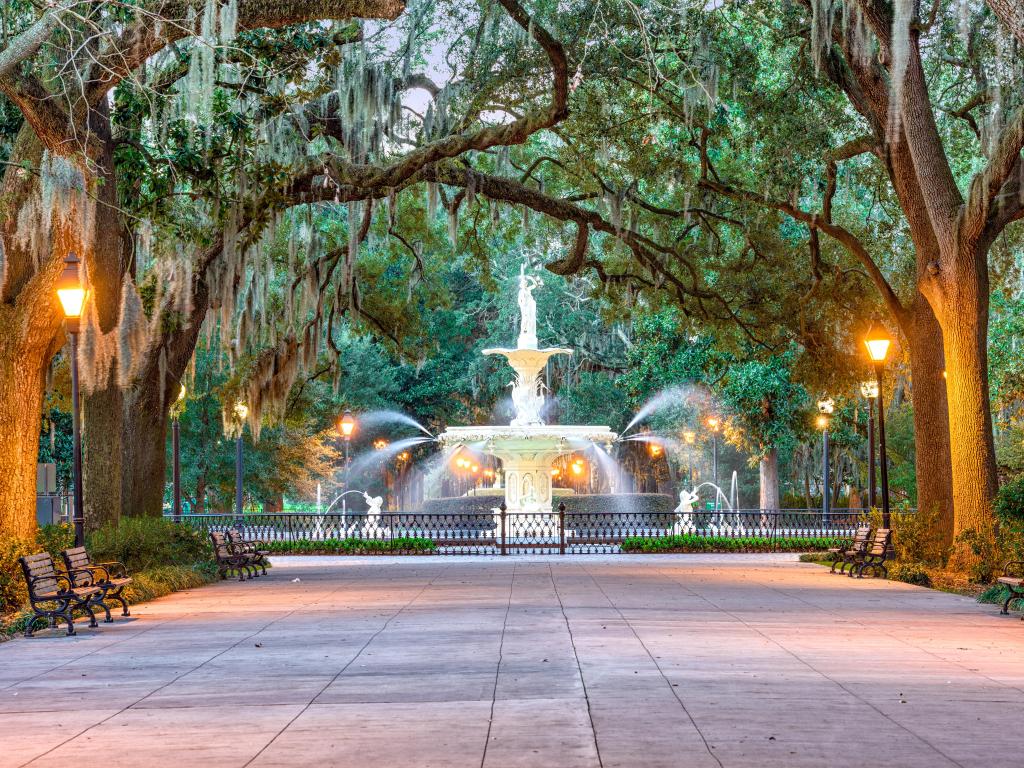 Best time to go on a road trip from Washington DC to Miami
Miami has a tropical climate making it an ideal vacation spot all year round. The route can be done throughout the year but pay attention to weather alerts due to some higher elevation areas and areas prone to storms.
Summers along this route are warm with the weather becoming hotter and more humid as you go down south. Along the coast, summer will also bring the monsoon season where visitors may experience rain from May 15 through October 15. Summer is long and hot with the chances of rain.
While the coast can still get cold snaps in the winter, winters are generally warmer than in the inland and are often very short. Snow is very uncommon in this area. Temperatures can vary between 20 to 60 degrees Fahrenheit depending on where you are along the route.
April or September and October are the most optimal times to visit. This time usually brings in the best rates, crowds and average weather ranging from 63-80 degrees Fahrenheit throughout the road trip route.
Mid to end of March brings in spring break for college students. The coast of Florida fills, bringing in hundreds of thousands of partiers to the beaches and city of Miami. Avoid going at this time of the year as prices will rise and crowds will be much busier than usual.
Miami also brings in many electronic and hip hop music festivals between May and July which will also bring a larger, younger crowd.