Road Trip from Washington DC to Myrtle Beach
Venture from the nation's capital through rolling mountains and stunning coasts to the charming vacation destination of Myrtle Beach. On the way, you'll visit exciting cities and culturally rich small towns filled with nature, plus some of the best golfing in the country.
The 530-mile road trip from Washington DC to Myrtle Beach takes 10 hours and 30 minutes to drive. You'll pass incredible highlights like Richmond, Virginia Beach, Nags Head, Wilmington, Charlottesville, Durham, Raleigh, and Fayetteville.
This road trip from Washington DC to Myrtle Beach is the ultimate east coast adventure, packed with golfing, hiking, gorgeous views, and a perfect mix of exploration and relaxation. Read on below to learn more about this incredible route, where to stay, and what to see along the way.
How far is Myrtle Beach from Washington DC, and how long will the road trip take?
Comparison of road trip routes between Washington DC and Myrtle Beach

| Route | Distance | Driving Time |
| --- | --- | --- |
| The Coastal Route | 530 miles | 10 hours and 30 minutes |
| The Inland Route | 640 miles | 11 hours and 30 minutes |
There are two beautiful routes that will take you from Washington, DC to Myrtle Beach. Each one is filled with beautiful spaces and unique areas worth exploring.
The Coastal Route takes you along the gorgeous coast of America, through the states of Virginia and North Carolina. You'll drive 530 miles with 10 hours and 30 minutes of driving time.
The Inland Route is slightly longer and will bring you through the lush forests and mountains of the Appellations. On this route, you'll drive 640 miles for 11 hours and 30 minutes.
Regardless of which route you choose, we recommend spending 4 days on the road and splitting the journey up. Continue on below to learn more about these amazing routes, where to stay, and what to do while traveling.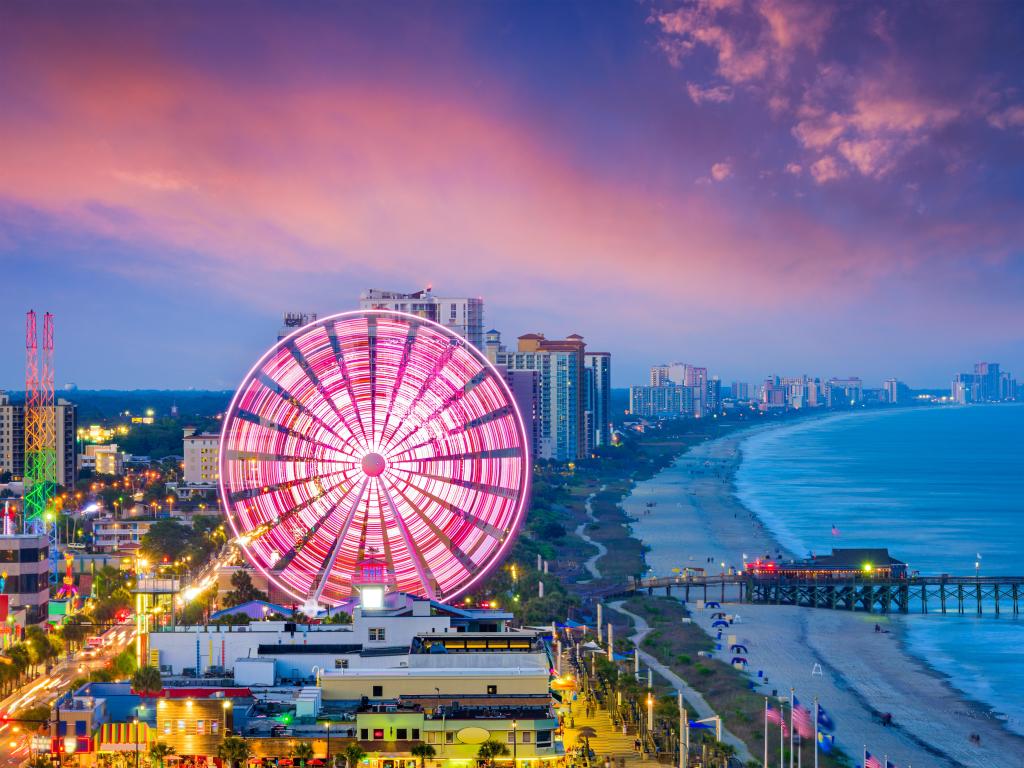 Best road trip route from Washington DC to Myrtle Beach
The Coastal Route is a fun beach-focused route that combines the best of both worlds together. You'll visit historic cities like Richmond and amazing coastal communities like Virginia Beach and Nags Head, where you will find plenty to explore as well as amazing restaurants and places to stay.
This route also has some incredibly scenic drives like Beach Road in Nags Head and Airlie Road in Wilmington, which will keep you taking photos. If you love literature or the outdoors, visit the Edgar Allan Poe Museum in Richmond or release your inner adventurer out in Wilmington's Busch Gardens.
The Inland Route will give you many opportunities to visit cities like Durham, the campus of Duke University, as well as Raleigh and Fayetteville. You will also have time to visit Charlottesville and the University of Virginia, one of the oldest universities in the USA.
If you are looking to spend some time outdoors, the Inland Route also drives right through the stunning Shenandoah National Park. History lovers will also enjoy the many museums on the way, including the National Museum of American History, Virginia Museum of Fine Arts, North Carolina Museum of Art, Airborne and the Special Operations Museum.
If you have time, you can take a detour to drive on the legendary Blue Ridge Parkway. This is one of America's most famous drives and certainly worth it if you can spare an extra day.
How to drive from Washington DC to Myrtle Beach
The map above shows our suggestions for the best road trip routes between Washington DC and Myrtle Beach. Keep reading for detailed descriptions of both routes, where to stay on either, and the best things to do on the way.
The Coastal Route
From the nation's capital, Washington, DC, head south into Richmond. After seeing the historic city, head east towards the Atlantic Ocean and the city of Virginia Beach.
After enjoying the coast, head back on route south to North Carolina's Outer Banks, through Kitty Hawk, and into Nags Head.
From here, continue inland and south into Wilmington, NC. From here, drive on along the coast and to your destination of Myrtle Beach.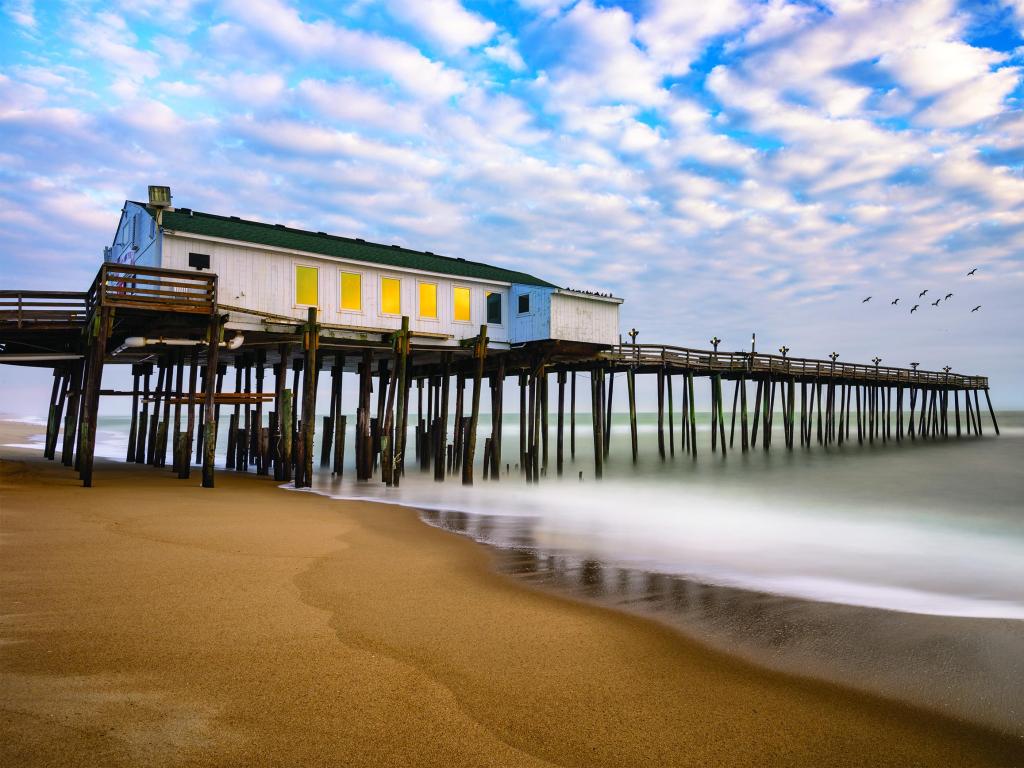 The Inland Route
From Washington, DC, drive southwest to the city of Charlottesville, Virginia. After seeing this beautiful community, continue south on route to Durham, North Carolina.
After Durham, drive the short distance to Raleigh. After Raleigh, continue on route to Fayetteville, North Carolina.
Once you've explored Fayetteville, get back on route. You'll drive into South Carolina and into your destination of Myrtle Beach.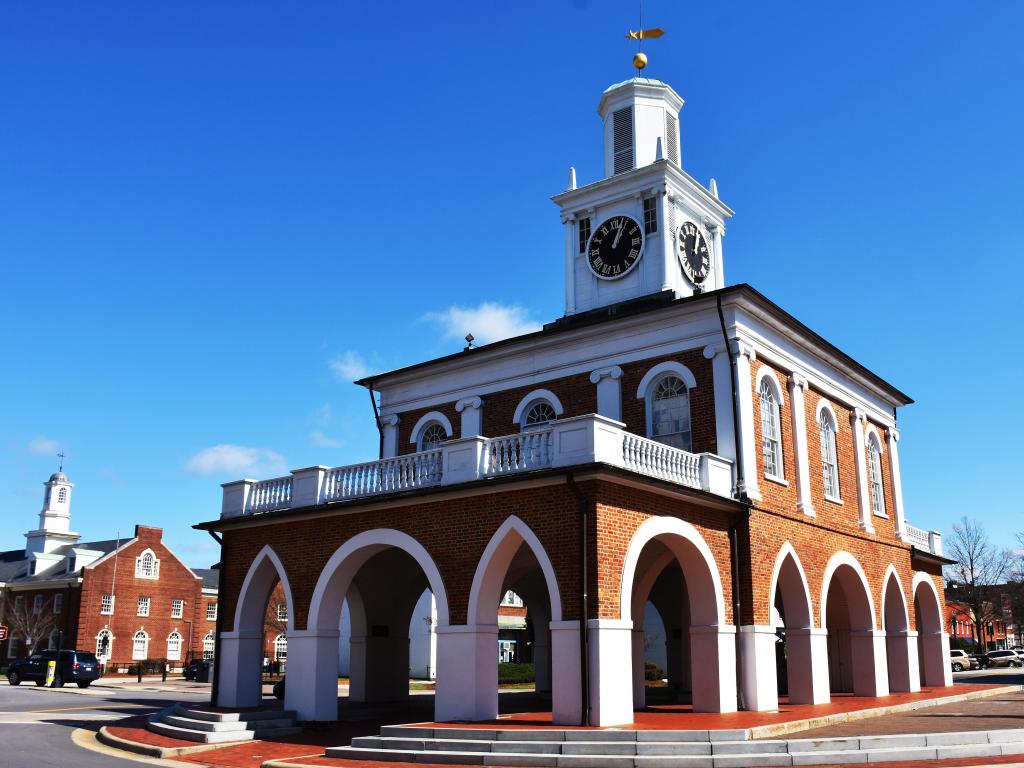 Best places to stop between Washington DC and Myrtle Beach
With so much to see and do, we recommend breaking the trip up and staying in one of the fine destinations listed below. This will give you plenty of opportunity to have a relaxing drive while enjoying all the region has to offer.
Soak up the beach life in Nags Head
About halfway on the Coastal Route is the lovely beach town known as Nags Head. This beautiful destination is full of beaches, sand dunes, and stunning ocean views.
This charming town is famous for its long, wide beaches that are popular for surfing, swimming, and sunbathing. Along its shores are its famous sand dunes and historic lighthouses like Bodie Island Lighthouse and the Cape Hatteras Lighthouse.
Nags Head is home to many seafood restaurants, beachfront resorts, and outdoor recreation opportunities, making it a popular vacation destination for anyone looking to enjoy the coast. While you're there, there's plenty to see and do other than lounging at the beach.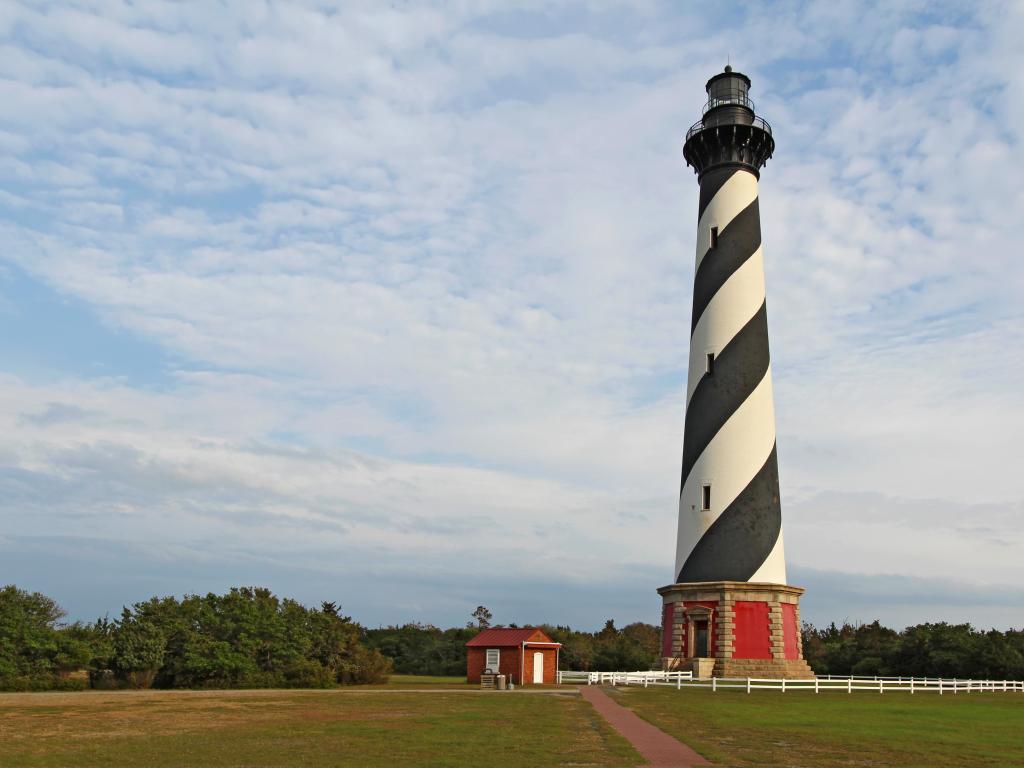 First up, make sure to check out the Jockey's Ridge State Park. This park is situated on the largest sand dune on the East Coast and has plenty of hang gliding, hiking, and scenic views to enjoy.
Next, head to the Bodie Island Lighthouse. This historic lighthouse has fun guided tours, coastal views, and photogenic marshland scenery.
Finally, make your way to Jennette's Pier. This Fishing pier has a popular bait and tackle shop, educational exhibits, and oceanfront views that can't be beat.
Once you reach Nags Head, we recommend staying at the luxurious Surf Side Hotel. You'll love the hotel's oceanfront location and beach access as well as its unbeatable amenities and friendly service.
In the morning, you'll get to enjoy a complimentary, daily hot breakfast. After sightseeing, you can come home and relax in the hotel's seasonal outdoor pool, indoor pool, and hot tub.
The rooms have ocean views with private balconies perfect for gazing out over the water. On top of the relaxing rooms, you can go fishing nearby or rent bikes on-site to explore the area. At night, take advantage of the hotel's BBQ grills and picnic areas as well.
The hotel is just a close distance away from local attractions like the Wright Brothers National Memorial and Jockey's Ridge State Park. Ultimately, guests will love stepping out onto the sand and walking along the endless beach.
Take a history tour around Durham
A little over halfway on the Inland Route is the city of Durham, NC. This fun small city is full of activities and plenty of top-notch restaurants, breweries, and bars.
Durham is the perfect place to make a stopover because of its rich history, vibrant arts scene, amazing restaurant and lodging options. The city is also famous for its prestigious academic institutions like Duke University and North Carolina Central University, as well as being part of the Research Triangle Park, a hub for innovation and technology in the country.
When visiting Durham, there's plenty to check out. From museums, universities to epic sports facilities, you'll find plenty to do and experience.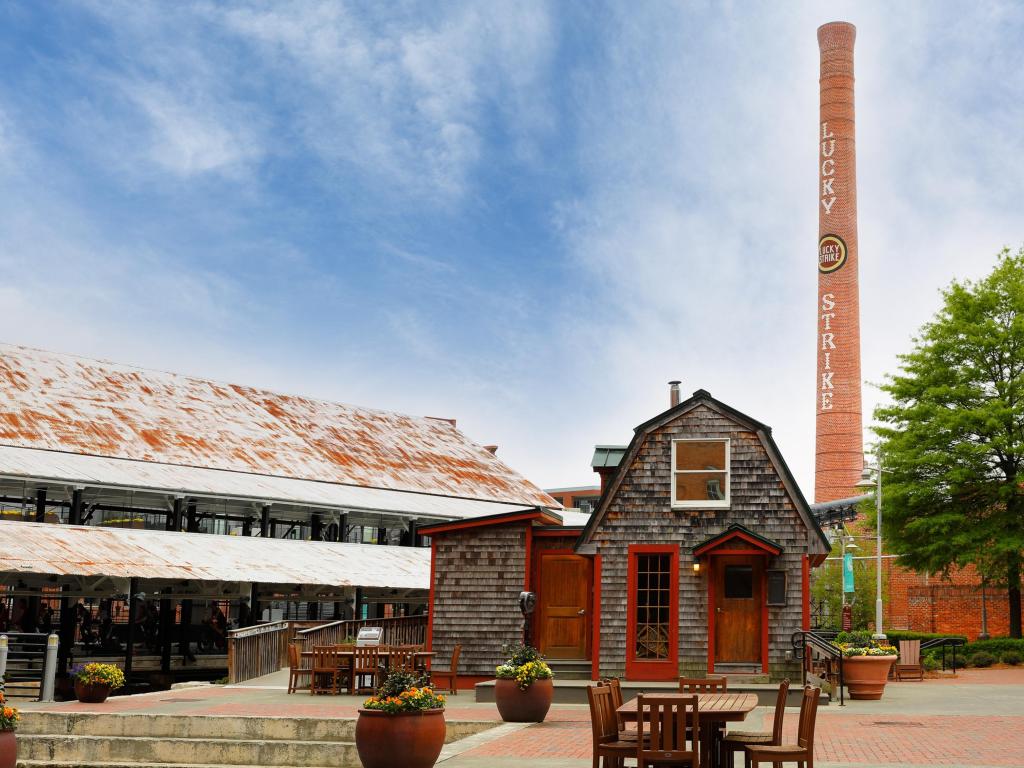 The number one visit for most people is Duke University. This is one of the country's most prestigious universities, known for research and academics, plus a famous football team.
For more athletic history, make your way to the Durham Bulls Athletic Park. This Minor League baseball stadium is home to the Durham Bulls.
Finally, visit the American Tobacco Historic District. Located in a historic former tobacco factory, this district has plenty of fine dining, shopping, and entertainment.
Once you arrive in Durham, we recommend resting up at the luxurious and highly rated Washington Duke Inn & Golf Club. You'll love these spacious and elegantly decorated rooms and suites set within a historic building.
Guests can enjoy the award-winning golf course designed by the famous golf architect Robert Trent Jones Sr.On top of golf, you can relax at the full-service spa that features a range of treatments perfect for after a long road trip.
Next, you can experience gourmet dining at the hotel's signature restaurant, The Fairview, featuring locally sourced produce prepared by top chefs. There are 3 restaurants located on-site so you'll have plenty to sample.
Another plus if you're looking to relax is the 24-hour fitness center with state-of-the-art equipment and personal training services. There's also an on-site tennis courts, outdoor pool, and walking trails for outdoor exploration and hiking.
Located on the Duke University campus, offering easy access to campus attractions and events. The hotel offers complimentary shuttle service to and from the Durham Performing Arts Center and other nearby attractions as well.
Where to stay when you reach Myrtle Beach
Once you reach your destination, we recommend staying at the luxurious and beautiful Marriott Myrtle Beach Resort & Spa at Grande Dunes. This hotel has everything, from an oceanfront location with private beach access to the on-site Hibiscus Spa.
After your long drive, take a dip in the ocean or the beachfront outdoor pool and a sauna on-site. Inside, the modern and spacious guest rooms have private balconies.
You can unwind at the hotel's fitness center or explore the several on-site dining options, including Ocean's on 82nd and Ocean Blu Lounge. You'll also have access to the Grande Dunes Golf Club, an 18-hole golf course perfect for any skill level.
The hotel is close to local attractions, such as Broadway at the Beach and the SkyWheel Myrtle Beach. This makes it easy to enjoy the island without having to travel far.
Things to see on a road trip from Washington DC to Myrtle Beach
The road trip from Washington, DC, to Myrtle Beach is full of lovely things to do and explore. Below are our top highlights to help you plan your perfect itinerary.
On The Coastal Route
Virginia Museum of Fine Arts, Richmond - Visit this famous art museum that features diverse art collections and special exhibitions.
Edgar Allan Poe Museum, Richmond - If you love this late writer, check out this museum celebrating the life and work of the famous American author.
Virginia State Capitol, Richmond - This iconic building was featured in Steven Spielberg's "Lincoln," and served as the White House of the Confederacy during the Civil War.
Go Ape Zipline & Adventure Park, Williamsburg - If you love adventure, come experience this treetop adventure course with ziplines, Tarzan swings, and rope ladders.
Colonial Williamsburg - Explore this historic area with preserved and reconstructed 18th-century buildings and sites.
Colonial Parkway, Williamsburg - Come drive along this 23-mile scenic drive connecting historic Jamestown, Williamsburg, and Yorktown.
Busch Gardens, Williamsburg - If you love rides, you'll love this European-themed amusement park with roller coasters, shows, and animal exhibits.
Wright Brothers National Memorial, Kill Devil Hills - Come see this monument commemorating the first successful powered flight.
Bodie Island Lighthouse, Nags Head - Featured in the Nicholas Sparks movie adaptation, "Nights in Rodanthe."
North Carolina Aquarium - Aquarium featuring local marine life, a shipwreck exhibit, and a sea turtle rehab center.
Poplar Grove Peanut Shop, Wilmington - A quirky shop offering a variety of peanut products, including unique flavors.
Airlie Road, Wilmington - A picturesque drive past historic Airlie Gardens, with views of the Intracoastal Waterway.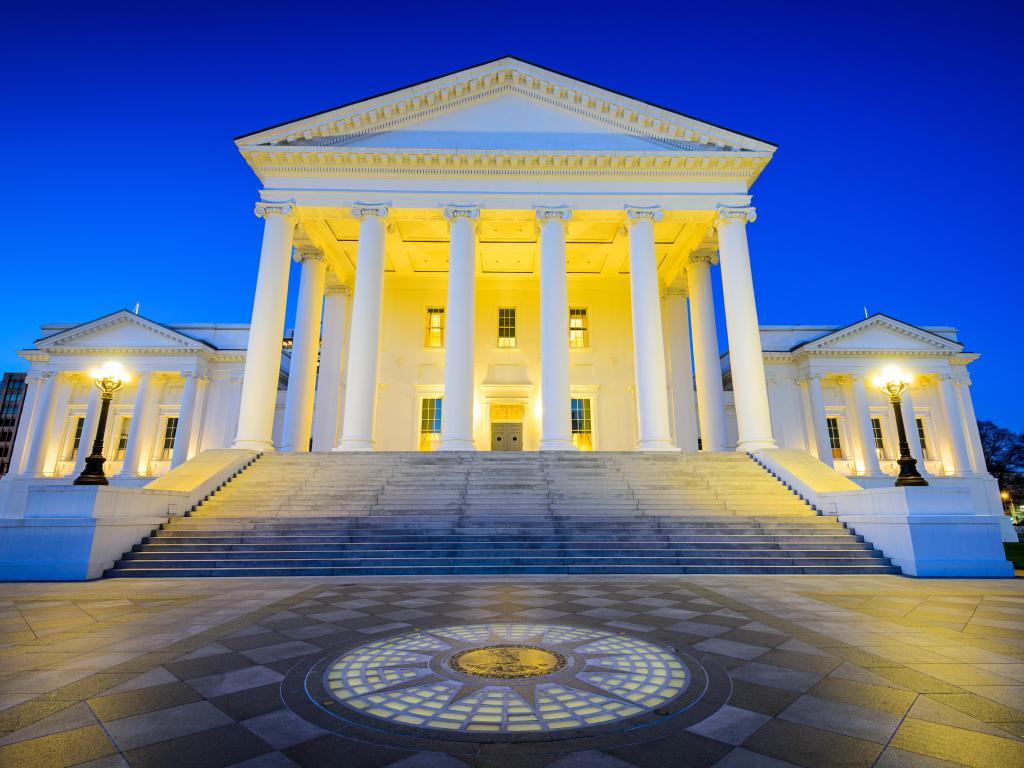 On The Inland Route
Great Falls Park - A beautiful park along the Potomac River with dramatic waterfalls, hiking trails, and stunning views.
Shenandoah National Park - Come enjoy this protected area in the Blue Ridge Mountains offering scenic vistas, waterfalls, and numerous hiking trails. You will need an Old Rag Day-Use Ticket if you are planning to visit the Old Rag Mountain. Please check the national park's website for details.
Skyline Drive - You'll love this scenic drive through Shenandoah National Park that offers stunning views of the Blue Ridge Mountains, one of America's most famous mountain ranges.
Michie Tavern, Charlottesville - A historic tavern dating back to 1784, offering tours and a restaurant serving traditional Southern fare.
Monticello, Charlottesville - The former home of Thomas Jefferson, featured in the movie "Lincoln" and the TV show "The West Wing".
Blue Ridge Parkway - A scenic drive along the Blue Ridge Mountains, offering numerous hiking trails, scenic overlooks, and picnic areas.
Duke Lemur Center, Durham - A research center and sanctuary for lemurs, offering guided tours and educational programs.
Duke Homestead State Historic Site, Durham - The former home and tobacco farm of Washington Duke, patriarch of the Duke family and founder of Duke University, now a museum featuring exhibits on the family and the tobacco industry.
North Carolina Museum of History, Raleigh - A museum dedicated to the history and culture of North Carolina, featuring exhibits on Native American settlements, colonial life, and the state's role in the Civil War and World War II.
Carolina Beach State Park, Carolina Beach - A state park with hiking trails, camping, and a unique carnivorous plant habitat.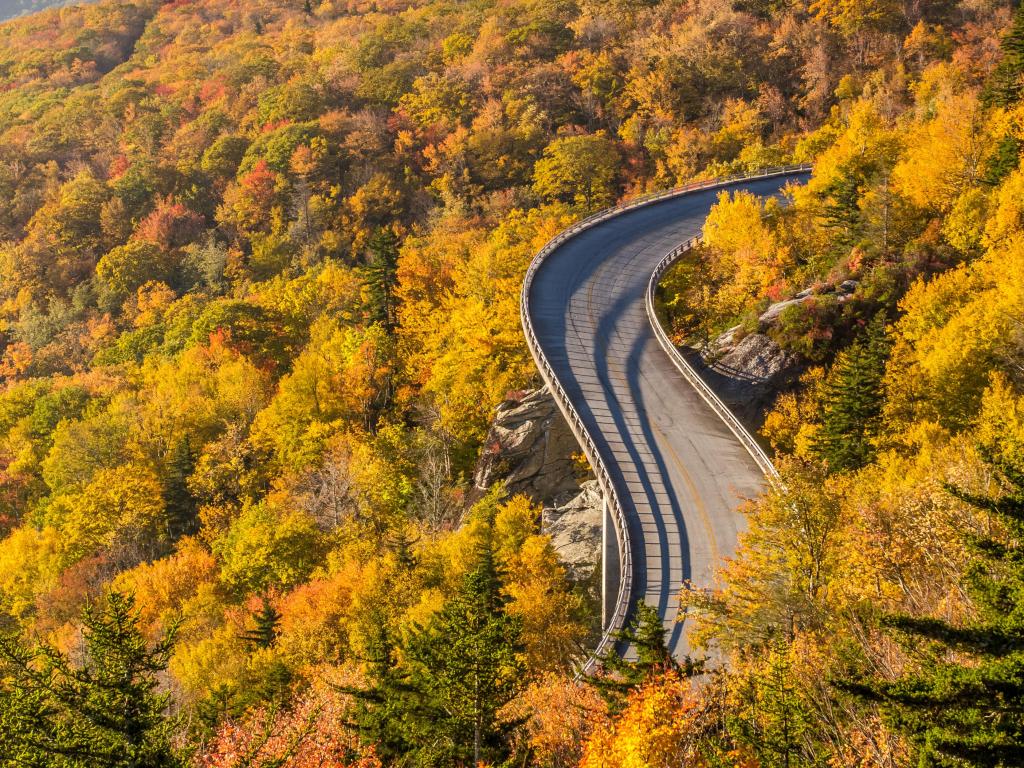 Best time to go on a road trip from Washington DC to Myrtle Beach
Myrtle Beach, South Carolina, is a popular year-round destination because of its mild climate, though the peak tourist season typically occurs during the warmer months. You can enjoy the beach, golf courses, and attractions throughout most of the year, but the busiest and most popular time is from late spring to early fall, when the weather is warmest and most suitable for swimming and enjoying the world-class golf courses.
Summer temperatures in Myrtle Beach range between 70-90 degrees Fahrenheit, which makes it a great beach destination. Summer is the high season here and this will mean bigger crowds and higher accommodation prices. That shouldn't come surprising as Myrtle Beach comes alive in summer with many outdoor activity opportunities.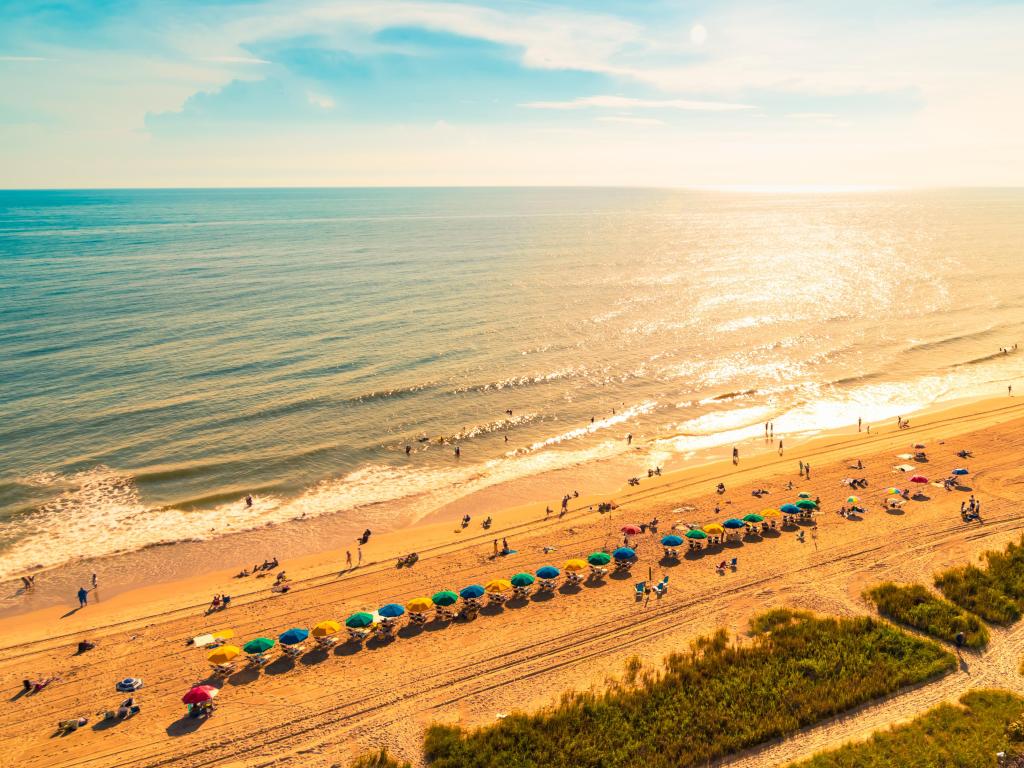 Summer also sees some of the most popular festivals. In June, you can experience the Carolina Country Music Fest, Myrtle Beach, an epic outdoor country music festival featuring big-name artists and up-and-coming performers, drawing huge crowds of country music fans every year.
Winter is the low season, with temperatures around 30-50 degrees Fahrenheit. There might be some snow or ice on the roads, especially in Virginia, so this might cause road closures. Check before you set off. If you are looking for lower accommodation prices though, winter is a great time to visit.
Spring sees gorgeous azaleas in Wilmington on the way. You will also get to admire the wildflowers in Shenandoah National Park. The temperatures will be around 50-70 degrees in both spring and fall.
Springtime sees popular festivals like the Myrtle Beach Food Truck Festival in April. This is a popular event featuring food trucks, live entertainment, children's activities, and fun for the whole family.
If you are traveling in the fall, you can admire beautiful fall foliage around Blue Ridge Mountains, Shenandoah National Park and the Blue Ridge Parkway if making a detour there. Also, don't miss out on the Outer Banks Seafood Festival in Nags Head, NC in October. This event is the ultimate celebration of local seafood, music, and crafts.