Road Trip from Washington DC to Philadelphia
The road trip from Washington DC to Philadelphia is exciting, whether you're up for beach vibes with beautiful nature reserves, or a historical journey through the rust belt while driving past pretty parks and great landmarks. Either way, you'll be spoilt for activities en route to Philly.
The 250-mile road trip from Washington DC to Philadelphia takes 5 hours to drive. Head via the coast to see Terrapin Nature Park, Chincoteague, Ocean City and Atlantic City, or stay inland for Gettysburg, Harrisburg, Hershey and Michaux State Forest.
There's so much to see on this trip, whether you're a history buff looking to learn more about Maryland and Pennsylvania's past, or love the great outdoors, nature and scenic coastal views. We've set out the best routes, places to stop overnight and the best time of year to enjoy it.
How far is Philadelphia from Washington DC, and how long will the road trip take?
Comparison of road trip routes between Washington DC and Philadelphia

| Route | Distance | Driving Time |
| --- | --- | --- |
| The Direct Route | 140 miles | 4 hours |
| The Hershey Route | 250 miles | 4 hours |
| The Coastal Route | 390 miles | 9 hours 30 minutes |
There are two really interesting and quite different route options you can take from Washington DC to Philadelphia. If you wanted to complete it quickly without many stops along the way, the most direct route will only take 140 miles and just under 4 hours.
A much better idea would be to travel south along the coast; spanning a distance of 390 miles, this will take 9 hours and 30 minutes to drive without stopping or to stay inland and go further north through Hersey. This route is quicker and covers just 250 miles, taking about 4 hours.
Although you could drive from DC to Philly in a single day if you're in a hurry, we would recommend taking a slower and more scenic approach. Stopping along the way and spending two to three days, will not only make the drive comfortable, but you'll get to enjoy more activities too.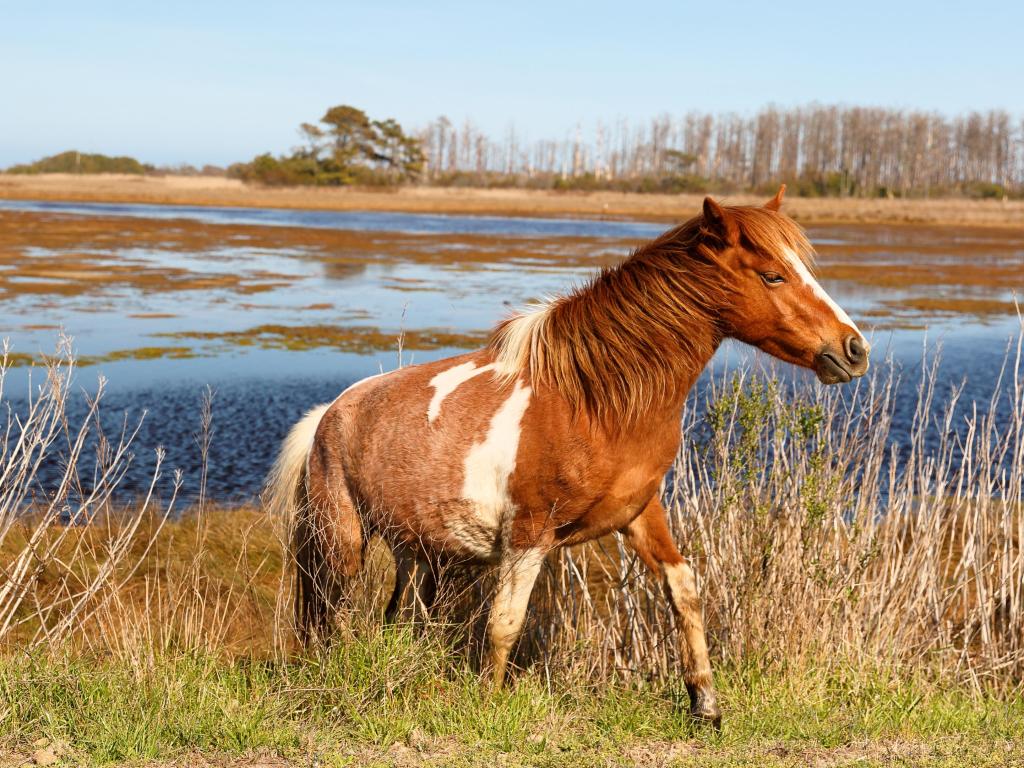 Best road trip route from Washington DC to Philadelphia
Our two recommended routes are quite different and offer a range of different sights as well as activities along the way. Therefore the 'best' route will most likely depend on your own preference for views and road trip vibes.
If you enjoy beach vibes, then you'll definitely want to consider our Coastal Route. Offering a scenic drive with beautiful views of the Atlantic Ocean, this option also takes you through some exciting and lively cities such as Atlantic City, plus quaint towns such as Cape May.
Although a fair bit longer than our Hershey Route, this option is a good choice if you love the great outdoors. Highlights include a stop at the relaxed beachside town of Rehoboth Beach plus a visit to Terrapin Nature Park where you can spot wildlife or enjoy a hike.
For a quicker trip with no fewer interesting attractions, our Hershey Route is another good option. A little shorter than the coastal route and offering a completely different vibe, instead of the ocean, this route brings you through a blue-collar, rust belt part of the country which is full of history.
A key area fought over in the US Civil War, you'll drive through central Pennsylvania and northern Maryland which offers a wide array of historical attractions and landmarks, like Gettysburg, as well as beautiful parks and nature, including Cunningham Falls State Park.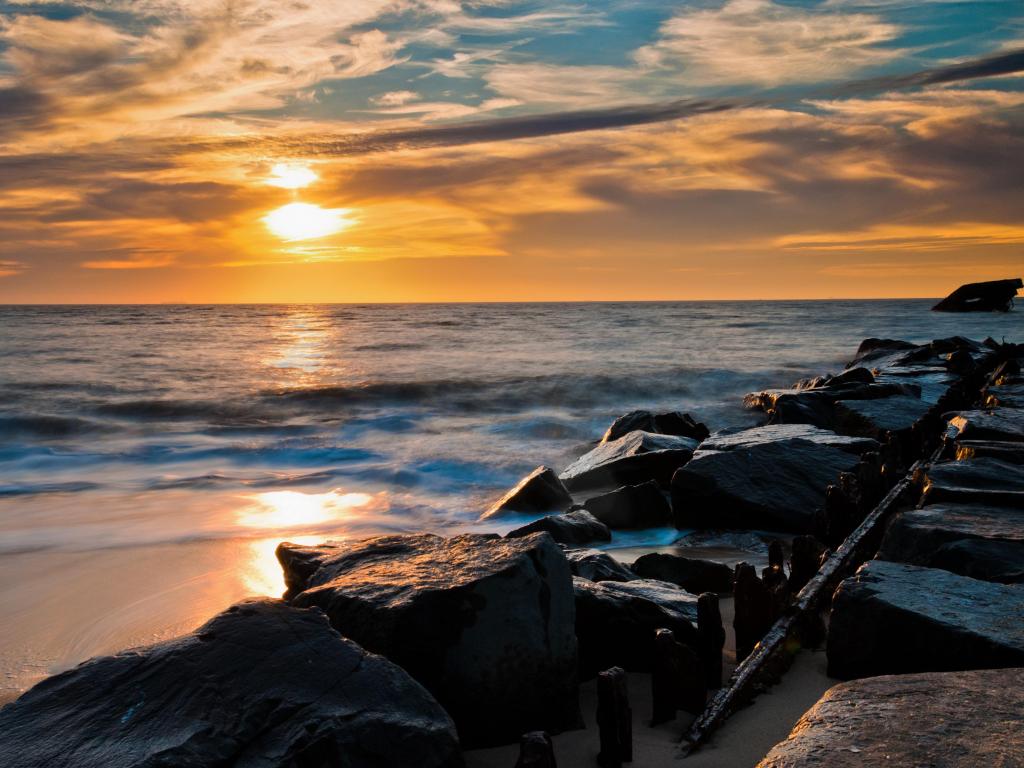 The Coastal Route
Leave Washington DC and head east towards the coast. If you had longer, you could include a quick visit to Baltimore, before crossing over to Queenstown and heading towards Blackwater National Wildlife Refuge.
Continue on US-50 before switching and heading south towards Chincoteague passing Pocomoke State Forest and visiting Assateague Island National Seashore where you could spot wild horses.
Follow the coast as you head north through Fenwick Island to Rehoboth Beach, close to Prime Hook National Wildlife Refuge. Cross Delaware Bay from Cape May (which you can do either via a bridge or ferry, depending on how much time you have).
After arriving at Cape May, follow the parkway to Ocean City, a great resort town for families as its packed full of beaches and amusement parks, before following the coast to Atlantic City where you can spend the afternoon in one of its many casinos.
Your final stretch will take you west near Bass River State Forest and Wharton State Forest towards Philadelphia, enjoying a final river crossing before you arrive.
The Hershey Route
Head west from Washington DC away from the coast and towards Gettysburg, passing several pretty towns plus South Mountain State Park where you can enjoy several great outdoor activities including hiking.
When you reach Gettysburg there are plenty of museums and monuments to visit. Back on the highway, head north alongside Michaux State Forest and through the quaint town of Boiling Springs before landing in Harrisburg.
Head east to Hershey, where you'll have amusement parks and chocolate factories to entertain, before joining the interstate and following signs for Philadelphia.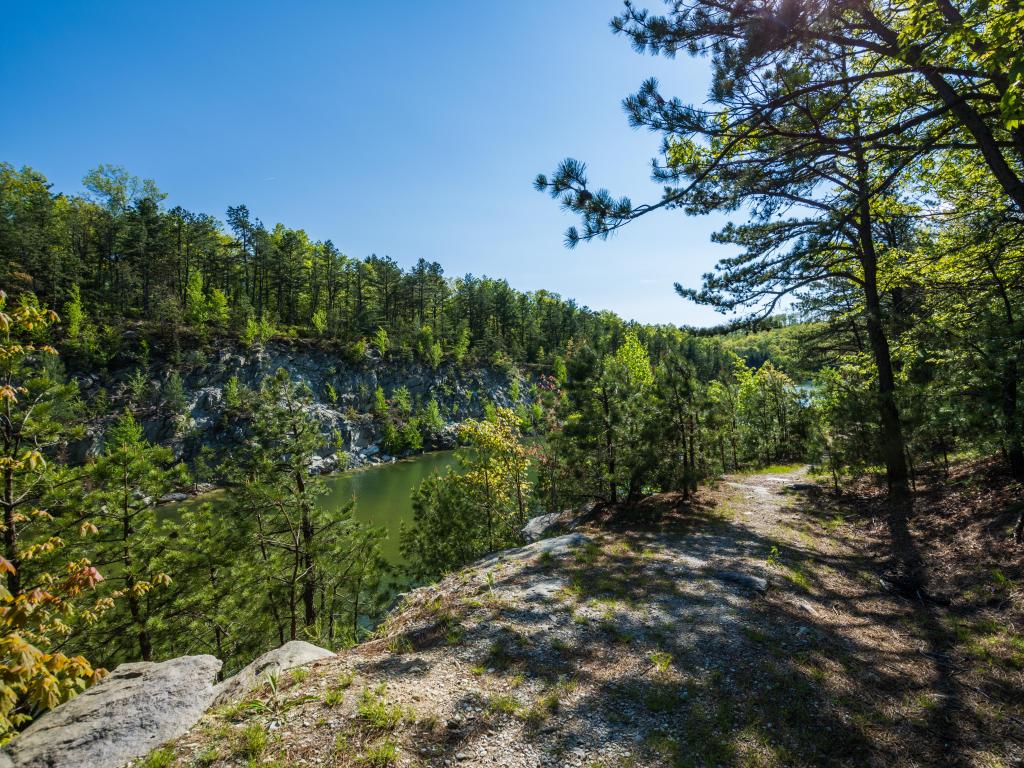 Best places to stop between Washington DC and Philadelphia
We'd recommend making at least one overnight stop on this great trip to Philly. There are some fascinating and lesser-known towns you could stop at, as well as bigger cities and resorts. Of all the great hotels you'll pass, here are a couple of our favorites to consider.
Beach vibes at Atlantic City
One of the biggest resorts you'll pass on our Coastal Route is Atlantic City. Although it is fairly close to the destination, at under 2 hours, the sheer volume and quality of dining, gaming, and lodging Atlantic city offers make it the ideal overnight stop.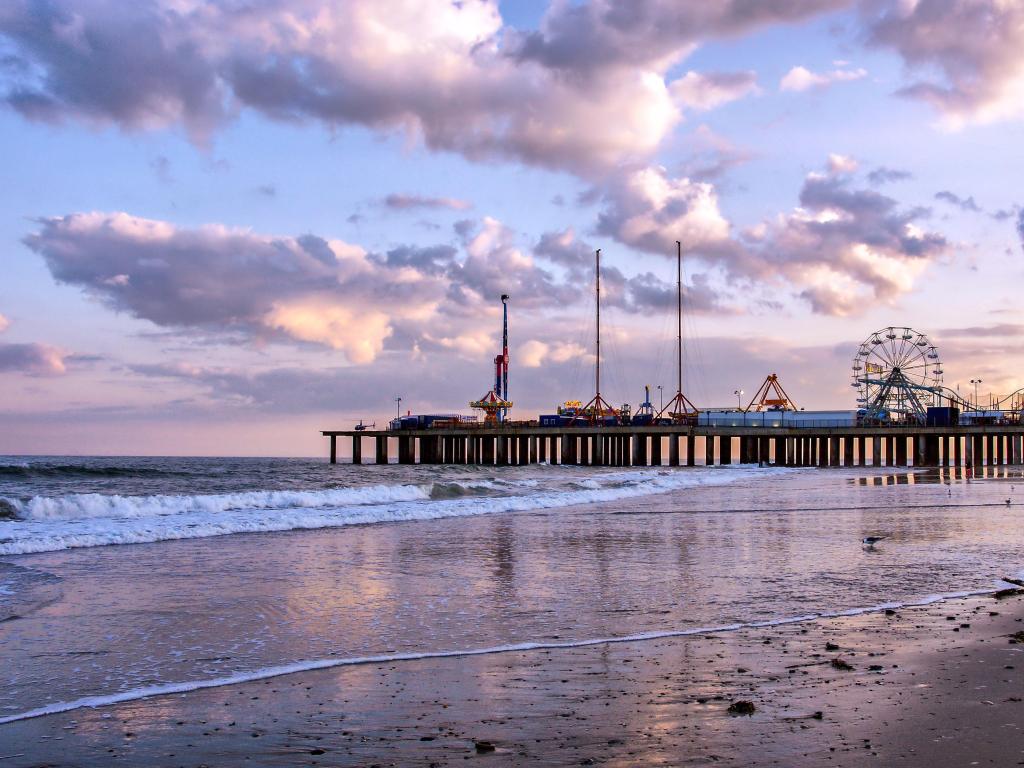 Atlantic City is known for its glitzy hotels, and wide beaches, located only 60 miles from Philadelphia, it makes a great place to rest before reaching your destination. Be sure to hit the Atlantic City Boardwalk, a beautiful spot ideal for walking and hiking or enjoy a visit to Steel Pier.
If you're looking to enjoy a spit of gambling while here, then a visit to Caesars Atlantic City Hotel & Casino is the perfect base. Enjoy gorgeous Neo-Classical architecture or just kick back your feet in a luxurious room, head down to the in-house restaurant for a bite, or unwind with a stiff drink!
Located directly on the Atlantic Ocean for stunning views and beach access, the hotel itself offers a stunning rooftop pool (adults only) and an onsite casino where you can enjoy playing games from the comfort of your own resort.
If relaxing is your thing, the hotel comes with spa services and private parking. You're also right in the heart of the action with the Boardwalk Hall Convention Center within walking distance, as well as Park Island Wildlife Management Area just a short drive away.
A sweet stay in Hershey
Located halfway on our alternative route to Philadelphia, Hershey is an ideal stop for several reasons. Not only is this historic city packed full of charm, but it's also famous for being home to The Hershey's Company and its Chocolate World.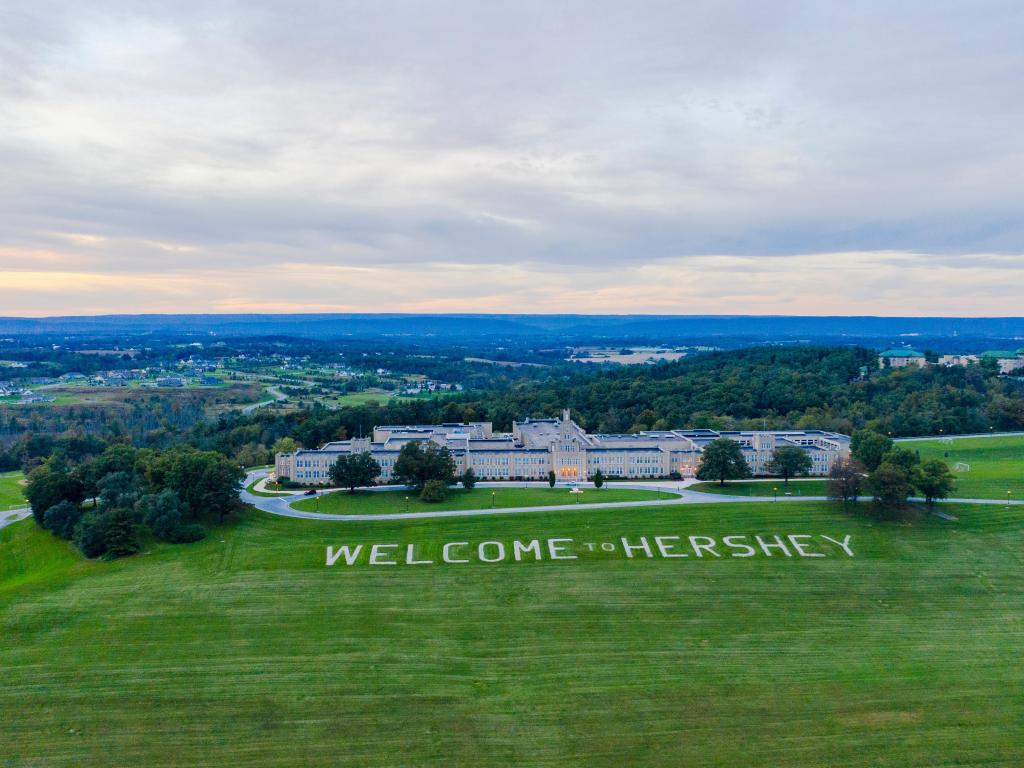 As well as having a sweet history, this town is a great place to stop if you're traveling with children as not have you got the chocolate draw, but there's also the famous amusement and water park to entertain big and little kids alike.
Spend an afternoon around Hershey Park or tour the Hersheys chocolate factory and taste a variety of their delicious products - be sure to pick up a souvenir at the store to enjoy on the rest of your drive! There's also a great museum to explore and ZooAmerica if you've overdosed on chocolate.
Located just minutes away from the famous Hershey Chocolate World attraction, Hampton Inn & Suites Hershey is a charming resort which features an indoor swimming pool, and modern and comfortable rooms. There's also a great outdoor courtyard area to enjoy.
With easy access to the main attraction of Hershey, beautiful rooms and lots of dining options nearby, The Hampton Inn is a great, family-friendly option which is within easy reach of the main attractions including the Hershey Factory Works, Theatre and zoo.
Luxury accommodation in Philadelphia
After an exciting drive to Philly, you're likely to be ready for a rest before you enjoy exploring this great city. One of the best accommodations around is The Rittenhouse Hotel, it's luxurious, modern and yet also classic, while offering incredible views of the Philadelphia skyline.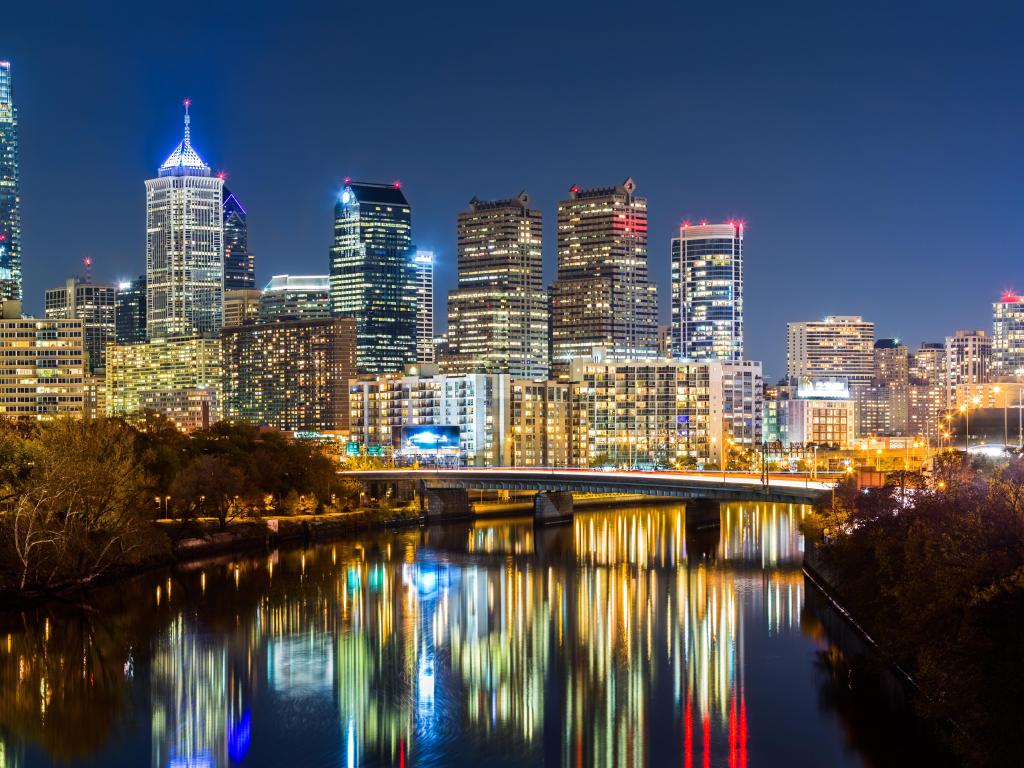 Combined with its excellent location, this 5-star hotel offers comfort, relaxation and more. Expect marble bathrooms, a spa and restaurants onsite, there's also a gorgeous indoor pool, beautiful gardens surrounding the hotel and a cozy living room where you can enjoy cocktails.
The Rittenhouse is also within walking distance to all the major museums in Philadelphia, plus the main shopping area and close to Rittenhouse Square. It's the ultimate spot to have a truly memorable stay in the city.
Things to see on a road trip from Washington DC to Philadelphia
Both route options offer an array of interesting and exciting points of interest between Washington DC and Philadelphia. To help you plan your stops, we've set out some of the highlights you'll pass along the way.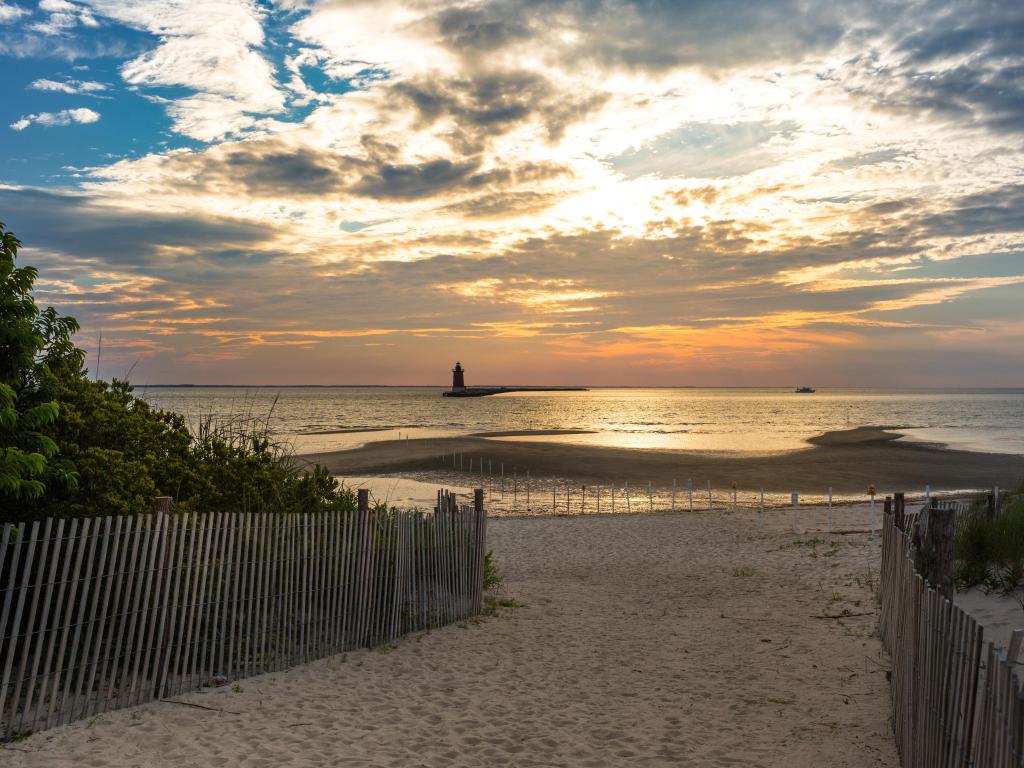 The Coastal Route
Terrapin Nature Park - This award-winning 300-acre wildlife park includes beaches, walking trails and stunning wildlife viewing opportunities. You can even swim in the park or simply enjoy a scenic waterside sunset.
Blackwater National Wildlife Refuge - An ideal spot if you love outdoor pursuits, here you can explore hiking or biking trails, spot some local wildlife or just enjoy the views of the countryside around Maryland.
Salisbury Zoological Park - This great zoo in Salisbury Maryland focuses on education and research. It's a place to visit with the family as entrance is free and there are plenty of animals to see to keep all ages occupied.
Chincoteague National Wildlife Refuge - 14,000-acre wildlife preserve located on a barrier island on the Atlantic Ocean. Native marshes and beaches offer stunning beauty and hiking opportunities.
Captain Timothy Hill House - Historic Museum located within the house of settler Timothy Hill. Built around the year 1800. Get a glimpse of early seaside life.
Cape Henlopen State Park - This large state park is found in Delaware and features a lighthouse, beautiful beaches and beautiful coastal views. Whether you're looking to swim or relax on a sandy beach, this state park is a great place to visit.
Ocean City - Just before you reach Atlantic City, Ocean City is worth a stop. Offering stunning beaches, restaurants, shops and casinos, it also features a boardwalk. It's known as being a great family resort thanks to its array of amusement parks.
Atlantic City - Located on the Jersey Shore, this resort city is just 60 miles from Philadelphia. A destination, however, in its own right, Atlantic City is famous for its casinos, great hotels and stunning beaches.
Atlantic City Boardwalk - Cruise the beach while enjoying shopping, cuisine, and libations along the boardwalk. This historic boardwalk was first opened in 1870 and was once a major draw for tourists.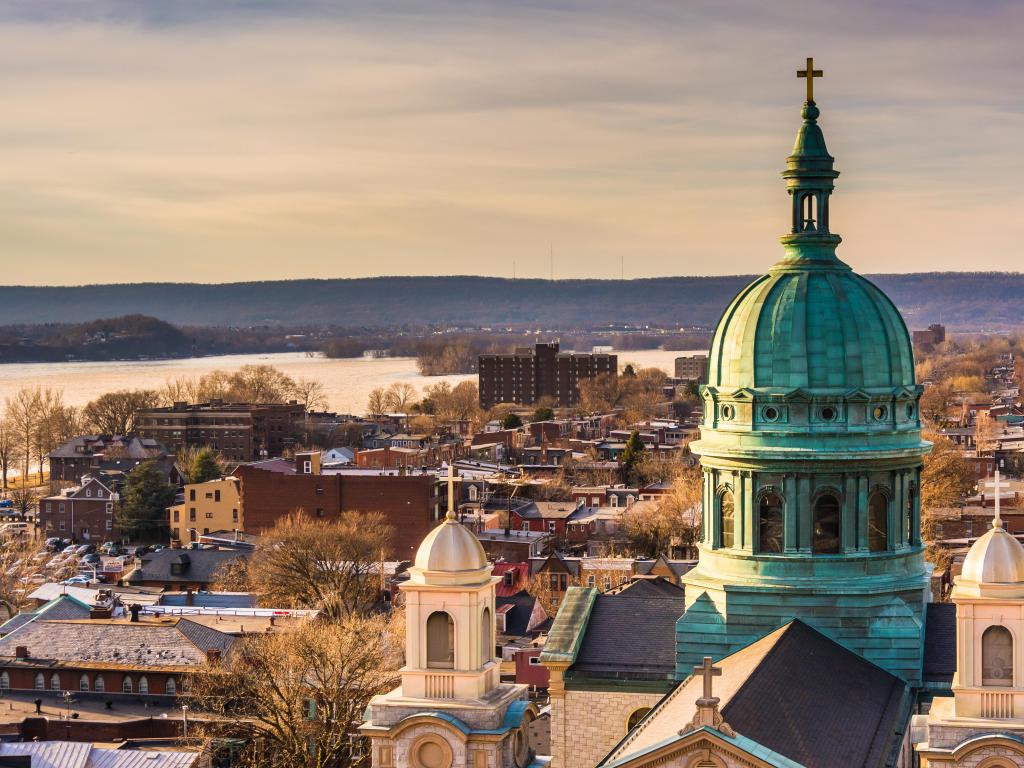 The Hershey Route
Gettysburg National Military Park - Museum and monuments located at the site of the Battle of Gettysburg, probably the most well-known battle of the US Civil War.
Michaux State Forest - Escape the roadside with a stroll through this state forest which encompasses more than 85,500 acres. There are great trails to enjoy here, including the Appalachian Trail of which 39 miles are in Michaux State Forest.
State Museum of Pennsylvania - This large museum is in Harrisburg and focuses on the history of the State of Pennsylvania. There are nearly 5 million artifacts to enjoy here.
National Civil War Museum - Aptly named, a museum with a large number of exhibits and artifacts from the US civil war, a large part of which was fought within the state of Pennsylvania.
Boiling Springs - This picturesque town is just off the Appalachian Trail and features a bubbling lake (though not a hot spring), beautiful hiking trails, and some of the best fly-fishing around.
City Island Harrisburg - City Island is a mile-long scenic park in the middle of the Susquehanna River. The island is a great place to visit and is especially popular with tourists, thanks to its stadium, beach club and several cafes, parks and playgrounds.
Harrisburg - The capital of Pennsylvania is a great place to stop. Explore it's many museums, enjoy a walk around its riverside or admire the dome that dominates its skyline.
Hershey - Made famous thanks to chocolate, Hershey is an ideal stop if you're with family, love chocolate or amusement parks. There's also fascinating history to explore in this town.
ZooAmerica - You'll find ZooAmerica in Hershey. This zoo focuses on conservation and ecological research on native North American species in particular and is a great attraction for any age.
Valley Forge National Historical Park - Site of the infamous winter camp of George Washington's army during the American Revolution. Explore the 3,500 acres of meadows, monuments and woodlands here.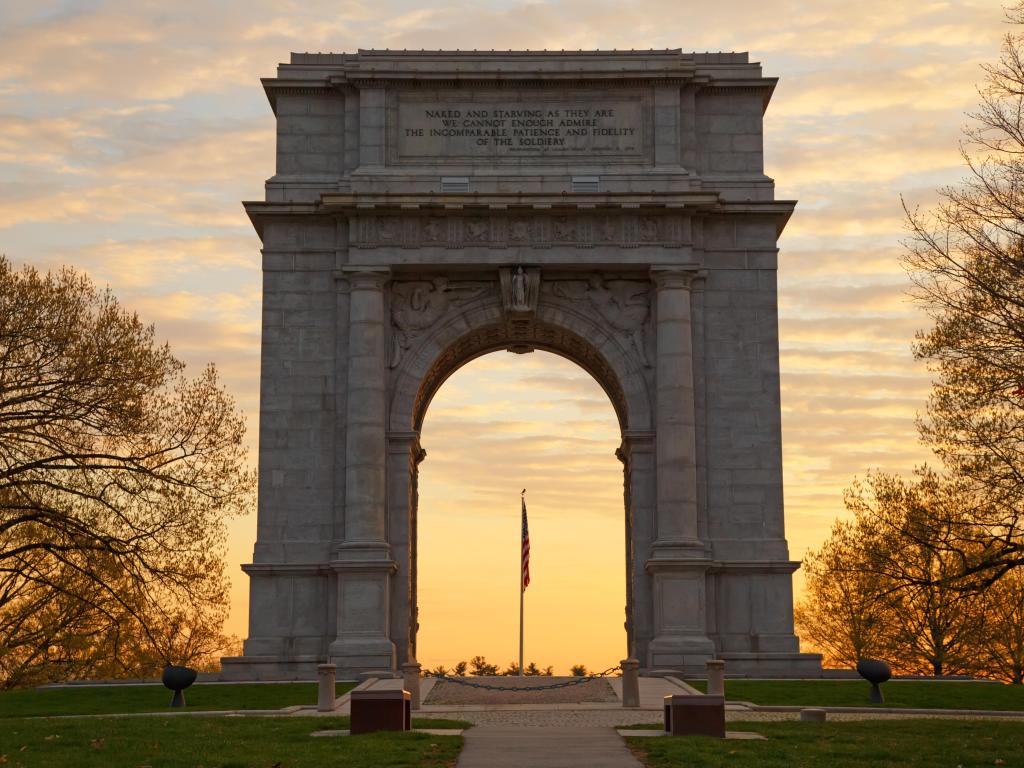 Best time to go on a road trip from Washington DC to Philadelphia
The best time to visit Philadelphia typically is between March and May as winters here are considered too cold for most road trippers, plus there's also the risk of heavy snowfall which can make driving difficult at times.
Philadelphia is hot, humid and often wet in summer; expect temperatures to average around 87 degrees Fahrenheit. Despite this, you'll still find the city is busy with tourists in the summer.
In contrast, winter in Philadelphia experiences highs of 46 and lows of 34 degrees Fahrenheit. Due to the cold weather, most of the seaside and outdoor attractions will close during this season.
Spring and fall are the best times to visit the city. Spring in Philadelphia is best between March and May when you'll avoid the cold of winter and the crowds of the summer months. Enjoy spring blossoms, warm weather and temperatures of between 58 and 69 degrees.
Similarly, fall is a good option, you'll start to feel temperatures cooling but will get to enjoy the beautiful fall foliage and fewer crowds, meaning you're more likely to get a great hotel rate.
For a fun end to your trip, you could time your visit with one of Philadelphia's great events or festivals. Highlights include the St. Patrick's Day Parade and the Wawa Welcome America, a week-long Independence Day celebration the week of July 4th.