Highway 61 Minnesota Road Trip: a Scenic Drive along the North Shore
If you're looking for a stunning escape from the city, then the North Shore Drive along Minnesota Highway 61 is just the ticket. Located in the north of Minnesota, it's famous for its miles of amazing views out across Lake Superior, and it's also said to be the best place in the US to spot the unforgettable Northern Lights.
The 150-mile scenic North Shore Drive takes 2 hours 45 minutes to drive. Along the way you'll pass Two Harbors, Castle Danger, Beaver Bay, Silver Bay, Lutsen and Grand Marais plus Splitrock Lighthouse, Cascade River and Tettegouche State Parks.
Along the way the road passes through fabulous state parks, rugged scenery and lake beaches – the forested shoreline is known for its stunning waterfalls, and historic sites. Read on to find out the best places to stop and things to see on this route, as well as the best time to visit.
Where is Highway 61?
The whole length of this drive along Highway 61 is in Minnesota, in the northern part of the Midwest.
Apart from Duluth, a small city with big water going heritage that sits right on the shore of Lake Superior, the North Shore Drive travels mainly through small waterfront/fishing towns and villages. These include Two Harbors, Castle Danger, Beaver Bay and Silver Bay, Lutsen and Grand Marais.
Where does Highway 61 begin and end?
The North Shore Drive along Highway 61 starts in Duluth, near Minnesota's state border with Wisconsin and finishes up at Grand Portage State Park, right on the Canadian border.
The scenic road follows the shore of Lake Superior on its east all the way from Duluth to Grand Portage, so expect fabulous lake views. You'll pass a number of state parks, historic lighthouses and mountains.
You can also start this drive from Minneapolis, and head up the interstate to connect with Highway 61 in Duluth.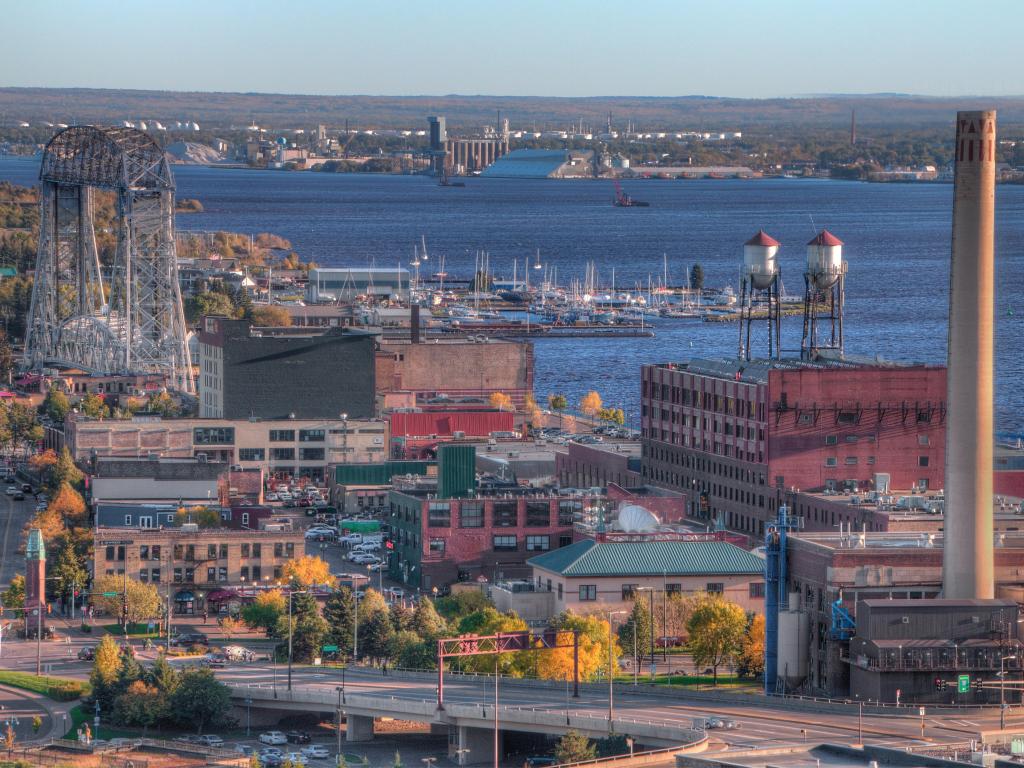 How long is Highway 61, and how long will it take to drive its entire length?
Comparison of Highway 61 Minnesota routes

| Route | Distance | Driving Time |
| --- | --- | --- |
| North Shore Route | 150 miles | 2 hours 45 minutes |
| Minneapolis Route | 300 miles | 5 hours 20 minutes |
If you drive just the scenic North Shore route along Highway 61, you can make the 150-mile trip from Duluth to Grand Portage in around 2 hours 45 minutes.
If you're starting your trip in Minneapolis the distance doubles to 300 miles, and you should allow 5 hours and 20 minutes for your drive.
Whichever route you take, you could get all the way to Grand Portage State Park in a single day, but that doesn't allow much time to sit back and enjoy the amazing lake views, or explore some of the beautiful trails that you can hike here.
For this reason, we'd recommend taking 2 to 3 days to make this road trip, building in overnight stops in some of the lovely lakeside towns you'll pass on your road trip.
Best way to drive Highway 61
Although it's only a relatively short scenic route, you have a couple of options if you're planning on following Highway 61 through this beautiful part of Minnesota.
Driving the entire length of Highway 61
In times past, the whole of the route you'll follow on this road trip was part of US Route 61, the legendary Blues Highway that still runs all the way from New Orleans to Minnesota.
Changes to the road system mean that these days, you start off on the Interstate out of Minneapolis, and join the renamed Minnesota Route 61 at Duluth.
Even with this change in mind, driving the entire length of the road trip from Minneapolis to Grand Portage State Park is a pretty simple drive. You won't need to undertake any special preparations, except making sure that your vehicle is equipped for the weather if you're travelling in winter.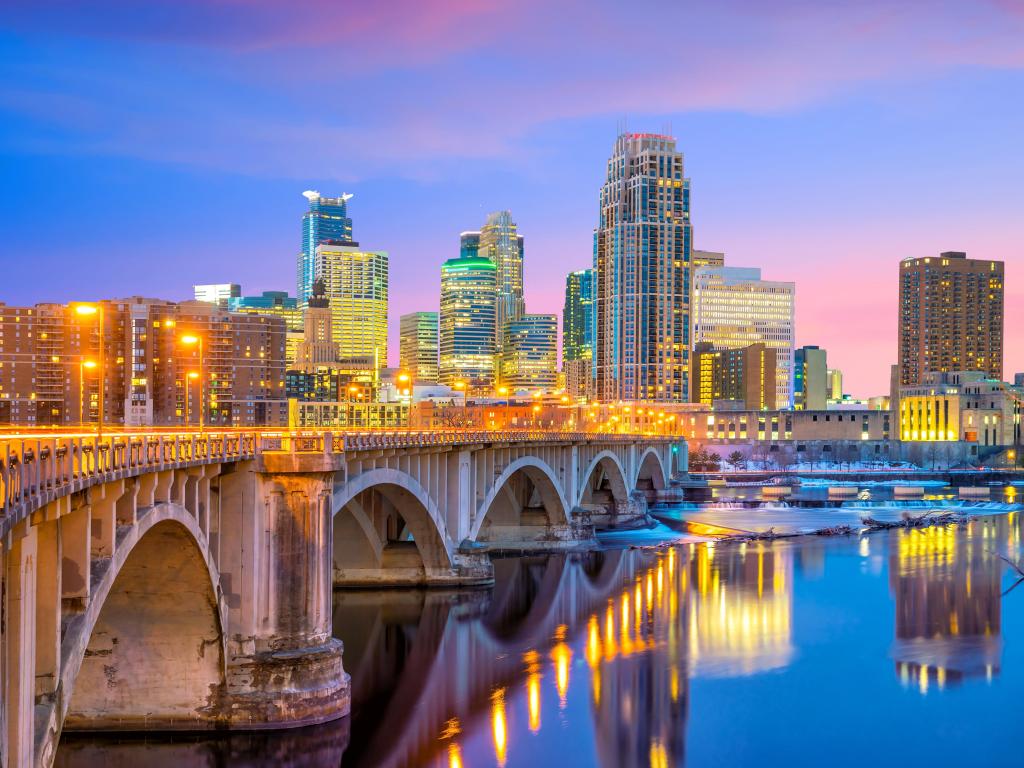 Driving Highway 61 from Duluth to Grand Portage State Park
The North Shore Drive follows the Minnesota shoreline of Lake Superior right the way from its southwest tip at Duluth, up to the Canadian border at Grand Portage.
It's a really simple route to navigate - just join the highway in Duluth and follow it northeast. Most of the towns you'll visit along the way are right on the route, so you'll be able to pull up wherever takes your fancy.
This stretch of the route takes you past French River, Two Harbors, Castle Danger (known for its brewery), Beaver Bay, Silver Bay and Tettegouche State Park. Take a short detour inland to visit Finland State Forest before continuing on through Little Marais, Schroeder, Grand Marais and Red Rock.
It's the perfect drive for lovers of the great outdoors, with some charming small towns to stop at along the way, but with the highway hugging the lakeshore for so much of the route, you'll be able to enjoy a big part of this drive without even leaving your vehicle.
Driving from Minneapolis to Duluth
For practical purposes, this is the route that many travellers take when setting out on North Shore Drive. It's an easy interstate drive north towards Duluth, but there are plenty of things to see and do if you hop off the interstate from time to time.
Leaving Minneapolis, simply pick up Interstate 35 and follow it north through Lino Lakes, Wyoming and Hinckley. As you travel further on through the state you can stop and spend some time at Banning State Park, Moose Lake and Jay Cooke State Park, which is just a short detour off the route.
The interstate then takes you right across Duluth, leaving you with plenty of options to get to your final destination in the city.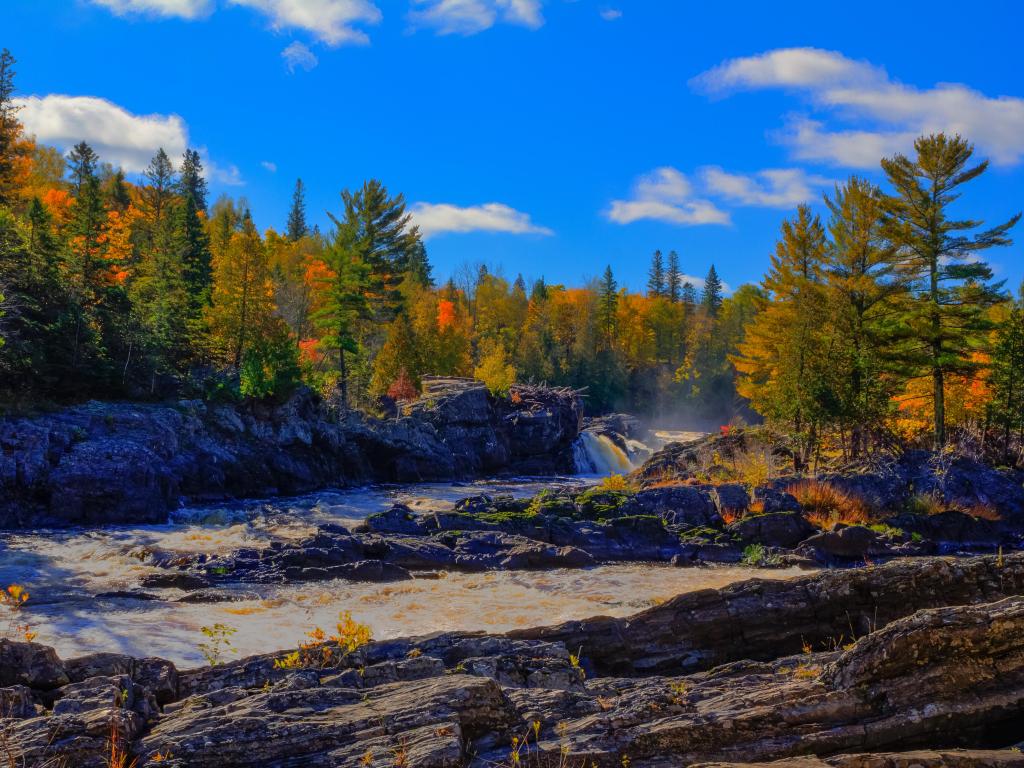 Best places to stay along Highway 61
On a trip this scenic, you will need to stop and take breaks to admire all the beautiful landscape and the lake views. If you have a long weekend to enjoy this trip, here are a couple of our stopover recommendations to stay overnight along the way.
Enjoy the city sights of Duluth
Whichever route option you choose, you'll be passing through Duluth to travel on Highway 61. You will be surprised by the number of amazing things to see and do in the city before you head on around North Shore Drive.
You can take a sailboat trip on Lake Superior for your first calm view of the lake shore from out on the water. When you're back on land get a close-up view of the Aerial Lift Bridge, which is a century-old feat of engineering that lets huge ships through Lake Superior.
Nearby, visit Glensheen Mansion to get a sense of the history of this part of Minnesota. Built by a wealthy Minnesota family back in 1905, you can take a tour of the beautifully preserved house and peaceful lakeside grounds.
Located right by the water's edge, Park Point Marina Inn, Duluth is a great hotel choice. Many of the rooms here have balconies where you can sit out and enjoy the lake and marina view - perfect to get you in the mood for your road trip.
The hotel has an indoor pool and jacuzzi, plus sauna, and with extremely spacious and comfortable and free private parking, it makes for a relaxing overnight stop. There's also a free shuttle service for guests.
The hotel is located directly down Canal Park Drive. Once you've checked in, you'll be within walking distance of the Lift Bridge, Lake Superior Maritime Visitor Center, and the bars, craft breweries and restaurants of Canal Park.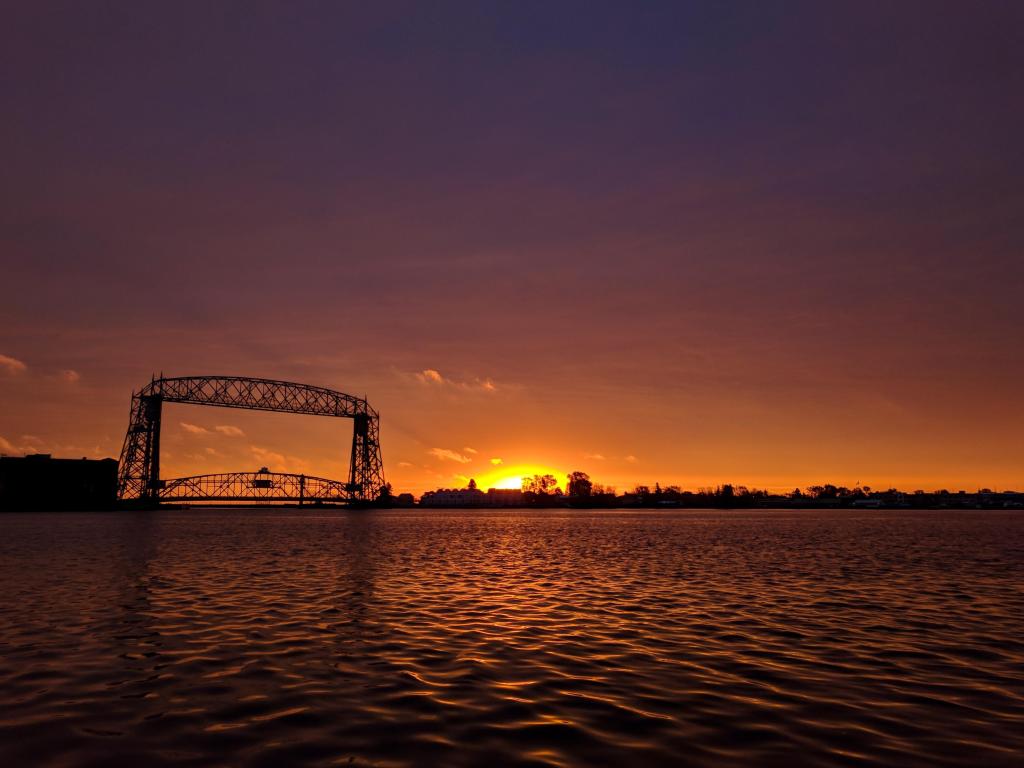 Relax by the waterside in Grand Marais
Around 40 minutes before you reach the end of this road trip you'll pass through Grand Marais, a charming and creative fishing village, nestled right on the lake shore, which is known for its galleries and views.
You'll drive through the town whether you started your trip in Minneapolis or Duluth, and it's an ideal place to stay and explore the final stretch of lakeshore before the Canadian border.
A popular place to enjoy the often-painted lake view here is out at Artists' Point or explore the trails and peaceful forest at Chik-Wauk Museum and Nature Center.
You can also walk out to Grand Marais Lighthouse, which has protected the harbour here for nearly 150 years. Back in town, discover art from across the region at Sivertson Gallery, or stay a little longer and learn a new craft at North House Folk School.
With such an amazing view on offer, we'd recommend a stay that lets you enjoy it to the full, and with its fabulous waterfront location, East Bay Suites, Grand Marais is just the ticket. The hotel's balconies and terraces look right out across Lake Superior.
The quaint center of Grand Marais is only a short walk away – you'll find a good selection of restaurants here, or you can self-cater as the suites (equipped with fireplaces for cozy evenings) come with well-equipped kitchenettes.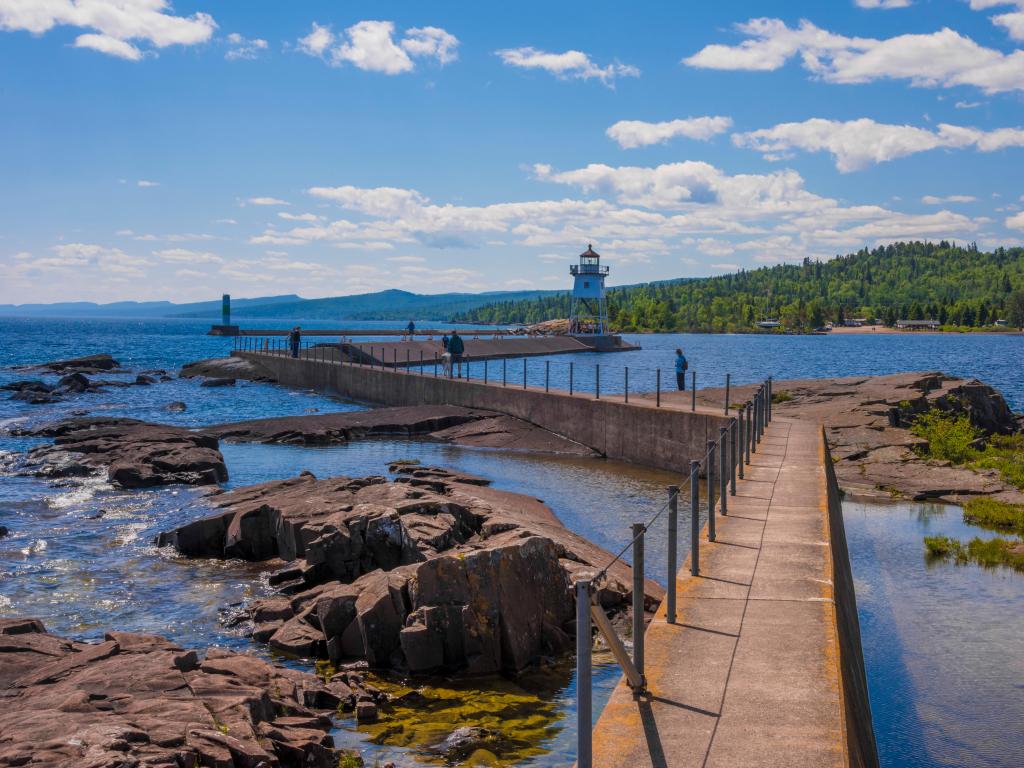 Things to see on a road trip along Highway 61
The road trip along Highway 61 is a nature-lover's dream, with state parks and lake views taking you almost all the way!
Keep reading to find out what else is in store, and to find out our highlights of the trails and outlooks along the way.
From Duluth to Grand Portage State Park
Two Harbors - This is the largest town you'll pass through on the scenic drive, so stock up on any supplies you want to take with you at the town's independent stores, whether that's new hiking boots, some cycling kit, a great book to relax with in the evenings, or just a delicious breakfast before you carry on your journey.
Gooseberry Falls State Park - Gooseberry Falls are just off the highway via a short and accessible path – as well as being beautiful there are also spots where you can climb or dip your toes into calmer ponds.
Split Rock Lighthouse State Park - Looking out over the lake from the top of a rugged cliff face, be sure to get the iconic picture of Split Rock Lighthouse. You can follow trails around the state park too.
Silver Bay - The iron industry inadvertently created the beach here when iron ore was deposited into the lake – now you can swim here, and there are BBQ pits if you want to make a day out of your visit. You can also make your way up to nearby Palisade Head, a rugged cliff with more amazing lake views.
Tettegouche State Park - High Falls Trail will take you on a popular but challenging 3 mile route to the highest waterfall in the state.
Temperance River State Park - As well as hikes which take you up to amazing views of the park's forest, gorge and lagoon, you can also go climbing in this state park.
Cascade River State Park - The river travels through this state park along a fern-lined gorge, where you can hike. In winter enjoy cross-country skiing here. It's a haven for wildlife, though you'll have to be lucky to spot some of the wolves, bears or moose that call the park their home.
Lutsen - Not far from the lake shore you can ski down Lutsen Mountain in the (many) colder months, or ride a gondola up to take in the view when the snow's gone.
Grand Marais - The one thing all visitors to Grand Marais seem to mention is World's Best Donuts – a Minnesota legend.
Grand Portage - Don't get confused if you see signs to another High Falls, also claiming to be the highest in Minnesota. Technically, part of this cascade on the Pigeon River sits inside Canada, so it's not Minnesota's highest (although it's higher than the highest High Falls that is inside the state)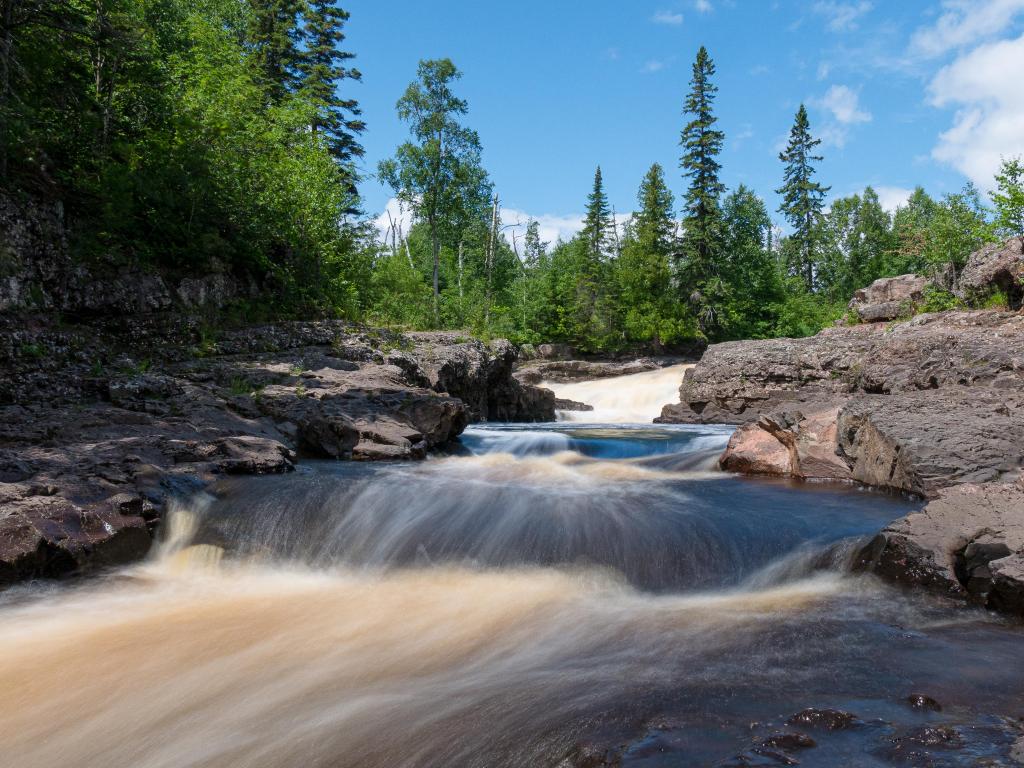 From Minneapolis to Duluth
North Ridge Winery - Take a tasting tour to get a feel for Minnesota's cool climate wine. You can also try ice wine here – a sweet wine produced from grapes left to freeze on the vine before being harvested.
Snake River Fur Post - Learn about the lives of people who lived in Minnesota 200 years ago, when fur traders and native Americans made up most of the population here.
Hinkley Fire Museum - This former logging town was destroyed in a huge fire back in 1894. This interesting little museum acts as a monument to the lives lost, and tells the story of the communities here both before and after the fire.
Moose Lake State Park - Canoe or fish on the lake, where you can also swim when the water's warm enough. Or enjoy the wildflowers bursting into life through the spring.
Carlton - Just outside town you can join a white water rafting adventure along the Saint Louis River
Jay Cooke State Park - This rugged state park is centered on the Saint Louis River, which cuts through rugged scenery and an impressive 13-mile-long gorge here. If you don't have time to stop and explore, switch from the interstate for a detour along MN-210, a state scenic byway that travels through the state park.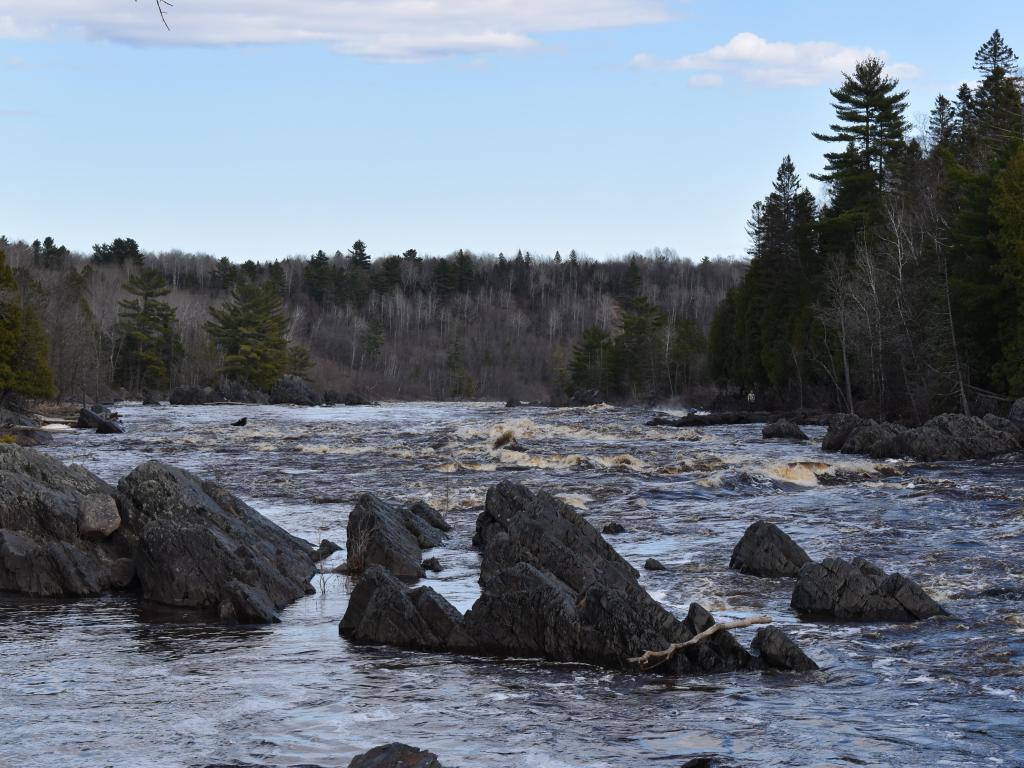 Best time to visit the North Shore and Highway 61
Minnesota is famous for its chilly winters and this route sees huge seasonal variation. It's possible to make the drive almost all the way through the year, but your experience will vary depending on the weather.
Temperatures stick below freezing for most of winter and can drop to 7 degrees Fahrenheit. But the good news is that roads are mostly kept clear, so you should be able to travel the route (just check for local weather advisories).
Just keep in mind that some of the attractions and smaller shops might be closed through the winter months.
In summer, it rarely gets excessively hot, with temperatures that can reach 80 degrees Fahrenheit, so your driving experience will be comfortable, as well as being able to enjoy the outdoor attractions without worrying about high temperatures.
Despite the relatively cool climate, visitors flock here during the summer months. Some of the hiking trails are really popular, and parking facilities can get crowded. The Bayfront Blues Festival in Duluth, which takes place in August, is a big draw for music lovers too.
Temperatures rise quickly as spring progresses, from an average of 40 degrees F in March, up to the high 60s three months later. The spectacular Northern Lights - also called the Aurora Borealis - are most often seen in spring and fall, making this a really special time to visit.
You'll also see wildflowers bursting into life if you visit after the snow has melted in spring, and in fall you can expect a spectacular foliage display along the forested lake shore.