Road Trip from Toronto to New Jersey
By
Pat Dorri
| Published on 12 September 2023
It's time to set off on a road trip of a lifetime from Canada to the glittering Atlantic Coast of the United States through the mountains and lakes of the Northeast. You'll see iconic cities, fun towns, beautiful nature and countryside, and more on your drive from Toronto to New Jersey.
The 655-mile road trip from Toronto to New Jersey will take 11 hours and 40 minutes to drive. The highlights en route are Niagara Falls, Buffalo, Rochester, Syracuse, Albany, Hudson, Woodstock, Catskill, Ithaca, Hershey, Lancaster and Philadelphia.
Head out on this memorable journey through history and nature. Read on below to learn more about these fantastic routes, top highlights, places to stop, and the best seasons to make the drive.
How far is New Jersey from Toronto, and how long will the road trip take?
Comparison of road trip routes between Toronto and New Jersey

| Route | Distance | Driving Time |
| --- | --- | --- |
| The Catskill Mountains Route | 655 miles | 11 hours 40 minutes |
| The Finger Lakes Route | 680 miles | 11 hours 50 minutes |
The Catskill Mountains Route from Toronto to New Jersey takes nearly 11 hours and 40 minutes to complete and spans 655 miles without additional detours.
Taking the alternative Finger Lakes Route will cover 680 miles and take around 11 hours and 50 minutes of driving time.
While you could complete this journey in a day or two, there is so much to see and explore along the way that we suggest taking at least 3-4 days for your adventure through the jaw-dropping scenery of the beautiful Northeast.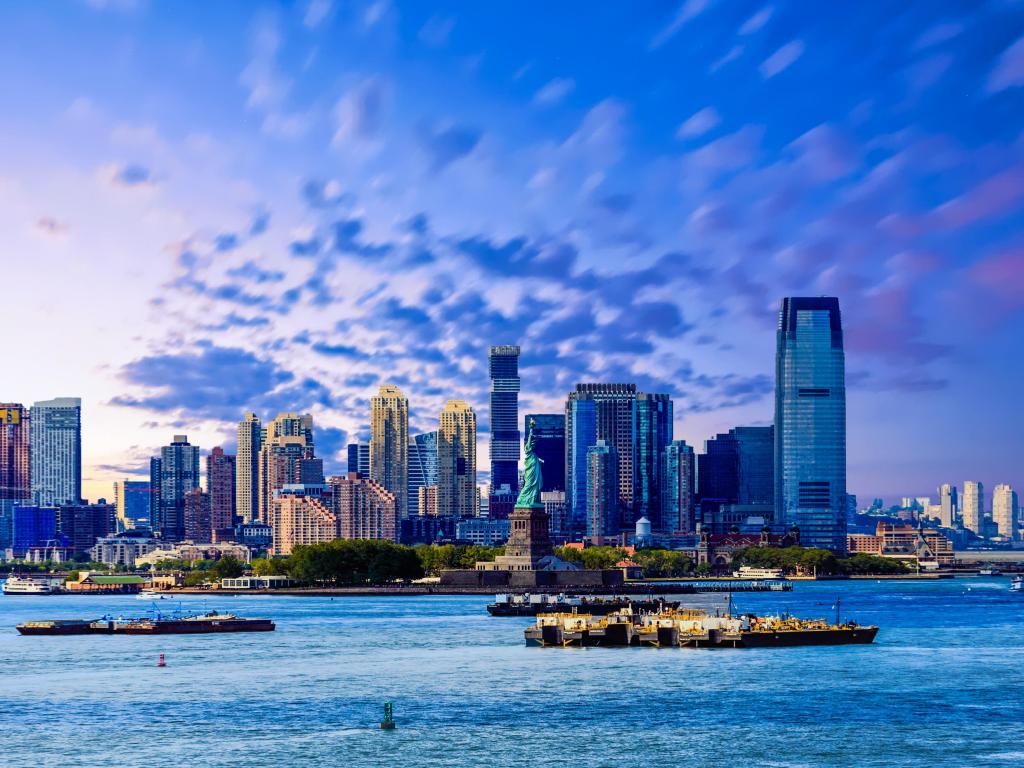 Best road trip route from Toronto to New Jersey
While both routes will be rich in natural attractions and experiences, they are quite different than one another so the final decision of which route is the best for you will come down to what you'd like to see on this beautiful adventure.
The Catskill Mountains Route skirts around Lake Ontario, taking you from Toronto to the mesmerizing Niagara Falls and on to Rochester, a city with rich history and wonderful museums.
As you travel from Albany to Peekskill in the picturesque Hudson River Valley, you'll see fascinating historic sites and artsy communities, including Hudson and the iconic Woodstock.
If you love adventure, you'll enjoy exploring the Catskill Mountains, which offer not only breathtaking scenery of rolling hills, mountains, creeks, and ponds but also activities such as hiking and skiing.
If you love nature, this route is for you. However, it misses out on some of the vibrant city atmospheres that the alternative route offers.
If you want a more diverse experience with both city life and nature, the Finger Lakes Route might be your best choice. You'll see the scenic woodlands of Pennsylvania, with the beautiful Susquehannock State Forest being a wonderful playground for outdoor activities.
This route also allows you to immerse yourself in a rich tapestry of arts and culture in cities such as Niagara Falls, Buffalo, and Philadelphia. While in Lancaster, you can also take a step back in time to learn about the Amish culture and history.
How to drive from Toronto to New Jersey
The map above shows our suggestions for the best road trip routes between Toronto and New Jersey. Keep reading for detailed descriptions of both routes, where to stay on either, and the best things to do on the way.
The Catskill Mountains Route
Starting in Toronto, drive through Hamilton and St Catharines to make your way south to Niagara Falls. After experiencing the breathtaking waterfalls and city, continue en route into Buffalo.
Head east to the city of Rochester, near the shores of Lake Ontario. From here, continue on Interstate 90 (I-90) to the charming city of Syracuse. After exploring the museums and university life of Syracuse, get back on route and drive on I-90 to Albany.
From here, head south through the Hudson Valley and the rolling hills and countryside of New York's beautiful Catskill Mountains. Here, you can visit towns like Catskill and Woodstock before heading south.
Enjoy the communities of Poughkeepsie and Peekskill before making your way into Jersey City, your exciting destination.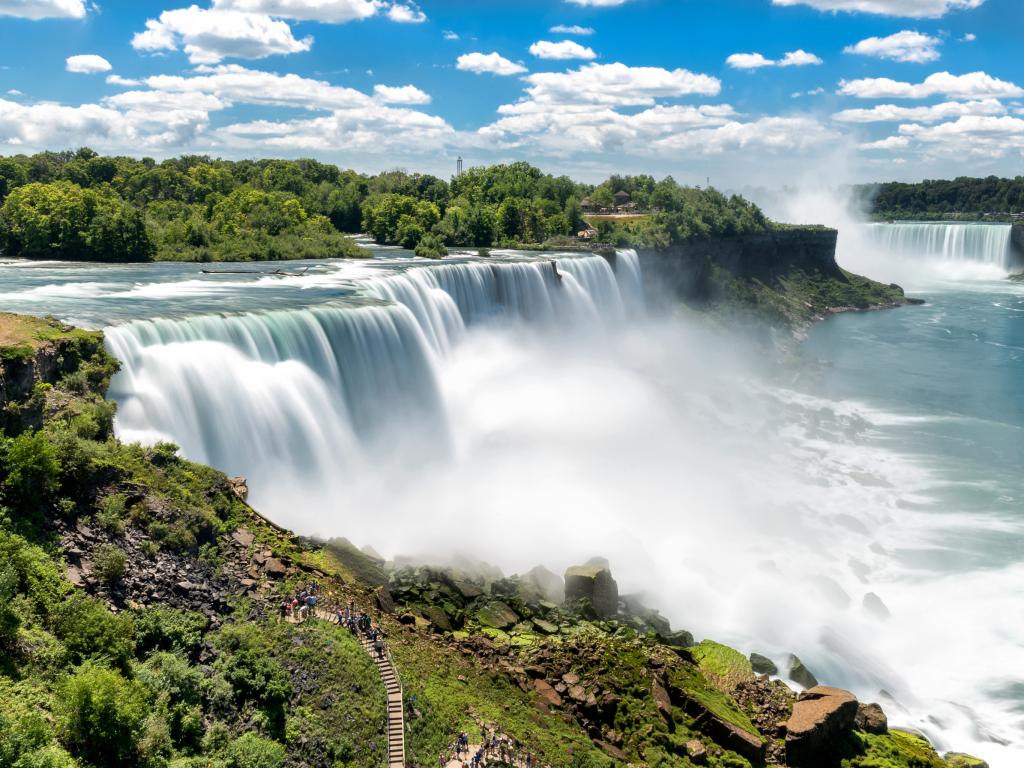 The Finger Lakes Route
Starting from the lively city of Toronto, this route heads south to Niagara Falls, similar to the Catskill Mountains Route. From here, head to Buffalo. This is where the routes diverge. You will continue east on I-90 to Seneca Falls.
Afterwards, hug the shores of Cayuga Lake and head south into the beautiful Finger Lakes town of Ithaca, famous for its wineries and skiing opportunities in winter.
Next, head south into Pennsylvania and drive through the beautiful rural countryside and rolling hills until you reach Harrisburg.
From here, check out the sweet city of Hershey (of chocolate fame) and Lancaster before making your way to Philadelphia. Continue into New Jersey and your destination of Jersey City.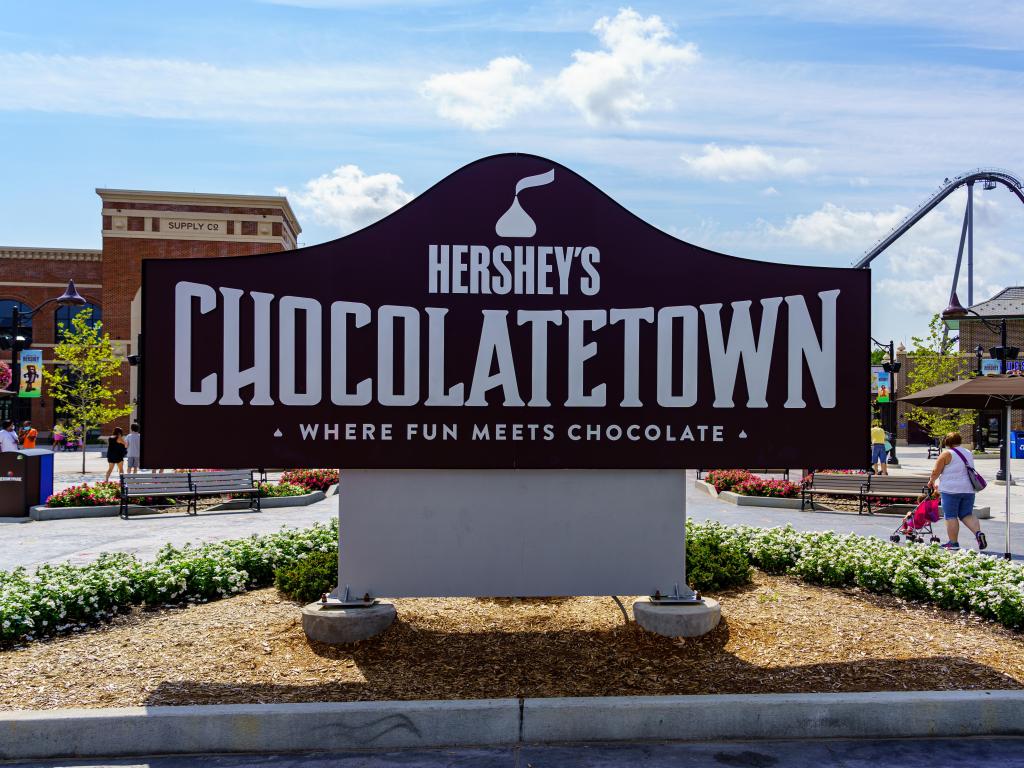 Best places to stop between Toronto and New Jersey
With so much to see and do, you'll want to split up your journey and stay in one of the exciting destinations below. This way, you'll be well rested and ready to explore this incredible region of America.
A historic break in Albany
Albany is a perfect place to take a break on the Catskill Mountains Route, about 6 hours and 30 minutes into your drive. The city's rich history and vibrant culture will make you fall in love with this New York treasure.
Here, you can dive into the historical and cultural sites, such as the New York State Museum, where you can explore the state's rich heritage. Wander through Washington Park, a green oasis in the city that offers a tranquil escape and beautifully maintained gardens.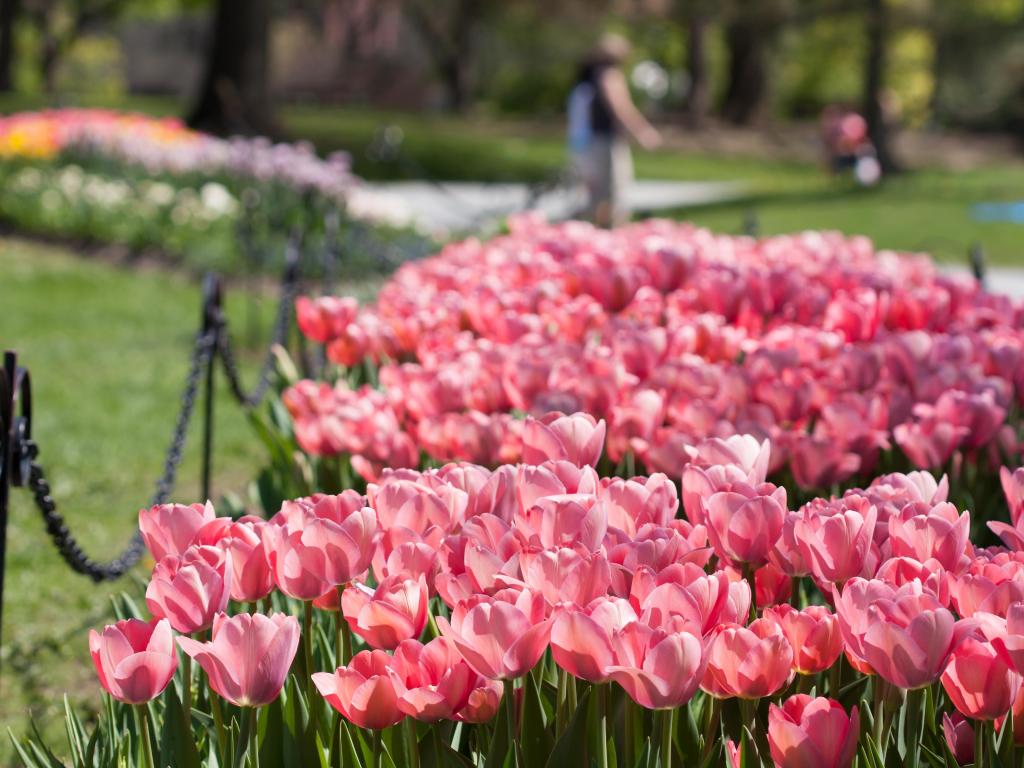 Afterwards, head to the New York State Capitol. A stunning example of 19th-century architecture, the capitol building houses the New York State Assembly and Senate. Tours are available, offering a closer look at the building's beautiful interior and rich history.
Our favorite place to stay in Albany is Morgan State House Inn, and it is easy to see why. This beautiful inn is housed in a property that is an elegantly restored 19th-century building. Located in the heart of the Washington Park Historic District, you will be a stone's throw from all that Albany has to offer.
However, before setting off, we highly recommend sampling the delicious breakfast on offer here. After you have filled up, the New York State Capitol is only a mile from the property.
Admire waterfalls in Ithaca
Ithaca is the ideal place to take a break on your journey along the Finger Lakes Route, situated at about the halfway point at approximately 4 hours and 40 minutes. The city features over a hundred magnificent waterfalls within a 10-mile radius from its downtown.
A visit to Buttermilk Falls State Park should top your list, offering the chance to witness cascading falls and lush green scenery. This natural oasis is the perfect place to rejuvenate before continuing your journey.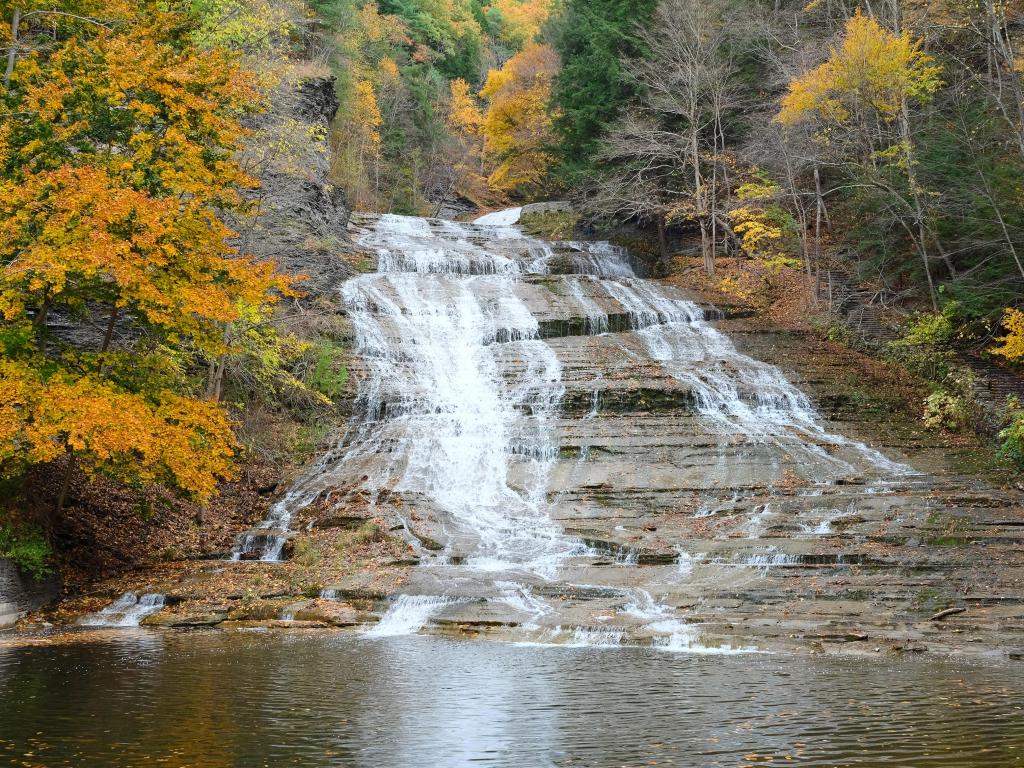 No visit to Ithaca is complete without exploring the historic Cornell University, a prestigious Ivy League university offering architectural beauty and a range of attractions, including the awe-inspiring Herbert F. Johnson Museum of Art.
Your overnight stay in Ithaca will be nothing short of luxurious at The Statler Hotel at Cornell University. A beacon of modern comfort on the vibrant university campus, this hotel promises spectacular views over the sprawling green campus.
If you're interested in culinary delights, the hotel offers a choice of three distinct restaurants to satisfy your gastronomic cravings. Wellness enthusiasts will appreciate the on-site fitness center, while golf aficionados will be thrilled to find a golf course merely two miles away.
Apart from engaging in a fulfilling campus tour or visiting the nearby museum, the Ithaca Falls natural area is another must-visit locale, a mere half a mile from the hotel.
Where to stay when you reach New Jersey
Jersey City is famous for its array of historical sites and attractions. You'll find yourself in a city where history meets the modern era, with Liberty State Park offering expansive green spaces and the revered Ellis Island.
Step foot in "Chilltown," a nickname given to Jersey City thanks to its laid-back atmosphere, and you'll experience firsthand the calming yet exciting vibe of this city as you stroll through its streets.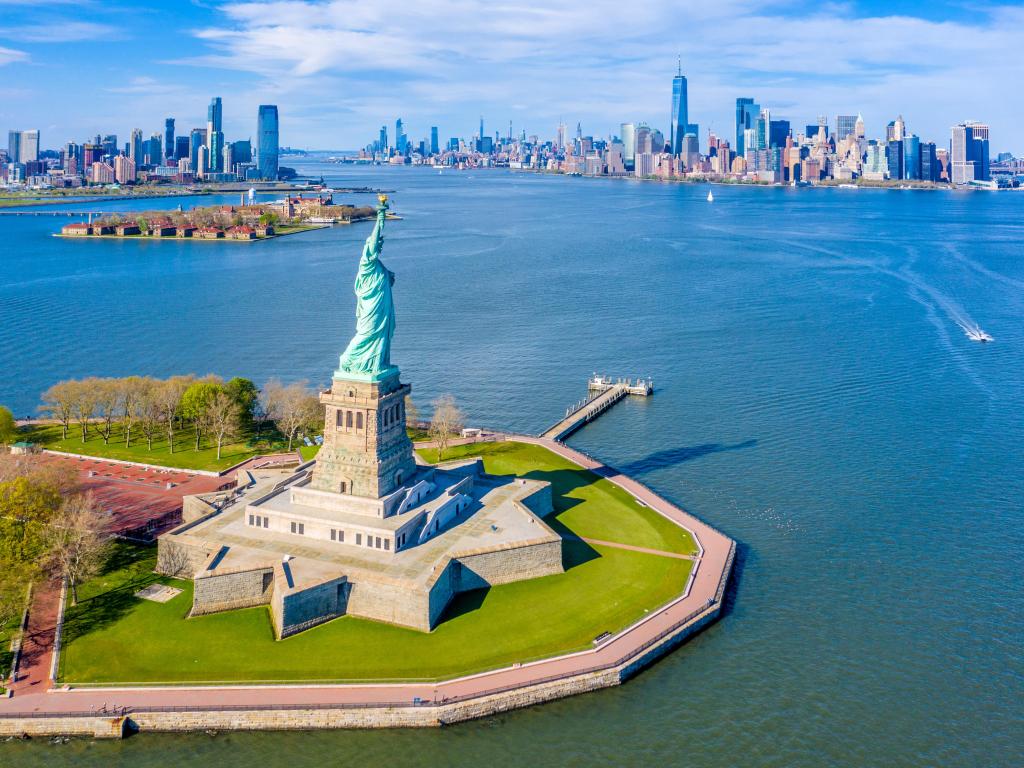 Ensuring your stay is as remarkable as the city itself, we recommend staying at the luxurious and highly rated Canopy By Hilton Jersey City Arts District. This stylish, modern hotel brings to you the epitome of comfort through its well-designed rooms and funky interior decorations that create a warm and inviting atmosphere.
Fuel your adventures with a hearty breakfast from the on-site restaurant, serving delightful dishes throughout the day. The space also has a sleek and stylish bar and a shared lounge.
After exploring the city, head to the hotel's terrace to unwind. Nearby, you're only a few minutes from the city's museums and highlights and a short drive from nearby New York City.
Things to see on a road trip from Toronto to New Jersey
There are almost infinite stopovers and highlights along both routes. Below, we've selected our favorites to help you plan the road trip of your lifetime.
Both Routes
Hamilton - Situated on the western tip of Lake Ontario, Hamilton boasts a robust arts scene spearheaded by establishments like the Art Gallery of Hamilton. The city's diverse landscape features the picturesque Dundurn Castle and the Royal Botanical Gardens.
Niagara Falls - A world-renowned natural wonder, Niagara Falls offers breathtaking views of its massive waterfalls that straddle the US-Canada border. Visitors can enjoy numerous attractions including boat tours to the falls.
Buffalo - Buffalo is a city with rich architectural heritage including Frank Lloyd Wright's Darwin D. Martin House and the art deco-style Buffalo City Hall. The city also offers vibrant nightlife and culinary scenes, with a notable affinity for spicy chicken wings.
Catskill Mountains Route
Rochester - Home to the historic George Eastman Museum dedicated to photography and film, Rochester offers a rich cultural experience. The city also offers beautiful parks and gardens, including Highland Park, which is known for its annual Lilac Festival.
Syracuse - Syracuse is known for its arts scene with numerous theaters and museums, and it hosts the popular New York State Fair annually. The city is also home to Syracuse University.
Ferris Lake Wild Forest - This expansive natural area in the Adirondacks offers a haven for outdoor enthusiasts, with numerous trails for hiking, biking, and winter sports. The untouched lakes and rivers in this region offer great opportunities for fishing and boating.
Albany - As New York's capital, Albany is rich in history with many museums, such as the New York State Museum and historic sites like the Empire State Plaza. The city's skyline is graced with modern and historic architecture, including the iconic "Egg" performing arts venue.
Hudson - Hudson offers a charming blend of historic architecture and modern arts, housing galleries and antique shops. The area boasts beautiful natural scenery, with opportunities for hiking and exploring the Hudson River.
Kaaterskill Wild Forest - Nestled in the Catskill Mountains, this wild forest is home to the popular Kaaterskill Falls, a two-tiered waterfall that has inspired artists for generations.
Woodstock Artists Association & Museum - This association and museum stand as testimony to the vibrant artistic history of the region, offering a range of exhibitions, collections, and educational programs.
Catskill Mountains - A popular getaway in New York, the Catskill Mountains offer breathtaking scenery, with trails for hiking and spots for fishing. The region is home to quaint towns and artistic communities, offering a serene escape from city life.
Historic Huguenot Street - This historic street in New Paltz presents well-preserved stone houses dating back to the early Huguenot settlers in the 17th century.
Poughkeepsie - Situated along the Hudson River, Poughkeepsie offers a blend of natural beauty and urban charm with attractions such as the Walkway Over the Hudson and the Bardavon 1869 Opera House. The city is home to Vassar College, a hub for arts and culture.
Bannerman Castle, Beacon - Located on Pollepel Island, the Bannerman Castle offers guided tours of the historic residence and its gardens, allowing visitors to delve into its rich history.
Peekskill - This small city along the Hudson River is known for its vibrant arts scene, featuring galleries and studios, as well as the Paramount Hudson Valley Theater.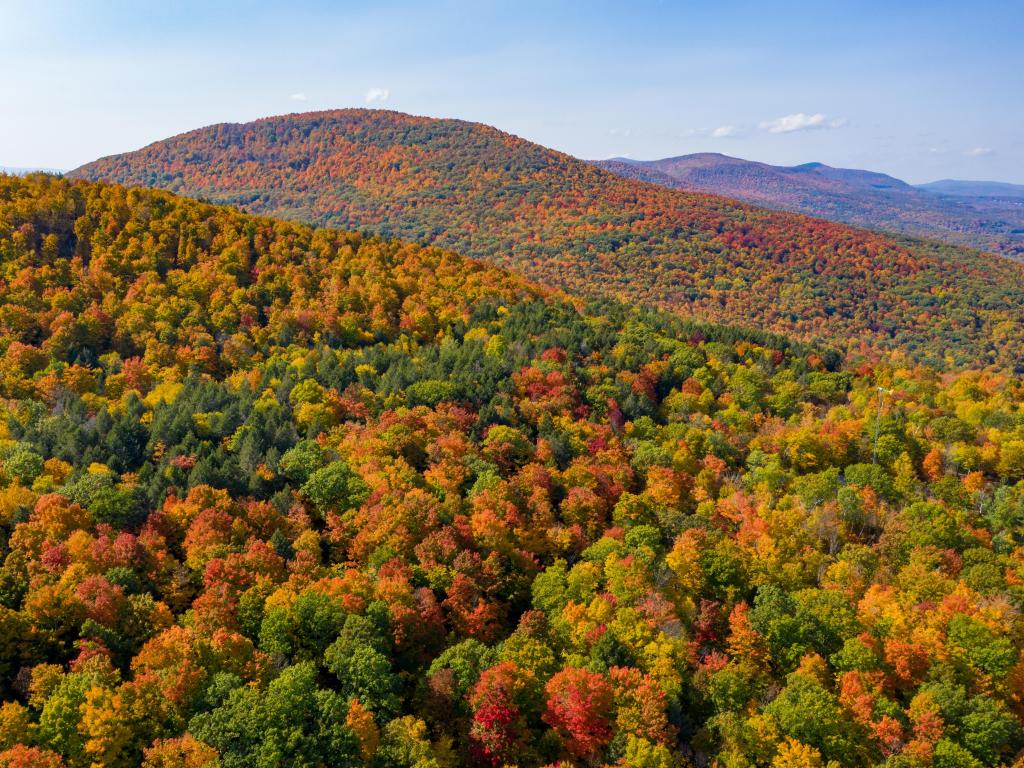 Finger Lakes Route
Canandaigua Lake Wine Trail - Winding through the picturesque landscapes surrounding Canandaigua Lake, this wine trail offers a journey through vineyards and wineries.
Seneca Falls - Often referred to as the inspiration for the iconic movie "It's a Wonderful Life," Seneca Falls offers a charming downtown with historic architecture. The town played a pivotal role in the women's rights movement, a history explored in the Women's Rights National Historical Park.
Ithaca - Located at the southern tip of Cayuga Lake, Ithaca is home to Cornell University and is known for its vibrant intellectual and artistic community. The city is surrounded by breathtaking natural beauty, including over a hundred waterfalls and parks.
Rockwell Museum, Corning - Situated in Corning, this museum offers a rich collection of American art, including pieces reflecting the country's Western heritage.
Susquehannock State Forest - This sprawling state forest in Pennsylvania offers many outdoor recreation opportunities, including hiking, camping, and fishing.
Harrisburg - The capital of Pennsylvania, Harrisburg is steeped in history, with attractions like the Pennsylvania State Capitol and the National Civil War Museum. The city offers beautiful parks along the Susquehanna River and a range of cultural festivals year-round.
Echo Dell Indian Echo Caverns - Located near Hummelstown, Pennsylvania, these caverns offer guided tours through underground paths lined with stunning stalactites and stalagmites.
Hershey - Known as the home of the world-famous chocolate brand, Hershey offers a sweet experience with attractions like Hersheypark and The Hershey Story Museum.
Elizabethtown - This quaint Pennsylvania town offers a picturesque downtown with a range of boutique shops and restaurants. Elizabethtown is known for its community events and festivals, offering a small-town charm focusing on local arts and culture.
Lancaster - Home to a significant Amish community, Lancaster offers a unique cultural experience with tours that provide insight into the Amish way of life. The city also has a thriving arts scene with galleries, theaters, and museums, offering a rich blend of tradition and modernity.
Valley Forge National Historical Park - This historic park near King of Prussia, Pennsylvania, is the site where the American Continental Army spent the winter during the Revolutionary War.
Philadelphia - As one of the most historic cities in the US, Philadelphia offers a rich tapestry of American history, with iconic landmarks like the Liberty Bell and Independence Hall.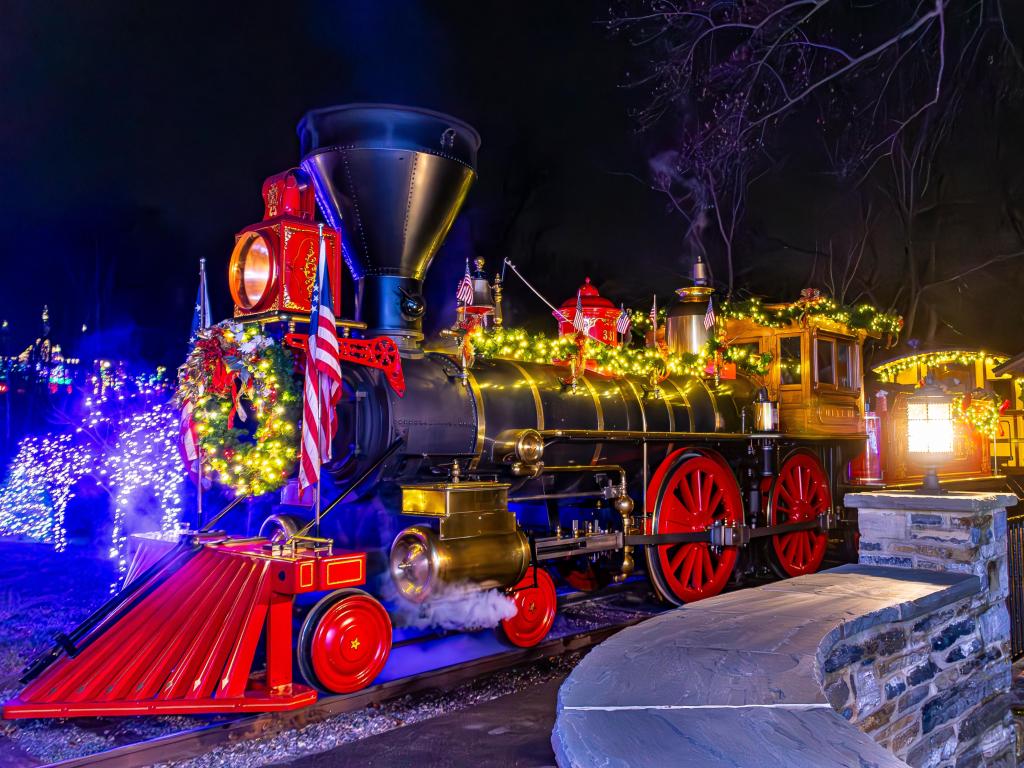 Best time to go on a road trip from Toronto to New Jersey
Jersey City is a destination perfect for any season. Both the Catskill Mountains Route or the Finger Lakes Route offer distinct seasonal charms and festivities that will make this journey incredibly fun and memorable.
Traveling during winter will mean that you will have to pack warm; temperatures in the Catskill and Finger Lakes regions dip to between 15-35 degrees Fahrenheit. Check roadway safety information during this season.
Despite this, if you drive here in February, you can see the Hershey's Chocolate-Covered February event while taking the Finger Lakes Route.
Spring is a beautiful time to make the journey, with temperatures steadily rising to a comfortable range of 50-70 degrees Fahrenheit. If you travel during May via the Catskill Mountains Route, you will bask in the striking colors of the Lilac Festival in Rochester.
As the summer approaches, with temperatures surging up to 70-85 degrees Fahrenheit, both routes will feature warm and vibrant landscapes with plenty of summer activities like hiking, swimming, and picnicking.
June is a spectacular month to plan your trip. The Finger Lakes Route offers the Philly Beer Week and upon reaching your destination, the Jersey City Jazz Festival is a popular time to be in the city.
If you're looking for a quieter, yet visually stunning road trip, fall is a picturesque backdrop of autumn foliage with temperatures oscillating between 50-70 degrees Fahrenheit.
Taking the Catskill Mountains route will coincide with the Woodstock Film Festival in September-October. When you reach Jersey City in September, you'll be able to experience the All About Downtown Street Fair.