Road Trip from Toronto to Philadelphia
This road trip takes you past incredible landscapes, cityscapes and bucket-list landmarks. You can enjoy a mixture of amazing cultural stops and dazzling lakes and parklands. It really has something for everyone.
The 650-mile road trip from Toronto to Philadelphia will take 11 hours to drive. You can visit Buffalo, Niagara Falls, Pittsburgh, Hershey and Lancaster, or travel via iconic New York and you also visit pretty Rochester, Ithaca and Cayuga Lake.
This road trip is absolutely brimming with so many amazing sights, that are beautiful, intriguing, historic and unforgettable. Read on and you'll see what the best routes are to take, sites to visit and stop off, and where lasting memories can be made.
How far is Philadelphia from Toronto, and how long will the road trip take?
Comparison of road trip routes between Toronto to Philadelphia

| Route | Distance | Driving Time |
| --- | --- | --- |
| The Pittsburgh Route | 650 miles | 11 hours |
| The New York Route | 620 miles | 11 hours |
The historic and scenic Pittsburgh Route covers 650 miles and takes around 11 hours to complete without accounting for any stops or detours.
If you fancy stopping off at New York en route, then heading along the New York Route takes you the same time, around 11 hours and covers 620 miles.
There is so much to see and do as you make your way from Toronto to Philadelphia, so we suggest putting aside 4-5 days to make the most of this epic journey, iconic landmarks and jaw-dropping scenery.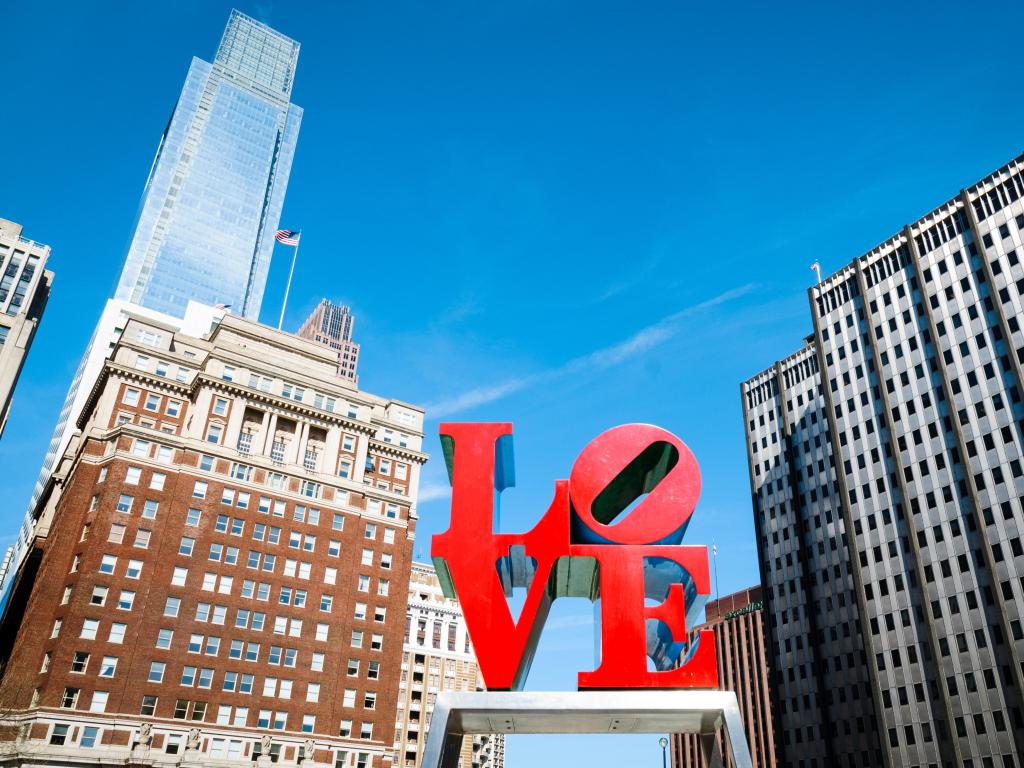 Best road trip route from Toronto to Philadelphia
Traveling from Toronto to Philadelphia passes incredible waterfalls, historical sites and plenty of stop offs to enjoy history, art and food. A cultural extravaganza.
The Pittsburgh Route takes a tour around pretty parks, breathtaking Niagara Falls, and plenty of history tours. You can be sure of some tasty stop offs too.
Head along the New York Route and you also get the extraordinary Niagara Falls experience, as well as historical and rural settings before arriving at iconic New York, for a memorable addition to this journey.
How to drive from Toronto to Philadelphia
The map above shows our suggestions for the best road trip routes between Toronto and Philadelphia. Keep reading for detailed descriptions of both routes, where to stay on either, and the best things to do on the way.
The Pittsburgh Route
Head out of Toronto west along Queen Elizabeth Way passing Mississauga, Hamilton and St Catharine's, before passing into the US and taking NY-31 for a stop off at jaw-dropping Niagara Falls.
After Niagara take Interstate-190 (I-190) south to the interesting city sights of Buffalo, then NY-5 and I-90 tracking the coastline down to Erie. I-79 then leads you to the pretty and historic sites of Pittsburgh.
After an overnight stay take the I-376 then I-76 towards Hershey, when you can be sure to enjoy some sweet treats. After a quick stop, pick up PA-283 to Lancaster before taking US-222 and I-76 towards exciting and scenic Philadelphia.
The New York Route
Similarly, as the Pittsburgh Route, you'll leave Toronto west along Queen Elizabeth Way, passing Mississauga, Hamilton and St Catharine's before taking NY-31 for a memorable stop at Niagara Falls.
After crossing into the US and a stop off in Buffalo, then take I-90 and I-490 east to Rochester before NY-96A tracks to stunning Finger Lake Cayuga Lake for some outdoor recreation and a dip in the pretty waters.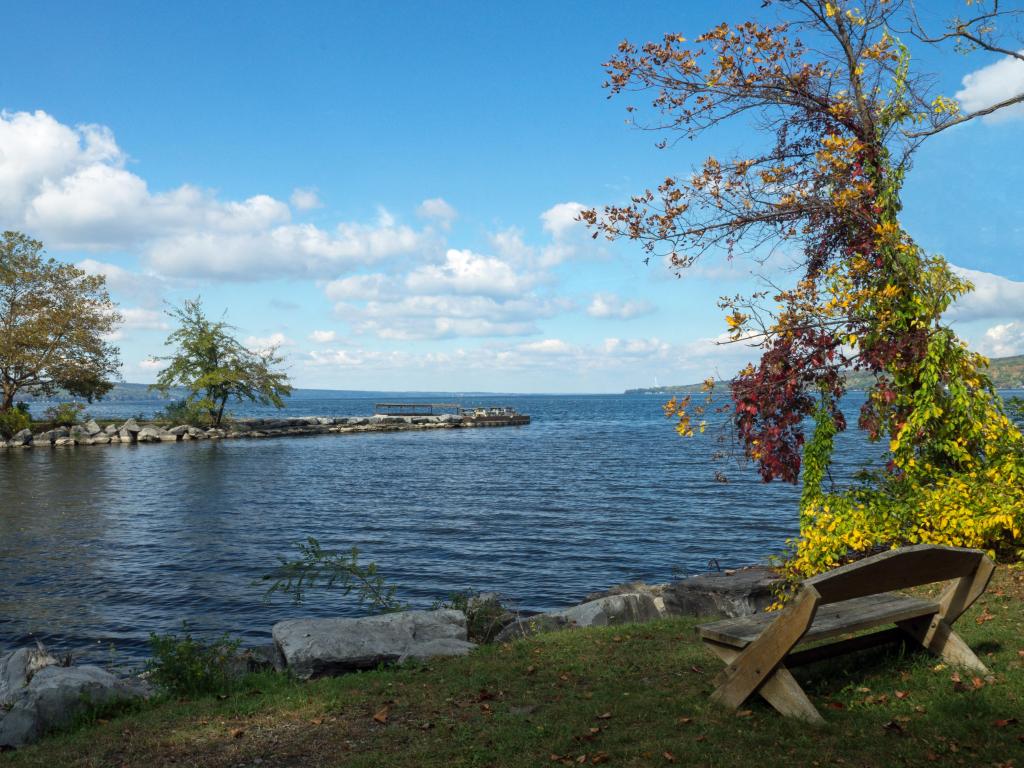 After a stop off take NY-89 and NY-79 east before I-81, I-380, I-80, and I-280 leads you to the incredible bucket-list destination of New York. After a day or two exploring Central Park, Liberty Island, and other iconic sites, head out of NYC along I-278.
Once you reach Goethals Bridge, take I-95 before crossing the Delaware River and trailing alongside this pretty waterfront along the Pennsylvania border to Philadelphia.
Best places to stop between Toronto and Philadelphia
A journey between Toronto to Philadelphia reveals some of the most impressive scenery and stop-offs, as you head along this amazing route. To get the most out of this epic trip stay overnight along the way. Here are some great places to spend a little more time in.
Take a pit stop in pretty Pittsburgh
Best known for its bridges, Pittsburgh boasts impressive museums, inclined railways and jaw-dropping panoramic views and is a great location to break up this exciting journey midway through on the Pittsburgh Route.
There are lots of amazing places to see here, and to take in the city views. The Duquesne Incline, a 400-foot ride, allows you to enjoy incredible views of Pittsburgh, including a museum at the top to tell you all about this impressive site.
If you are a fan of football then make sure to head to the grounds of the Pittsburgh Steelers with a visit to the impressive Acrisure Stadium Tours. With great waterfront and city views, tickets for a game are a must.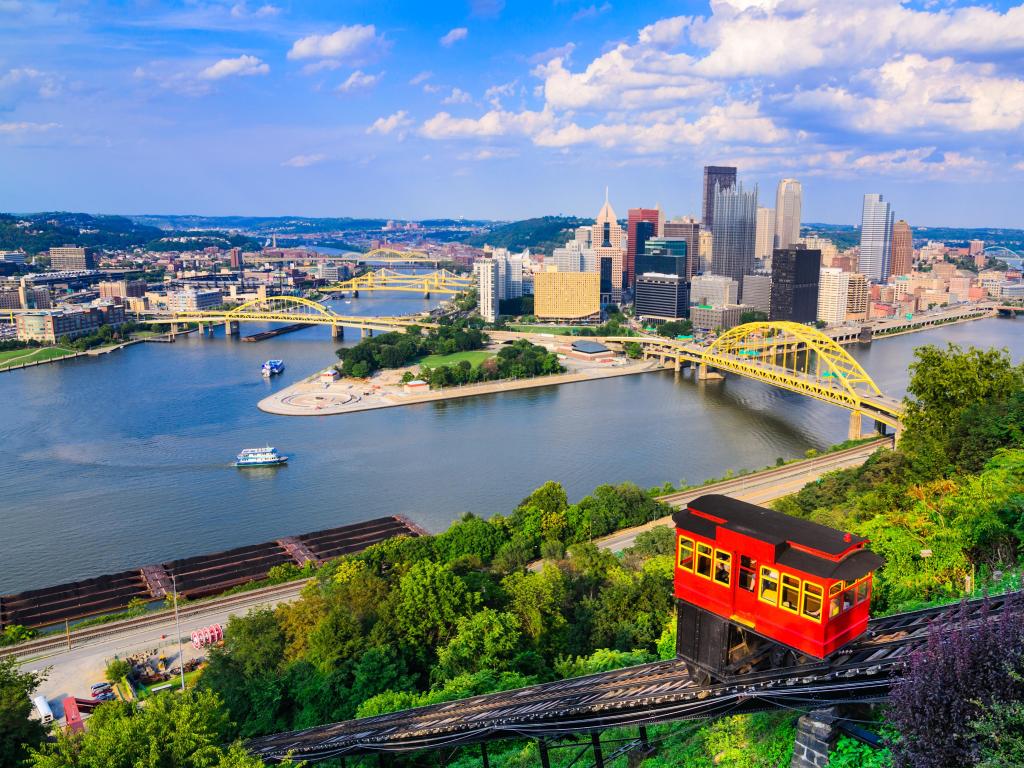 If you fancy some retail therapy or a bite to eat, then there is nowhere better than the Strip District. To learn more about this area's history, make sure to check out Senator John Heinz History Center while you are there.
Make sure also to take a trip to The Andy Warhol Museum, a captivating tribute to the legendary pop artist. You can see a huge collection of his work, interactive exhibits and more about this icon's eclectic style.
After all that sightseeing, take it easy for the night at the fabulous The Industrialist Hotel, Pittsburgh, with classy décor and luxury rooms to relax in. You couldn't be closer to some of the top attractions, including Liberty Avenue Park, Andy Warhol Museum and Senator John Heinz History Center – all great places to visit.
You can enjoy amazing city views from your room and lounges, so sit back with an aperitif and enjoy the beauty both indoors and out. Or if you fancy keeping on the move, then head to the great on-site fitness center.
Book a table at The Rebel Room restaurant, where you can sample delicious American dishes with a flare. There are also many other top restaurants and bars to try out just on the doorstep.
Big fun in the Big Apple
About three-quarters of the way into this amazing road trip, you arrive at a bucket-list stop off in New York before you reach Philadelphia. The Big Apple is bursting with famous landmarks, Broadway excitement, renowned sport and diverse culture. The city is a must-visit destination.
Make sure to spend time at Central Park. A peaceful oasis amidst the bustling city, you can enjoy serene landscapes, recreational activities, playgrounds and dining. You can while away for a few hours or all day in this one-off inner-city park.
To get incredible city sights, take a visit to the Top of the Rocks observation deck and you can enjoy breathtaking panoramic views of the New York City skyline, including a stunning vantage point of the Empire State Building.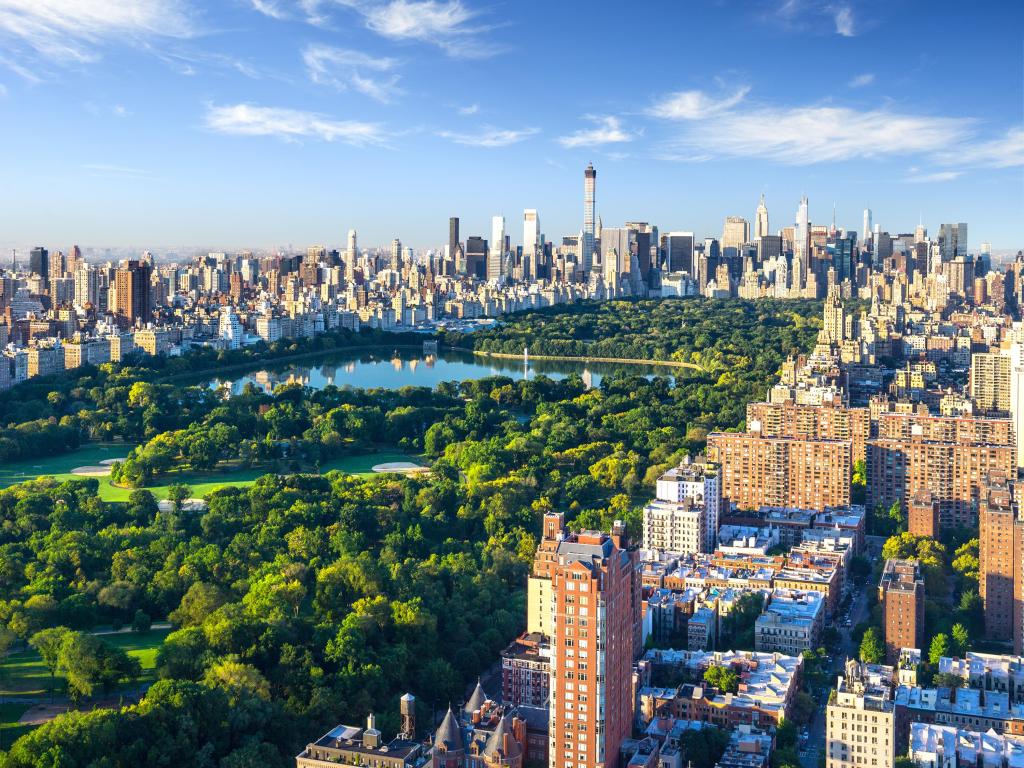 Times Square also offers a fantastic atmospheric experience. Surrounded in dazzling lights, towering billboards and bustling crowds, this is a place like no other and sums up the energy and excitement of New York City.
No visit to New York would be complete without a visit to the Statue of Liberty. A symbol of freedom and an iconic landmark in New York Harbor, travel to Liberty Island to marvel at this colossal statue and museums. Book early and you could be looking at a walk up to the crown for the very best panoramic views.
Right in the center of New York, the luxurious Park Lane New York hotel is super close to many top attractions, including Central Park Zoo, the Empire State Building and Top of the Rock, it's in a great location, plus with parking on-site it's easy to park up and leave the car during your stay.
Make sure to enjoy a pre-dinner cocktail at on-site Harry's New York Bar, before heading to Joseph Fontanals at The Park Room Restaurant for a memorable meal in the heart of this amazing city.
Where to stay when you reach Philadelphia
Philadelphia is brimming with amazing cultural sites, culinary delights and beautiful parks to enjoy, and a great place to stay to enjoy the most of this city is Penn's View Hotel Philadelphia.
On the doorstep of many great attractions, including the National Liberty Museum, Liberty Bell, Independence Hall and Independence Park, this well-located hotel is a stone's throw to so many top sites.
A classic and traditional style hotel, with beautiful décor in rooms and throughout, it makes it a charming place to stay. Fancy a sip? Check out the on-site wine cellar as there is surely something to suit your taste, before heading to the popular Panorama restaurant for delicious Italian cuisine.
Things to see on a road trip from Toronto to Philadelphia
This amazing road trip from Toronto to Philadelphia passes so many beautiful landscapes and landmarks. Please keep reading to see all the great things and bucket-list landmarks we suggest seeing.
The Pittsburgh Route
Cattaraugus Creek Harbor - Picturesque Cattaraugus Creek Harbor can be found in Irving, where you can sit back and enjoy watching the fishing boats coming and going. Head for a delicious catch-of-the-day for lunch.
Maurice K Goddard State Park` - A great stop for a leg stretch, this scenic park offers lots of outdoor activities, including hiking, fishing and boating.
Moraine State Park - Surrounding Lake Arthur, there are plenty of hiking trails to enjoy here and even to have a dip on the hotter summer days. Spread over 16,000 acres, there is plenty of shoreline and waters to explore.
Carnegie Museum of Natural History - A really interesting museum for the whole family! Everything from dinosaur exhibits and ancient artifacts to extensive collections of minerals and gems can be found here, all showing off the very best of the natural world.
Duquesne Incline - Experience a piece of Pittsburgh's history by riding the Duquesne Incline, a century-old funicular railway that ascends Mount Washington.
The Andy Warhol Museum - A tribute to the iconic pop artist, you can see a huge collection of his work and his contributions across the art world.
Coral Caverns - Immerse yourself in the underground world of Coral Caverns, where you can explore the cave formations and history of these impressive caves with a guided tour.
Fort Bedford Museum - Packed with artifacts, exhibits, and interactive displays that tell the story of the American Revolution and the colonial era in Pennsylvania. Interesting and informative stop-off.
Tuscarora State Forest - Absolutely stunning, this area is engulfed with dense forests and miles of hiking trails over the 96,000 acres here. Try out the Tuscarora Trail Loop and is popular for hiking and running year-round.
Hershey Chocolate World - Hungry after all that exercise? Visit this popular interactive attraction for tours, tastings, and behind-the-scenes glimpses into the chocolate-making process.
Hershey Gardens - A botanical paradise at Hershey Gardens, you can expect a vibrant display of flowers, themed gardens, and a lovely butterfly atrium to visit.
Lancaster Science Factory - A hands-on interactive museum that offers engaging exhibits and experiments that inspire visitors of all ages.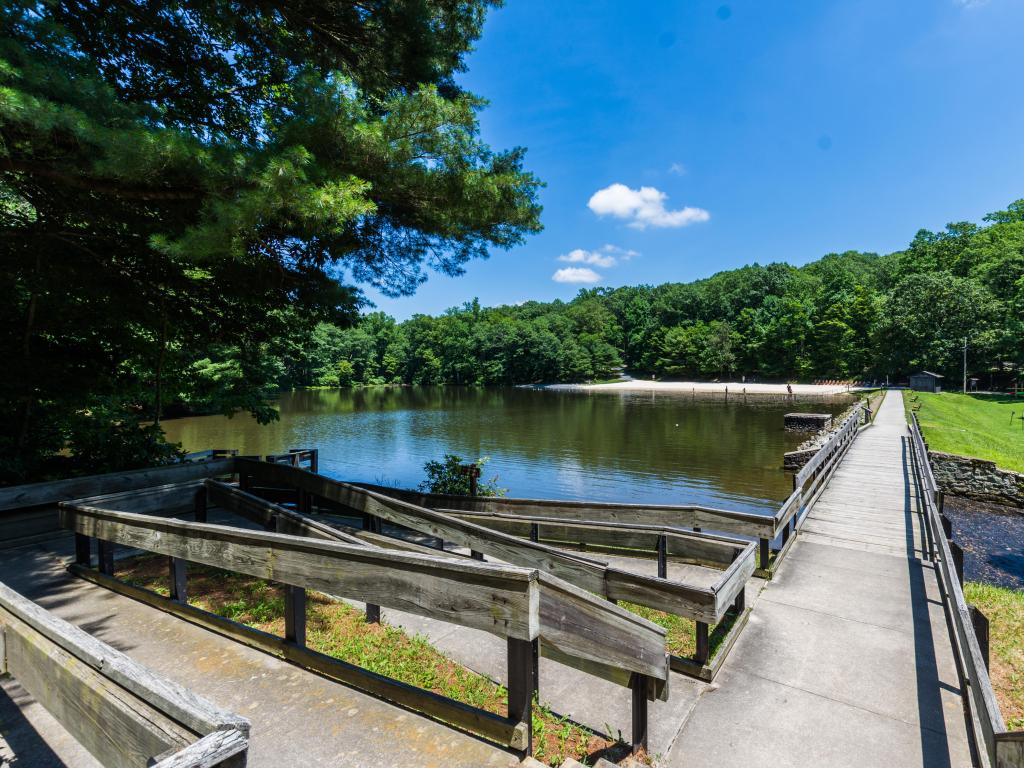 The New York Route
Knox Farm State Park - In East Aurora, you'll pass this peaceful state park with sprawling meadows, scenic trails, and historic buildings. Once owned by Buffalo's renowned Knox Family, it spans over 600 acres.
Genesee Riverway Trail - Winding along the scenic Genesee River this trail offers breathtaking views, walking and biking paths, and connections to various parks and attractions.
George Eastman Museum - History fans are going to love a visit here. It showcases the work of George Eastman, founder of the Eastman Kodak Company, with lots of photography and film collections on display.
Cayuga Lake - One of the Finger Lakes in New York, outdoor enthusiasts can indulge in boating, fishing, swimming, or relaxing along the shoreline.
1890 House Cortland - Step back in time here at the meticulously restored Victorian mansion offering a glimpse into the area's lifestyle in late 19th century. Take a guided tour about the preserved rooms.
Phelps Mansion Museum - If 1980 House wasn't enough, then visit Phelps Mansion Museum in Binghamton. This stunning mansion-turned-museum offers guided tours, showcasing the lavish interiors and period furnishings.
Delaware Water Gap National Recreation Area - A breathtaking expanse of forests, rivers, and waterfalls spanning Pennsylvania and New Jersey. Take one of the scenic hiking trails or enjoy water activities, you can even camp out here if you fancy an extended stay.
Central Park - An iconic green oasis in the heart of Manhattan, offering a breather from the bustling city.
Top of the Rocks - Head to the rooftop observation deck for stunning panoramic views of the New York City skyline, including great views of the Empire State Building.
Statue of Liberty - A must-see destination, this iconic landmark symbolizes freedom and democracy, where you can wander the grounds and museum to learn more about this site.
Empire State Building - A famous building along the New York City skyline, reach the observation deck and you will be rewarded with panoramic views over the city.
Rutgers Gardens - After all the hustle and bustle of NYC, a visit to New Brunswick Rutgers Gardens is ideal. Find a diverse collection of gardens, including rose gardens and bamboo groves. A delightful escape.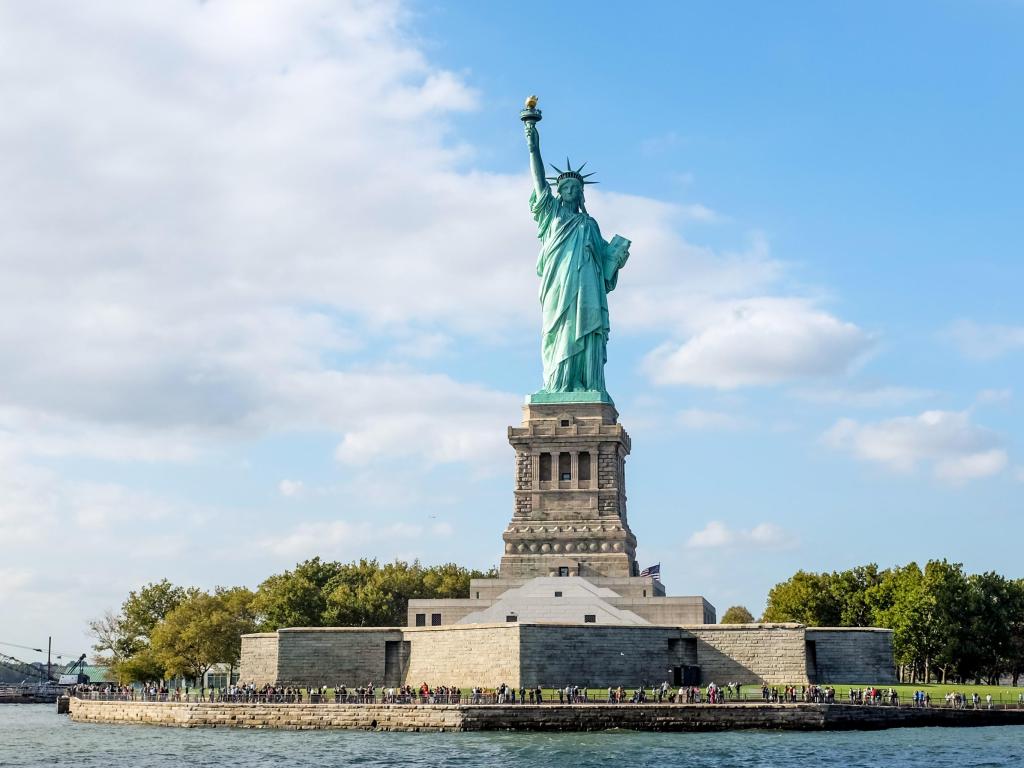 Both Routes
Dundurn Castle - A stunning neoclassical mansion in Hamilton, where visitors can step back in time and experience the opulent lifestyle of the 19th-century elite through guided tours and exhibitions.
Beamer Memorial Conservation Area - Nature enthusiasts will delight at this pretty conservation in Hamilton. This sanctuary offers breathtaking views, and visit in spring or fall and you may spot the hawk migration.
Niagara Falls - A bucket-list visit for many, Niagara Falls is one of the world's most famous natural wonders. Explore this incredible sight up close taking a boat tour and wandering observation decks. Waterproofs a must!
Buffalo and Erie County Botanical Gardens - Brimming with lush greenery, exotic plants, and captivating floral displays this beautiful oasis in Buffalo is the ideal spot to while away an afternoon away from the city.
Buffalo AKG Art Museum - Once known as the Albright–Knox Art Gallery, this art museum has recently re-opened after being closed for several years for expansion and improvements. A huge selection of modern art and sculptures make for an impressive visit.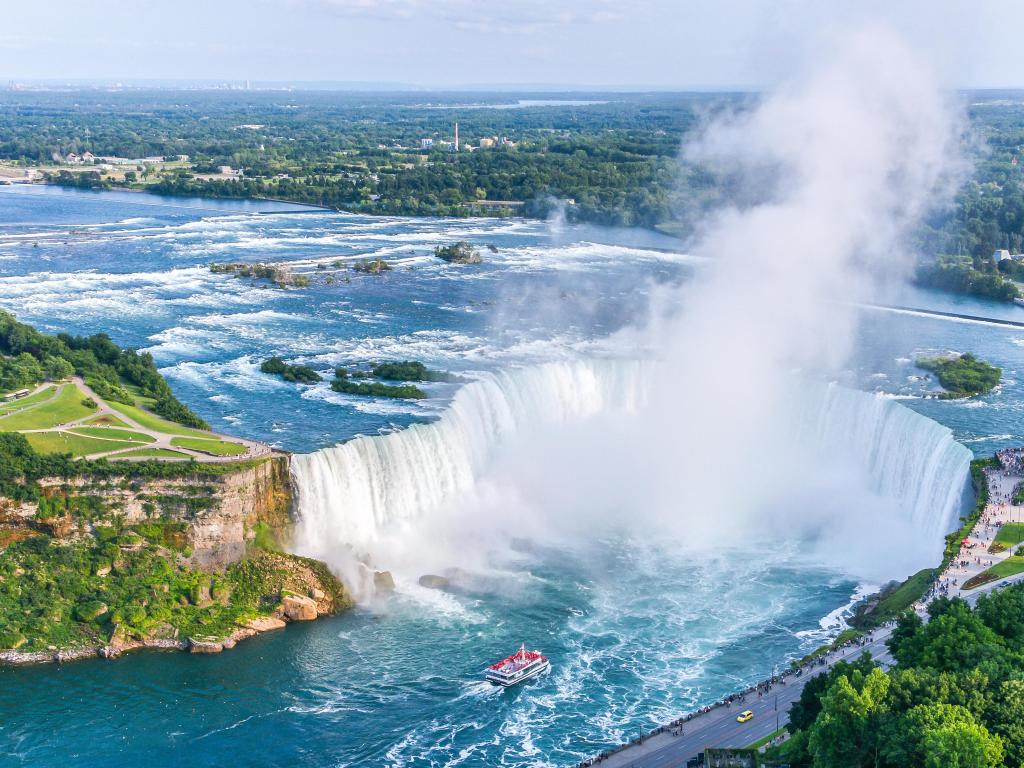 Best time to go on a road trip from Toronto to Philadelphia
At any time of year, you can enjoy a visit to Philadelphia. If you are prepared for hot summers and cold winters, then city sights, sightseeing delights, Philly cheesesteaks and soft pretzels can be enjoyed whatever the weather.
However, if you are looking for a visit when the weather is kinder to you for exploring whilst also avoiding most of the crowds, then visit between March and May. You'll need to wrap up, particularly in March, but the harsher weather would have passed you by.
If you fancy taking advantage of all the outdoor fun and festivals, then the summer is the time to go. Although beware that the weather will be hot and humid and prices higher too. Temperatures are often around 85 to 88 degrees Fahrenheit and its pretty busy too.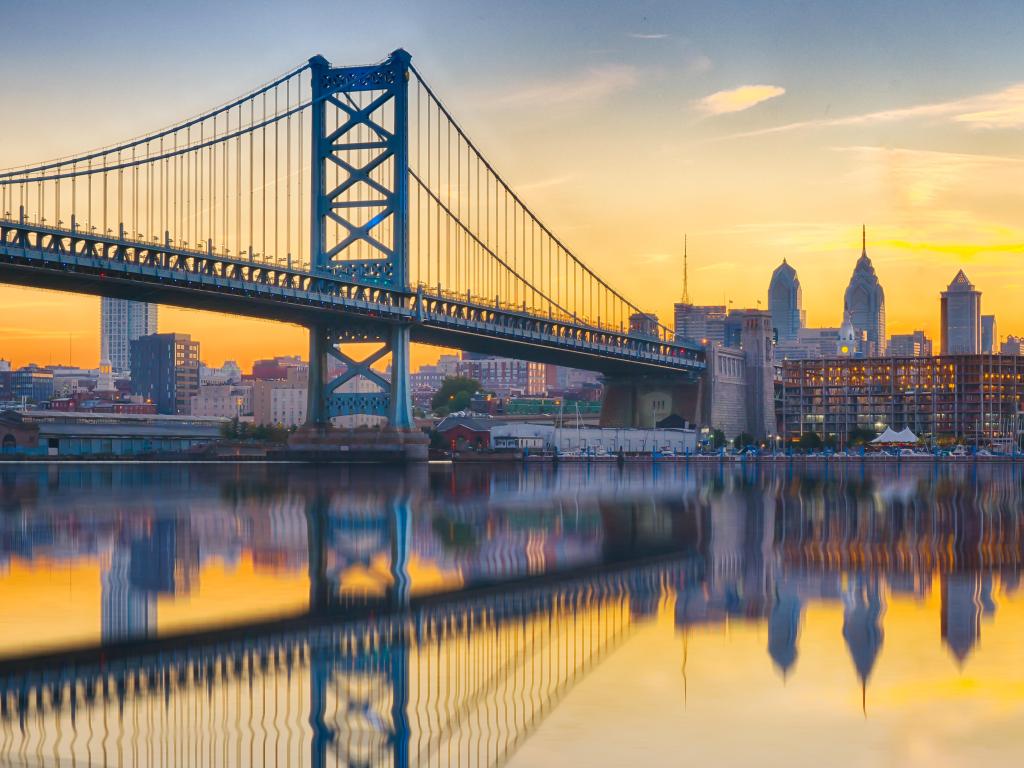 Winter in Philadelphia can be cold and harsh, with temperatures ranging between 36- and 45 degrees Fahrenheit. Some of the outdoor attractions are closed during this time, so check in advance if you are planning a winter trip.
However, winter also paves the way for some icy fun. Dilworth Plaza at City Hall offers ice skating and cabins to dine in. Just make sure to wrap up warm.
Spring in Philadelphia is delightful, you avoid the cold of winter and the crowds and temperatures hover between 58- and 68 degrees Fahrenheit. Fall is also a good choice, with stunning foliage making the scenery extra special.
Philadelphia has a packed events schedule throughout the year, with lots of seasonal festivals.
At the start of the year in March, you can enjoy the Philadelphia Flower Show, which is the nation's largest and longest-running indoor flower show.
If you arrive around 4th of July then you can be sure of an impressive Independence Day celebration called Welcome America, which spans the whole week long.
Philadelphia Folk Festival in August is one of the oldest folk festivals in the US, and packed with live performances. The Puerto Rican Festival and Parade in September is also music orientated, as well as showcasing dance, food, and art.