Amsterdam city break guide - The ideal 3 day itinerary
Day 1: Lunch, sightseeing & drinks
Check into your hotel and go for lunch at Foodhallen
Plan to fly into Amsterdam airport in the morning of day one to make the most of your short break - there's a lot to squeeze in!
From the airport, either hop in a taxi or take the train to the Centraal Station and make your way to your hotel to check in and get settled.
You won't begin the sightseeing until after lunch, so spend a little time wandering around exploring the area around your hotel and getting a feel for this beautiful city - it's known as 'The Venice of the North' for a reason!
Extend your walk (or hop on the bus or tram) to your first stop - Foodhallen - to grab some lunch.
This foodie paradise is an indoor market housed in a renovated tram depot, which has around 20 different stalls selling the best of Amsterdam's international food scene.
Options include pintxos (northern Spanish tapas), tacos, dim sum, French patisserie, pizza, and Mumbai street food kebabs wrapped in naan bread.
Expect to spend some time here - it'll most likely be pretty hard to choose what to eat!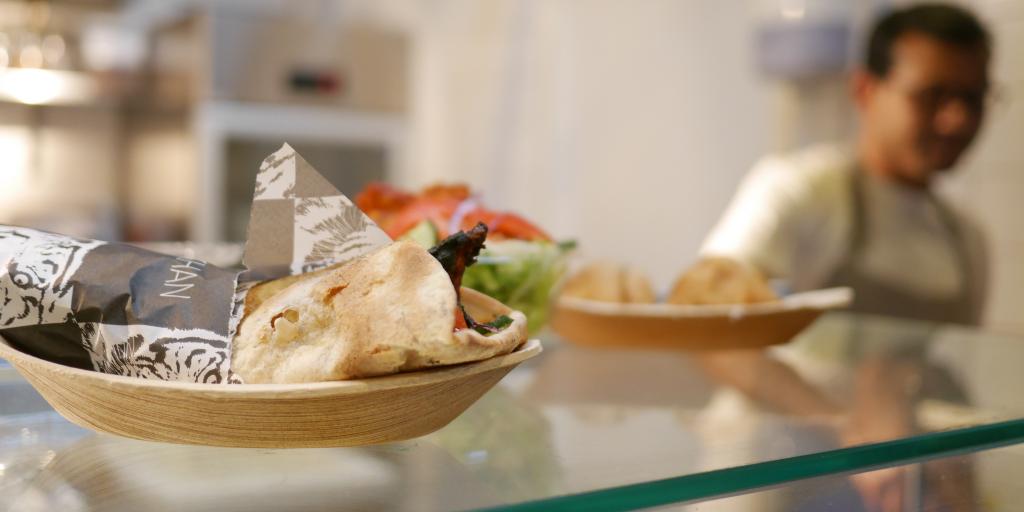 Head south to the Rijksmuseum
From Foodhallen, walk south towards Vondelpark to get to the Rijksmuseum, which should take around 20 minutes.
There are two easy walking routes to the museum, however we'd recommend joining up with Eerste Constantijn Huygensstraat and following it as it leads into Van Baerlestraat until you get to Museumplein - a lovely open green space that looks onto all the museums that surround it.
Cross the green and head towards the famous I Amsterdam sign just outside the Rijksmuseum.
Snap a photo with the sign (this is basically compulsory on any Amsterdam break) before making your way inside the museum.
Translating to 'National Museum' in English, the Rijksmuseum pays homage to all things Dutch, and is a great place to get to grips with some of the country's art and history.
The museum is huge (there are around 8,000 objects on display) and seeing everything would take all day, so plan to spend just spend an hour or two admiring the stunning building and hunting down some of the more famous pieces.
Don't miss the masterpieces by Rembrandt, Johannes Vermeer, and Frans Hals, or you could catch the exhibition that happens to be running during your visit.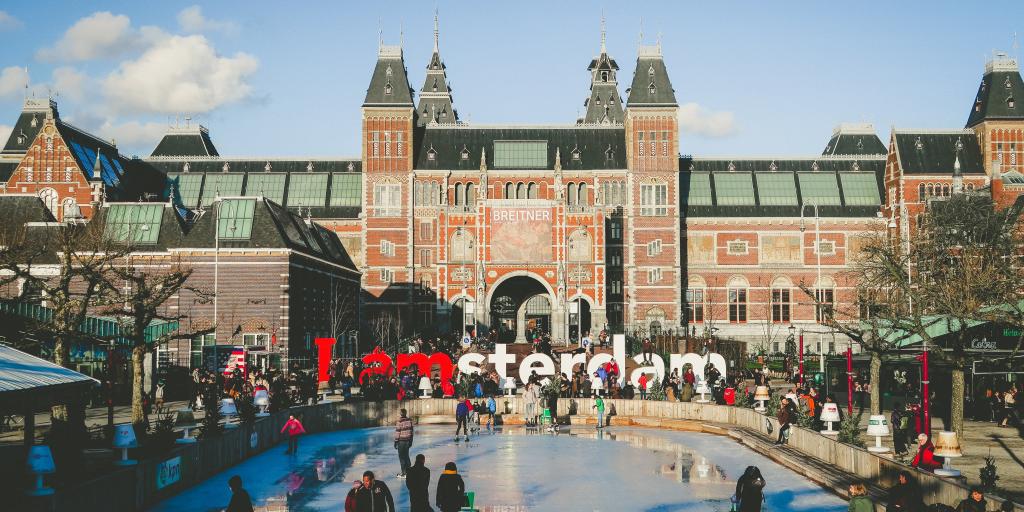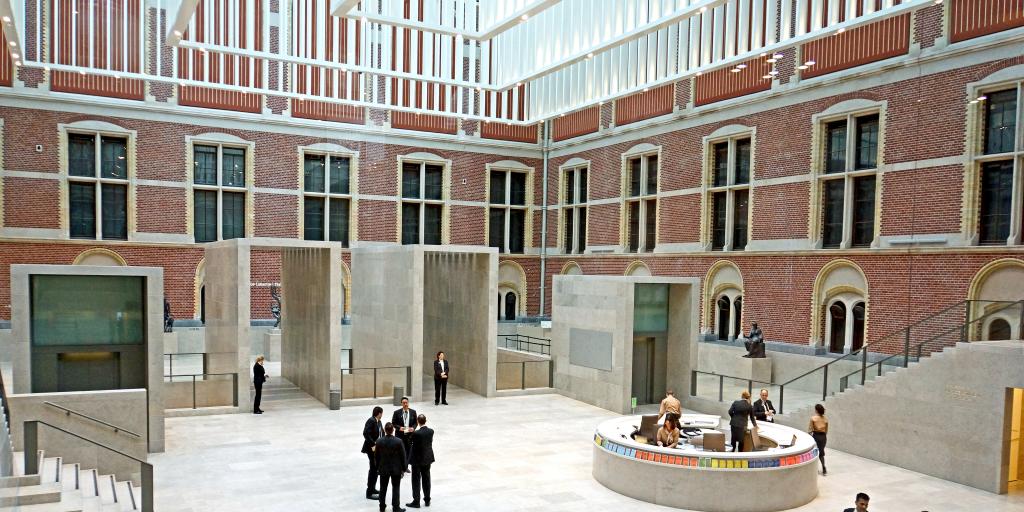 Spend the rest of the afternoon enjoying seasonal Amsterdam
After you've browsed the museum, the way you spend the remainder of your afternoon depends on the time of year you've opted to visit Amsterdam.
We've put together a list of four amazing activities that celebrate the city in each season, so choose the option that best fits your city break and set off to your next stop.
Winter - go ice skating on the canal
Being able to ice skate on the frozen-over canal in Amsterdam is pretty high on a lot of travellers' bucket lists, and it really is a magical way to spend a chilly afternoon in the city.
The best way to enjoy the ice is to find a pair of second-hand skates in one of the markets or second-hand shops and locate a safe place to step onto the ice and get going.
Granted, temperatures don't often plummet low enough to allow the ice to support the weight of skaters (parts of the canal froze solid in 2018 for the first time since the 1990s), but there's always a chance!
If it's not quite cold enough to be able to glide across the surface of the canal, don't worry - there are plenty of great ice rinks that spring up across the city during the winter.
We'd recommend heading to Ice Amsterdam in Museumplein just in front of the I Amsterdam sign and the Rijksmuseum; it's really spacious and surrounded by some of the most beautiful buildings in the city.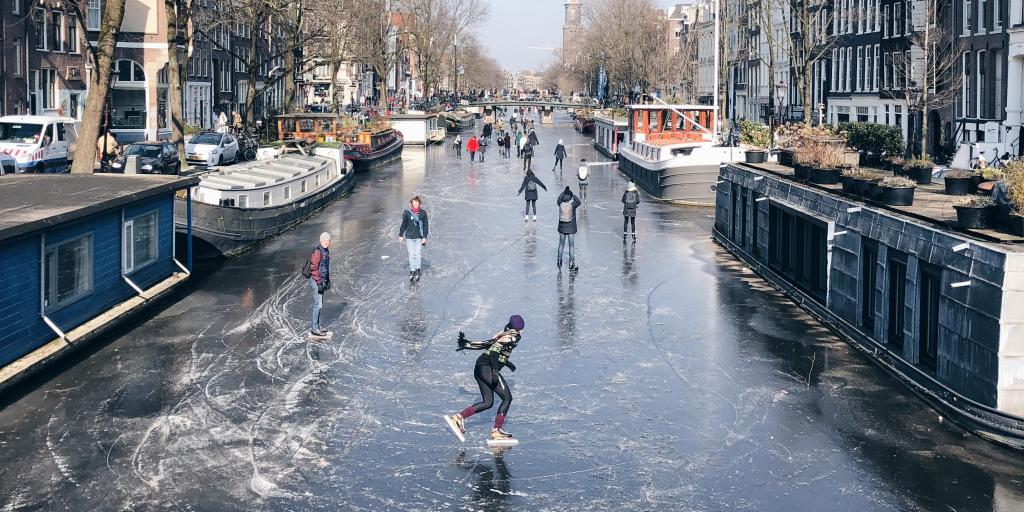 Spring - celebrate the Cherry Blossom Festival
There are around 400 cherry trees in Amsterdamse Bos (Amsterdam Forest) that were gifted to the city by Japan in 2000, and every year when they start to bloom, the city celebrates spring and new beginnings at the Cherry Blossom Festival.
This area of the forest is free to enter, and many gather here with family and friends to have a picnic and embrace the picturesque orchard.
You probably won't be wanting a picnic after your street food lunch, but just sitting beneath the canopy of pink or having a stroll through the flurries of petals is equally atmospheric and a quintessential springtime Amsterdam activity.
During the event, which attracts a diverse mix of Japanese expats, locals, and tourists, there is also traditional Japanese food available to buy and customs including dancing providing the entertainment.
The forest is a little way from the centre of Amsterdam, so the best way to get there is to hop on the metro from Centraal Station to Van Boshuizenstraat which takes about half an hour and drops you at the edge of the forest.
Spring is also tulip season in Holland, so make sure you also admire these traditionally Dutch flowers during your spring trip.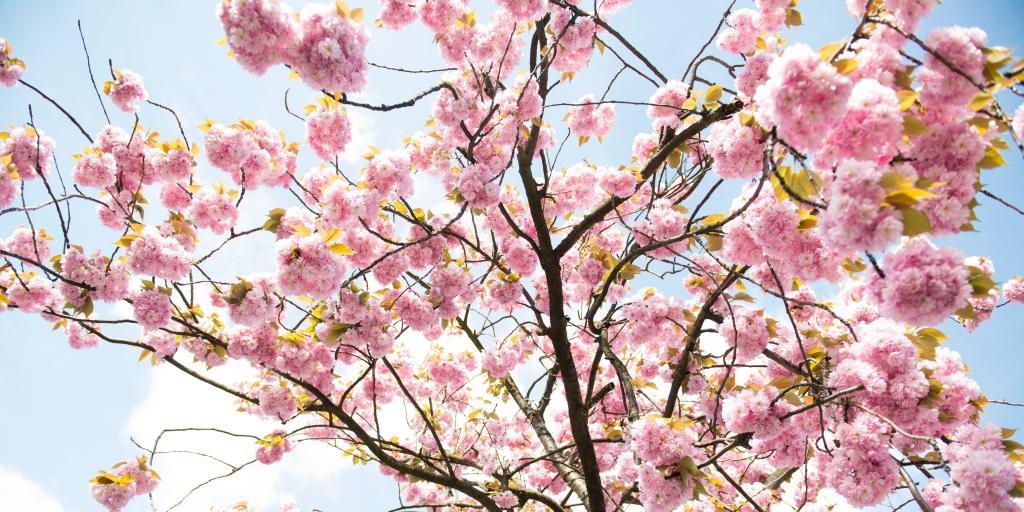 Summer - take to the water for a canal cruise
Seeing as the canal belt in Amsterdam is a UNESCO World Heritage Site, it would be wrong not to include the waterway in your city break, especially during the summer when the breeze is warm and sunshine bounces off the water.
A 75-minute canal tour with Blue Boat is a great option that takes you through both the historic centre with its tall 17th-century houses, and new, 21st-century Amsterdam.
The boats are roomy with skylight windows that open fully to allow you to soak up the summer sun, and there are audio guides in 21 languages so you won't miss a thing as you glide along.
If you feel like extending your cruise to dinnertime, there are loads of themed trips available throughout the city including cocktail, cheese and wine, pizza, and romantic dinner cruises.
There's also always the option of renting your own boat for a few hours and going on a self-guided tour of the water.
Hire a pedalo or your own private boat with a skipper from Stromma and explore the canal at your own leisure.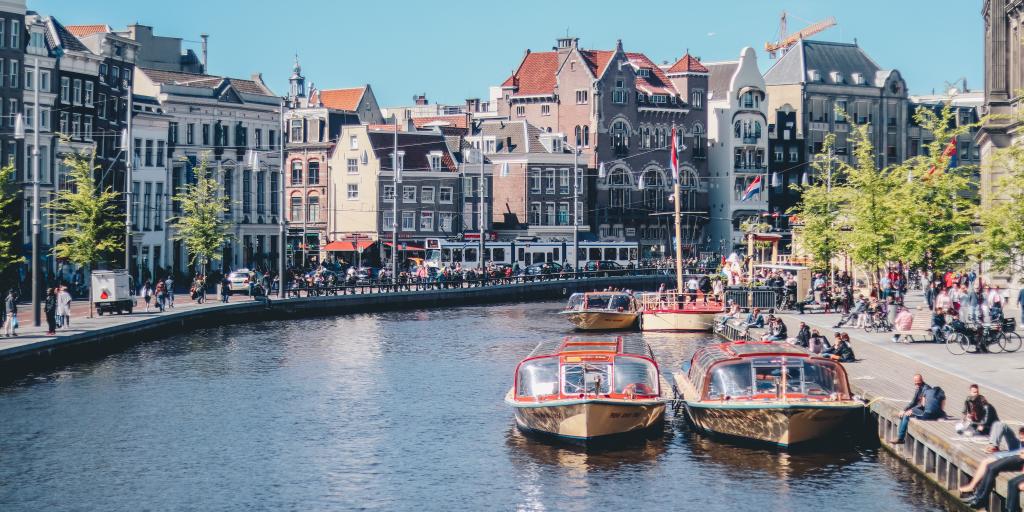 Autumn - get cosy and eat Dutch apple pie at a 'brown cafe'
Being one of the leafiest cities in Europe (there are over 400,000 trees here), you can imagine how magical Amsterdam is in the autumn, with its cobbled streets and waterways covered with a blanket of crisp orange and yellow leaves.
A stomp through the crunchy leaves is an absolute must, and we recommend that it ends with a visit to a cosy (and typically Dutch) brown cafe for a sizable chunk of traditional apple pie.
It's a delicious pie-crumble hybrid made using seasonal apples, and is an oh-so-comforting treat on a chilly autumn afternoon. Plus, it usually comes with a hefty serving of whipped cream, making it even more irresistible.
Cafe Winkel 43 is the most famous spot to sample this autumnal Dutch delicacy, so cosy up here with a loved one (or a book, if you're travelling solo) for a blissful afternoon of eating and relaxing.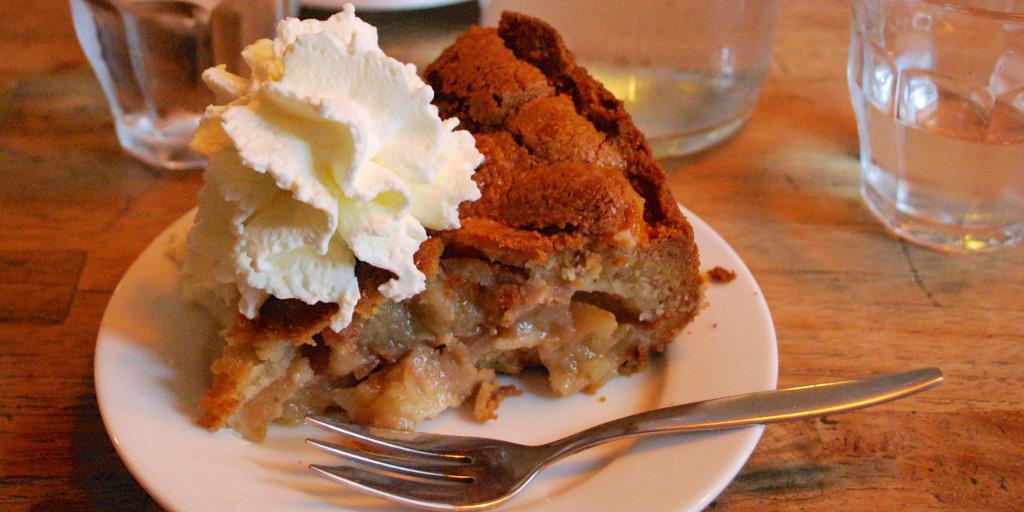 Walk through the Red Light District and go for a drink
Once night falls, grab a quick dinner in the centre of town before heading to De Wallen, the infamous Red Light District.
As one of the most iconic parts of the city, it's worth walking through the area to experience its buzz - even if partaking in the offerings isn't exactly your cup of tea.
As you'd expect, the Red Light District is totally different from the beautiful old town and is a riot of bright lights and, for want of a better word, seedy establishments showcasing Amsterdam's famous tolerance of prostitution.
Expect nearly naked girls dancing in windows, brothels, sex shops and museums. It's up to you how long you stay in the district, but we'd say a quick wander through is enough to get a feel for the place!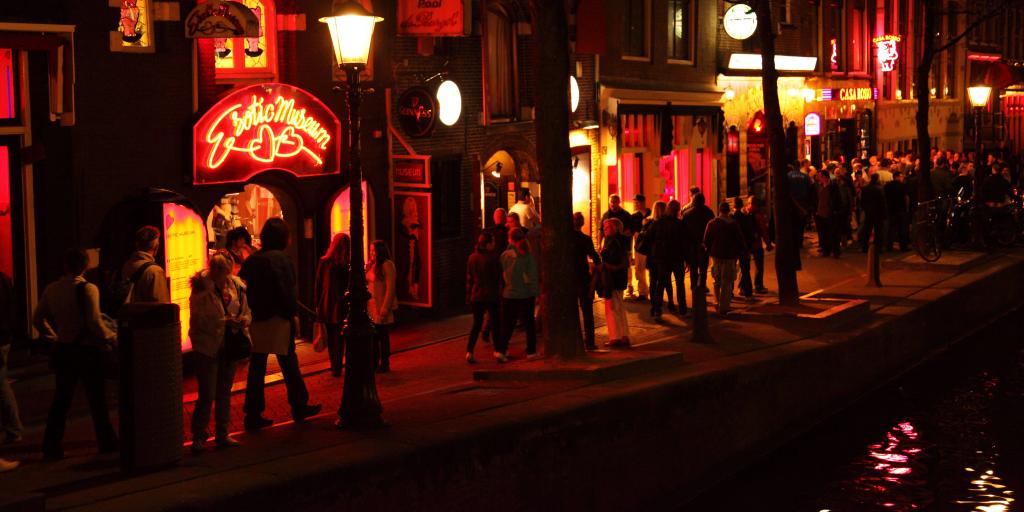 You might need a drink after visiting the Red Light District, so head to a bar to bring day one to a close.
We have three recommendations for you within easy reach of the District, so choose whichever suits your mood and enjoy your evening before returning to your hotel to hit the hay.
For a quiet drink with unbeatable views, head to Blue Amsterdam, a chic and modern bar/restaurant located on the top of the Kalverpassage shopping centre. Full-height windows wrap around the whole bar, offering panoramic views of many of the major sights, which make it the perfect place to wind down and reflect on a great first day.
To go off the beaten path try Bar Oldenhof, a cool speakeasy-style bar that's hidden in plain sight; ring the bell next to the unassuming door and someone will appear to take you inside. You'll be greeted by a mood-lit jazz bar decorated with rich wood, velvet, and plush armchairs where you can sip a classy cocktail. It's definitely worth a visit here, if you can find it that is…
If you're looking to dance the night away, then Chicago Social Club is the bar for you. This late night bar and club is lively and atmospheric, and is the ideal spot for 'just one drink' to turn into a big night of dancing. Local DJs take to the stage most nights, so there's always a party going on here to liven up your evening.
Day 2: More sightseeing, market, afternoon activity & dinner
Kick off day two of your Amsterdam city break with a trip to the Anne Frank House
Wake up bright and early, have breakfast, and head out to visit the Anne Frank House.
Queues to get in can be super long as only a limited number of visitors are allowed in the tiny annex at a time, so it's best to arrive ahead of your booked slot (you have to book online in advance - 80% of tickets are released two months in advance, and the other 20% on the day).
This famous building looks just like any other from the outside, but inside is the site of one of the most famed stories of World War II - how Jewish child Anne Frank and her family hid in the house's secret annex to evade capture by the Nazis.
The family (and four others) stowed away here for just over two years before they were discovered, and the diary Anne wrote during this time has become one of the most famous accounts of Jewish repression during the war in the world.
Today, there is a modern museum attached to the house with loads of informative displays about the Frank family and Jewish history in general, as well as extracts from the diary itself.
Walking through the annex is a truly surreal and moving experience that details one of the most harrowing periods in history; something everyone should get to grips with when visiting Amsterdam.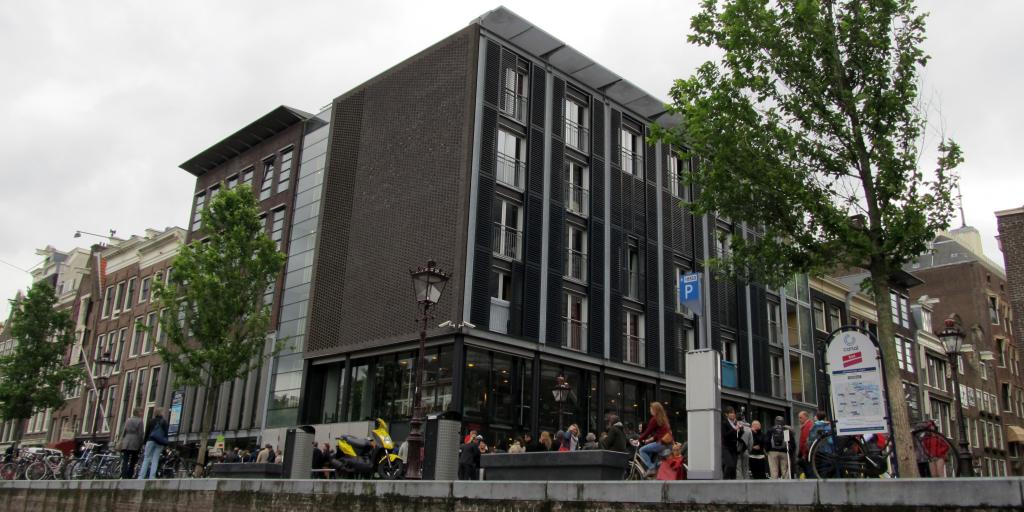 Stroll east to Dam Square and visit the Royal Palace Amsterdam
Take a moment to reflect on what you've just experienced at the Anne Frank House by strolling east through the canals to Dam Square.
Here you'll find the National Monument - a tall white pillar that commemorates the casualties of World War II, which is another dramatic reminder of this country's past.
The pillar is located on the east side of the square, so cross the road to the west side and head towards the Royal Palace Amsterdam.
Built as a city hall during the 17th century Dutch Golden Age, the Palace stands in the centre of the capital and still plays a major role in state visits and royal occasions to this day.
Whenever the building is not in use, visitors are welcome to explore its beautiful interiors, following in the footsteps of the Dutch royals.
If you're lucky enough to be in Amsterdam when the Palace is open for visitors, be sure to check out the stunning Citizen's Hall, with its glistening marble floor decorated with two maps of the world, and the statue of Atlas carrying the sky on his shoulders.
There's an urban legend in Amsterdam that if Atlas ever drops the sky, Amsterdam will fall too - so be sure to check he's still got a hold of it!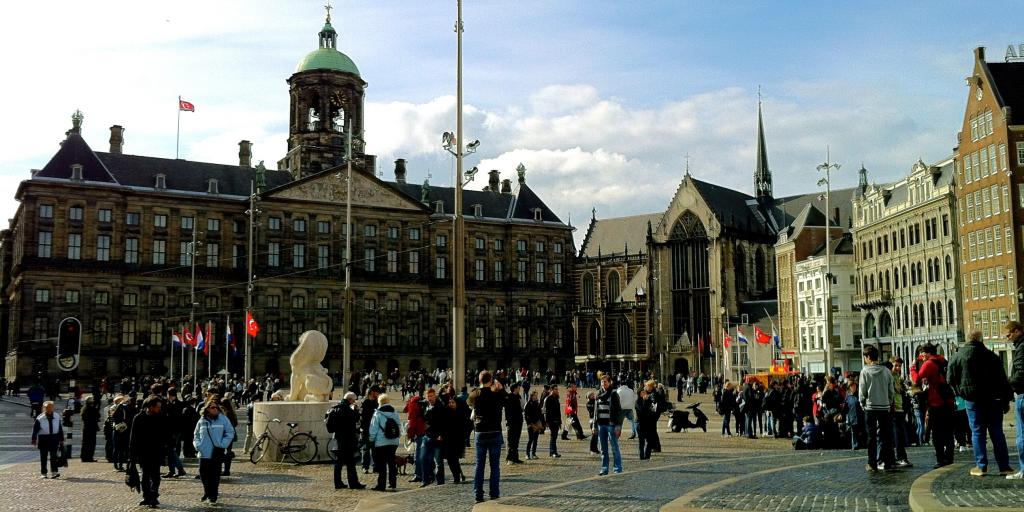 If the Palace is closed during your stay, just spend some time in the square admiring it (and the National Monument) from the outside, or pay a visit to nearby De Nieuwe Kerk (New Church) - an equally beautiful monument that hosts amazing exhibitions.
Eat a stroopwafel at Albert Cuyp Market
It's time for something a little more relaxed after all that intense sightseeing, so set off towards Albert Cuyp Market - one of the largest and most popular street markets in the Netherlands.
As it's located in the heart of the De Pijp neighbourhood, it's a little way away from Dam Square, so either hop on the number 24 or number 4 tram to get there in around 15 minutes, or walk through the canal belt and you'll arrive in around 25 minutes.
This bustling street market sells everything from kitchenware and clothes to fresh produce.
After your busy morning, the first thing you'll probably want to do as you browse the stalls is pick up a savoury snack for lunch - we recommend opting for a baked good from The Amsterdam Bakker or a toasted sandwich from Greg Monsieur to get those energy levels back up.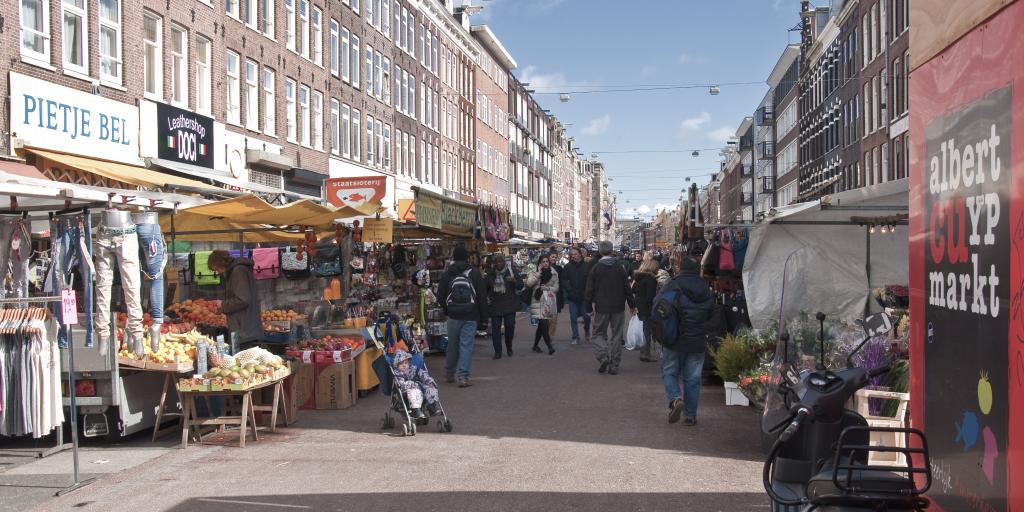 After your bite to eat, spend some time walking the length of the market browsing the stalls and picking up any trinkets or souvenirs that take your fancy.
Travel tip: If you're visiting during spring's tulip season (end of March until mid-May) look out for all the colourful tulips on sale along the street, adding an extra splash of colour to the already-vibrant market.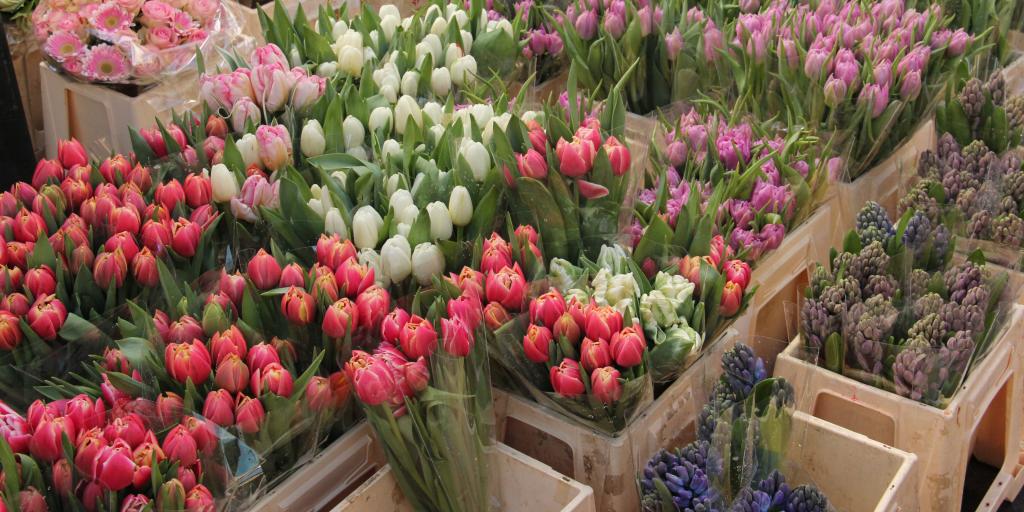 Around halfway down the market street you'll come across the Original Stroopwafel stall, one of the best spots in the city to get one of these delicious crispy, chewy, syrupy waffles that are a Dutch staple.
You'll find them all over the city (just follow the sugary smell), but this family business is a particularly good place to try one.
Their coveted family recipe has been passed down through generations and uses only the best ingredients, giving you the ultimate, authentic stroopwafel experience.
They're made there and then as you watch, so they're all warm and oozing caramel sauce - drooling yet?
Order one on the spot, then buy a few of their packaged waffles to take home with you.
Pick an activity for the rest of the afternoon
Whether that stroopwafel has given you a sugar buzz or made you feel like you need to sit down, are are some ideal ways to spend the few remaining hours before dinner:
Something calm and relaxing - the Begijnhof is a group of historic buildings surrounding a beautiful green square that's a true oasis of calm in the middle of the busy city. Originally a beguinage (a complex of houses built for unmarried religious women to live as a community), the courtyard complex retains its quiet, sacred feeling, and is accessed via an arched doorway tucked away on Spuiplein. Visitors are asked to remain quiet whilst in the Begijnhof, so it's a wonderful place to get away from the bustle of the city and just breathe.
Something adventurous - if you'e feeling a little more adventurous, head to the 'Over the Edge' swing on top of the A'Dam Lookout building. Said to be the highest swing in Europe, it sends you 100 metres above ground off the edge of the building, with the city just below your feet. The views are unbeatable and will give you a real shot of adrenaline if you're in the market for a thrill-seeking afternoon.
Something social - for something a little more social, a trip to the Brouwerij 't IJ brewery is a great option, especially if you've got a thing for beer. This small brewery is located in a former bathhouse and brews loads of their own organic beer, including standard classics and seasonal specials. Go for a guided tour or tasting, or just have a natter in the pub with a pint.
Go for dinner at Vuurtoreneiland
Once your afternoon has drawn to a close, head back to your hotel and get ready for dinner.
Plan ahead and book a table on Vuurtoreneiland, a small lighthouse island close to the city that you reach via a boat from outside the Lloyd Hotel in town. It's hard to believe that this beautiful, wild island is so close to the city; your evening there will feel more like a holiday-within-a-holiday than just a normal meal out.
The island is home to both a summer restaurant, located in a light and airy glass hut, and a winter restaurant, which is in a cosy fort warmed by fires and candles, so whatever time of year you visit it's sure to be a pleasant experience.
This is also true of the food, which is made from locally sourced ingredients and cooked over an open fire, bringing you even closer to nature.
Included in the price of a ticket is the boat trip there and back, an aperitif and snacks on the boat, drinks (including wine, water, coffee and tea), and a five course menu, so everything is taken care of before you even step onto the boat.
The full evening lasts around four hours and is sure to be a unique and unforgettable meal out - the perfect way to end day two.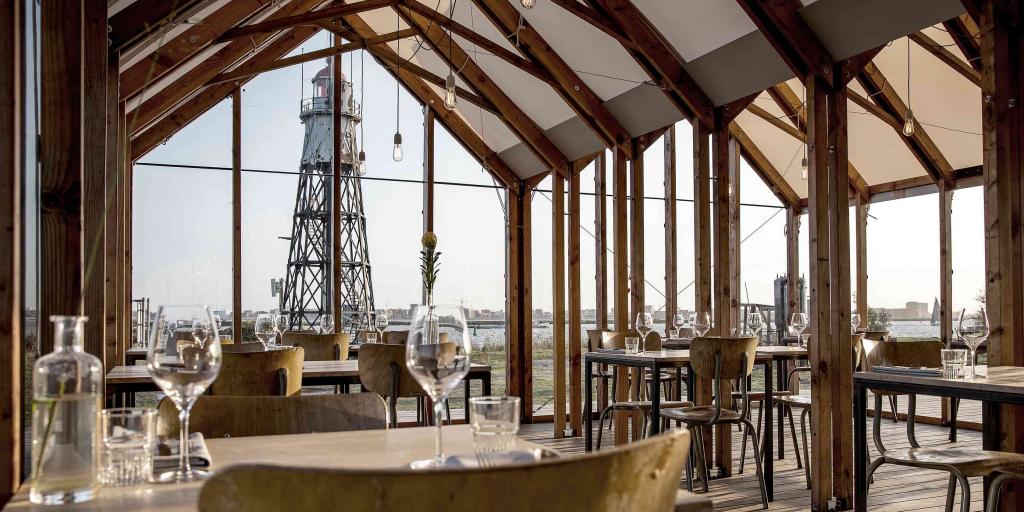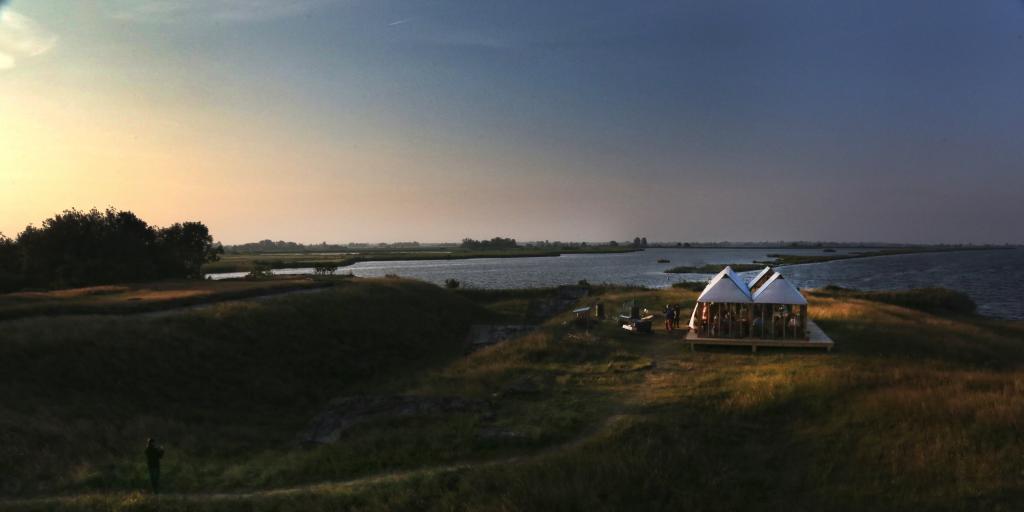 Day 3: Cycling, the Van Gogh Museum & coffee
Have Dutch pancakes for breakfast at De Vier Pilaren
Your final day in Amsterdam deserves a great breakfast, so head to De Vier Pilaren just down the road from the Rijksmuseum for some classic Dutch poffertjes, miniature pancakes topped with butter and powdered sugar (or any other toppings you fancy).
This cafe has some of the best fluffy pancakes in the city, with their 'normal' portions offering a generous 20 poffertjes topped with additional strawberries and whipped cream.
You can also get large, crepe-style pancakes in a load of sweet and savoury combinations, as well as a long list of hot and cold drinks to round off your breakfast.
Rent a Dutch bike and go cycling in Vondelpark
The majority of Amsterdammers cruise through life on two wheels, so hire a bike for the rest of the morning and go for a cycle to burn off those pancakes.
There are bike rental shops all over the city so it shouldn't be hard to find one near the cafe, however if you need inspiration then Green Budget Bikes will set you up with an unmistakable bright green mode.
If you'd rather be a touch more incognito, then Bike 4 U offers bikes minus the rental branding, letting you blend in with the locals. Opt for a classic Dutch bike (the difference is that the brake is in the pedals), which both places rent for around €7 for three hours.
It's up to you where you decide to cycle to, but we'd thoroughly recommend joining the streams of locals cruising along the canals for an iconic (and slightly hair-raising) Amsterdam experience, before heading to the serene paths of leafy Vondelpark to enjoy one of the prettiest green spaces in Amsterdam.
Do a lap of the park, stopping for a break on the grass halfway round.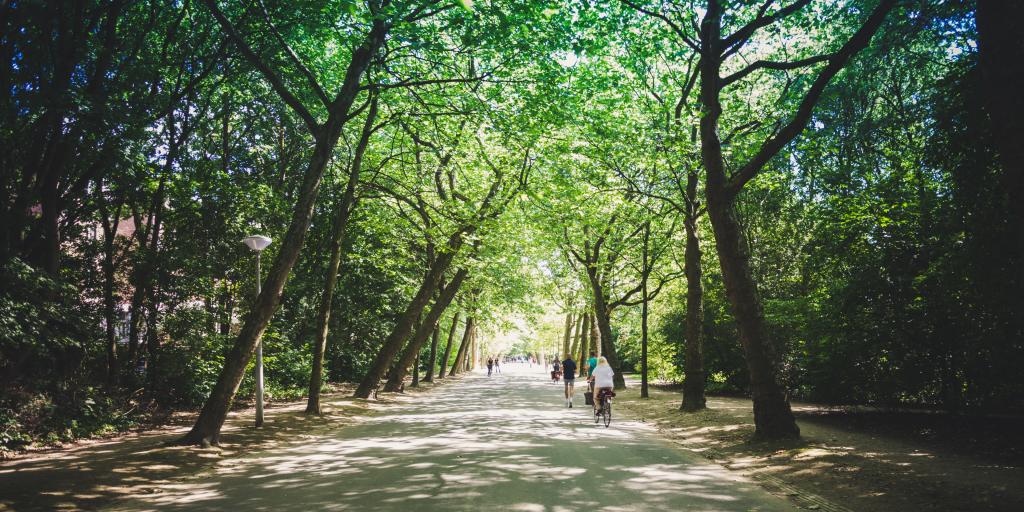 Visit the Van Gogh Museum
Return your bike to the rental shop (both Green Budget Bikes and Bike 4 U have a branch close to the park) and wander over to the Van Gogh Museum.
Tickets are only available online to limit the queues, so book beforehand and you should be able to head in pretty quickly for your designated time slot.
Van Gogh, a native of the Netherlands, was an incredibly influential figure in modern art, and this fascinating museum is home to one of the most important collections of his work in the world.
You'll also see pieces by other artists who influenced, or were influenced by, Van Gogh.
The collection is set across four floors, starting with a room of self portraits before ascending through his work in chronological order, highlighting how his artistic style changed throughout his life.
Spend some time here making your way through the whole museum to get the most rounded picture of Van Gogh's work - it's definitely worth going slowly to take in the whole timeline.
Once you're done, make your way to the museum cafe Le Tambourin for lunch before you leave (you can only access the cafe via the museum).
The food is fresh, delicious, and reasonably priced, as well as being served in a stylish glass building overlooking the Museumplein, so there's no reason why you should leave and hunt for a lunch spot elsewhere.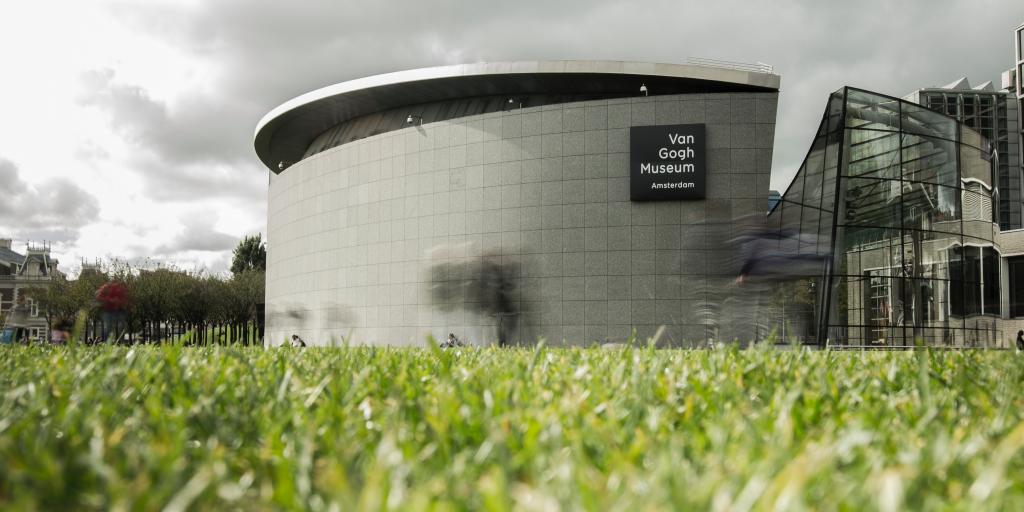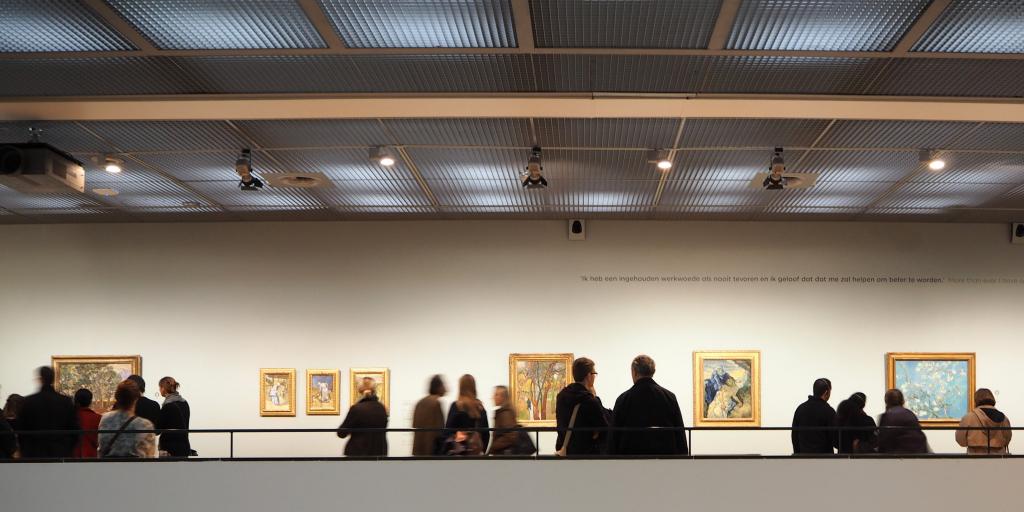 Relax in a cafe or coffeeshop until your flight leaves
Once you've finished lunch you'll probably only have a few hours left of your weekend in Amsterdam before you need to head to the airport, so we'd suggest having one final walk through the canal belt before heading to a cafe or coffee shop.
It's important to know that there's a big difference between a cafe and a coffeeshop in Amsterdam; cafes are your standard tea-and-cake affairs, whilst coffeeshops are licensed to sell legal cannabis.
Visiting a coffeeshop is often thought of as integral to any trip to Amsterdam (depending on your preferences, of course), and there are over 100 scattered across the capital.
If you'd rather not, there are plenty of great cafes serving actual coffee - and fantastic coffee at that.
To aid your selection, here's our favourite cafe and coffeeshop to give you some inspiration for your final Amsterdam stop:
Our top cafe pick is Back to Black on Weteringstraat. This cosy cafe has a small coffee roasters where they create their own delicious blends, as well as offering a great selection of homemade cakes and pastries to enjoy alongside your latte or cappuccino. The friendly baristas, colourful design and laid-back atmosphere all make this a lovely spot to unwind before heading home.
For a classic coffeeshop experience, head to the world-renowned Grey Area. Regarded as one of the best coffeeshops in Amsterdam, this place specialises in all things cannabis, offering loads of original strains and expert advice to ensure you make the most of your legal high. This coffeeshop has also seen many famous faces pass through in its time, including Snoop Dogg and Willie Nelson, so you know it must be top-notch.
Once you're done, walk back to your hotel, pick up your bags, and make your way back to the airport to fly back home. Hope you had an Amster-dam good time!