8 Best Hot Springs near Calgary
Calgary is a young and vibrant city in southern Alberta that blends urban buzz with the idyllic surroundings of the Canadian Rockies. Not far from the border with British Colombia, there is a dizzying array of places for every mode of outdoor adventure. As the frost creeps in, the allure of the area's most exquisite natural indulgence intensifies - it's time to head to a hot spring!
On this list of the best hot springs near Calgary you'll find places to pamper yourself in mineral waters of natural hot springs. Some springs are fully developed with adjacent restaurants and amenities, while others require an AWD and a full morning's trek.
The unique geology of the area has resulted in a wonderful selection of hot springs that are only a day trip or overnight trip from Calgary. Keep reading below to make your shortlist of must-visit springs and prepare for a spa day au naturel.
1. Banff Upper Hot Springs
1 hour 30 minutes (130 km)
What makes this hot spring special: Along the precipice of Sulphur Mountain sits the sultry mineral water of the Upper Hot Springs in Banff. Attracting visitors for centuries, they are also the highest-maintained hot springs in Canada, which offer exceptional views of the surrounding Rockies.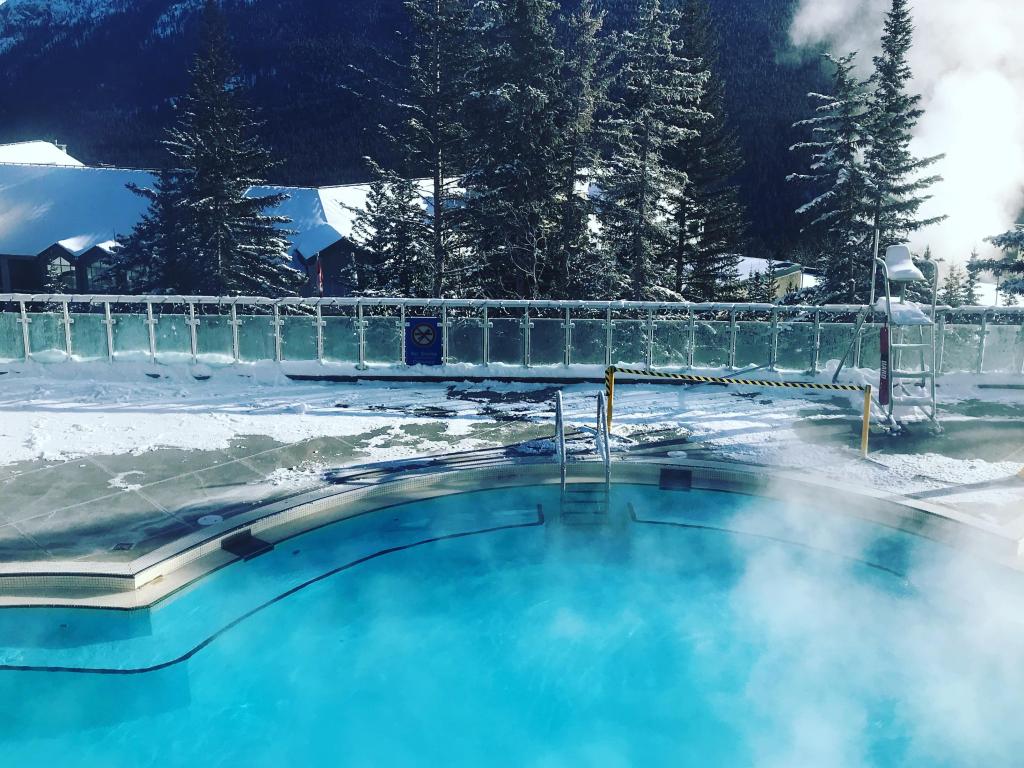 How to get there: Take the Trans-Canada Highway (AB-1) East from Calgary and drive for 111 km until you exit onto Banff Avenue. Cross the bridge over Bow River, then continue on Mountain Avenue to reach the hot springs.
Fees: For adults between 18 and 64, the pool entry fee is $16.50. If you're thinking of visiting here as part of your regular self-care routine, you can also buy booklets of 10 adult tickets for $149.75.
Things to know:
The hot springs are open for Banff National Park visitors to enjoy from 10am to 10pm.
Children are welcome at the hot springs and children under 3 are free.
There are lower rates for youth and seniors as well as slightly discounted group rates for parties of 10 or more who book together.
You have to purchase tickets in person at the hot springs, so be sure to get there early before they fill up.
The water temperature is typically between 37 and 40 degrees Celsius and it is infused with sulphate, calcium, and bicarbonate – which is believed to have healing properties for the skin.
Where to stay: Make the most of your stay in Banff at the Moose Hotel & Suites. This luxurious, lodge-style hotel boasts an excellent location with near panoramic views of the surrounding Rockies and easy access to all of Banff's attractions.
In case you'd like to follow up your natural spa treatment with a massage or facial, they have a beautiful spa with caring staff. A plus for the road tripper who doesn't want to wade through snow to check in is their underground parking.
While you are here: The Upper Hot Springs are just one of the dazzling attractions within the 6,641 square kilometre Banff National Park, which is also home to the Valley of the Ten Peaks and azure Moraine Lake.
On the other side of Sulphur Mountain from the hot springs, a truly "far out" sight is the abandoned Cosmic Ray Station which was originally constructed to perform geophysical measurements in 1957.
For those who are interested in continued relaxation, fine dining, and exquisite views, you can ride the Banff Gondola up to the award-winning Sky Bistro.
2. Mist Mountain Hot Springs
1 hour 30 minutes (145 km)
What makes this hot spring special: This is a hot spring in the lap of the Rockies wilderness, which will prove irresistible to lovers of the great outdoors who don't mind breaking a sweat to reap a soothing reward.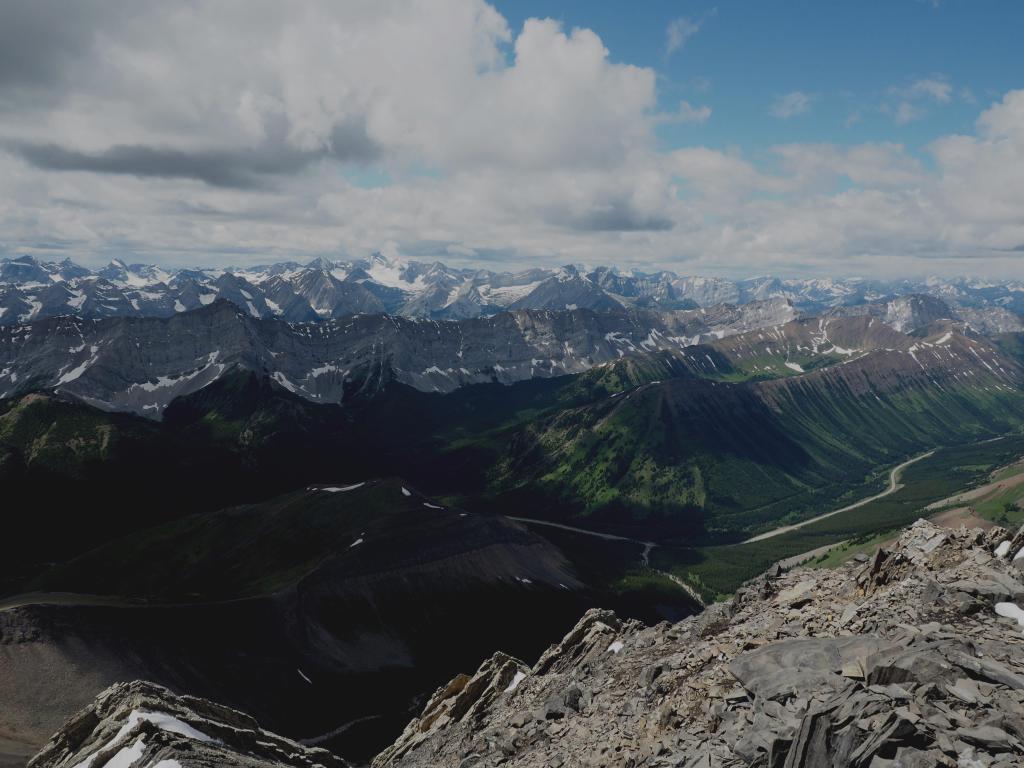 How to get there: Take the Trans-Canada Highway to AB Route 40 South and follow this for about 63 km until you see the sign for the Mountain Mist Trailhead.
Fees: Mist Mountain is in the Elbow-Sheep Wildland Provincial Park, which means that you'll need a Conservation Pass to enter the park. A day pass is $15 and a yearly pass is $90. Both can be purchased via the Alberta government website.
Things to know:
Be aware that there are two trails up Mist Mountain: Mist Mountain Trail and Eagle Ridge Trail. Both eventually lead to the hot springs, but the latter train is much more strenuous, being about 7 km long with over 600 m in elevation gain.
The hot springs are located roughly between Mist Mountain and Eagle Ridge, in a slight dip where a stream descends down the mountainside.
These hot springs are popular with hikers in the region, so prepare to see plenty of people on the Mist Mountain Trail.
AB-40 leading here is closed due to snow from December to June. The best time to hike here is between June and October.
There's no dedicated parking lot for the Mist Mountain Trail, but there is a wide shoulder where you can park near the trailhead.
Where to stay: While Mist Mountain Hot Springs is out in the sticks, about 60 km back along AB-40 in Kananaskis, you'll find a fabulously rustic, all-inclusive accommodation at the Mount Engadine Lodge. Here, you can opt for glamping tents or free-standing cabins.
Almost every single one has a picture-perfect view of the mountains around the broad Spray Valley, which takes on a variety of beautiful guises throughout the seasons.
While it has the vibe of a remote, backcountry cabin, it is accessible by car, and they make sure every last detail is taken care of – especially the food. We assure you that you'll be hard-pressed to find such tasty grub this deep in any other woods.
While you are here: If you just can't get enough of the fresh mountain air, you can continue the Mist Mountain Trail all the way to the summit. While it is a challenging hike, you won't need any technical climbing skills and the views are breathtaking.
3. Radium Hot Springs
2 hours 50 minutes (260 km)
What makes this hot spring special: Nestled in the visually striking Sinclair Canyon, the aquamarine waters of Radium Hot Springs sit like a jewel in the midst of a charming mountain town of the same name.
As the name suggests, they do in fact, contain radium – though they are perfectly safe for soaking and thoroughly relaxing.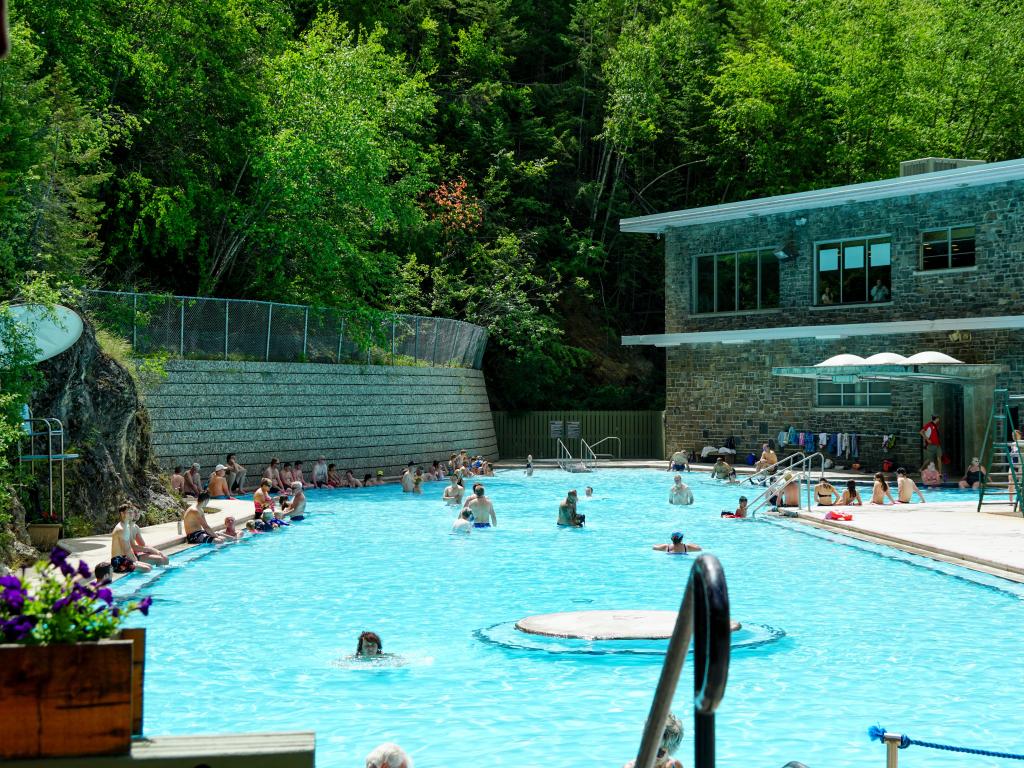 How to get there: From Calgary, follow the same route to Banff along the Trans-Canada Highway. Once you reach Castle Junction, exit onto AB Route 93 South and follow this for the remaining 104 km to Radium Hot Springs.
Fees: The fee structure is the same as at Banff Hot Springs, with an adult ticket for day access to the pools costing $16.50.
Things to know:
These hot springs are open year-round and look otherworldly when surrounded by a blanket of winter snow.
The town and hot springs are located in Kootenay National Park and are operated by Canada Parks.
During the week, from Monday to Friday, the parks are open from 11:30am until 9:00pm On the weekends, they open an hour earlier at 10:30am and close at 9:00pm.
Like Banff, these hot springs are first-come, first-serve, so come early or during the week if you want to ensure your spot amidst the steam.
There are towels for rent and for purchase, as well as swimsuits, in case you're making a spur-of-the-moment trip.
There are hot pools as well as cool pools, though the latter have been under construction for some time. Check with the park's website before you head out to see which facilities are currently open.
Where to stay: You couldn't ask for grander scenery or greater conveniences than what the Bighorn Meadows Resort has to offer. Located right on the end of the Springs Golf Course, this affordable yet modern hotel has a wide range of accommodations, including family suites that have full kitchenettes.
The hot springs are only 4 km away, but if you'd like to continue soaking after the park closes, you can head straight to the resort's hot tubs. With an on-site gym for active adults, and a small playground for children, this place is great whether you're on a couple's trip or brought the whole family along.
While you are here: Being located within a national park, Radium Hot Springs is surrounded by forest trails that meander alongside the Colombia River. It's also home to several golf courses in case you're a couple with different tastes when it comes to unwinding.
4. Fairmont Hot Springs
3 hours 15 minutes (300 km)
What makes this hot spring special: These are the largest developed hot springs in Canada and have more man-made embellishments than some of the other hot springs on this list, including diving boards, slides, and loungers.
Still, while soaking in the pools, you'll feel completely immersed in the refreshing beauty of the Rockies.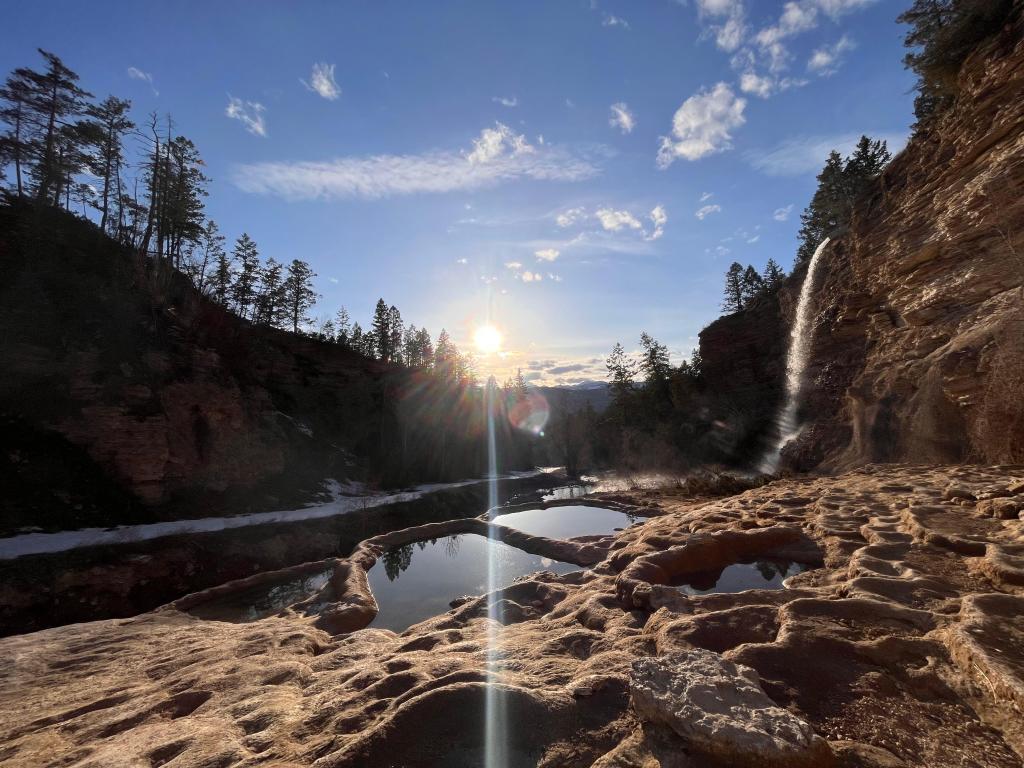 How to get there: Similar to the above route, you'll take the Trans-Canada Highway and AB Route 93 South past Radium. Continue for about 20 km past Windemere Lake until you reach Fairmont Hot Springs.
Fees: Single entry is $16 and a day pass is $24. They also have family rates: $50 for a single entry and $70 for a day pass.
Things to know:
While the pools are located within the Fairmont Hot Springs Resort, day visitors are welcome.
The fall opening hours for day visitors are between 9:00am and 8:00pm every day.
If you do stay at the resort, you'll have complimentary access to an exclusive pool between 7am and 10pm.
The water is typically between 30 and 39 degrees Celsius.
These mineral springs contain calcium bicarbonate, calcium sulfate, and magnesium sulfate all of which are believed to contribute to the water's restorative properties.
Where to stay: For a rustic and memorable stay near Fairmont Hot Springs, check out the Fairmont Mountain Bungalows. Each bungalow feels like a rustic cabin where you can truly escape from all the stressors of the daily grind.
In addition to the charm and privacy each cabin provides, there are also amenities that you would normally expect at a larger hotel, like a pool, outdoor fire pits, and playground.
Recent updates have made the cabins even more comfortable.
While you are here: If you're making this trip in the winter, be sure to bring your skis or snowboard along as there are some decent ski runs near the resort. If you come during the warmer months with a thirst for adventure, don't miss the Mineral Mountain Ziplines.
5. Lussier Hot Springs
4 hours (345 km)
What makes this hot spring special: The waters of the Lussier Hot Springs trickle into boulder-bound pools along the Lussier River, making these 100% natural hot springs perfect for those who prefer rugged surroundings and the sounds of burbling water.
They're not as remote as the Mist Mountain Hot Springs, but you'll still get a good dose of outdoor adventure getting here.
How to get there: These hot springs are also accessible via the Trans-Canada Highway and AB Route 93 South. This time, drive about 30 km south of Fairmount, then look out for the Whiteswan Lake Forest Service Road on your left. Follow this unpaved road for the last 17 km of the journey.
Fees: They are completely free and you don't need a permit to visit.
Things to know:
The springs are within Whiteswan Lake Provincial Park
While the setting of these hot springs makes them feel like a hidden gem, quite a few people are in on the secret, so expect crowds during the day when the weather is nice. That said, they are more remote and private than Fairmont and Radium.
In order to get here, you'll have to drive for 17 km on an unpaved logging road. If these kinds of mountain roads make you nervous, you might want to skip this trip or have another person drive.
There's parking at the end of the road and you'll have to make a short, but steep, hike down to the pools. This hike is pretty dangerous when icy, so be cautious if you are intent on visiting these hot springs in the winter.
As tempting as it might be to spend a night here under the stars, camping isn't permitted and rangers sporadically patrol the area.
Where to stay: The Lussier Hot Springs are so remote that Fairmont is actually the closest place where you can find any accommodations. We still think one of your best bets for a comfortable and fun stay is the Fairmont Mountain Bungalows.
Read above for more reasons why this is a great place to stay.
While you are here: Trout fishing is a popular pastime on the Lussier River. There are also several charming parks around nearby Colombia Lake.
6. Ram Creek Hot Springs
4 hours 30 minutes (370 km)
What makes this hot spring special: This is another set of hot springs where you can really savor the seclusion of the Rockies wilderness and feel fully at peace in nature.
Surrounded by deep green spruce trees, the surrounding views are as revitalizing to the soul as the soothing waters.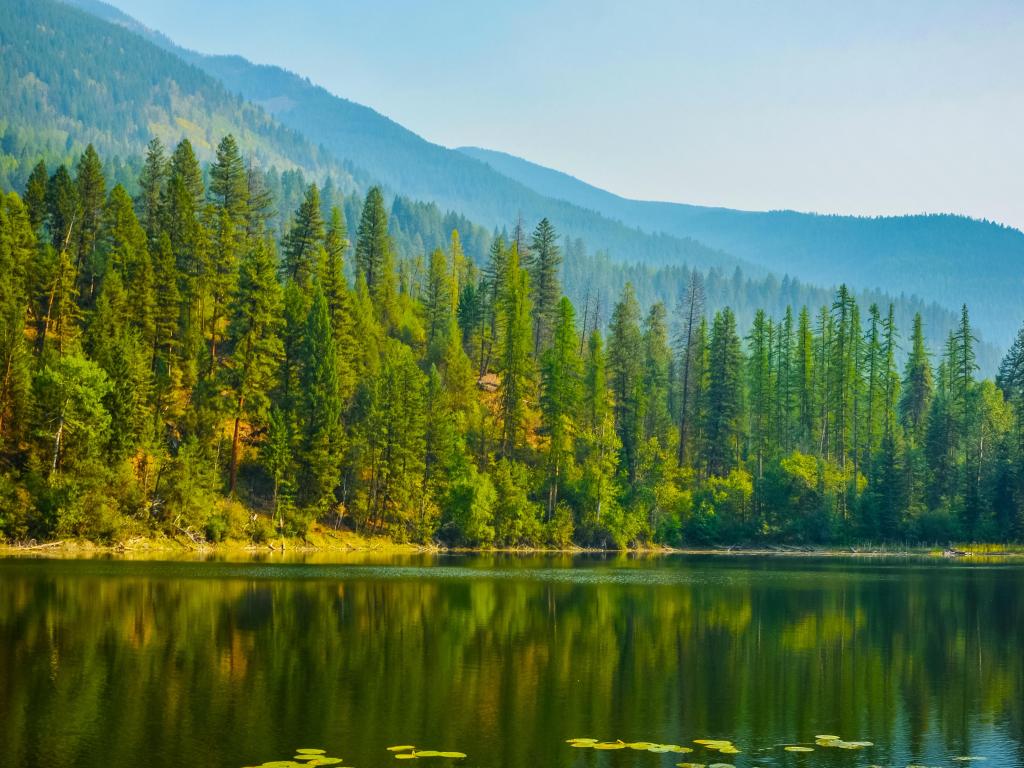 How to get there: Follow the directions above for how to get to Lussier. Continue along Whiteswan Lake Forest Service Road until you get to Alces Lake, then veer to your right onto Lussier River Forest Service Road.
Stay on this road for 15 km, then look out for a right turn onto White Ram Forest Service Road. This road will take you the final 6 km to Ram Creek Hot Springs.
Fees: There are also no fees to visit these natural hot springs.
Things to know:
These remote springs are in the Purcell Wilderness Conservatory. Be aware that there aren't many nearby facilities, so bring enough food, water, bug spray, and other supplies.
An AWD vehicle would be most suitable for the many kilometres on unpaved mountain roads.
You'll notice a slight smell of sulfur coming from the springs – just think of how radiant your skin will be after a dip.
These pools are occasionally a bit murky and the water isn't as warm as other hot springs in the area, so this is a better hot spring for a more temperate day.
Where to stay: Once again, due to the remoteness of these hot springs, your closest option for modern accommodations is back in Fairmont, about 70 km away.
While here, the Fairmont Mountain Bungalows is a comfortable lodging option. Read more about this accommodation above under the Fairmont Hot Springs section.
While you are here: Between Lussier and the Ram Creek Ecological Reserve, where the Ram Creek springs are, you'll have the chance to explore Alces Lake and the larger Whiteswan Lake a little bit behind it, respective to the road.
Both have basic wooden piers and campgrounds, in case you'd like to make this a camping trip.
You can also head south and visit the stunning lakes of Premier Lake Provincial Park such as Canuck Lake after your soak at Ram Creek Hot Springs.
7. Miette Hot Springs
5 hours 25 minutes (470 km)
What makes this hot spring special: If you love to feel the burn, then head to Miette Hot Springs, the hottest springs in the Canadian Rockies. Surrounded by pristine forests and views of snow-capped peaks that border Fiddle Valley, these well-maintained hot springs also boast a tasty café.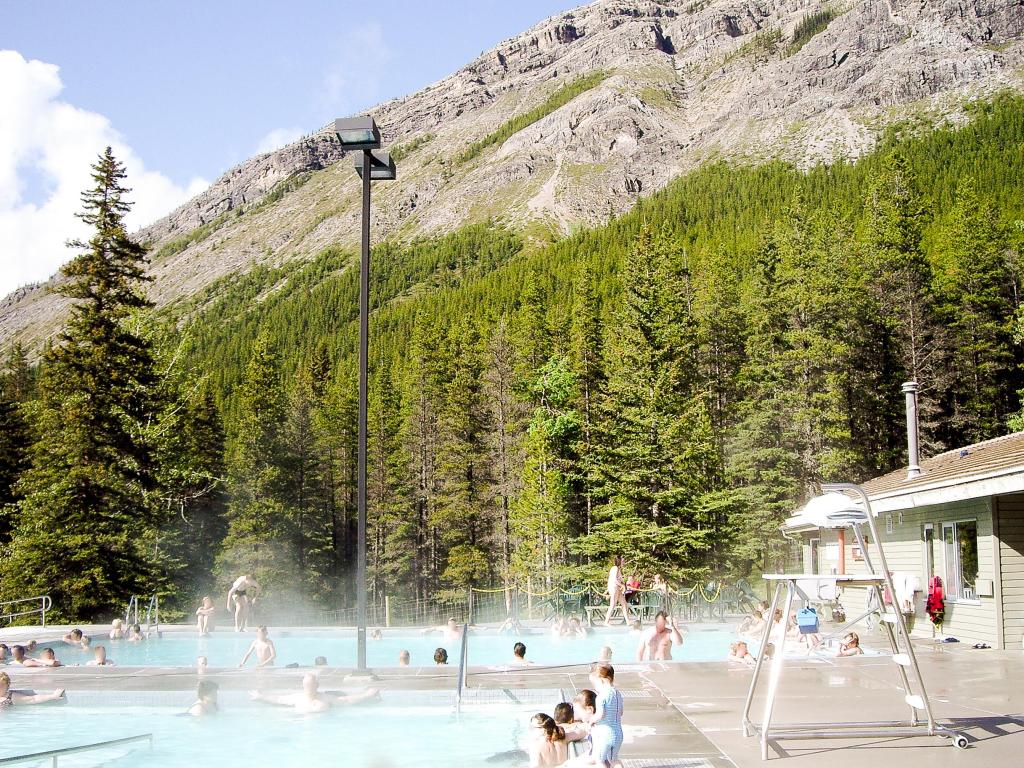 How to get there: Once again, hop on the Trans-Canada Highway and drive until Lake Louise, where you'll change on to AB Route 93 North which will take you all the way to Jasper.
Here, hop on Highway 16 and head east to Pocahontas, where you'll see signs for Miette Road, which leads to the springs.
Fees: These springs are also managed by Parks Canada and follow the same price structure as Banff and Radium. Adult pool admission is $16.50 and can only be purchased on-site.
Things to know:
These relaxing hot springs are located in gorgeous Jasper National Park.
Due to winter road closures, the hot springs will be closed in early October, re-opening in May 2024. Remember to keep these hot springs on your spring road trip wish list.
When the parks are open, they have varying hours depending on the season. When they open back up in May, their hours will be from 10:30am to 9pm until June 16. They have their longest opening hours between June 17 and September 5 when they stay open from 9am to 11pm.
Where to stay: Located just outside the national park, Jasper East Cabins are a group of adorable log cabins in the middle of a forest clearing.
There's free parking on site and incredibly helpful staff so you can get straight to unwinding on your private porch and admire the stunning views from every angle. It is still a 28 km drive to the hot springs from here, but the drive is along some outstandingly scenic roads.
After a day of dipping in the hot spring and hiking through the spectacular forest paths of Jasper, you can whip up your favourite dish in the cabin kitchenette and cozy up by the fireplace. This is a place with charm to spare.
While you are here: Miette Hot Springs are hardly the only attraction in Jasper National Park. On your way to the springs, take some time to marvel at the azure waters of Maligne Lake, one of the largest glacial lakes in the world.
For more breathtaking views of Jasper, without the need to break a sweat, take a ride on the Jasper Tramway.
8. Ainsworth Hot Springs
7 hours 30 minutes (595 km)
What makes this hot spring special: Located in a small mountain community along Kootenay Lake, the Ainsworth Hot Springs have been enjoyed and revered by the First Nation Ktunaxa people since time immemorial.
These healing waters flow from an underground cave, which guests are also welcome to explore.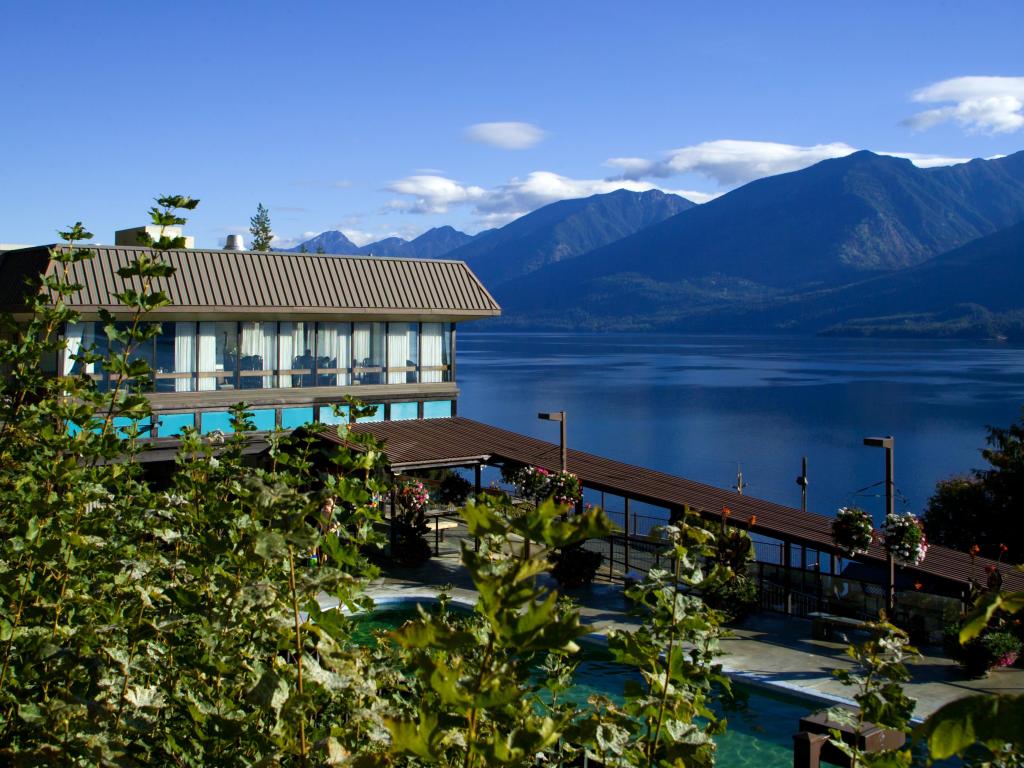 How to get there: Take AB Routes 2 and 22 South to Lundbreck, where you'll get on BC Route 3 and start heading west. Once you reach Creston, take a right onto BC Route 3A and drive north to Kootenay Bay.
A fun perk of this route is a ferry ride you'll take across the lake between Kootenay Bay and Balfour. Once on the other side, drive the final 15 km of the trip north along BC Route 31 to reach Ainsworth.
Fees: Single entry for an adult is $18 and includes access to the pools as well as the cave. They have slightly lower rates for children ranging from $12 to $15 and seniors above 65 are $17. They also offer a family ticket covering two adults and two children for $50.
Things to know:
The hotel and restaurant are open five days a week between Wednesday and Sunday.
For guests staying at the resort, the pools and cave are open to enjoy between 8am and 9pm.
The resort is open to day visitors who just want to soak from 10am to 7pm Wednesday through Sunday and from 10am to 2pm on Monday. You'll have to reserve a specific time slot for your visit ahead of time on the resort's website.
They have complimentary lockers and you can rent a towel in case you forgot yours at home.
The minerals dissolved in these utter rejuvenating waters include calcium carbonate, calcium sulfate, and magnesium sulfate.
Where to stay: In case you don't opt to stay at the Ainsworth Hot Springs Resort itself, another lovely option nearby is the Kootenay Lakeview Resort.
Boasting unparalleled lake and mountain views as well as a scrumptious continental breakfast, this is a comfortable and modern upscale accommodation.
Right next door, you'll find a golf course and there are a few rustic BBQ areas in case you'd like to grill the day's catch from the lake. It's also close to the ferry, making your return journey a breeze.
While you are here: If you want to sound like a local, be sure to call the area around Kootenay Lake "the Koots."
In addition to several pristine parks with pretty views of the lake, the J.B. Fletcher Store Museum in Ainsworth is worth a gander to see some old-timey wares as well as contemporary knick-knacks for sale.
*The prices listed above for each of the hot springs were calculated at the time of writing. Please check the official websites for updated information on the ticket types.