Road Trip from Calgary to Las Vegas
For an epic journey taking you from the stunning scenery of southern Canada through the mesmerizing and iconic national parks in the US, while also giving you plenty of big cities and interesting towns along the way, the trip from Calgary to Las Vegas is the adventure for you.
The 2,500km road trip from Calgary to Las Vegas will take you 28 hours to drive. Key stops include Jackson, Salt Lake City and Spokane, as well as Lake Tahoe, Yosemite National Park, Death Valley National Park, Yellowstone and Glacier National Park.
To help you make the most of your fantastic adventure, we've set out the best routes you can take, the places to stop overnight, our favorite things to do and the best time of year to make the trip from Calgary to Las Vegas.
How far is Las Vegas from Calgary, and how long will the road trip take?
Comparison of road trip routes between Calgary and Las Vegas

| Route | Distance | Driving Time |
| --- | --- | --- |
| The Western Route | 3,500 km | 43 hours |
| The Eastern Route | 2,500 km | 28 hours |
The trip from Calgary to Las Vegas is an epic drive taking you from Canada and across several states in America. The shortest route spans a distance of 2,500km and will take at least 28 hours to drive without stopping.
A longer trip, which would take you further west, is significantly longer and covers 3,500 km. This alternative route will take you closer to 43 hours of non-stop driving.
Neither route can be completed in a single day, instead, you will need a minimum of several days. Our recommendation would be to allow for a week for a trip of this size. The overnight stops will give you plenty of opportunities to really explore the stunning scenery you will pass.
As both routes will take you across the Canadian border into the US, you will need to check ahead of traveling that you have the correct documentation and proof of identity.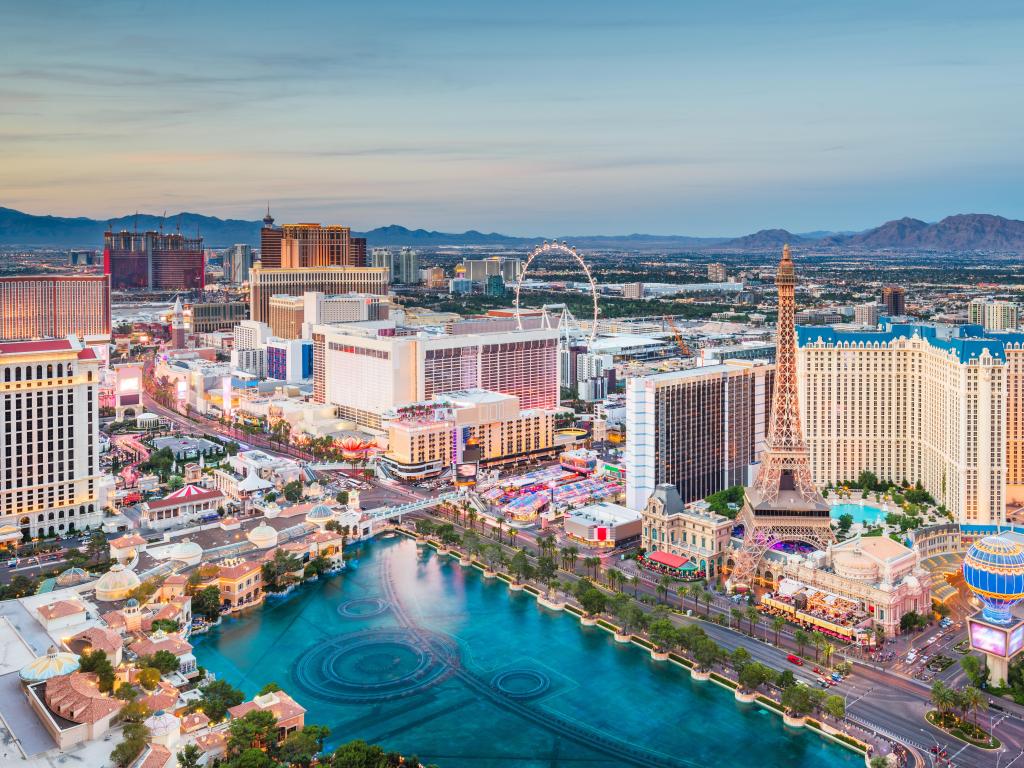 Best road trip route from Calgary to Las Vegas
Our two recommended routes from Calgary to Las Vegas involve a great variety of fascinating cities, beautiful landmarks and stunning parks. The most direct will see you follow the Eastern Route and pass the famous Grand Teton National Park and Yellowstone National Park.
Our Eastern Route, despite being shorter, still has an impressive list of cities. It's also a great option if you've already been to California as it bypasses this part of the US and instead takes you through the desert parks in Utah.
Alternatively, if you have more time to dedicate to your trip then our Western Route will be the trip of a lifetime. It's also ideal if you'd like to include California and the forest national parks, such as Yosemite National Park and Kings Canyon National Park as well as Lake Tahoe.
If you would like to follow this route, but have time constraints, you can skip the California leg of the trip and drive from Reno directly to Las Vegas which will save you 10 hours. However, you would be missing out on an epic adventure, which is what a road trip is about!
How to drive from Calgary to Las Vegas