Road Trip from Calgary to Las Vegas
For an epic journey taking you from the stunning scenery of southern Canada through the mesmerizing and iconic national parks in the US, while also giving you plenty of big cities and interesting towns along the way, the trip from Calgary to Las Vegas is the adventure for you.
The 2,500km road trip from Calgary to Las Vegas will take you 28 hours to drive. Key stops include Jackson, Salt Lake City and Spokane, as well as Lake Tahoe, Yosemite National Park, Death Valley National Park, Yellowstone and Glacier National Park.
To help you make the most of your fantastic adventure, we've set out the best routes you can take, the places to stop overnight, our favorite things to do and the best time of year to make the trip from Calgary to Las Vegas.
How far is Las Vegas from Calgary, and how long will the road trip take?
Comparison of road trip routes between Calgary and Las Vegas

| Route | Distance | Driving Time |
| --- | --- | --- |
| The Western Route | 3,500 km | 43 hours |
| The Eastern Route | 2,500 km | 28 hours |
The trip from Calgary to Las Vegas is an epic drive taking you from Canada and across several states in America. The shortest route spans a distance of 2,500km and will take at least 28 hours to drive without stopping.
A longer trip, which would take you further west, is significantly longer and covers 3,500 km. This alternative route will take you closer to 43 hours of non-stop driving.
Neither route can be completed in a single day, instead, you will need a minimum of several days. Our recommendation would be to allow for a week for a trip of this size. The overnight stops will give you plenty of opportunities to really explore the stunning scenery you will pass.
As both routes will take you across the Canadian border into the US, you will need to check ahead of traveling that you have the correct documentation and proof of identity.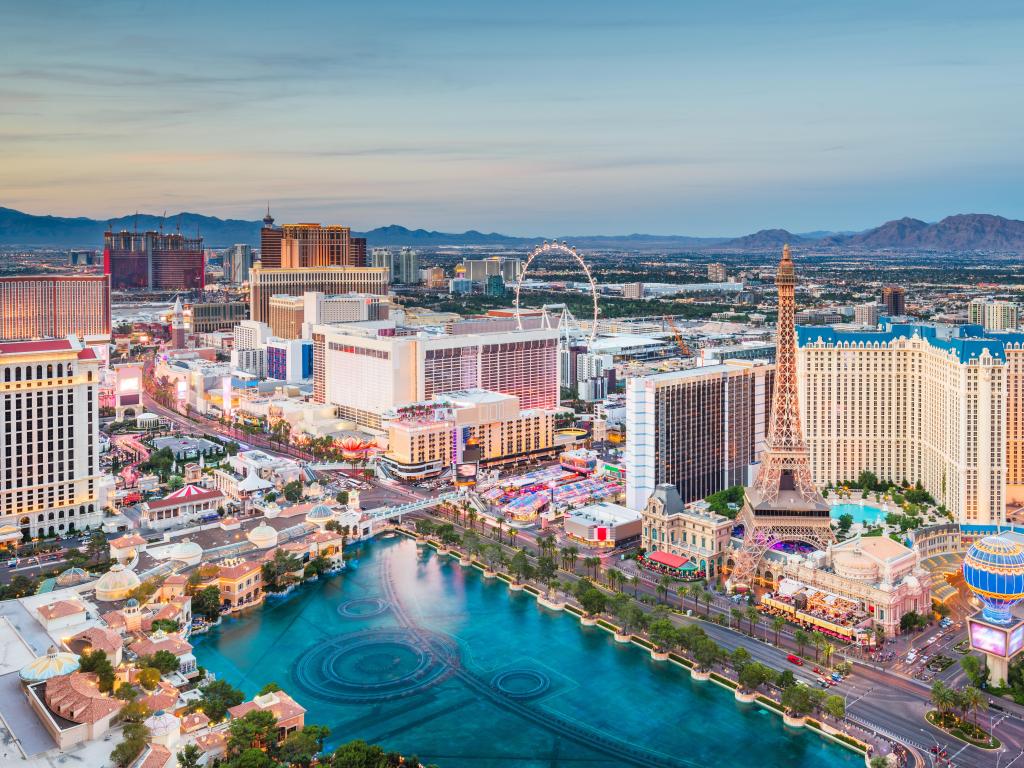 Best road trip route from Calgary to Las Vegas
Our two recommended routes from Calgary to Las Vegas involve a great variety of fascinating cities, beautiful landmarks and stunning parks. The most direct will see you follow the Eastern Route and pass the famous Grand Teton National Park and Yellowstone National Park.
Our Eastern Route, despite being shorter, still has an impressive list of cities. It's also a great option if you've already been to California as it bypasses this part of the US and instead takes you through the desert parks in Utah.
Alternatively, if you have more time to dedicate to your trip then our Western Route will be the trip of a lifetime. It's also ideal if you'd like to include California and the forest national parks, such as Yosemite National Park and Kings Canyon National Park as well as Lake Tahoe.
If you would like to follow this route, but have time constraints, you can skip the California leg of the trip and drive from Reno directly to Las Vegas which will save you 10 hours. However, you would be missing out on an epic adventure, which is what a road trip is about!
The Western Route
The lengthier trip of the two begins in Calgary where you will follow AB-2 south until you reach the turn for AB-540 where you will head west. If you'd like, you could take a detour drive to visit Glacier National Park at this point before following the road to Sparwood.
Next, follow AB-540 before taking BC-95 and arriving at Kingsgate where you'll cross the border into the US. From here the road merges into US-95 south which you will follow a short distance before taking the exit to visit Kaniksu National Forest.
Rejoin US-95 and continue south past Idaho Panhandle National Forests and through several small towns before arriving at Spokane, a city in the state of Washington. This is a great place for an overnight stop where you can explore the nearby forests.
When you leave, you'll be following US-195 alongside Saint Joe National Forest. Just before you reach Lewiston, you'll switch back to US-95 south through Cottonwood, White Bird and several more towns while enjoying stunning scenery all around you.
At New Meadows turn left to follow ID-55 and pass through Donnelly and Cascade. This stretch takes you beside Boise National Forest which is worth a stop.
Follow ID-44 east to Boise in Indiana, a great base for exploring the forest or further south, the Morley Nelson Snake River Birds of Prey National Conservation Area.
On leaving, take Interstate 84 West and then US-95 again past Jordan Valley and McDermitt into the state of Nevada. At Winnemucca, merge to join Interstate 80 through several towns before arriving at the great city of Reno.
If you are bypassing the California leg of this trip (which we hope you won't), you can follow US-95 from Reno directly into Las Vegas for a shorter trip.
If not, after leaving Reno make a short detour to visit Tahoe National Forest by following CA-89 south and Interstate 80 east. Then follow NV-28 east to explore the beautiful Lake Tahoe.
Take US-50 east before turning right onto US-395 south and follow this road to Lee Vining. Take the exit to follow CA-120 west to Yosemite National Park. Continue by following CA-140 west to CA-49 south.
At Oakhurst, take CA-41 south to the Californian city of Fresno before following CA-180 east and making a stop to visit Kings Canyon National Park and slightly south, the equally beautiful Sequoia National Park.
Upon leaving, you'll need to take CA-198 and CA-65 south until you reach Bakersfield, another great city. Continue on CA-58 east before turning left on CA-14 and heading north.
Continue on this road before reaching US-395 which will take you through Searles Valley. Turn right onto CA-190 east to explore the stunning Death Valley National Park.
Back on CA-190, follow the road a short stretch before taking NV-374 and then US-95 south which you will follow all the way to your destination of Las Vegas.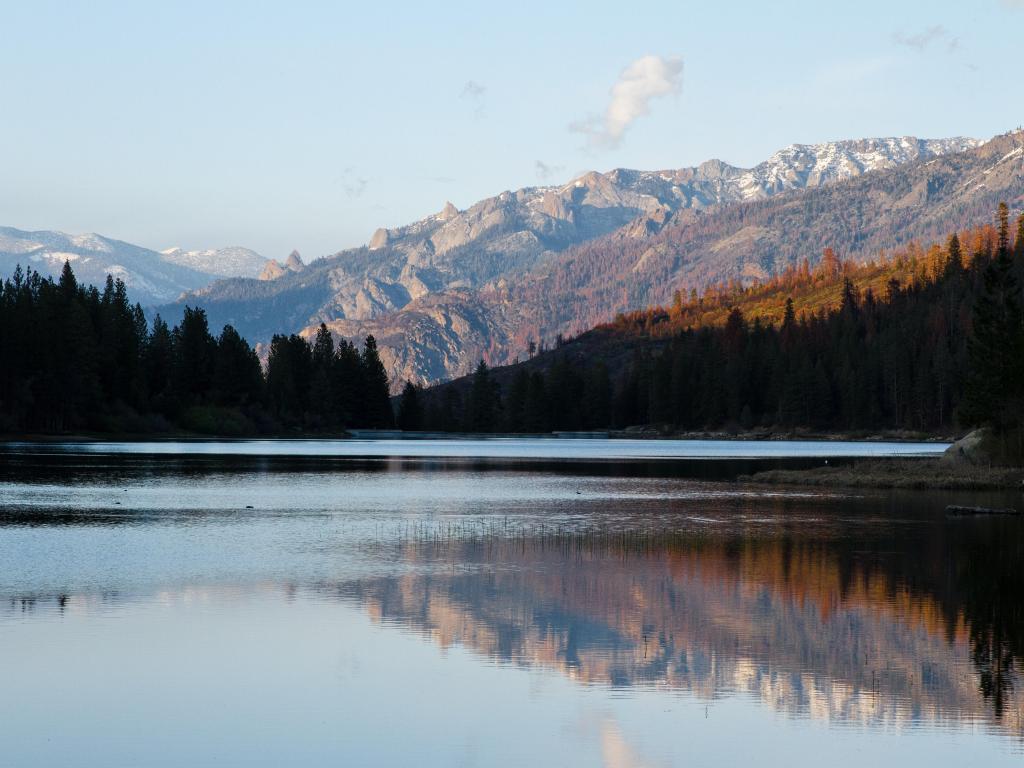 The Eastern Route
The most direct route of the two will see you leave Calgary on AB-2 heading south through several Canadian towns, including High River. Continue south until you pass Cardston and reach the border crossing.
The road will become US-89 as you pass through Babb and St Mary. As you're so close, it's definitely worth an early stop to visit the stunning Glacier National Park, before continuing on US-89 south.
On this stretch, you will have the opportunity to visit Flathead National Forest and its lake, as well as pass through some great towns. At Augusta take US-287, still heading south before merging with Interstate 15 just past Montana City.
When you reach Boulder, switch to MT-69 before taking MT-359 and then US-287. You'll be surrounded by beautiful forests as you head south past West Yellowstone and take US-191 to the incredible Yellowstone National Park.
Continue south alongside Bridger-Teton National Forest and Grand Teton National Park before arriving at Jackson in Wyoming, a great overnight option for exploring the stunning landscape around you.
When you leave, you'll be following US-89 south through several more towns, before merging with Interstate 15. Drive alongside the Great Salt Lake and make a stop at the city named after it. From here you can visit Ashley National Forest.
Continue south to Provo before taking exit 225 for Utah 132 and then US-89. Exit this road to explore Manti-La Sal National Forest, and then continue south to Salina, Richfield and Marysvale.
Head east on UT-143 to explore Dixie National Forest and UT-12 for Bryce Canyon National Park. If those parks weren't enough, you're also just a short drive on US-89 to Zion National Park!
The rest of your trip will see you follow I-15 south, making one final stop at Valley of Fire State Park before arriving at the amazing city of Las Vegas.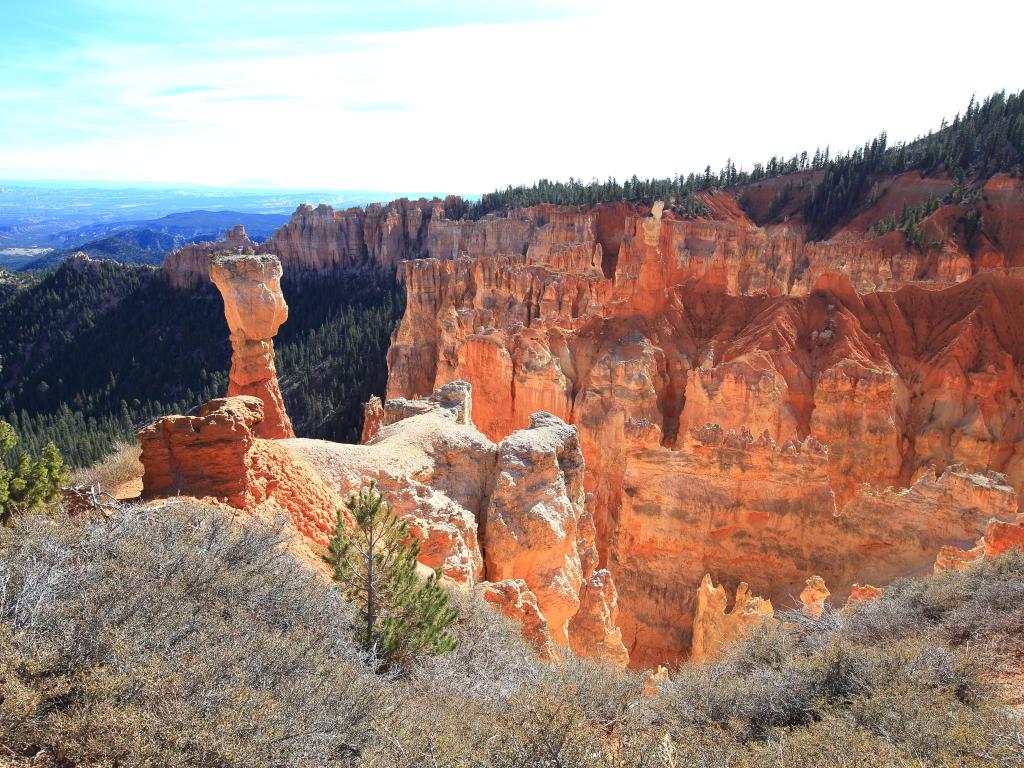 Best places to stop between Calgary to Las Vegas
Given the incredible distance between Canada's Calgary and Sin City, you are going to need at least a couple of overnight stops along the way to rest, as well as further explore the amazing attractions you'll pass along the way.
While there is a huge amount of choice for places to stay, we've included some of our favorites that you'll want to keep an eye out for.
A stylish stay in Spokane, WA
A little under 9 hours from Calgary, the city of Spokane in eastern Washington state is not only a place you'll be passing on the Western Route, but it's also a beautiful destination with plenty of interesting attractions to help you unwind after a long day of driving.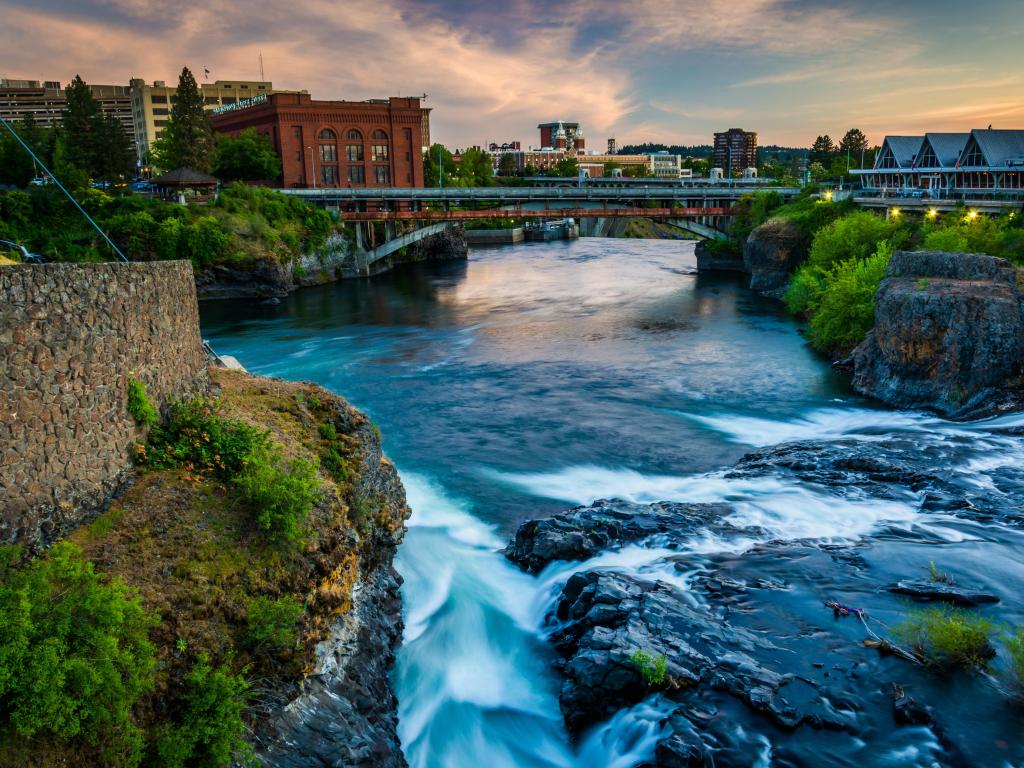 Known as the birthplace of Father's Day, Spokane is also home to the Northwest Museum of Arts and Culture, which explores the region's history through exhibits on art, culture and Native American heritage.
After your busy day of traveling, a great resort to stay at is The Historic Davenport, Autograph Collection. This imposing 4-star hotel offers all the amenities you'll need, including spa treatments and multiple onsite restaurants to choose from.
If you still haven't had your fill of exploring yet, Riverfront Park is just a 5-minute drive away and the city center is right on your doorstep. With elegant rooms and one of the most beautiful and grand lounges you'll come across, this hotel is a great base for relaxing.
There's also the delightful Manito Park, a park and botanical garden that contains 90 acres with an arboretum and conservatory. It's open daily, free of charge, which is an added bonus.
Live the life of luxury at Lake Tahoe
Further along on the Western Route, and about 7 hours to Las Vegas without stopping in California, sits the most iconic lake in this part of the US. Lake Tahoe is one of the best places you can spend some extra time on this road trip.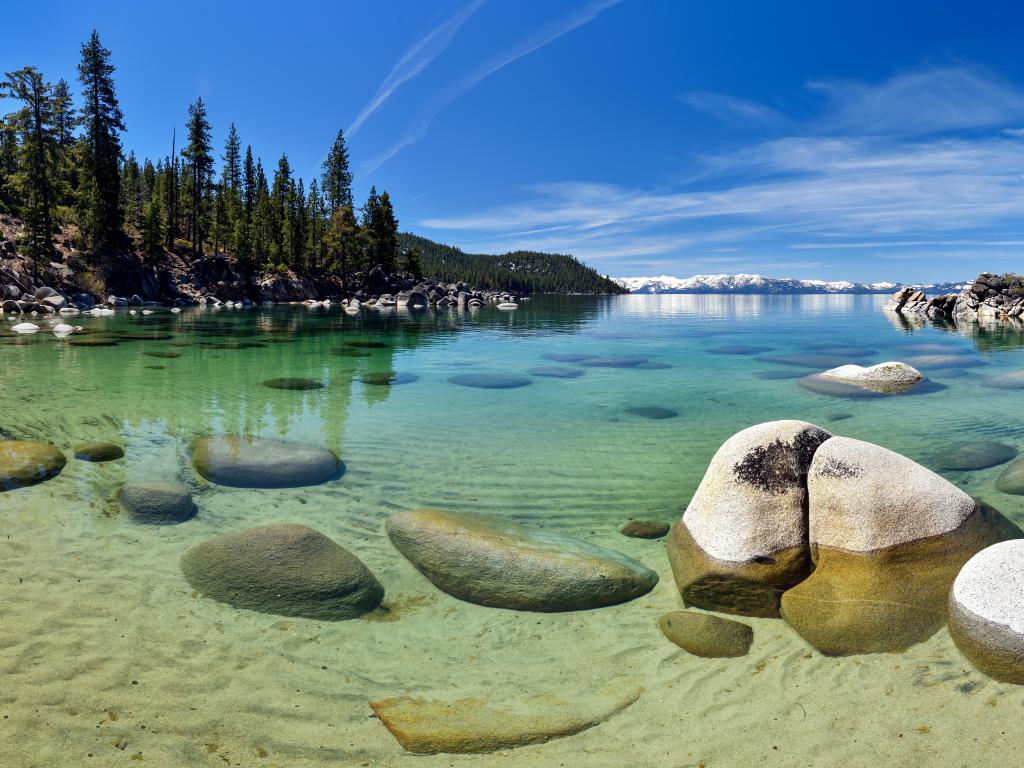 A world-renowned skiing spot and offering the most scenic views, Lake Tahoe is an incredibly popular tourist destination. The lake itself offers the opportunity to enjoy water sports or hiking around its shores.
If you can drag yourself away from the shore, the surrounding Emerald Bay State Park is a great place to explore and features Eagle Falls and Vikingsholm. It also contains the only island in Lake Tahoe, Fannette Island.
One for your bucket list is a stop at the incredible Edgewood Tahoe Resort.
Facing the beachfront, Edgewood Tahoe Resort offers 5-star accommodation with some of the best views you'll find in Stateline
.
Offering an onsite restaurant, bar, outdoor pool, hot tub, terrace, and private beach area, this really is a hotel on another level. With South Lake Tahoe within walking distance of the resort and stunning decor from floor to ceiling, this hotel is the epitome of luxury.
A forest retreat in Jackson, WY
Halfway from Calgary to Las Vegas, the city of Jackson in Wyoming is a great base if you're following the more direct Eastern Route. A well-known travel destination because of its beauty and two national parks nearby, this city has plenty to offer the road tripper.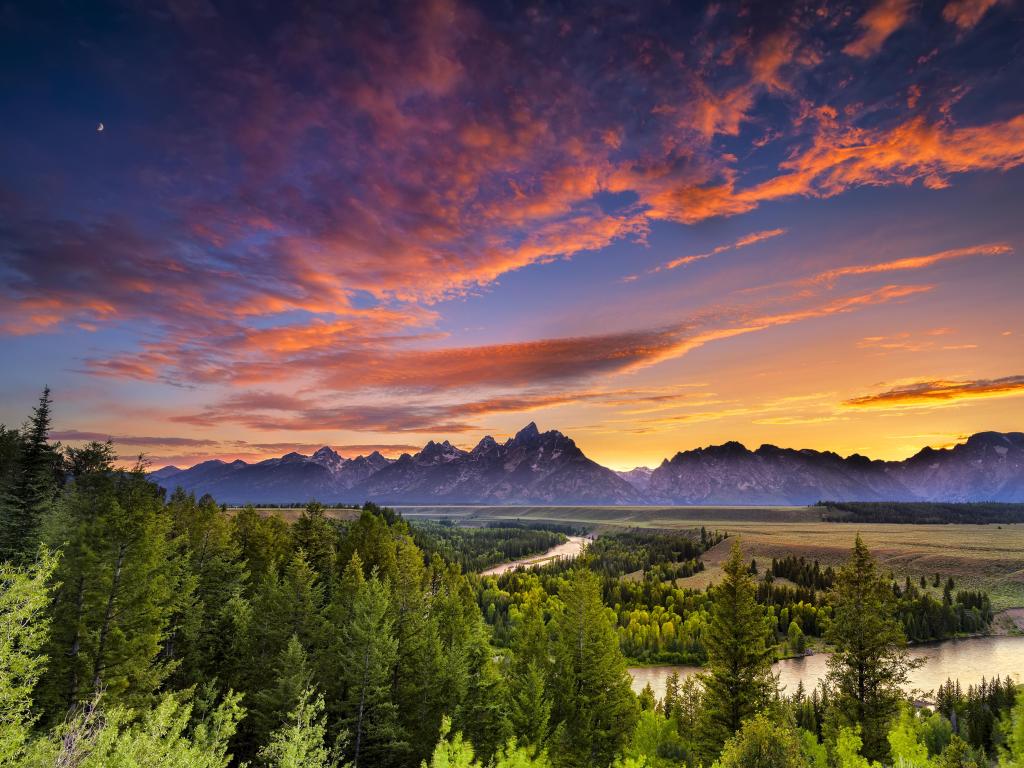 Popular with those who enjoy the outdoors, as well as offering great cultural venues, there's something for everyone in this great city. After exploring Jackson Town Square make sure you pay a visit to Snow King Mountain, a popular ski destination offering great views of Jackson.
Rather than stopping in the city center itself, why not keep to the outdoors theme and make a reservation at Snow King Resort? This modern 4-star hotel is surrounded by the Bridger Teton National Forest.
As well as offering a ski-in/ski-out option, this resort also has an outdoor pool, hot tub, and features rooms with mountain views. It is only a short walk to downtown Jackson and both Grand Teton National Park and Yellowstone National Park are both within a quick drive.
For those looking to explore more of the countryside, there's also nearby Snake River which offers incredible whitewater rafting and wildlife spotting. The river is named after its winding S-shaped bends, like a snake.
Where to stay when you reach Las Vegas
Las Vegas is an internationally renowned major resort city, known primarily for shopping, fine dining, great casinos, entertainment and its incredible nightlife. It is also a prime location to visit for nature lovers and outdoor enthusiasts.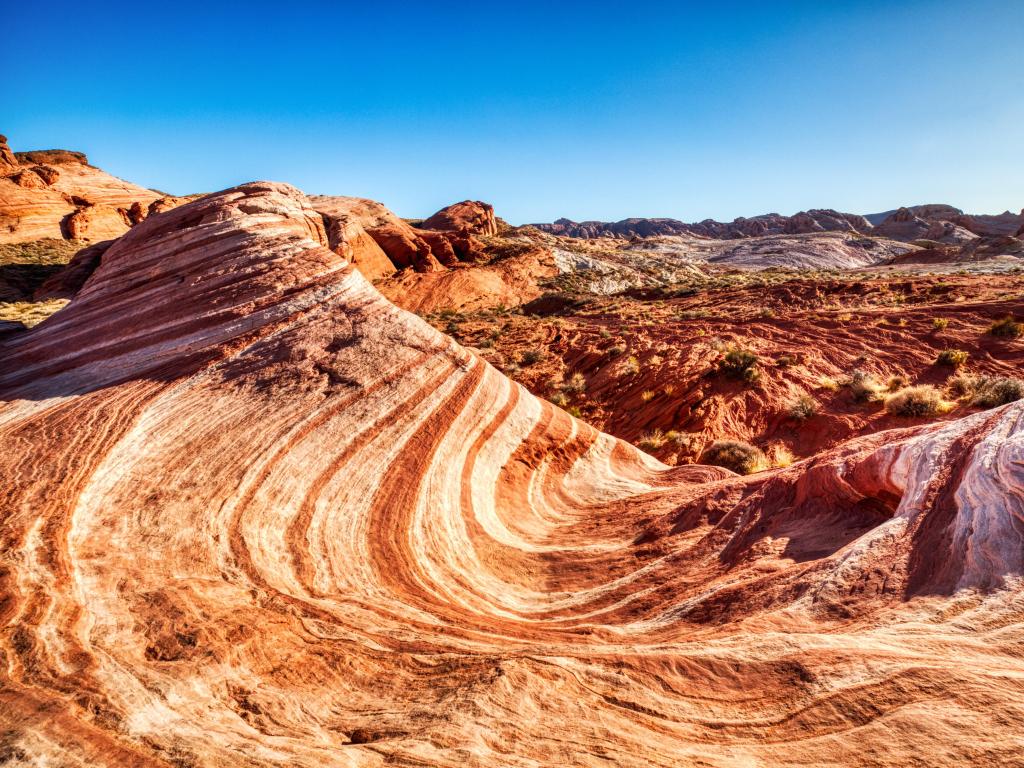 The center of Nevada, Las Vegas is equally surrounded by natural beauty, including Lake Mead National Recreation Area, Grand Canyon-Parashant National Monument and of course, the iconic Valley of Fire State Park.
There's also Red Rock Canyon National Conservation Area and so many great resorts and casinos to explore. This is a city that you could easily spend several weeks in and still not get tired.
For a stay as special as the city itself, a great option is the Las Vegas Hilton At Resorts World. The pinnacle of luxury and in true Vegas style, this hotel features an infinity pool overlooking Las Vegas Boulevard. There's also an onsite movie theater and clubs.
If that's not enough, the resort also has over twenty retail shops and forty food and beverage options, plus a 5.5-acre pool deck, an onsite spa, and an onsite casino. If you want to stay on The Strip, where all the action is, then this is the place for you!
Things to see on a road trip from Calgary to Las Vegas
Not surprisingly there is a huge number of places to visit and incredible scenery to take in on this incredible journey from Calgary to Las Vegas. So much so that you might not have time to fit it all in.
Don't despair though, we've put together a list of our favorite things to see along the way that you won't want to miss: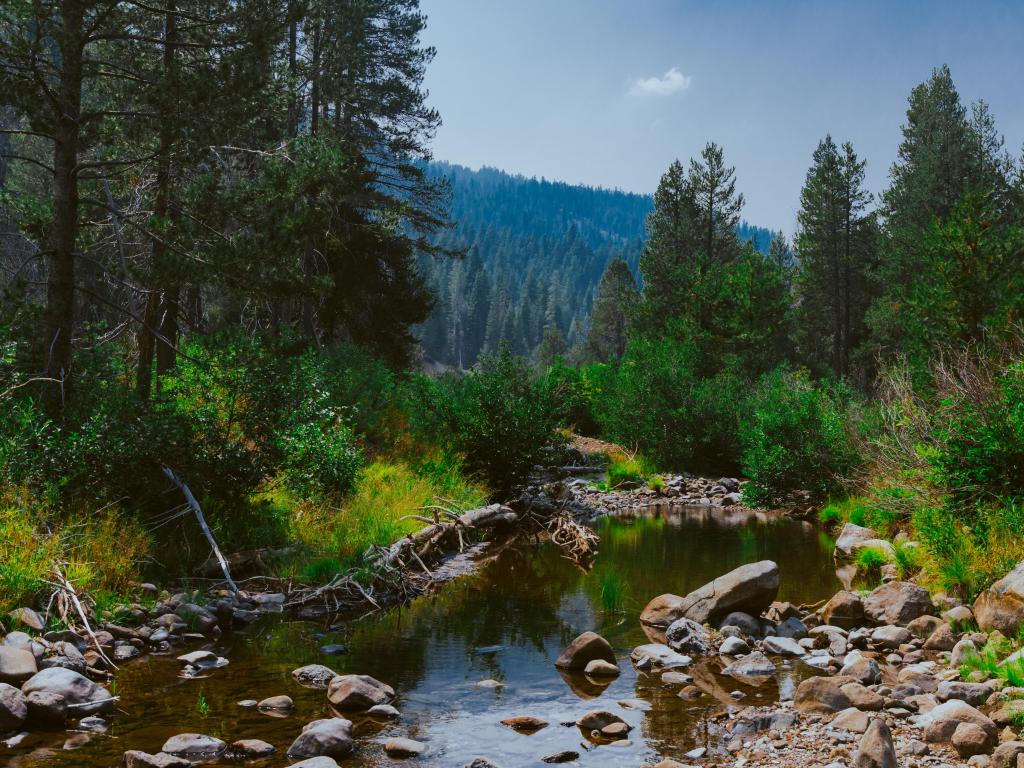 The Western Route
Kaniksu National Forest - This forest spans three states: northeastern Washington, the Idaho Panhandle, and northwestern Montana. It covers over 1.6 million acres and offers skiing, hiking, and scenic views.
Spokane, Washington - Sitting along the Spokane River, this city in eastern Washington state boasts some sites like the Northwest Museum of Arts and Culture, Campbell House, and Riverfront Park, which has a cable car with views over Spokane Falls.
Boise, Idaho - The capital and most populous city of Idaho sits on the Boise River. It features places to see like the Boise River Greenbelt, Boise Art Museum, and Idaho State Capitol Building.
Morley Nelson Snake River Birds of Prey National Conservation Area - This park has one of the densest populations of nesting raptors. It hugs the Snake River for about 130 kilometers and covers over 480,000 acres of land.
Reno, Nevada - Sitting along the Nevada-California border not too far from Lake Tahoe, the "biggest little city in the world" is famous for its neon lights and casinos. But stay for a while and you may just find that gambling isn't the only thing it has to offer.
Tahoe National Forest - This park sitting just outside of the Lake Tahoe region is located in parts of six counties. It includes the peak of Sierra Buttes, with views of Mount Lassen and Mount Shasta.
Lake Tahoe - The largest freshwater lake in the Sierra Nevada Mountains straddles the border of California and Nevada. Here you can hike or do water sports in water that'll make you question whether you're actually in Mallorca.
Fresno, California - Located in the San Joaquin Valley, this California city offers sites like Forestiere Underground Gardens, Fresno Chaffee Zoo, and Woodward Park. The city is a gateway to Yosemite National Park and has something on offer for everyone.
Kings Canyon National Park - This 3,500-acre park shared with Sequoia National Park is available for hiking, scenic views, and other outdoor activities.
Sequoia National Park - Similar to the national park above, Sequoia National Park offers hiking, scenic views, and other outdoor activities. It's another park in California known for its giant sequoia trees.
Death Valley National Park - With over 3.4 million acres of desert and mountains, this park offers hiking, camping, and biking. It's known for its extreme temperatures.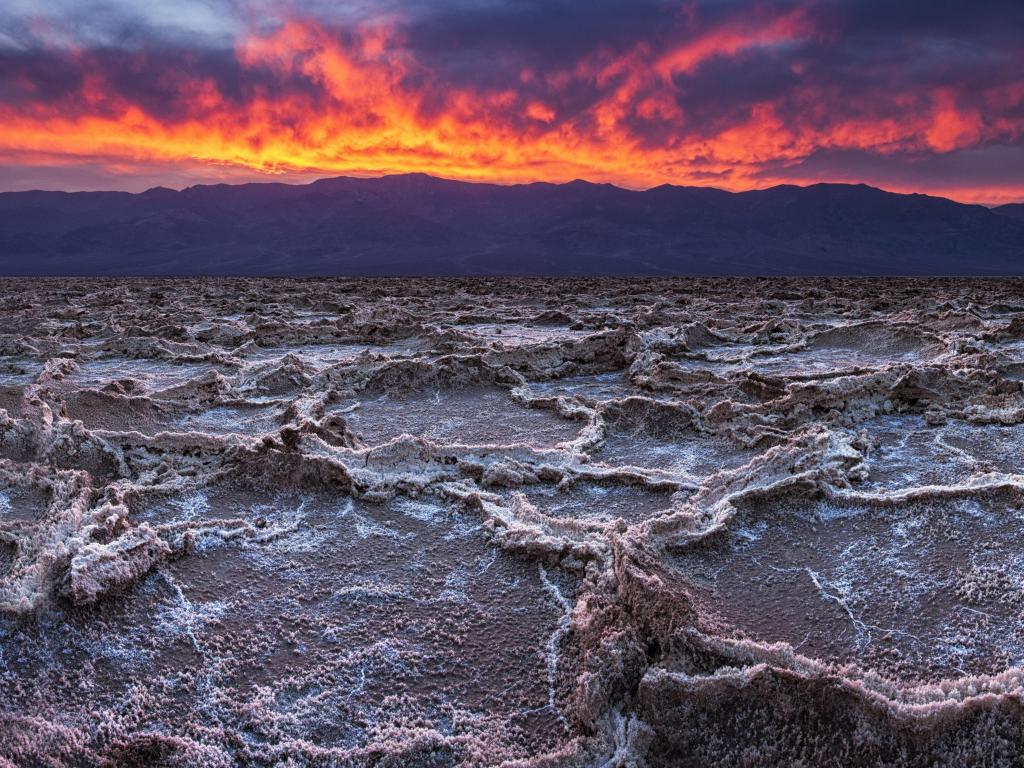 The Eastern Route
Glacier National Park - This park offers diverse landscapes and wildlife with over 1,100 kilometers of trails. It's located in Montana's Rocky Mountains and its peaks and valleys were carved by glaciers.
Yellowstone National Park - This park sits atop a volcanic hot spot in three different states: Idaho, Montana, and mostly in Wyoming. It offers canyons, alpine rivers, geysers, hot springs, and abundant wildlife. One of the most famous attractions here is Old Faithful!
Grand Teton National Park - This park also located in Wyoming encompasses the Teton mountain range. This is a popular destination for mountaineering, hiking, camping, and fishing. It's linked to Yellowstone National Park so you can kill two birds with one stone!
Jackson, Wyoming - Located in the Jackson Hole valley, this town has the National Museum of Wildlife Art and scenic views of the surrounding Grand Teton National Park and Yellowstone National Park.
Salt Lake City, Utah - The capital and most populous city of Utah is known for being the religious center of the Latter Day Saints. It has also hosted the Olympic Winter Games before!
Manti-La Sal National Forest - This over 1.2-million-acre park is located mostly in Utah but also slightly in Colorado as well. It offers things to see like Dark Canyon Wilderness and Nelson Mountain Wilderness.
Dixie National Forest - Occupying almost two million acres, this is the largest national forest in Utah. It sits on the divide between the Great Basin and the Colorado River.
Bryce Canyon National Park - Known for its crimson-colored hoodoos, this park is quite a unique sight. The hoodoos, or spire-shaped rock formations, were formed by the repeated freezing and thawing of water.
Zion National Park - Singled out by its steep red cliffs, this park in Utah has the Zion Canyon, which was carved by the Virgin River over millions of years and is about 600 meters deep.
Valley of Fire State Park - Covering almost 46,000 acres in Nevada, this park got its name from the red sandstone formations which distinguish it. The Aztec Sandstone formed from shifting sand dunes 150 million years ago.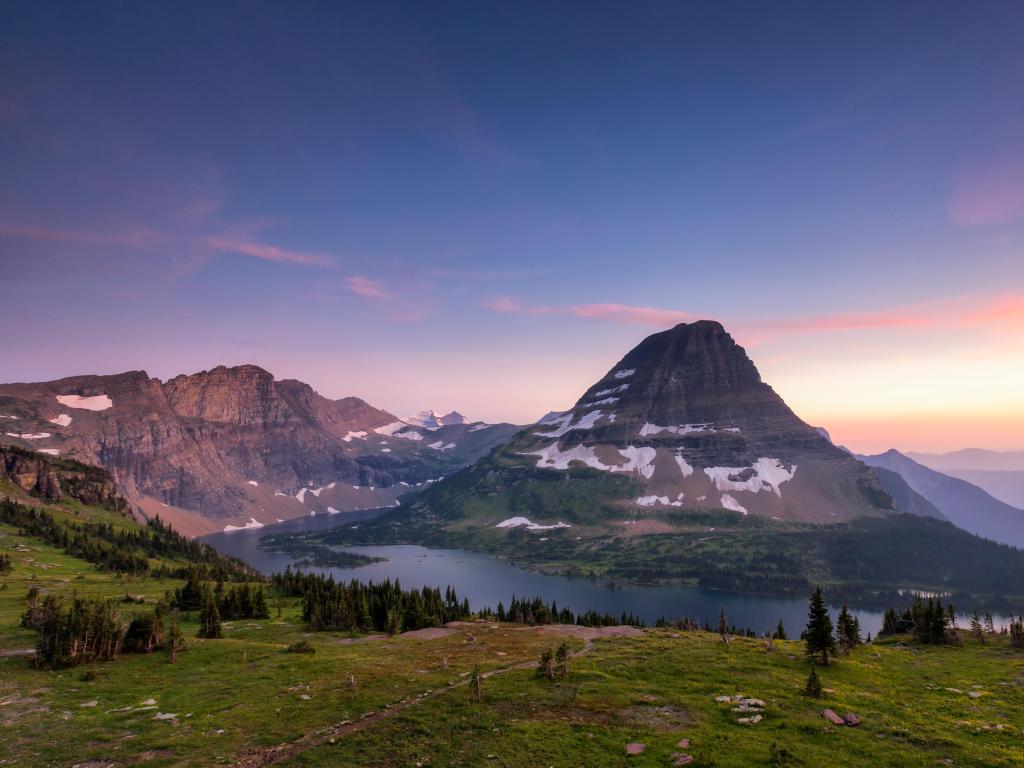 Best time to go on a road trip from Calgary to Las Vegas
The epic road trip from Calgary to Las Vegas is definitely one that can be enjoyed all year round, given that Las Vegas is pretty much open 24 hours throughout the year. But the best time to visit will depend on what you'd like to see and do along the way.
While Las Vegas is hugely popular in summer and the hot weather can be cured by a dip in Lake Tahoe en route, this isn't an ideal time to travel. The official summer season starts at the end of June and can see highs well over 90 degrees Fahrenheit.
Despite the unending heat, the sizzling summer will still see huge numbers flock to the city. Given the number of other popular tourist destinations along the way, you will experience busy hotels at their most expensive.
Meanwhile, the weather in the winter can range from slightly below 0 up to the high teens. While this isn't really an issue for a city like Vegas, since most of the popular things are indoors, if you're looking to see nearby Red Rock Canyon National Park, winter may not be the best time.
Generally, the best time of the year to make this epic trip is between the two. Spring is the time that you'll find perfect weather in Vegas with temperatures ranging from the low teens up to the low 30 degrees Fahrenheit, ideal for outdoor activities and enjoying the national parks.
However, it's worth mentioning that Vegas sees 3.6 million visitors in the month of March because of the Spring Breakers. So unless you're one of them, it's best to avoid the month of March if you can.
By Vegas standards, the fall months are chilly, but the stunning colors of this season will make the parks and forests that you pass look spectacular. September and October are also some of the cheapest times to visit Vegas and are great months for seeing a few festivals.
If you're here during May, make sure to book for the weekend of the Electric Daisy Carnival or for something later in the year, there's the popular Las Vegas PRIDE Festival in October and the Rise Lantern Festival which features biodegradable lanterns and food trucks.