26 Best Road Trips from Detroit
Detroit is known as the automobile capital of the world, but it has so much more to offer. It's one of the friendliest and most ethnically diverse cities in the country, with a vibrant downtown filled with urban parks and hot new restaurants. Detroit's musical Motown past echoes through its streets, though today's creative residents are defining their own vibe with cool hotels, eateries and culture hotspots.
Once you're done with Detroit's iconic skyline and colorful murals, there are plenty of options to broaden your horizons. These 26 best road trips from Detroit will take you to stunning national parks, bustling metropolises and island retreats.
Buckle up and find a trip from Detroit that inspires you to hop in the car, whether you have a few hours, a day, or a whole weekend to discover somewhere new.
Best road trips from Detroit
Day trips (under 3 hours each way)
If you can only spare a day, one of these shorter trips can still provide a change of scene - we guarantee you'll come back by nightfall feeling relaxed and refreshed.
1. Ann Arbor, MI
45 minutes from Detroit (40 miles)
Why you should visit: Ann Arbor has an artistic, youthful vibe and is a vibrant university town. This lovely city is a popular family destination because of its art galleries with reputable collections and child-friendly museums filled with thrilling hands-on displays.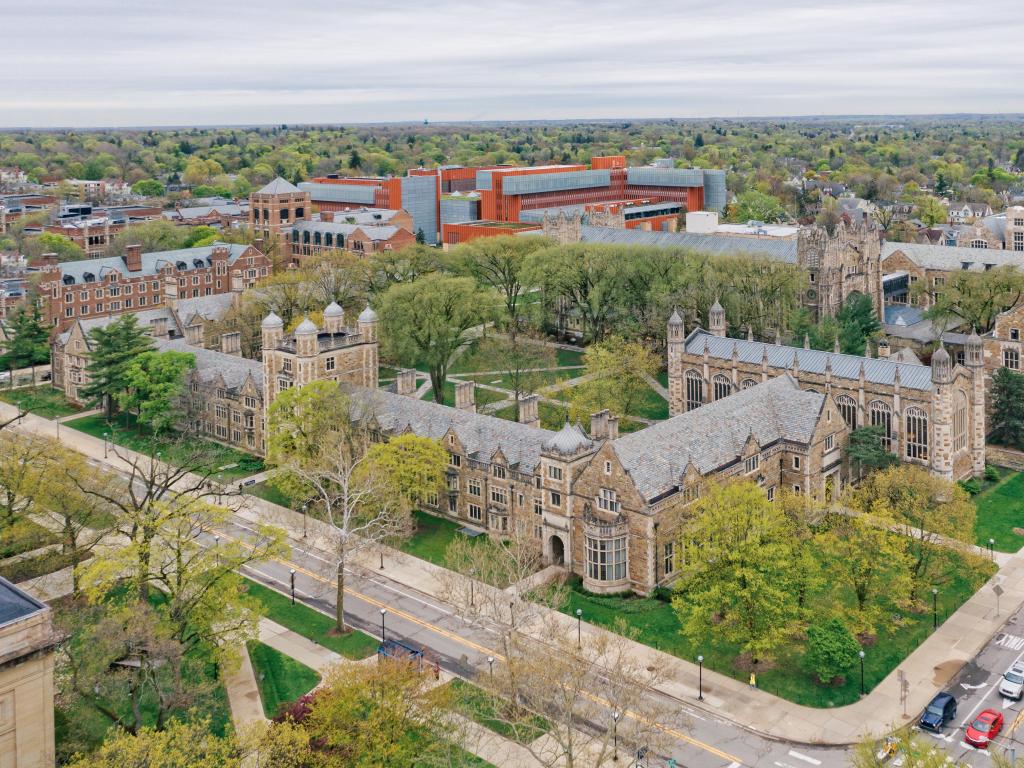 How to get there: Head west on I-96, then take M-14 W. Take exit 3 on US-23 for Ann Arbor.
Our highlights: If you're heading out in the summer, the Ann Arbor Summer Festival attracts thousands of visitors every June–July from Michigan and beyond. It offers an incredible variety of art, entertainment, cuisine, dance and theatre.
Michigan Stadium, sometimes known as the "Big House," is the second-biggest stadium in the world and the largest stadium in the United States. It's well worth a visit, particularly if you can catch a football game!
Located in Dexter just a few miles north of Ann Arbor, the Hudson Mills Metropark is a breathtaking area brimming with both natural beauty and man-made entertainment.
Kerrytown is a bustling historic neighborhood near the center of Ann Arbor that combines classic elegance with cutting-edge business - a great place to stop for some refreshments.
Bonus: Ann Arbor was established in 1824 by two land speculators, long before Michigan became a state.
Our travel tips: The ideal times to visit Ann Arbor are May through September, when the weather reaches the 70s and 80s, and there are plenty of things to do outdoors.
The Walk Friendly Communities program has designated Ann Arbor as a Gold-level community and given it the "Walk Friendly" designation.
2. Point Pelee National Park
Via Windsor, ON, Canada
1 hour 10 minutes from Detroit (40 miles)
Why you should visit: Point Pelee National Park is one of the best spots in North America to go birding.
Point Pelee tops the other national parks in this area by its distinctive peninsula which tapers out into a long, sharp point into the waters of Lake Erie.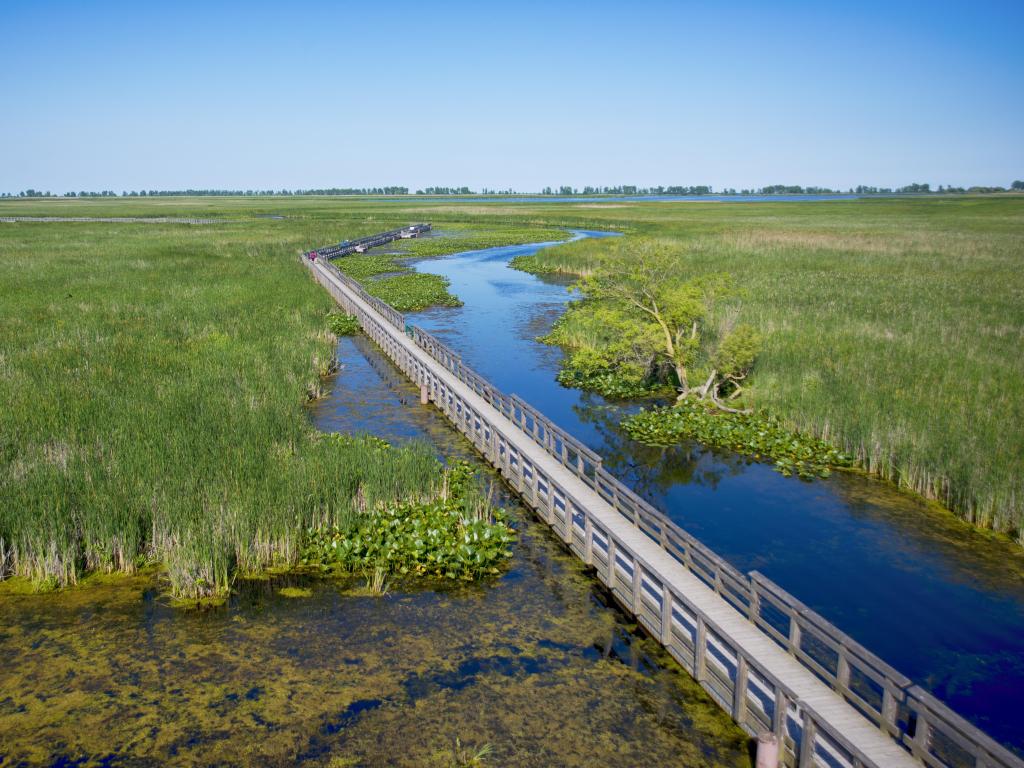 How to get there: Take the Detroit Windsor Tunnel, then follow Wyandotte Street and Maiden Lane to reach Windsor. From there, take ON-3E and Essex 33 to reach Point Pelee.
Our highlights: One of the best ways to explore the internationally renowned wetlands of Point Pelee National Park is via kayak or canoe.
Sitting on the border with Canada, Windsor is famous for its automobile connections, much like Detroit. If you fancy something a little different, head to Caesars Windsor Casino to try your luck at the tables!
In the vibrant city of Windsor you'll find Northwest Park, a 473-acre park with fields, forests, and recreational spaces that is situated in the Poquonock neighborhood near the Farmington River.
Bonus: The park is named after the French pelée, which means "bald point."
Our travel tips: If you visit in the fall, you might catch the beautiful migration of monarch butterflies.
3. Toledo, OH
1 hour from Detroit (60 miles)
Why you should visit: Toledo is known as The Glass City, due to its historic legacy with the glass industry. Take a tour to see some of the local glass artists at work, to understand why this city is renowned throughout the world.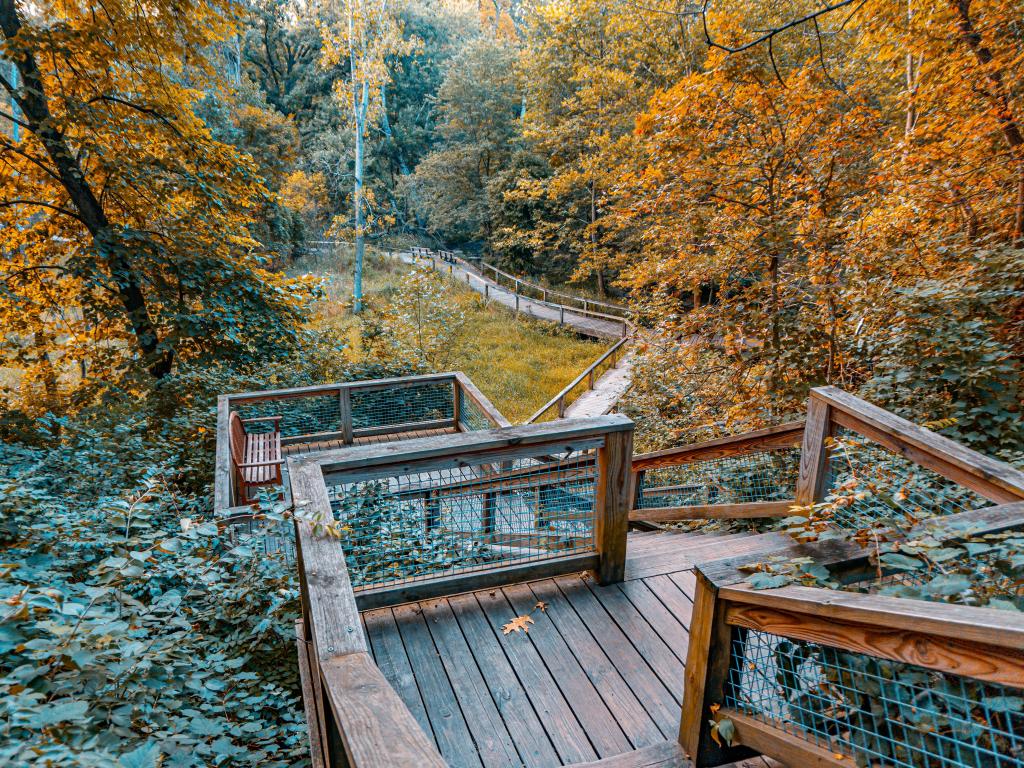 How to get there: Head south on I-75, then take OH-25 south once you enter Ohio. Take I-280S and take the exit for Toledo.
Our highlights: Make sure to stop by The Toledo Museum of Art, which houses a sizable collection of modern and Renaissance art. In particular, the museum's Glass Pavilion displays hundreds of pieces of glass art, reflecting the city's history of glass manufacture.
For some local heritage, visit The Wildwood Manor House in the center of the Wildwood Preserve Metropark. This house features excellent architecture and is surrounded by lovely grounds and gardens.
If you want more history, Fort Meigs is located fifteen minutes southwest of the city and provides an interesting insight into the War of 1812 and its effects on the Great Lakes Region.
Travel even further at Toledo Zoo, widely regarded as one of the top zoos in the United States, is home to an incredible variety of animals and exhibits from all over the world.
Bonus: Toledo was the first American city to allocate 1% of its capital projects budget towards public art in 1977.
Our travel tips: Try and time your trip during the shoulder seasons to get the fewest crowds and best weather.
4. Chelsea and Waterloo, MI
1 hour 10 minutes from Detroit (70 miles)
Why you should visit: Chelsea is a developing hamlet close to Ann Arbor, known for its agricultural roots and a booming downtown area. This quaint town serves as an entertaining gateway to the Waterloo Recreation Area.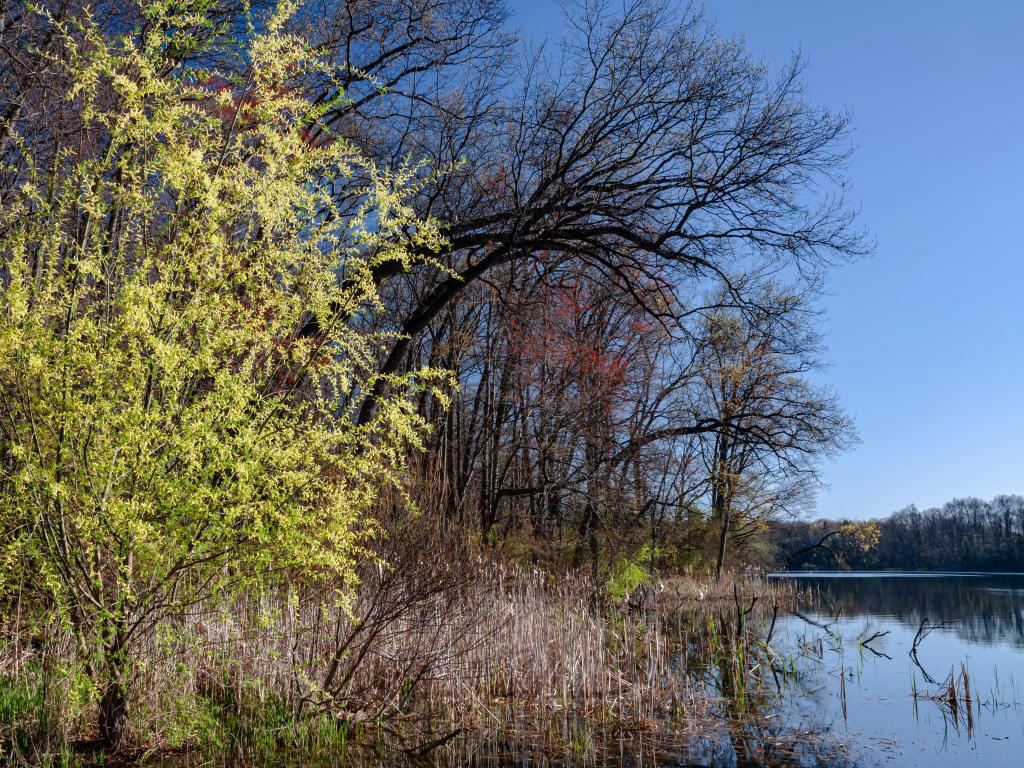 How to get there: Head west on I-96, M-14 and I-94. Take exit 162 to reach Chelsea, then take M-52 north to reach Waterloo.
Our highlights: See if you can catch a show at the Purple Rose Theater, founded by actor and Chelsea native Jeff Daniels in 1991.
Jiffy Mix is a family-owned company that has been milling flour in Chelsea for more than a century as the Chelsea Milling Company. Take a free tour and learn about their famous baking products - a must-see for cooking and baking enthusiasts!
Waterloo Recreation Area is one of the biggest parks in Michigan - it has wetlands, a nature center, four campgrounds, eleven lakes, and more than 50 miles of hiking, horseback riding, and cross-country skiing paths.
Stop for a slap-up meal at The Regular Grill, a roomy, classic establishment with exposed brick walls, glistening wood, and large original artwork by regional artists.
Bonus: Chelsea was given the name Kendon at first. On July 19, 1850, when the train station opened and the community was properly platted, the name was changed to Chelsea.
Our travel tips: Waterloo Recreation Area is open in winter - if you time it right, you can enjoy skiing at the park.
5. Kalamazoo, MI
2 hours 15 minutes from Detroit (140 miles)
Why you should visit: Southern Michigan's Kalamazoo is a flourishing metropolis with a ton of things to do for tourists.
This city is home to performing arts centers, planetariums, movie theaters, and museums. There is even a massive shopping center there that spans many city blocks.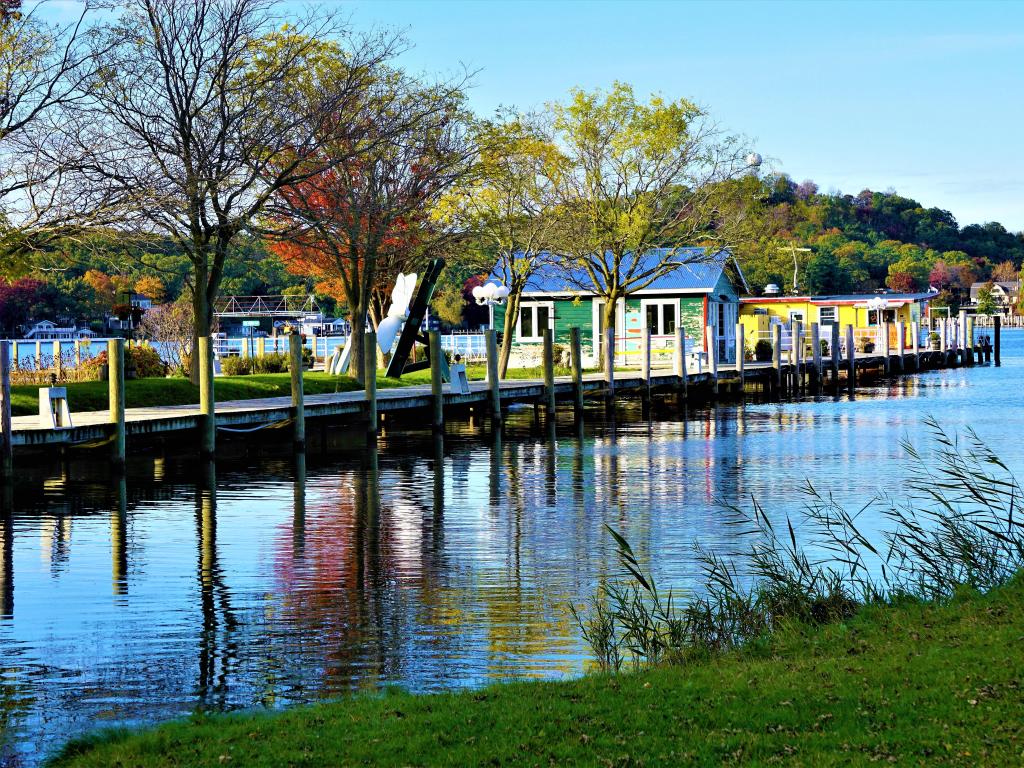 How to get there: Take M-14 and I-94 west, then take exit 81 and drive along Amvets Memorial Parkway to reach Kalamazoo.
Our highlights: See how the other half live at Henderson Castle, which boasts gardens, ballrooms, vineyards, and everything else you'd expect from an opulent estate.
The Kalamazoo Valley Museum provides a hands-on approach that promotes creativity and discovery, in contrast to museums that hide their objects behind glass.
Enjoy a fancy meal at Principle Food and Drink, suitable for everything from date nights to business lunches. They employ fresh, locally-sourced ingredients to make fantastic dishes worthy of a king.
For an easy way to walk around the city and surrounding area, stick to the Kalamazoo River Valley Trail, which stretches over 22 miles for jogging, walking and biking.
Bonus: Due to its frequent inclusion in songs, limericks, and parodies, Kalamazoo frequently receives the same mythological treatment as Atlantis.
Our travel tips: Fall is by far the best season to make the trip to Kalamazoo, when the foliage is at its best.
Click here to skip back to the top.
Weekend trips (3-5 hours each way)
Make the most of your weekend by heading slightly further out of the city - you can cross state lines to see staggering waterfalls, explore Amish Country or retreat to a secluded island.
6. Cleveland, OH
Via Sandusky and Cedar Point
3 hours 15 minutes from Detroit (180 miles)
Why you should visit: A city with something for everyone: from recreational activities to a delicious culinary scene to amazing arts centers and galleries.
Cleveland has so many museums that you will never run out of things to learn about. Sandusky offers charming downtown shops, while Cedar Point has over 70 thrilling rides.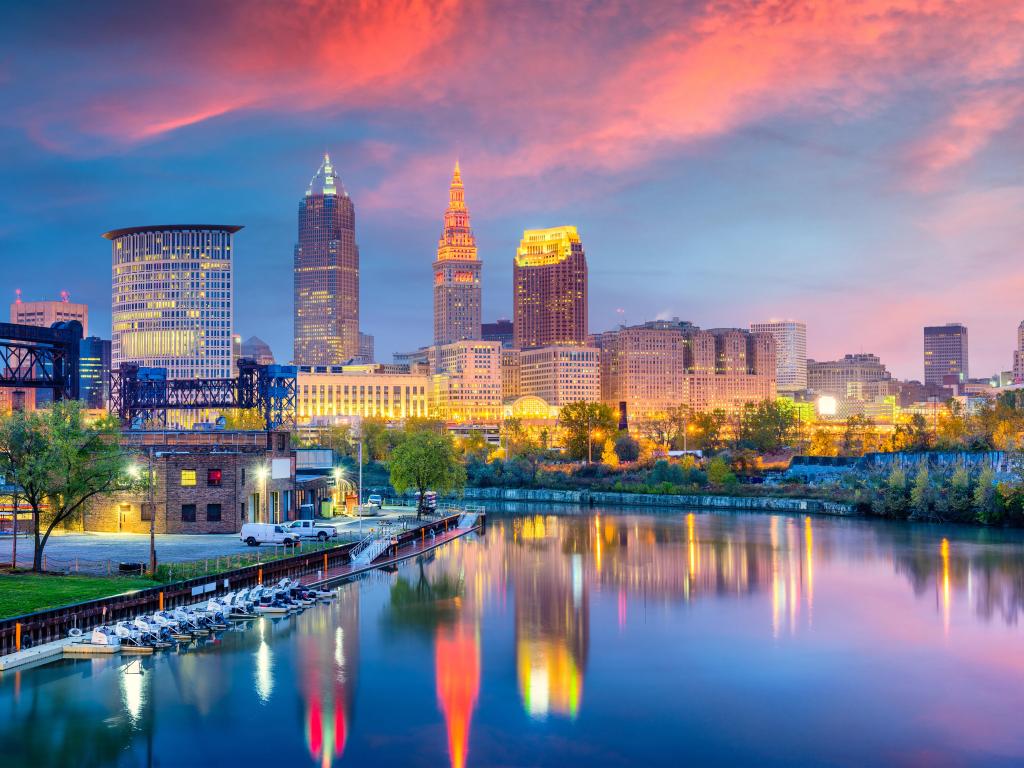 How to get there: Drive south on I-75, OH-51 and I-280. Take exit OH-579E and OH-2E to reach Sandusky. Continue on Perimeter Road to reach Cedar Point. Head east on OH-2 and I-90, then take US-422 west to reach Cleveland.
Our highlights: Don't miss out on visiting the Cleveland Museum of Art – 61,000 art pieces spanning centuries are on display in this gorgeous neoclassical museum dedicated to the people of the city.
A lesser-visited museum to put on your list, the International Women's Air and Space Museum is a unique tribute to women who have made outstanding contributions to space exploration and aviation.
Head under the sea at Greater Cleveland Aquarium – the educational aquarium features an acrylic shark tunnel as well as exhibitions covering the different aquatic zones of the world.
If you have an hour to spare, head over to Lakeside Marblehead near Sandusky, a community known for its spirituality, or visit Kelleys Island, a relaxing getaway for nature lovers with excellent wineries and historic homes.
Bonus: Cleveland carries the legendary title the "Home of Rock and Roll".
Our travel tips: The Cleveland Museum of Art is open every day except Monday.
7. Grand Rapids and Saugatuck, MI
Via Lansing, MI
3 hours 10 minutes from Detroit (200 miles)
Why you should visit: Grand Rapids is one of the most affordable places to have a vacation, in the country which also makes it one of Michigan's most visited destinations.
Grand Rapids' vibrant beer scene is the cherry on top to Saugatuck's busy downtown and Lansing's educational prestige.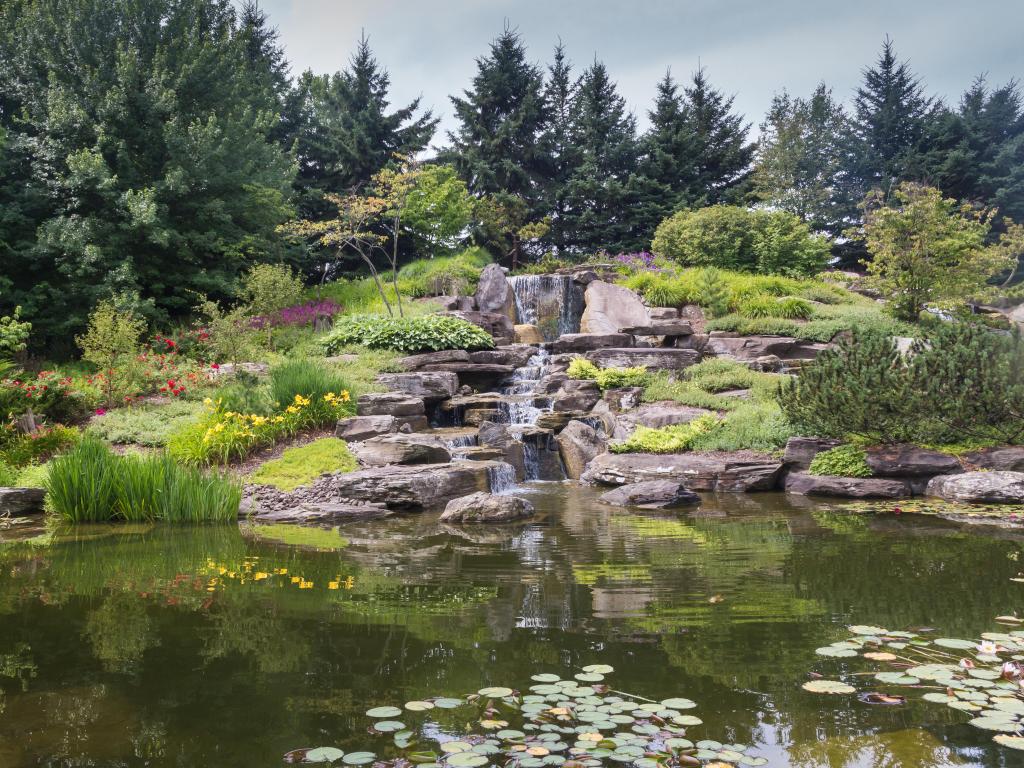 How to get there: Take I-96 and I-496 west to reach Lansing, then rejoin I-96 and I-196W to reach Grand Rapids. Hop back on the route and take exit 41 to reach Saugatuck.
Our highlights: Frederik Meijer Gardens and Sculpture Park in Grand Rapids has outdoor and indoor spaces full of things to see. Outdoors, you can find beautiful flowers, gardens in various styles and stunning sculptures. Indoors, you can see famous bronzes from around the world.
After the gardens, pay a visit to John Ball Zoo where you can get in touch with animals of all sizes - you can feed bears, penguins, spider monkeys, and pelicans.
Thrillseekers can take a dune ride in Saugatuck - this fun family 40-minute ride gives a complete overview of the lifestyle in the town.
Lansing is the state capital, so here you can tour one of the oldest capitol buildings in the country and learn about the history and significance of Michigan State.
Bonus: Grand Rapids used to be known as America's Furniture Capital and Gerald R. Ford, America's 39th President, was raised in Grand Rapids.
Our travel tips: The ideal time to make the trip is during the late summer (June-August) and fall (September-November).
8. Saginaw, Frankenmuth and Houghton Lake, MI
3 hours 15 minutes from Detroit (200 miles)
Why you should visit: The lovely city of Saginaw is located in the mid-Michigan area. It offers a wide variety of sights, ranging from historical landmarks to natural wonders.
Across all of these destinations, there are many opportunities to get involved with outdoor leisure and water sports, as well as shopping, dining, live entertainment venues and galleries.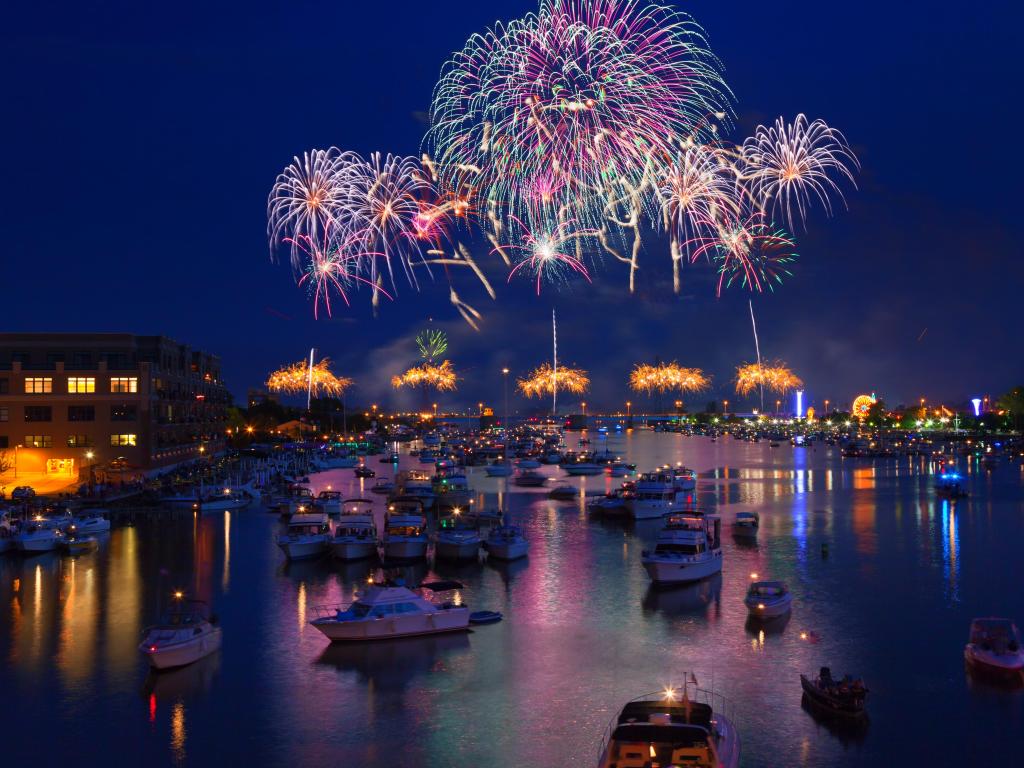 How to get there: Drive north on I-75 and M-83 to reach Frankenmuth. Continue west on State Route 46 to reach Saginaw. Take I-675 and I-75 north, then head west on M-55 to reach Houghton.
Our highlights: Get a flavor of the local past by visiting The Saginaw County Historical Society, housed in the Castle Museum in downtown Saginaw. The turreted French castle is worth a visit in itself!
Bay City is situated on the Saginaw River not far from Lake Huron, and offers a ton of outdoor activities in addition to fantastic museums, cafes, and historic sites.
The Bavarian-style city of Frankenmuth has many picturesque attractions to explore, such as the Wilkommen Park, Lager Mill, and Frankenmuth Historical Museum.
Throughout the year, Houghton Lake is a popular vacation destination and fishing spot. It is the largest inland lake in Michigan. Pay a visit to the bellowed Copper Kettle Distilling to try their delicious butter rum.
Bonus: In 1950, Steveland Hardaway Judkins was born in Saginaw - fans would know him as Stevie Wonder.
Our travel tips: You can swim in Houghton Lake, but be aware that there may not be lifeguards.
9. Ohio's Amish Country
Via Berlin, Charm, Fredericksburg, Millersburg and Holmes County Trail
4 hours 5 minutes from Detroit (210 miles)
Why you should visit: A fantastic family destination, which also doubles as an informative insight into Amish culture. Take a break from the hubbub of modern life as you get submerged in the time-worn and rich culture of the Amish community in Ohio.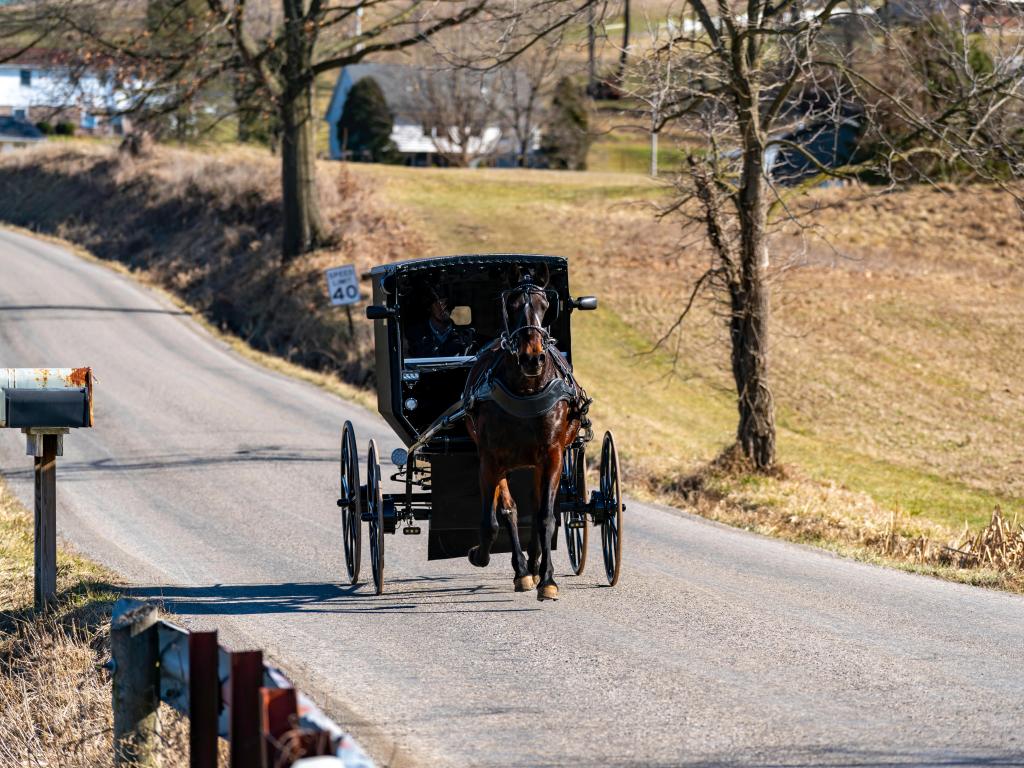 How to get there: Drive south on I-75, then take US-250 east to reach Fredericksburg. Take Co Rd 201 and US-62E to reach Berlin. Continue on Co Rd 70 to reach Charm, then take OH-557N and US-62W to reach Millersburg. Follow Co Rd 622 to get onto Holmes County Trail.
Our highlights: Visit Yoder's Bargain Store, the local shop in Fredericksburg where Amish residents procure their necessities. As an outsider, be respectful, but you'll be able to find every item you can think of at an extremely low price.
Another must-stop shop is Walnut Creek Cheese, which offers fresh home-baked delights. For premium leather products, try Raber's Shoe and Saddlery - the leather products are renowned for their fantastic quality and price.
Designated byways spanning 160 miles run right through the middle of Amish Country, and the simple drive along the rolling hills of Holmes County trail is one of the highlights of this itinerary.
Bonus: The Amish in Ohio date back to the 1800s, and most of them still use as little technology as possible.
Our travel tips: Fall is the best time to make this trip, when the foliage along the road is at its most vibrant.
10. Toronto, ON, Canada
4 hours 35 minutes from Detroit (230 miles)
Why you should visit: Cross the border to visit Canada's biggest city and one of the biggest cities on the entire continent! Toronto is the home of some of Canada's most iconic monuments, along with shopping complexes and a nightlife to die for.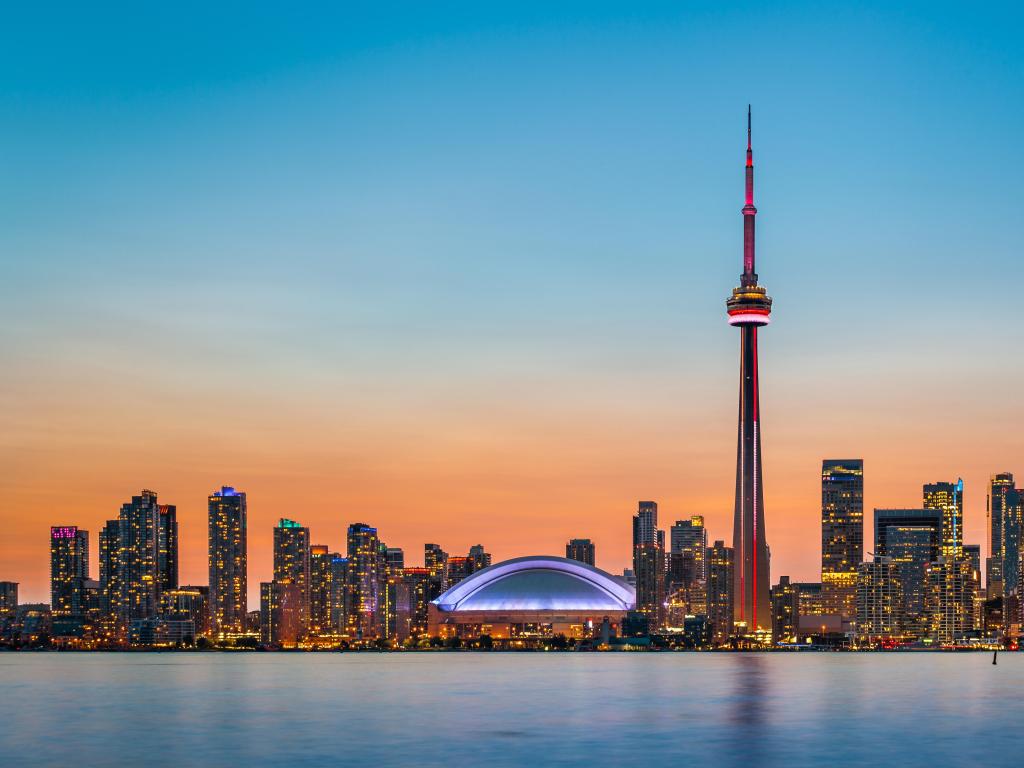 How to get there: Take the Detroit Windsor Tunnel, then drive east on ON-401 and ON-403. Drive via Bay Street to reach Toronto.
Our highlights: You won't be able to miss the CN Tower, formerly, the tallest tower in the world. Today, its 1,815 feet height remains extremely impressive and it's well worth a climb.
Perhaps one of the most extensive museums in Toronto, the Royal Ontario Museum has a permanent collection showcasing 3,000 kinds of gems and minerals.
National Geographic once proclaimed St. Lawrence Market the best food market in the world! Head on over to enjoy some of their fresh produce and scrumptious eats.
Toronto is on the Canadian side of the Niagara Falls, where you will be able to get within a meter of the Horseshoe Falls' edge. This drive makes for a great combo with the above road trip to Niagara Falls.
Bonus: The city has more than 10 million trees!
Our travel tips: Be sure to brush up on your French, because a lot of the residents will default to it first.
A big portion of the city is underground, known as the PATH system.
11. Niagara Falls, ON, Canada
4 hours from Detroit (240 miles)
Why you should visit: Known as one of the wonders of the world, this famous waterfall is truly a bucket-list destination. The mist, the noise, and the sheer volume of the flowing water have to be seen to be believed at this amazing natural phenomenon.
How to get there: Head east on ON-401 and ON-403, then take ON-420 east to reach Niagara Falls, Canada. You can take an alternate route to enter through the New York side of the Niagara Falls, without crossing into Canada - this will extend the drive time by about 2 hours.
Our highlights: If you're feeling brave, try out the Wildplay MistRider Zipline – this thrilling zipline starts on the Canadian side and takes you right over the top of the thunderous waterfall below.
The best way to see the Falls up close is to take the Maid of The Mist Tour. You'll head out by boat to explore all around the base of the Falls on a time-honored tour that has been running in some form since the 1840s.
You can get a different perspective by taking the Journey Behind The Falls, in which you'll descend more than 100 feet via passages that are more than 130 years old to stand on an observation deck right beside the immense waterfall.
Explore the nearby Niagara-on-the-Lake – a 19th-century city famous for its wineries and flower-lined streets. Make sure to sample the unique local delicacy of icewine here.
Bonus: Niagara Falls State Park is the oldest state park in America and actually consists of 3 falls.
Our travel tips: While visiting Niagara Falls, be careful not to bring anything that could be damaged by water, as the spray of the waterfalls will drench you!
12. Michigan City and Indiana Dunes National Park via Shipshewana, IN
4 hours 35 minutes from Detroit (260 miles)
Why you should visit: The shoreline is the main attraction of Michigan City, providing beautiful opportunities for boating, hiking and other outdoor activities.
Along with the lakeside community of Michigan City, you can experience Amish culture and tradition at Shipshewana – one of the country's biggest Amish communities.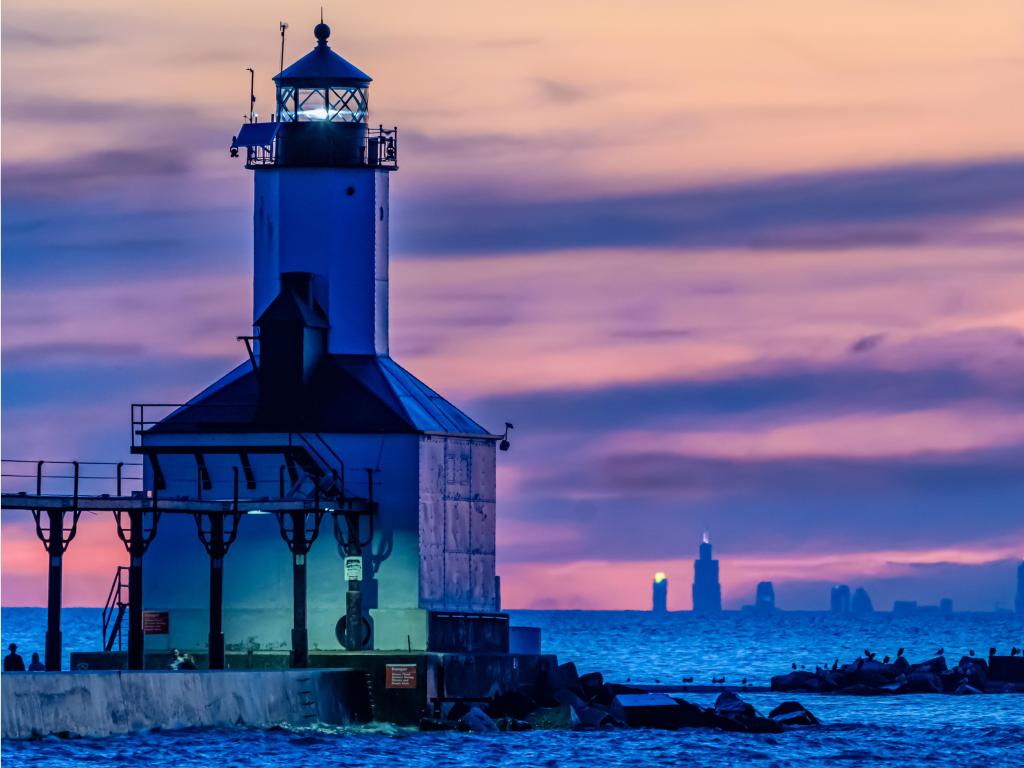 How to get there: Drive west on I-96, M-14, I-94 and M-60, then head south on I-69 and take exit 348 to reach Shipshewana. Drive west along US-20 to reach Michigan City, and continue on this road to reach Indiana Dunes.
Our highlights: Washington Park Beach is a soft 2-mile stretch of sand that has a splendid view of the city's lighthouse, as well as rolling dunes and shallow waters. You can walk from here up the pier to the East Pierhead Lighthouse, which has been standing since 1904.
The beach is only one of the attractions in Washington Park, with other attractions including 19th-century monuments and a century-old zoo.
In Shipshewana, enjoy some of the best Mennonite & Amish home cooking in the state at Blue Gate Restaurant & Theater. You can even hitch a buggy ride after having your fill!
Visit Indiana Dunes National Park to see where the wind and waves of Lake Michigan have shaped the earth into dramatic dunes. You'll find over 13,000 acres of trails and beaches.
Bonus: The East Pierhead Lighthouse is Indiana's only public operating lighthouse.
Our travel tips: Blue Gate Restaurant & Theater often holds special events that you can check out on their website.
13. Chicago, IL
4 hours 25 minutes from Detroit (280 miles)
Why you should visit: Chicago is so famous that it has its own style of pizza - as well as that it has a fascinating history of jazz, gangsters and distinctive architecture.
Experience the city's jaw-dropping architecture from multiple scenic viewpoints and enjoy the award-winning taste of the city's great restaurants.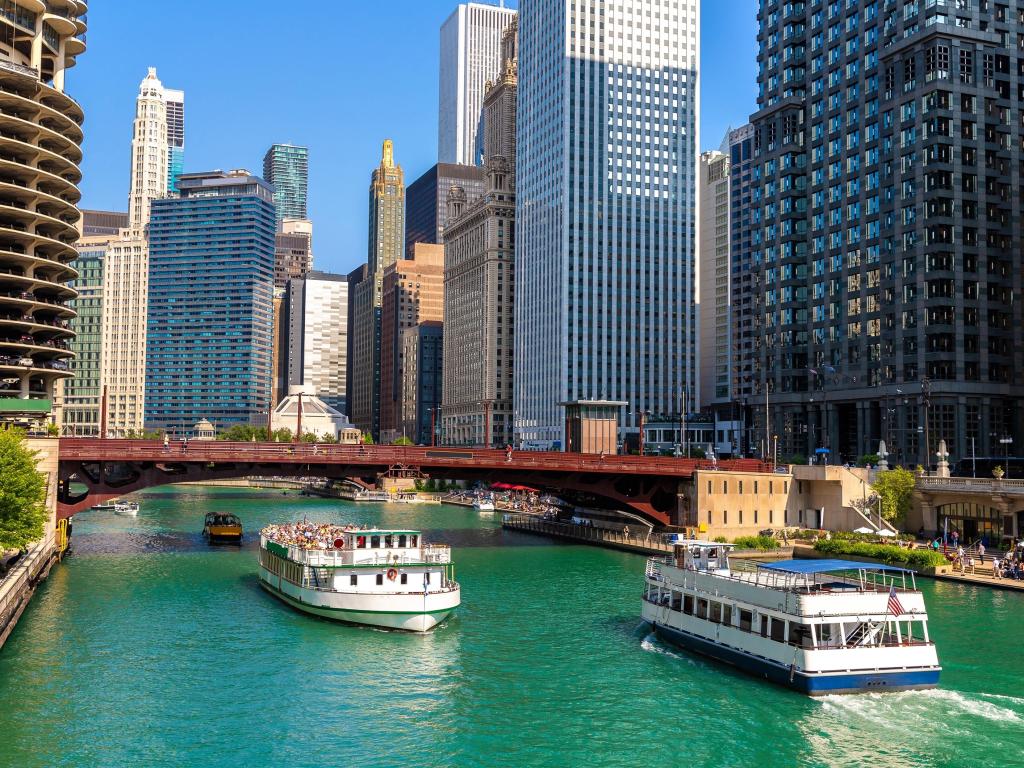 How to get there: Drive west along M-14, I-94, and I-90. Drive west along Ida B. Wells Dr. Drive to reach Chicago.
Our highlights: Stroll along Navy Pier, the city's most famous lakefront destination with renowned locations for boat tours, shopping, and restaurants.
Culture-lovers shouldn't miss the Art Institute of Chicago – you can enter past the iconic pair of bronze lions to gaze at a collection of over 300,000 pieces of art from around the world.
Another interesting stop is the Field Museum, an enormous institution dedicated to the exhibition of the anthropological and biological collection from the 1893 World's Columbian Exposition.
For some peace and quiet, head into Garfield Park Conservatory, a stunning home for over 100,000 kinds of plants housed in a structure made entirely of glass.
Bonus: Chicago is considered to be the birthplace of modern architecture.
Our travel tips: For easy access to Chicago's attractions, we recommend staying in the city center.
It's best to avoid being in the city during school breaks and bank holidays, as it can get very crowded.
14. Mackinac Island, MI
4 hours 5 minutes driving plus 30-minute ferry from Detroit (290 miles)
Why you should visit: A popular summer hotspot with Victorian-era charm and a relaxed vacation vibe. Hike trails, ferry rides, boat tours, and a vibrant history all make Mackinac Island a top destination. Even better, you don't need a car to get around once you arrive.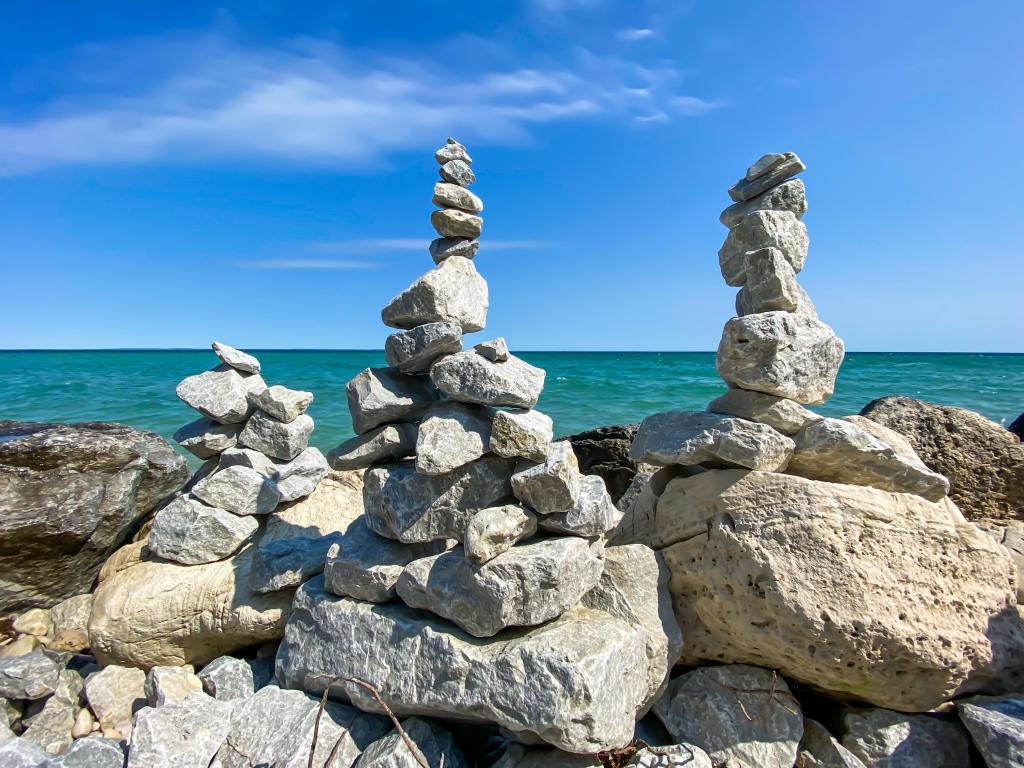 How to get there: Drive north on I-375 and I-75, then take exit 344A to reach St. Ignace and the Mackinac Island Ferry Dock. Take the 30 minute ferry ride to arrive on Mackinac Island.
Our highlights: Mackinac Island State Park covers almost 80% of the island - you can take one of the many trails to discover the limestone bluffs, magical pools, and misty sunrises.
In times gone by, Fort Mackinac would have protected the island from unexpected attacks - now it has been refurbished with unique weaponry and informative exhibits about the island's past.
Arch Rock is a magnificent rock formation, naturally carved by wind and water over several hundred years - the structure hangs a whopping 146 ft above the water.
One of the earliest of its kind in the US, the Original Mackinac Island Butterfly House and Insect World is filled with lush flora from the tropics and houses several hundred butterflies from across the world.
Bonus: Mackinac Island is known as the "Crown Jewel" of Michigan because of its natural beauty.
Our travel tips: Fort Mackinac is open most days of the week between May and October.
15. Pittsburgh, PA
Via Cuyahoga National Park, OH
4 hours 40 minutes from Detroit (300 miles)
Why you should visit: A plethora of museums and historical sites are the main reason why tourists keep coming back to the "Steel City". Pittsburgh sits in the middle of three rivers, creating a unique cityscape linked together with several hundreds of bridges all across the city.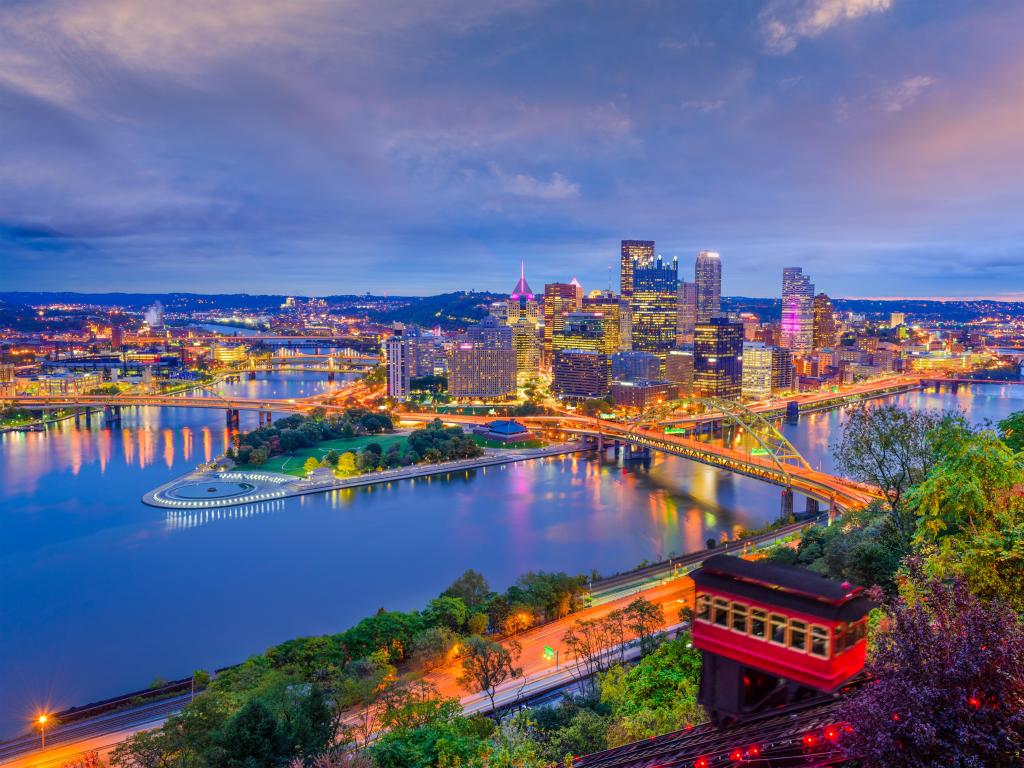 How to get there: Drive south on I-75, then take I-80 east. Take exit 173 to reach Cuyahoga National Park. Rejoin I-80, then take I-76, and I-279S to reach Pittsburgh.
Our highlights: The Carnegie Museum of Art is truly world-class, containing over 30,000 items in different mediums dedicated to exploring art's effect on society.
Alternatively, visit Carnegie Museum of Natural History, where you can learn about human culture and the natural world. There is also an environmental research center here.
One of the country's most reputed bird sanctuaries, the National Aviary houses over 500 birds of 150 species from all over the world, including endangered and threatened birds.
The Cuyahoga National Park turns its visitors into adventurers, with routes cutting deep into dense forests and rolling hills. You can drive through on Riverview Road Scenic Drive or take one of the many trails.
Bonus: Pittsburgh has 446 bridges in total. The city sits at the confluence point of three rivers: the Monongahela and the Allegheny forming to make the Ohio River.
Our travel tips: Navigating the city and its public transport system can be a bit confusing, so try to keep a map at hand!
Click here to skip back to the top.
Long weekend trips (5-8 hours each way)
Pack a weekend bag and leave Detroit in the distance by embarking on one of these longer weekend trips. You might find yourself fishing in a crystal lake, hiking up a glacier or singing along in Music City.
16. Traverse City
Via Manistee, MI
5 hours 15 minutes from Detroit (320 miles)
Why you should visit: The city is famous for a particular fruit – cherries, though it's also known for its cultural offering. Museums and galleries stand alongside world-famous wineries and vineyards, all adding up to the sweet taste that Traverse City is famous for.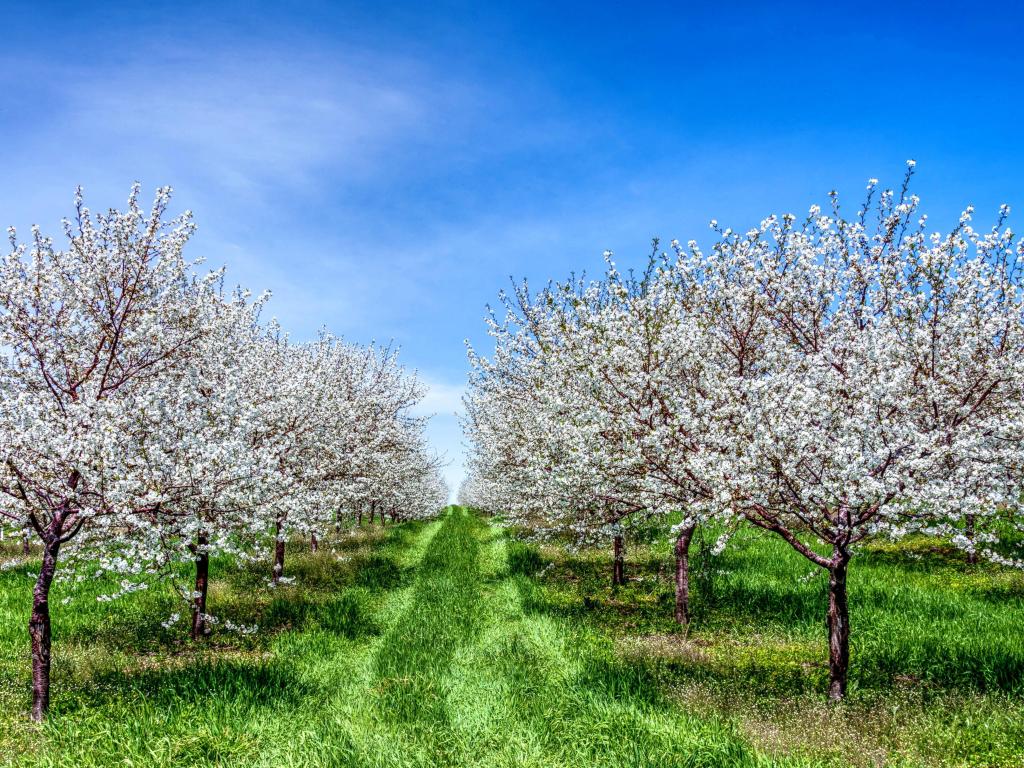 How to get there: Drive north on I-357 and I-75, then head west on US-10. Take M-115 and M-55 west to reach Manistee, then take US-31 north to reach Traverse City.
Our highlights: Front Street is a completely renovated downtown area of Traverse City which has given a new sheen to the historical buildings, making them fantastic places for shopping and dining.
It's only a short drive to Suttons Bay, a coastal community that lies about 20 minutes north of the city. It is a delightful little town with a casino, museum, and several art galleries.
Drive through vineyards and cherry orchards to reach Mission Point Lighthouse, which you can climb to get a beautiful birds-eye view of Lake Michigan.
Manistee is a beautiful city sandwiched between Lake Michigan and Lake Manistee. It's full of untouched nature and wildlife, and has great camping, beaches and a friendly vibe.
Bonus: Manistee has the highest number of millionaires per capita in the entire country.
The Michael Moore-founded Traverse City Film Festival is one of the country's most famous festivals.
Our travel tips: Time your trip between July and August to make the most of the beaches in the sunshine.
17. Whitefish Point and Tahquamenon Falls State Park, MI
5 hours 45 minutes from Detroit (380 miles)
Why you should visit: The sandy beaches of Whitefish Point are known for their diverse bird population, along with some interesting museums and shorelines.
Tahquamenon Falls is one of the country's most outstanding waterfalls, while Whitefish has an intriguing collection of shipwrecks.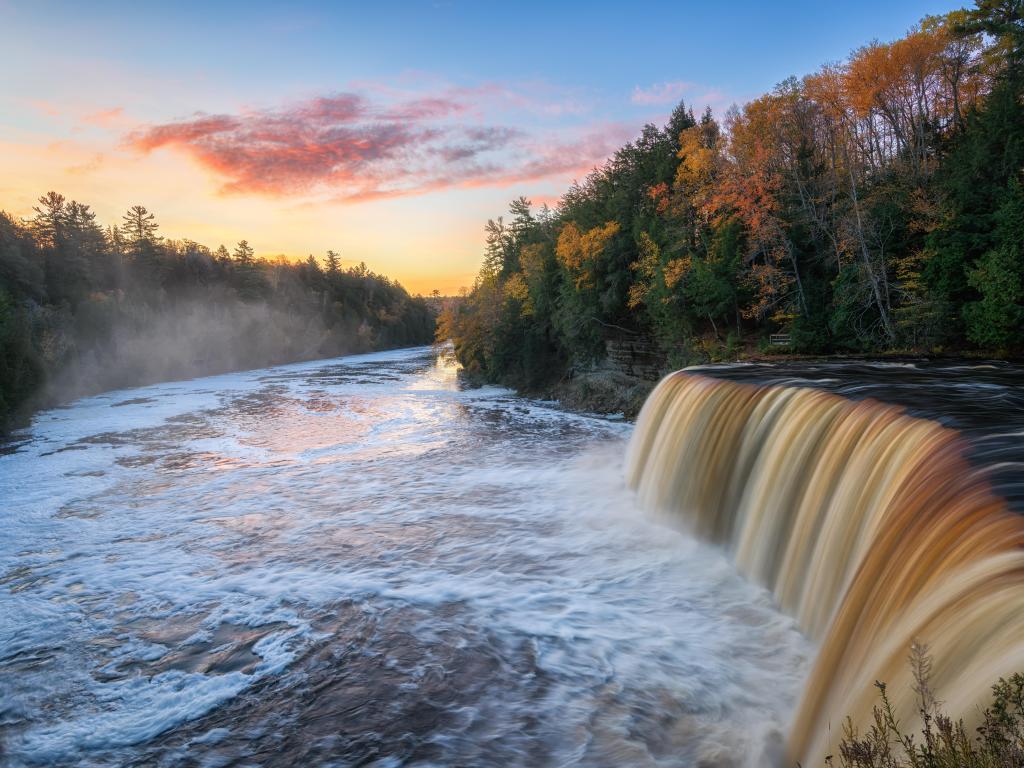 How to get there: Drive north on I-375, I-75 and M-123 to reach Whitefish Point. Carry on along M-123 to enter Tahquamenon Falls Park
Our highlights: Lake Superior is famous for being dangerous for boats, and the Great Lakes Shipwreck Museum retells the story of all the ships lost in this tricky area.
A dangerous shoreline means a lighthouse is a must, and the Whitefish Point Light Station has been doing its duty since 1849. Today, you can explore the house of past lightkeepers and enjoy the beautiful view.
Upper Falls is the largest waterfall in Michigan, situated in Tahquamenon Falls State Park. You can hike up to the precipice of the falls, where you can hear its roar and feel the mist firsthand.
To stretch your legs, take the 5-mile River Trail at Tahquamenon, which takes you along the slow moving river via two waterfalls and an ancient forest.
Bonus: The area is also known as the "Graveyard of the Great Lakes", because of the number of shipwrecks.
Our travel tips: Entry to Shipwreck Museum is only open between May 1 and October 31.
18. Milwaukee and Port Washington, WI
Via Kenosha, WI
6 hours 45 minutes from Detroit (410 miles)
Why you should visit: Milwaukee is famous for its standout restaurant scene, particularly for its brewing and coffee. Milwaukee's booming food scene lies in between Port Washington's historic charm and Kenosha's friendly and affordable downtown filled with electric streetcars.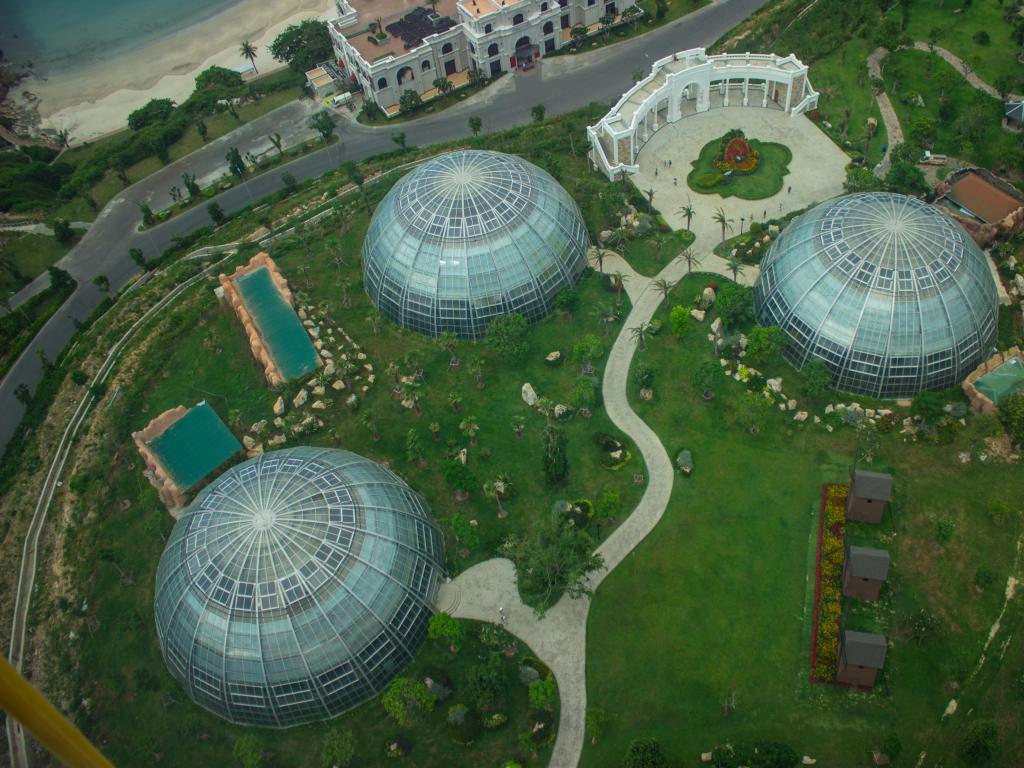 How to get there: Drive west on M-14, I-94 and I-90 to reach Kenosha. Remerge with I-94 and take exit 1E on I-794E to reach Milwaukee. Take I-794 and exit 93 on I-43 to reach Port Washington.
Our highlights: Harley-Davidson is the poster brand of the "rebel bikes", and the eponymous museum showcases birthplace of the brand and the motorcycle culture that surrounds it.
Mitchell Park Horticultural Conservatory is made of three huge dome-shaped greenhouses, each containing a different habitat with its own dedicated species of flora.
Port Washington Breakwater Lighthouse makes for a great photo stop - while this art deco structure is inaccessible to the public, you won't be able to miss it towering over the end of the pier.
For a spot of history visit the Civil War Museum in Kenosha, which is dedicated to telling the tales of individuals from the Midwest who served in the war.
Bonus: The Harley-Davidson Company was formed in Milwaukee in 1903.
Our travel tips: Within the city, make use of the streetcars to get around - particularly the new "Hop"!
19. Madison and Lake Mendota, WI
6 hours 45 minutes from Detroit (440 miles)
Why you should visit: Madison is a highly significant but lesser-known center for art and culture. Madison's myriad museums and prized restaurants are well worth frequenting, which make a lovely contrast to the winter wonderland of Lake Mendota.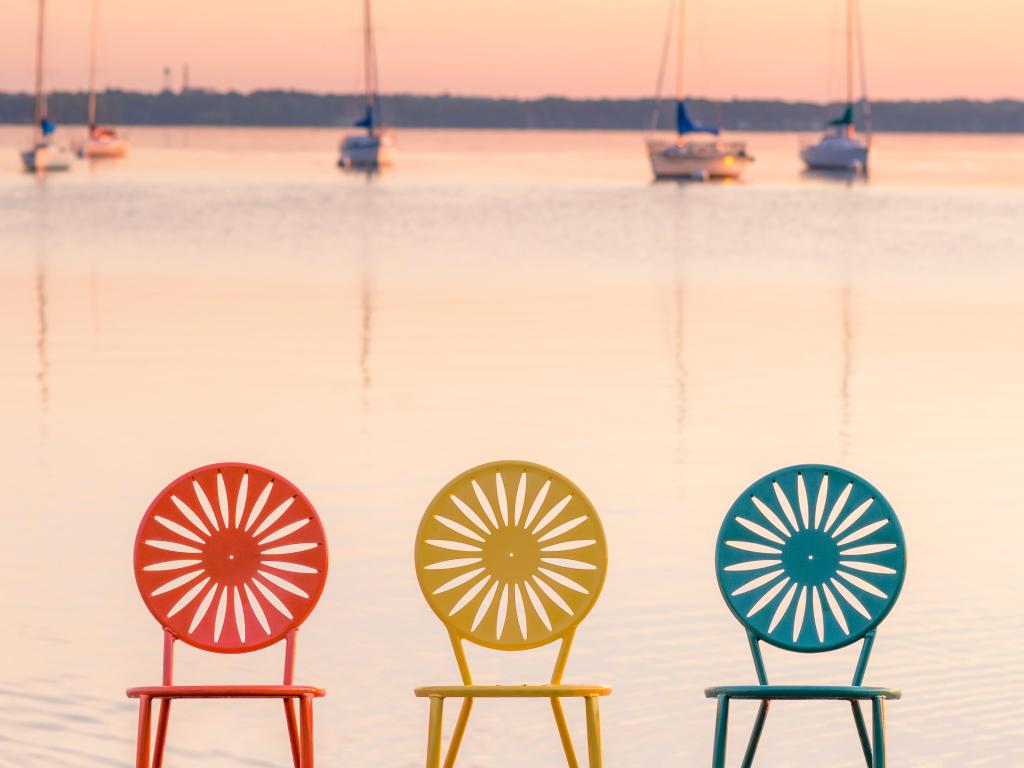 How to get there: Drive west on I-94, then take I-294N and I-90 W. Take exit 263 on US-12W, then drive along John Nolen Dr. Drive to reach Madison.
Our highlights: If you're traveling with kids, don't miss Henry Vilas Zoo – this city-owned zoo contains animals from a wide range of habitats including the Arctic and the savannah.
Another must-visit for kids of 10 years and younger is Madison Children's Museum – they have fun exhibits and interactive activities about the local area.
The University of Wisconsin houses the Chazen Museum of Art, which displays the second-largest art collection in Michigan - it's filled with paintings, photographs and sculptures from prehistoric times to the present.
Lake Mendota is known mostly for its winter events, but it's also great in the summer with 7 beaches and 12 boat ramps to enjoy.
Bonus: Madison is a Platinum-level bike city, meaning it's great for biking - there are only 4 other US cities that have this accolade.
Our travel tips: As with other Midwestern locations, the border seasons are the best weather to visit.
20. Wisconsin Dells, WI
7 hours 20 minutes from Detroit (480 miles)
Why you should visit: Wisconsin Dells' fun-filled reputation stems from its many amusement parks, waterparks and entertainment centers, some natural and some man-made.
The natural scenery along the Wisconsin River is worth the trip alone, added to an amazing array of thrills to be found on the rides and coasters of this highly entertaining city.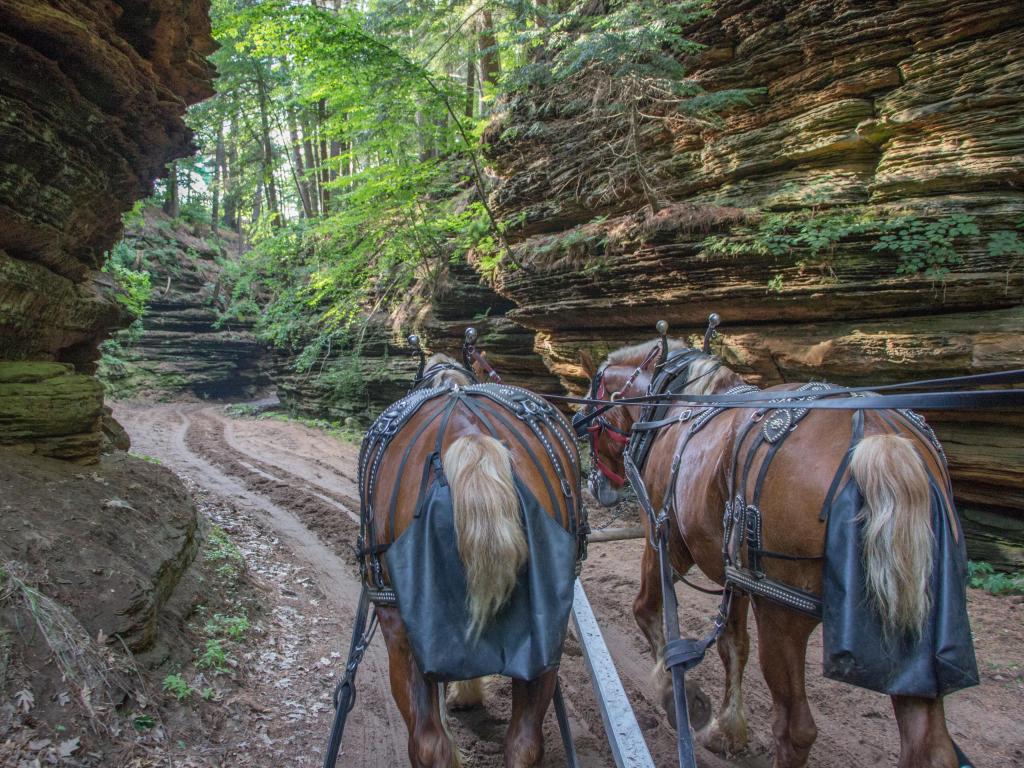 How to get there: Heads west on I-94, I-294 and I-90. Take exit 39B from I-39N and drive west along WI-16W to reach Wisconsin Dells.
Our highlights: The exclusive waterpark Wilderness Resort is only available to the guests staying in its accommodation. They have 4 incredible water parks which are completely indoors - great for any weather.
In 1939, quarry workers discovered the Cave of the Mounds, a naturally formed limestone cave. Since 1940, it has remained as one of the top spots to see speleothem mineral deposits.
If you want to get some exercise in while also learning about the history of the area, sign up for an adventure activity at Dells Mining Co, where you can pan for sparkling gems from across the world.
You can take a detour via the two iconic cities of Milwaukee and Chicago. Expect to encounter some traffic entering and exiting the centers, which will add about 30 minutes more to the drive time.
Bonus: Wilderness Resort is the largest waterpark resort in the country.
At Dells Mining, you can purchase a sand bucket that came from Franklin, NC, the country's gem capital.
Our travel tips: March, July, and October get the biggest footfall, as that's when most of the special events happen.
Click here to skip back to the top.
Longer trips (Over 8 hours each way)
If you're prepared to put some serious miles between you and Detroit, the world is your oyster. Pack up the car and discover some of the United States' most iconic cities, from bustling New York to thrill seeking Orlando.
21. Washington, DC
8 hours 15 minutes from Detroit (510 miles)
Why you should visit: The capital of the USA houses some of the most iconic monuments in the world, with a selection of fantastic landmarks and museums.
The USA has a long and storied history filled with remarkable moments and personalities. Washington DC stands as a testament to all that the country has represented throughout the ages.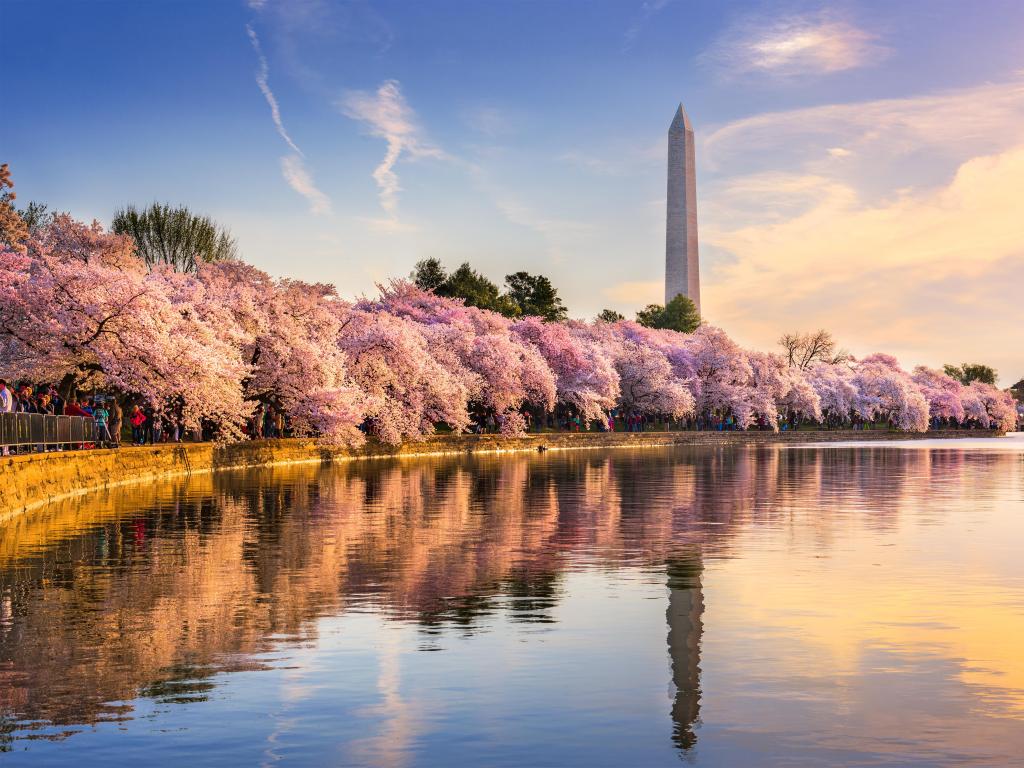 How to get there: Take M-10 north and I-75 south. Drive east on I-80 and I-70, then take I-276 and I-495 south. Take exit 40 and follow signs for Washington.
Our highlights: National Mall is a huge park in the center of Washington DC, in which you can find most of the monuments the city is famous for, including the Lincoln Memorial.
The Library of Congress houses over 167 million items, as it is one of the largest collections of documents, books, and information from around the world. It's free to visit, though you'll need to book a timed entry pass.
From glittering jewelry to stunning woodworking stalls, Eastern Market is one of the city's oldest markets and has enough stalls to take up an entire day.
Visit a place where history was made at Ford's Theater, where President Lincoln was assassinated. Still today, it presents museum exhibitions and live theater performances.
Bonus: The oldest part of Washington DC is Georgetown. The city was specifically created by the US Constitution to be the capital of the country.
Our travel tips: The National Mall is enormous, so do not expect to get through it in one day!
Be sure to visit the monuments at night for a different view - most of them are open and lit up 24/7.
22. Nashville, TN via Cincinnati, OH and Louisville, KY
8 hours 15 minutes from Detroit (540 miles)
Why you should visit: Nashville is one of the most iconic music meccas in the world, with country spilling out of bars on every corner.
There's a lot to discover on the way to Nashville - you can explore the breweries and traditions of the German community in Cincinnati, and authentic southern cuisine and Kentucky culture in Louisville.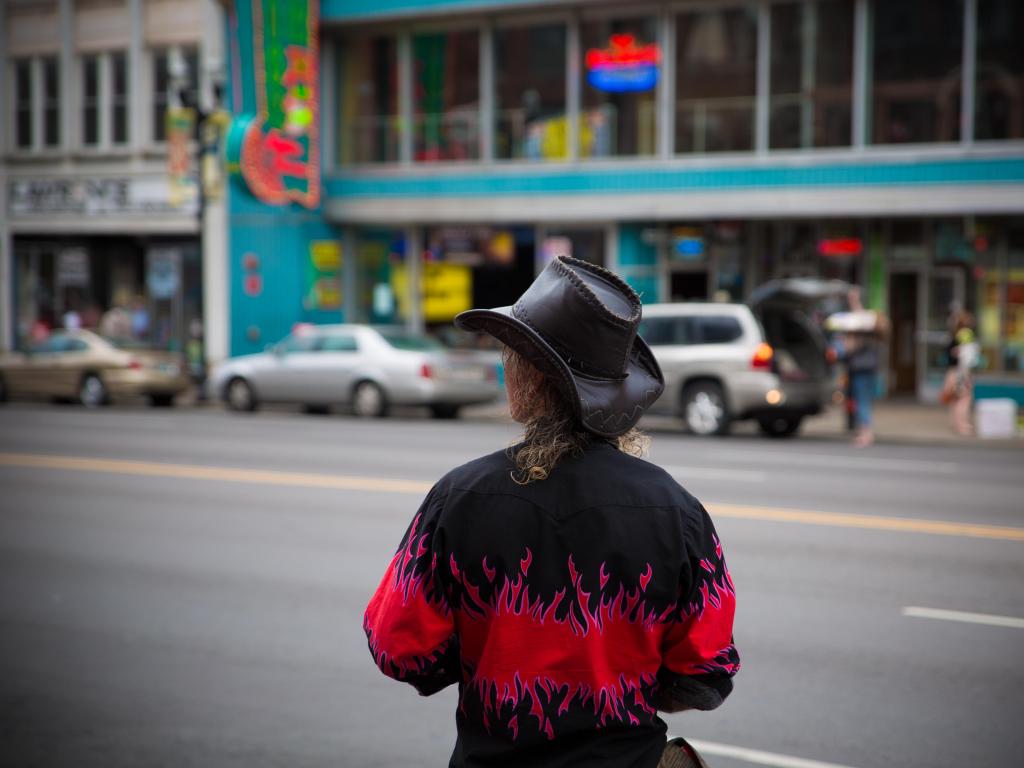 How to get there: Follow I-75 south and take exit 1E to reach Cincinnati. Take I-71 south and take exit 4 on I-64W to reach Louisville. Drive south on I-65 and take exit 209A to reach Nashville.
Our highlights: Tour through the iconic backrooms and stage of the Ryman Auditorium, where country music legends such Johnny Cash made their name.
Continue the theme at the Country Music Hall of Fame. Some of the most famous memorabilia attached with country music through the ages are on display here - think the Cadillac limousine belonging to Elvis Presley.
If you do one thing in Cincinnati, visit Cincinnati Zoo. It has one of the most diverse collections in the entire country, with elephant herds, caves full of bats and even authentic giant Galapagos tortoises.
In Louisville, learn and celebrate one of the world's most famous horse-racing events at the Kentucky Derby Museum, and learn about the traditions and hospitality associated with it.
Bonus: The Grand Ole Opry is the oldest-running radio show in the world - you can see a show or take a tour here.
Mountain Dew, Moon Pie, and Cotton Candy were all born in Nashville.
23. St Louis, MO
Via Fort Wayne and Indianapolis, IN
8 hours 20 minutes from Detroit (540 miles)
Why you should visit: St Louis is known as the precipice of the West, and as a result it offers a unique mixture of city life and frontier traditions.
St Louis is a cultural hotspot with great museums and a longstanding connection to music. Fort Wayne is a hub for everything scientific, with an amazing zoo and a great science center, while Indianapolis is known for its love of motorsports.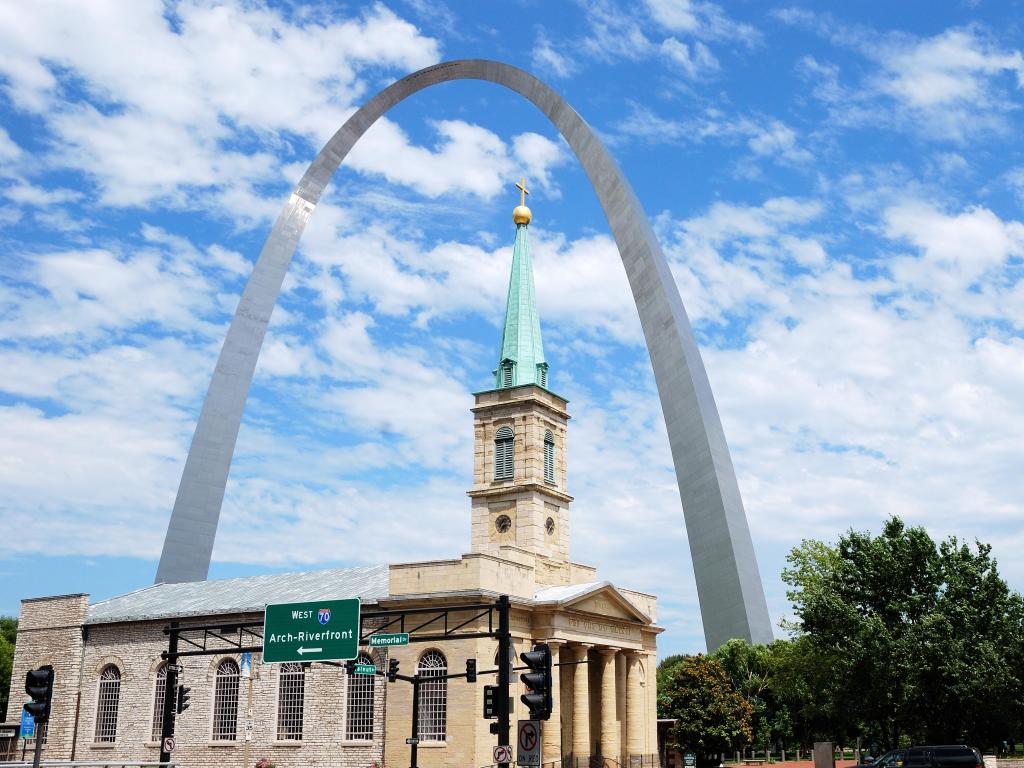 How to get there: Take I-75 south and then head west on US-24 to reach Fort Wayne. Drive south on I-69 and take exit 113 on I-65N to reach Indianapolis. Drive west on I-70 and take exit 40A on I-64 to arrive in St Louis.
Our highlights: You won't be able to miss the Gateway Church, an iconic landmark standing 630 ft tall over the city. It marks the point from which the westward expansion originally began.
One of the biggest parks in the country, Forest Park is the home of the city's best cultural institutions, such as the Missouri History Museum and Science Center.
The Museum of Art in Fort Wayne is unlike any other - it has an ever-changing gallery setup and tells the vibrant tales of historical American celebrities.
All of the most memorable moments and items from the history of the iconic Indy 500 NASCAR race are on display at the Indianapolis Motor Speedway Museum, which is located dead in the center of the racetrack.
Bonus: St. Louis had the first public kindergarten and the first interstate highway in the country. St Louis was also the first city to host the Olympics in the US.
Our travel tips: Downtown St. Louis is the most walkable part of the city, so you can leave the car behind and explore the area on foot.
24. New York, NY
Via Pittsburgh, PA
10 hours 30 minutes from Detroit (660 miles)
Why you should visit: New York needs no introduction - this modern metropolis is world-famous and teeming with activity, day and night. Pittsburgh has a laid-back vibe on its many rivers, which makes a nice contrast to the bustling pace of New York.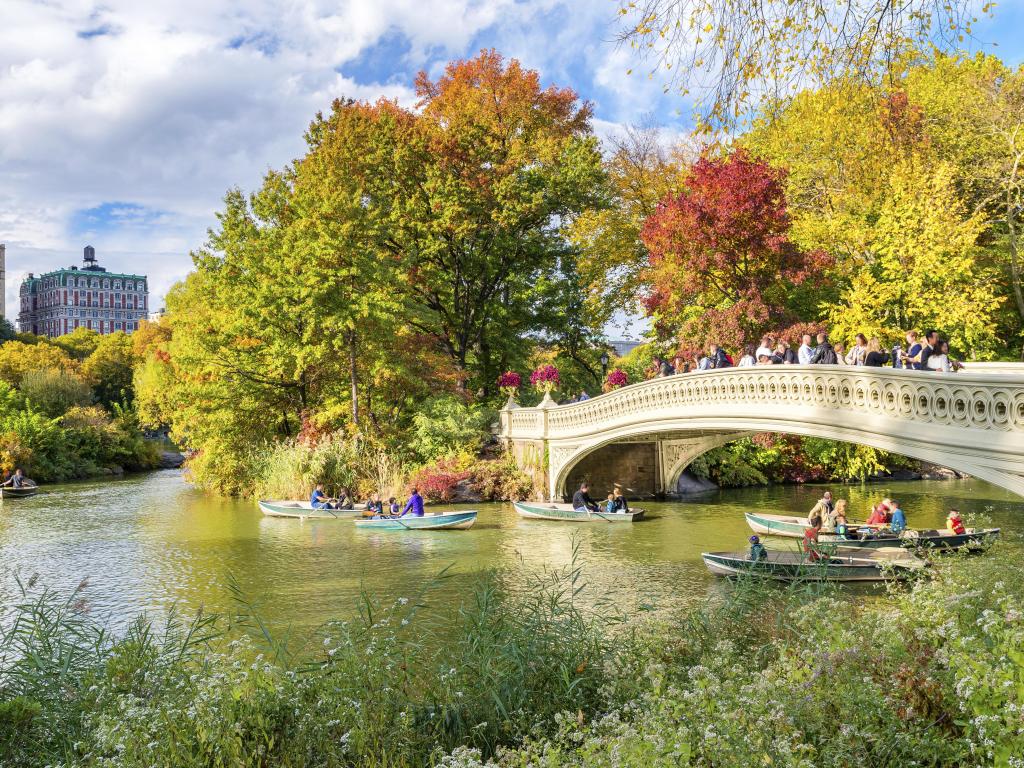 How to get there: Take M-10 north and then drive south on I-75. Drive east on I-80 and follow I-76 to reach Pittsburgh. From there, take I-579 south and drive along I-76 and I-78E to reach New York.
Our highlights: Central Park is a relaxing island in the midst of a concrete and steel ocean - the humongous green space stretches over 834 acres and takes about an hour to walk across from top to bottom.
Visit Allentown en route to New York - it's comparatively smaller in size but not lacking in activities such as vibrant nightlife and golfing.
If you're visiting anywhere near Christmas, make sure to stop by Bethlehem - this city's festivities and decorations surrounding the holidays are world famous.
Bonus: Central Park is the most popular location for filming worldwide.
America's first pizzeria opened in New York City – Lombardi's. It is still open for business.
Our travel tips: Carnegie Museum is open every day except Tuesdays.
Public transportation is the way to go in New York, so leave the car behind!
25. Chattanooga
Via Knoxville, Pigeon Forge, and Gatlinburg
11 hours 25 minutes from Detroit (710 miles)
Why you should visit: A completely rebuilt riverfront and miles of beautiful views draw tourists to Chattanooga throughout the year.
Along with Chattanooga's breathtaking scenery, there is fine dining, entertainment, and vibrant downtown culture to be found at every stop along the way.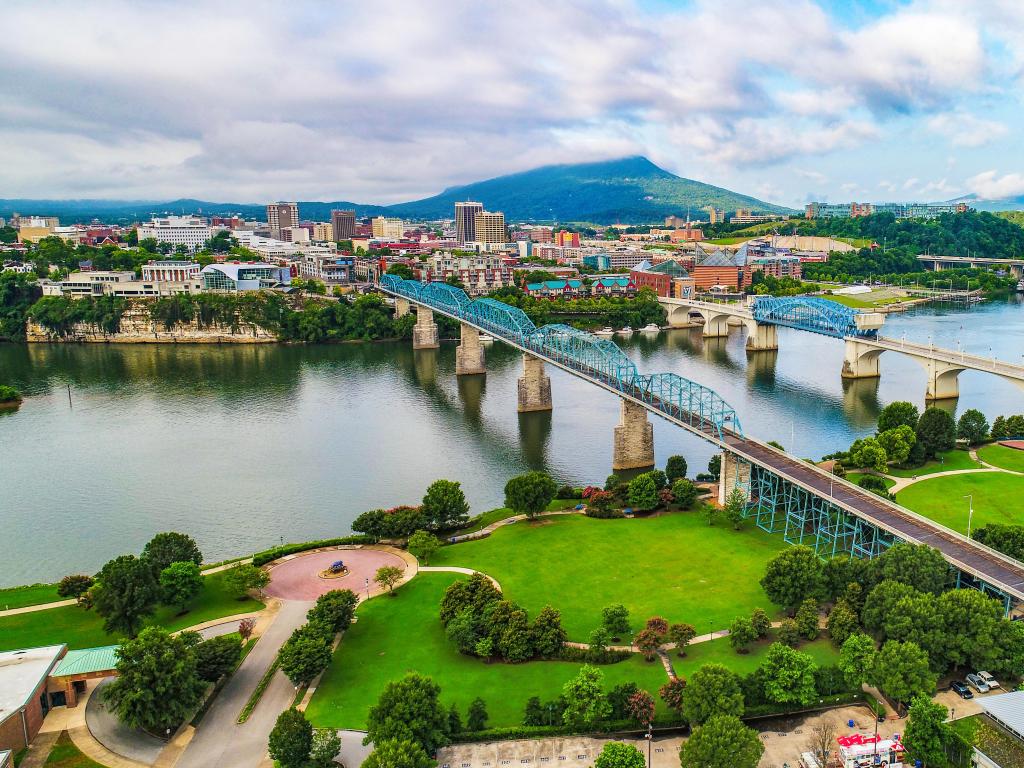 How to get there: Follow I-75 and I-275 south to reach Knoxville. Take I-40 east and TN-66 south to reach Pigeon Forge, then drive along Old Mill Way and Parkway to reach Gatlinburg. Take I-40W and US-27N to reach Chattanooga.
Our highlights: Tennessee Aquarium is situated right on the Tennessee River, and is one of the country's most popular places to see marine life - everything from illuminated flashlight fishes to sandbar sharks.
Sitting deep inside Lookout Mountain, lies a scene untouched since prehistoric times - Ruby Falls is home to mesmerizing cave formations and stunning underground waterfalls.
World's Fair Park in Knoxville is a purpose-built space for outdoor activities, with numerous walking trails and entertainment events.
Pigeon Forge is full of historical significance, and Old Mill Square is one of its highlights - this 18th century themed square is the best place to soak up the history.
Bonus: Ruby Falls is the country's tallest underground waterfall.
Our travel tips: Try to time your trip during the border months of spring and fall, when you'll get ideal weather and fewer crowds.
26. Orlando, FL
Via Columbus, OH, Savannah, GA, and Jacksonville, FL
18 hours from Detroit (1,160 miles)
Why you should visit: It's known as the place to go for theme parks, but it also has great hotels and is a gateway to outdoor activities in Florida's tropical environment.
Aside from Orlando's theme parks, enjoy the urban park scene in Jacksonville, Southern history in Savannah, and a bit of both in Columbus.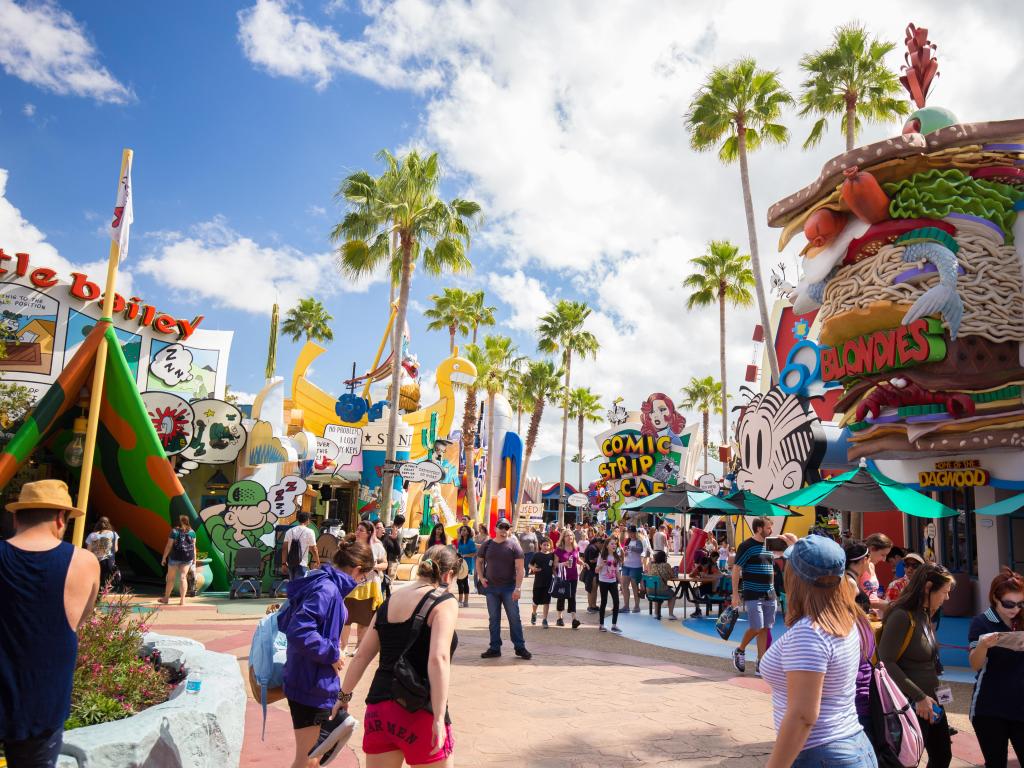 How to get there: Drive south on I-75, then head east on I-670 to reach Columbus. Follow I-71S and I-64E to reach Savannah. Hop on I-16W and then take I-95 south to reach Jacksonville.
Our highlights: Walt Disney World is the place where dreams are made, with magic rides, colorful characters and an animal kingdom.
You won't be able to miss Friendship Fountain in the center of Jacksonville, where the jet streams reach almost 100 meters in height. It's great for photos, and you can throw in a coin to make a wish!
In Savannah, you can take a daytime tour of Bonaventure Cemetery for a moment of calm in the city. Famous American songwriter is buried here, along with many other interesting graves to peer at.
You can take a detour of approximately 2 hours to go via Charleston, where you can enjoy buzzing bars and an eccentric art scene.
Bonus: When Friendship Fountain was built in 1960, it was the world's largest and tallest fountain.
Orlando has over 100 lakes!
Our travel tips: Be sure to always buy tickets beforehand because Orlando is a very popular destination.
You can expect humidity, rain, and heat on this trip!