Road Trip from Detroit, Michigan to Denver, Colorado
The American Midwest is fantastic for exploring colorful scenic landscapes, modern cities, and native history. And if an eclectic westward adventure has always been on your travel bucket list, it is time to make it happen with a road trip from Michigan to Denver.
The 1400-mile road trip from Detroit to Denver takes about 23 hours to drive and covers Ann Arbor, Des Moines, and Rocky Mountain National Park Denver. Or take an alternative route through Indianapolis, St Louis, Kansas City, and Colorado Springs.
Discover the best of contemporary architecture, cityscapes, and bustling city life, and admire the beautiful grasslands, gigantic mountains, and rustic countryside in one awesome trip. Read till the end to find the best time to visit, routes, places to see, and things to do to make the most of this exciting drive out west.
How far is Denver, Colorado from Detroit, Michigan, and how long will the road trip take?
Comparison of road trip routes between Detroit, Michigan and Denver, Colorado

| Route | Distance | Driving Time |
| --- | --- | --- |
| The Rocky Mountains Route | 1,400 miles | 23 hours |
| Colorado Springs Route | 1,570 miles | 25 hours |
The road trip to Denver, Colorado from Detroit, Michigan via The Rocky Mountains Route takes about 23 hours to complete and covers 1,400 miles without detours and breaks.
However, taking the slightly longer Colorado Springs Route will take 25 hours to cover 1,570 miles, not considering any stopovers.
Although you can easily cover this distance in 2-3 days, because there are so many exciting cities and unforgettable landscapes to explore, we split your drive over 5-7 days to complete this road trip at leisure.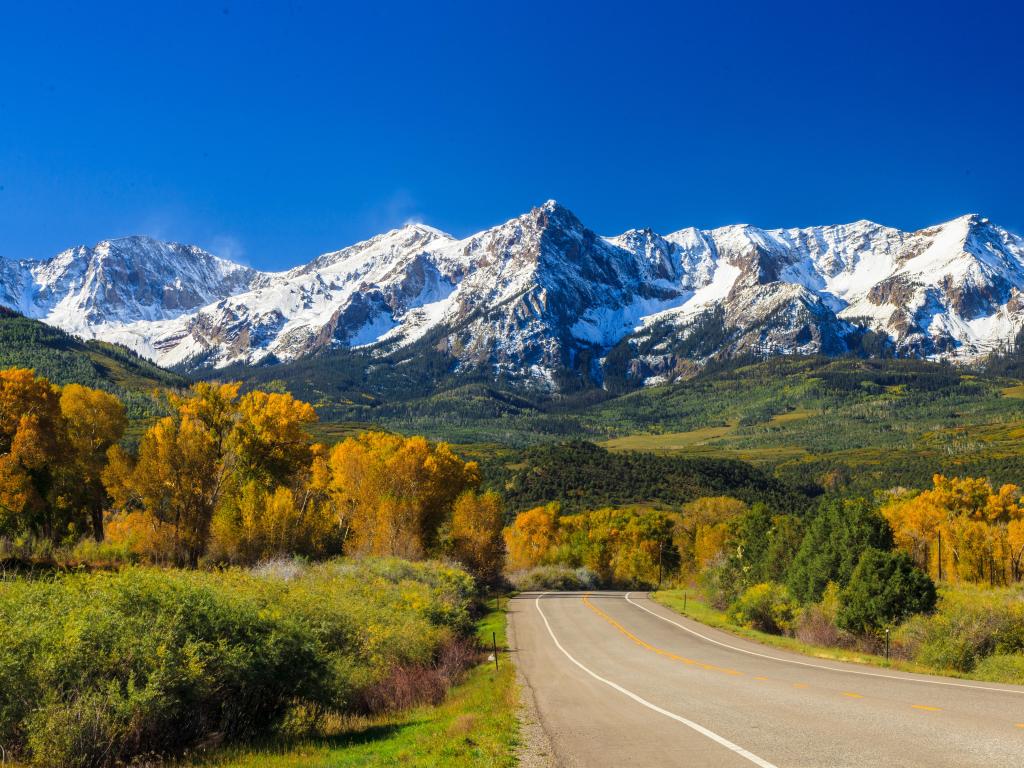 Best road trip route from Detroit, Michigan to Denver, Colorado
Whichever route you take from Detroit to Denver, you'll get plenty of opportunities to experience stunning nature, local culture, unique urban life, and memorable landmarks.
The Rocky Mountains Route is the fastest and the most direct way to reach Denver from Detroit and will pass through the urban landscapes of Ann Arbor, Chicago, Des Moines, Omaha, and Boulder. If you fancy a route on the water, take a scenic detour from Muskegon and catch the ferry to Milwaukee.
As you enter Colorado via The Rocky Mountains Route, you will find yourself amidst unforgettable natural scenery. Enjoy the gorgeous outdoors in Pawnee National Grassland and the Rocky Mountain National Park.
If you choose the slightly longer Colorado Springs Route, you will encounter the city buzz of Indianapolis, St. Louis, Kansas City, Dodge City, and Canon City. Experience the best of Wild West, the quirky Wizard of Oz Museum, and the highest suspension bridge in the US on this adventurous drive.
Both routes can be challenging to cover during peak winters because of snow and inclement weather in Nebraska and Colorado. So, plan your trips accordingly.
If you are visiting Rocky Mountain National Park, keep in mind that the national park uses a timed entry permit system. Please check the national park's website to see if you need to make a reservation before your visit.
The Rocky Mountains Route
This linear westward route from Detroit to Denver starts with you exiting the city onto the I-96 Express Road. Merge into M-14 to arrive at Ann Arbor and exit by taking Interstate 94 (I-94) westward.
See the lovely lakes, recreation areas, and golf clubs pass by as you drive along the border of the gorgeous Michigan lake. Cross Michigan City and follow I-90 toward Chicago.
Admire the magnificent skyscrapers and the city's top attractions before taking I-88 toward Indiana. Take I-80 toward Des Moines to cross the Illinois-Iowa border over the Mississippi River.
Enjoy the lush greenery as you drive through Iowa City, Des Moines, Omaha, and Lincoln. Drive along the Platte River and explore the patches of foliage near Sutherland. Driving alongside the South Platte River, take I-76 toward Denver to enter Colorado.
Take the I-76 bus route to explore the fantastic Pawnee National Grassland on the right. Drive through Fort Collins and marvel at the gigantic mountains on either side.
Enjoy outdoor activities at the Arapaho and Roosevelt National Forest, Lake Estes, and the Rocky Mountain National Park. Finally, follow signs for Boulder to drive across the attractive city before entering Denver via I-25.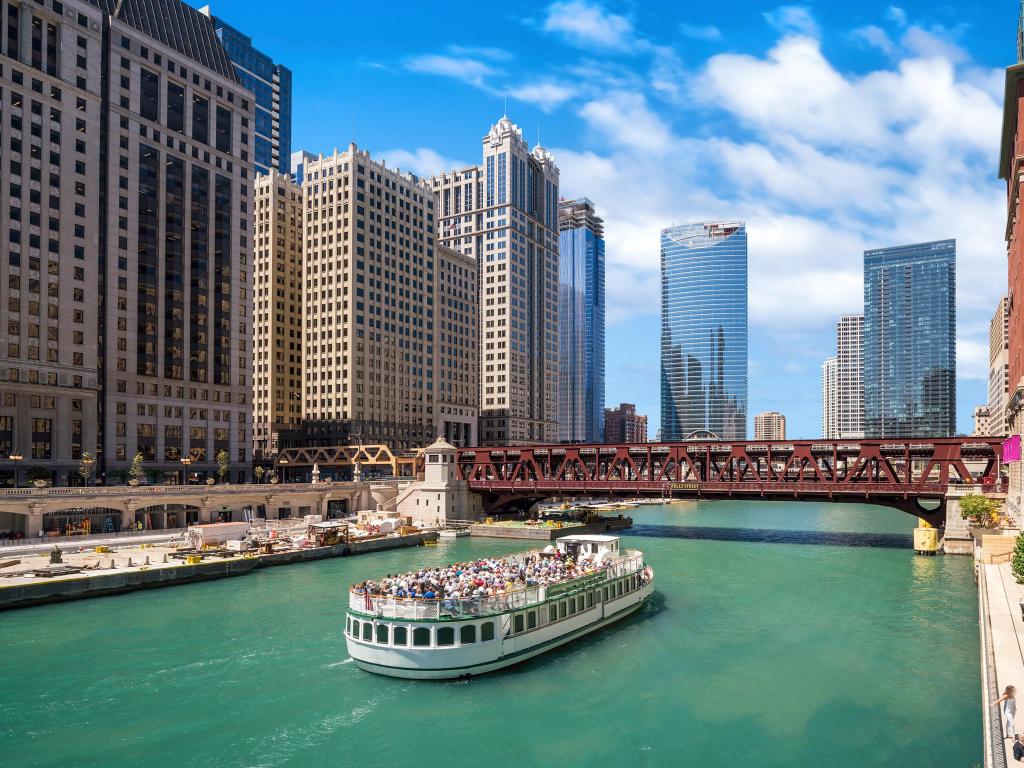 The Colorado Springs Route
Drive South on I-75 bordering Lake Erie toward Toledo. Bypass Toledo by hopping on I-475 and take US-24 to drive along the Maumee River to enter Indiana. Merge into I-469 to bypass Fort Wayne and go South on I-69 toward Indianapolis.
Exit the bustling city of Indianapolis and take the I-70 West to cross Illinois. Drive across the Mississippi River to enter Missouri and follow I-64. As you pass Lake Saint Louis, merge into I-70 again toward Kansas City.
After exploring Kansas City, continue alongside the Kansas River to pass by the towns of Lawrence and Topeka. Relive your childhood memories and take a detour to the OZ museum for a fun experience.
Following the directions for Great Bend, pass the Cheyenne Bottoms Refuge on the right and experience the grasslands along the US-56 route. Pass through Dodge City and drive along the Arkansas River on the US-50 route to enter Colorado.
Admire the diversity of landscapes as you drive by the rocky terrains past the towns of Pueblo and Canon City. After a short detour to Canon city, head North toward Colorado Springs.
Explore the fantastic viewpoints from Beaver Creek State Wildlife Area, Aiken Canyon Reserve, and Cheyenne Mountain State Park and indulge in adventurous outdoor activities. As you leave Colorado Springs Downtown, head north on I-25.
When you see Rock Park to your right, jump on on I-85 and explore the Chatfield Reservoir to your left. Follow the South Platte River up North, and merge into I-25 to arrive at Denver.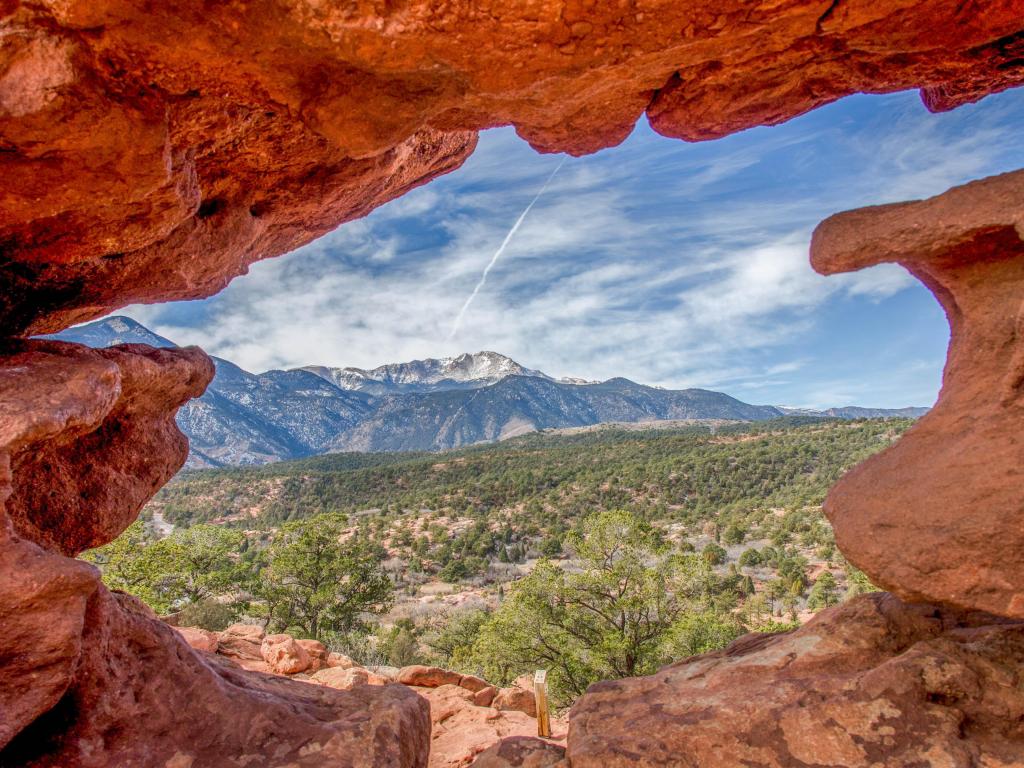 Best places to stop between Detroit, Michigan and Denver, Colorado
One of the many perks of road trips is the freedom to explore and rest at incredible locations. Scroll below to find some of our top stopover recommendations on both driving routes from Detroit to Denver.
A quiet respite in Des Moines
About halfway through your journey via The Rocky Mountains Route, you'll arrive at the happening city of Des Moines. Primarily known for its financial highlights, Des Moines has a thriving art scene.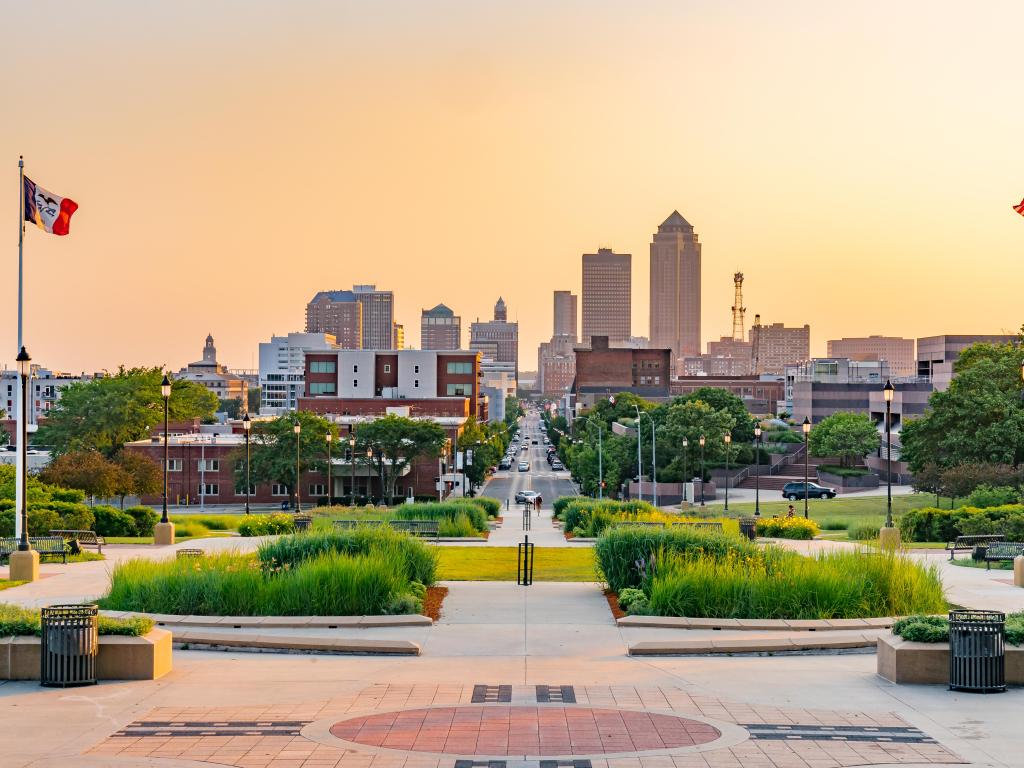 Spend your afternoon indoors at The Des Moines Art Center, marveling at some of the great artworks of Andy Warhol, Pablo Picasso, and Vincent Van Gogh. If sculptures fascinate you, we suggest you stroll the Pappajohn Sculpture Park.
4.2 miles long skywalk is one of the many outstanding features of this city. It connects over 55 buildings, one of which is the hotel we have picked for your stay.
Surety Hotel is located in the heart of the city and is perfect for a night's stay. Enjoy cocktails at the bar and meals at their celebrated on-site restaurant. After a day's drive, retire to the comfort of spacious rooms at this modern hotel.
Start your morning with a full English breakfast and workout at their fitness center. You can visit major tourist attractions like the Greater Des Moines Botanical Garden, Science Center, and Sculpture Park.
A lively night in Kansas City
After covering roughly half of your journey on The Colorado Springs Route, you'll reach vibrant Kansas City. Kansas City, or the city of fountains as it is popularly known, is renowned for its barbeque food and jazz music.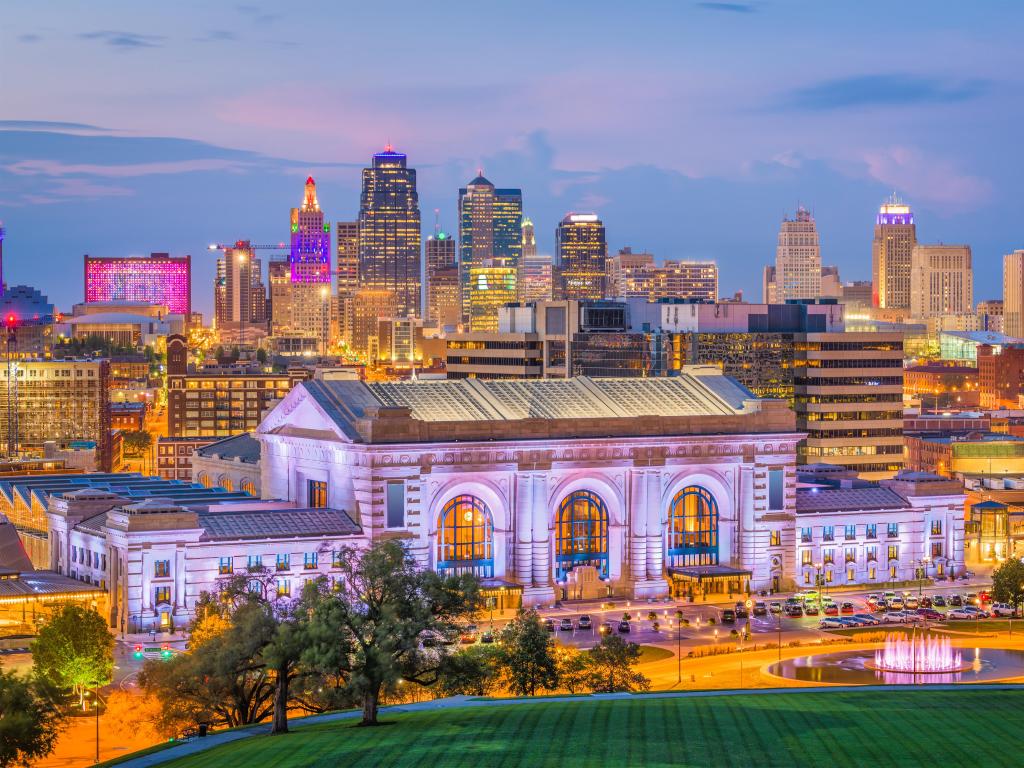 If you are a jazz enthusiast, visit the American Jazz Museum during the day and treat yourself to a jazz night at one of the 40 different jazz bars. A few other indoor activities to check off your Kansas list include - The Nelson-Atkins Museum of Art and The National World War I Museum at Liberty Memorial.
Loews Kansas City is our preferred choice, located in the Power and Light District and walkable from most tourist attractions. Wind down at their relaxing spa and wellness center and make the most of their state-of-the-art fitness center and indoor pool.
You will love their sleek interiors and modern designs. The hotel offers private parking, and their on-site restaurant is a must-try. Chill at their bar during happy hours or try different cuisines at excellent restaurants nearby.
Where to stay when you reach Denver, Colorado
Denver is a great base point to plan multiple day trips to nearby destinations. And that is why we have picked Hyatt Centric Downtown for your stay. Accessible via highway and sophisticated, enjoy a luxurious stay at this downtown hotel.
After an adventurous day of trekking, hiking, cycling, and sightseeing, relax in their spacious rooms. The hotel boasts a rooftop terrace offering unparalleled skyline views, an on-site Apple Blossom restaurant, and a fantastic cocktail bar.
Some famous tourist attractions like Larimer Square, Colorado History Museum, and Denver Art Museum are close to this chic hotel. Also, the hotel is pet-friendly and has a fully functional fitness center.
Things to see on a road trip from Detroit, Michigan, to Denver, Colorado
The road trip from Detroit, Michigan to Denver, Colorado is filled with cultural, historical, and natural landmarks. Get mesmerized by the iconic cities, the beautiful Midwest, and the gorgeous Rocky Mountains.
Continue reading to find some of the best places to see and things to do on this road trip.
The Rocky Mountain Route
Ann Arbor, Michigan – Ann Arbor is home to the University of Michigan and sees many students. Hence, the town is full of happening nightlife. But you'll also find the fascinating Kelsey Museum of Archaeology and Michigan Museum of Natural History for an indoor afternoon.
Muskegon to Milwaukee Ferry (Detour), Michigan – If you have some spare time, take a ferry from the East coast of Lake Michigan to Milwaukee for a calm detour.
Chicago, Illinois – Climb the John Hancock Building and enjoy a breathtaking view from the 360 Chicago Observation deck. Also, do not miss the iconic Cloud Gate housed at the Chicago Millennium Park.
Iowa City, Iowa – Enjoy a stroll in the downtown region and check out the local restaurants and boutiques. Catch a show at the historic Englert Theatre built in 1912.
Omaha, Nebraska – Omaha's Henry Doorly Zoo and Aquarium is one of the World's top zoos. The experience of an indoor rainforest inside the zoo is truly one-of-its-kind. A must-visit for all ages.
Lincoln, Nebraska – If you love gardens and open spaces, you'll appreciate the Sunken Gardens and The National Geographic Guide to Public Gardens in Lincoln.
Pawnee National Grassland, Colorado – Go through the grassland via The Pawnee Buttes Trailhead to get to the gigantic 300-foot rock structure with a tabletop.
Fort Collins, Colorado – The Horsetooth Reservoir is charming for water activities like boating, fishing, water skiing, and swimming. Many lovely and easy trail routes surround it.
Rocky Mountain National Park, Colorado – This route will take you through the Southern entrance of the Rocky Mountain National Park. It is also accessible from the Sandbeach Lake Trailhead and Copeland Lake.
Boulder, Colorado – Boulder is at the foothills of the Rocky Mountains. Check Pearl Street in the Downtown region for chilled beer, coffee, and food.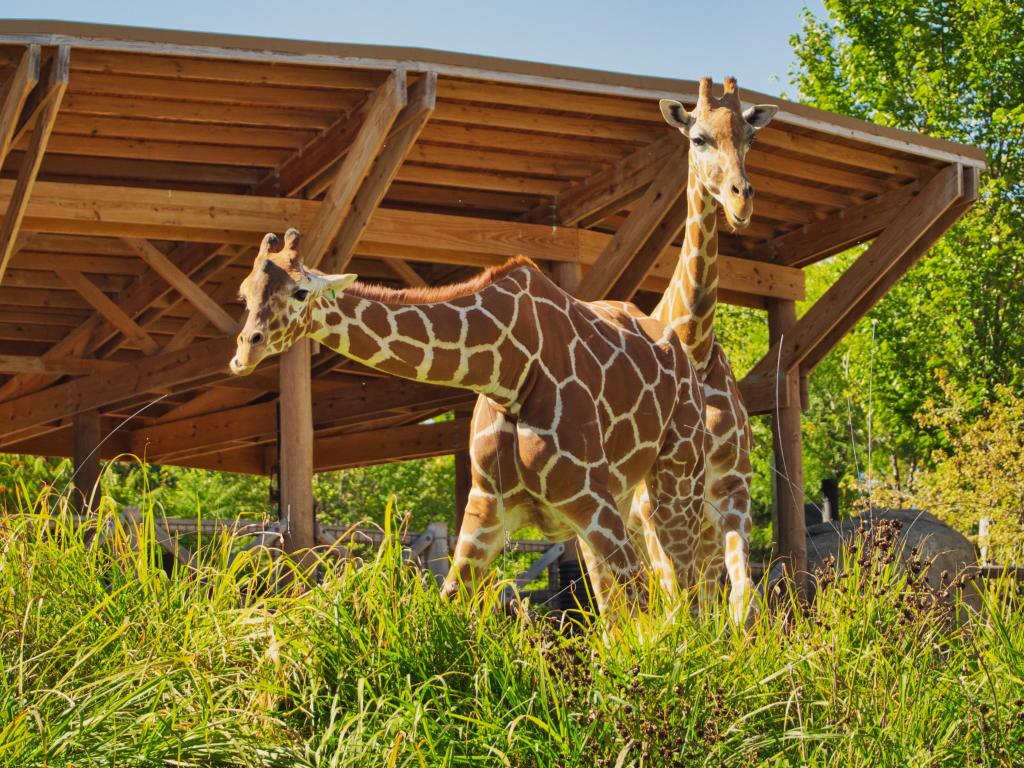 The Colorado Springs Route
Toledo, Ohio – Spend an afternoon at the Queen of the Most Holy Rosary Cathedral and visit the Toledo Museum of Art and the Glass Pavilion.
Fort Wayne, Indiana – When passing through Fort Wayne, a visit to the Old Fort is a must. Also, for a novel experience of walkthrough ecosystems, visit Foellinger-Freimann Botanical Conservatory.
Indianapolis, Indiana – The Central Canal in Indianapolis is a beautiful place to explore the city. You can walk around or take a boat trip to cover the major downtown attractions.
St Louis, Missouri – This city is great for indoor and outdoor activities. St Louis has a thriving brewery and culinary scene. Also, don't forget to check out the historic Union Station and the great Forest Park area.
Topeka, Kansas – Learn more about the Civil War history at the Museum of the Kansas National Guard. Also, take a guided tour inside the State Capitol building.
Wamego, Kansas – Wamego is known for the Oz Museum. The cult film Wizard of Oz exhibits are worth checking out.
Dodge City, Kansas – Get a feel of the Wild West in this 'Queen of the Cowtowns' Dodge City. If you visit in summer, you might witness some gunfights reenactments.
Pueblo, Colorado – It is the perfect place to take a detour to San Isabel National Forest. You'll see beautiful sights of snow-capped mountains, dramatic waterfalls, and crystal-clear lakes.
Canon City, Colorado – Canon City is home to the highest suspension bridge in the US. At 965 feet, the Royal Gorge bridge stands tall and is an excellent opportunity to enjoy other thrill rides.
Colorado Springs, Colorado – The Garden of the Gods Park is one of the main tourist attractions in this area. Drive or trail through the park to see the marvelous towering red rock formations.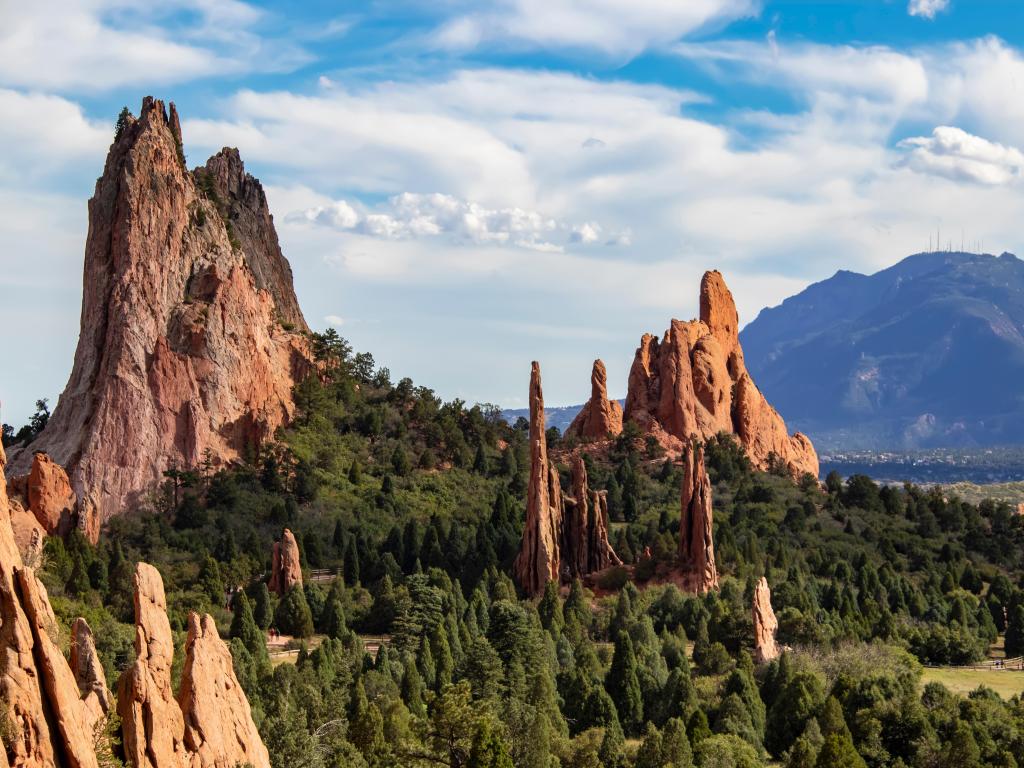 Best time to go on a road trip from Detroit, Michigan, to Denver, Colorado
Denver sees all four seasons and it is a great place to visit any time of the year, depending on what you are looking for.
It gets pretty warm in summer and averages between 73-75 degrees Fahrenheit. Tourism-wise, because of the pleasurable climate, July and August are the busiest months. This time of the year is ideal for outdoor activities like trailing, hiking, and cycling.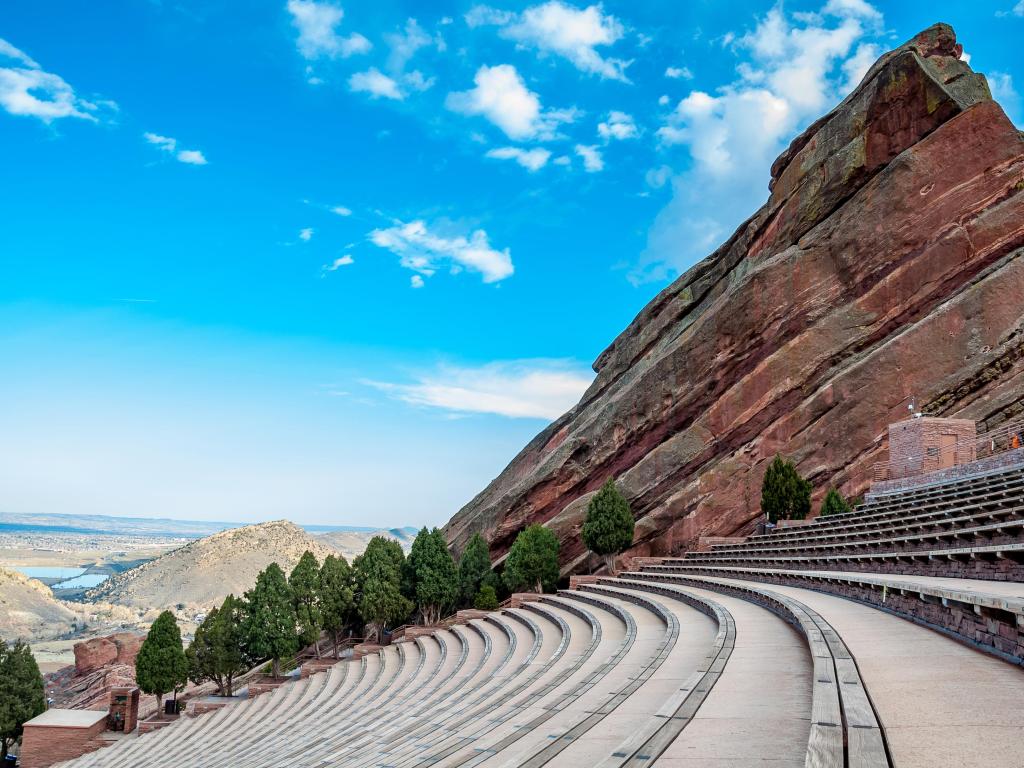 Winters are a beautiful sight, and Denver experiences glistening snowfall. Despite the cold climate, the slopes attract many skiers during the holiday season. The average temperature during the winter ranges between 32-35 degrees Fahrenheit.
Snow may cause road closures. So, check your routes for closures before starting the trip. Also, if traveling between September and May, it is mandatory to install snow tires.
May and September are great options for your shoulder season visits. In September, Colorado sees 65 degrees Fahrenheit and the weather is suitable for visiting the majestic Rocky Mountains. The skies are clear and offer unhampered views.
Should you visit in March, try to catch the Denver Restaurant Week and Denver St Patrick's Day Parade in March. You can enjoy Denver Day of Rock and Cinco de Mayo in May.
Denver PrideFest takes place during the last week of June, and the Great American Beer Festival during the third week of September is worth experiencing at least once.