Road Trip from Detroit to Washington DC
Mountains on one side, ocean on the other, and the best city vibes are signatures of the US east coast. From Detroit to Washington D.C., every state is as unique and exciting as the next, making this a dream road trip.
The 550-mile trip from Detroit to Washington DC will take 9 hours and 15 minutes to drive nonstop. Notable sights en route are Cleveland, Rochester, Lake Erie, Pittsburgh, Niagara Falls, Put-In-Bay, Frederick, Buffalo, Ithaca and Finger Lakes.
The East Cost of America is nice and compact, with different states sitting just next door to each other. For road trippers, that means more exploring and more fun from Michigan to Ohio to Pennsylvania. Read on to find out what to do, see and eat on this epic adventure.
How far is Washington DC from Detroit, and how long will the road trip take?
Comparison of road trip routes between Detroit and Washington DC

| Route | Distance | Driving Time |
| --- | --- | --- |
| The Pittsburgh Route | 550 miles | 9 hours 15 minutes |
| The Niagara Falls Route | 755 miles | 13 hours 10 minutes |
The Pittsburgh Route is the most direct of the two driving options and takes about 9 hours and 15 minutes, covering around 550 miles. This does not account for any stops or detours along the way.
The Niagara Falls Route covers 755 miles with a drive time of 13 hours and 10 minutes. It's a longer route passing through Niagara Falls, New York State, Pennsylvania, and Maryland.
There's a mix of popular American attractions on both routes. We recommend setting aside at least four to five days to drive.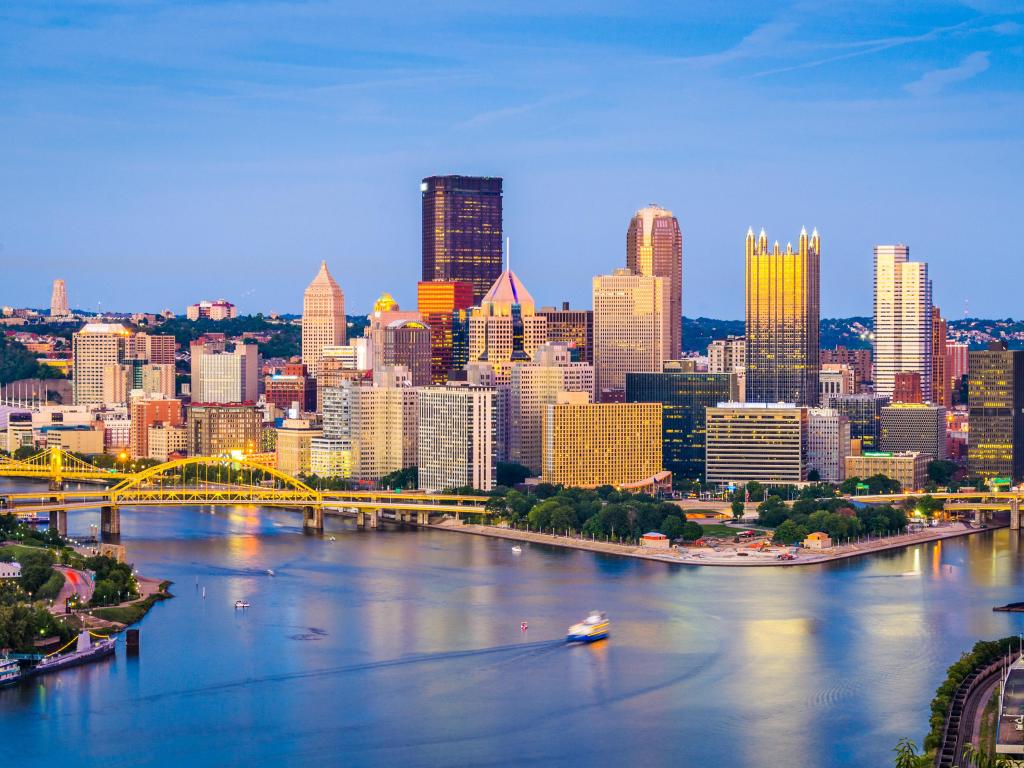 Best road trip route from Detroit to Washington DC
It's hard not to love road-tripping on the East Coast. From Detroit to Washington DC, there's nothing but easy driving and smooth roads – with mountains, lakes, and city sites.
On the Pittsburgh Route, drive through Sandusky and Cleveland, Ohio, where Lake Erie is picturesque no matter which direction you're coming from. Head into historic Pennsylvania and savor the all-American culture, food, and friendliness. Make a detour to Put-In-Bay, a charming port town on Lake Eerie.
The Niagara Falls Route is long but worth every mile. You'll stop at the Falls first, get soaked, and then head into New York State. Buffalo, Rochester, and Ithaca are bustling metropolises with historic buildings, museums, and art galleries.
The Finger Lakes Region is nearby and is a tranquil and scenic place to visit. Let's not forget that this region has some of the most diverse food on the East Coast.
The Pittsburgh Route is fast, so if you want to stop at a few towns and visit Lake Eerie, this route is for you. If you want to take your time, the Niagara Falls Route is a great way to explore New York State and visit major cities.
The Pittsburgh Route
Head out of Detroit on Interstate 75 (I-75) S to Ohio. Your first stop is Sandusky, a quaint town on the shores of Lake Erie. This place is known for its many water parks and lively bars, restaurants, and spas.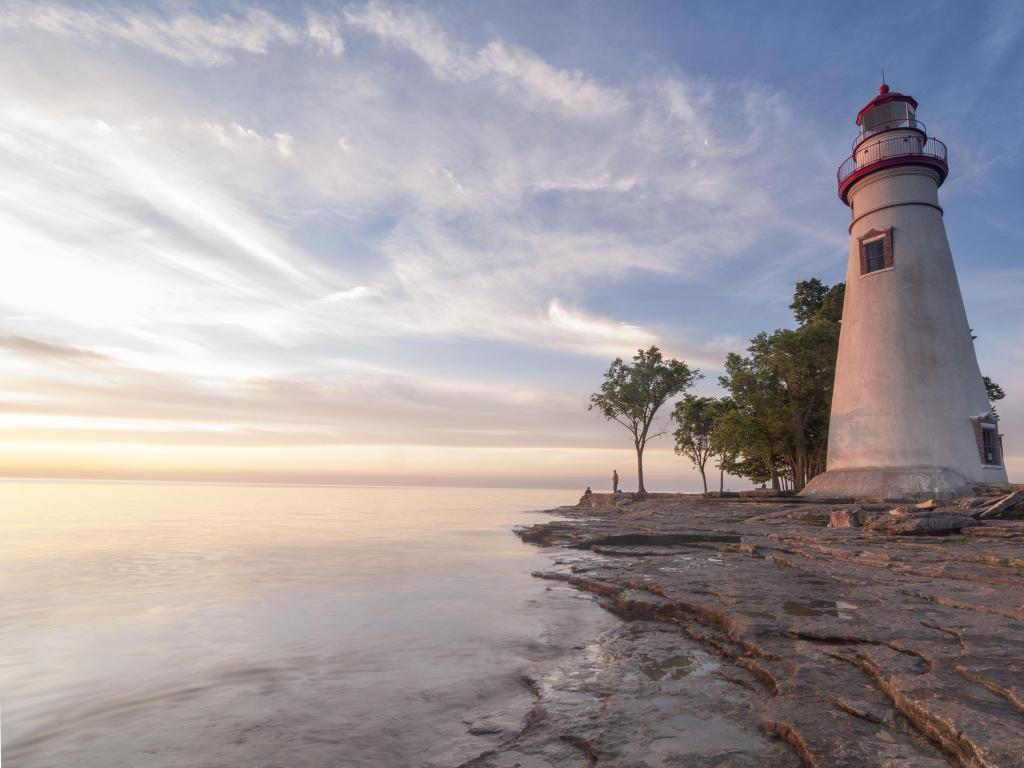 If you want, take a detour or make a day trip to Put-In-Bay. It's a charming little port town with picturesque views of Lake Eerie, and you can take a ferry from Port Clinton (about an hour's drive from Sandusky) to get there.
Enjoy and explore, then head back onto the road following OH-2 E and I-90 E to Cleveland. Make an overnight stop and enjoy this city's diverse attractions. Visit the Rock & Roll Hall of Fame and enjoy the tasty international and local culinary scene.
Get on I-77 S to Pennsylvania – it's a smooth and scenic drive to Pittsburgh from here. This historic town has many fascinating museums, including the Carnegie Museum of Natural History and the Andy Warhol Museum. Stop in at the Phipps Conservatory and Botanical Gardens before leaving.
From Pittsburgh, get on I-579 S and enjoy gorgeous views of the Appalachian Mountains as you head to your final stop, Washington DC.
The Niagara Falls Route
Take ON-401 E out of Detroit and head straight to Niagara Falls, about 3 hours away. The famous waterfalls are romantic and poetic, so get up close and wet before hitting the road again.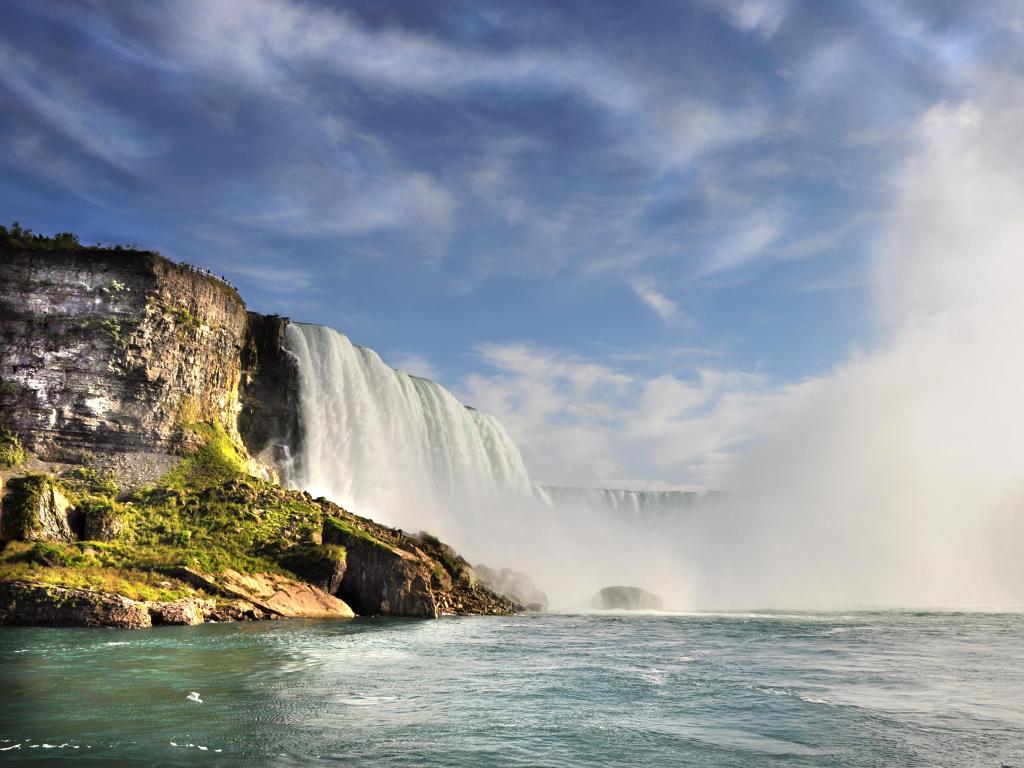 On the I-190 S, stop in Buffalo as you enter New York State. There's a sweet urban and suburban vibe, with many bars, restaurants, coffee shops, and parks. Explore and then head out on the I-490 E.
Make your way to Rochester and stay here overnight. This unassuming town has a pretty cool history in photography and tech. Learn more about it at The George Eastman Museum. Nature lovers can go strolling and biking on the scenic Genesee Riverway Trail.
Take your time before heading to Ithaca by following the I-90 E to NY-96A S. If you want, stop at the Finger Lakes Region and explore the area around Finger Lakes National Forest. Otherwise, go to Ithaca and enjoy the scenic town's waterfalls and parks.
From here, follow I-86 W/NY-17 W to Harrisburg, Pennsylvania. This historic city has some interesting architecture, and the beautiful Hershey is nearby.
Explore a bit, then get on I-83 S to Maryland, stopping at Baltimore. A waterfront playground, this place is nicknamed Charm City for a reason: enjoy the diverse food, culture, and outdoor activities. Then head out on the I-395 S to your final stop, Washington DC
Best places to stop between Detroit and Washington DC
The Eastern Seaboard is compact, with vibrant, eclectic states packed together. You'll find some of the United States' most historic cities, lakes, and attractions on this side of the coast. Here are some recommendations for overnight stops on each route.
Enjoy sports, music and entertainment in Cleveland
About halfway on the Pittsburgh Route, stay overnight in Cleveland, Ohio. It's a lively city with diverse food, culture, and entertainment.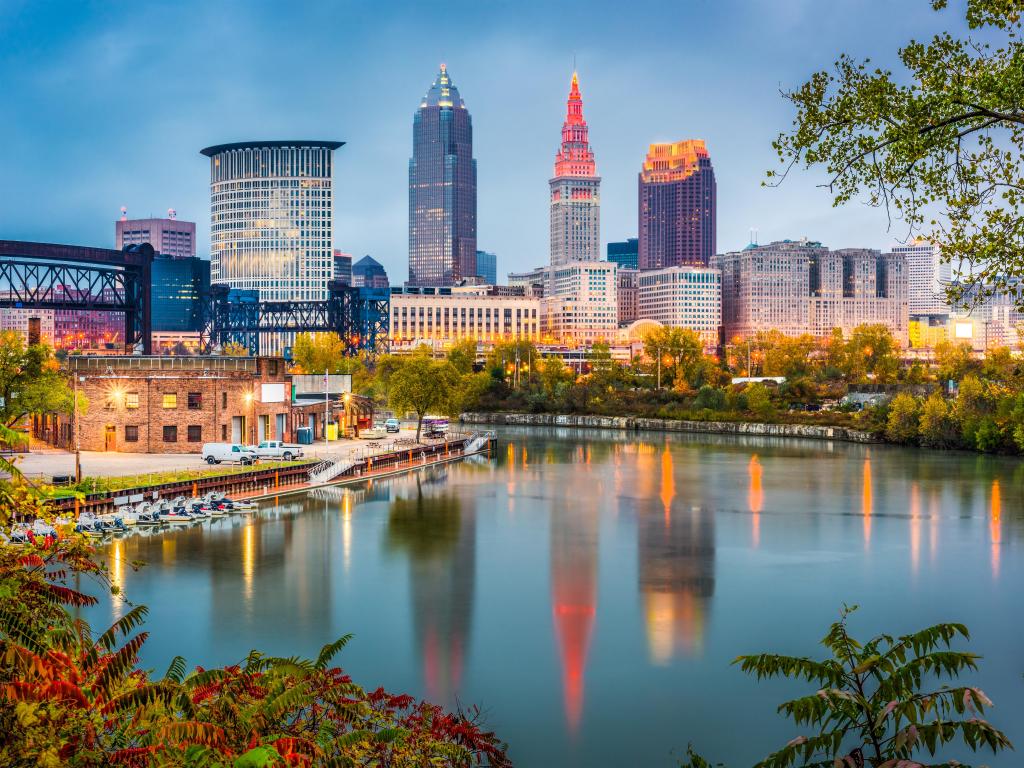 Cleveland has many nicknames (Forest City, C-Town, the Cleve), so it's safe to say a lot is going on here! It's on the shores of Lake Eerie, where the views are beautiful, especially at night. Sports fans know that Cleveland is home to basketball, baseball, and football, so catch a game if you can.
The Rock & Roll Hall of Fame is a must-visit attraction for music lovers. Check out the West Side Market to taste the best of this city's cuisine. Visit the Cleveland Museum of Art and the Cleveland Museum of Natural History.
While here, we recommend staying at the Drury Plaza Hotel Cleveland Downtown. This modern hotel is stylish and conveniently located.
The rooms are spacious and comfortable, with glittering city views. There's a hot breakfast in the morning at the onsite restaurant. Guests can enjoy complimentary appetizers and beverages daily. The hotel has a bar, an indoor pool, a hot tub, and a 24-hour fitness center.
The Drury Plaza Hotel is downtown, close to the city's nightlife. The Rock & Roll Hall of Fame is about 2 miles from the hotel, and the Cleveland Museum of Art and Cleveland Museum of Natural History are about 7 miles away.
Explore Rochester, "The Flower City" of New York state
On the Niagara Falls Route, stop in Rochester in New York State. It's about halfway between Buffalo and Ithaca. From the outside, Rochester looks like a tranquil town on the lake – and while that's true, it's also a vibrant place with plenty of entertainment.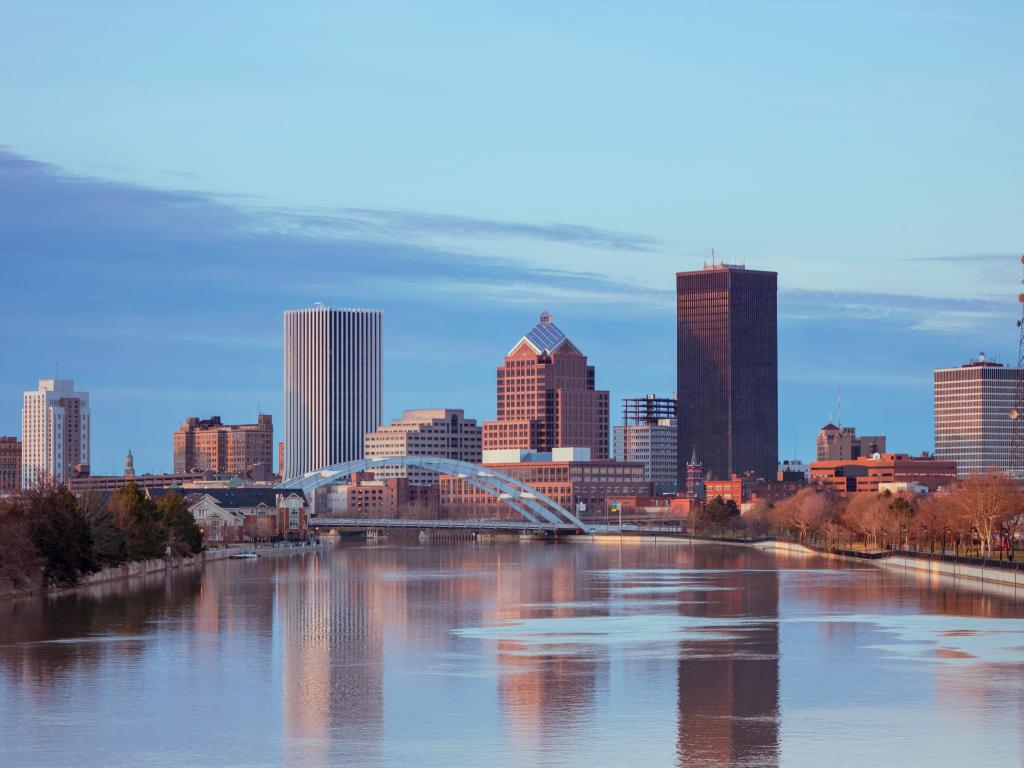 Nicknamed "The Flower City", this town is home to the Lilac Festival at the beautiful Highland Park. Nature lovers can enjoy walking, jogging, or biking on the Genesee Riverway Trail, a scenic spot downtown.
Rochester is actually the birthplace of companies like Kodak and Xerox. Visit the George Eastman Museum to learn more about the founder of Kodak. For shopping, go to the Pittsford Plaza. Check out The Strong National Museum of Play – an interactive toy museum.
The city is popular with tourists, and we recommend staying at The Del Monte Lodge Renaissance Rochester Hotel & Spa. This stay is in such a serene area you may just forget you're in the city!
There is parking on-site for guests, and the hotel overlooks the beautiful Erie Canal. The décor is artsy and modern, with luxurious rooms that are spacious, comfortable, and quiet. The onsite restaurant has delicious regional cuisine. Enjoy a treatment at the state-of-the-art spa with a full beauty salon and check out the gym.
Del Monte Lodge is about a 20-minute drive away from The George Eastman Museum and The Strong National Museum of Play. Highland Park and Genesee Riverway Trail are about 24 minutes away.
Where to stay when you reach Washington DC
Filled with politics and history, Washington DC is home to major national sites. There are so many museums and monuments to see here – it definitely fulfills its duty as a capital city!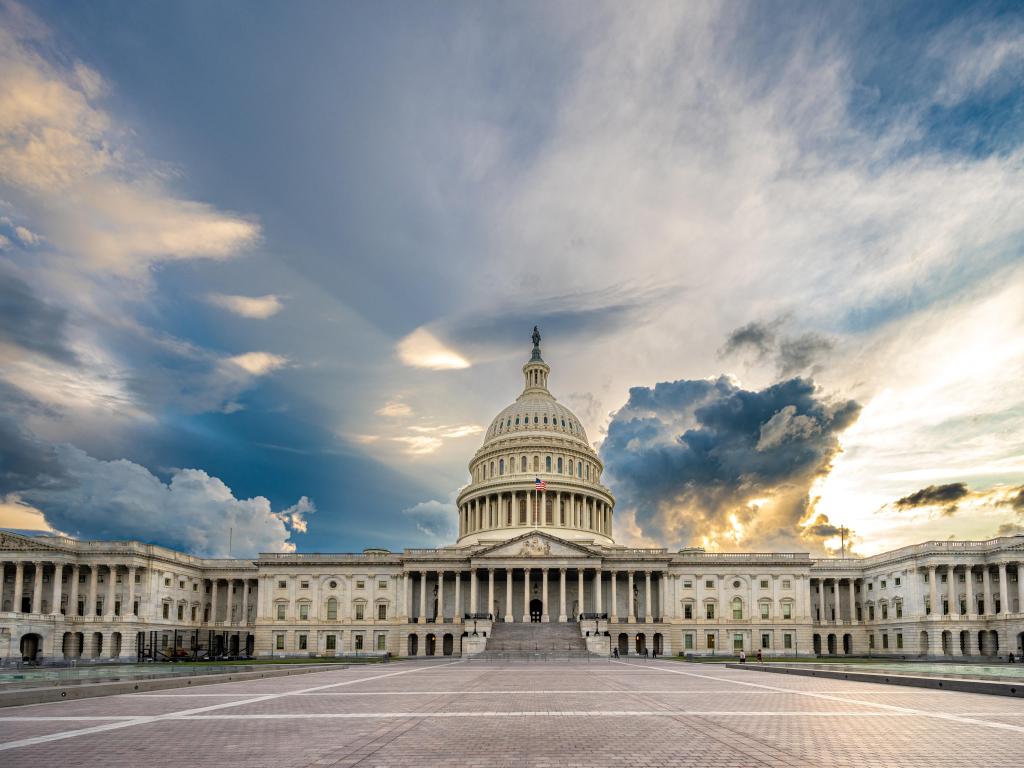 Visitors often start by visiting the White House – the most notable attraction. Visit the Lincoln Memorial next, an awe-inspiring tribute to the 16th US President.
The Smithsonian National Air and Space Museum is fascinating, and the National Portrait Gallery is one of the best museums in the city. Stop at the iconic Washington National Monument and visit the World War II and Martin Luther King Jr. Memorials nearby.
We recommend staying at The Jefferson Hotel while in the capital. There's private parking for guests, and the hotel is downtown. With visitors from all over the world, you can expect excellent service and luxury accommodation.
There's a gorgeous neoclassical design around the hotel and inside the rooms. The suites are spacious, with high-end amenities and stunning skyline views. Choose from several onsite dining options – including a Michelin-star restaurant. Enjoy a cocktail at the bar and see if you can spot the Who's Who of Capitol Hill.
The White House is less than a mile away from The Jefferson, within walking distance. The Washington Monument, Smithsonian, and Lincoln Memorial are about 10-20 minutes' drive from the hotel.
Things to see on a road trip from Detroit to Washington DC
Driving from state to state is so easy in this part of the US and the road trip from Detroit to Washington D.C. is no different. There's something for everyone – from major landmarks to historic towns and scenic roads. One thing's for sure, you'll never be bored on the east coast!
Here's a neat list of things to do and places to visit on both routes.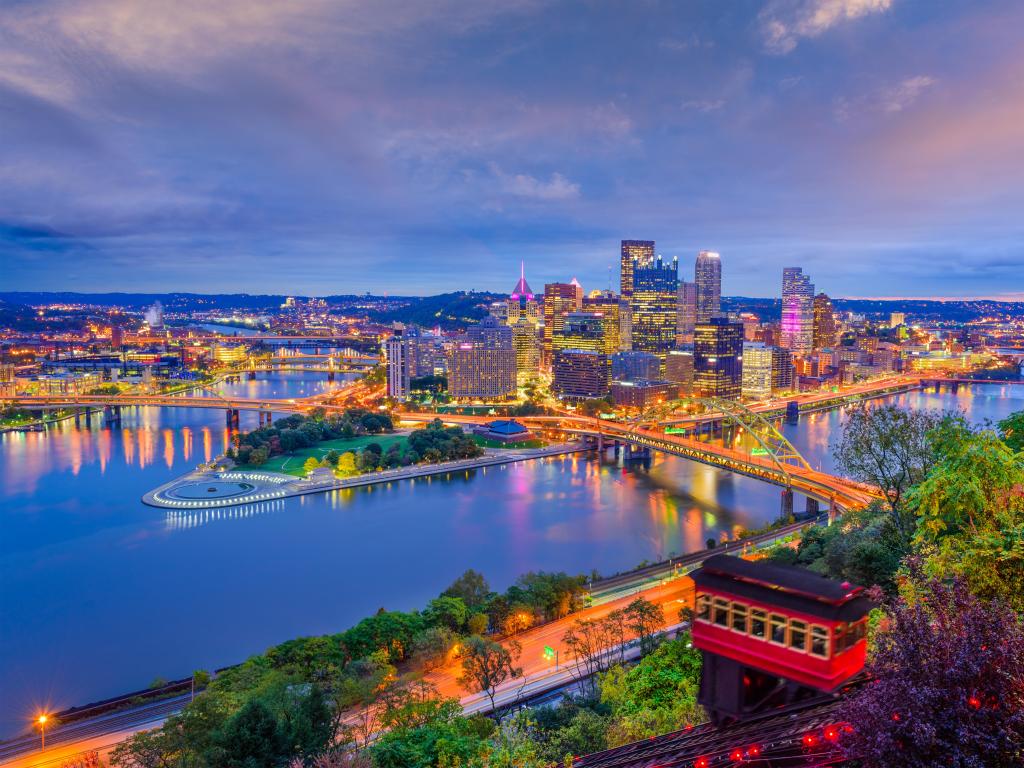 The Pittsburgh Route
Cedar Point Amusement Park, Sandusky, Ohio – This place is known as the roller coaster capital of the world. There are over 70 rides and attractions.
Rock and Roll Hall of Fame, Cleveland, Ohio – The famous tribute celebrates the history and impact of rock and roll. There are exhibits, interactive displays, and live performances.
Carnegie Museum of Natural History, Pittsburgh, Pennsylvania – There are extensive collections of specimens and artifacts, like dinosaur bones and gems.
Andy Warhol Museum, Pittsburgh, Pennsylvania – The Pittsburgh-born pop artist is honored here with his paintings, films, and sculptures on display.
Duquesne Incline, Pittsburgh, Pennsylvania – If you want panoramic views of the city, take this historic cable car up the hillside to see it.
Phipps Conservatory and Botanical Gardens, Pittsburgh, Pennsylvania – Featuring a variety of exotic plants and flowers, this serene park has indoor and outdoor gardens.
Fallingwater in Mill Run, Pennsylvania – This historic attraction was designed by Frank Lloyd Wright. It's considered a masterpiece of 20th-century architecture.
National Museum of Civil War Medicine, Frederick, Maryland – Stop here to learn more about the medical practices during the Civil War.
Put-In-Bay, South Bass Island, Ohio – Take a detour to this charming little town with historic sites, outdoor activities, and a vibey nightlife. Get there by ferry from Port Clinton, Ohio – an hour's drive from Sandusky.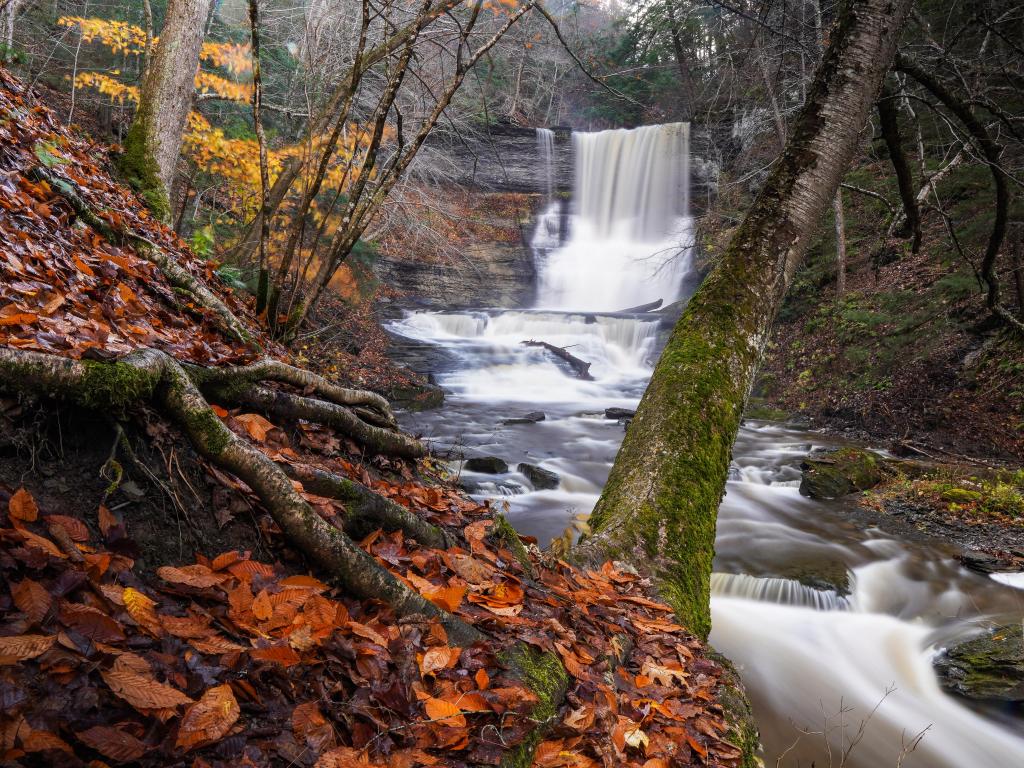 The Niagara Falls Route
Niagara Falls State Park, Niagara Falls, New York – This beautiful state park is the oldest in the US and gives visitors stunning views of the famous waterfalls. You can also go boating and hiking here.
Cave of the Winds, Niagara Falls, New York – Take an elevator down to the base of the falls to take pictures and experience the water up close.
Old Fort Niagara, Youngstown, New York – This historic attraction played crucial roles in the American Revolution and French and Indian War.
Albright-Knox Art Gallery, Buffalo, New York – One of the best collections of modern and contemporary art is here, including works by Picasso, Matisse, and Warhol.
Genesee Riverway Trail, Rochester, New York – This scenic trail runs along the Genesee River and has views of waterfalls, bridges, and historic sites.
Finger Lakes Region, New York – This beautiful area is a picturesque group of eleven lakes.
Taughannock Falls State Park, Ithaca, New York – This area is home to one of the tallest waterfalls in the east. Take a moment to hike and swim in the natural pools.
Inner Harbor, Baltimore, Maryland – Stroll along this lively waterfront area with shops and restaurants. Visit the National Aquarium and the USS Constellation.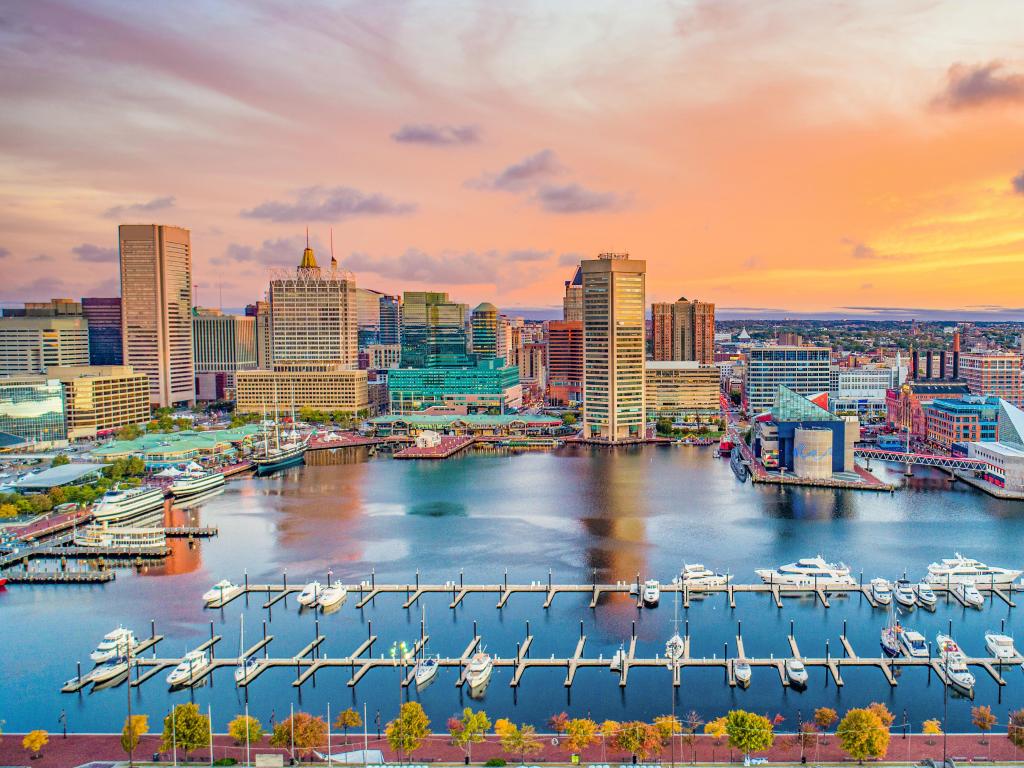 Best time to go on a road trip from Detroit to Washington DC
Washington DC is a year-round destination with distinct seasonal weather. Summers are hot, with temperatures around 80-90 degrees Fahrenheit. There are high levels of humidity.
It's a very popular season for tourists, so expect more crowds at attractions and higher rates. There are also quite a few festivals and outdoor events during summer.
Winters are cold and snowy, with temperatures dropping to below freezing. There are fewer visitors in winter, with fewer crowds and better rates at hotels.
Spring and fall are pleasant and mild – good seasons for a road trip. Spring is cherry blossom season, and fall is foliage season. Expect more tourists around this time, though rates for hotels and attractions can vary.
As the capital city, Washington DC has a full calendar of events and festivals year-round.
In Spring, enjoy the National Cherry Blossom Festival, usually around late March or early April. Washington has the largest Fourth of July celebrations, with a parade, concerts, and fireworks. The Smithsonian Folklife Festival also takes place for two weeks around Independence Day in July.
The Library of Congress hosts the National Book Festival in September. In December, enjoy the National Christmas Tree Lighting at the White House.