12 Best Spring Break Road Trips from Chicago
Chicago is known for its world-class museums, including the Field Museum and the Museum of Science and Industry, but after the cold Chicago winter, most people will have exhausted the city's many indoor attractions. That makes spring break the perfect time to take a trip.
Whether you have a day, a weekend, or longer, there's a fabulous choice of spring break trips from Chicago. Drive to Cincinnati, Traverse City, Cleveland or Columbus, follow Scenic Route 61, or chase the sun south the Nashville, Hot Springs or Atlanta.
There's something for everyone in reach of Chicago, with great spring break road trips to suit if you're travelling with children, teens or childfree. Keep reading to find out some of the best places you can get to from the Windy City this spring break.
Best spring break road trips from Chicago
Chicago makes a great place for a spring break staycation, and with its museums, parks and the attractions around Navy Pier to enjoy you might even be heading there as your main spring break destination. But if you're ready to explore a little further afield after the St Patrick's Day party, or looking for a day trip or two while you spend spring break in Chicago itself, you have some amazing destinations to choose from.
After the long winter, why not head out for an adventure when spring break rolls around again? We've listed some of our favorite spring break destinations, so keep on reading to decide what kind of trip awaits you this spring break.
If you're thinking of taking a road trip from Chicago in another season, check out our Best Road Trips from Chicago article for ideas and inspiration!
Day trips (about 3 hours each way)
Chicago sits proudly on the shore of Lake Michigan and is in easy reach of many other great midwestern cities. That means that even if you're not looking for an overnight stay, you can still take an unforgettable spring break trip and be back home by evening.
1. Indianapolis, Indiana
3 hours 10 minutes from Chicago (180 miles)
Why you should visit: This is the shortest trip on the list, but there's plenty to see in the city whether you're travelling as a family with young kids or taking a break from college.
The Children's Museum is sure to be a hit for younger travellers – it's the world's largest children's museum. With a visit here your spring break can take you to modern Europe, ancient Egypt, or even into space.
Baseball fans might like to time the trip to catch the home opener of the Indianapolis Indians, which usually takes place in early April.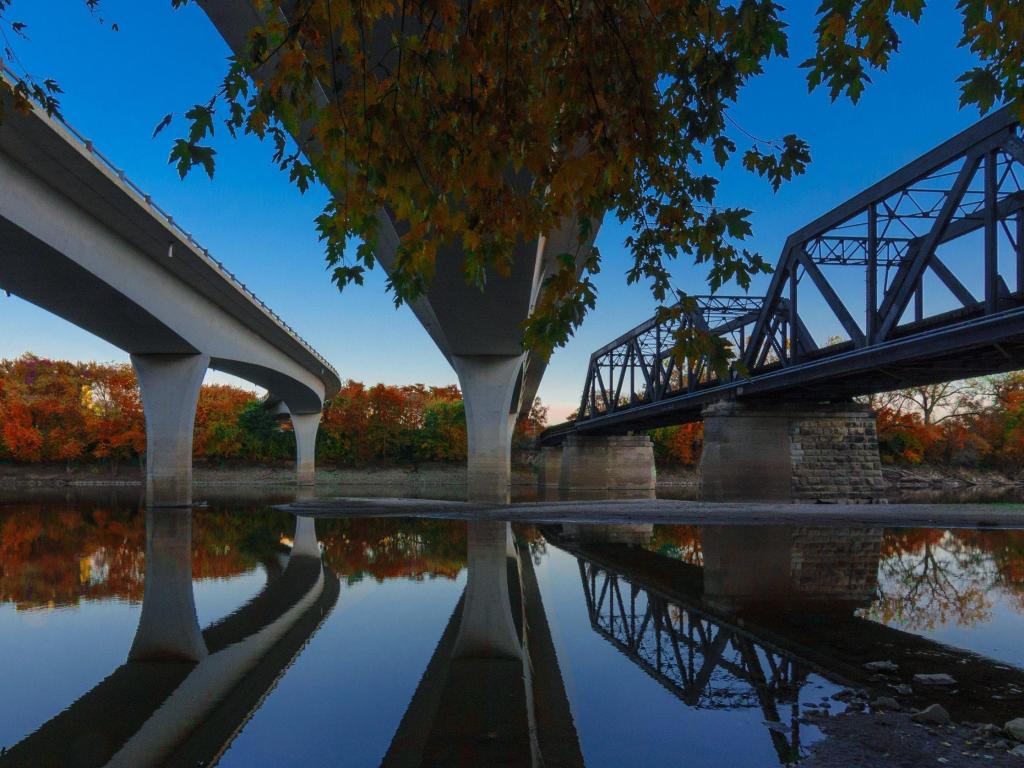 How to get there: Head out of Chicago on I-90 E then pick up I-65 which you'll follow south past Remington and Lafayette. After around 130 miles on the interstate you'll cross the White River to arrive in downtown Indianapolis.
Our highlights: Indianapolis Children's Museum in Nashville, Tennessee will definitely appeal to families on spring break. This huge space has engaging interactive exhibitions covering space travel, history, pop culture, science and technology and dinosaurs.
Families and college athletes alike will also appreciate the NCAA Hall of Champions, which even has sports simulators where you can try your hand at new activities.
Elsewhere, Indianapolis Museum of Art blossoms in springtime when the thousands of bulbs planted at Newfields' gardens burst into life.
Indianapolis also has breweries, wineries and distilleries which you can visit with the Indy Craft Pass – something that might appeal if you want to party during spring break.
Bonus: You won't be able to see the famous Indy 500 automobile race during your spring break visit, as this usually takes place in May. If you decide to make a return trip to see the race you'll be in good company – more than half a million people watch from around the Speedway.
Our travel tips: Weather can be variable during spring break, from 32 degrees F right up to 65 degrees. April is one of the wettest months of the year too, so pack accordingly.
2. Springfield, Illinois
3 hours 30 mins from Chicago (200 miles)
Why you should visit: This is a really easy drive out from Chicago, and with its presidential history it's a fascinating contrast to the Windy City. It's also a great place to spend a weekend, especially if you fancy following the Capital City Bourbon Journey.
Springfield is a great family getaway, especially if your kids have started to learn about the country's history.
You can immerse yourself in stories of the country's 16th President, Abraham Lincoln, who lived in the city for many years – his legacy as the country's Civil War-era president is sure to inspire grade schoolers and older teenagers alike, especially when you can visit the places where he lived and worked for real.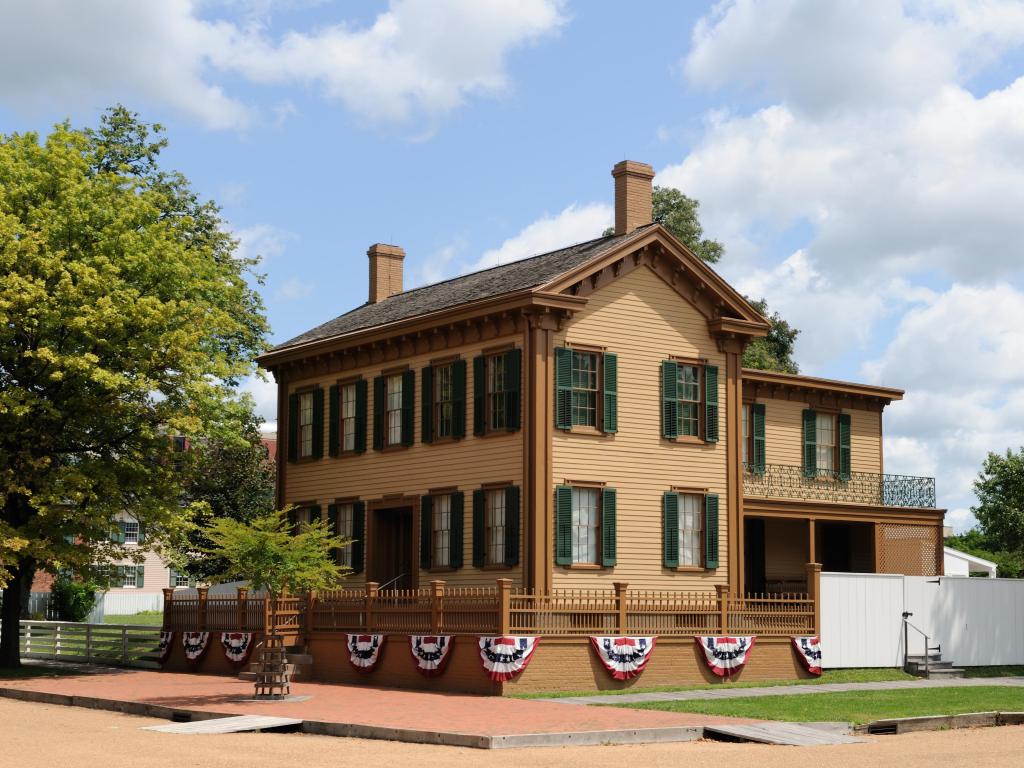 How to get there: This is a really simple trip to navigate – just pick up I-55 S from your departure point in Chicago, and follow it all the way to Springfield, Illinois.
Our highlights: You could easily spend the whole trip exploring Lincoln-related sites. There's the Lincoln Home National Historic Site, where he lived until becoming President in 1861, and the unique, interactive Abraham Lincoln Presidential Library and Museum. You can also tour both the old and new state capitol buildings.
Younger kids will enjoy Kidzeum, a colorful museum where they can learn about keeping themselves and the planet healthy. Many of the exhibits are play-based – a perfect pick-me-up if they're getting fidgety after all that history.
With its vintage fighter planes, the Air Combat Museum might also appeal. Check ahead for opening times.
Alternatively, if you need to run off some energy, head to Knights Action Park, where you'll find arcade games, rides and mini-golf.
Springfield isn't just for families though – older visitors might like to follow the Capital City Bourbon Journey, which takes you on a tour of some fabulous bars and restaurants to try locally-produced makes.
Bonus: Springfield didn't invent the corn dog, but it does claim to be the birthplace of the iconic cozy dog – that's a hotdog on a stick covered in tasty batter for out of towners. For one of the best in town, head to the Cozy Dog Drive In.
Our travel tips: Springfield will feel chilly if your spring break falls earlier in the season, with March temperatures rarely topping 50 degrees Fahrenheit. You might even see a little snow.
Click here to skip back to the top.
Weekend trips (about 5 hours each way)
If you're able to spend a little longer on the road, then some more great destinations are in reach where you spend time relaxing in nature or enjoying the big city buzz of Columbus.
3. Cincinnati, Ohio
5 hours from Chicago (290 miles)
Why you should visit: Cincinnati is a beautiful riverside city which is at the longer end of the one-day range – it's also a great place for an overnight trip. There's plenty going on so it will appeal to visitors of all ages.
If your spring break coincides with Opening Day, come and join the party in Cincinnati. With unbeatable baseball heritage, the first pitch of the season sees the Findlay Market Parade and other events to celebrate the Reds (who always play their opening game at home).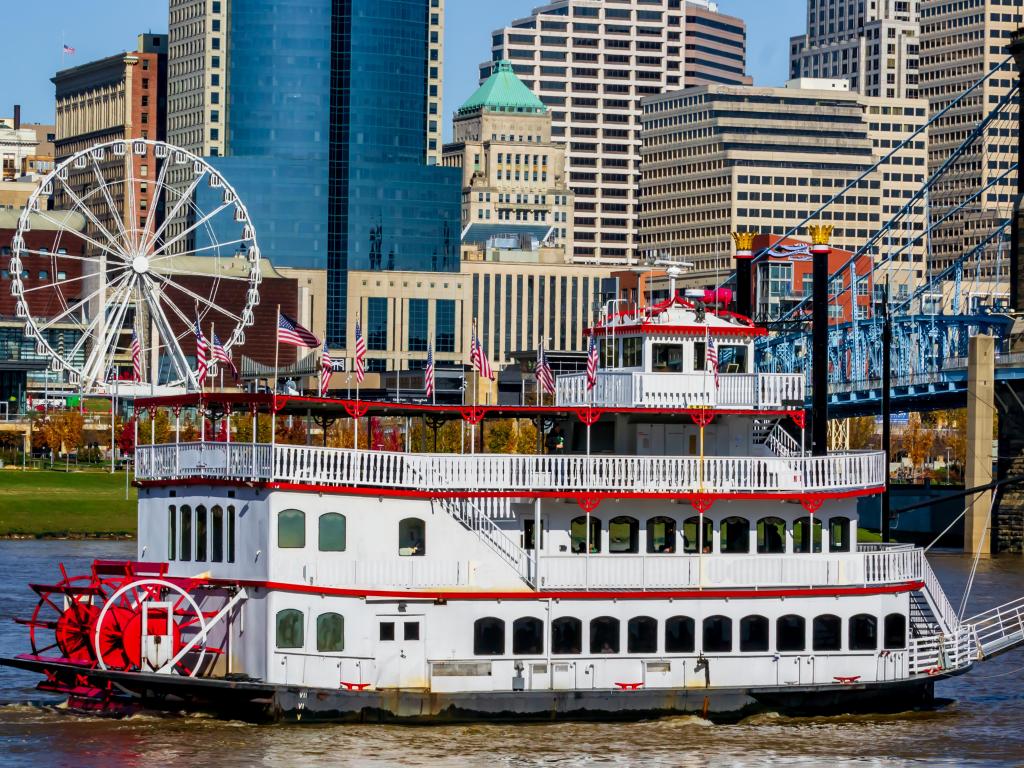 How to get there: Follow the interstate as far as Indianapolis. You can stop for a break here but if you'd rather head straight to then bypass the city on I-465 which takes you onto I-74. Follow this road all the way to Cincinatti.
Our highlights: Baseball fans should head straight to the Cincinnati Reds Hall of Fame & Museum, where you can also take a tour of the Great American Ballpark.
If you're not in town for Opening Day, there's still plenty to see and do. Cincinnati Zoo holds its popular free Tunes & Blooms sessions on Thursday evenings through April. Enjoy live music among the colorful spring blooms in a family-friendly atmosphere. You can also enjoy the blooms in daytime if you need to hit the road back to Chicago by the evening.
At Krohn Conservatory, the spring sees the arrival of thousands of butterflies which are fascinating to watch when you visit the tropical glasshouse.
With its Dinosaur Hall and interactive science exhibits, Cincinnati Museum Center is also a great family day out. Head to the Children's Museum for some play-based fun.
Bonus: For many years the baseball season was officially opened with a first pitch in Cincinatti, whose team, the Reds, were the first in the country to go fully professional.
Our travel tips: The city will be really busy if you do visit for Opening Day, so expect some queues and leave extra time to get parked (we'd suggest arriving early). Book early if you want to try to get tickets for the game.
4. Traverse City, Michigan
5 hours from Chicago (320 miles)
Why you should visit: This is the only destination on our list that lets you carry on exploring the shores of Lake Michigan.
After the long winter, the wildflowers start to blossom around Sleeping Bear Dunes National Lakeshore, making this a fabulous weekend destination for fans of the great outdoors.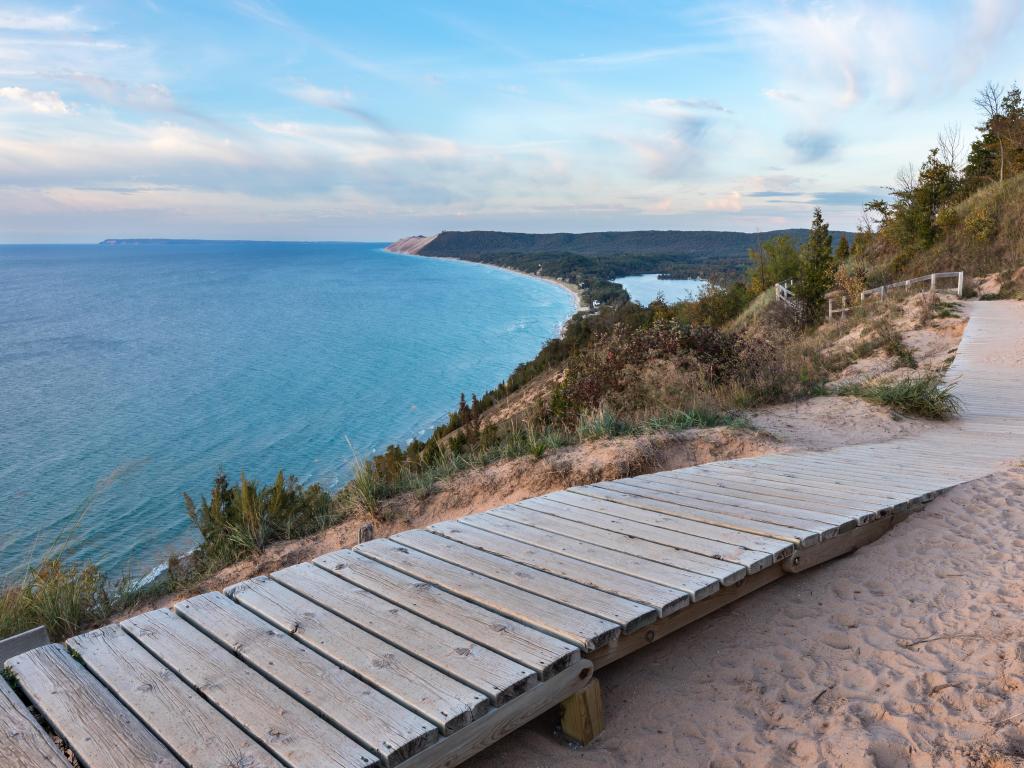 How to get there: The interstate runs parallel to the shore of Lake Michigan most of the way to Traverse City. You'll start out on I-90 E before switching on to I-94. Follow this past Benton Harbor then change onto I-196 where the interstate divides. When you reach Grand Rapids join US-131 and continue north until you reach your destination.
Our highlights: You could spend days exploring the fabulous lakeshore, but seeing as you're only here for the weekend we'd suggest starting at Sleeping Bear Dunes with a hike along the Old Indian Trail or spending some time exploring Old Mission State Park. You can also visit the historic lighthouses – six in all – to enjoy more atmospheric views out across the lake.
It's too early in the year to swim in the lake but kids of all ages will love the huge indoor water park at Great Wolf Lodge.
If you're here without the family, take the chance to visit a winery or two, or taste some of the wine produced along the Traverse Wine Coast at one of the city's tasting rooms or bars.
Bonus: Traverse City is known as the Cherry Capital of the World. Spring break is out of both the cherry blossom and picking seasons, but don't miss the chance to try a slice of cherry pie while you're in town.
Our travel tips: Temperatures often dip below freezing even in April, and this can be a wet time of year, so plan for some indoor activities if you're making a spring trip here.
5. Columbus, Ohio
5 hours 30 mins from Chicago (350 miles)
Why you should visit: Ohio's state capital and largest city is packed full of things to do during spring break. The length of the drive means you'll probably want to stay at least a night (or maybe longer) but there's so much to do when you arrive that you definitely won't be bored.
You'll find a whole host of family-friendly attractions in Columbus, including one of the best science museums in the country at the Centre of Science and Industry.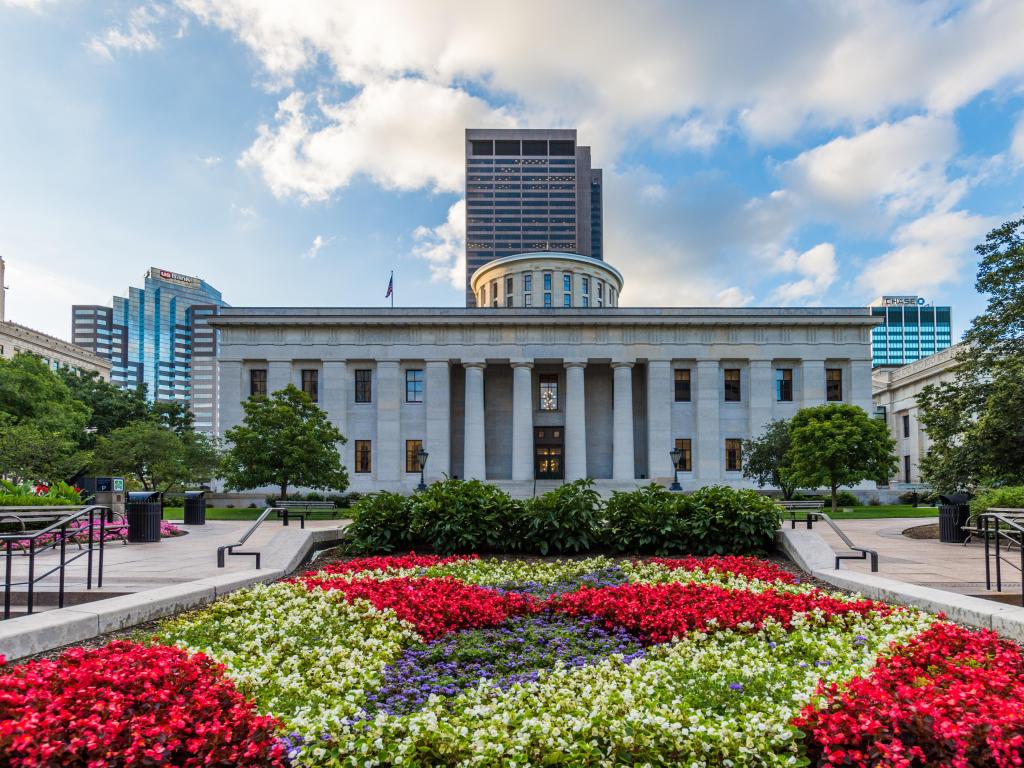 How to get there: Follow I-65 away from Chicago then at Indianapolis change onto I-70 to head east into Ohio. As you approach Columbus, merge onto I-670 to make your way to the downtown area.
Our highlights: The Center of Science and Industry (COSI) – named "America's number one science museum" – is packed full of interactive and informative exhibits which are guaranteed to keep children entertained for hours.
The Spring Thaw at Ohio History Center is a week of natural history-focused events to mark the end of winter. In 2023 you'll catch the Spring Thaw in early April.
Another sure fire hit with children is LEGOLAND Discovery Center. It doesn't just appeal to kids though, as there's a 3D cinema featuring Lego characters, as well as the chance to build and explore interactive displays.
Just outside town, Columbus Zoo & Aquarium is another entertaining attraction, and if your spring break coincides with Easter there are extra egg-themed activities and attractions
If you're feeling active, head to Hockings Hill State Park where you can escape the busyness of the city and hike through a fascinating sandstone landscape.
Staying outside, you can also visit Franklin Park Conservatory & Botanical Gardens, where the spring flowers will be starting to burst into life. It's a relaxing place to escape the hustle and bustle, and if you're travelling as a family children love exploring the tropical conservatory too.
Finally, round off the afternoon or evening on one of the city's rooftop patios to celebrate the spring sunshine.
Our travel tips: Spring can be a good time to visit Columbus, before the summer's humidity sets in.
6. Cleveland, Ohio
5 hours 30 mins from Chicago (350 miles)
Why you should visit: As well as spending time by another of the Great Lakes, this trip also lets you follow one of "America's most scenic drives" with a detour along Indiana's Heritage Trail that starts at Elkhart.
If your spring break falls over the Easter period, come and join in the Dyngus Day celebrations! Held on Easter Monday, this Polish festival includes polka dancing, accordion music and beer tents – a really unique way to spend the spring break whatever your age!
Another interesting event that coincides with spring break is Cleveland Thyagaraja Festival, a celebration of Indian classical music which brings international stars to the city.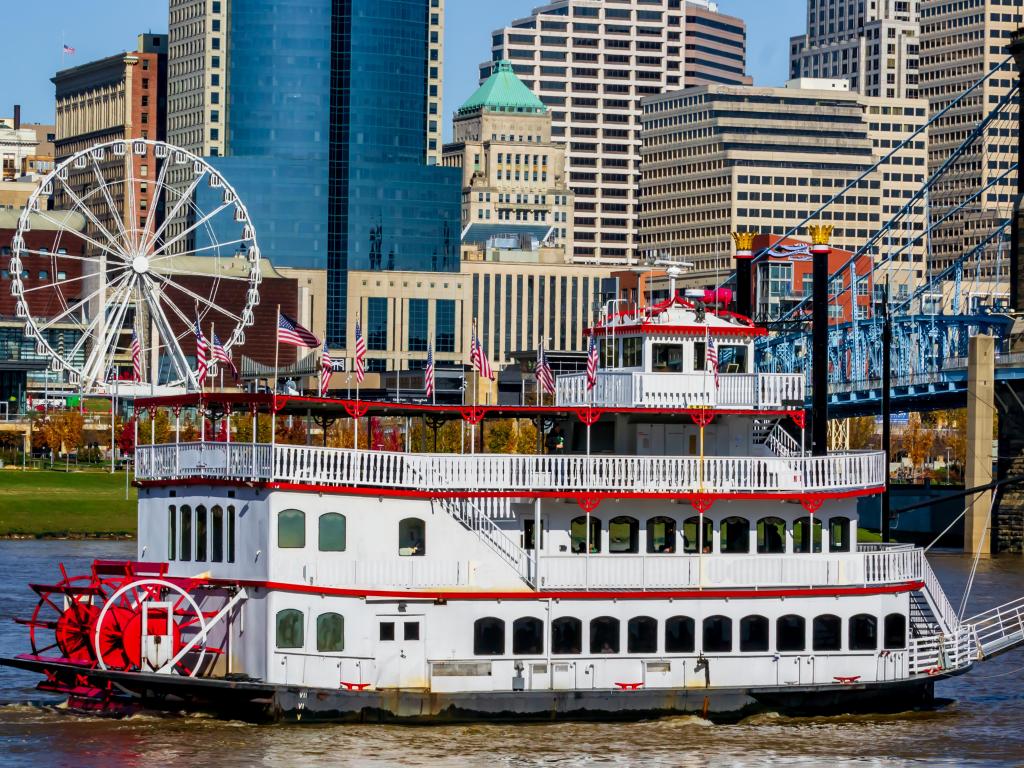 How to get there: From the center of Chicago, join I-90 and keep going. You'll drive all the way across Indiana and then into Ohio, passing to the south of Toledo and Lake Erie before arriving in Cleveland.
If you're following the marked Heritage Trail, leave the interstate at Elkhart then head east on IN-120 to Bristol. Carry on to Middlebury and Shipshewana before looping back round to visit Goshen and Nappanee. Wakarusa is the final stop on the trail, which then passes through Elkhart again before you rejoin I-90 to continue east towards Cleveland.
Taking this detour along the Heritage Trail will add around 2 hours 30 minutes to your driving time, plus any time for stops in the towns you'll pass along the way.
Our highlights: On your way to Cleveland, take a break from the interstate to travel along Elkhart County's Heritage Trail. Taking you through small towns and beautiful landscapes, you can download a free audio guide which gives you some of the background to this peaceful part of Indiana.
Once you've arrived in the city, you should definitely try out Maple Sugaring if you're visiting in March. This takes place at a number of locations in and around Cleveland.
If you're travelling with children, check out the themed trips on Cuyahoga Valley Scenic Railroad, which run through April.
If the weather's good enough to spend more time outdoors, go for a longer hike through Cuyahoga Valley National Park where Brandywine Waterfall should be in full flow. You could also spend a peaceful half hours walking through the daffodils which carpet Lake View Cemetery.
Bonus: Cleveland Thyagaraja Indian classical music festival is the biggest festival of its kind that you'll find without visiting India.
Our travel tips: As with some of the other destinations listed so far, spring weather in Cleveland can be unpredictable, ranging from late snow to bright sunshine.
Click here to skip back to the top.
Long weekend trips (6-8 hours each way)
There are some fantastic 3-4 road trips that you can take from Chicago. Visit another of the Great Lakes or head south to explore Tennessee's vibrant cities and stunning hills and mountains.
7. Nashville, Tennessee
7 hours 15 mins from Chicago (480 miles)
Why you should visit: Nashville is the first of our road trip destinations where you're likely to be able to enjoy some warmer spring weather, and the first one outside the Midwest.
Nashville is a great place to party, and with live music and warm weather likely to feature, it's perfect for a short spring break road trip from Chicago. It's a straightforward interstate drive south for the weekend, and once you arrive you can immerse yourself in the party atmosphere until it's time to leave.
It's also a fun place to take children, especially if they're happy to soak in the atmosphere. Many of the live venues on Lower Broadway welcome families during the daytime.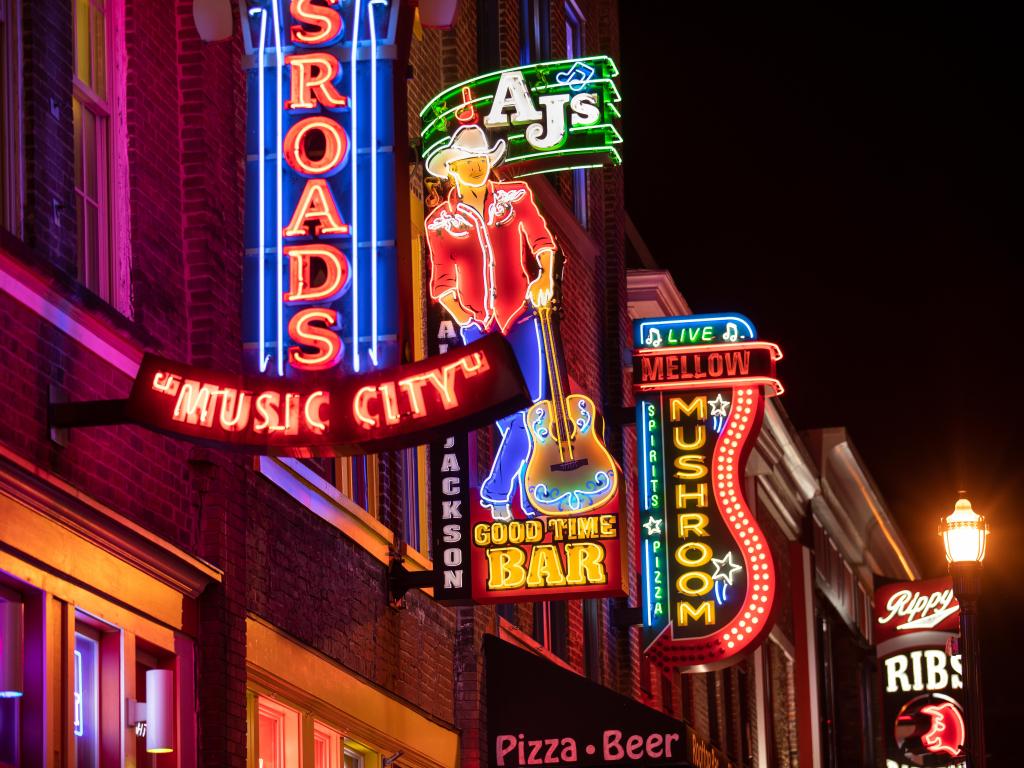 How to get there: Although it's a pretty long drive, this 475-mile route is really easy to navigate. Just hop onto I-65 as you exit Chicago to the south, and follow it all the way through Indiana and Kentucky. Just after you cross the Cumberland River, turn onto I-40 to make your way into Nashville's downtown where you'll complete your drive.
Our highlights: You can't visit Nashville without seeing a live show or two, so head to Music Row and take your pick before partying late into the night on Broadway. Some venues host special spring break parties, but if these don't match the kind of vibe you're after there are plenty of other venues to choose from.
A great all-year-round attraction that's a must-see in Nashville is the Country Music Hall of Fame. If really you want to immerse yourself in the heritage of Music City, you can carry on to the Johnny Cash Museum, RCA Studios or the Grand Ole Opry House.
When you're ready to take a break from wall-to-wall music, head to the Cheekwood Estate where the springtime Cheekwood in Bloom event sees over 100,000 tulip bulbs filling the peaceful gardens with bursts of color.
Just outside the city, Treetop Adventure Park is great for couples, groups and families alike – test your nerves as you travel across bridges, ropes and ziplines high up in the canopy (children must be over 7 to take part, and an adult has to climb with them).
Bonus: Book a stay at the Gaylord Grand Ole Opry Resort to enjoy a host of springtime activities for families.
Elvis recorded dozens of songs in Nashville, and with so many live acts performing in the city you might one day be able to say you saw the next big music star before they were famous.
Our travel tips: This part of Tennessee is known for its spring tornadoes. It's unlikely that you'll see one but watch out for local advisories while you're in town.
Even this far south you'll need to pack warm clothes as the evenings will be cool and the weather can still sometimes be unsettled, especially in early spring.
READ MORE - Road Trip from Chicago to Nashville
8. Knoxville, Pigeon Forge and Gatlinburg
8 hours from Chicago (550 miles)
Why you should visit: With the mild Tennessee spring weather in your favour, you can leave your winter gear behind and enjoy time in the great outdoors on this trip.
The Great Smoky Mountains will be bursting with color in the spring, from the lush new leaves on the trees to the carpet of wildflowers.
In between the winter snow and sometimes humid summer heat, spring break is the perfect time to lace up your hiking boots and explore. If you need to keep teens or older kids entertained too, the fun attractions at Gatlinburg and Dollywood will be just the ticket.
How to get there: Follow the route toward Cincinnati along I-65 and I-74, then take I-275 to bypass the city itself. You'll cross the Ohio River to enter Kentucky, then follow the interstate south towards Lexington. Continue along I-75 and you'll reach Knoxville around an hour after crossing the state border into Tennessee.
To reach Pigeon Forge and Gatlinburg, take I-40 out of Knoxville then turn south on TN-66. From Sevierville, turn onto Parkway which takes you to both towns. This part of the trip will add just over an hour to your drive time.
Our highlights: While you're in Knoxville, enjoy the city's nightlife under the beautiful dogwood blossoms, and check out April's Chalk Walk which sees colorful art on sidewalks across downtown.
When you're ready to head out of town, make for Great Smoky Mountains National Park where trails and lookouts are abundant, or follow the Newfound Gap Road for a spectacularly scenic drive through the mountains.
Just outside nearby Pigeon Forge, Dolly Parton's Dollywood amusement park is a firm favourite with visitors of all ages.
Thrill seekers should definitely head to Gatlinburg's Mountain Coaster, which races rollercoaster-style down the side of the mountain, or Smoky Mountain Ziplines, where you can get a whole new view of this beautiful part of the world.
Bonus: Great Smoky Mountains National Park receives more visitors than any other national park in the United States – more than 11 million a year.
Our travel tips: Because of its popularity the roads into the national park can feel a little crowded at busy times, especially during spring break. Parking lots fill up and you might hit traffic delays. Visit early in the day or in the evening if you want to avoid the crowds – you're also more likely to see wildlife at these times.
READ MORE - Road Trip from Chicago to the Great Smoky Mountains National Park
Click here to skip back to the top.
Longer trips (Over 8 hours each way)
While a drive of this length probably won't suit spring breakers with young families, this is a great time to take an adventure with older children or to hit the road with a group of friends.
Whether you're heading south for the sunshine or taking in the views on a scenic drive through Minnesota, stop off to explore the towns and cities along the way to add to the fun.
9. Chattanooga, Tennessee
9 hours 20 mins from Chicago (610 miles)
Why you should visit: Built around the Tennessee River and overlooked by Lookout Mountain, Chattanooga is a city where you can easily combine active adventures with big city entertainment.
For a longer spring break trip, stop in Nashville as well to enjoy even more of Tennessee's southern charm and hospitality.
Attractions in Chattanooga put on special events as part of the Spring Break Safari, making the city the perfect family spring break destination. There are child-focused art, science and nature activities on the itinerary, as well as the chance to explore caves, ride the Tennessee Valley Railroad or visit the Tennessee Aquarium.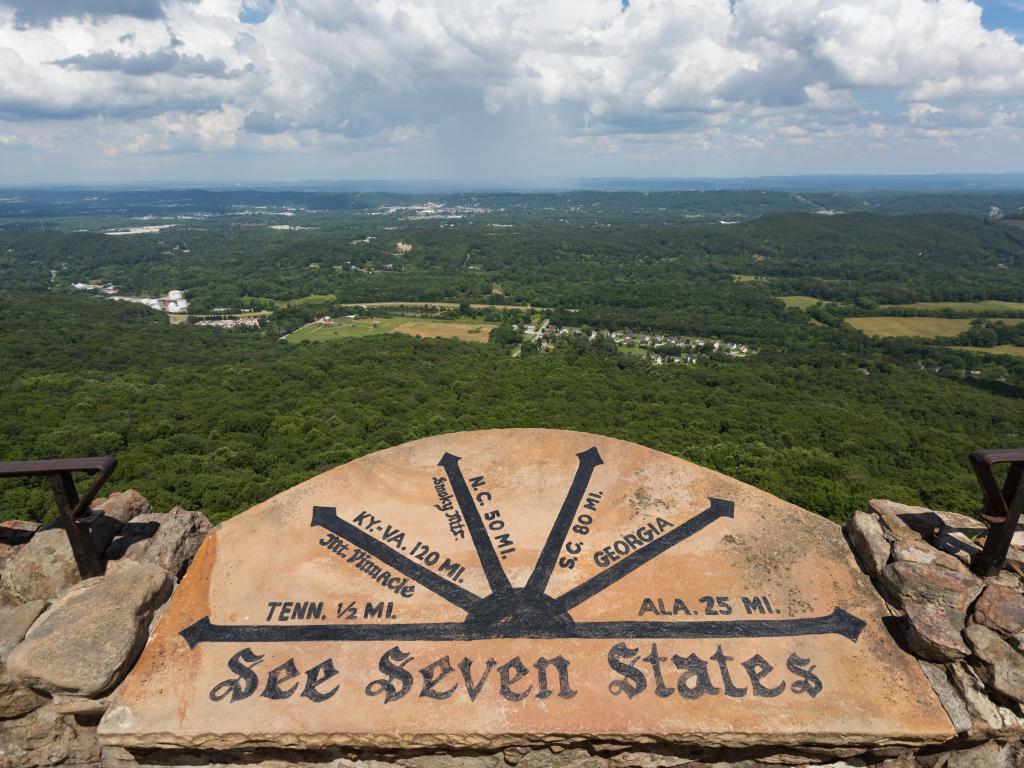 How to get there: Follow I-65 all the way to Nashville, where you'll merge onto I-24 after a brief stretch on I-40 as you cross the city. I-24 then takes you all the way to Chattanooga, crossing the Tennessee River Bridge then dipping into Alabama for about a mile before you complete your journey in the far south of Tennessee.
Our highlights: As well as being one of the stops on the Spring Break Safari, Tennessee Aquarium is the world's biggest freshwater aquarium. Check out the penguins, otters and alligators as well as plenty of underwater favorites.
A firm favorite with younger children is the Creative Discovery Museum, which features fun, interactive science-based exhibitions to keep them entertained for hours.
Another must-see in Chattanooga is Ruby Falls, a waterfall and cave system which sits under Lookout Mountain. The mountain itself towers above the city and if you're feeling energetic you can hike right up to the top for amazing views across Chattanooga and into Georgia.
A great activity for families or groups of friends, you can take a small pedal-powered boat out to enjoy food and drinks on the Tennessee River.
Bonus: Miniature golf was invented in Chattanooga nearly a century ago, so why not play a round during your stay in the city?
Our travel tips: Chattanooga is notorious for its traffic so avoid travelling in the morning or evening rush hours if possible
10. Hot Springs, Arkansas
10 hours 40 mins from Chicago (700 miles)
Why you should visit: As well as being a great spring break destination, you can turn the drive to Hot Springs, AR, into a fabulous longer road trip with stops in Springfield and St Louis along the way.
People have been coming to Hot Springs in search of the healing powers of its naturally heated spring water for nearly 200 years, so if you're in need of some relaxation and downtime during spring break, this is the place to come.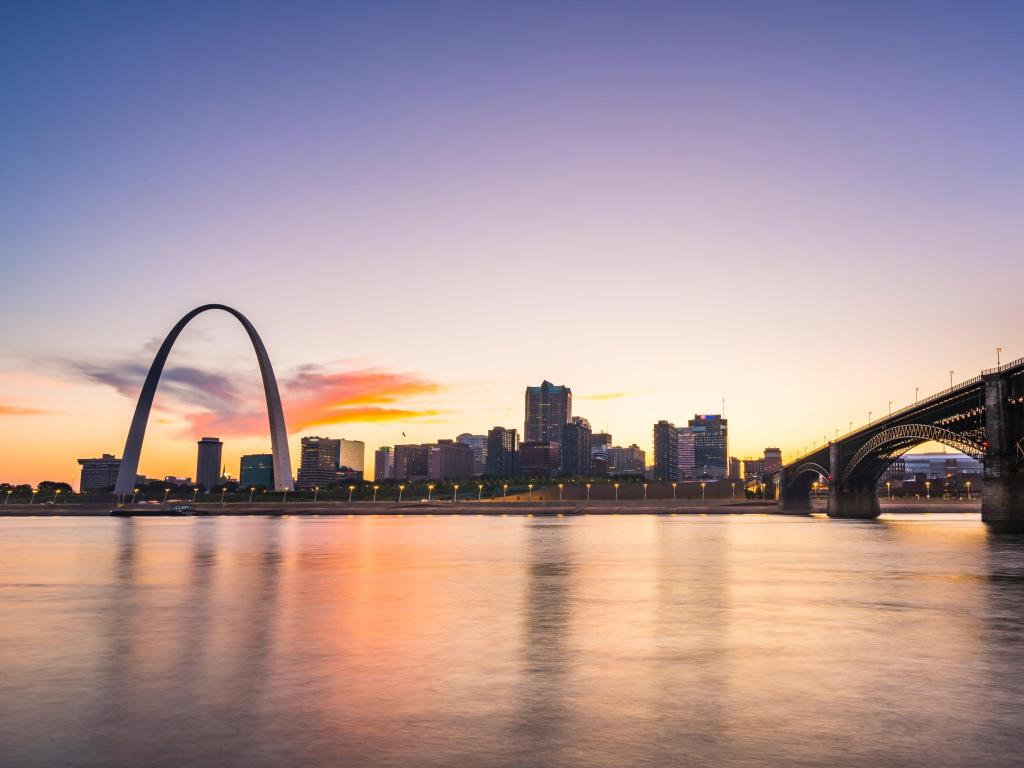 How to get there: Follow I-55 southeast through Illinois, passing Springfield before you cross the Mississippi River at St Louis, Missouri. After following the interstate south out of the city, turn onto US-67 which winds its way through the gently rolling hills of Missouri and into Arkansas.
At the town of Corning, turn right to continue along US-67/US-62, sticking with US-67 when the highways divide at Pocahontas. At Bald Knob the road merges with US-167 which takes you to the state capital Little Rock. Follow I-30 W out of the city, then turn onto US-70 for the final stretch of your drive to Hot Springs.
Our highlights: Top on most people's list in Hot Springs is a visit to a spa or geothermal spring. There are plenty to choose from, depending on whether your want a traditional bathing experience or a full day of pampering and relaxation.
Bathhouse Row is a National Historic Landmark District where 8 historic bathhouses still stand. Most no longer operate as bathhouses, but at Buckstaff Bathhouse you can still experience the same hot spring bathing experience that the first visitors here in 1912 would have enjoyed.
If some of your group are less interested in spa time than others, Adventureworks Hot Springs is a more active alternative. Ride zip lines and tackle a treetop rope course.
Crystal Ridge Distillery offers informative tastings and free tours where you can find out about the history of the moonshine that's traditionally been produced in this part of the country.
Bonus: The mineral-rich water from the hot springs is said to have healing qualities, and there are fountains across the city where you can take a drink or fill a bottle.
If you happen to be in Hot Springs over St Patrick's Day you can watch "the world's shortest St Patrick's Day Parade". The event travels less than 100 feet but features several lively Irish-themed entertainment acts.
Our travel tips: Although there are a few natural open air pools where the hot spring water travels down the mountain, bathing in them is not permitted. You can only soak in the geothermal water at Hot Springs at indoor bathhouses and spas.
11. Highway 61 Scenic Drive
11 hours from Chicago (710 miles)
Why you should visit: This trip takes you right up to Grand Portage on the Canadian border, which is the northernmost point on our list.
Spring is one of the best times of year to see the Northern Lights, which are visible along this route. It's an unforgettable spectacle which is definitely worth the long drive out from Chicago. With the weather still feeling wintery, book into a cozy cabin and enjoy quality time together over spring break.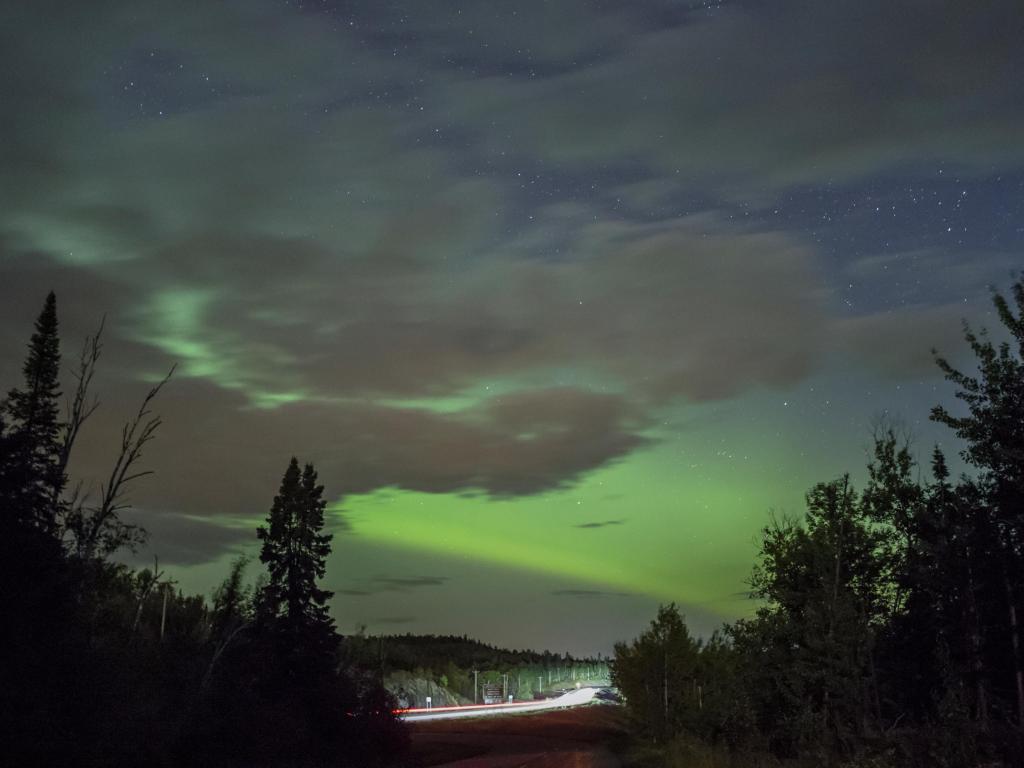 How to get there: Follow I-90 W out of Chicago for around 100 miles until you reach Wisconsin, then continue for another 100 miles to merge with I-94. From here the road takes you through Eau Claire before arriving in the twin cities of St Paul and Minneapolis.
Exit the city via I-35 W for a couple of miles, before continuing on I-35 N in the direction of Duluth. The interstate ends here and you'll complete your road trip by following Highway 61 Scenic Drive, which follows the shore of Lake Superior all the way to Grand Portage at the Canadian border.
Our highlights: If there is still snow on the ground, that means you can take a scenic dog sledding trip to explore the wild landscapes of the scenic north shore.
The scenic drive along the North Shore is one of the main attractions of this road trip, so make sure you leave plenty of time to stop and enjoy the views along the way.
If the snow has melted, pack your hiking boots and set out to explore Tettegouche, Temperance River or Cascade River State Parks, which are all easily accessed from Scenic Route 61 along the lakeshore.
At Lutsen you can ski in colder months or, if spring has come early when you visit, head up to the peak via gondola to enjoy stunning views.
Bonus: You can't drive this route without stopping off in Grand Marais to visit World's Best Donuts, a local legend.
Our travel tips: As you might expect this far north, temperatures can be cold especially if your spring break falls early in March. Heavy snow is possible but not guaranteed during March and April, so stay flexible in your choice of activities if you take this trip.
This trip is probably best suited for travellers who can visit a little later in the season if you want to comfortably spend more time outdoors.
12. Atlanta, Georgia
11 hours from Chicago (730 miles)
Why you should visit: Atlanta is the southernmost destination on our list and is an amazing place to visit from Chicago during spring break.
You're almost certain to enjoy some much-needed spring sunshine here, without the large crowds that you'll find further south in Florida or on the coast.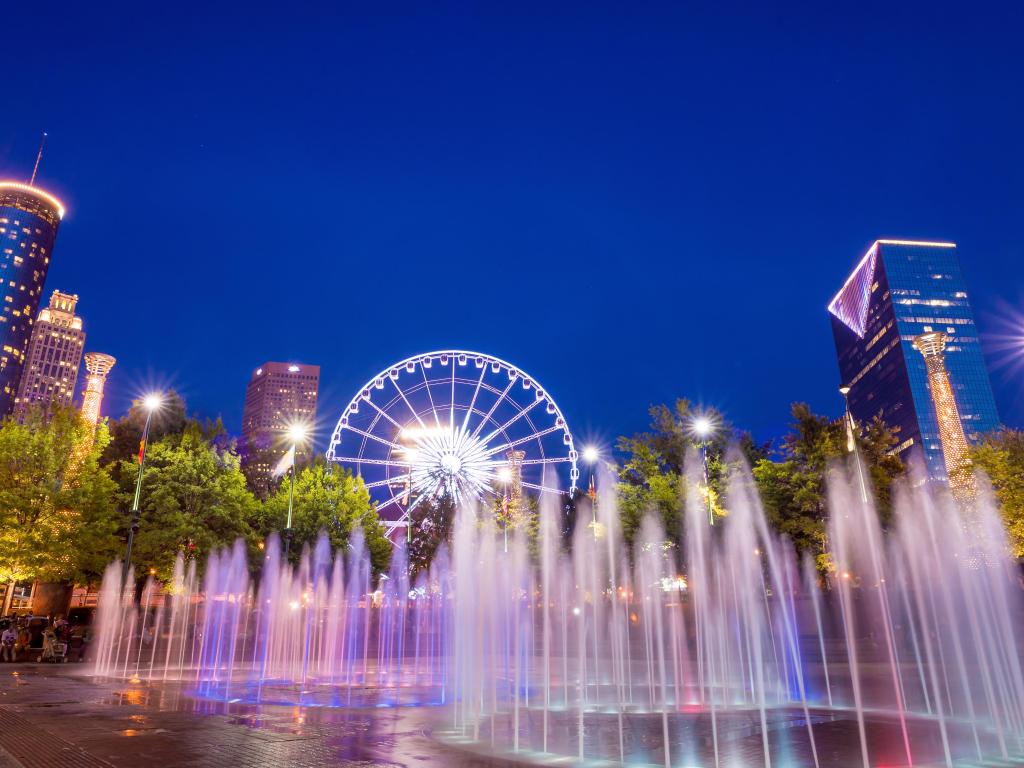 How to get there: Head south through Nashville to Chattanooga on I-65 and I-24. As you enter Georgia just south of Chattanooga, I-24 merges with I-75 which takes you as far as the suburbs of Atlanta.
Depending on your final destination in Atlanta, you'll probably join up with I-85 to complete your journey in city's downtown.
Our highlights: Families should head straight to Centennial Park, a huge outdoor space which covers the site of the 1996 Olympic Park. The Children's Museum of Atlanta is on the edge of the park too.
Zoo Atlanta is a must-see for visitors of all ages. It's one of the only places in the United States where you can see Giant Pandas, alongside many other endangered species.
There's also a wealth of sites dedicated to modern US history and the Civil Rights movement in Atlanta, including the National Center for Civil and Human Rights and Martin Luther King Junior National Historical Park.
If you're travelling with older spring breakers, Six Flags Over Georgia theme park is a great stop, and sports fans should definitely check out the College Football Hall of Fame.
Bonus: Coca-Cola originated in Atlanta in the 1880s, which is why you'll find the World of Coca-Cola in the city today.
Our travel tips: "Rush hour" in Atlanta lasts all day. Allow plenty of time for your journey if you're using your car to get around the city.
READ MORE - Road Trip from Chicago to Atlanta