Can you drive from Anchorage to Fairbanks?
Fairbanks is a gateway to the great Alaskan wilderness on its doorstep, such as the trails and wildlife of the Chena River State Recreation Area. A little further gets you to Denali National Park, the home of North America's tallest mountain, Mount McKinley. The city itself is a hub of entertainment, fresh seafood and local culture, as well as being one of the best places to view the Northern Lights.
Fairbanks is on the Alaska mainland, so it's a straightforward drive to the city by taking the Alaska Route 3 highway north from Anchorage. The journey winds up through Denali National Park and Preserve for 360 miles, which takes 6 hours 30 minutes to drive.
Alaska's second largest city is well worth the pilgrimage and freezing temperatures. Pack your winter clothes and read on for our tips on how to get there and some of the amazing places to see en route.
Can you drive from Anchorage to Fairbanks?
The main way to drive from Anchorage to Fairbanks

| Route | Time | Distance |
| --- | --- | --- |
| Direct Route | 6 hours 30 minutes | 360 miles |
Fairbanks is 360 miles north of Anchorage, just north from the Denali National Park and Preserve. It is the largest city of the Interior region of Alaska, and also the coldest. It is the second largest city in the state after Anchorage. It sits centrally within Alaska, 379 miles east of Yukon, Canada.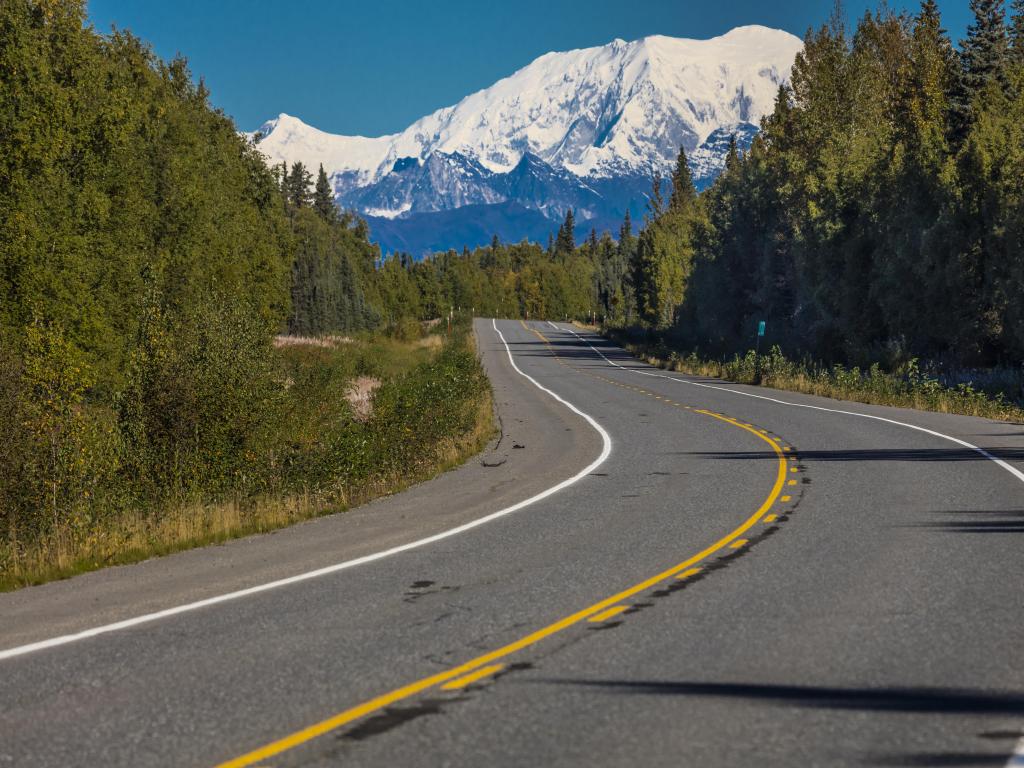 It takes 6 hours 30 minutes to drive the 360 miles from Anchorage to Fairbanks. The drive is straightforward using Alaska Route 3 which connects both cities. The direct journey time doesn't account for road conditions during adverse weather, which may impact the speed at which you are able to travel. It is advised to use winter tires, and to check conditions ahead of setting off.
There is also the option to take a bus, train or plane to Fairbanks. Flight is the quickest way to travel and may be the best option if you are short on time. The train and bus take longer and run less frequently, but offer the opportunity to sit back and enjoy the scenery.
How to drive to Fairbanks from Anchorage
It is a simple drive from Fairbanks from Anchorage, as the journey primarily takes place on one road. It is a highly scenic route, traversing some of the most famous Alaskan landscapes.
The highway is easy to follow, although it crosses rugged terrain. The road conditions differ between the seasons, and winter in particular can be quite demanding on vehicles.
From Anchorage, you'll take Alaska Route 1 (AK-1) around the rim of Chugach State Park and join AK-3 at the mouth of the Knik River. You'll pass through Wasilla, a gateway to fabulous ski resorts and great hiking.
On the left of the route is Nancy Lake State Recreation Area, which makes for expansive lake-filled scenery while driving. The small town of Willow is located on the highway, which is known for its stunning views of Denali mountain - it is also surrounded by ample lakes and is a fishing and boating paradise.
At Mile 188 of the drive, you'll come across Igloo City. This quirky former tourist attraction offers visitors the eerie experience of seeing a completely abandoned hotel and marks the halfway point between Anchorage and Fairbanks.
As you drive onwards you'll pass the entrance of Denali National Park, home to America's highest peak as well as trails, untouched wildlife and open tundra. Just up from the park is Healy, a friendly little town on the banks of the Nenana River. Continue on AK-3 and take the Airport Way exit to arrive in Fairbanks.
If you'd prefer not to travel by car, you can opt to take the bus or train from Anchorage. Several buses depart daily, while there is just one train per day. Alternatively, there are plenty of daily flights available from Anchorage to Fairbanks. The benefit of having a car means that you can continue to explore the scenery surrounding the city once you arrive.
How long does it take to drive to Fairbanks from Anchorage?
Times to get from Anchorage to Fairbanks

| Mode | Time |
| --- | --- |
| Plane | 3 hours 20 minutes |
| Direct drive | 6 hours 30 minutes |
| Bus | 10 hours 15 minutes |
| Train | 11 hours 40 minutes |
As Fairbanks is just 360 miles north of Anchorage, it will take 6 hours 30 minutes to make the journey, not accounting for any stops or overnight stays at towns and nature points along the way.
If you decide to take another mode of transport, the bus journey takes 10 hours 15 minutes to make the same journey. Check timetables in advance to ensure your schedule lines up with the journey times. The bus is a cheaper option than the train, and there are a range of providers.
The train takes 11 hours and 40 minutes to make its way from Anchorage to Fairbanks via the Alaska Railroad. It also stops at Wasilla, Talkeetna and Denali. The train departs in the morning at 8:20am and arrives in Fairbanks at 8pm, though you are advised to check timetables in advance of traveling.
Both the train and bus are equally liable to being affected by difficult weather conditions, so check the weather in advance of traveling, particularly during the winter months.
The plane is the fastest way to travel from Anchorage to Fairbanks, with a journey time of 3 hours and 20 minutes. However, you'll have to factor in the extra time for check-in and disembarking at either end, as well as traveling to and from the airport.
Where will you arrive to, exactly, when you reach Fairbanks?
Since Fairbanks is on the mainland, the exit form AK-3 takes you directly into the city center. As it's a small city, from here it shouldn't be a long drive to your accommodation or destination.
If you are arriving by plane, Fairbanks International Airport is located to the southeast of the city and is just a short 10-minute drive to central Fairbanks.
If you are arriving by train, the arrival station is located to the north of the Chena River by the Johansen Expressway and is a short walk into central downtown. Travelers arriving by bus are advised to check their arrival point according to the bus company they are traveling with.
Things you need to know about driving from Anchorage to Fairbanks
Driving from Anchorage to Fairbanks is relatively straightforward along one major road, with plenty to see and do along the way.
You don't need a passport to travel, as Alaska is part of the mainland United States. However, if you are driving on to Canada you may need a passport to re-enter the US.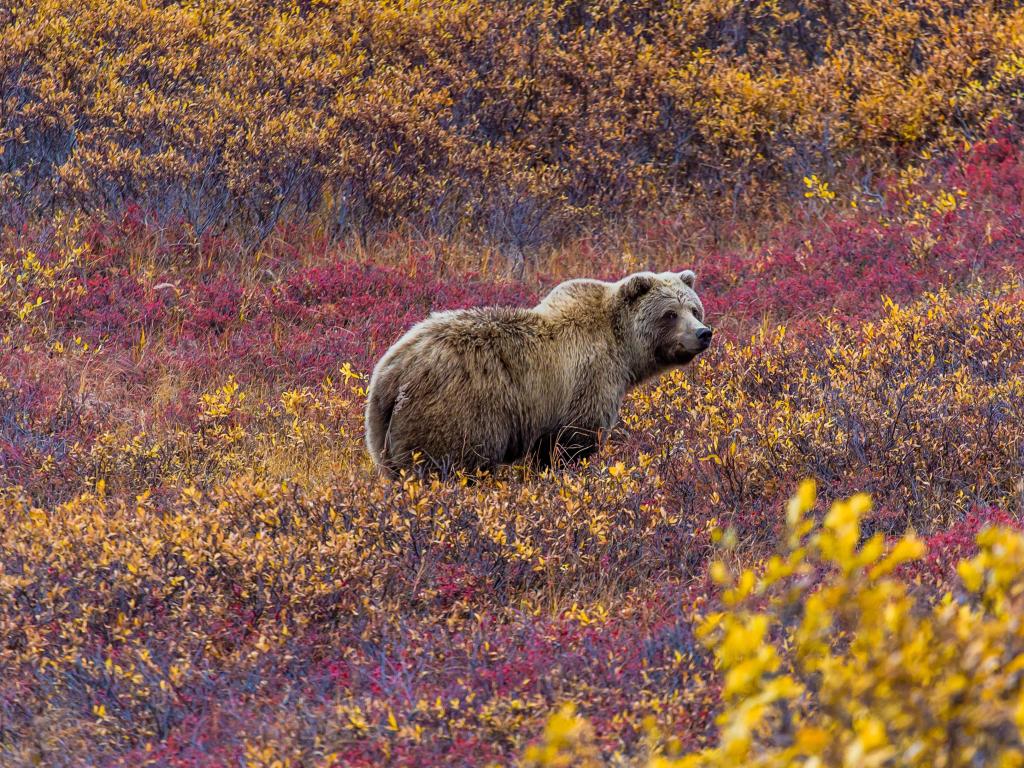 Here are our top tips when it comes to preparing for a drive from Anchorage to Fairbanks:
Be sure to have your vehicle prepared for adverse weather conditions.
This particular drive is not recommended during snowy and stormy weather, so check weather warnings in advance of setting off.
Make sure your car is equipped with winter tires and you have snow chains available. Keep sleeping bags in your car just in case.
Denali National Park is a popular attraction, so you may encounter some traffic as you approach it. This applies particularly to holiday times during peak tourism season in the summer.
Things to see and do once you reach Fairbanks
Fairbanks is a city poised on the edge of the Arctic circle, known for breathtaking sunrises, sunsets and the legendary Aurora Borealis. Whether you catch it under a blanket of snow or lit by the midnight sun, you're sure to find something to enjoy in this welcoming community.
University of Alaska Museum of the North – A place to step in from the cold and learn about the nature, history, and culture of Alaska.
Fountainhead Antique Auto Museum – Teleport back in time and see some of the finest automobile specimens from decades ago.
Running Reindeer Ranch – Reserve ahead for this 2 hour 30 minutes tour, accompanied by friendly reindeers in a boreal forest!
The Northern Lights – If you visit from late August to late April, you might be lucky enough to catch the magical Northern Lights dancing in the sky!
Ice Alaska – The World Ice Art Championships take place here from February to March. If you want to see some glistening works of art, carved right into ice, this is one of the biggest ice art competitions in the world!
The Great Outdoors - Fairbanks is surrounded by some incredible scenery in both summer and winter, and there are plenty of outfitters ready to kit you out for outdoor sports in all weathers.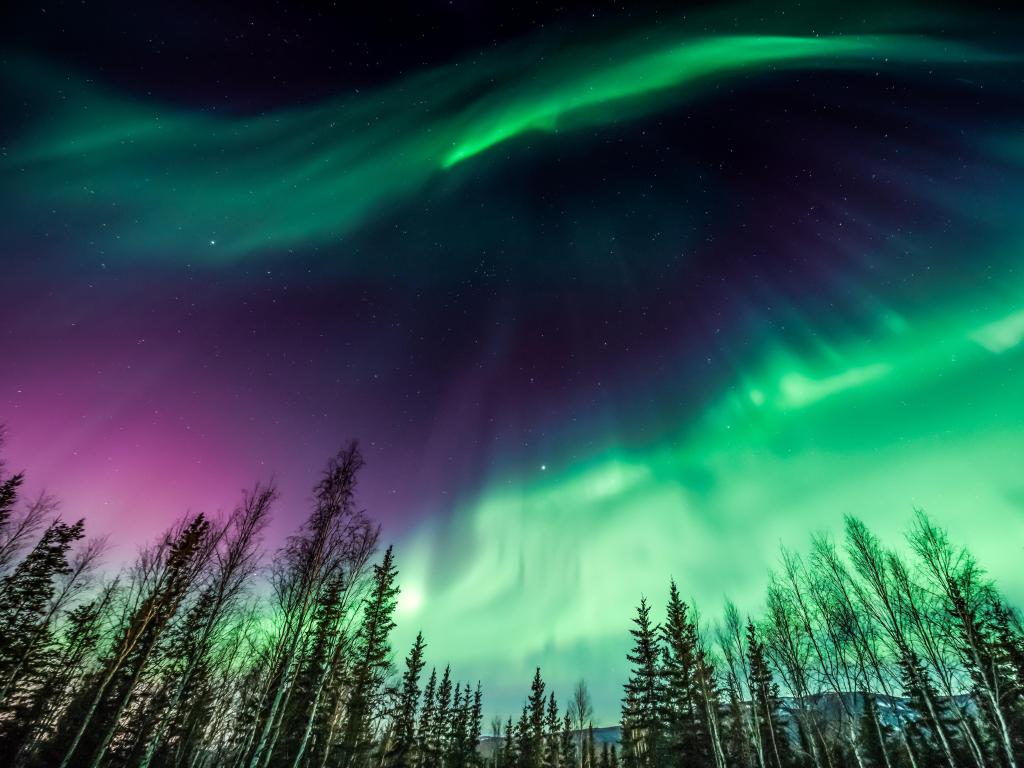 This is one of those trips where the drive is just as important as the destination. The scenes from the car window on this trip are unparalleled, from great lakes to the peak of Denali Mountain. It's well worth heading into central Alaska to see more of what this dazzling state has to offer.