Road Trip from Anchorage to Denali
The road trip from Anchorage to Denali is a guarantee for grand vistas, remote wilderness vibes, and unforgettably unique stops. For the ambitious adventurer looking for a once-in-a-lifetime trip in a northern corner of the world, Alaska calls your name.
The 240-mile road trip from Anchorage to Denali will take over 4 hours to complete. Notable stops are Fairbanks, Thunderbird Falls Trailhead, Eklutna Historical Park, Alpine Historical Park, Matanuska Glacier, Mukluk Land, and Aurora Ice Museum.
Find yourself immersed among mountains and towering evergreens as you traverse either of these awe-inspiring routes, with other sights along the way. Read on to find the road that satisfies your itch for an Alaskan adventure.
How far is Denali from Anchorage, and how long will the road trip take?
Comparison of road trip routes between Anchorage and Denali

| Route | Distance | Driving Time |
| --- | --- | --- |
| The Direct Route | 240 miles | 4 hours |
| The Fairbanks Route | 640 miles | 11 hours |
The distance between Denali and Anchorage is manageable as a day trip. The Direct Route will only take 4 hours to complete, covering 240 miles.
However, if you want to experience more of what Alaska has to offer, the Fairbanks Route is worth considering. This route totals 11 hours and will cover 640 miles.
To make the best of the amazing sights and attractions on each route, we suggest at least taking 2 days to enjoy this short but epic Alaskan road trip.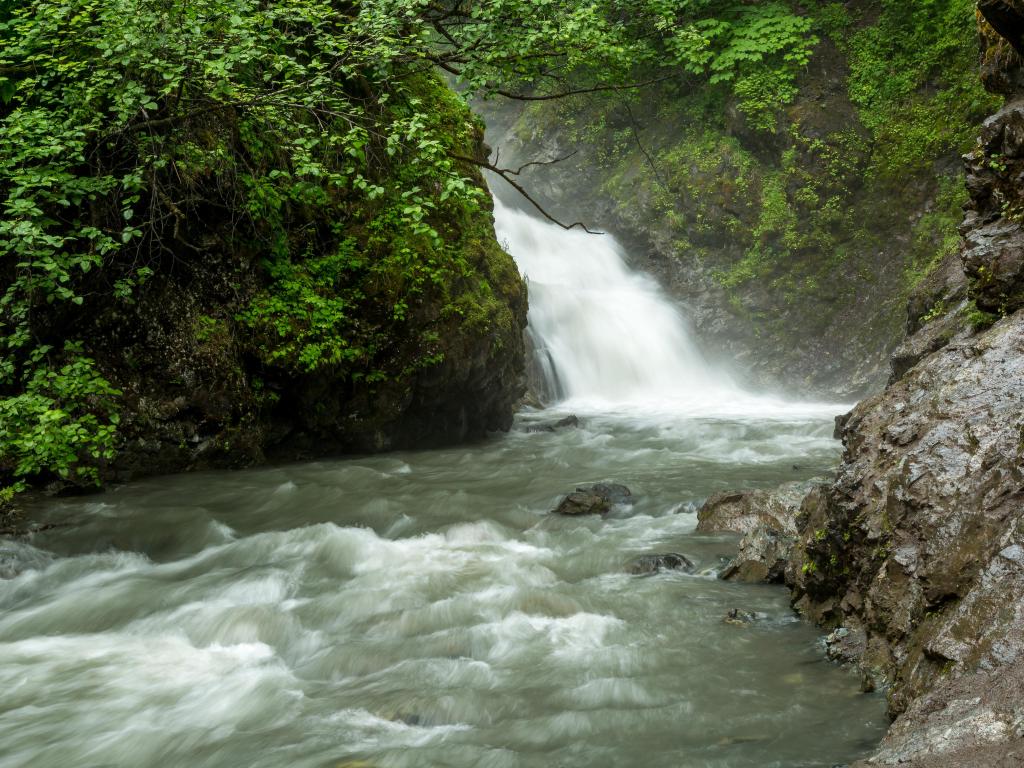 Best road trip route from Anchorage to Denali
If you're on a crunch for time, The Direct Route is the clear option for you. You'll arrive at your destination without missing out on the beauty of Alaska!
The Direct Route has no stops while still offering stunning views of Alaskan wintery, mountainous landscapes, including a passage along the shores of the Susitna River.
On the other hand, if you've got a couple of days to spare, the Fairbanks Route will take you through many more experiences and sights you'll hold onto for years to come.
The Fairbanks Route is more leisurely, allowing you to take in the serene and stunning frozen north over the course of a couple of days. Plus, you get to stop in Fairbanks, the second-largest city in Alaska with much to offer!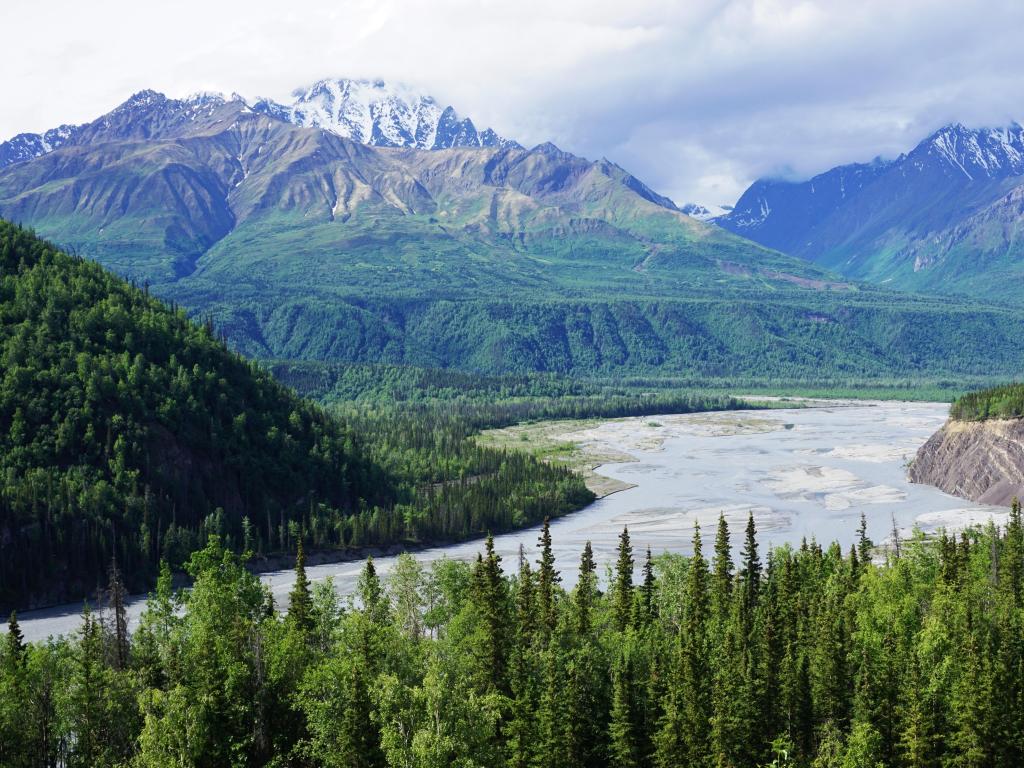 The Direct Route
When you take The Direct Route, you'll start by going northeast on AK-1 around an inlet of water called the Knik Arm. Crossing over when it turns into the Knik River, you'll turn northwest onto AK-3, passing through some small towns and past the Nancy State Recreation Area on your left.
Then your route follows the Susitna River, crossing over it here and there, until just before the eastern edge of Denali State Park where you'll turn a little more northeast again, curving up through Cantrell whereafter you'll reach your destination.
The Fairbanks Route
The Fairbanks route begins the same as The Direct Route, taking you over Knik River, but instead of turning you'll continue heading northwest on AK-1 to curve around a range of mountains. The bulk of the trip is here, about 6 hours, landing you in Tanacross as your first rest stop.
Tanacross marks a change of direction onto AK-2, setting you on a path northwest to Fairbanks. You'll find yourself passing the Tanana Valley State Forest on your right with a horizon of mountains on your left.
Several small towns and about 3 hours later, you'll find yourself pulling into Fairbanks. After Fairbanks, you'll be curving south on this final leg of the journey. Taking AK-3 south, you'll enter Denali from the north in about 2 hours.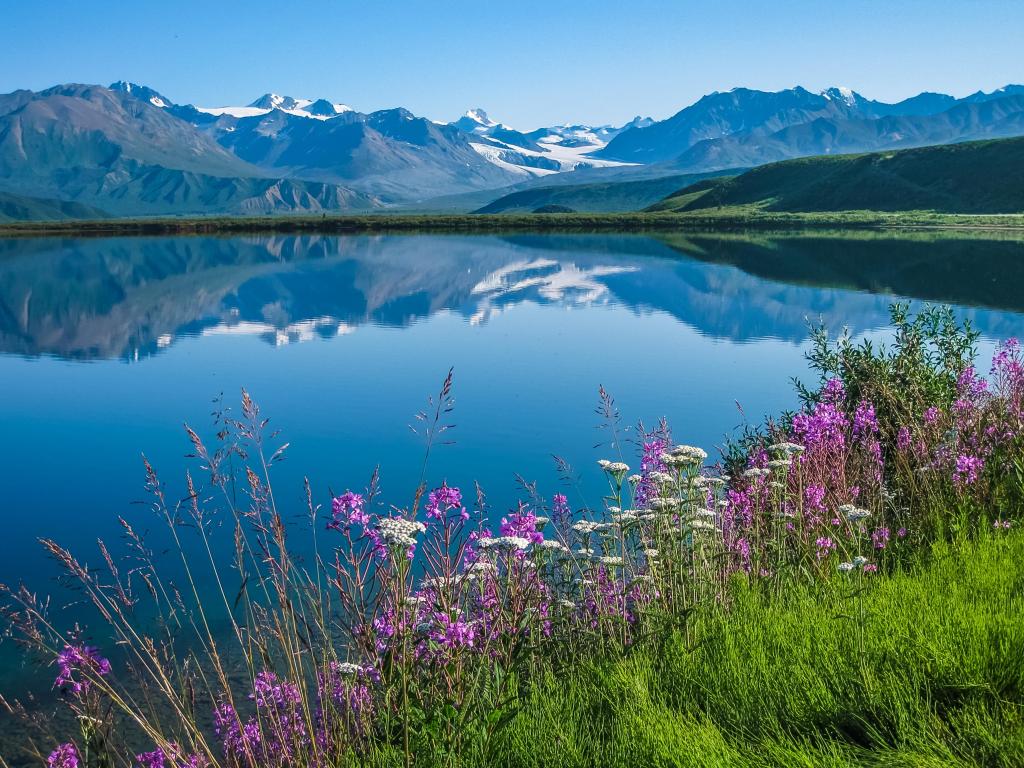 Best places to stop between Anchorage and Denali
Since The Direct Route is intended to be a day trip, you most likely won't need to have a stopover to recharge and prepare for the next day on the route. If you are following the longer Fairbanks Route, here are some of our top picks for amazing places to stop at on the way:
A riverside retreat in Fairbanks
About two-thirds of the way into your journey, you'll find yourself in Fairbanks, Alaska, which is the second-largest city in the state. Fairbanks is known as "The Golden Heart of Alaska" because of its gold rush history and reputation for warm hospitality.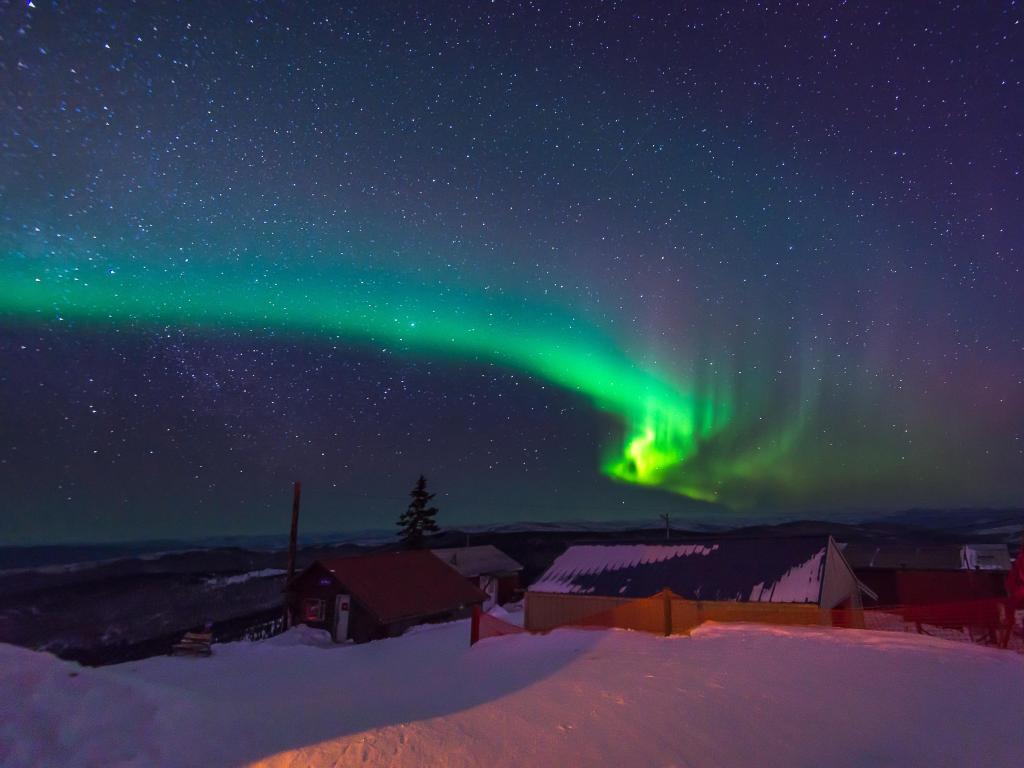 When exploring accommodations, make sure to check out Pike's Waterfront Lodge. Looking for rest and relaxation with some fun thrown in? This is the place for you. Located right on the banks of the Chena River, this property is decorated in a cozy wooden lodge style.
You will be located in one of the most scenic parts of the city and you can even enjoy the beautiful views of the river from the lodge's deck. If you are an avid fisherman, you can grab your equipment and head to the riverbank as Chena River is known for its great fishing and boating opportunities.
If you would like to explore the city, why not head to Georgeson Botanical Garden nearby? Alternatively, you can visit the beautiful campus of the University of Alaska.
Whether you choose to spend a day in the great outdoors or sightseeing, make sure to head to the fabulous sauna and the aromatherapy steam room once you return to the hotel to unwind. Afterwards, you can sample some Alaskan cuisine at the on-site restaurant before heading back to your room.
Where to stay when you reach Denali
Once you've reached Denali, we recommend staying at the luxurious McKinley Chalet Resort, located less than a minute from the park's entrance. Perched on top of a hill overlooking the river with a backdrop of majestic mountains, you couldn't pick anywhere more scenic.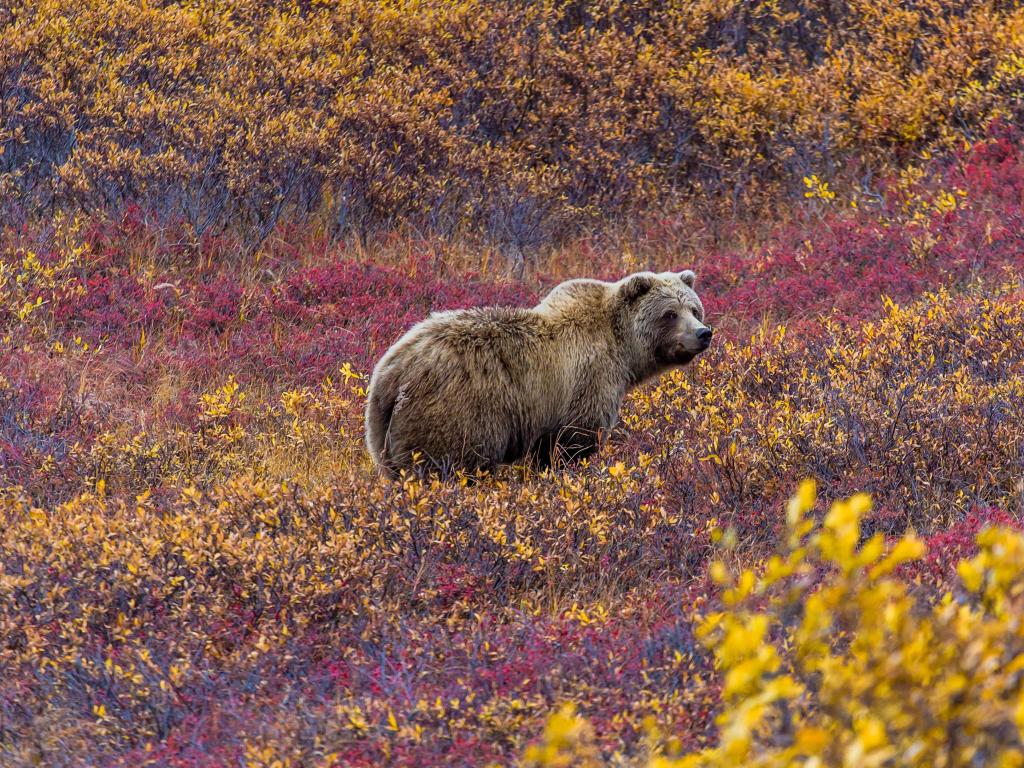 McKinley Chalet Resort has the cozy northern vibes you're looking for in a chalet. There is a fantastic on-site restaurant for dining that offers local specialties, too, as well as a tour desk to help you plan activities to make the most of your stay.
Speaking of activities, in addition to river rafting, this resort offers something truly unique - an on-site dinner theater. Talk about fun and unforgettable!
Things to see on a road trip from Anchorage to Denali
With such a difference in mileage between the two routes, keep in mind there will be far more to see on The Fairbanks Route than The Direct Route. However, that doesn't mean there isn't anything on The Direct Route - in fact, the best sights are right at the start of your journey, which works out well as you'll have the most energy to enjoy them.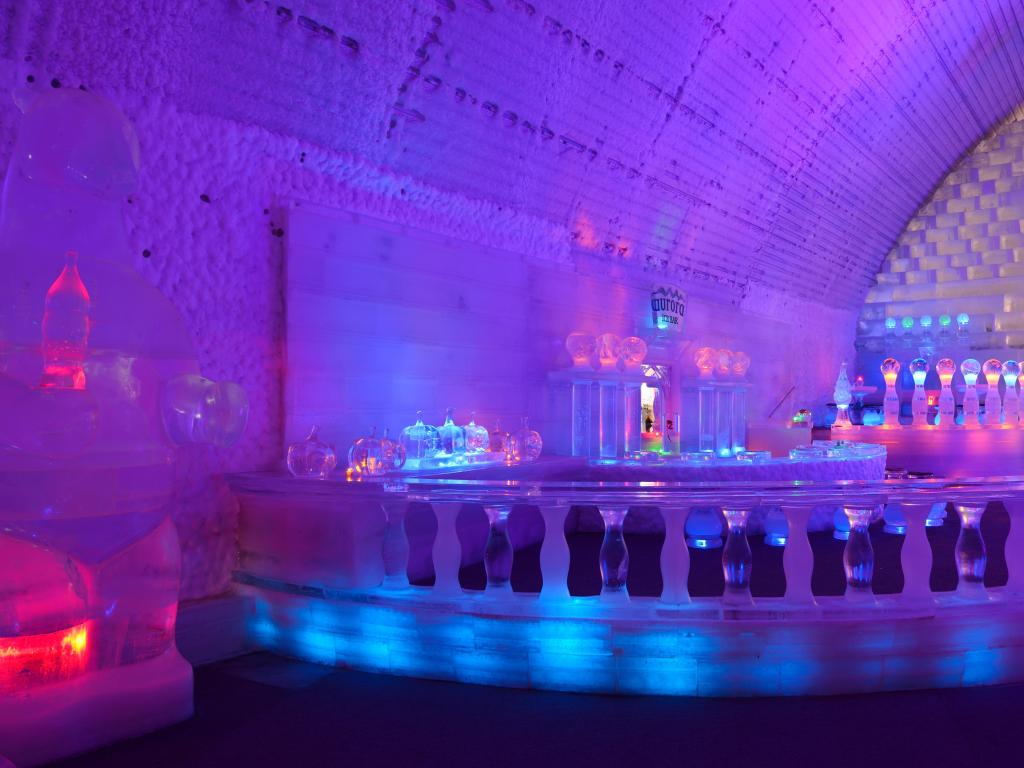 Both Routes
Thunderbird Falls Trailhead - Take in this stunning 200-ft waterfall from a viewing platform in this park, accessible via a scenic hike. Mae sure to bring your camera as there are many photogenic spots on this hike.
Reindeer Farm - This working farm offers visitors the opportunity to feed and interact with reindeer; if you're visiting in the winter, you can also enjoy a sled ride with these majestic creatures!
The Musk Ox Farm - Take a tour of this non-profit farm that boasts a unique gift shop and a large population of musk oxen.
Eklutna Historical Park - Stretch the legs at Eklutna Historical Park, in which you'll find a Russian Orthodox log church and cemetery with colorful spirit houses.
The Iditarod - This is a world-famous sledding race that has a dedicated museum you can visit. Discover the long-standing legacy of dog sledding in Alaska at the museum, which also boasts a gift shop and rides.
Extreme Fun Center - Reconnect with your inner child at this fun center in Wasilla, which boasts an arcade, climbing wall, bumper cars, laser tag and more.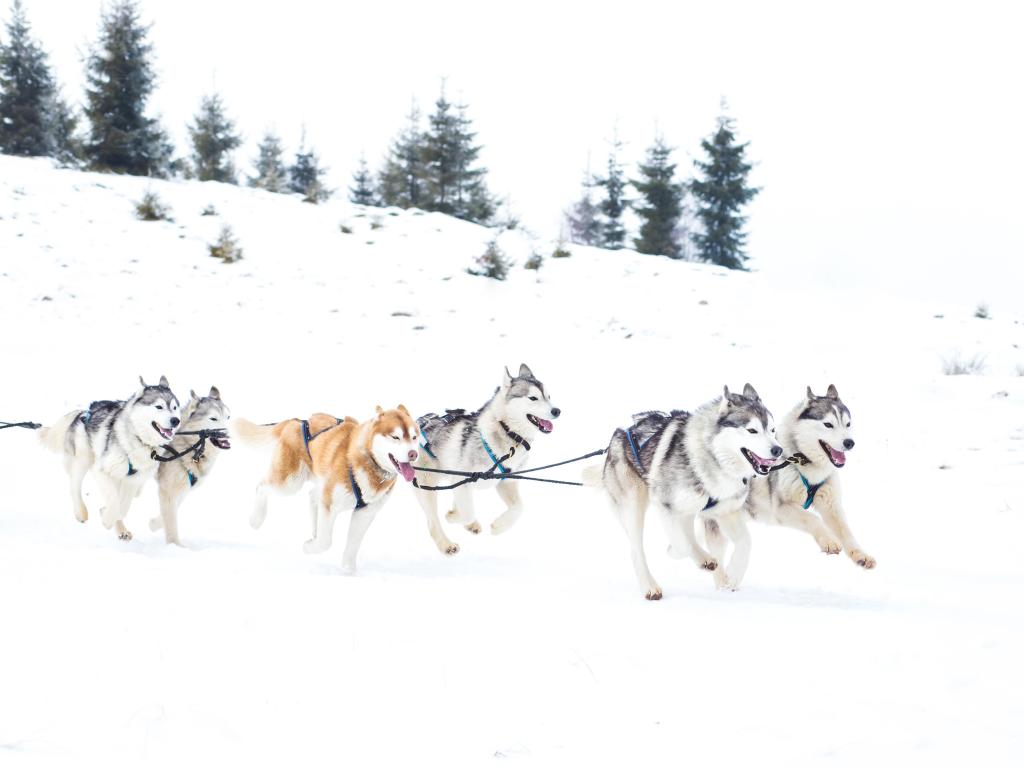 The Fairbanks Route
Alpine Historical Park - This open-air historical park boasts a playground and museum, as well as lush gardens and a great view of the surrounding mountains.
Matanuska Glacier - Beautiful and very large glacier surrounded by sky-scraping mountains; a wonderful place to stop to stretch your legs and explore a little!
Mukluk Land - One of Alaska's most interesting attractions, Mukluk Land and the adjacent Alaskana Museum offers signature fair attractions like bouncy houses and mini golf, as well as curious exhibits. Only operates between June and August!
Sullivan Roadhouse Historical Museum - Established in 1905, this small museum is the oldest roadhouse in Interior Alaska and boasts a collection exploring the state's storied past.
Aurora Ice Museum - This 25-degree museum offers ice sculptures and a bar and is located about an hour off-route.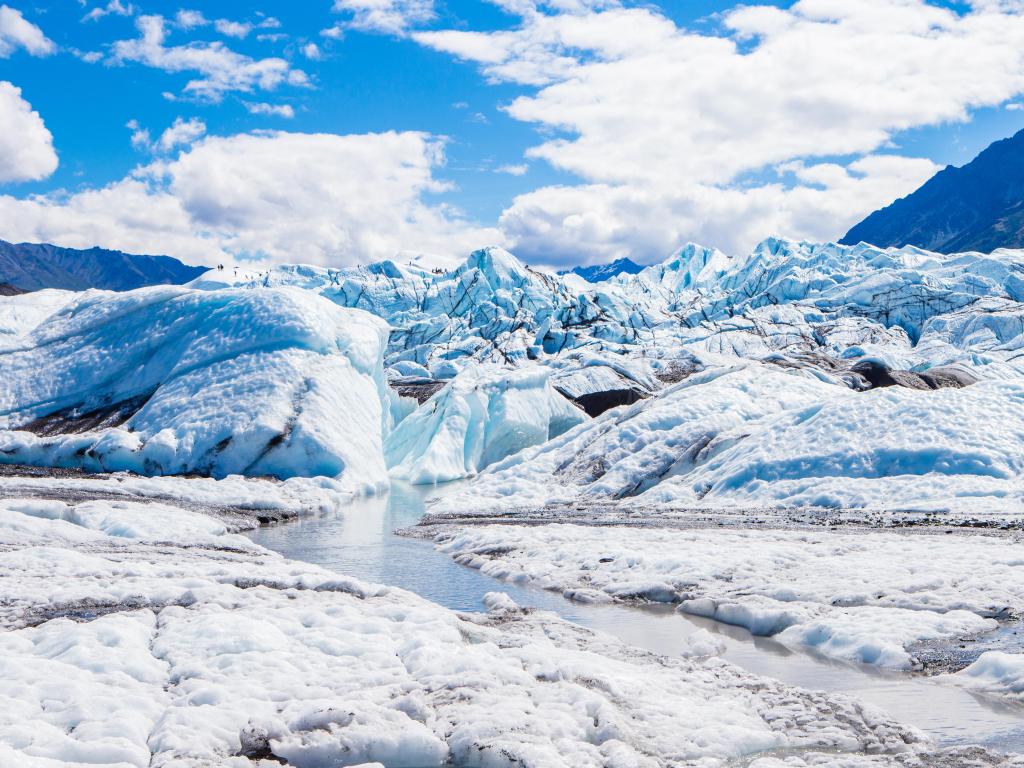 Best time to go on a road trip from Anchorage to Denali
Unlike most destinations, Alaska is unique because of its latitude - it's so far north that for half the year, it's mostly covered in darkness, and the other half, the sun barely sets!
Naturally, this greatly affects when a favorable time to visit is and when sights and lodging are even open. Primary tourism is during summer when you can get between 19 and 21 hours of sunlight.
After November and through January is when the least amount of sunlight - around 4 hours - occurs, so just about everything is closed. This makes the ideal time frame to visit between May and September.
If you're a wildlife lover, June is the month to visit because that is also when the local creatures come out! July is when you'll have the warmest temperatures (keep in mind, "warmest" is about 66 degrees Fahrenheit, so dress appropriately).
August is when a swift drop in temperature begins. Keep in mind, too, that the summer months are when the tours, dining, sports, and other activities are most available. This means that you will find the national park crowded and hotel prices higher.
What about Spring and Autumn? Like much of the northern hemisphere, March to May is when you see the snow melting. Temperatures range between 13 and 57 degrees Fahrenheit.
As for Autumn, it's chilly but doable until late October - the range is similar to Spring temperatures. Want to catch the Northern Lights? Scope out September - that's when they're at their best!