Road Trip from Anchorage to Seward
If you're looking to get out of the city and breathe in the fresh mountain air, this adventure from Anchorage to Seward is the one for you. En route, you'll discover a wealth of wildlife, alpine lakes and mountain ranges, with great hiking and fishing spots.
The 130-mile road trip from Anchorage to Seward takes 2 hours and 30 minutes to drive. Highlights include Chugach State Park, Kenai Peninsula and Moose Pass. You can also detour via Lands End Way to Russian River Falls, Anchor Point and Kachemak Bay.
Adventure lies around each bend of this journey, with countless lakes and mountain pathways to explore. Keep reading for more information on how to plan this scenic trip.
How far is Seward from Anchorage, and how long will the road trip take?
Comparison of road trip routes between Anchorage and Seward
Route
Distance
Driving Time
Direct Route
130 miles
2 hours 30 minutes
Lands End Detour


Travel time and distance is for the entirety of the route

400 miles
8 hours
The Direct Route is the fastest way to get from Anchorage to beautiful Seward and Kenai Fjord National Park. This route is 130 miles long and will take 2 hours and 30 minutes to drive, so it can be completed in a single day if needed.
Alternatively, there is the option to take a scenic diversion via the Lands End Detour and take in even more of Alaska's lakes, peaks, and forests. This diversion is 400 miles in total and takes the length of the trip to just under 8 hours.
There is so much to explore along both routes that we'd recommend making this trip over 2 or 3 days so that you have a chance to soak up the incredible nature and enjoy the outdoor activities on offer.
Best road trip route from Anchorage to Seward
Both routes take you through Alaska's untamed wilderness and offer drivers endless opportunities for lake walks, fishing, and forest hikes.
On the Direct Route you can hike through the Chugach State Park and discover native wildlife in the Kenai Peninsula. If you're pressed for time it's a great way to get a feel for Alaska.
For travelers with more time on their hands, the Lands End Route also takes you through the remote beauty of Kachemak Bay and Lands End Way, where you can try your hand fishing in some of the world's top fishing spots.
It's worth keeping in mind that the diversion to Lands End Way more than doubles the trip in length and distance.
The Direct Route
From Anchorage, take the AK-1 south as it stretches along the beautiful Alaskan coastline. Make a stop in Chugach State Park to hike trails through glaciers and snow-capped peaks.
You'll reach the tip of the Turnagain Arm, where you can get out to visit the Alaska Wildlife Conservation Center. Continue on AK-1 as you pass the Kenai Peninsula welcome sign. You'll drive down the Turnagain mountain pass and past the Seward Highway Falls, both of which make great photo stops.
At Tern Lake, keep left to continue on State Highway 9, which takes you to Moose Pass. After you've had your fill of this picturesque town, head south on State Highway 9 to reach Seward.
The Lands End Route
Take the AK-1 south from Anchorage and follow it through Chugach State Park to loop round the tip of Turnagain Arm. Continue on the AK-1 as you enter the Kenai Peninsula.
For the detour, take a slight right to stay on the AK-1 which takes you via Kenai Lake to Cooper Landing - a great stop for fishing. Head west on AK-1 as you pass Sterling. After Soldotna you'll reach the Kenai National Wildlife Refuge, a chance to stop and go hiking, canoeing and wildlife-spotting.
Continue on the AK-1 along the coast of the Cook Inlet until you reach the rural town of Anchor Point. From here, continue on the AK-1 and take the exit for Homer.
Pick up the AK-1 south and take in the breathtaking views of Kachemak Bay until you reach Lands End Way.
To reach Seward, retrace your steps by picking up the AK-1 going north and follow the road all the way to Tern Lake where you can turn right onto State Highway 9. Continue on this road through Moose Pass and down to Seward.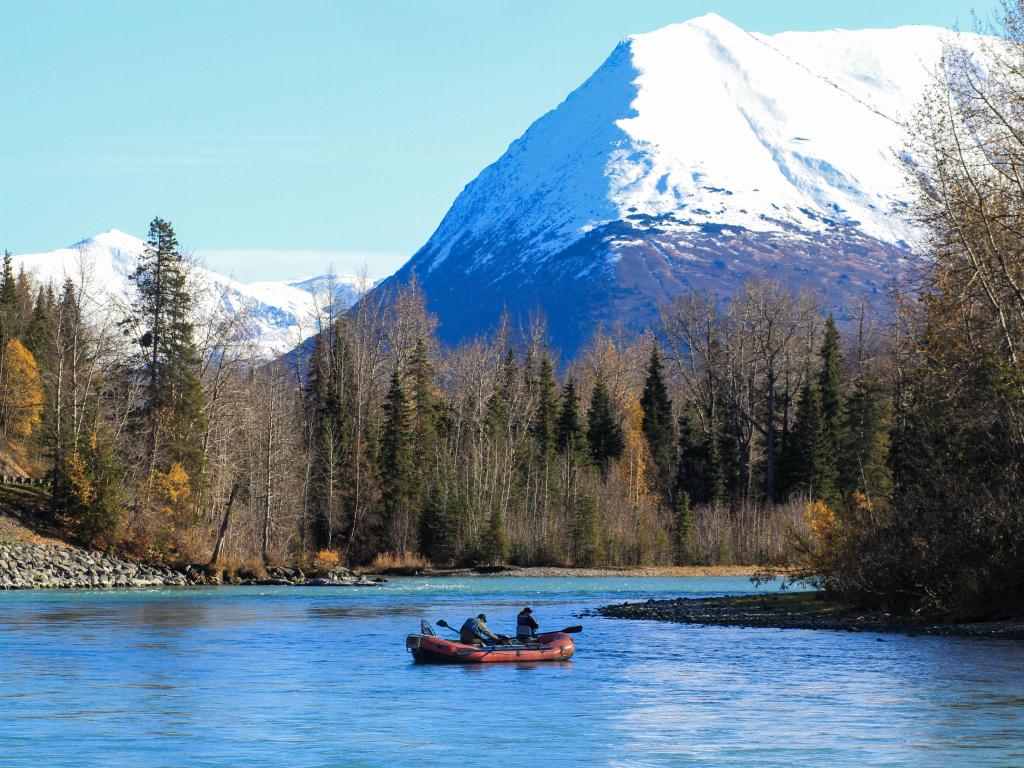 Best places to stop between Anchorage and Seward
Whichever route you take, you'll be tempted to stop the car every few minutes to take in the incredible scenery. To help you stay on track, we've rounded up our pick of the best places to get your fill of Alaskan wildlife, outdoor activities and picturesque towns.
Take in the view of Summit Lake
An hour and a half into both routes, Summit Lake is a convenient stop located by a beautiful lake. Whether you'd like to go hiking, skiing or paragliding, this lakeside spot has it all. This beautiful area boasts a sweeping backdrop of mountains and valleys that spring to life in the summer months.
It has some magnificent walking trails, including the Lake Summit Trail which leads to panoramic vistas of the Willow Creek Valley, or the Johnson Pass trail which meanders over a 1550-foot alpine pass.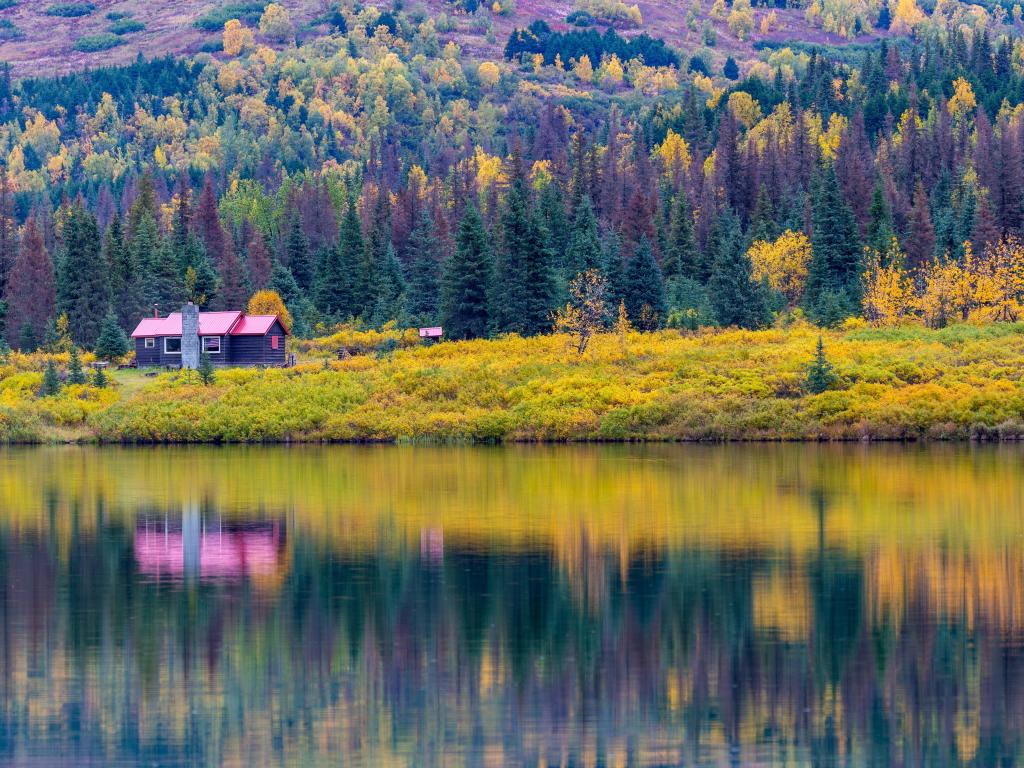 Visitors can explore the crystal waters of the lake by kayaking, canoeing, or swimming if they can brave the cold! You can also go wildlife spotting at the picturesque Tern Lake with rich in wildlife including swans, bald eagles and Arctic terns - maybe even moose or brown bears if you're lucky to spot one!
Situated right on the lake, Summit Lake Lodge offers peace and quiet in self-contained cottages, as well as access to a range of recreational activities such as canoeing, kayaking, fishing, paddle boarding, and horseshoes.
A fantastic on-site restaurant offers guests the best of Alaskan cuisine, with fresh Alaskan seafood and steaks.
Located on the banks of Lake Summit, you couldn't get much closer to the action! Crescent Lake is less than an hour away by car, with Tern Lake and Johnson Pass Trail just 15 minutes away in neighboring Moose Pass.
Hit the beach in Homer
Make the most of the Lands End Detour and spend some time in Homer to explore the Homer Spit and its wild Alaskan beaches. Known for its cerulean bay, fantastic fishing and bear-watching opportunities, Homer also offers fantastic seafood, brews, and baked produce.
You can explore the coastal Homer Spit, filled with art galleries and seafood restaurants, as well as excellent views of the bay. Spend time on Bishops Beach, a sandy shore perfect for a picnic or beach walk.
The Kachemak Bay State Park houses glaciers, rivers, and waterfalls and offers visitors a wealth of breathtaking natural scenery. Take a boat along the 10-mile coastline for your chance to see puffins, eagles, sea otters, porpoises, and whales.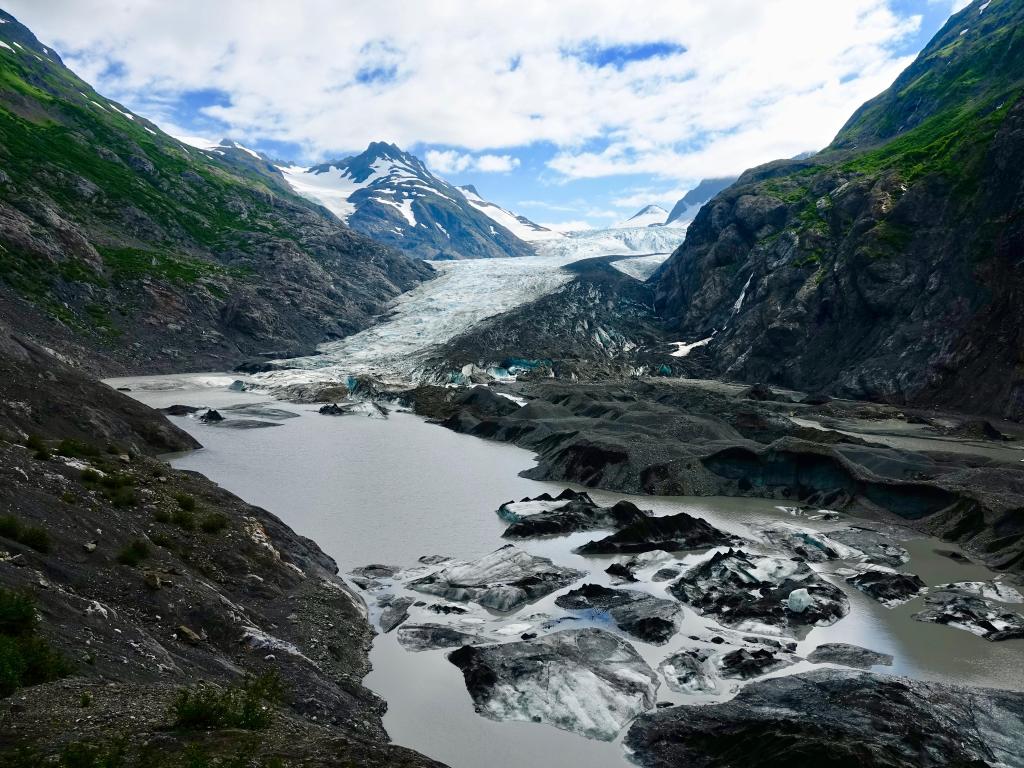 The Seafarer Suites is the perfect spot to explore Homer and Lands End Way, and all the beautiful natural scenery the area has to offer. Their stylish suites offer guests sea views and close proximity to the beach.
The hotel is just a short walk away from the Islands and Ocean Visitor Center, 10 minutes away from Homer Spit by car, and a 25-minute drive from Kachemak Bay.
Where to stay when you reach Seward
Once you reach Seward, you'll want to spend a night or two exploring the unparalleled natural beauty of the town and its surroundings.
The Gateway Hotel is a serene base offering views of Mount Marathon from the comfort of your room and is a perfect base to explore the breathtaking Kenai Fjords National Park.
Sandwiched between the mountain and the sea, the hotel is within walking distance of Seward Boat Harbor, Alaska SeaLife Center, and Waterfront Park.
Things to see on a road trip from Anchorage to Seward
There are countless opportunities to get out of the car and immerse yourself in the natural wonders of this stunning part of the world. Follow your senses, but if you need some inspiration, read on for our favorite places to stop along the way.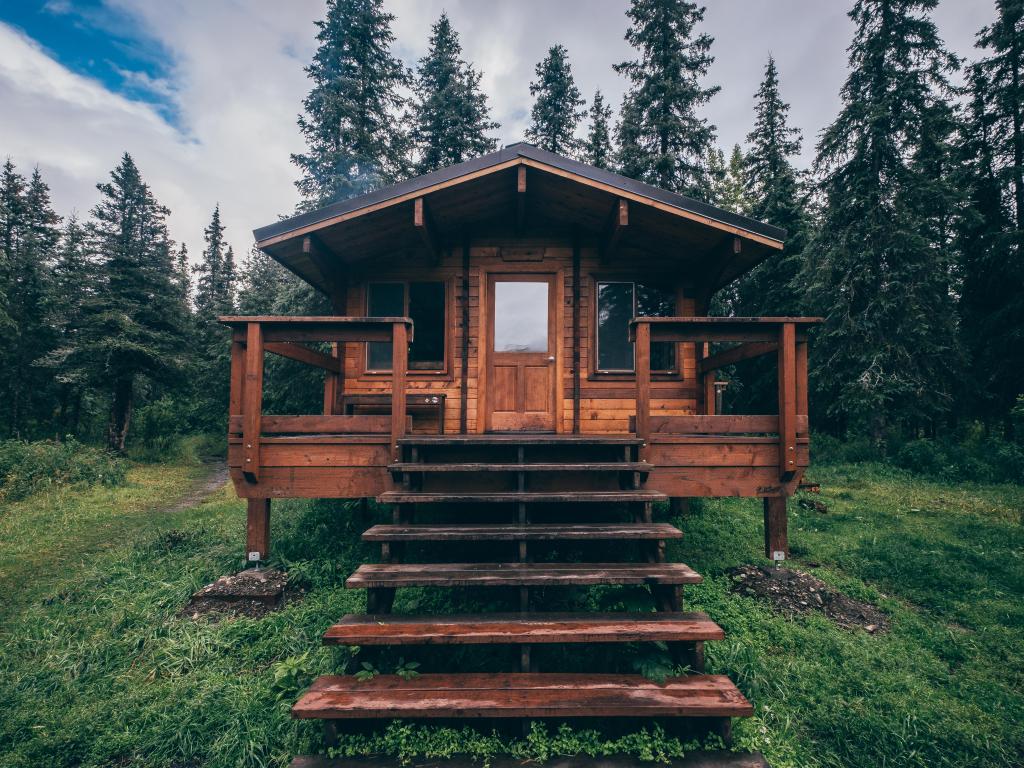 Both routes
Beluga Point - This rocky outpost is named for the white whales that can be spotted in the summer months when the Cook Inlet waters are rich with salmon.
Bird Valley Trailhead - Hike this relatively easy hiking trail that will take you through Bird Creek, and then towards Grizzly Bear Lake and Moraine Pass. Beautiful natural views are on offer here of dense forests and snow-capped ridges.
Chugach State Park - This huge state park stretches across to the coastline and covers dense alpine forests, glaciers, snow-capped mountains, lakes, and rivers. There is a wealth of hiking and biking trails on offer here and something to suit all abilities.
Alyeska - Alaska's largest ski area, Alyeska is home to the longest double black diamond run in North America. However, it has runs to offer everyone, from beginners to pros!
Alaska Wildlife Conservation Center - A refuge for wounded and orphaned wild animals, this is your chance to get up close to Alaska's incredible wildlife, and support the work of this incredible organization.
Seward Highway Falls - Experience the cascading waterfalls that sit alongside the highway en route to Seward.
Johnson Pass Trail - Welcome to the Kenai Mountains! Explore the area with well-marked trails in the lush mountain pass, with gradual climbs, impressive peaks, and deep gorges rich with wildlife and plants. This trail is steeped in gold rush folklore, with many of the trails following the original roads that linked Seward with the boom towns of Sunrise and Hope.
Summit Lake - Mirroring its stunning surroundings on bright sunny days, Summit Lake Trail takes hikers through meadows of wildflowers, mountain views and wildlife sightings around the glistening alpine lake.
Moose Pass - Nestled in the heart of the Kenai Peninsula, Moose Pass is a haven for hikers and nature lovers. Sitting on the shores of Trail Lake, Moose Pass is a gateway to endless lake walks, each boasting a unique scenic experience.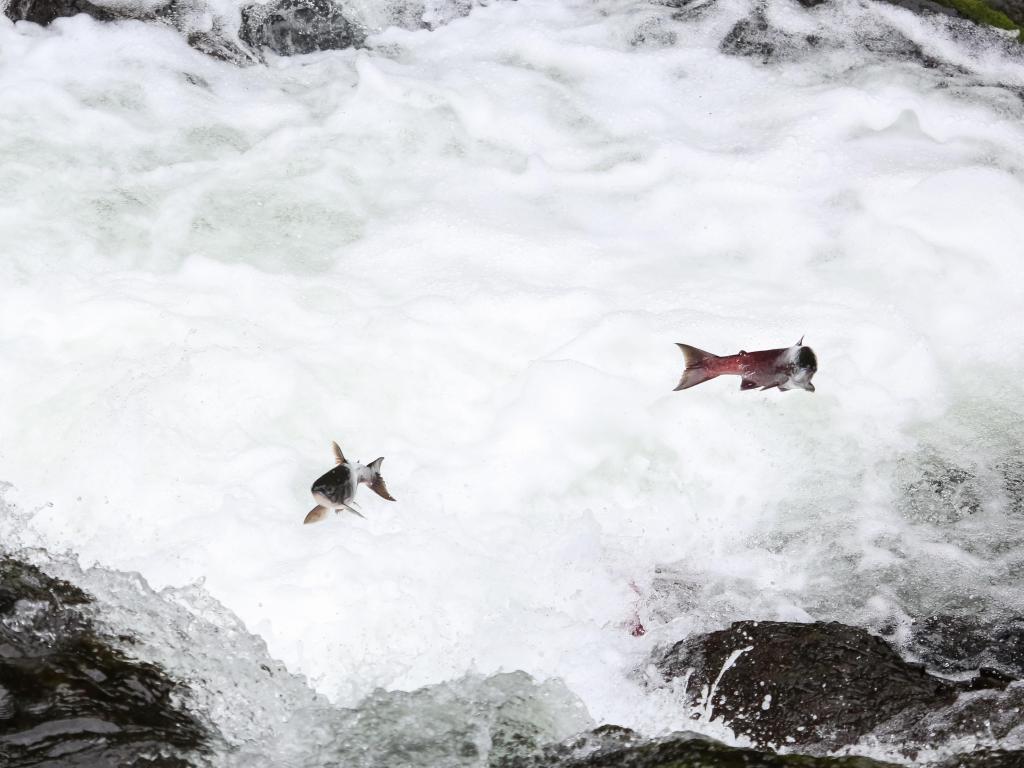 Lands End Detour
Cooper Landing Cliffs - Hike across the top of the Cooper Landing Cliffs for spectacular views across Kenai Lake and the snow-capped mountains that surround this area.
Russian River Falls - An easy two-mile trail leads you to salmon-rich rich waters that lure bears out of the woods. Keep your eyes out for salmon leaping out of the water!
Sterling - A hotspot for those looking to get out onto the water, Sterling is a popular spot for canoes to paddle the wild waterways of the Kenai National Wildlife Refuge. Anglers also descend on Sterling every year to attempt to land trophy king salmon.
Kenai National Wildlife Refuge - Stretching across the western Kenai Peninsula, this refuge covers the steep slopes of the Kenai Mountains, forested lowlands, rivers, wetlands, and a huge chain of lakes. From fishing and hunting to hiking and cross-country skiing, there is plenty to do, as well as opportunities to see some of Alaska's incredible wildlife.
Kasilof - A must stop for anglers, fishing is the lifeblood of this remote Alaskan community, featuring lakeside beaches, stunning vistas and mighty rivers.
Anchor Point - Renowned for its incredible snow-capped scenery, Anchor Point is world-famous as a destination for sport fishing.
Homer - Spend time chilling on Bishops Beach and immerse yourself in the thriving art scene in one of the many art galleries that line Homer Spit.
Kachemak Bay - Explore the state park by boat or by foot, and come here for incredible wildlife encounters and awe-inspiring scenery.
Lands End Way - Boasting an abundance of Halibut and world-class fishing, Lands End Way sits at the end of the Homer Spit offering breathtaking views of Kachemak Bay.
Best time to go on a road trip from Anchorage to Seward
Seward is open and ready for visitors all year round, with the weather staying fairly cold for the whole 12 months. While Seward doesn't shut down for the winter, days can be too short to enjoy the many outdoor activities the area has to offer.
While the scenery is stunning all year round, it's worth keeping in mind that some roads may be closed under heavy weather conditions so it's always worth checking before traveling.
If you're keen to go hiking and enjoy water-based outdoor activities, summer is a great time to make this trip. Average daily temperatures in Seward sit around 56 degrees Fahrenheit, with July seeing the hottest temperatures of 61 degrees.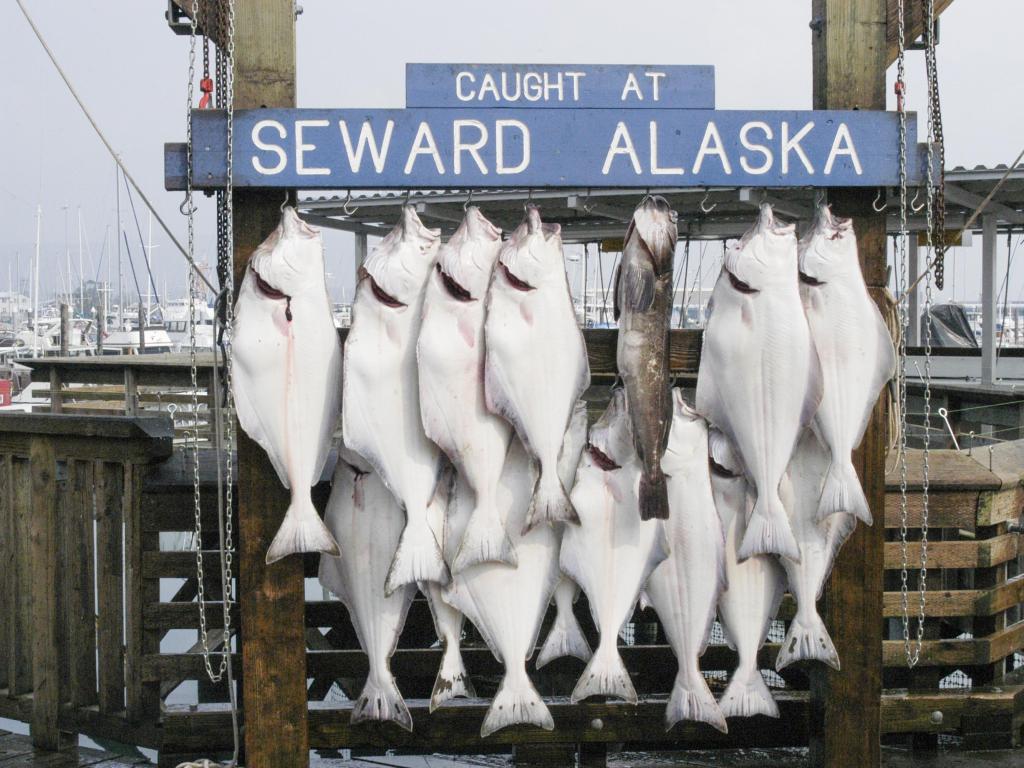 Summer offers beautiful weather for hiking through Kenai Fjords National Park, or whale and orca watching at Resurrection Bay. In June, Seward's Halibut Tournament attracts anglers from all over North America and beyond.
Seward comes to life with skiing and winter snowshoeing in the winter months, and glacier tours are another fantastic winter attraction. The cold season runs from November to mid-March, where average temperatures sit below 37 degrees Fahrenheit.
Spring is a quiet time of year in Seward, once the winter sports crowd has left and before the summer cruises arrive. Daily temperatures in Spring rarely fall below 34 degrees and can reach highs of 56 degrees.
Fall temperatures are about the same as spring, and the stunning colors of fall transform the foliage along the route with rich hues of red, orange, and gold. No matter what time you choose to do this road trip, you will be in for a treat.