Is the Drive from Anchorage to Seward Dangerous?
Positioned on an inlet on the Kenai Peninsula, by the glistening waters of Resurrection Bay, Seward is one of Alaska's most popular tourist destinations and serves as the gateway to Kenai Fjords National Park. It's easy to see why the two and a half hour drive from Anchorage to Seward is a tempting prospect for those visiting Alaska. But is it dangerous?
While you may be hesitant about driving from Anchorage to Seward, this 130-mile route along the Seward Highway is well maintained and frequently traveled, so you can be confident about your drive as long as you exercise caution - particularly in snow or ice.
Alaska sees more than its fair share of snow and ice in winter - and you're likely to encounter plenty of wildlife on this remote part of the US - so it's a good idea to be well prepared before embarking upon a journey from Anchorage to Seward and plan your travel for the summer months if possible.
Keep on reading to find out our top tips to help you prepare for a safe and worry-free trip.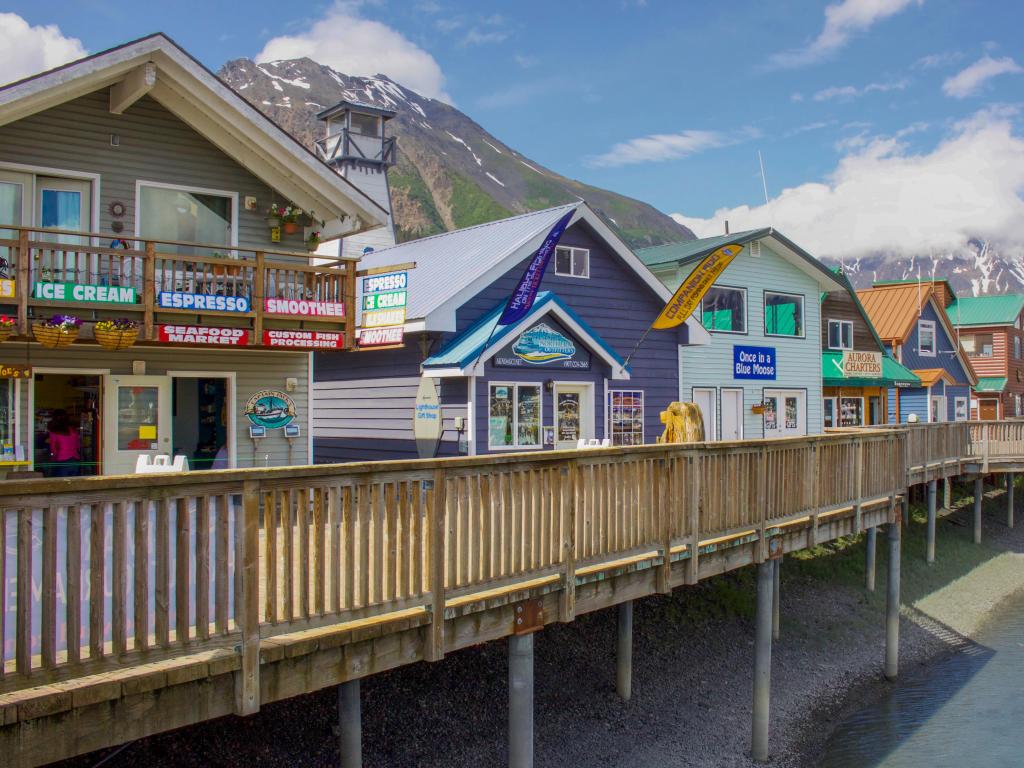 Where is Seward located, and why might the drive there from Anchorage be challenging?
Anchorage and Seward are both coastal cities, located in the state of Alaska, in the USA. While Anchorage is situated on the Cook Inlet, in the south central part of Alaska, Seward lies further south on the direct shores of the Gulf of Alaska, which touches the North Pacific Ocean.
Seward is bounded on the west by Kenai Fjords National Park, to its the south by the ocean and to the west by mountains and the imposing Godwin Glacier.
As you can imagine, the drive from Anchorage to Seward is incredibly scenic. Beautiful parks, mountains, ocean views, and quaint towns make this an enticing trip. Portage, Whittier, and Tern Lake are all great stops en route.
Despite this obvious appeal, however, the trip does have its challenges. You will certainly encounter ice and snowy conditions in winter, due to the harsh Alaskan climate.
Wildlife in the road can also be a hazard, especially for those not used to these creatures and their behavior. The Seward Highway is an undivided highway, meaning that obstructions can be disruptive in both directions, and accidents are not uncommon.
As a result, we recommend that, if possible:
Plan to travel during the warmer months to avoid snow and ice on the road.
Travel during the day for better visibility of other traffic and wildlife.
Always follow the recommended speed limits and use a GPS or way finder app to warn you of upcoming traffic and hazards.
Check road conditions before on the Alaska Department of Transportation website.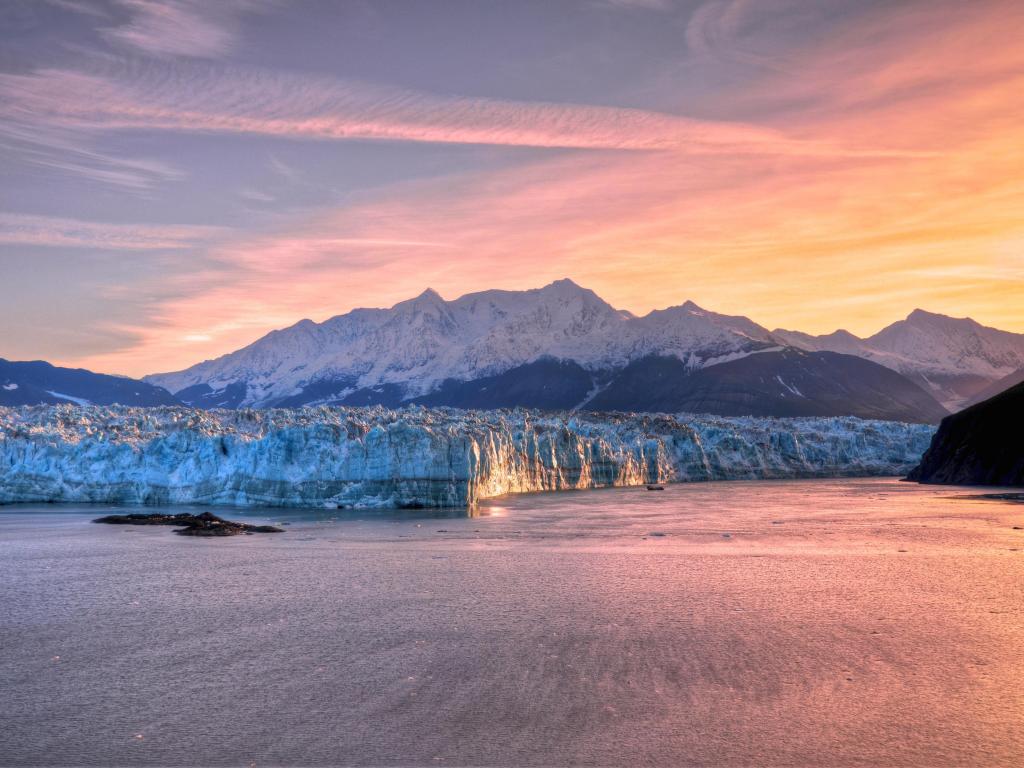 There are no other destinations to drive to beyond Seward and Lowell Point. Seward is the only town in the vicinity. Many people travel to Seward by boat, approaching from the Gulf of Alaska via another harbor town, or all the way from a cruise ship which anchors offshore.
Which route should I take from Anchorage to Seward?
There is only one route from Anchorage to Seward and that's the Seward Highway, or AK-1 S and State Hwy 9.
Comparison of route options from Anchorage to Seward

| Mode | Route | Drive time |
| --- | --- | --- |
| Driving | Seward Highway - 127 miles | 2 hours 30 minutes |
| By train | Alaska Railroad | 4 hours |
You can also take the train to Seward from Anchorage. More on that below.
Taking the driving route, there are some opportunities to exit the highway and take smaller roads to see sites and other towns, but the highway is the only direct route and you must drive on it for almost of the way from Anchorage to Seward.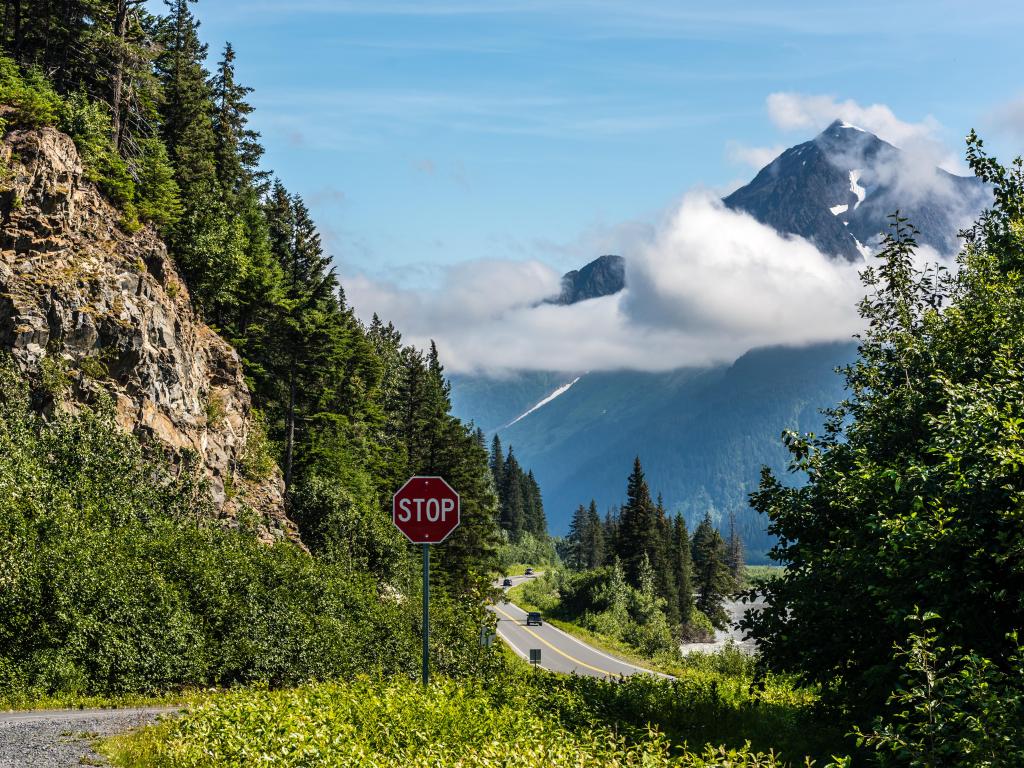 Driving on the safest route to Seward from Anchorage
The only sensible route for a drive from Anchorage to Seward is on the Seward Highway.
Leaving Anchorage, get onto Highway 1 (AK-1) heading south and stay on this road for just under 90 miles, until you reach Tern Lake. Here, you'll keep left to take Highway 9, past Upper Trail Lake and through Moose Pass. You'll stay on Highway 9 for around 37 miles, after which you'll reach your destination, Seward.
As you can see, the route is very straightforward and won't be a challenge in terms of navigation. What might be more tricky, however, are the road conditions, especially at certain times of year.
Driving the Seward Highway from Anchorage
The Seward Highway is a two-lane, undivided road, with shoulders providing extra stopping opportunities. It has occasional view turnouts, meaning that the highway has no passing lane, but there is a hashed line to demarcate safe passing zones. The road can have some slight curves, but as a state highway it is pretty direct.
There are some portions of the road that are bordered on one side with the water and can have a higher altitude drop off. Fortunately, the road has guard rails at all these points. There is no mountain driving on this route as you will be passing through the valley or at sea level the whole way.
The route from Anchorage to Seward is generally clear in summer, spring and fall months. In winter the Seward Highway can be icy and snowy, although it is cleared and deiced frequently.
The speed limit is 45-60 mph, depending on the stretch of road and its specific conditions. There are many scenic parks and turn offs to trailheads you can use as rest stops, so you really can feel free to pace yourself and take your time on this trip.
There are inns and hotels along the way, such as the Inn at Tern Lake, if you'd like to take things slowly or hole up until adverse weather conditions pass.
There are some gas stations in between Anchorage and Seward, but we recommended you stop in Anchorage before you leave, mainly to reduce hassle and distractions along the way. Cell phone coverage should be good, so there's no need to worry on that front.
Things to know that can impact the drive from Anchorage to Seward
As we've said, the route from Anchorage to Seward is very straightforward. There's only one direct route option (via the Seward Highway) which makes planning your trip a breeze when it comes to navigation.
That being said, there are things that you should consider to ensure that the journey itself is as safe as possible:
While it's not required, chains and/or winter tires are helpful on this highway and on all roads during winter in Alaska. Don't be tempted to go without.
Be mindful of traffic hotspots:
The turn off to Whittier on Portage Glacier Road is a popular intersection, which means there may be more traffic, as well as people walking and stopping along the highway.
There may also be traffic at the Tern Lake - Highway 9 intersection, so be mindful of other cars as well as pedestrians and sightseers. The area around the Lake is a scenic spot as well as a junction, so there will often be congestion.
You can also expect traffic as you enter Seward. Prepare to slow down and stop frequently.
The entirety of this route can have sheet ice, rough icy patches, snow, and wet icy road conditions in cold winter temperatures, so be sure to check for local weather and travel advice before you set out on your trip.
Tips to drive from Anchorage to Seward in the safest way
Taking all this information into account, there are a few things you can do to make the drive from Anchorage to Seward as safe as possible.
Take common-sense precautions and prepare in advance for your trip: make sure you have food and water with you in your vehicle, check local weather, traffic and travel advisories on the day or travel, and please do not set out if you are at all concerned about conditions.
When it comes to the journey itself, always drive with lights on, consider using your horn as a caution on bridges and overpasses, and make sure you decrease your speed during winter. Travel during daylight hours if at all possible, and during summer if that's an option.
If you must travel from Anchorage to Seward during the winter months:
Make sure your vehicle is fitted with winter tires and chains in winter.
If you're hiring a car, make sure you get a vehicle with winter tires and 4-wheel drive
Be sure to stay back from snow removal trucks and snowplows.
Do not drive in cold rain or ice. Stay in a hotel in Seward or Anchorage instead.
Whenever you travel, be mindful of traffic, especially around the hotspots mentioned above. Try to avoid traveling on weekends if possible, as congestion is likely to be worse at this time.
Make sure you have adequate fuel for your journey. Fuel up in Anchorage to avoid running low.
We always recommend doing a "virtual drive" using Google Street view so that you can prepare yourself and "see" the route for yourself beforehand.
It also helps to have two designated drivers to share the load so you can stay fresh, and take turns looking at the amazing sights out the windows!
Alternatives to driving yourself from Anchorage to Seward
If you are still concerned that the drive from Anchorage to Seward is dangerous, you could also take a bus or train along this same route
Theoretically speaking, traveling by train can be safer than self-driving, especially if you are particularly nervous about driving in more remote environments or during inclement weather. The Alaska Railroad is a great alternative to driving, with beautiful scenic views to enjoy.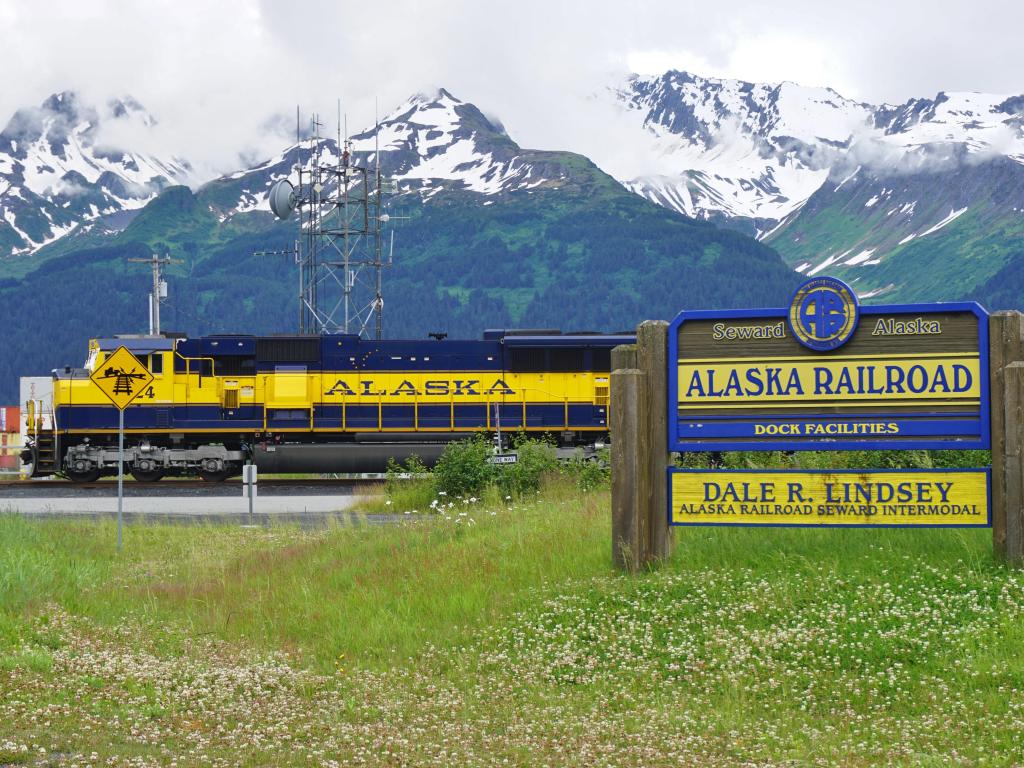 You can also arrange a private transfer from Anchorage to Seward, where any stress of the drive will be someone else's concern! There is also the option of flying to Seward from Alaska. Both flying and private transfers are expensive options compared to driving.
Best time to drive from Anchorage to Seward
As we hope is clear from this guide, the drive from Anchorage to Seward is generally safe, but it definitely safest in the summertime.
Winter brings icy conditions so you will need to exercise extra caution when making your journey to Seward. It is also dark for many hours during winter in Alaska, so road conditions can be more challenging at this time, simply due to visibility.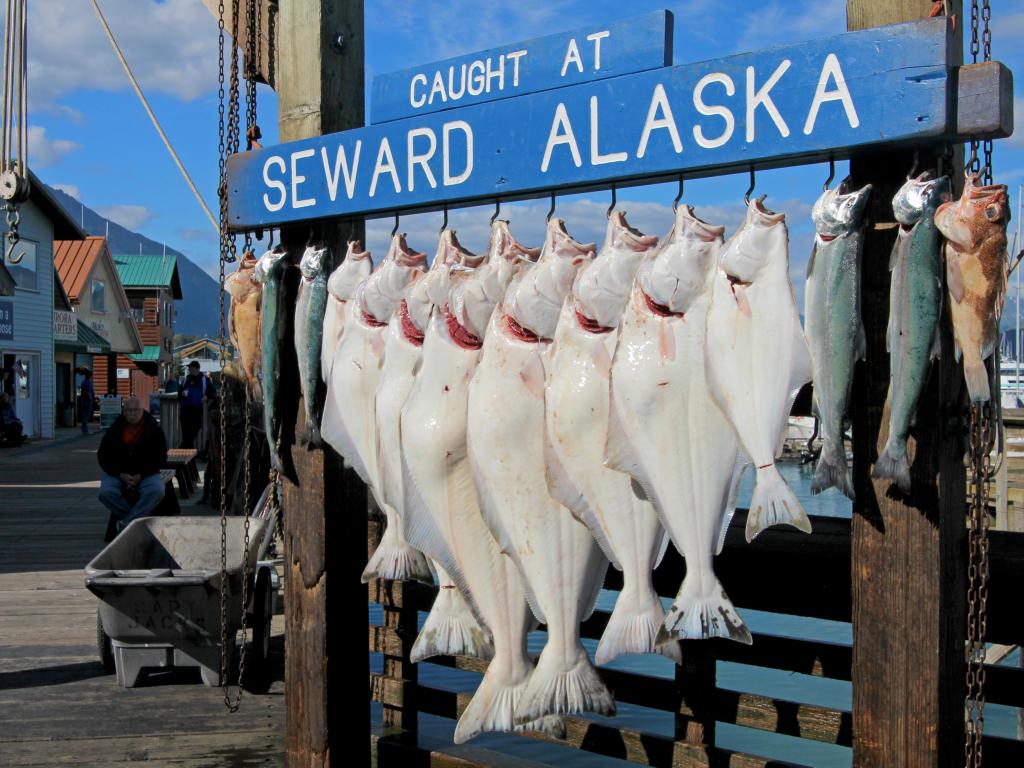 In summer, road conditions on the route from Anchorage to Seward should be great. The flipside to this, however, is that you'll find there is more traffic on the road, making it more difficult to find pull offs and parking spaces.
As with all beautiful parts of the world, there will be more tourists making the drive during nice weather - and there'll also be more active wildlife to be aware of. So stay alert, prepare well, and enjoy your trip!