Can You Drive To Alaska From The United States?
The question of whether you can drive to Alaska from the rest of the United States comes up a lot with many people asking if you have to get a ferry or if there are passable roads through remote parts of Canada.
You can drive to Alaska from anywhere in the United States except Hawaii. From the majority of USA, you need to take the Alaska Highway from Dawson Creek in British Columbia except California, Oregon and Washington State where the Dease Lake Highway is a better route to Yukon.
Read on to get a full guide for how you can drive to Alaska from the United States.
The Alaska Highway that allows you to drive from the United States to Alaska
There is only one major road that you can take to drive to Alaska and that is the Alaska Highway. Regardless of where you start in the United States or Canada, you will eventually join the Alaska Highway.
I even double checked to see if there was a theoretical way of avoiding the Alaska Highway and the answer is no. Even if you take the longer and slower route north via the Robert Campbell and Klondike Highways, you will still have to use the Alaska Highway to get to Watson Lake.
The Alaska Highway first opened to the public in 1948 - it was built during World War II to connect the Lower 48 States to Alaska without the need to take to the sea.
The three roads that make up the highway are British Columbia Highway 97, Yukon Highway 1 and Alaska Route 2.
Although the original road was difficult to drive and was 1,700 miles (2,700 km) long, it has improved continually over time and today it is fully paved all the way and has been shortened to just 1,387 miles (2,232 km).
Driving to Alaska from the United States
There are 4 different routes to Alaska depending on where in the United States you are starting your journey from.
The vast majority of the United States will take the route that enters Canada at the Portal or Fortuna border crossings in North Dakota. Those who live on Mountain Standard Time will go through Montana's Sweetgrass or Piegan–Carway crossings and those who live on the West Coast will enter Canada at Sumas near Vancouver.
The only difference is for those who live in Maine where the best way to drive to Alaska is by following the Trans-Canada Highway but we're talking about 4,500 miles of driving one way. Check if you really want to do that vs. taking a flight and hiring a car at the other end!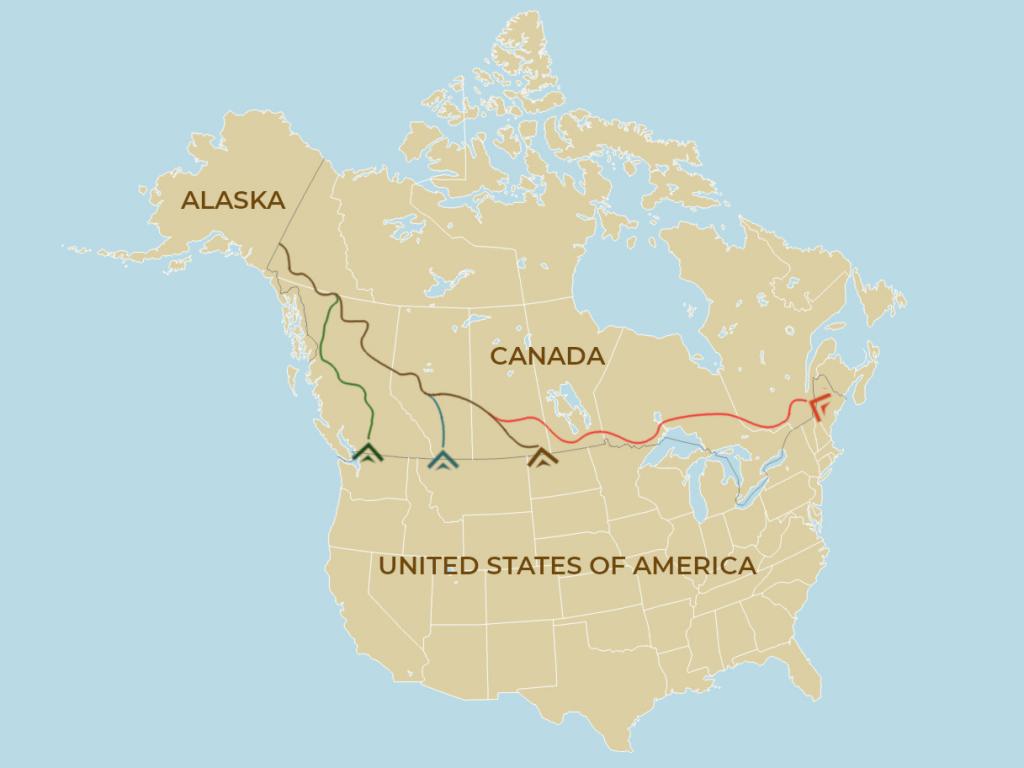 How long is the journey from the United States to Alaska?
The journey length will depend a lot on where in the United States you are starting from. The part of the journey through Canada will take at least 33 hours on the road.
Even if you're driving long stints, it will take you at least 4 days to do the journey unless you're swapping drivers and are happy to sit in the car all day.
The drive from the border with Alaska to Anchorage is another 8 hours so add another day onto your plan if that's where you are headed.
Make sure you bring maps or have them downloaded on your device before you drive - the majority of the way through northern Alberta, British Columbia and Yukon will have no cell coverage except when you reach some bigger settlements.
To give you a quick estimate of how long the journey will take from some major US Cities, check the table below - it assumes you are going from the U.S. City to Anchorage and we're assuming up to 8 hours of driving per day before accounting for stops:
Time taken to drive from different U.S. Cities to Anchorage, Alaska, assuming up to 8 hours on the road per day.

| Starting City | Distance | Driving Time |
| --- | --- | --- |
| Chicago, IL | 3,579 miles | 60 hours (8 days) |
| Dallas, TX | 3,896 miles | 66 hours (9 days) |
| Los Angeles, CA | 3,395 miles | 60 hours (8 days) |
| Miami, FL | 4,963 miles | 80 hours (10 days) |
| New York, NY | 4,377 miles | 72 hours (9 days) |
| Seattle, WA | 2,260 miles | 43 hours (6 days) |
How you can drive to Alaska from California, Oregon and Washington State
Almost everybody driving from the United States to Alaska will enter Canad from North Dakota and proceed on the Regina - Saskatoon - Edmonton route before eventually joining the Alaska Highway in Dawson Creek.
Those who live in western States such as Nevada, Arizona, Colorado or Idaho will follow a slightly different route through Montana and Calgary but still join up with the above route before the Alaska Highway starts.
The only states where there is a viable alternative route are the 3 states that sit along the Pacific coast - California, Oregon and Washington State.
From here, you can still get onto the Alaska Highway from around Dawson Creek and given the length of the journey, you might choose to do that - the road is generally wide and straight and makes the long journey relatively straight-forward.
However, there is an alternative route that is about 2 hours faster.
This route is super scenic - the road will go through mountains, forests and beautiful scenery, but it is full of twists and turns, the road is narrow and it can be difficult to overtake for long stretches. If that sounds good to you, then head north and cross into Canada at the Sumas crossing north of Seattle and east of Vancouver.
From there, follow the Trans-Canada Highway north to Cache Creek and then continue heading north along Cariboo Highway (BC-97). When you reach Prince George, take Yellowhead Highway heading west (BC-16) and follow it until Stewart-Cassiar Highway (BC-37) forks north at Kitwanga.
A couple of days' worth of driving (or one very long day!) you'll cross into Yukon and join the Alaska Highway straight after which then follows all the way to Alaska.
Can you drive to Alaska in the winter?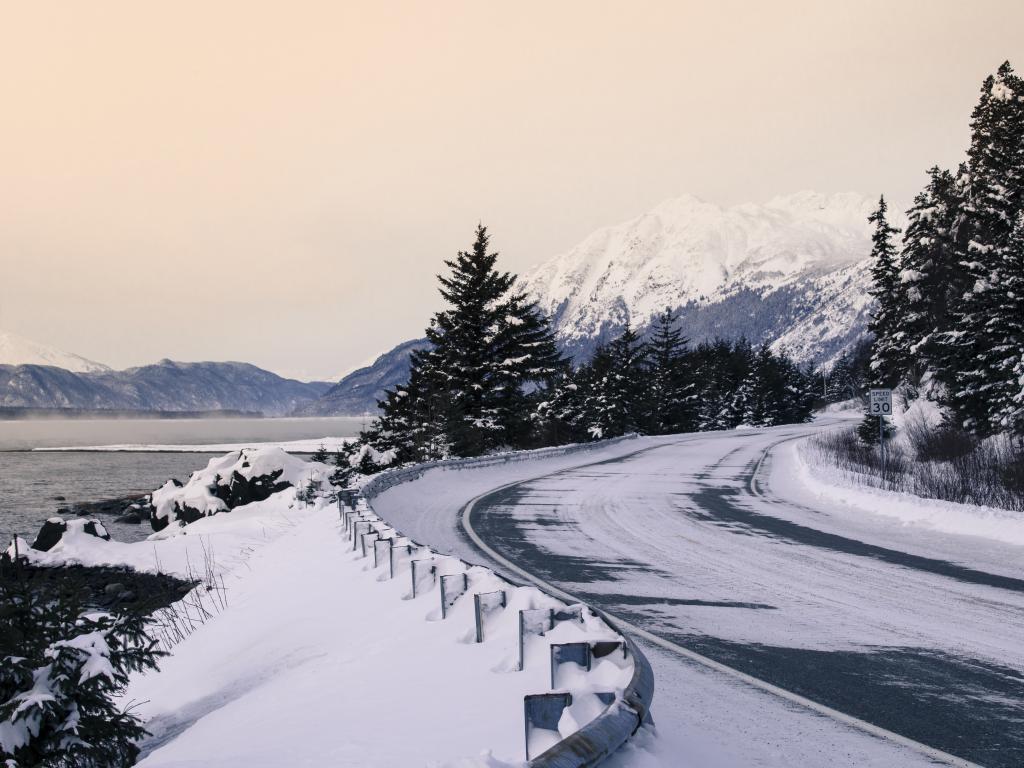 It is possible to drive from the contiguous United States (the lower 48 States) to Alaska in the winter, but the journey will take considerably longer and can be treacherous so make sure you are definitely ready for it before setting off.
The roads are paved all the way and they are pretty well maintained, but winter in remote northern parts of Canada can be very harsh so driving thousands of miles through the wilderness is not for the faint hearted.
The roads are generally clear, but ice and snow are always about so expect to be driving considerably slower than you would during the summer months.
The days get very short in the winter the further north you go and while you won't technically cross into the Arctic Circle, you can find yourself experiencing 24 hours of darkness in Yukon if you're driving around Christmas time.
Expect to take at least 50% longer to get to Alaska if you're driving in the winter although you may well take twice the time - if you come across a snowstorm, expect to wait until the following morning at the earliest for the road to be cleared.
A snowstorm in these parts can make the roads virtually impossible to drive through and you're best off stopping the night in a bed and breakfast.
It's also a great idea to not only have full winter tires, but to have big profile snow chains, spades to dig yourself out, wooden planks to get wheels unstuck and everything you might need to spend a night or two in your car including lots of warm layers, blankets and cans of spare gas.
The big piece of advice is that while you technically CAN drive to Alaska in the winter, you really shouldn't unless you have a really good reason to or your sense of adventure requires a very particular type of Adrenalin rush.
Can anyone drive to Alaska?
If you're not driving in the winter, the journey to Alaska can really be undertaken by anybody. You won't need any special training - the roads are long but pretty straight-forward as far as northern and mountain roads go.
Remember that there will be few towns or any civilization along the way. While that is amazing for seeing Canada's nature, it also means you will not have access to pharmacies, stores or other things you'll find in a normal city.
Bring everything you need with you and bring extras - if you have medical needs, specific foods or drinks that you need or anything else, make sure you stock up and restock your car when you have the opportunity.
The one thing to remember is that you will be leaving the United States and driving through Canada on the way to Alaska. This means you have to remember a few things.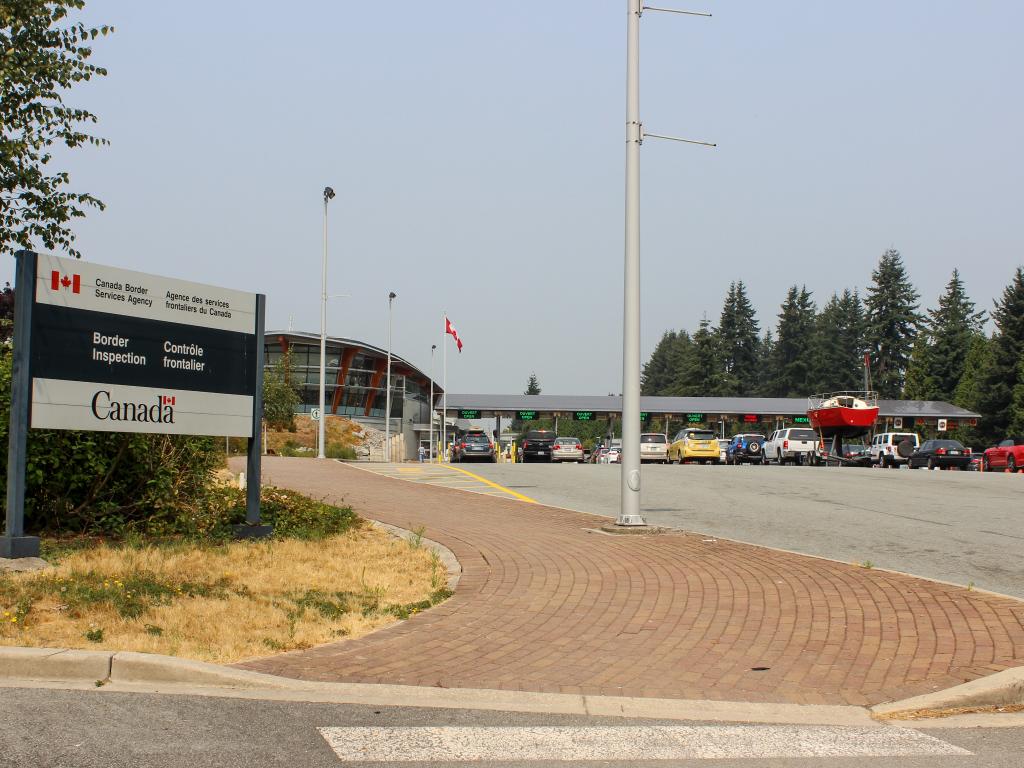 First - you'll need your passport and if you are not from the United States, you'll need to check whether you need to sort out a visa before you travel. Remember that if you're planning to come back too, you'll need to get the right multi-entry visa arranged.
If you have criminal convictions, you will have to declare them even if you are an American citizen. If the convictions are serious or recent, you may well not be allowed into the country.
Another thing to remember is that Canadians are not as happy about people driving around with guns as you might be. By far the best option is to leave any weapons at home. If you drive with one in the car, remember to take it out before setting off to avoid getting into trouble at the border.
You can get a permit through completing paperwork in advance, but it's a lot of hassle and you won't need your gun on your way - just don't get out of the car and walk over to shake the grizzly's paw if you see one by the side of the road.
Things you need to know to drive to Alaska
Although you can drive to Alaska from the United States through Canada, there are a few key things you should think about before you go to help you get there:
The journey will take you at least a week one-way. Assuming you want to spend some time in Alaska, you'll need at least a month to go, spend time there and come back.
You will be driving through Canada so make sure you can enter Canada and you follow their laws.
You will need to prepare your vehicle - it's a long way to go so make sure your tires have a lot of rubber on them, all your liquids are topped up, pack your tools, spare bulbs, spare fuses and a spare tire. You don't need a spare gas can - there's fuel stations spread out regularly along the way, but you might want to have one just in case.
You will see a lot of wildlife - let it be and don't get too close just to get a good photo. You might even see a bear near the road. If you do, leave it alone and keep on driving!
Bring a range of clothing. While it can feel pretty warm in the middle of the afternoon, the evenings and nights can get chilly even in the summer, especially if you are crossing the Canadian Rockies.
Make sure you have plenty of water and food in the car with you. If you break down somewhere without cell reception, you might have to spend the night in the car and then wait hours for a mechanic.
If you're driving in the winter, check our tips above but better still - don't do it and wait for the summer!