Road Trip from Anchorage to Fairbanks
If you've ever dreamed of experiencing Alaska's monumental energy and love the outdoors, this is the road trip for you. This road trip provides beautiful wilderness hiking opportunities, world-class fishing, and a chance to experience the natural light show of the Northern Lights.
The 360-mile road trip from Anchorage to Fairbanks will take just over 6 hours. You'll get to see Wasilla, Willow, Chugach State Park, Hatcher Pass, Denali State Park, Cantwell, Matanuska Glacier, Lake Louise and Denali National Park and Reserve.
You'll visit endless natural areas full of incredible wildlife like bears, moose and eagles. You'll also get the chance to see the breathtaking Northern Lights on your way from Anchorage to Fairbanks. Read on to learn more about what awaits you on this amazing road trip, plus where to stay and the best things to do en route.
How far is Fairbanks from Anchorage, and how long will the road trip take?
Comparison of road trip routes between Anchorage and Fairbanks

| Route | Distance | Driving Time |
| --- | --- | --- |
| Denali National Park Route | 360 miles | 6 hours |
| Scenic Lakes Route | 560 miles | 10 hours |
The Denali National Park Route takes roughly 6 hours to drive and covers 360 miles of the open Alaskan wilderness. This stunning route is the direct option but does not sacrifice scenery for time.
This more direct route misses out on the stunning scenery of the lakes. Another thing to consider before choosing this route is that Denali Park Road is under ongoing repairs until 2024. Visitors should check ahead before planning their visit.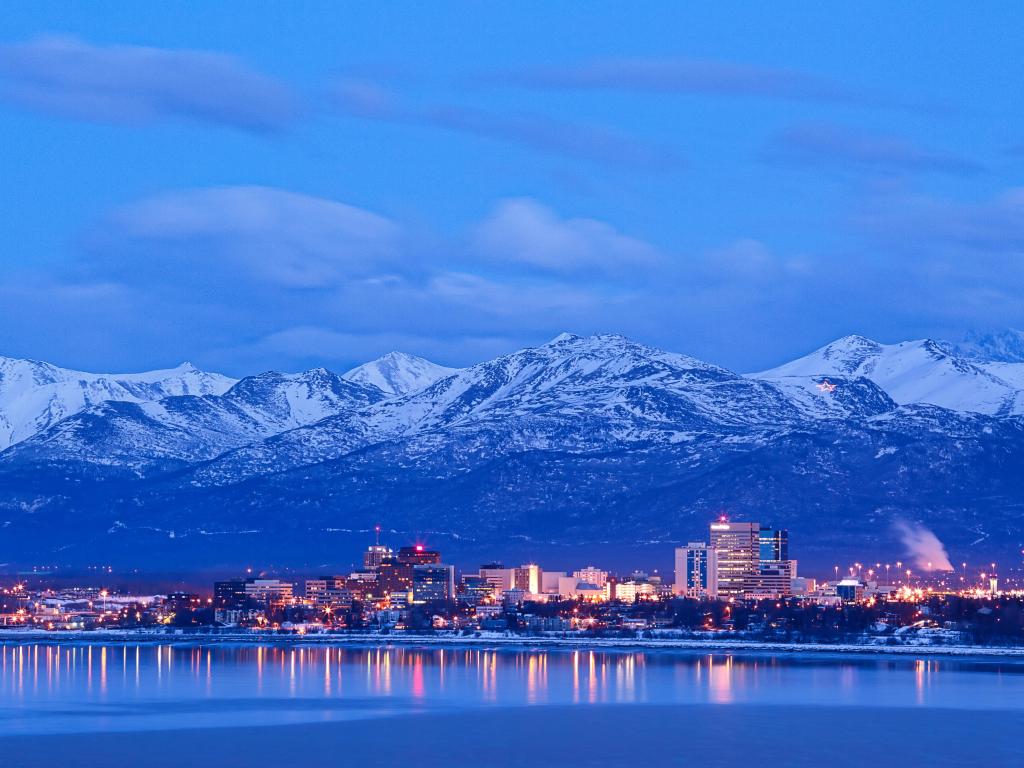 The Scenic Lakes Route is longer and takes around 10 hours to drive the 560 miles to Fairbanks. This longer route will take you through small towns and rural wilderness. If you're pressed for time, the Denali Route would be better.
Because you'll be covering so much terrain and natural scenery, we'd recommend taking at least two days. Within two days, you can easily see the natural landmarks and have time to hike and fish.
Best road trip route from Anchorage to Fairbanks
For outdoor lovers, this road trip will be the trip of a lifetime. To make the best of your epic adventure, we have chosen two routes, each full of endless fun and scenery. Which route you choose will depend on how much time you can spare for this trip.
On the Denali Park Route, explore the pristine Alaskan alpine wilderness in Chugach State Park, Hatcher Pass, and Denali State and National Parks. This route offers endless hikes with breathtaking natural scenery, perfect for those who want to get into the great outdoors.
The Scenic Lakes Route is perfect for keen anglers and hikers. You'll experience beautiful lakes for world-class fishing, wildlife spotting, and hiking in expansive national forests.
The Denali Park Route
Take AK-1 north over the stunning Knit River, and merge onto AK-3 to Denali State Park. Here you'll pass the world-class hiking areas of Hatcher Pass.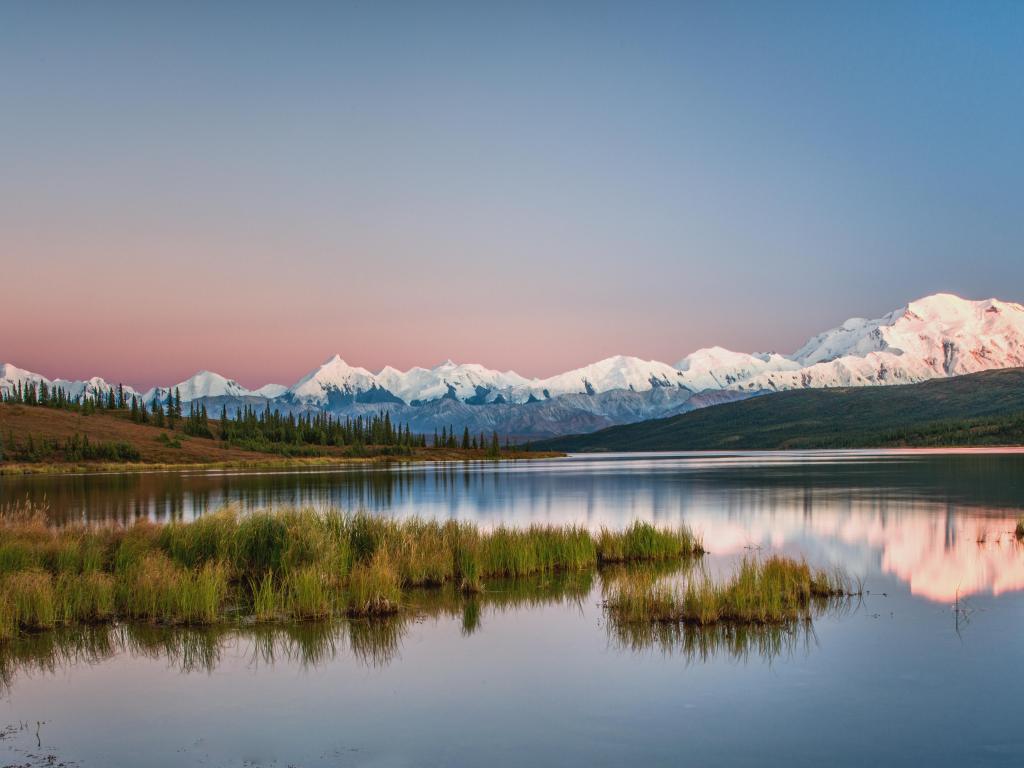 Continue on your way to Denali State Park. Take in the overwhelmingly beautiful scenery surrounding the tallest peak in North America. You will then head north through the town of Cantwell. You'll arrive in Denali Park, the base of Denali National Park and Preserve.
Following the highway north through the charming town of Healy will take you past the beautiful Nenana River and continue on into your destination in Fairbanks.
The Scenic Lakes Route
Take the AK-1 north through the incredible snow-capped mountains surrounding the Matanuska River. Take a quick detour to Chickaloon to experience whitewater rafting and other river activities.
Get back on the AK-1 and continue on until you get to Matanuska Glacier State Park. Here you can hike to see one of Alaska's most famous glaciers.
Continue on and take another detour to see the beautiful Lake Louise. Enjoy fishing and other outdoor activities in this beautiful lakeside community.
Drive north and experience the incredible fishing paradise of Gakona. After you've tried your luck at angling, make your way to the remote Mentasta Lake and enjoy the almost unreal natural scenery.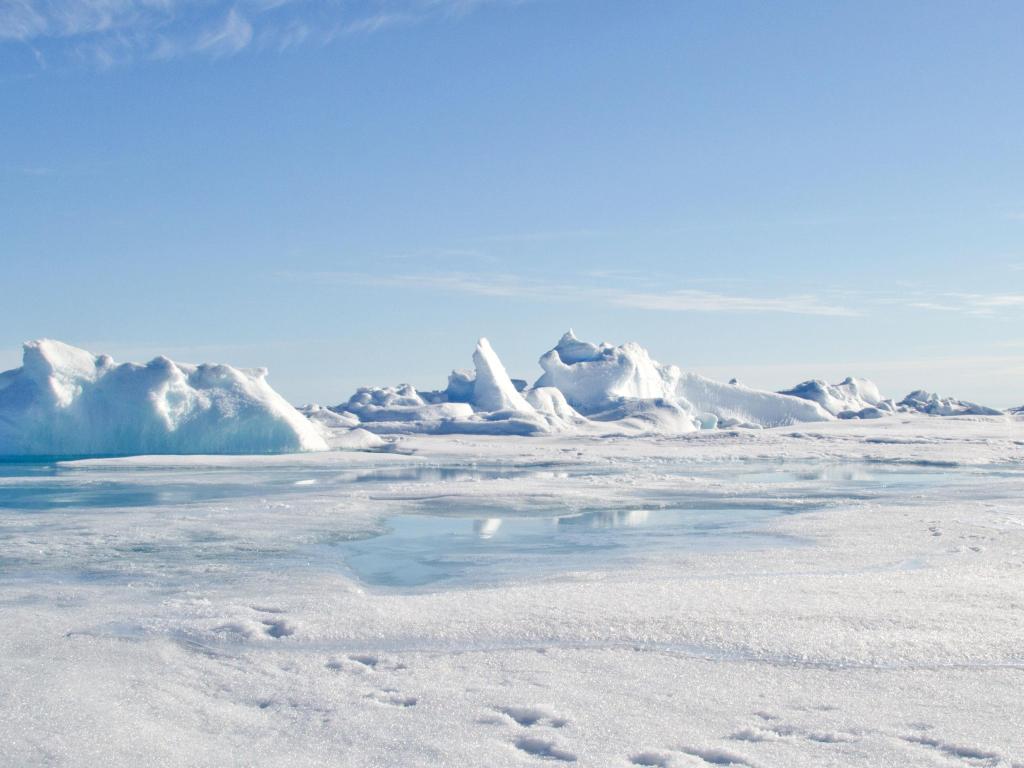 Make your way north to the hiking capital of Tanana Valley State Forest. Once you've had your fill of the supreme trails, continue your drive northwest.
Along the last stretch to Fairbanks, you'll pass more breathtaking natural scenery and some fun activities. Enjoy a massive bison sanctuary with hordes of roaming bison, The North Pole's yearlong Christmas decorations, and the ultimate hiking sanctuary of Chena Lake Recreation Area.
Best places to stop between Anchorage and Fairbanks
Although you can make the drive from Anchorage to Fairbanks in one day, there's so much to see and experience. That is why we suggest making an overnight stop or two if you can. Here are our top picks for the best places to stop at on your way to Fairbanks.
Take in the beautiful scenery of Mt. Denali in Healy
Less than 2 hours from Fairbanks on the Denali Park Route is the charming town of Healy. Located conveniently close to Denali National Park, this town provides the chance to fully explore the area and its overwhelming natural beauty.
Healy is known as the base camp for Denali National Park and Preserve. If you plan to hike the tallest peak in North America, this will be the perfect stopover to begin your adventure.
If you're planning on staying the night in Healy, we highly recommend the Aurora Denali Lodge. This rustic lodge features stunning views of Mt. Denali that you would not be able to enjoy anywhere else.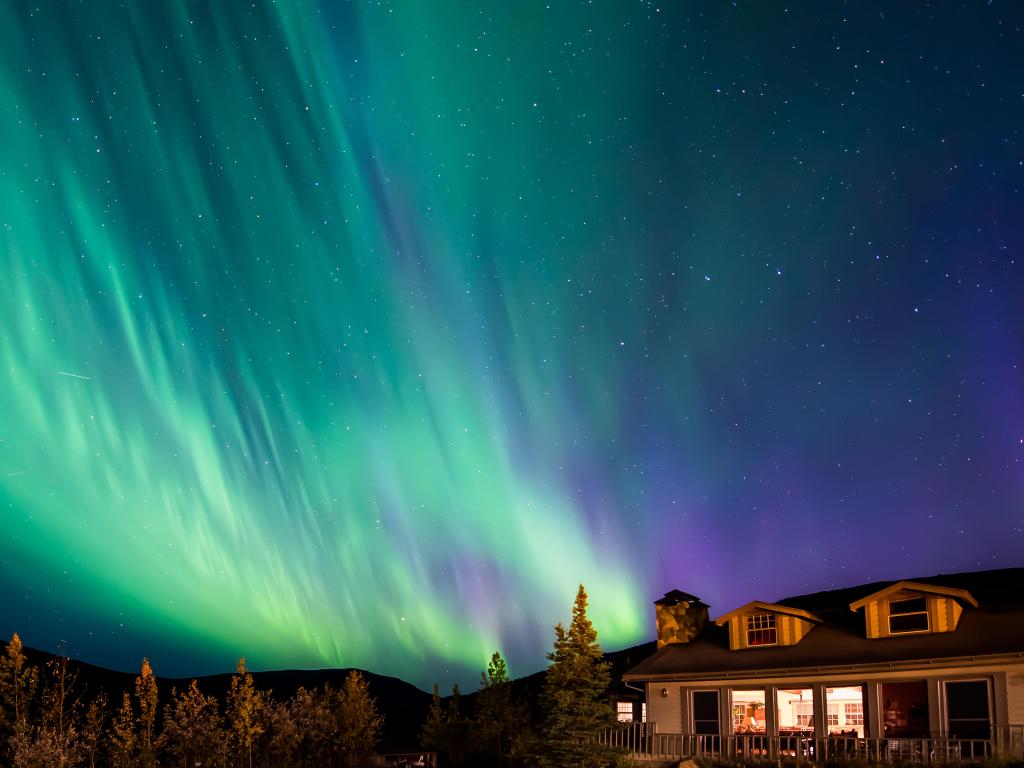 After hiking the Denali National Park or the famous Stampede Trail, you can return to the Aurora Denali Lodge to relax in its "home-away-from-home" atmosphere. There is also an excellent restaurant on the hotel grounds, so you won't have to search far for an excellent Alaskan meal.
Be inspired by the landscape in Glacier View
Roughly 2 hours and 15 minutes into your drive on The Scenic Lakes Route is the natural scenery of Glacier View. This incredibly scenic spot is a perfect base camp to experience Matanuska Glacier or climb 6000 feet to the summit of Sheep Mountain.
Glacier View is known for its namesake glacier (Glacier Matanuska) and the scenic views it has to offer. There is a wealth of outdoor activities including glacier trekking, ice climbing, river rafting, and hiking.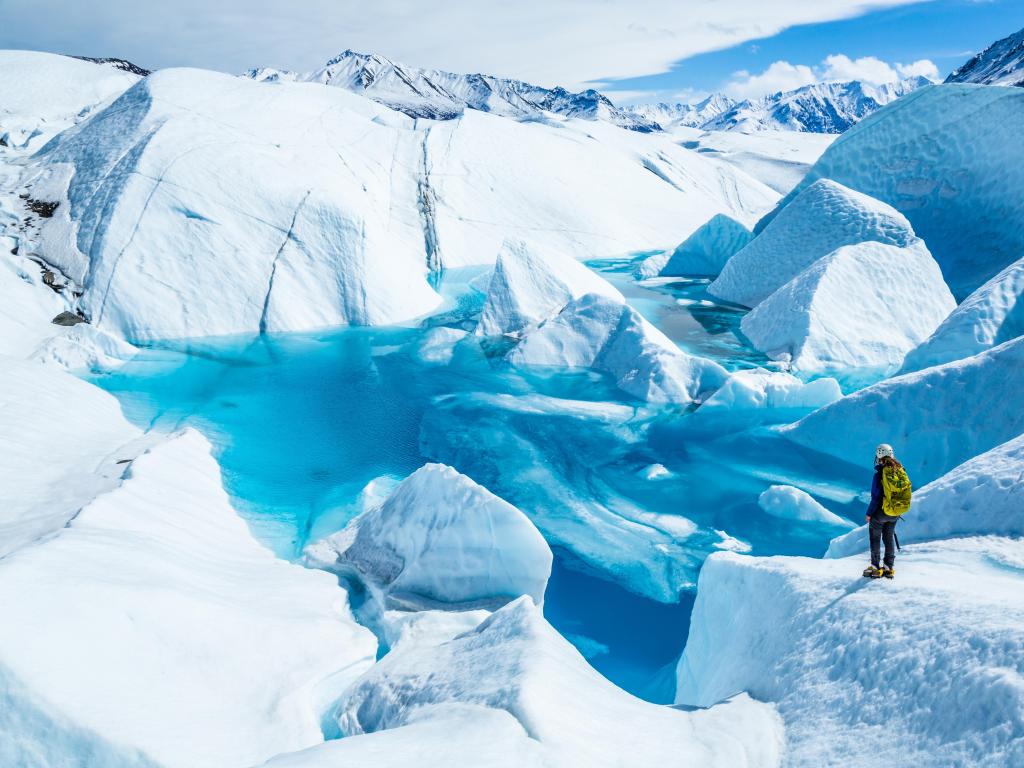 The perfect base camp for your adventure is the Majestic Valley Wilderness Lodge. Enjoy a soak in the hot tub to relax after a long day of hiking. Afterwards, you can cozy up in its fantastic restaurant and bar for a relaxing end to your day.
Situated in the Alaskan wilderness, this hotel rewards visitors with breathtaking views all year long. It also offers ski-to-door opportunities for those looking to hit the slopes at ease, making it the perfect place to base yourself in during your outdoors adventures.
Where to stay when you reach Fairbanks
Once you reach your destination, we recommend staying at the Westmark Fairbanks Hotel. This stylish hotel is conveniently located close to attractions in the heart of Fairbanks, including Golden Heart Plaza and Graehl Park, both of which are less than a mile away from the hotel.
After your drive, treat yourself to a delicious Alaskan meal at the Westmark Fairbanks Hotel's two on-site restaurants. Then, hit the town and experience the fun entertainment and charming downtown of this Alaskan city.
Things to see on a road trip from Anchorage to Fairbanks
You will be traveling past many awe-inspiring landscapes, charming towns and majestic sights during thos road trip, no matter which route you choose. Here are some of our picks when it comes to the best things to see on the way.
Denali National Park Route
Wasilla - This is known as the gateway to Hatcher Pass. Stop here for alpine adventures and supreme Alaskan beauty. Hike 3,886 feet for spectacular views above ttree lineine of the jagged peaks of the Talkeetna Mountains.
Willow - This sleepy town offers sensational views of Denali on a clear day, but also fantastic fishing and boating on local rivers like Willow Creek, Montana Creek, and the Susitna River.
Denali State Park - Visit the fourth largest State Park in Alaska, situated between the Talkeetna Mountains and the Alaska Range. It is less developed than the famous Denali National Park and Preserve, and offers even better views of the namesake mountain.
Igloo City - Stop for a quick photo opportunity just outside of Cantwell. This abandoned hotel once operated as a gas station ad gift shop, but is now an eerie vacant building. Impossible to miss, this is just a quick five-minute stop.
Denali National Park and Preserve - This is your chance to hike North America's tallest mountain, Mt. Denali. There are eight designated hiking trails that vary in difficulty and take explorers past the lakes, rivers, and alpine scenery. The National Park is also home to a sled dog team that patrols the park.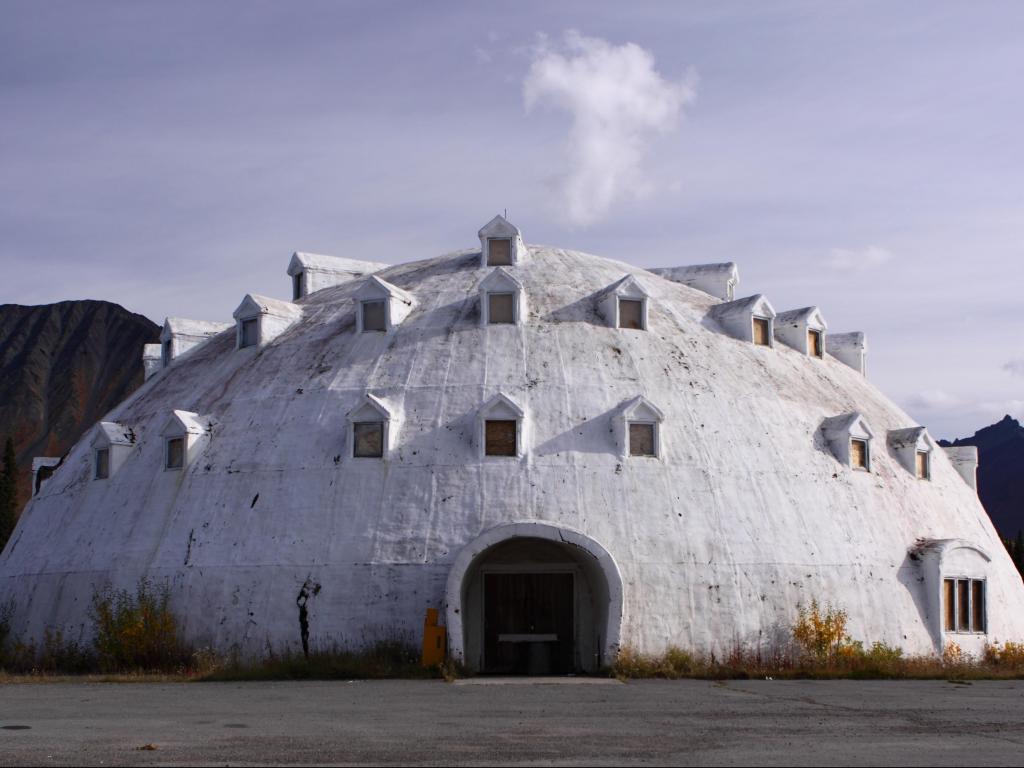 Scenic Lakes Route
Chickaloon - This is a popular spot for whitewater rafting on the Matanuska River. Scenic river floats are also available for those who don't want an adrenaline-pumping whitewater rafting adventure.
Matanuska Glacier - Take a guided tour for glacier trekking and ice climbing across the frozen surface of this 24-mile-long river of ice.
Lake Louise - Drive the scenic Lake Louise Road past stunning mountain views and Tazlina Glacier before coming to the serene shores of Lake Louise. Brave a dip in the chilly waters or take advantage of fantastic fishing all year round.
Gakona - A paradise for anglers. Stop here for a chance to catch the famous Copper River red salmon and king salmon. There are plenty of places to rent fishing gear if you don't have your own.
Mentasta Lake - Come here out of the winter season for breathtaking views and see the stunning Mentasta Lake turn into a mirror to reflect its incredible surroundings. In the winter, this is a frosted wonderland, wild and remote.
Tanana Valley State Forest - Explore this huge expansive state forest, filled with a big diversity of trees and wildlife. Stretching over 1 million acres in the Tanana River Basin, this forest has something to offer all types of adventurers, from easy strolls to challenging hikes.
North Pole - Known for its year-round Christmas decorations and Santa Claus House, this is where to get your festive fix, no matter the time of year.
Chena Lake Recreation Area - Stop here for lakeside beaches and nature trails galore. While you may not have the weather for sunbathing, the lakeside beaches make the perfect picnic spot.
Best time to go on a road trip from Anchorage to Fairbanks
Fairbanks is a fantastic year-round destination with plenty of outdoor activities. Enjoy spending time outside in the endless summer days and cozy snow-packed adventures for the cold winter season, including views of the Northern Lights.
Summer in Fairbanks sees long warm days with average temperatures hovering around 70 degrees Fahrenheit. The city is known for fantastic light-filled summery days where the sun shines for 21 hours.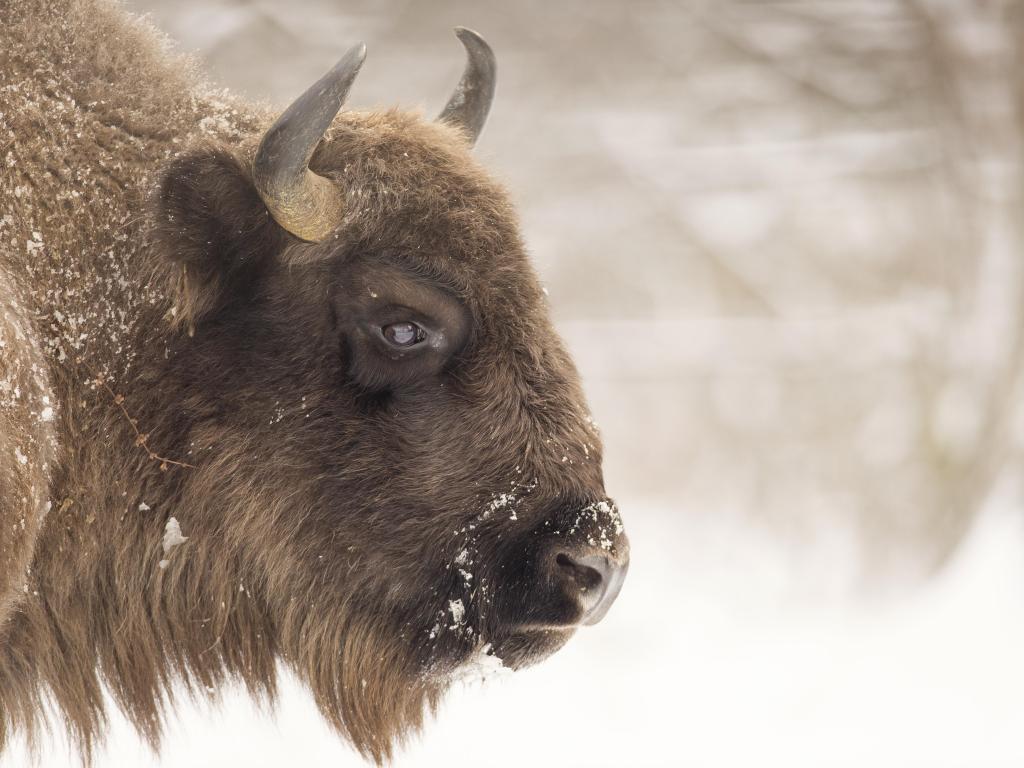 Fairbanks is stunning in the winter, however, you need to be prepared for the cold. Temperatures can reach as low as -40 degrees Fahrenheit and rarely rise above -20 degrees. This weather transforms the city into a winter wonderland, allowing visitors to enjoy skiing, sledding, and captivating views of the Aurora Borealis (Northern Lights).
In the spring, daily temperatures can reach the sixties and lows tend to be around freezing. There is usually not enough snow for winter sports and the days are still quite short. This is the least expensive time to visit.
In the fall, temperatures rarely fall below -9 degrees Fahrenheit or rise above 46 degrees. This is an incredible time of year to visit because of the fall colors.
August through April is the best time of the year to experience the Northern Lights. Events like the World Ice Competition are held in March when artists from around the world convene to make mind-boggling art from ice.