Is there a ferry from Washington to Alaska?
Alaska and Washington states are both located on the West Coast of the US on the northern side of the continent. Alaska borders Canada and is not connected by land to any other federal states. It is a mammoth drive through Western Canada to reach Alaska, or there is a ferry ride directly from Washington along the West Coast.
You can take a ferry directly from Bellingham in Washington to Alaska. There are two ferry options, one which arrives in Southeast Alaska, and one which connects to the South-Central region of the state. Another option is to drive overland from Seattle.
Keep reading to learn all you need to know about traveling from Washington to Alaska via ferry routes, with information on alternative options and travel tips.
Is there a ferry from Washington to Alaska?
There are several ferry options from the state of Washington to Alaska using the Alaska Marine Highway System. The key ferry port for traveling to Alaska is Bellingham, Washington. From there you can travel to multiple destinations in Alaska.
The Southeast Alaska ferry route on the Alaska State Ferry departs usually once or twice a week from Fairhaven Village in Bellingham. It is a vehicle and passenger ferry which takes you to several ports in the southeastern region of Alaska, including Ketchikan, Wrangell, Petersburg, Juneau, Haines, Skagway, and Sitka.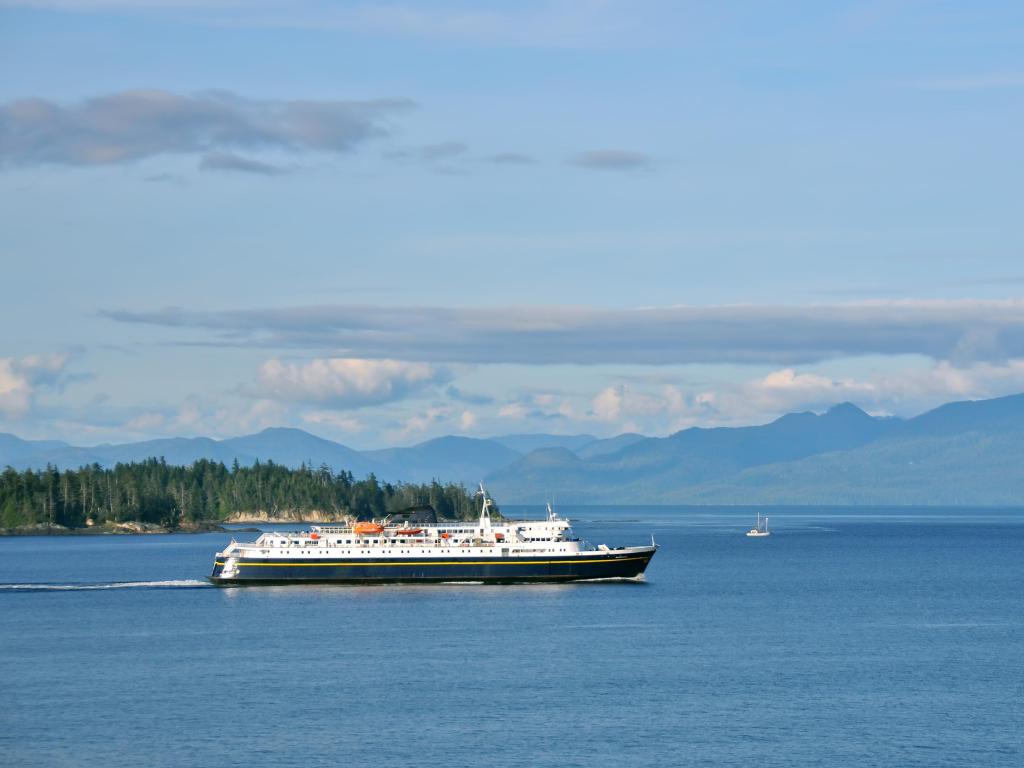 The Gulf of Alaska ferry route on the Alaska State Ferry also departs from Bellingham. It is a vehicle and passenger ferry which travels to Ketchikan and then onwards to Juneau, Yakutat, Whittier, Chenega Bay, Kodiak, and Homer.
Ferries run year-round, but keep in mind that ferry services can be impacted by adverse weather conditions, particularly in the winter. During summer months, there is an additional ferry, usually on alternating Saturdays, which travels as far as Whittier.
Another option is to drive from Seattle to Anchorage through Canada, or you can simply fly to Anchorage. Alaska, American and Delta Airlines all currently have direct flights to Anchorage at the time of writing.
How to reach Alaska from Washington
The ferry is one of the most convenient ways to make the journey from Washington to Alaska, as it significantly cuts down on driving time.
The ferries depart only from Bellingham, about 20 miles south of the US-Canada border, and 50 miles southeast of Vancouver. Bellingham is about 90 miles from Seattle by car, and the drive takes 1 hour 30 minutes.
There are no other ferry departure points to Alaska from Washington State. You can drive your car to the port and board the ferry from the Bellingham Cruise Terminal in Fairhaven Village.
Which ferry you choose to take depends on the destination you're hoping to reach in Alaska, though all depart from the same port. Depending on your destination, the journey can take anywhere from 38 and 124 hours. Of course, weather conditions can also impact travel time.
In general, passengers are required to come to the port 2-3 hours earlier, but you should always double-check the exact check-in and embarkation times with the ferry operator or booking agent.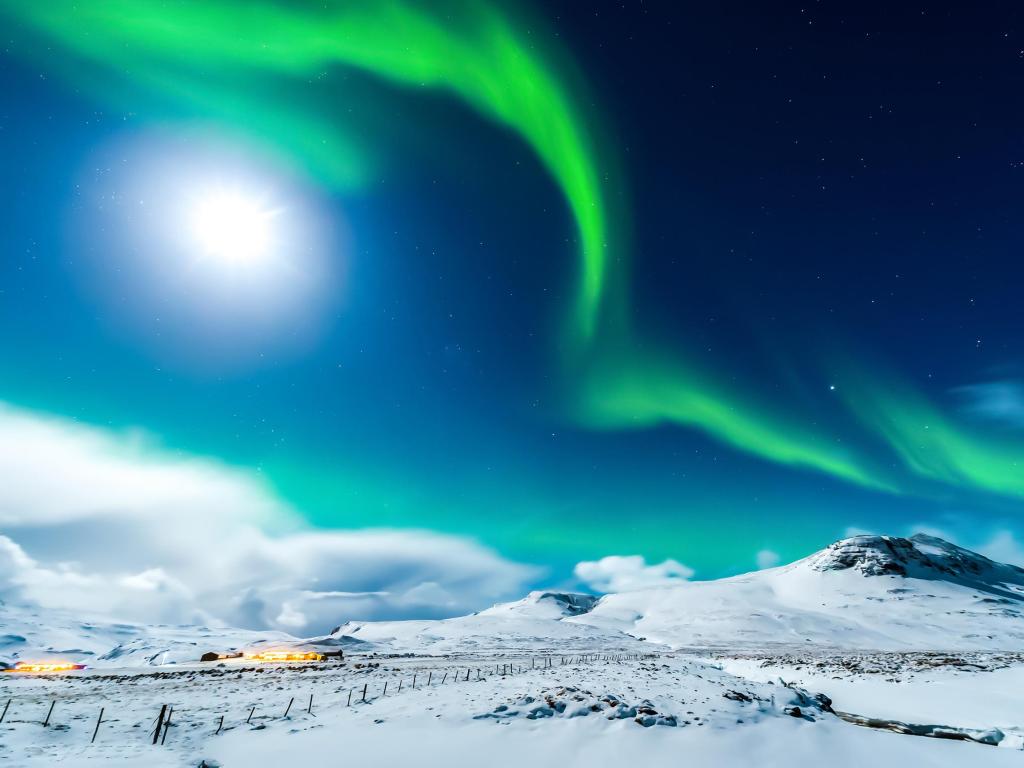 The ferry sails once or twice a week at different times, depending on the season. Be sure to check the schedule before arriving at Bellingham.
Alternatively, you can drive some 40 hours and 2,100 miles through Yukon in Canada to reach Anchorage. Major Washington cities have regular airline connections to Alaska, particularly to Anchorage.
While the ferry is a comparatively longer journey in the number of hours than driving, it can be a more convenient and pleasant way to make the journey.
Keep in mind that once in Alaska, it is not easy to commute between the ports, which are often not accessible to one another via car, only by flights and waterways.
How to drive from Washington to Alaska
If you decide to drive from Washington to Alaska, one of the most popular routes is to drive from Seattle to Anchorage. This journey covers a mammoth distance of 2,260 miles, which takes approximately 41 hours of direct driving time.
It's a straightforward drive, you simply take Interstate 5 (I-5) north from Seattle and take the exit at Bellingham to follow signs for the Trans-Canada Highway. You'll cross over into British Columbia just before you join the highway, which winds north through Garibaldi Provincial Park.
Continue north on BC-97, then turn west onto BC-16, which cuts through a lake-filled landscape. At Seven Sisters Provincial Park turn onto BC-37 and head north past Swan Lake. Once you cross the border into Yukon, turn left onto Yukon 1 W.
Follow this road all the way into Alaska, and take AK-1 S at Tok. Drive down through the stunning glacial landscapes of Matanuska River into Anchorage.
How long does it take to reach Alaska from Washington?
Comparison of travel times from Bellingham, Washington to Alaska

| Option | Arrival point | Time |
| --- | --- | --- |
| Driving | Anchorage | 40 hours |
| Southeast Alaska Ferry Route | Juneau | 55 hours |
| Gulf Ferry Route | Juneau | 58 hours |
| Gulf Ferry Route | Whittier (Anchorage) | 97 hours |
The journey from Washington to Alaska by ferry varies depending on the destination. The crossing to Alaska takes at least 38 hours, but if you are traveling further along the coast it takes longer - anywhere up to 124 hours for the furthest port.
The first port in Alaska along the Southeast route is Ketchikan, which is 38 hours from Bellingham. In ascending order, it's 44 hours to Wrangell, 47.5 hours to Petersburg, and 55 hours to Alaska's state capital Juneau. Click here for our essential guide to how to reach Juneau.
It's 60 hours and 61 hours up the Favorite Channel to Haines and Skagway, respectively. The ferry loops back down to Sitka, which takes 70 hours in total.
The Gulf ferry route also stops first at Ketchikan, then goes straight on to Juneau. The next stop is Yakutat, which is 75 hours from Washington. The ferry goes onto Whittier, which is the port for Anchorage, 97 hours total travel time.
It's 101 hours 30 minutes to Chenega Bay, 115 hours 30 minutes to Kodiak and 124 hours 30 minutes to Homer, the furthest point on this route.
Remember to add an extra 2-3 hours to your journey time for check-in, embarking and disembarking at your approval point and destination.
How much does it cost to take the ferry to Alaska?
Comparison of ferry prices to Alaska

| Route | Arrival Point | Adult Fare | Car Fare |
| --- | --- | --- | --- |
| Southeast Alaska | Ketchikan | $342 | $868 |
| Southeast Alaska | Juneau | $466 | $1,126 |
| Southeast Alaska | Haines | $497 | $1,181 |
| Southeast Alaska | Haines | $497 | $1,181 |
*Please note that ferry prices do not include the price of renting a cabin on board. Prices vary in the summer months during the peak season.
Which ferry port should you choose as your destination in Alaska?
Choosing a destination in Alaska will depend on how much time you have and how much of Alaska you're looking to explore.
The Southeast region of Alaska, known as the Alaska Panhandle, is known for its stunning glaciers, fjords and is dense with islands and waterways. Visit any of the ports on the Southeast route for fishing, logging and to explore the emerald Tongass National Forest.
These ports include Ketchikan, Wrangell, Petersburg, Juneau, Haine, Skagway and Sitka. Visiting Juneau is an opportunity to see one of the most beautiful state capitals in the US, with significant Native American heritage.
The Gulf of Alaska, which stretches further west along the coast, is centered around Alaska's largest city Anchorage. There is more remote wilderness along this expanse of coastline which lends itself to outdoor activities including salmon fishing and whale watching.
Highlight towns and cities on the route include Kodiak, home to beautiful coastlines and brown bears, and Homer, boasting a vibrant old town with museums and galleries.
Things you need to know about taking a ferry to Alaska
The fares from Washington to Alaska vary by season and destination, so allow for this when planning your itinerary.
Here are our top tips when it comes to preparing for a ferry ride to Alaska:
Check the Alaska Marine Highway website for schedules, regulations and when to arrive at the terminal.
Ensure that you arrive early enough to check in, as this can vary depending on the ferry route.
Check weather conditions in advance, as particularly some of the remote destinations can be harder to access during parts of the year.
Best time to visit Alaska
The most popular time to travel to Alaska is in the summer when the days are very long and the weather is fair and warm, so you can enjoy the region's nature and scenery. It is during this time that Alaskans have many festivals and events, in comparison to other times of the year.
The winter temperatures in Alaska range between 0 to -30 degrees Fahrenheit, which means that if you choose to drive, you might have to keep an eye out for severe weather conditions and possible road closures due to snow and ice.
Unless you want to partake in winter activities and sports in Alaska, we would not suggest traveling during this time. Summer will bring temperatures of 50-70 degrees Fahrenheit, depending on what part of Alaska you will be traveling to.
Anchorage features the Summer Solstice Festival in June and if you are traveling to Juneau in August, you can participate in the Golden North Salmon Derby, which is a long-standing tradition.
Spring and fall can be great times to visit Alaska as well and if you happen to be in Juneau between April and November, you can go whale watching, which will be a once-in-a-lifetime experience!
Does the ferry to Alaska run all year round?
The Southeast Alaska ferry route runs all year round, but operates more frequently between May 1 and September 30. The ferry from Bellingham to Whittier only runs during the spring and summer.
When is the best time to travel to Alaska?
Though you are likely to have a more pleasant visit during the summer, prices for the ferry rise during the peak season. Though the winter months are less expensive, it is the most hazardous time to travel as the ferry might not sail due to bad weather and high seas.
Things to see once you reach Alaska
There are many things you can do and see in Alaska, however, it is good to keep in mind that transportation between the Islands and the mainland is limited and you need to plan ahead. We got you covered to make your decision easy and chose some of the most amazing attractions:
Whale-watching - Many people take the ferry from Bellingham to Alaska or drive directly between April to November to go whale-watching in Alaska. The ferry will take you to Juneau, which is a prime location for this activity.
Denali National Park - If you are traveling to the mainland, the stunning Denali National Park is a must-visit. See our detailed guide to learn about how to get to this awe-inspiring national park.
Inside Passage - The bit of sea that meanders between the islands is a real marine highway. Hop on the boat to see how scenic the area is between these islands and mainland Alaska. You can even travel to Vancouver from Skagway if you'd like to extend your trip to Canada.
Glacier Bay - Documented for the first time by James Cook in 1778, the Glacier Bay continues expanding with the melting ice, creating an otherworldly view to the northwest of the Inside Passage.
Fairbanks - Juneau might be Alaska's capital, but Fairbanks is just as fascinating with its gold rush era history and for being an amazing gateway to the north of the state.