Can you Drive Through Grand Teton National Park?
Grand Teton National Park is located in Wyoming in the Western United States. With stunning mountain views and picturesque lakes, it's famous for its scenic beauty as well as the many opportunities for hiking, mountaineering, camping, boating and fishing. In winter you can snowshoe or go cross-country skiing too.
You can drive the 50-mile loop through Grand Teton National Park in around 2 hours 40 minutes in summer, taking in views of Jenny Lake, Antelope Flats, historic Mormon Row and the Snake River along the way. In winter you'll need to drive a longer route.
Driving around Grand Teton National Park offers freedom and flexibility when you visit this unforgettable natural paradise. You can take your pick of the park's many scenic stops and trailheads, and explore at your own pace.
Can you drive through Grand Teton National Park?
You can drive through Grand Teton National Park on the Grand Teton Scenic Loop, starting at either Moose Entrance or Moran Entrance.
There's also a free shuttle service for guests staying at either Jackson Lake Lodge or Colter Bay Village, or you can pick up a guided tour or a wildlife safari in Jackson.
However, driving is the best option when you visit as it lets you take your time to explore this stunning natural wilderness. Here are our favorite scenic areas to give you an idea of where you should aim to drive to for perfect photo ops.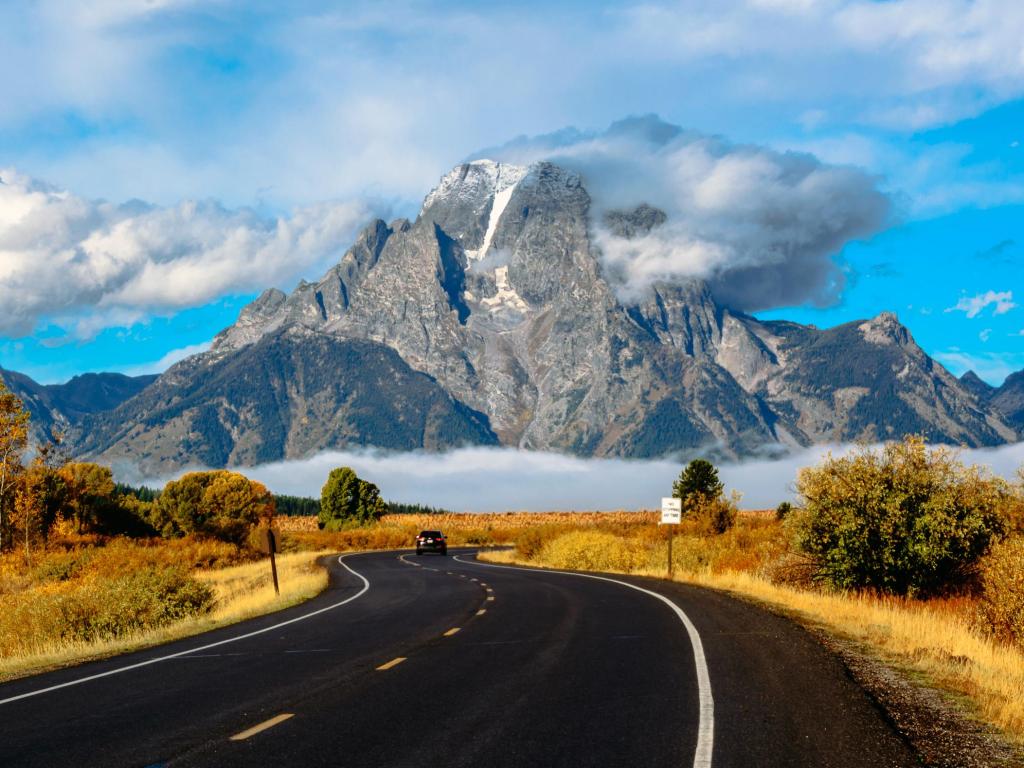 Your drive will feel very different depending on whether you visit in summer or winter. The Summer Route follows a loop around the park, so you can join the route wherever you enter Grand Teton.
This route will take you past all the main landmarks in the national park, and you can take some short detours to make sure you don't miss out on anything that the park has to offer.
This part of Wyoming experiences heavy snowfall in winter, and Teton Road closes between November and May so you can't follow the loop around the park at this time of year.
However, US Highway 191 and US Highway 26 are plowed throughout winter, so you can still drive through the outer limits of the park. And although Teton Park Road is closed to cars, it remains open for walking, cross-country skiing and snowshoeing if you'd like to explore the snow-covered park on foot.
The main ways to drive through Grand Teton National Park

| Route | Starting point | Ending point | Seasonal availability | Time (Distance) |
| --- | --- | --- | --- | --- |
| Summer Route | Moose Junction | Moran Entrance | Closed November to April | 2 hours 40 minutes (50 miles) |
| Winter Route | Jackson, WY | Dubois, WY | Open year-round | 2 hours (90 miles) |
How to drive through Grand Teton National Park on the Summer Route
The Summer Route follows the Grand Teton Loop around the park and is lined with hiking trails and awe-inspiring views of the Teton Range.
The Teton Park Road is mostly only two lanes and the speed limit ranges from 25 to 55 miles per hour. However, although it can be slow during peak times it's well worth it for the sensational views on offer.
You can join the Loop from whichever park entrance is most convenient, then simply follow it in either direction to enjoy the national park's highlights. If you're starting at Moran Entrance Station, turn right onto US-191 past Oxbow Bend then continue as far as Willow Flats Overlook.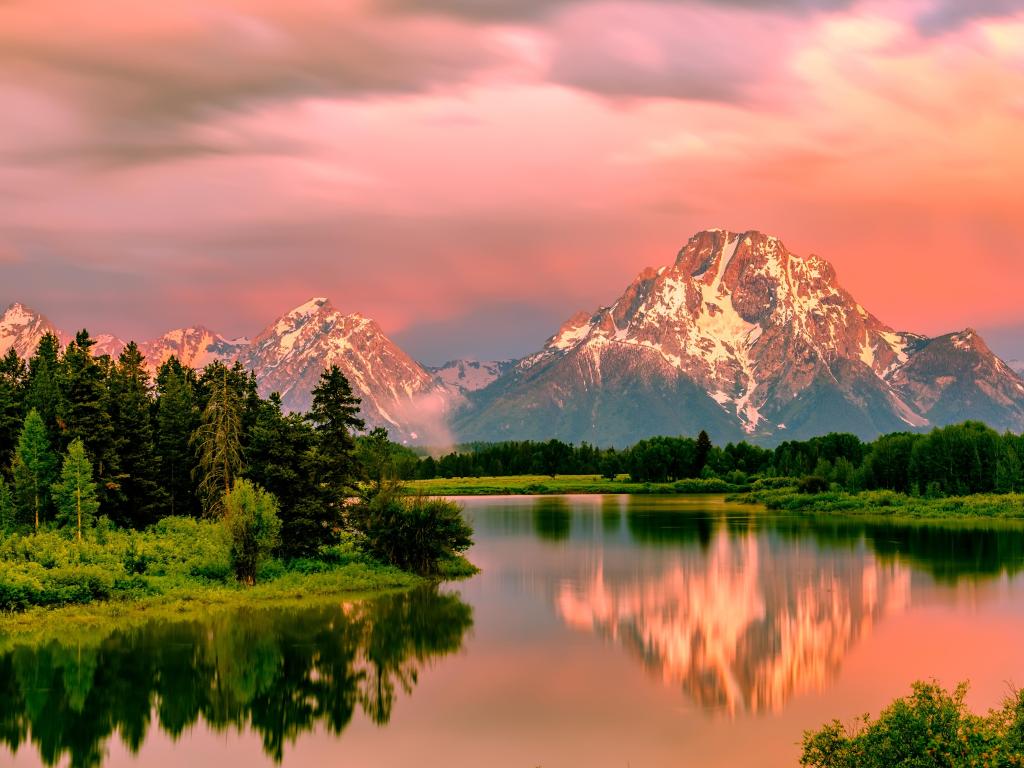 From here, turn back towards Teton Park Road which will take you to Jackson Lake, String Lake and Jenny Lake. Jenny Lake Overlook and Visitor Center are both popular stopping points, and you can take the boat across the lake to hike Stepped Inspiration Point Trail too.
Carry on along Teton Park Road towards Moose and you can turn off to visit the Chapel of Transfiguration before crossing the Snake River and turning left onto US-191.
Soon after, detour along Antelope Flats Road to see the historic buildings of Mormon Row, and watch out for great herds of bison making their way across Antelope Flats.
Take another short detour to visit Schwabacher Landing, where you can see beavers at work, then continue along US-191 past Snake River Overlook at Elk before you arrive back at your starting point, Moran Entrance.
You can enjoy this drive from 1st May to 31st October. However, these openings are a general rule, and weather can reduce this window.
How to drive through Grand Teton National Park on the Winter Route
The Winter Route is a charming drive, with the Teton Range running parallel along your route. It's a great drive to get a taste of the park in winter when the full loop isn't open and there are notable attractions en route.
Starting in Jackson, WY, follow US-191 north, passing Moose and then continuing along the highway where you'll pass Schwabacher Landing and Snake River Overlook, as well as Elk Ranch Flats turnout.
US Highway 191 has a good road surface, yet, although plowed during winter, you can face icy conditions. Once you reach Moran, turn right onto US-26 which will take you to Dubois, WY.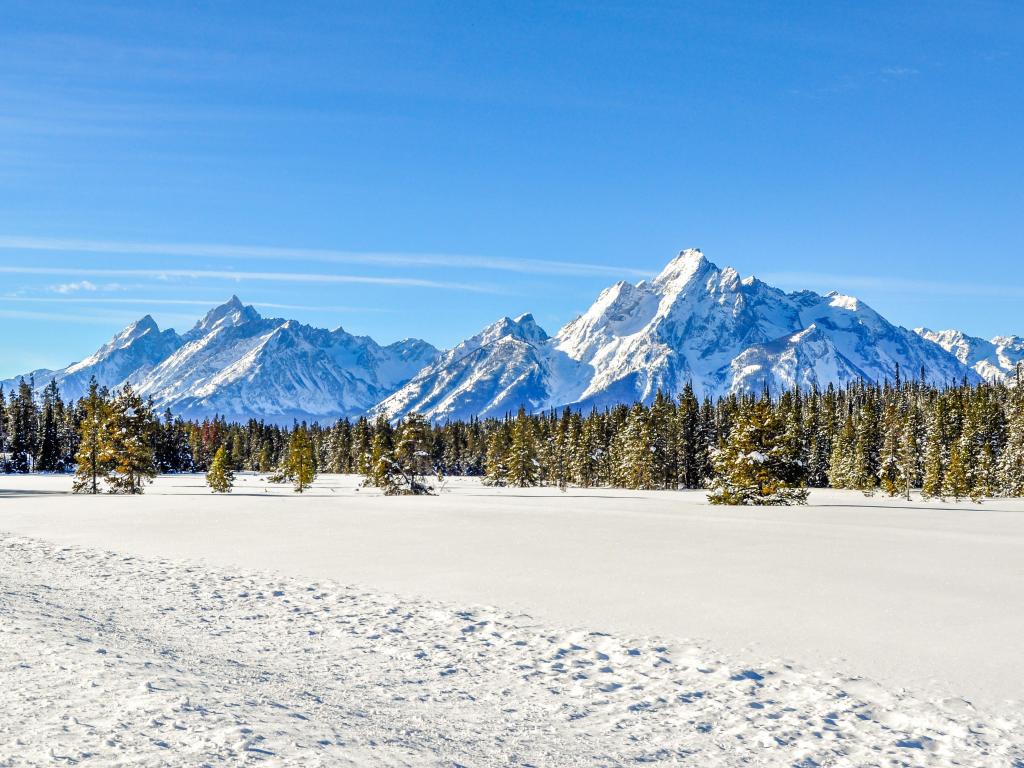 Alternatively, you can take a longer route which carries on north through Grand Teton National Park from Moose. This longer route takes you past Oxbow Lake and Colter Bay Village before carrying on along the shore of Jackson Lake.
Although Colter Bay Village and Headwaters Lodge at Flagg Ranch are closed along the route you can see Jackson Lake Overlook and Oxbow Bend.
If you're following the route along the outskirts of the park, from Jackson to Dubois, then you won't have to pay the park entrance fee. However, if you want decide to continue on to Oxbow Bend and Jackson Lake Overlook then you'll have to pay the $35 vehicle entrance fee at the Moran Entrance.
How long does it take to drive through Grand Teton National Park?
The 50-mile Summer Route takes 2 hours 40 minutes to drive if you don't make any stops for photographs, lunch or to hike a trail through the national park.
The Winter Route is a longer drive, coming in at around 90 miles, but since you'll be sticking to larger roads, you'll be able to complete the loop in around 2 hours if weather conditions give you a clear run.
That means you can drive a loop around Grand Teton National Park in less than half a day. However, with so many things to see and do in Grand Teton National Park, we'd recommend allowing a lot longer than this for your visit.
A full day in the park lets you stop at several of the overlooks and viewpoints and hike a trail or two. Or stay overnight if you're planning to tackle some of the longer trails or enjoy some winter activities.
Which entrance should you arrive at in Grand Teton National Park?
Depending on where you start your journey, you'll approach one of three main entrances to Grand Teton National Park. These are Moose Entrance and Granite Canyon Entrance on the southern side of the national park, and Moran Entrance on the eastern side.
Note that Moose Wilson Road, which leads from Granite Canyon Entrance into the park, is closed from November to May so you'll have to use Moose Entrance via US-191 through the winter months.
Comparison of travel times from major US cities to Grand Teton

| Origin city | Recommended entrance | Distance | Time |
| --- | --- | --- | --- |
| Salt Lake City | Moose Entrance | 290 miles | 4 hours 50 minutes |
| Denver | Moran Entrance | 480 miles | 8 hours |
| Las Vegas | Granite Canyon Entrance | 725 miles | 10 hours 35 minutes |
| Albuquerque | Moran Entrance | 930 miles | 14 hours |
| Los Angeles | Granite Canyon Entrance | 990 miles | 15 hours 30 minutes |
Best places to stop on a drive through Grand Teton National Park
While you can see the highlights of Grand Teton National Park in a day, many visitors prefer to spend a little longer in and around the park. This gives you more time to enjoy the great outdoors, or simply sit back and relax while you enjoy the amazing views of the Teton Range.
A luxurious stay at Teton Village
You can visit Teton Village at whatever time of year you visit Grand Teton National Park. In winter it's a popular ski and snowboarding spot while in summer there are several hiking trails and mountain biking options to enjoy.
You'll find Teton Village a 30-minute drive from both Moose Entrance to the north and Highway 191 to the south, so it's easily accessible wherever you're starting your Grand Teton National Park road trip.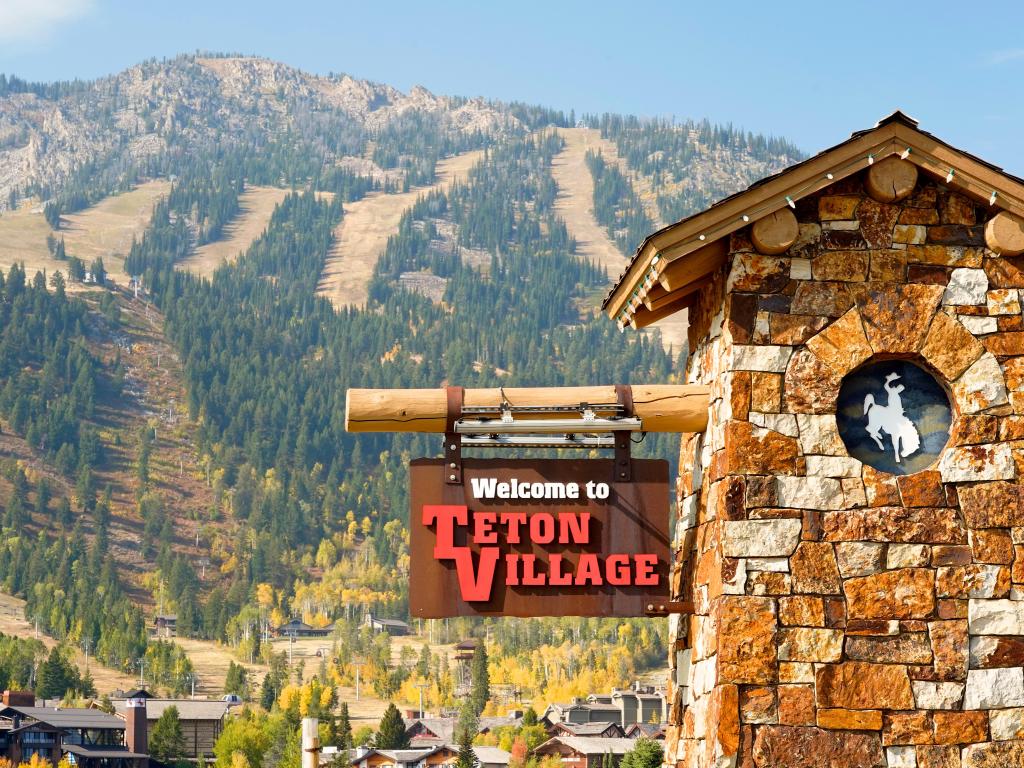 The Alpine-style decor of Teton Mountain Lodge and Spa will get you settled into the mountain mood from the moment you check in. The hotel is at the foot of the Teton Mountain Range, with ski lifts and the Jackson Hole Aerial Tram just yards away, so it's the perfect choice whatever time you're visiting Grand Teton National Park.
After a busy day exploring the national park, you can relax in your cozy and luxurious room for a while before heading to the pool or hot tub, which is open all year round.
The spa here is ranked among the top 100 in the USA so think about booking a massage treatment, cryo therapy or time in the Oxygen bar to complete your stay.
Its newly renovated restaurant serves American West food made from locally sourced ingredients.
Hit the slopes in Jackson
Just south of the national park, and around 12 miles from the start of Grand Teton Scenic Drive, is the town of Jackson, known as one of the gateways to both Grand Teton and Yellowstone.
If you'd like to learn more about how to visit both of these national parks in one go and the best road trip from Yellowstone to Grand Teton, check out our definitive guide.
You'll have easy access to both summer and winter routes from Jackson, including direct access to the Winter Route from US Highway 191.
Jackson is also known for its outdoor activities all through the year and for its close proximity to famous ski resorts.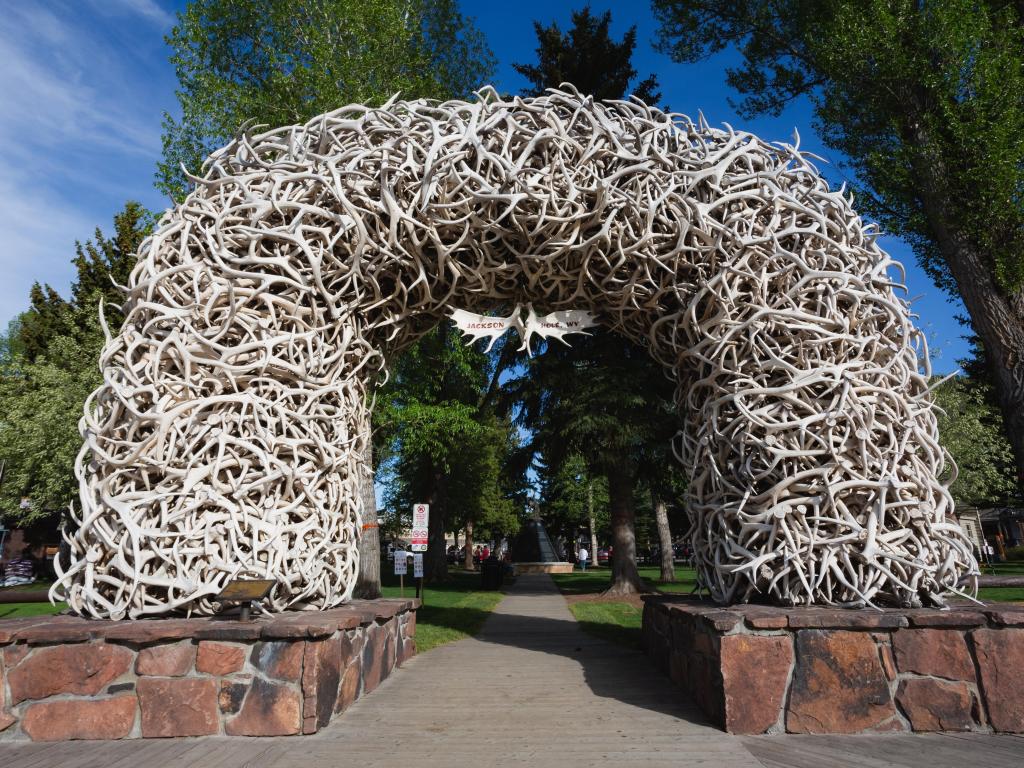 The boutique Rustic Inn Creekside sits on a 12-acre site, and you can enjoy the inn's own 7-acre nature preserve during your stay. If you enjoy your time outdoors you should also check out the heated outdoor pool, which is open year-round. There are winter ski shuttles to Jackson Hole Mountain resort too.
If you're ready for some downtime, you can head to the on-site spa to enjoy a massage or the state-of-the-art eucalyptus steam room. The spa closes from April to early May and Late October to early December so avoid these times if this is a must-do on your trip.
Free parking on-site and a fantastic breakfast buffet make a stay at Rustic Inn Creekside particularly convenient. It's also just a 10-minute walk from Jackson Town Square if you want to explore the town, or you can book a snowmobile tour through Scenic Safaris which is located right around the corner.
Not far out of town you'll find the National Elk Refuge. And of course, you're just a 15-minute drive from the start of Grand Teton Scenic Drive when you stay here in Jackson.
Where to camp in Grand Teton National Park
As you'd expect from such a stunning national park, there are some amazing camping options at Grand Teton. Popular spots include Colter Bay, Jenny Lake, Gros Ventre and Headwaters.
Just a 20-minute drive from Moran Entrance Station, Colter Bay makes a great choice if you're visiting in summer (late May to late September). Pitch your tent or park your RV among the pine trees, close to scenic views of Mount Moran and the Teton Range. It's one of the largest in the park so you'll have more chances of getting a space.
Amenities include flush toilets, coin-operated showers and food storage lockers, plus you'll find firewood and ice for sale. Most cell phones also have coverage and internet connectivity here.
There are no campsites open if you're travelling in winter. Camping in such severe winter conditions is a specialist activity that requires survival skills and knowledge.
Things you need to know about driving through Grand Teton National Park
As you've already read, the Loop isn't a year-round drive, so you can only access some parts of the park by car from May to October. While you can drive through the park in winter, the outer route, although magical, doesn't offer the full x
The Loop is not a year-round drive. So, you can only access places such as Jenny Lake by car from May to October. While you can drive through the park in winter, this is considered the outer route so although magical, it doesn't offer the full experience.
With average summer temperatures around 77 degrees Fahrenheit, it can get quite hot if you plan to walk some of the more challenging hikes. It's also a hugely popular time to visit, with July being the peak month. It can get extremely crowded in parking lots.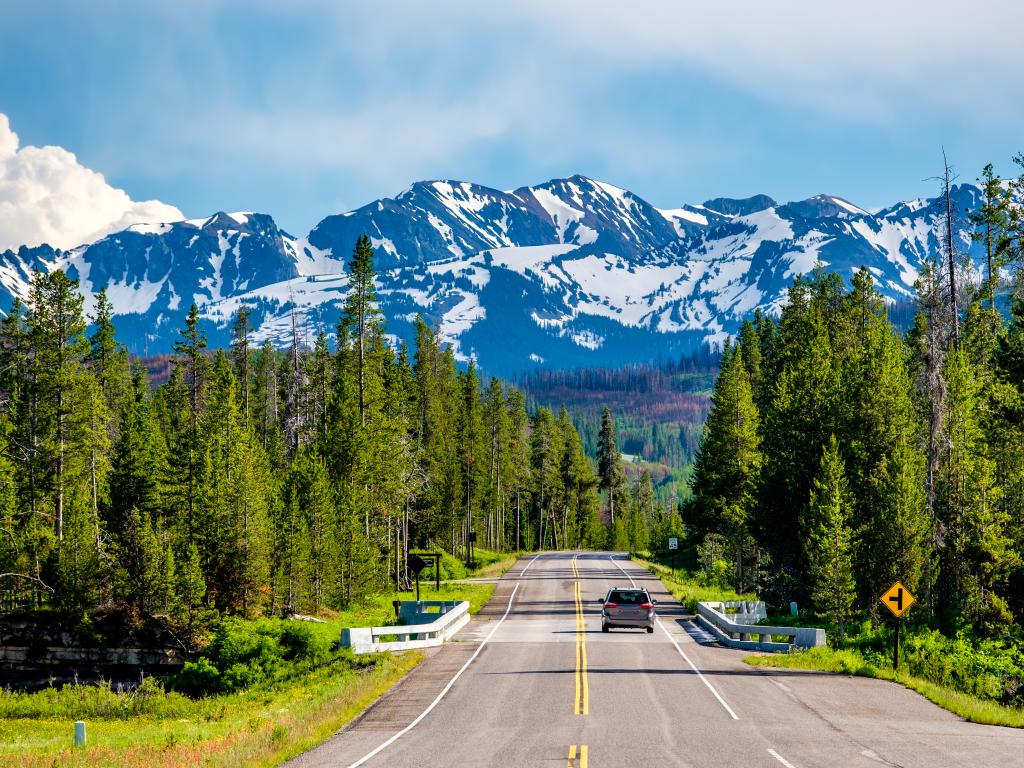 In contrast, winter is a quiet time of year in Grand Teton. Temperatures sit below freezing for much of the winter and regularly fall to just 2 degrees Fahrenheit.
Although roads are plowed there is still a high ice risk, so you'll need to drive with care. That said, the quieter drive and blanket of snow offer a distinct opportunity to see Grand Teton National Park from the Outer Loop. You can also take snowmobile tours.
The months of May and September are good times to visit. You'll get to drive the full loop without the excessive crowds. But even in these months, snow can hamper your visit if you're unlucky.
Whatever time of year you visit, you'll need to buy an entrance pass to visit Grand Teton National Park. You can buy these from the entrance station on arrival. There's no need to reserve a spot, but we recommend arriving early to avoid the rush.
Entry fees to Grand Teton National Park

| Ticket type | Adult fare | Car fare |
| --- | --- | --- |
| Day pass | $20 | $35 |
| Week pass | $20 | $35 |
| Annual pass | N/A | $70 |
*Prices calculated at the time of writing
Here are our other top tips when it comes to preparing for a drive through Grand Teton National Park:
It's a straightforward drive through Grand Teton National Park, as the roads are paved and well-maintained.
Be careful of wildlife as you drive. Bears, elk and bison can all venture onto the road in places.
The Loop can get busy during peak season, so prepare yourself for slower-moving traffic and congested parking lots
Check the road conditions and closures before you drive by visiting the official website.
Download a map for offline use just in case you lose cell phone coverage.
Especially in summer, start early and arrive before 9 AM to make sure you get a parking spot at the popular trailheads.
Bring lots of drinking water and appropriate clothing for the rapidly changing weather.
If you're visiting in summer and plan to spend time outdoors, consider bringing insect repellent and bear spray.
Grand Teton National Park is in the mainland USA so you won't need a passport to travel here if you're already in the country.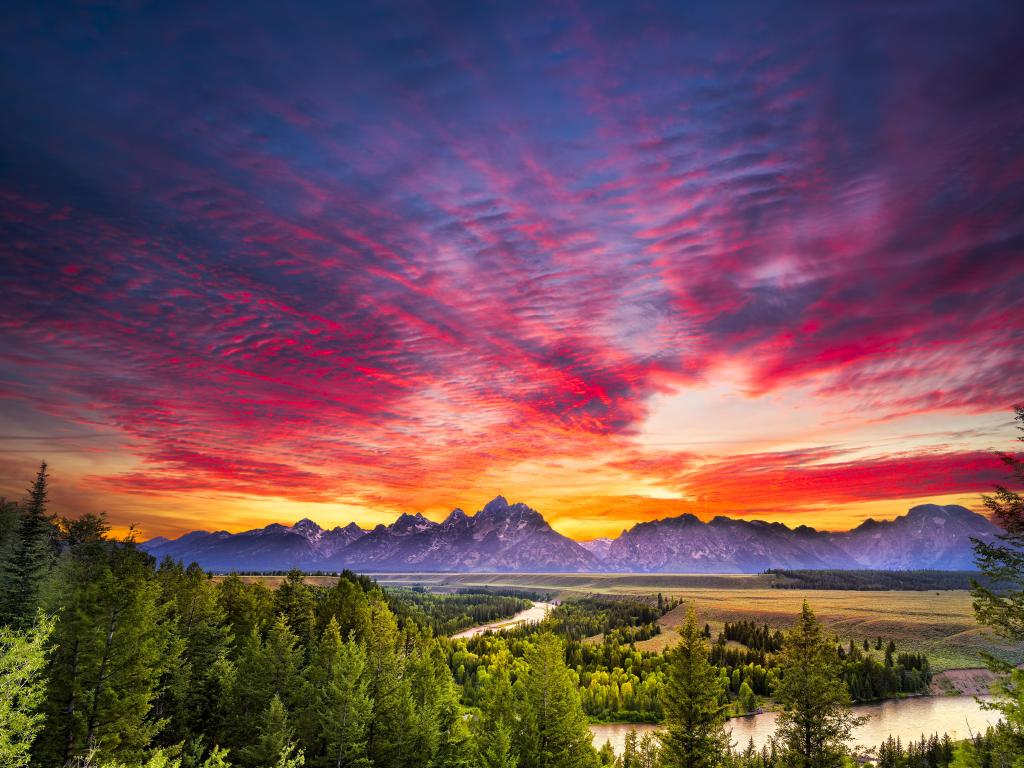 Things to see on a drive through Grand Teton National Park
Whatever your reason for heading to Grand Teton National Park, you'll find a whole host of unforgettable stop offs when you arrive.
Drive the Grand Teton Scenic Loop - By driving through Grand Teton National Park, you can surround yourself with scenic beauty. Stop at Willow Flats Overlook to admire the Teton Range and Jenny Lake Overlook to admire the pristine waters.
Hike the trails - Whatever your skill level, you'll find a hiking trail at Grand Teton National Park to suit. Head to Jenny Lake Visitor Center for the Stepped Inspiration Point Trail, where you look over the lake from a raised vantage point.
Boat across Jenny Lake - Admire the surrounding mountains as you boat across the crystalline waters of Jenny Lake. Best of all, if you take the boat to the west shore of the lake, it's a shorter hike to Inspiration Point.
See the native wildlife - Chances are, you'll spot some wildlife. It's home to animals such as bison, bears, wolves, and elks. You can go on safaris to increase your chances or try Antelope Flats to observe bison.
Capture memories with photographs - Grand Teton National Park is a haven for photographers. Snap the dramatic snow-capped mountain tops, crystal clear lakes, and roaming wildlife. For the best photo spots, refer to the scenic stops and overlooks.
Snake River - The river cuts through the heart of the park. You can capture the meandering river with a mountainous backdrop at Snake River Overlook captures. You can also enjoy float tours and whitewater rafting tours organized from nearby Jackson.
A drive through Grand Teton National Park is full of scenic wonders and amazing outdoor activities, so pack your hiking boots and your camera and get ready to hit the road!