15 Best Winter Road Trips in the USA
Let's face it, shorter days and gray skies can make the winter months seem way longer than they are. So kindle your adventurous spirit and belt out some of your favorite holiday tunes on an epic winter road trip that's sure to make the season bright.
From festive, holiday card-worthy villages to a frosty take on some of America's greatest parks, we've searched far and wide to find the most irresistible winter destinations for you this season.
Discover the many faces of the American winter in our best winter road trips in the USA, which include world-class slopes, charming towns full of cheer, and sunnier spots to beat the winter blues. There's sure to be a trip for you.
Read on below to discover the best winter road trips, conveniently organized, and start planning your own!
Best winter road trips in the USA: a quick overview
Our favorite winter national parks
One of America's greatest offerings is its vast, diverse National Park system. While crowded in the summer months, the winter is a great time to have a quieter, more relaxed experience in some of the country's most popular parks.
1. Road Trip from Los Angeles to Lake Tahoe via Yosemite
10 hours 10 minutes (520 miles)
Why you should visit: This road trip is a double feature of the two most majestic natural gems in California's Sierra Nevada Mountain range. For many coastal Californians, these are the go-to places to experience that mythical thing called snow which is rumored to fall in winter.
A chance to see the glacier-carved granite cliffs of Yosemite Valley and the deep blue azure of Tahoe surrounded by snow will make you wonder why you haven't taken this trip already.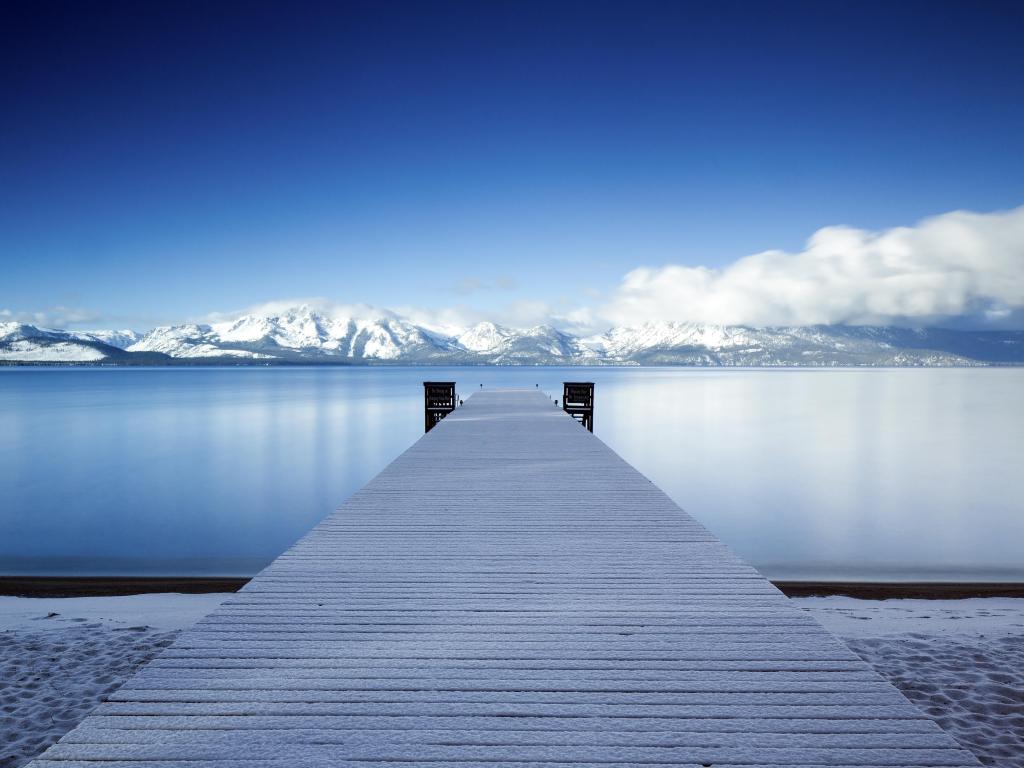 How to get there: Hop on I-5 N until Fresno, then take California Routes 99 and 41 N /Wawona Road. into Yosemite Valley. From Yosemite, Take California Route 120 to California Route 49 N and 88 E which will take you in to South Lake Tahoe.
If you'd like to see more of Lake Tahoe, drive along scenic Highway 89 from South Lake Tahoe to Tahoe City, it's well worth the extra mileage.
Our highlights: The Valley Loop Trail in Yosemite is mostly flat and easy to do in any season. From here you get a great view of Yosemite's most famous natural monuments, like Half Dome, and if you're lucky they might have a dusting of snow to go with the season.
There are also great opportunities for snowshoeing and cross-country skiing in Yosemite. People of all skill levels can find a beautiful trail or even groomed track to explore.
Tahoe in winter is a paradise for skiers and snowboarders - some places such as Palisades Tahoe and the aptly named Sugar Bowl get 500 inches of snow in a year. Many of the region's connoisseurs prefer slopes around the North Lake Tahoe area, so consider extending your trip up there.
Whether you ski or not, it is worth taking a trip on the Gondola at Heavenly Resort to the observation deck to see the lake decked out in all its frosty glory. Continue your gondola ride up to the lodge and enjoy a warm drink in a cozy setting.
Finally, make time to simply take it all in by the Lake. In Tahoe, there are plenty of beaches and piers to sit or stroll by the water and feel the winter magic.
Bonus: Dozens of movies have been filmed around Tahoe, including "True Lies" (1994), "Jack Frost" (1998), "Into the Wild" (2007), and most recently "Top Gun: Maverick" (2022). Just be careful while trying to do your own stunts like Tom Cruise.
Our travel tips: Yosemite gets so busy during the summer that the park has started requiring reservations to drive in during the peak months. Though far fewer people come during the winter, the school vacation weeks around Thanksgiving, Christmas, and New Year's will be more crowded.
Yosemite Valley Road and Wawona Road are open during the winter, but Tioga Road and several other Sierra Mountain pass roads are closed, so you will have to take a slightly longer route to get to Tahoe.
2. Road Trip from Salt Lake City, UT to Yellowstone National Park, Grand Teton and Jackson Hole, WY
6 hours 30 minutes (360 miles)
Why you should visit: With its mix of steam and snow, Yellowstone in the winter is like an American version of Iceland. Bordered by the dramatic profile of the Grand Teton Mountains in the south, this trip makes for an epic and adventurous winter road trip.
The main drag of Jackson Hole, with its Old West façades set against the towering Tetons, is rustic any time of the year. It also makes for a cozy home base from where you can explore two fantastic national parks, ski the surrounding slopes, and return for evenings by the fireside.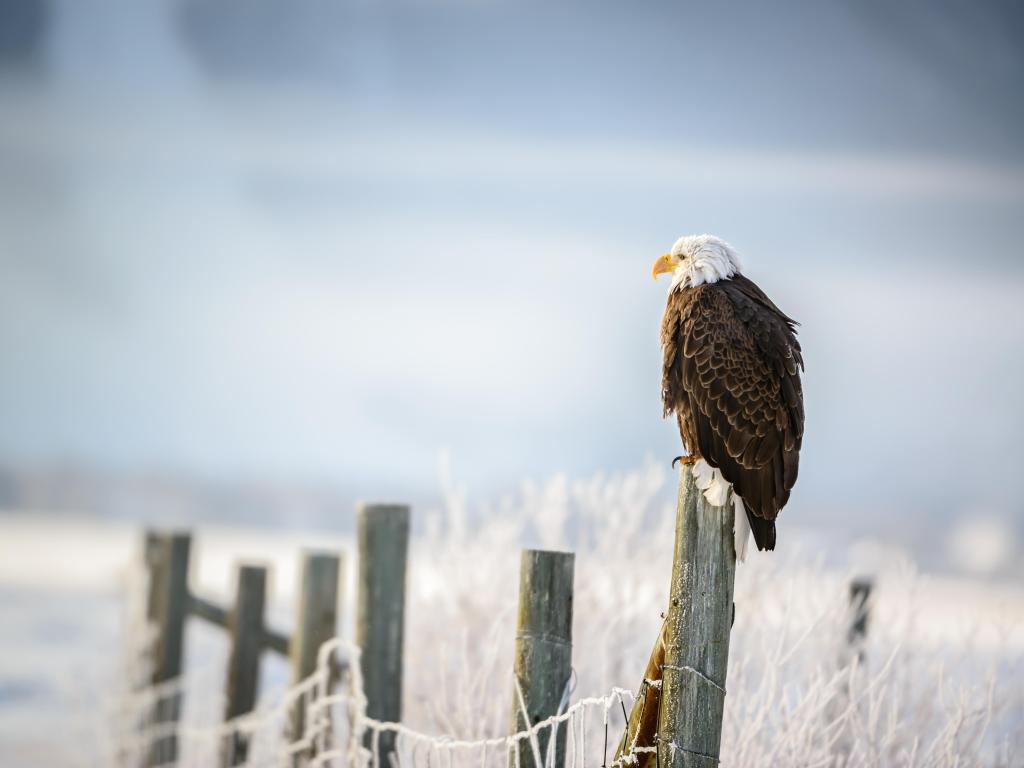 How to get there: Begin your trip by following I-15 N and US Route 30 E for 171 miles to Soda Springs, ID. From there, Take Idaho Route 34 E to US Route 89 N. After Hoback, WY, US-89 merges with US Route 191 N and heads to Jackson Hole. US-191 N continues on to Grand Teton and Yellowstone to the north.
Our highlights: Winter road closures throughout Yellowstone might sound like a bummer until you hear that from mid-December to mid-March you can see Old Faithful and other natural wonders via snowmobile tour! The park website has more details and a list of authorized tour companies.
While you aren't allowed to enter any of the hot springs within Yellowstone, mostly so that you don't become a human lobster, there are nearby places like Chico, Fairmont, and Montana Hot Springs where you can take a relaxing dip as you watch the flakes fall.
In the Grand Teton National Park, go on a guided snowshoeing hike with a park Ranger who can give you ample insight into the park's winter inhabitants and rhythms.
Elks have a large presence in Jackson Hole. Nearby you can visit the National Elk Refuge which was sent up in 1912 to protect one of the largest herds left in the continental US. Even downtown you'll be reminded that you're in elk country by the four arches of antlers welcoming people to Jackson Town Square.
During the winter months, it's great to have some indoor activities on the itinerary as well. Be sure to visit the National Museum of Wildlife Art in Jackson- the building is a piece of art in itself and its collection is impressive.
Yellowstone contains the largest geyser in the world, named Steamboat. Water from this geyser's eruptions can reach 380 ft. While not as regular as Old Faithful, it has erupted quite often since 2018. Catching one during a clear winter's day would be the experience of a lifetime.
Our travel tips: For an even more spectacular drive from Salt Lake City, take Utah Route 89. It branches off just before Brigham City and is also known as the Logan Canyon Scenic Byway. Get on Route 91 in Logan then head north, over the Idaho border, to connect back with I-15.
Road access within Grand Tetons is limited during the winter months. The only road open year-round stretches between Mammoth Hot Springs and the northeast entrance.
3. Road Trip from Boston to Portland, ME and Acadia National Park, ME
5 hours (280 miles)
Why you should visit: This is a trip where the snow meets the sea: you'll find the area dotted with dozens of photo ops and full of romantic spots to walk mitten in mitten.
While many people consider doing a Northeastern coastal trip during the summer or fall, a trip during the winter months has its own rewards. Explore the mystic quiet of Maine's vast forests and rugged coast under a glistening bed of snow.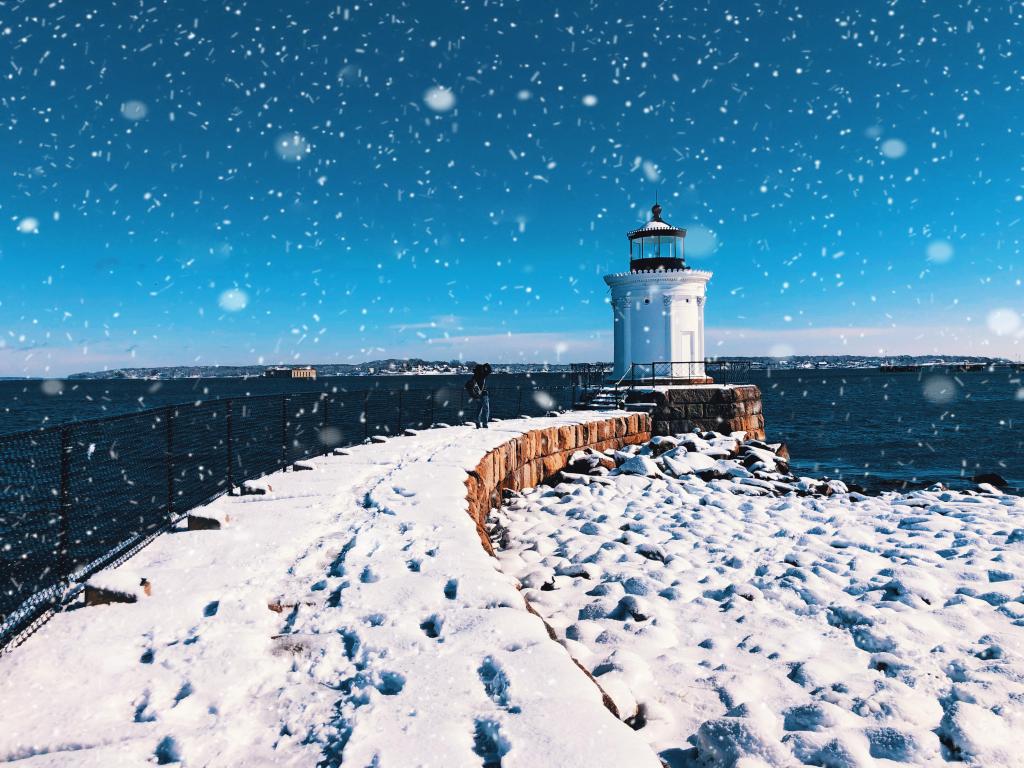 How to get there: Take US Route 1 N from Boston, then hop on I-295 north for 90 miles to Portland, ME. Once you've explored Portland, continue on I-295 towards Bangor, ME. Then take US Route 1A E and Maine Route 3 E to Mount Desert Island which contains Acadia National Park.
Our highlights: In the first stop in Portland, make sure you see the iconic Portland Head Light, with its red roof and whitewashed walls blending into snow drifts. It is also Maine's oldest lighthouse, built in 1791, and one of Portland's major attractions of any season.
In case you are open to suspending incredulity, visit the International Cryptozoology Museum in Portland where you can learn more about the Sasquatch, Nessie, and other mythical beasts as the frigid winds blow outside.
Winter is a great time to explore Acadia National Park by cross-country skis or snowshoes. There are 45 miles of carriage roads to choose your own adventure through this stunning park.
The next day, try your luck with ice fishing on Jordan Pond or simply go there to take in the winter scenery. There is also a 3.5-mile loop that will work up some body heat and reward you with even more beautiful views.
In case you can't quite part with your car's heater, but you'd still like to enjoy stunning coastal views from within Acadia National Park, take Schooner Head Road south of Bar Harbor and cruise along Ocean Drive for a few miles until Otter Cliff Road takes you back to Route 3.
Bonus: The temporary Glacier Ice Bar and Lounge is constructed every winter out of 20,000 lbs. of crystal-like ice. Sip a Snow Ball Martini or a hot cider with a little something extra and admire crystalline ice sculptures while meeting some hearty locals.
Our travel tips: Severe storms and road maintenance can affect I-295 so check for any closures before you leave. Please also note that, If you are visiting Acadia National Park and plan to drive on the Cadillac Summit Road, keep in mind that vehicle reservations might be required. Please check the national park's website to avoid any disappointment.
Click here to go back to the top.
Get some mountain air
Nowhere feels more suited to the winter snow than the mountains. The crisp air, stunning views, and of course winter sports excitement all await you on the following trips.
4. Road Trip from Denver to Aspen and Breckenridge Resort, Colorado
4 hours 20 minutes (180 miles)
Why you should visit: These are two of the premier skiing locations in Colorado, if not the entire US, so they make an obvious choice for a winter trip.
Even if winter sports aren't your thing, the chance to breathe pine-scented air, letting your inner child play in the powdery snow, and snuggling up by a crackling fire are deserving reasons to make this short and rewarding drive from Denver.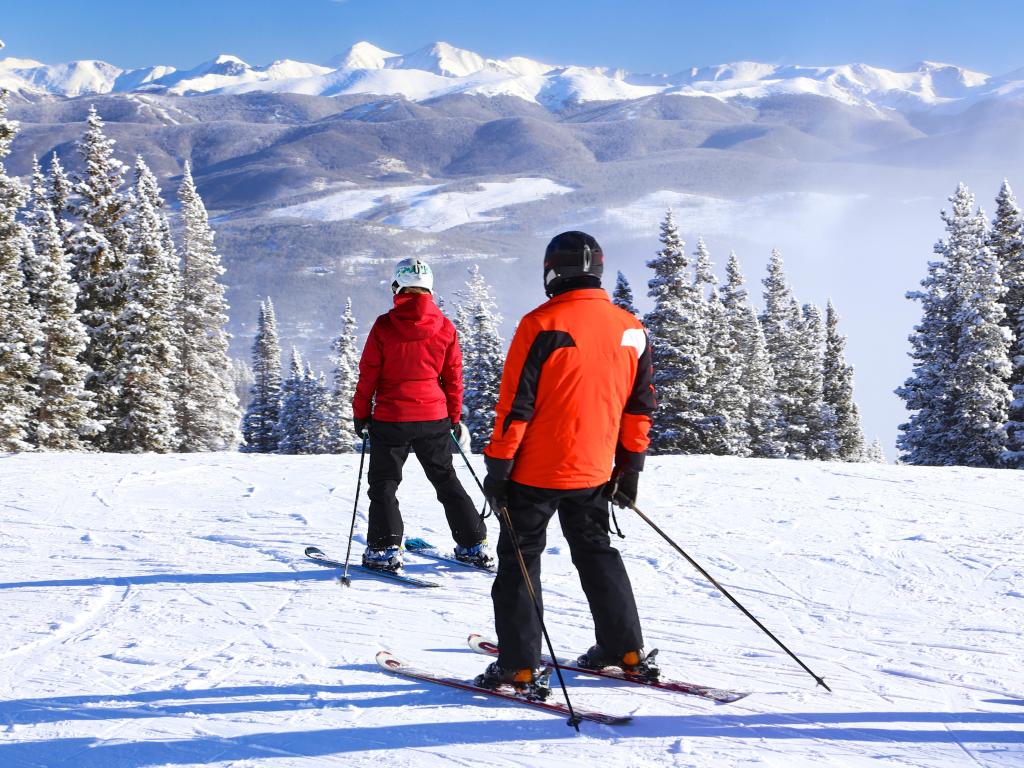 How to get there: From Denver, hop on I-70 W and follow it until you reach Colorado Route 9 S to Breckenridge. From here to Aspen, follow CO-9 back to I-70 and follow that until you get to Copper Mountain, and follow Colorado state highways to Aspen.
Our highlights: With 5 major peaks and 34 chairlifts, Breckenridge will spoil any skier or snowboarder for choice. Beginners can check out Frontier or Springmeier runs and more advanced folks can head to Centennial or even one of the double black diamond runs such as the Whale Tail.
Here you can also go dog sledding with some huggable huskies! We recommend a tour which winds through the dazzling Swan River Valley.
Once you move on to Aspen you can sing your favorite winter tunes as you skate around the Ice Garden, just don't pull anything as you attempt that triple axel.
Bundle up and go for a hike on Smuggler Mountain Trail to get a great view of Aspen surrounded by powered mountains and evergreen forests.
Downtown Aspen looks like it could be the setting of a winter fairy tale and some buildings hint at its 19th-century past as a silver mining town. Wander the streets after the fresh snow to take in the glittering window displays and try some of Aspen's world-class culinary offerings.
Aspen receives around 300 inches of snow a year and its most popular skiing area, Snowmass, covers over 3,000 acres, so there's little wonder why so many snow sports enthusiasts flock here every year.
Our travel tips: Since this is a mountain drive, it would be best if you had an AWD vehicle with winter tires.
The trip from Breckenridge to Aspen is particularly scenic, so take some extra time to stop at lookout points and admire the alpine views.
5. Road Trip from Phoenix, AZ to Santa Fe and Taos Ski Resort, NM
9 hours 20 minutes (600 miles)
Why you should visit: This trip takes you from the lap of the Sonora Desert to the snow-dusted Sangre de Cristo range in northern New Mexico, offering plenty of breathtaking scenery along the way.
Given the extreme summer temperatures, winter is the best time to cruise through the Southwest and actually be able to explore without risking heat stroke. At the destination, you will be dazzled with an ideal winter landscape surrounded by fir and pine trees along the slopes of Taos Ski Valley.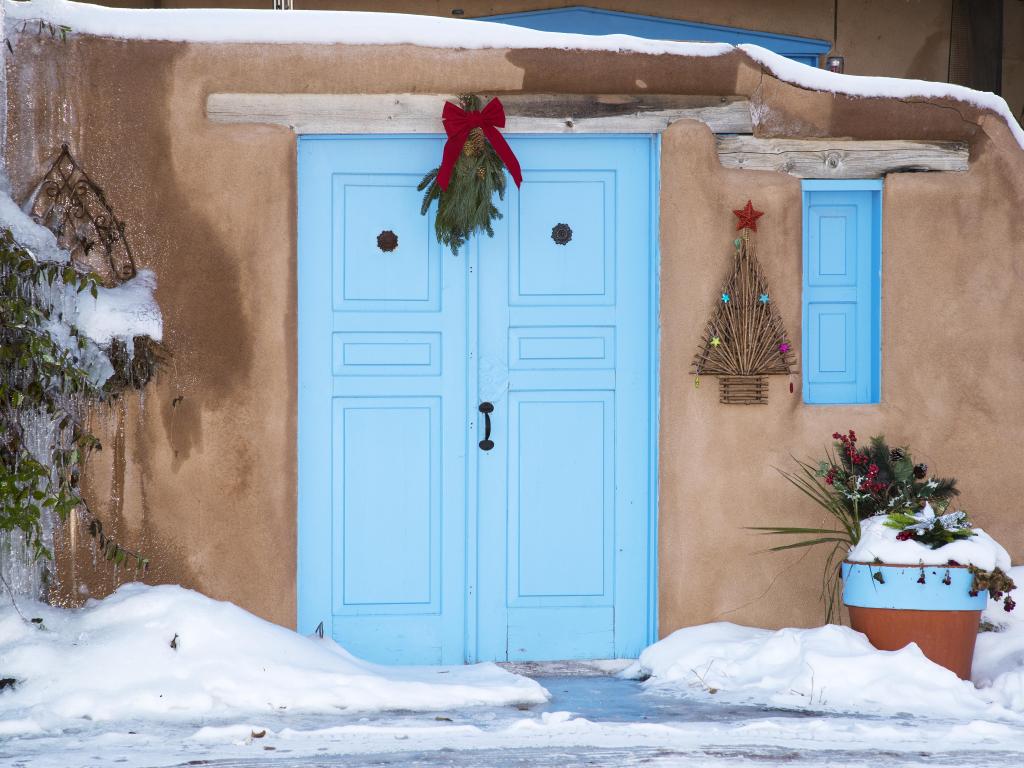 How to get there: From Phoenix, navigate to I-40 E in Holbrook and take this all the way to Albuquerque. There, change onto I-25 N to Santa Fe. After seeing the sights or staying the night, follow New Mexico Routes 84 and 68 to Rancho de Taos, then take New Mexico Route 240 E to Route 150 N and into the mountains of Taos.
Our highlights: While we still recommend seeing all the top attractions in Santa Fe, such as the Santa Fe Plaza, Museum of International Folk Art, and Georgia O'Keeffe Museum, this is the best time to explore the area's exciting outdoor offerings like the Atalya and La Cuchara trails in the surrounding hills.
Even though you might be thinking of Taos as your main destination to have fun in the snow, the hills around Santa Fe can get hundreds of inches of snowfall every year. Join many locals and enjoy a sleigh or toboggan ride in Hyde Memorial State Park and Aspen Vista.
Once you get to Taos, if you're rearing to hit the slopes, you have a few excellent options at your feet. From the Taos Ski Valley itself to the nearby Angel Fire Resort, you will have plenty of opportunities to shred that powder and catch some air.
Taos' exquisite hills perfect for skiing aren't its only attraction. This town's vibrant mix of cultures, from the Pueblo Native American inhabitants to early 17th-century colonial Spanish influence can all be explored in the winter months as well.
A must-see is the nearby Taos Pueblo which is over 1,000 years old and both a National Historic Landmark and UNESCO World Heritage site.
Bonus: There's nothing quite like being surrounded by cool air and immersed in balmy waters. Did you know there are several hot springs around Taos? Stagecoach Hot Springs, a few miles northwest of Taos, and the more accessible Black Rock Hot Springs are good options.
Stagecoach Hot Springs is also known as Manby Hot Springs after a British explorer with quixotic dreams. He started to build a world-class resort at the springs named after him in 1922, which he was going to bill as the Lost Springs of the Aztec, but the project was never meant to be.
You can still see some ruins of bathhouse walls at the Stagecoach Hot Springs while you soak your bones and listen to lore from the locals.
Our travel tips: While most people say they don't need tire chains like in the Sierras, since you will be in mountainous terrain, an AWD vehicle would be preferable for this trip. Be sure to check any weather advisories before you go.
Santa Fe is quite popular in the winter - as is Taos - so make sure to make your bookings well in advance.
Click here to go back to the top.
Enjoy a festive dose of retail therapy
Why not turn the stress of holiday shopping into a grand, and even romantic, adventure? You can stock up on presents to surprise your loved ones or treat yourself to a much-deserved retail therapy and festive decorations after a long drive.
6. Road trip loop from Burlington, VT to Jackson, NH, Woodstock, VT, and back
7 hours 30 minutes (360 miles)
Why you should visit: Get ready for a trip through a storybook winter wonderland! Vermont and New Hampshire embrace the winter season like few other states in America.
Even though the fall trip to Vermont is on many a bucket list, we think a winter trip should be on there as well. Exceptional winter road maintenance and infrastructure make this a great place to drive safely and enjoy winter scenery to the fullest.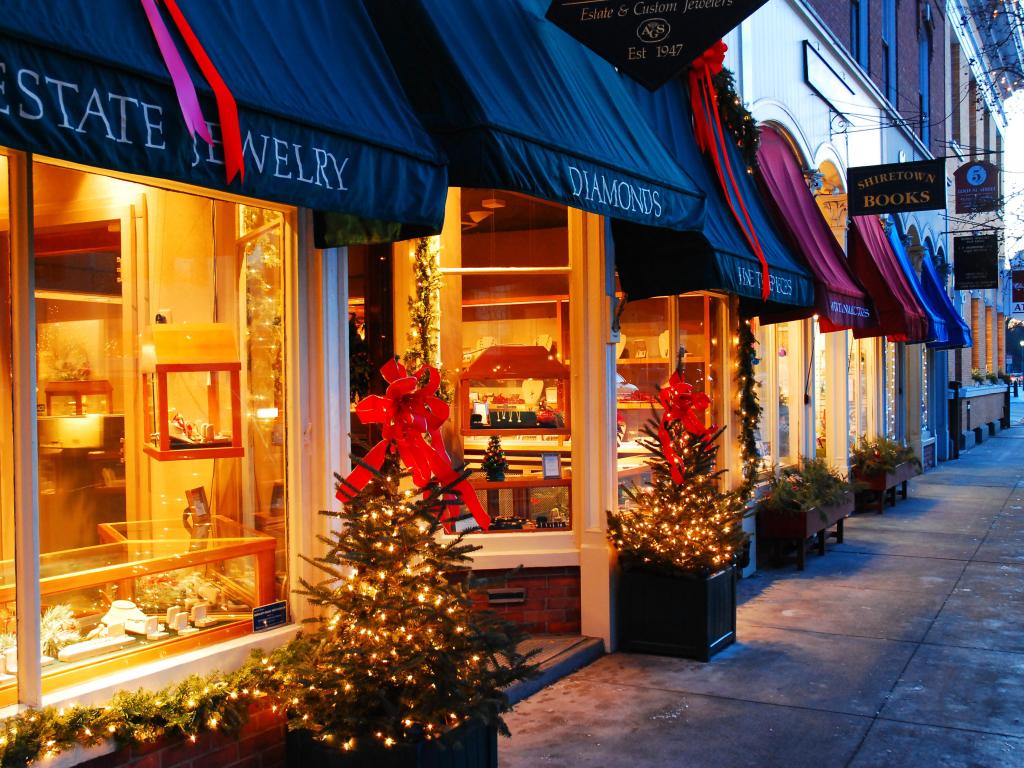 How to get there: From Burlington, take I-89 S until the exit for Vermont Route 100 N towards Stowe, VT. Continue along VT-100 N and Vermont Route 15 E to I-93 in St. Johnsbury. Look for the intersection with US Route 302 E, which will take you through Bethlehem and Bartlett to Glen, where there's just a short drive up New Hampshire Route 16 to get to Jackson.
Once you're done exploring Jackson, follow the route back to Glen and take US-302 towards Conway, NH. From there, take New Hampshire Route 112 W to Mt. Moosilauke, then navigate I-91 S to Woodstock. To get back to Burlington, follow Vermont Route 12 N to I-89 N.
Our highlights: Just before Jackson, you'll pass through the White Mountain National Forest. After putting on plenty of layers and glancing at the weather conditions, this national forest offers hikes that even beginners can enjoy in the winter. The Lonesome Lake is very accessible, as is the Mount Willard hike, which offers magnificent views over the snowy landscape.
In Jackson, North Hampshire, get ready for some true winter magic at Nestlenook Farm. Here you can ride in a custom-made Austrian horse-drawn sleigh, ice skate on an idyllic pond, go snowshoeing through the surrounding evergreen forest, and then return for a fireside drink at the old estate.
For those who like a little more adrenaline on their trip to Jackson, great skiing for people of all skill levels can be found at Wildcat Mountain and Attitash Mountain Resort.
Woodstock is a classic New England village that evokes Hallmark imagery when enveloped in the winter frost. It boasts architectural styles spanning from Georgian to Greek Revival.
Wander the adorable downtown full of holiday cheer or visit the impressive mansion at Marsh–Billings-Rockefeller National Historical Park to learn more about local conservation efforts. For the outdoorsy type, you can ice skate or even try your luck at ice fishing on Silver Lake.
Vermont has the highest density of covered bridges in all of the US and boasts over 100 throughout the state. Two cute bridges can be found near Woodstock: the Middle Covered Bridge and the Taftsville Covered Bridge.
These highly photogenic locations would make for a great personalized winter greeting card to send to your friends and family.
Our travel tips: As with any road trip, you will want to make sure your vehicle is in top-notch condition before you hit the highway. Given the extreme winter weather of the Northeast, make sure to pack warm clothing, water, snacks, and a blanket for the road.
7. New York City, New York
(Travel time will vary)
Why you should visit: The buzz of holiday excitement starts with Macy's Thanksgiving Day Parade and doesn't let up till the first days of the New Year. Whenever you decide to make your trip, you're sure to feel the magic. It's New York City, need we say more?
While all five boroughs have their own take on the holidays, none are as full of holiday cheer and glittering storefront displays as Manhattan, where most of our highlights below are located.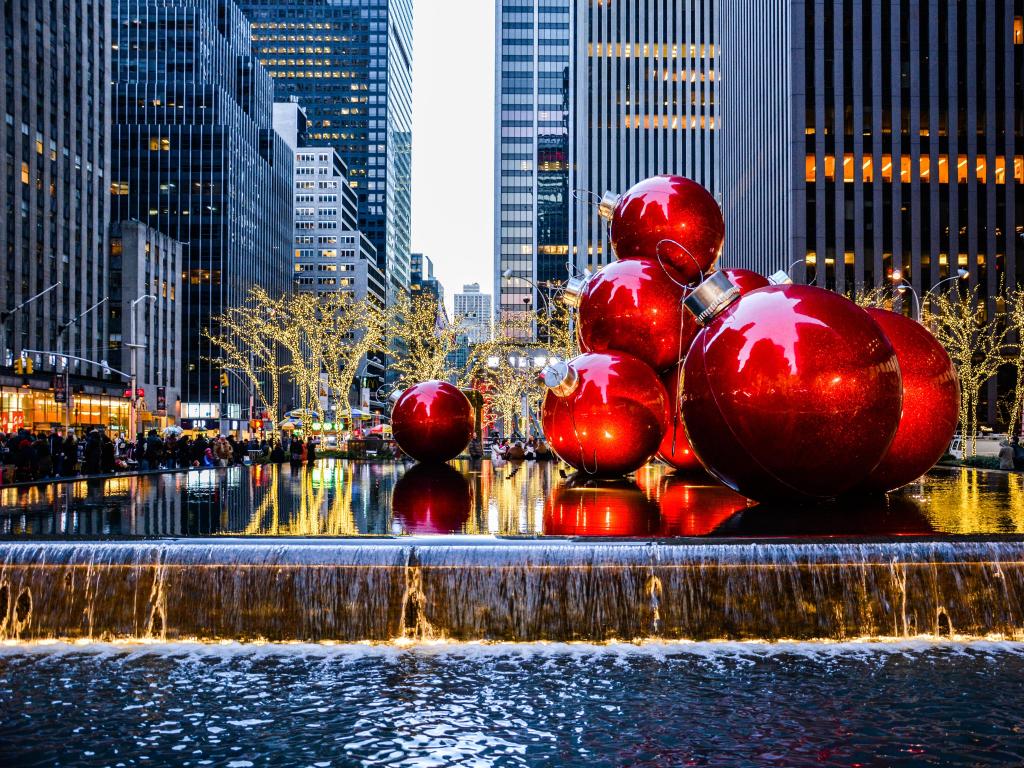 How to get there: In case you'd like to get a taste of gorgeous Upstate New York, take a short day trip to Beacon, NY or combine this trip with the Catskills and Hudson Valley trip we've laid out below.
Beacon is 68 miles north of NYC and will take about an hour and a half to drive, mostly along New York Route 9 and the Palisades Interstate Pkwy, crossing over the Hudson River using the Bear Mountain Bridge.
Our highlights: No shopping trip to Manhattan is complete without a stop by Rockefeller Center. We think it's worthwhile to brave the crowds in order to experience one of the world's premier retail destinations.
A must-see a few blocks over is the classic window display at Saks Fifth Avenue. Another store you can't miss is Bloomingdales, which looks like it was constructed to be a dazzling temple to Christmas itself.
To shop like a local, journey to one of NYC's outdoor winter markets. In Bryant Park, there's the Bank of America Winter Village with over 170 shops and vendors, as well as free ice skating. Another option is the Makers Show at City Point where you can find a truly unique gift or souvenir for yourself.
Especially for couples, a horse-drawn carriage ride around the iconic Central Park will be a unique and romantic way to see the sights while listening to the friendly trot of a Clydesdale. It would be good to book this equine adventure online ahead of time.
In case you'd like to ice skate in the city and skip the crowds, head to Central Park or Brookfield Plaza to glide along, hand in hand.
Even though many of the classic NYC holiday sights are in Manhattan, there are still four other boroughs to explore. Take a peek at the elaborate decorations in Brooklyn's Dyker Heights Christmas Lights display which you can also explore by bus tour if you've had too much eggnog.
Bonus: Catch the Christmas tree lighting at Rockefeller Plaza. This is the heart of the holidays in NYC and has been a cherished tradition since 1933. This 70 ft. tall and immaculately decorated tree, topped with a Swarovski Star, is sure to give you an idea or two for your own holiday decorations.
Our travel tips: If you are more interested in simply seeing NYC in the snow, or late winter is the only time you have to make the trip, aim to go in January or February for some of the cheapest rates on flights and hotels. Major attractions will also be less crowded.
Click here to go back to the top.
Enjoy some festive, small-town charm
No matter where you grew up, most likely when you imagine the winter holidays, scenes of snow-covered roofs, frozen lakes, and cozy shops glowing with candlelight fill your mind. Why not experience the frosty winter holiday of your dreams and try out one of the following trips?
8. Road Trip from Chicago, Illinois to Elkhart Lake
2 hours 30 minutes (150 miles)
Why you should visit: This is a great day trip to experience a bit of winter in the countryside or could be turned into a romantic weekend getaway where you can cozy up at a lakeside lodge.
While you may have enjoyed this beautiful lake during the verdant summer months, a whole different kind of merriment can be found in this charming lakeside town as the snowflakes glisten and the lake freezes over.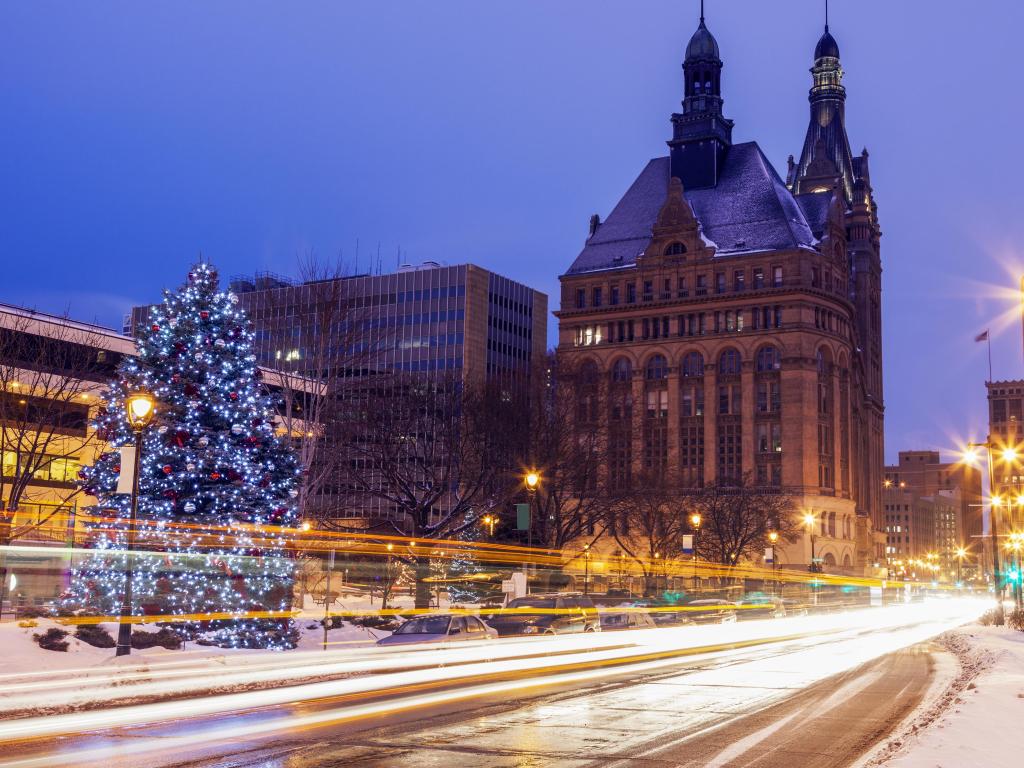 How to get there: From Chicago, take I-90 W, which merges with I-94 W. Follow that through Milwaukee where you will get on I-43 N. Exit in Saukville and continue north on Wisconsin Route 57 N to Elkhart Lake.
Our highlights: The Village Square in Elkhart is beyond adorable in the wintertime and there are great boutique shopping opportunities as well as plenty of places to try local microbrews paired with a warm pretzel.
Bundle up and enjoy the fresh air lakeside. Around Elkhart Lake, there are trails to walk, snowshoe, or even take a horse-drawn carriage around this winter wonderland.
When it's freezing outside, what could be better than a Fish Fry! Make a reservation and head out to the Quit Qui Oc Golf Course on a Friday night to try their delicious Perch Dinner or All-You-Can-Eat Bluegill.
Treat any winter stiffness at the Aspira Spa located in the impressive Osthoff Resort. Situated in a peaceful cedar forest and using water from a nearby spring, here you can get an individual or couples massage or simply relax in a steamy sauna as the winter frost outside does its own thing.
Bonus: For over 20 years, Elkhart has hosted the Old World Christmas Market for over ten days in early December. Vendors come from all over the world to show their wares.
From Central European blown-glass ornaments to hand-painted Russian dolls and German nutcrackers, there is sure to be a finely crafted and eye-catching piece just for you.
Our travel tips: The winter roads can be icy, hazardous, and vary dramatically, so be sure to check for any alerts. In case you'd like to improve your confidence driving in freezing conditions, the well-known Road America racetrack in Elkhart has a highly recommended Winter Driving School.
9. Road Trip from Atlanta, GA to Nashville and Franklin, TN
4 hours 30 minutes (270 miles)
Why you should visit: Nashville is always a kick but in the winter, they take it up a notch and really get into the holiday spirits, with music, lights, and Southern charm.
Both Nashville and nearby Franklin embody the warmth of spirit which makes the coldest time of year so merry. If you're still feeling the cold in your bones, then there are plenty of distilleries to sip whiskey and warm yourself up from the inside out.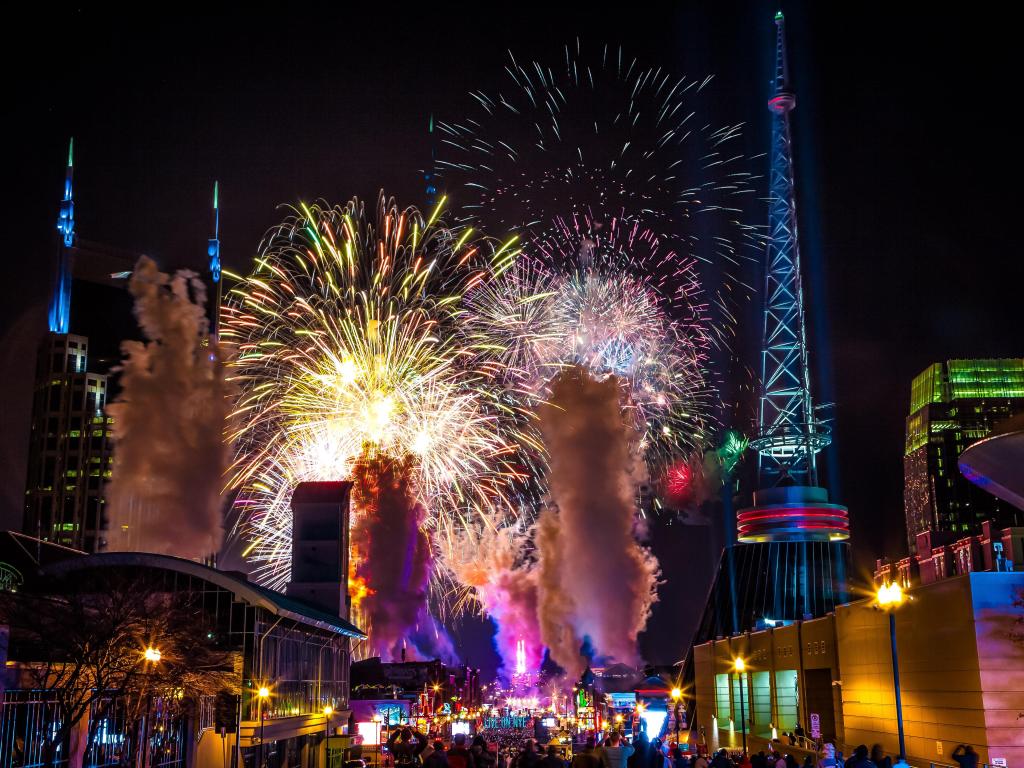 How to get there: From Atlanta head north on Interstate 75 N and change onto Interstate 24 W Chattanooga. Take I-24 W all the way to Nashville. From there, follow Interstate 65 south to Franklin.
Our highlights: See Nashville at its winter best, along with some of the well-known music stops like the Johnny Cash Museum, by riding the Old Town Trolley.
The Dancing Lights of Christmas in Nashville is the perfect holiday attraction to enjoy from your car. The light-strewn streets will flicker to the beat of classic Christmas songs you can tune into on your car radio.
Some people might know Franklin from its prominent Civil War history. Learn more about the intense battles that were waged here by going on a guided tour at Carter House or the Lotz House Museum across the street.
Just outside of Franklin there is an equally adorable village called Leiper's Fork. This quintessential small country community is full of friendly people, boutique stores, art galleries, a distillery, and in the center of the village at Fox & Locke you can catch plenty of live music.
Bonus: If you come in early December, you can catch a unique and festive pop-up event in Nashville: Porter Flea Market. This heated, indoor, winter market features 200 diverse vendors and there's even a 21+ preview event. You'll need to book tickets online, ahead of time.
Our travel tips: Even though it's nothing like the Northeast, winters in Tennessee can be quite chilly and it occasionally snows in Nashville, so make sure to bring plenty of layers.
10. Road Trip from Baltimore, MA to Bernville and Bethlehem, PA
3 hours 10 minutes (165 miles)
Why you should visit: Both Bethlehem and Bernville have a strong connection to the most wonderful time of the year. Bethlehem is even nicknamed Christmas City USA and regularly makes it to "must-see holiday destination" lists.
The scenic and sometimes Old World feel of eastern Pennsylvania makes for a classic winter trip already. Paired with these two jolly towns during holidays, it is a hard trip to pass up.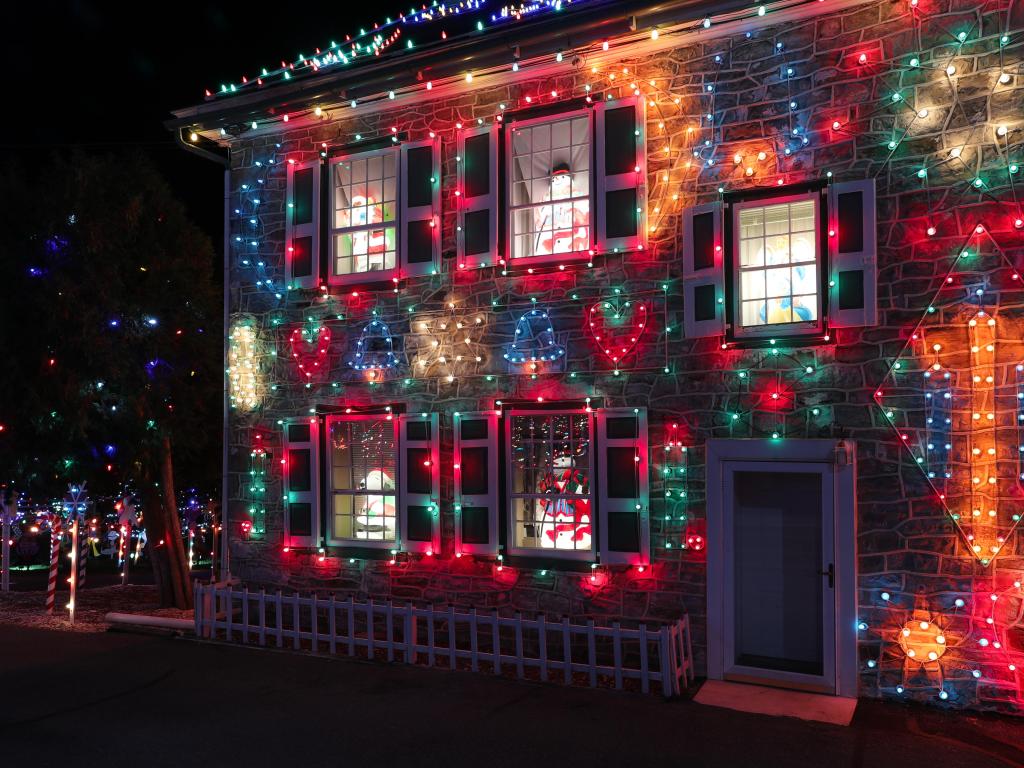 How to get there: Drive north from Baltimore towards York via Interstate 83 N. From there, head east on US Route 30 and 222 to Bernville. Once you've seen the sights there, drive north to Shartlesville, where you'll link up with Interstate 78 E which will take you to Bethlehem.
Our highlights: Bernville's top attraction is Koziar's Christmas Village. This life-sized Christmas diorama is a throwback with thousands of fairy lights, retro decorations, and cutesy stalls. Reconnect with your inner child and all the excitement that Christmas brings.
Bethlehem got its name on Christmas Eve in 1741 when a group of Moravians christened their new town. It was so spirited that it earned the town the name Bethlehem.
You can still see hints of this central European heritage at the Moravian Book Shop, which was established in 1745, making it one of the oldest bookshops in the world.
Once in Bethlehem take a tour of the historic town led by costumed and knowledgeable guides on the Christmas City Stroll.
Later, peruse hundreds of dazzling, hand-blown ornaments and Moravian glass Christmas stars at Bethlehem's Christkindlmarkt Holiday Market. The market is open for a few select dates in November and December, check the town's website for more information.
Participate with the locals in a unique Bethlehem offering: a Live Advent Calendar. Every evening on Main Street a new surprise is revealed amidst trombone choirs and general jubilation.
One of the coolest and most intriguing Bethlehem stops in any season is the multi-purpose SteelStack, housed in a former industrial area that contains the monumental blast furnaces of the old Bethlehem Steel Plant. Come here for music, a museum, food, brews, and festivities.
Our travel tips: Given the common theme of Bethlehem being the place for Christmas, you'd better book your hotel earlier if you plan on coming during December.
11. Road Trip around the Catskills and Hudson Valley, NY
7 hours 10 minutes (320 miles)
Why you should visit: The Catskill Mountain ranges in Upstate New York are both a summer playground and winter wonderland for people to take a break from the city and be refreshed by the grace of nature.
Winding roads through dormant forests and a dramatic stretch along the Hudson where you will pass ice-covered cliffs make this a surprisingly scenic winter getaway.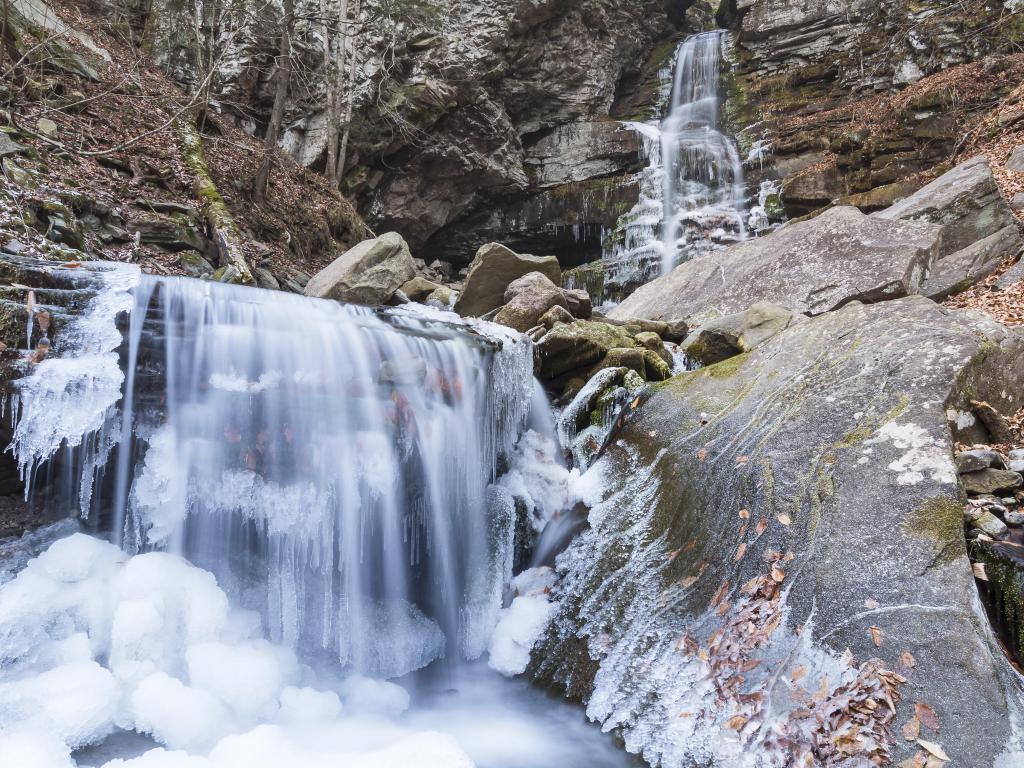 How to get there: From Beacon, NY head north along Highway 9 past Staatsburg until you hit Rhinebeck. From there head east, then north to connect with the Taconic State Parkway and make your way to Stockbridge, MA.
Begin making a look by heading west on I-90 until you cross the Hudson River and change onto I-87 south, following the river until you'll hop onto NY Route 212 before Saugerties to get to Woodstock, NY.
From Woodstock, wind your way west to Callicoon, then south along NY Route 97 towards Sparrow Bush. Get onto I-84 west until Mechanicstown, NY, where you'll take NY Routes 6 and 17 to Bear Mountain State Park.
Our highlights: This trip has the option to pass through Stockbridge, MA and we heartily recommend spending some time here. The town itself is full of historic charm and there's a Norman Rockwell Museum with the largest collection of this American painter's pieces.
Woodstock has some notable religious architecture including the wooden Holy Transfiguration Church, which is on the National Register of Historic Places, and a Dharmachakra Tibetan Monastery. The austerity of the colder months compliments the mystique of these spiritual refuges.
Between Catskill, NY and Callicoon, NY you pass a variety of state parks and forests where you can hike along a quiet trail and catch glimpses of frozen falls and streams. One of the most iconic waterfalls in the area, Kaaterskill Falls, becomes an otherworldly cascade of icicles in the depths of winter.
The Overlook Mountain trail is a relatively easy hike near Woodstock which offers breathtaking views of the surrounding hills. If you come after fresh snow, you will be welcomed by a powdery landscape full of glistening branches.
We haven't forgotten the skiers on this trip and the Catskills are home to some of the best skiing spots in New York. North and west of Woodstock you will find great slopes at Belleayre, Hunter Mountain Resort, and Windham Mountain.
Towards the end of your trip, the rolling hills of Bear Mountain State Park offer ample opportunities for winter adventure including sledding, cross-country skiing, and even ice skating on the park's own outdoor rink.
Bonus: If you check the almanac and time your trip just right, try to be in Stockbridge for a full moon. Hilltop Orchards offers a guided snowshoe trek under the lunar light which culminates in a bonfire! Magical doesn't even begin to describe it.
Our travel tips: In the event of an unexpected blizzard, be sure to have an extra blanket, water, and even some gravel or road salt in case you're trying to navigate a smaller country road that has iced over.
12. Road Trip from Asheville, NC to Williamsburg, VA
9 hours 50 minutes (520 miles)
Why you should visit: Would you like to experience a variety of winter landscapes in one fantastic drive? This winding route takes you from Appalachian Mountain County to coastal Williamsburg near the opening of Chesapeake Bay.
Part of this route covers the Blue Ridge Parkway, known as "America's Favorite Drive." It is breathtaking in every season and hardly the only highlight of this interstate trip through exquisite nature and colonial American heritage.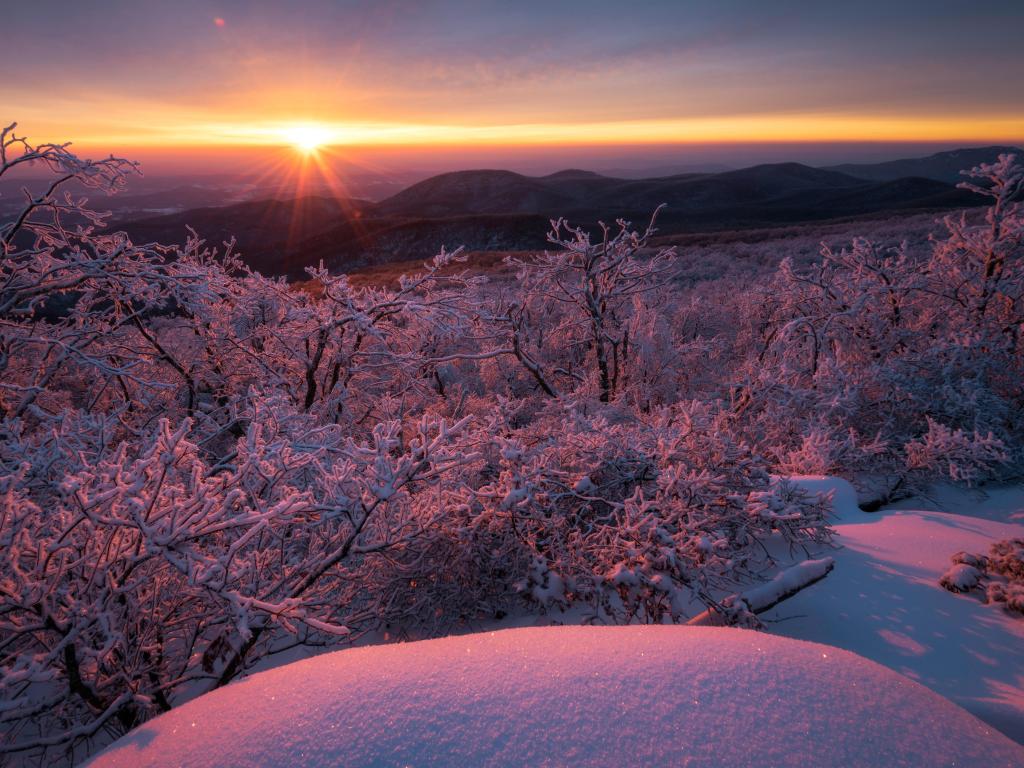 How to get there: From Asheville, head towards the scenic Blue Ridge Parkway and go north. We suggest stopping at the Chestoa View and Round Meadow Overlooks along the way.
Continue heading towards Roanoke and drive northeast on Interstate 81until you reach Staunton, then hop on Interstate 64 E. In case you wanted to see Shenandoah National Park, look for signs or Skyline Dr. in Afton. Otherwise, stay on the I-64 past Richmond until you reach Williamsburg.
Our highlights: For anyone who loves the great outdoors, some time spent exploring the beautiful trails of Shenandoah National Park is a must. Particularly in the winter, when the trees have shed their leaves, the mountain views are more open than ever.
Colonial Williamsburg is actually an open-air museum. One of the most spectacular heritage properties in Williamsburg is the Governor's Palace. A recreation of the 18th-century Virginia Governor's Mansion, originally built by the British, then destroyed and rebuilt in 1934. In wintertime, the surrounding gardens take on a storybook quality when dusted with snow.
See Colonial Williamsburg as the gentry of yesteryear saw it, atop a horse-drawn carriage. While carriages operate year-round, they are dependent on the weather and tickets are best purchased early on the day you wish to go.
For a bit of afternoon or evening fun, go ice skating at Liberty Ice Pavilion then find a tasty treat or warm drink at the quaint and festive Merchant's Square across the street.
In case you want to escape the cold and enjoy a convivial environment, check out one of Williamsburg's theaters, comedy clubs, or even the symphony and enjoy a night out.
Are you interested in meeting the ghost of Christmas past? You have a good chance at Peyton Randolph House in Williamsburg. Originally built in 1715, it is rumored to be haunted and is home to frequent ghost sightings.
Our travel tips: In case the Blue Ridge Parkway is closed for any reason, or if you just want to make this a more direct trip, you can take the I-40 to Greensboro, then take I-85 to Richmond where you'll meet up with I-64.
13. Road Trip from San Diego, CA to Grand Canyon, AZ
10 hours 40 minutes (690 miles)
Why you should visit: This trip passes through an unforgettable desert landscape, including Joshua Tree National Park, and brings you to one of the greatest natural wonders in the whole country, the Grand Canyon.
As you can imagine, the Southwest can get pretty toasty in the summer months, so the winter is a great time to drive the desert and take a canyon hike in more temperate weather. There's nothing quite like breathing in the cool morning air, scented with sage, and gazing out over a natural wonder carved over millions of years.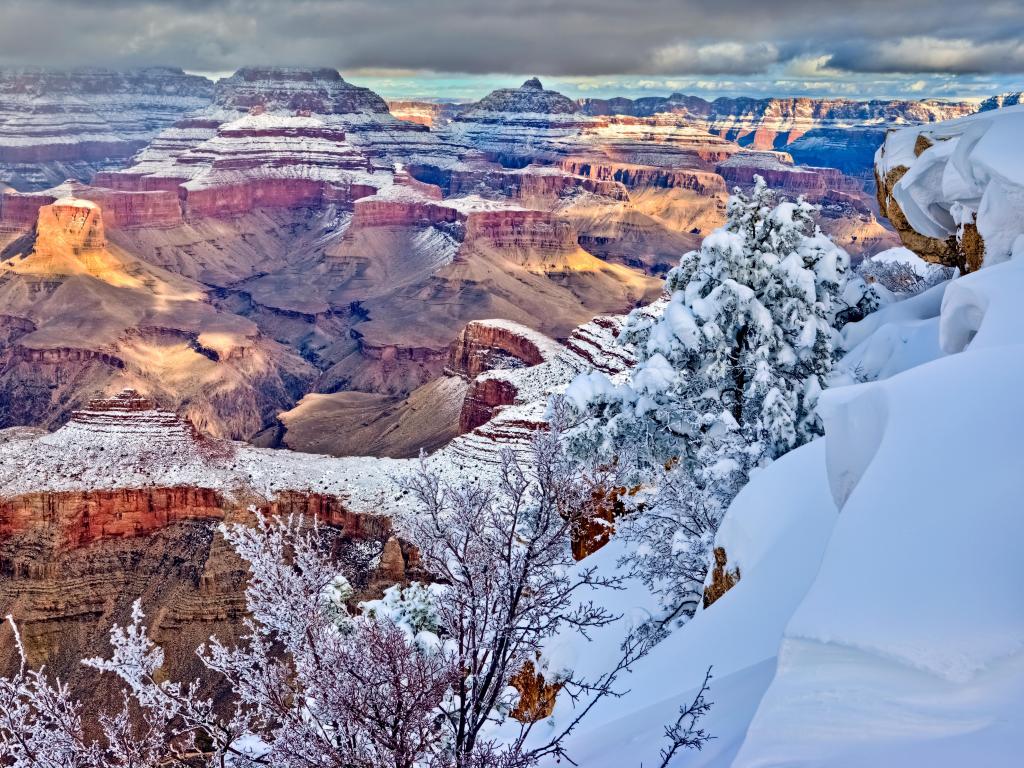 How to get there: From San Diego, head north towards Riverside, then hop on Interstate 10 E to Highway 62 in order to see Joshua Tree National Park. Once you've explored this picturesque park, get back to I-10 and drive towards Phoenix, AZ.
There, you'll start heading north along Interstate 17 towards Flagstaff. Continue north, taking I-40 to US Route 64 just before Williams and that will take you into the southern entrance to Grand Canyon National Park.
Our highlights: While in America's most popular National Park, explore the South Rim, including the ever-photogenic Yavapai Point or Mather Point. Here you can see layer upon layer of geological history revealed on the canyon walls. The Yavapai Geology Museum is also open for limited hours (9 am-5 pm) during the winter season.
After you've taken the compulsory canyon selfie, take a drive along Hermit Road to the Hermit Trailhead. From March to November, this road is closed to private vehicles, so this is a unique opportunity to make this scenic drive through the southern part of the canyon.
For more car-based exploration, follow the scenic Desert View Drive to the breathtaking Grandview Point, explore the 800-year-old Tusayan Ruin, and a little further on you'll encounter the Desert View Watchtower.
Most of the trails in Grand Canyon National Park are still open during the winter. Even though the days are shorter, you won't face the searing mid-day heat.
Try the South Kaibab Trail which follows a ridgeling with amazing views or do the Canyon's most popular Bright Angel Trail down to the Colorado River, just watch out for ice near the top of the canyon.
Bonus: It snows in the Grand Canyon! Even though it is no guarantee and there are also many clear, sunny days, in the months of January and February it is not uncommon to see the iconic canyon landscape transformed into a snowy wonderland overnight.
Our travel tips: In addition to passing through Joshua Tree National Park, this route also has the possibility to stop and explore Coconino National Forest between Phoenix and Flagstaff.
One minor drawback to visiting the Grand Canyon in winter is that the North Rim area of the park is closed to vehicles in the winter. In case you still wanted to camp, Mather Campground is open in this season.
As the only campground open, however, it would be best to make your reservations in advance. Also, pack plenty of layers to accommodate the variable weather.
In case you needed yet another reason to visit during the winter, this time of year enjoys far fewer crowds, and the sun rises quite a bit later (around 7am), so it will be easier getting up to take that epic sunrise picture.
Click here to go back to the top.
Escape the cold with some winter sun
Do you simply think snow is overrated? On these trips ditch the heavy coat and get ready to enjoy some vivifying solar rays. From cool white sandy beaches and turquoise waters to world-famous landmarks, our suggested trips have it all!
14. Road Trip from Miami to Key West, FL
3 hours 10 minutes (170 miles)
Why you should visit: This is your chance to have a truly tropical winter trip without needing to fly. The warm, sandy beaches and turquoise waters will have you thinking winter is a million miles away.
Key West is a quirky, tiny, island full of conch (pronounced "con-k") shells and delectable key lime pie. If you need a little boost to get over the winter blues, then this is a road trip for you.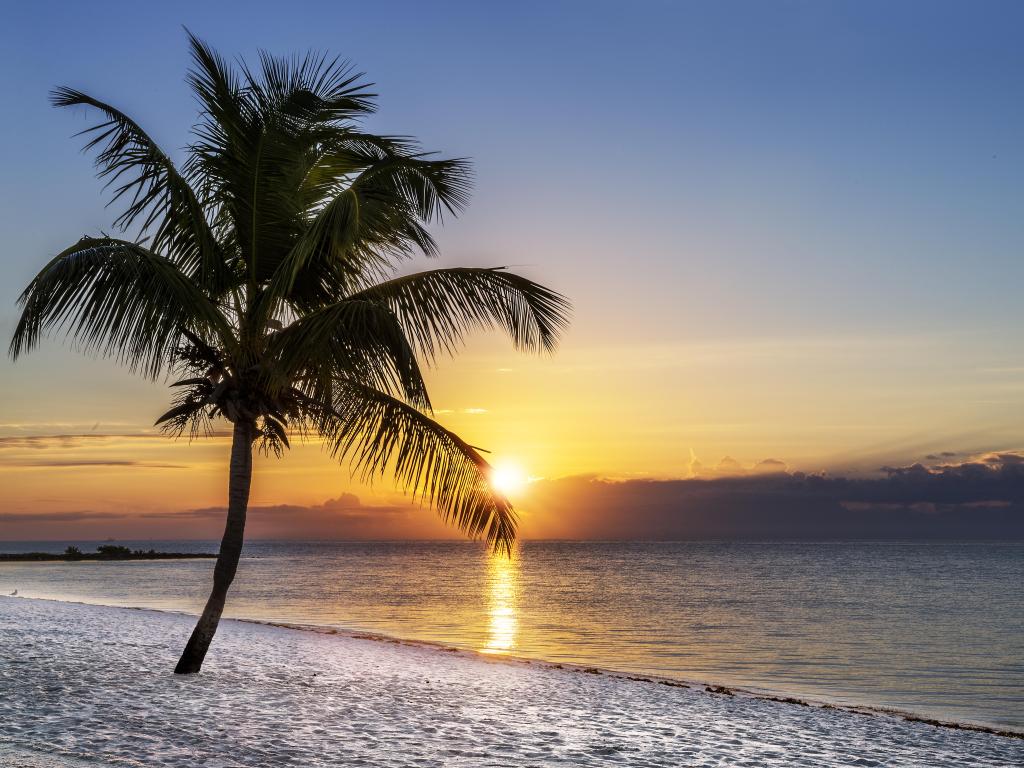 How to get there: From Miami head south along the Overseas Highway (US-1) all the way to Key West for an unforgettable drive bordered on both sides by the ocean blue.
Our highlights: While in Key West, be sure to spend at least one evening at Mallory Square and enjoy the Sunset Celebration with plenty of local artisans and upbeat music befitting the island vibe of the Keys.
Get a little adventure in on this trip and paddleboard through one of the most unique ecosystems in the world- a mangrove. In this shallow water forest, you can see plenty of wildlife and learn from knowledgeable guides why the mangroves are key to coastal preservation.
What's a trip to Key West without a beach day? Sunbathe, snorkel, or sit with a good book feeling the warm sand between your toes at Higgs Beach or Fort Zachary Taylor Historic State Park. Then travel all the way to the southernmost point of the continental USA and get a picture with the giant buoy marking this special spot.
Finally, enjoy the local flavors at Blue Haven, which feels like it's been plucked straight from the Caribbean, or get some authentic Cuban fare at El Siboney.
One of America's literary giants, Ernest Hemingway, lived and worked in Key West in the 1930s. His former home is now a museum and one of the area's most popular attractions.
Here you can also pet one of the dozens of six-toed, or "polydactyl," cats that are said to be descended from Hemingway's own furry friend named Snow White.
Our travel tips: Winter is Key West's peak tourist season, so budget accordingly and expect a few crowds. The well-known Duval Street can get pretty rowdy at night, so visit during the day if you're not in a party mood.
15. Road Trip from San Francisco to Solvang, CA
6 hours 30 minutes (340 miles)
Why you should visit: Solvang was born when Midwesterners of Danish descent grew tired of harsh winters and purchased a large ranch in the early 20th century. From fairytale-like Danish architecture to delicious wines, Solvang will delight every visitor.
This town has such a Danish draw that even Prince Henrik of Denmark visited it in 2011. We suggest you do too if you'd like to live it up like a member of the Danish royal family.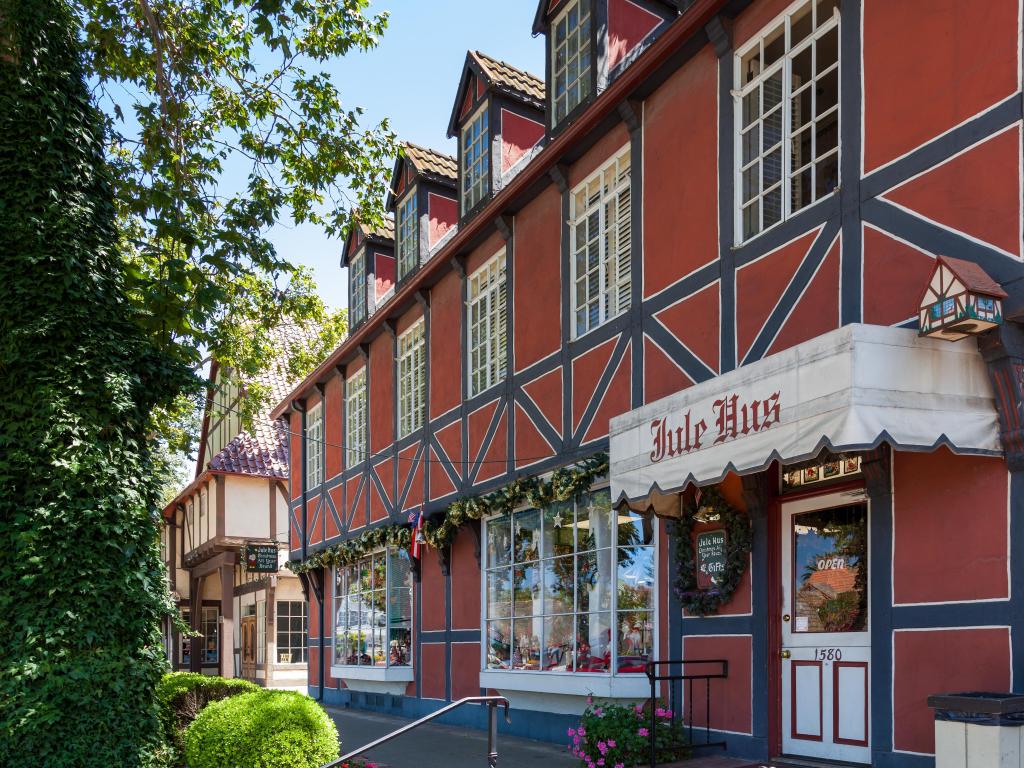 How to get there: There are several options for this route, but we recommend taking CA Highway 101 south, through the Salinas Valley and San Luis Obispo, all the way to Solvang.
Our highlights: One of the best things to do in Solvang is simply wandering around and taking in the unique architectural sights, from the outdoor Solvang Festival Theater to Hamlet Square and the towering windmill.
In Solvang, there's a quaint museum dedicated to the Danish author who has illuminated the imaginations of children all over the globe, Hans Christian Anderson. For any lovers of literature, this is likely to be the trip's highlight.
On a sunny Californian winter day, a biking tour of the surrounding wineries would be divine. Rusack Vineyards is a popular winery with some stellar reds such as their Pinot Noir and Syrah. There are options for renting regular bikes as well as e-bikes downtown.
Before the deluge of Danes into this Californian valley, it was a site of Spanish Colonialism and you can still see this heritage at the Mission Santa Inez, built in 1804. While this is a much more typical Californian sight if you haven't seen one of the missions, we definitely think you should visit while you're here.
Bonus: Even though the climate of Southern California couldn't be more different than that of the frosty Nordic lands, a warm pastry is welcomed in any weather.
There are five authentic Danish bakeries in Solvang, so hop on a bike and see for yourself which one makes the most delectable cheese danish or crumbly kringle.
Our travel tips: In case you really wanted to make this an unforgettable and awesome Californian coastal road trip, we recommend that you take CA Highway 1 all the way from San Francisco to Solvang, through stunning Big Sur and along pristine Pismo beach.