Can you drive through Sequoia National Park?
You'll find Sequoia National Park in the Sierra Nevada mountains of east-central California. Nearby, along the north and northwest perimeter of Sequoia National Park, is Kings Canyon National Park, so you can combine two national parks in one amazing road trip if you have the time.
It takes 1 hour 30 minutes to drive through Sequoia National Park on the Generals Highway, a 47-mile route between the national park's two main entrances. To avoid winter road closures you can also drive south from Big Stump to General Sherman Tree.
Sequoia National Park is known for its dense population of the rare Sequoia tree. The most notable specimen is the General Sherman Tree which, at 275 feet tall and 36 feet in diameter, is the world's largest tree. Read on to find out how you can drive through Sequoia National Park and enjoy these sights.
Can you drive through Sequoia National Park?
Most of the year you can drive straight through Sequoia National Park without a problem, although you should be prepared for crowds if you visit during busy periods. If you don't fancy driving, you can also take the free shuttle service which runs between Giant Forest and Lodgepole.
If you're visiting in the busy months between June and September this is a great way to see Sequoia National Park and avoids missing out on seeing General Sherman Tree if the parking area is full, which is often the case by mid-morning on summer weekends.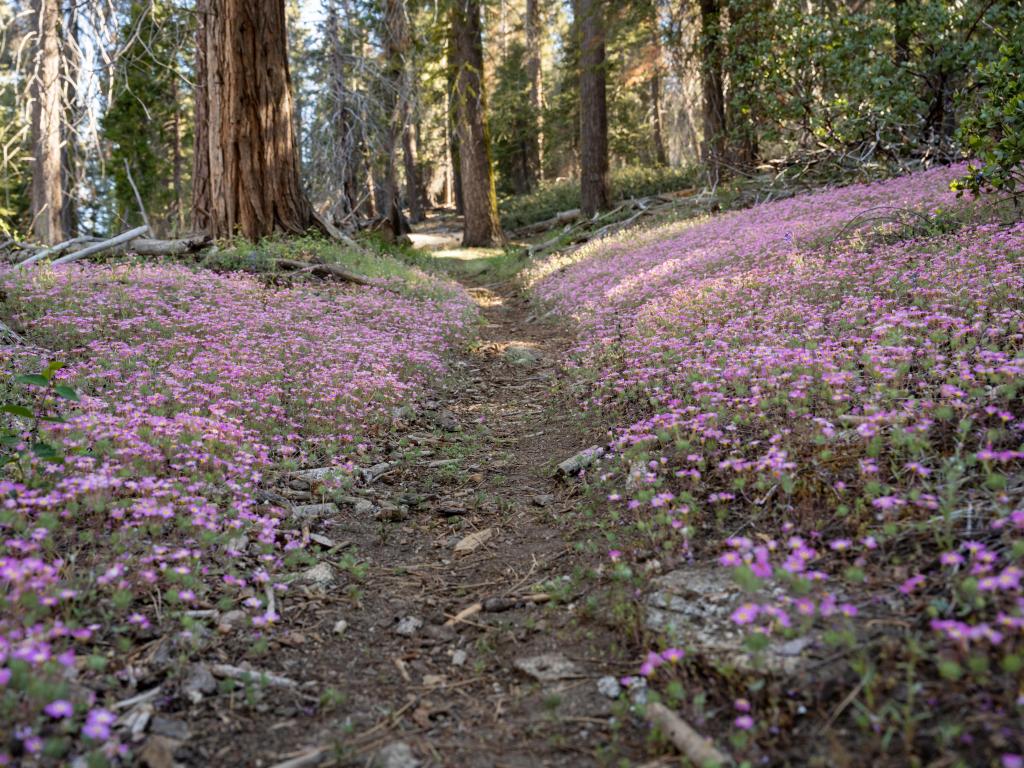 However, if you are driving, you will get the chance to visit Kings Canyon National Park, which is located next to Sequoia National Park, during your visit. Here is our guide to the best way to visit these two national parks in a day.
Sequoia National Park is open all year round, however, the road isn't plowed from 1st January to mid-March so it's possible you'll encounter closures after Hospital Rock at this time of year. General Highway, for example, often becomes impassable due to snow.
For this reason, we've put together an alternative driving route via Big Stump Entrance, which is a much easier drive-in winter and still takes you past many of the popular sights.
The main ways to drive through Sequoia National Park

| Route | Starting point | Ending point | Seasonal availability | Time (Distance) |
| --- | --- | --- | --- | --- |
| Summer Route | Ash Mountain Entrance | Big Stump Entrance | Possible closures between January-March | 1 hour 30 minutes (47 miles) |
| Winter Route | Big Stump Entrance | The Giant Forest | Open year-round | 1 hour 10 minutes (31 miles) |
How to drive through Sequoia National Park on the Summer Route
After driving up to Sequoia National Park via CA-216 or CA-198 from Visalia, Sierra Drive will take you to the Ash Mountain Entrance of the park.
From here it's really straightforward to navigate through Sequoia National Park. The Generals Highway begins at the Ash Mountain Entrance and winds its way through the national park all the way to Big Stump Grove.
The road through Sequoia National Park is very narrow, with plenty of curves. But although it feels a little scary in places, it's a fantastic drive. There are overlooks to peer at the forested canyons below and you'll find the world's largest tree along this route.
As you arrive in the national park, stop at Foothills Visitor Center to find out more about the spectacular sights you're about to see, then head on to visit Tunnel Rock, Hospital Rock and the stunning Amphitheater Point Viewpoint.
The views continue as you drive past Vista Point and Eleven Range Overlook, then you'll come to the famous Four Guardsmen. The road runs between these enormous redwoods, and they're often described as the gateway to the amazing Giant Forest which follows.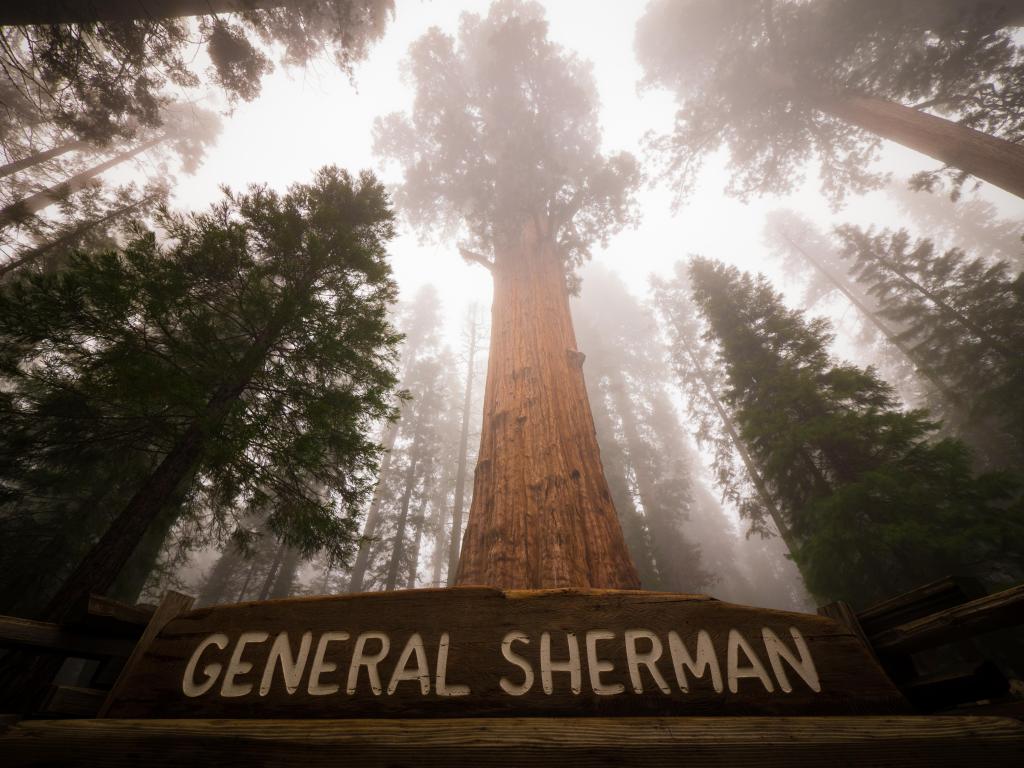 Stop off at the Giant Forest Museum or hike one of the many trails in this part of the national park before carrying on to reach one of the highlights of the park, the General Sherman Tree.
After Lodgepole Visitor Center and Picnic Area, you'll pass Lost Grove, Kings Canyon Overlook and Redwood Mountain Overlook before arriving at Big Stump Grove to complete your drive through Sequoia National Park. From here, you can continue on to Fresno via CA-180.
How to drive through Sequoia National Park on the Winter Route
Snowfall is sudden in Sequoia National Park and can last for weeks, however it's possible to drive through Sequoia National Park from Big Stump Entrance even in winter.
This route is also a great choice if you're traveling during 2023, seeing as it avoids the section of the Generals Highway which is closed for repair.
You'll be surrounded by forested landscapes on this shorter route through Sequoia National Park, and can enjoy the amazing viewpoints with a dusting of snow for extra decoration.
From Big Stump Entrance you'll take the Generals Highway, so you're essentially following part of the Summer Route in reverse. Starting off at Redwood Mountain Overlook you'll then visit Kings Canyon Overlook, Lost Grove and Buena Vista Peak before arriving at the General Sherman Tree.
You can carry on past the iconic tree as far as the Giant Forest. The Giant Forest Museum is open year-round but check ahead for opening hours which are shorter in winter than in summer.
If you're here in winter you can also reserve a place on a snowshoe walk if the snow is deep enough. The 2-mile walk lasts around 2 hours and is an amazing way to capture unique views of this impressive landscape. Find out about snow conditions and book a place in advance by calling the visitor center before your trip.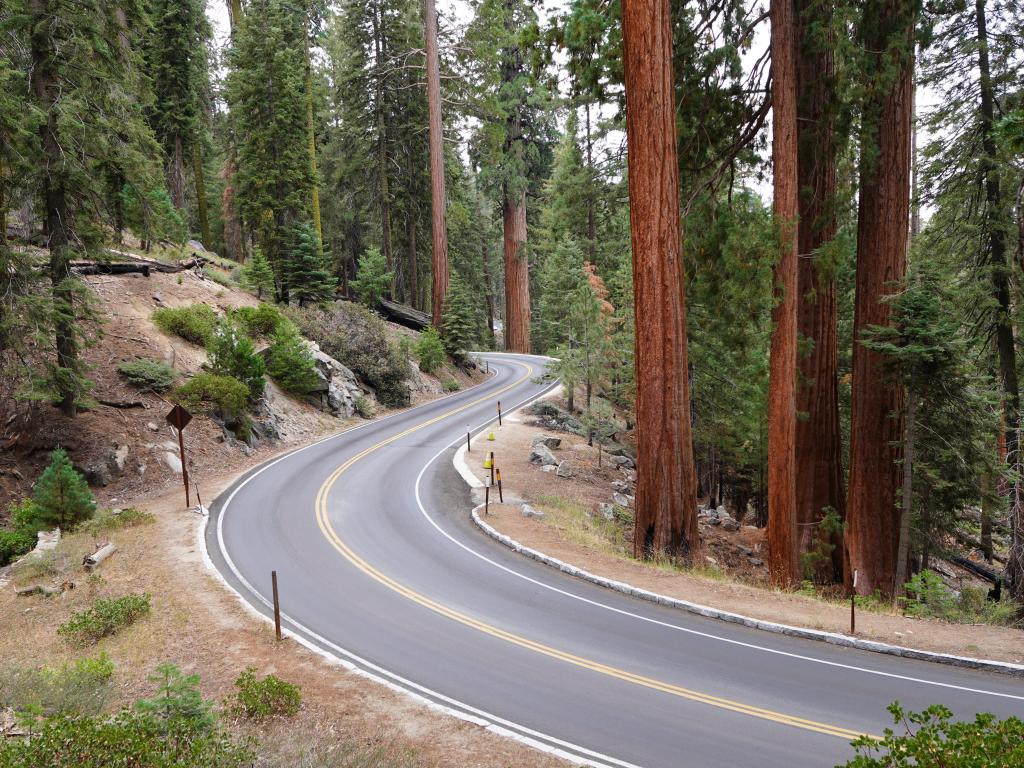 How long does it take to drive through Sequoia National Park?
On the Summer Route it takes 1 hour 30 minutes to drive directly the 47 miles through Sequoia National Park. Most visitors allow much longer than this though, to give time to stop and admire the impressive landscape, hike a trail or two, or visit the Giant Forest Museum.
The Winter Route is shorter in distance, running 31 miles to the Giant Forest. This will take you just over an hour to drive in normal conditions, but you can expect it to take a little longer if there's ice or snow on the ground.
You'll also need to factor in time to return through Sequoia National Park to Big Stump Entrance if you're traveling on the Winter Route. That's because you have to enter and leave the park through the same entrance so you'll have to retrace your route along the Generals Highway.
Which entrance should you arrive at in Sequoia National Park?
There are two entrances to Sequoia National Park, one to the northwest and one to the southwest of the park.
The Ash Mountain Entrance is the more southerly entrance, just 6 miles from Three Rivers, California. You'll find the Big Stump Entrance further north, around an hour's drive from Fresno on CA-180.
With this in mind, your choice of entrance most likely depends on where you're traveling from and to. We've put together a handy table to help you to decide which of Sequoia National Park's entrances you should head to.
Comparison of travel times from major US cities to Zion National Park

| Origin city | Recommended entrance | Distance | Time |
| --- | --- | --- | --- |
| Los Angeles | Ash Mountain entrance | 205 miles | 3 hours 45 minutes |
| San Francisco | Big Stump entrance | 240 miles | 4 hours |
| Las Vegas | Ash Mountain entrance | 380 miles | 6 hours 20 minutes |
| Phoenix | Ash Mountain entrance | 575 miles | 9 hours 20 minutes |
| Salt Lake City | Big Stump entrance | 835 miles | 12 hours 30 minutes |
| Denver | Ash Mountain entrance | 1,125 miles | 17 hours |
Things you need to know about driving through Sequoia National Park
Sequoia National Park is open year-round, so you'll be able to drive a stretch of road through the park at whatever time of year you visit. However, some sections of the road can close at short notice.
Although the Generals Highway is simple to navigate, it's a narrow road with steep inclines and frequent hairpin turns. Some drivers might find this route scary to drive, and even more confident drivers should take it slowly and always respect the low-speed limits to keep yourself and other road users safe.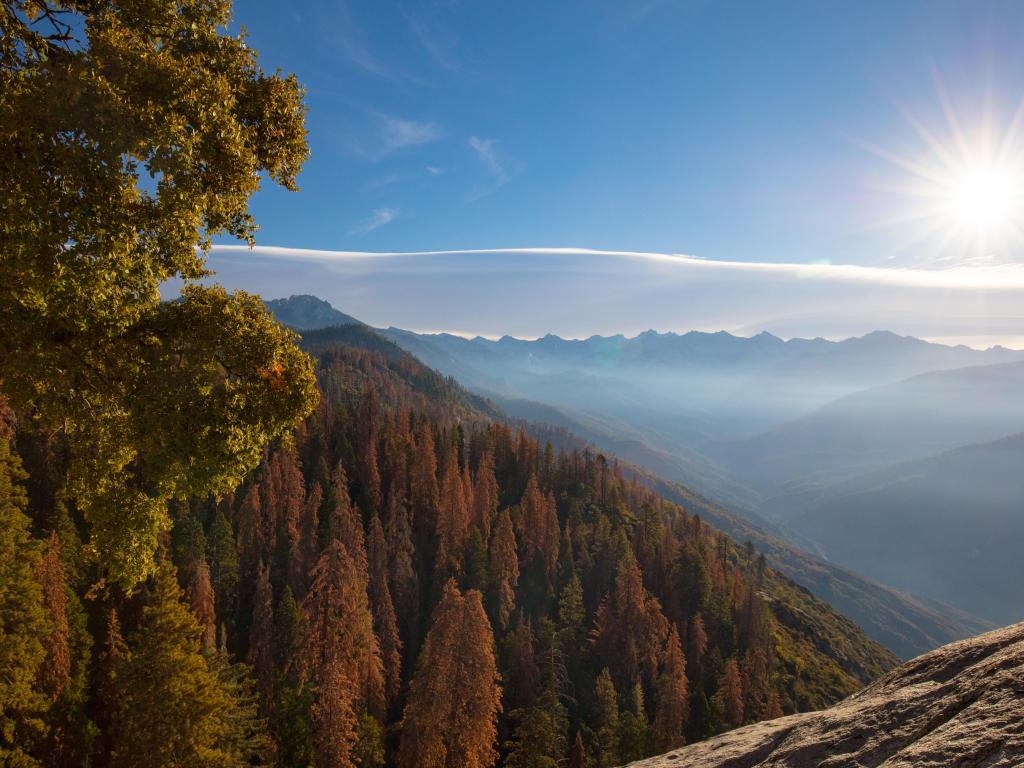 Summer gets very hot, especially in the foothills where temperatures can soar to highs of 114 degrees Fahrenheit in June. It's cooler in the groves, with averages in the mid-70s for much of the summer, and due to elevation temperatures won't pass 100 degrees like they would down in the foothills.
Summer is also the busiest time of year, and visitor numbers double compared to Spring and Fall. If you have to visit in summer, June can be an option to sneak in before the huge crowds of July.
If you're really looking to avoid crowds then a winter trip might be right up your street. Average temperatures sit close to 60 degrees Fahrenheit in the foothills, with a 10- to 20-degree difference in the cooler Sequoia Groves.
There's a boost in visitor numbers during Christmas and Thanksgiving though, and the parks shuttle even operates during the festive season. If you can, hold off until January when only 2,000 people visit Sequoia National Park.
Spring in Sequoia National Park is mild, with temperatures in the Sequoia Groves increasing from around 45 degrees Fahrenheit in March to the high 50s by May. However, don't be surprised to encounter snow in the high-elevation Sequoia Groves as late as May.
If you want to avoid crowds, March can be a good time to visit, however, the temperature drops much lower at night in spring, and March and April are when the park sees the highest rainfall. So you'll have to weigh up the pros and cons of visiting Sequoia National Park this early in the year.
Temperatures drop to between 60 and 70 degrees Fahrenheit in fall, but the season remains relatively dry, and snow doesn't begin to fall until late October or early November. There's a dramatic drop in visitor numbers after Labor Day, making the fall an excellent time to visit Sequoia National Park.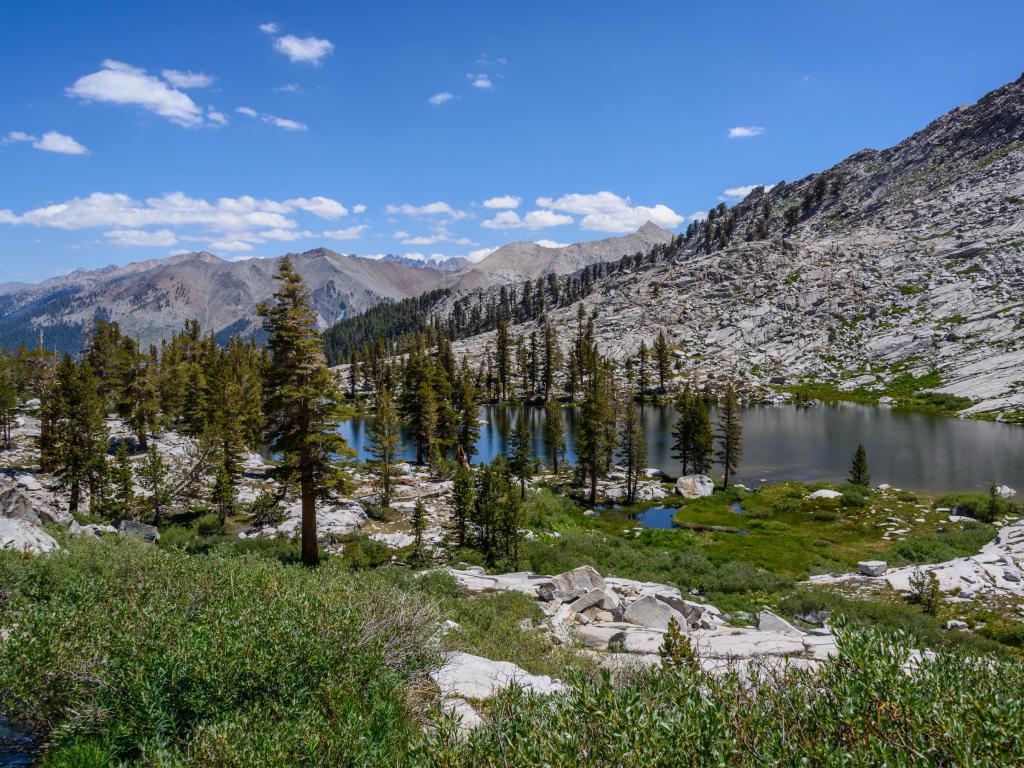 In line with other national parks, there's a fee to enter Sequoia National Park. Although you don't need to pre-book, you can buy a pass online if you want to save a bit of time when you arrive at Sequoia National Park.
A visitor pass to Sequoia National Park also includes entry to nearby Kings Canyon National Park, so make sure you allow time to visit both of these stunning sites on your road trip.
NPS entry fees to Sequoia National Park
Ticket type
Adult fare
Single visitor


On foot or bicycle

$20
Private vehicle


Up to 15 passengers

$35
*Prices calculated at the time of writing
Here are our other top tips when it comes to preparing for a drive through Sequoia National Park:
You can enter the park either via CA-198 or CA-180. 198 from Fresno is an easier drive as the road is less winding.
Take the free shuttle service between Giant Forest and Lodgepole to avoid waiting for a parking space. The shuttle runs between June and September, with the first service and 8.30 AM and the last bus at 6 PM.
Avoid visiting at weekends if you want to skip the crowds.
If you want to stay inside the national park, book accommodation well in advance.
There's little to no cell coverage inside Sequoia National Park, so download any maps and come prepared, especially if you want to hike the amazing trails.
Sequoia National Park gets hot in summer, so it's better to explore the Sequoia Groves than the foothills at this time of year.
There are limits on vehicle lengths because of the winding nature of the road - cars should be fine but if you're traveling in an RV, you probably won't be able to drive through the park if it's over 22 feet.
If you decide to embark on the journey in late spring, fall, and winter prepare yourself with tire chains just in case.
The upper parts of the road are more susceptible to closures due to their high elevation.
One final thing to note is that, as of June 2023, you can only access Grant Grove and Giant Forest via the Big Stump Entrance. The road through Sequoia National Park between Hospital Rock and Giant Forest Museum is currently undergoing repair, but come the end of summer 2023 authorities hope to have the road fully open again.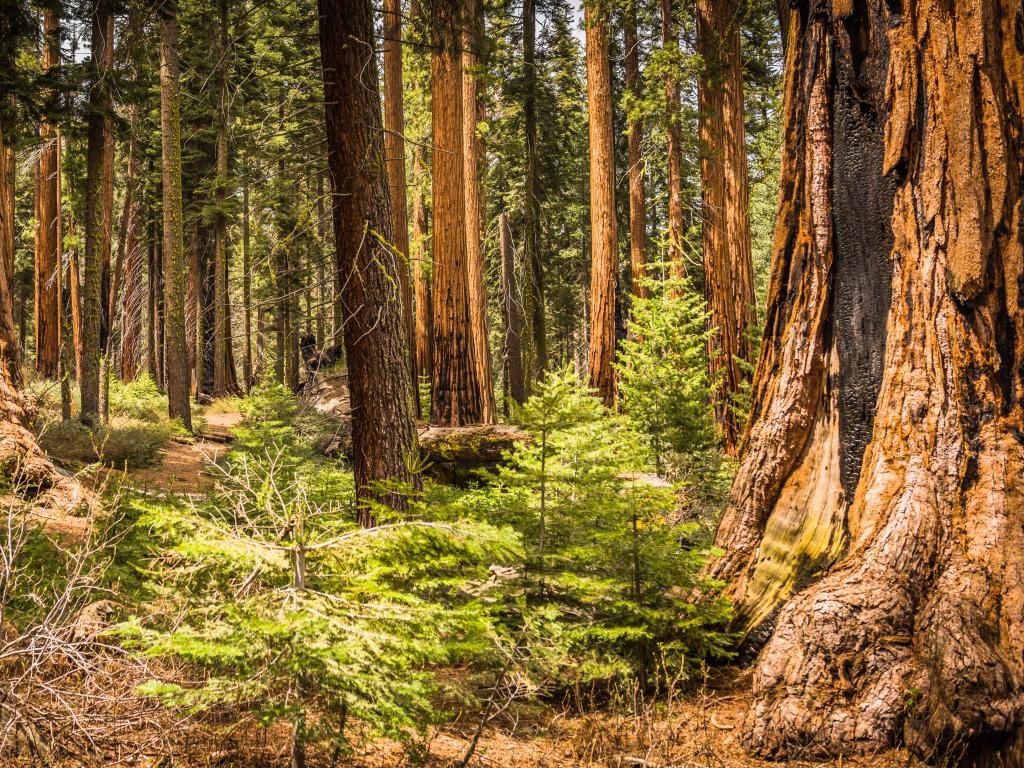 Things to see on a drive through Sequoia National Park
Now that you know how to drive through Sequoia National Park it's time to move on to some of the amazing natural landmarks that you'll be able to see during your trip.
The whole of the national park is an impressive site, with the massive redwood trees rising up all around you. But here are some of the park's most popular attractions to help you with planning your drive:
General Sherman Tree: See the largest living tree in the world. Said to be 2,200 years old and standing 275 feet tall, it's a must-see.
Moro Rock: Hike the Moro Rock Trail. You'll climb the stairs to the top of Moro Rock for panoramic views of the mountains and valleys.
Tunnel Log: It's not every day you can drive through a sequoia tree. This massive tree fell into Crescent Meadow Road in 1937, and to enable vehicles to pass, a tunnel was carved into the trunk in 1938.
Giant Forest Museum: Learn about the park's natural and cultural history. An ideal place to start your exploration by learning more about the national park.
Crescent Meadow: A great place to spot black bears and deer. The meadow is a serene open space surrounded by giant sequoias. ideal for a leisurely stroll.
Crystal Cave: It's not the most accessible attraction so you'll have to take a guided tour. But it's well worth it as you venture into a stunning marble cave system.
Whether you're planning a scenic drive or a long weekend of atmospheric hikes through the sequoia trees, Sequoia National Park is an amazing destination, so all that's left is to plan your playlist and hit the road!