Road Trip from San Diego to Lake Tahoe
If you're in the market for the ultimate California journey, you should consider doing the legendary road trip from San Diego to Lake Tahoe. On the way, you get to explore the finest cities, parks, and forests the beautiful Sunshine State has to offer.
The 530-mile road trip from San Diego to Lake Tahoe takes 9 hours of continuous driving. Notable stops include San Bernardino, Inyo, and Sierra National Forests, Yosemite, Death Valley, and Sequoia National Parks, as well as Bishop and Mammoth Lakes.
This is a road trip you won't want to miss out on, so be sure to continue reading to discover the best places to visit, the best places to stay, the best route to take, and the many attractions to enjoy along the way.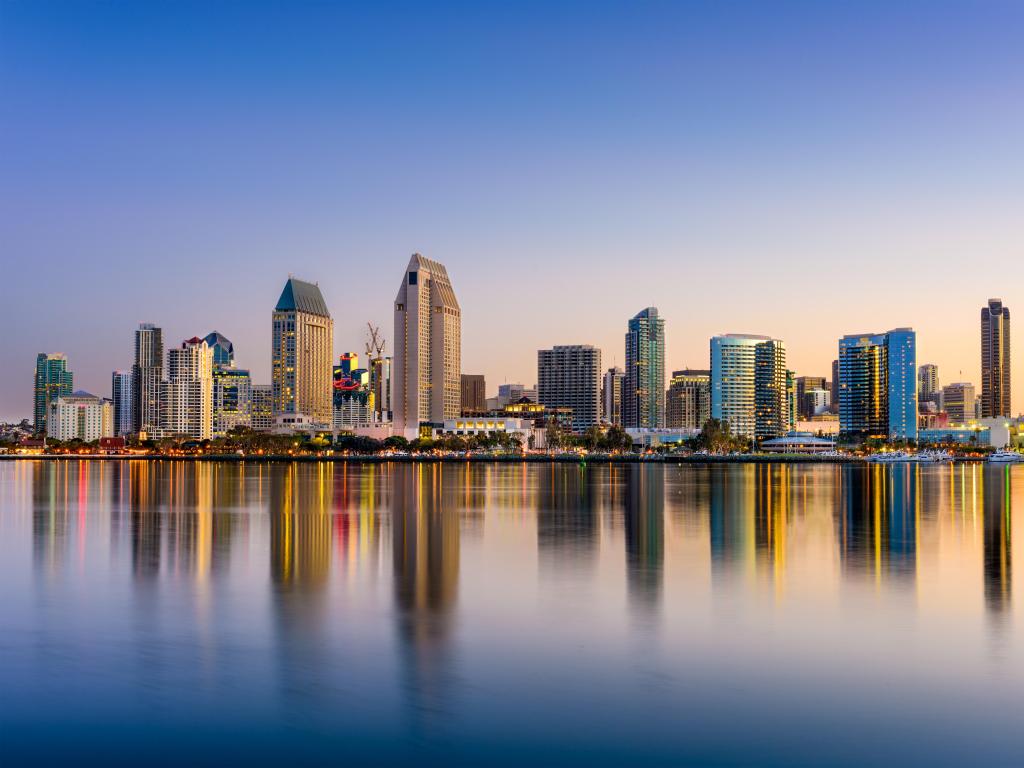 How far is Lake Tahoe from San Diego and how long will the road trip take?
Comparison of road trip route options between San Diego and Lake Tahoe

| Route | Distance | Driving Time |
| --- | --- | --- |
| The Direct Route | 530 miles | 9 hours |
| The Coastal Route | 770 miles | 14 hours |
The trip from San Diego to Lake Tahoe covers 530 miles and takes about 9 hours of driving, without allowing for detours and stopping off to see the various attractions along the way.
This alternative route covers 770 miles and is one of the most popular routes in California and should take a little over 14 hours although you'll want to spread the journey over several days to see everything the route has to offer.
The Coastal Route adds a further 240 miles to the trip and a further 5 hours of driving. With each route offering its own unique experience, your route preference depends on the places you want to visit.
Best road trip route from San Diego to Lake Tahoe
There are two excellent route options available for the road trip from San Diego to Lake Tahoe. Our Direct Route takes you through the heartlands of California, through some of the best National Forests and Parks in the US.
Our alternative coastal route will take you up the incredible Pacific coastline through Long Beach, Malibu, and Santa Barbara up to San Jose and San Francisco before heading eastwards to Sacramento and Lake Tahoe.
Even if you did stop off a couple of times to stretch your legs, and take in some of the breath-taking scenery, you could leave San Diego at breakfast time and arrive in time for dinner at Lake Tahoe.
That said, you'll want to take it easy and explore as much as you can. The joy of a road trip is enjoying all the unique and interesting places along the way and it's important to take your time and embrace the journey.
If you have more time available, then you could decide to explore the beautiful Pacific Coast and drive to Lake Tahoe via San Francisco, taking in San Jose and Sacramento along the way.
How to drive from San Diego to Lake Tahoe
The map above shows our suggestions for the best road trip routes between San Diego and Lake Tahoe. Keep reading for detailed descriptions of both routes, where to stay on either, and the best things to do on the way.
The Direct Route
From San Diego, you'll join Interstate 15 heading north passed the Pauma Valley before heading right as the road forks to join Interstate 215 N heading for Riverside and San Bernardino
Leaving San Bernardino, you'll re-join the I-215 N for a short while, before heading right onto Interstate 15 N and pick up the US-395 at exit 141.
Heading onwards through the Mojave Desert, you'll arrive at the Sequoia National Park, famous for its huge sequoia trees including General Sherman, and its underground Crystal Cave, which has to be seen to be believed.
Continuing north, you'll reach the Mammoth Lakes and the Inyo National Forest in the Sierra Mountains.
After passing Topaz, cross the border into Nevada, heading to Gardnerville before continuing north to Carson City before heading west on US-50 to arrive at Lake Tahoe.
The Coastal Route
This route takes you along the spectacular US Hwy 1 coastal drive, where you will see some of the most amazing scenery of sheer rugged cliffs on one side, and the magnificent waters of the Pacific Ocean on the other.
From San Diego, take Interstate 5 N along the north pacific coastline, with stunning views out to the Channel Islands of California before arriving at Long Beach.
You may also be tempted to take a trip to Los Angeles itself, and you can easily spend several days in the city of the Angels, before continuing the journey north.
Home to some of the finest beaches on earth, you'll head towards Malibu on CA-1 with glorious views all along the route, before continuing to enjoy the beauty of the coast along US-101 N to Santa Barbara.
Here the route heads inland a little, taking the CA-154 W, where you'll enjoy breath-taking views down the length of Lake Cachuma, and soon you'll merge with US-101 N taking you all the way to San Jose.
From San Jose, take the US-101 N and you'll arrive at San Francisco, an ideal place to take an overnight stop, and see the many sights this iconic city has to offer, including the golden gate bridge and Alcatraz
Leaving San Francisco, head northwards then join Interstate 80 E towards Sacramento, before continuing past the spectacular Tahoe National Forest before arriving at Tahoe City, on the glistening shores of Lake Tahoe.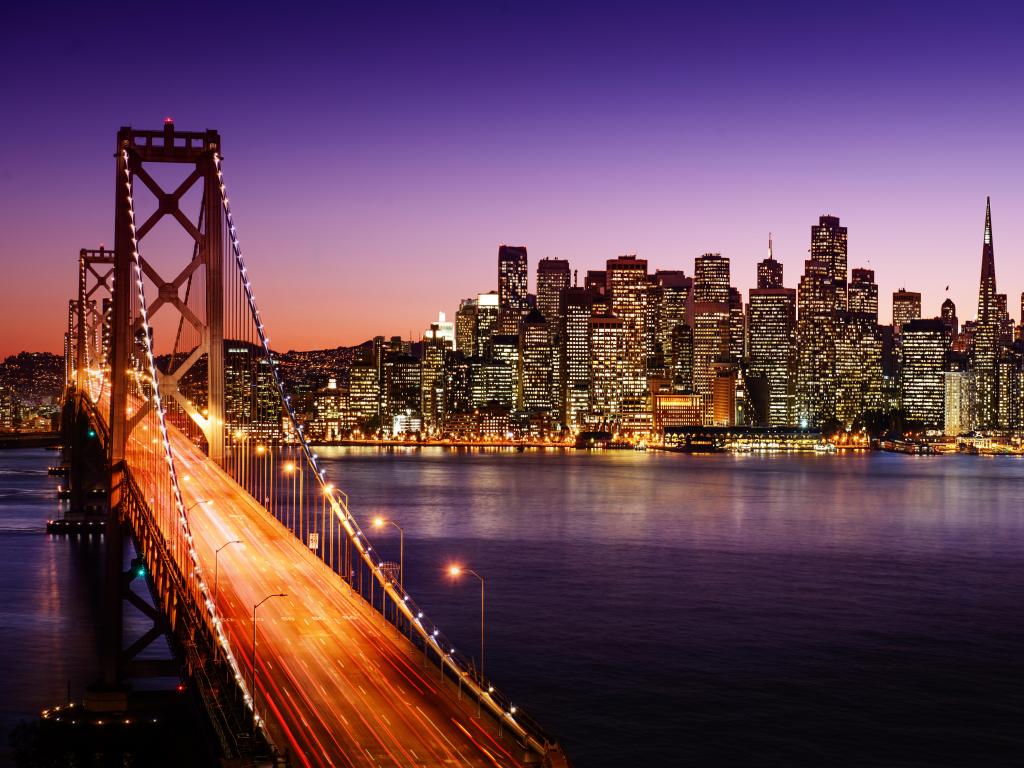 Best places to stop between San Diego and Lake Tahoe
Whichever route you decide on, you will want to plan some overnight stopovers, and we have recommended a few of our favorites. These places are a great base to explore the area and make the most of your time during your adventure in the sun.
A mountain view in San Bernadino
San Bernadino is only 107 miles from San Diego on our Direct Route, and its location makes it an ideal stopover for either of our routes. As it lies along legendary Route 66, it would be a sin not to include this destination on your road trip itinerary.
The Hampton Inn & Suites San Bernardino is our choice of accommodation, where you can relax with a refreshing dip in the outdoor pool after a day driving in the Californian sunshine.
The spacious rooms and sumptuous beds and pillows will ensure you enjoy a great night's sleep before waking up refreshed and ready for more exciting adventures that lie ahead.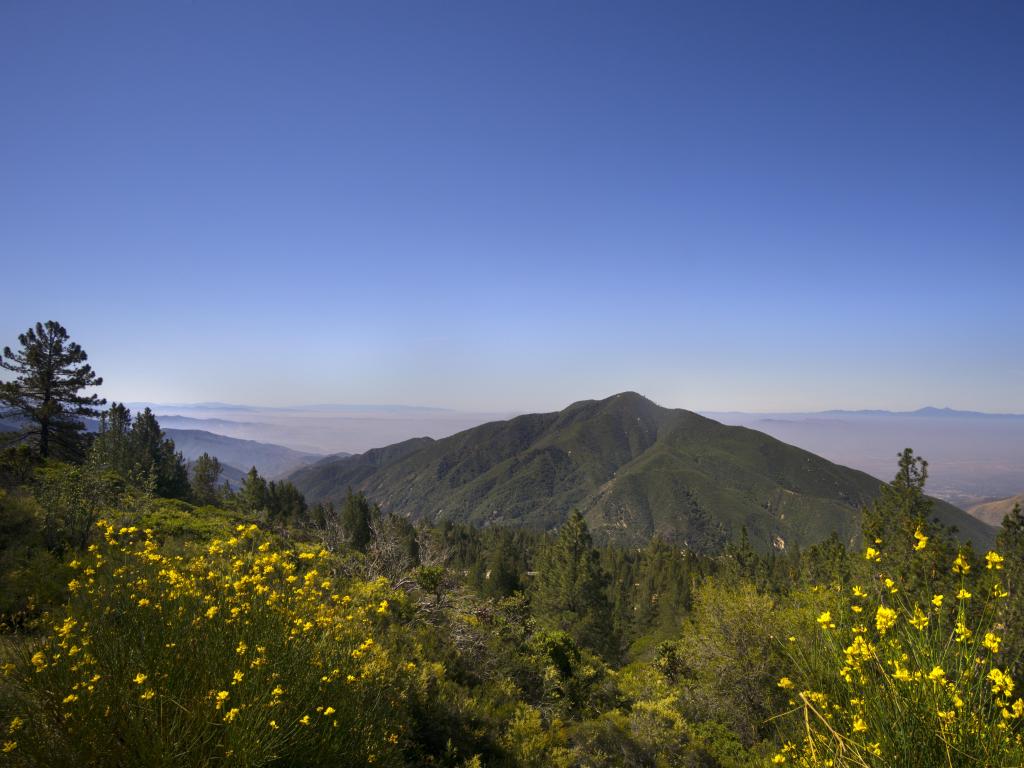 The city is rich in culture; you can explore ancient Egyptian relics that are on display at the Robert and Frances Fullerton Museum of Art nearby. San Bernardino is also home to the McDonald's Museum too, as it is where the company's first restaurant was opened.
Just a short drive away from the hotel, nature lovers are spoilt for choice with Silverwood Lake and the San Bernardino National Forest right on their doorstep. Not too far away either is the Joshua Tree National Park, which makes for a pleasant destination too.
Take a mountain stay in Mammoth Lakes
Mammoth Lakes makes an excellent choice of stopover on the Direct Route, being almost two-thirds of the way into the road trip, nestled amongst some absolutely stunning scenery.
Located in the Sierra Nevada mountains, it is well known for the Mammoth Mountain and June Mountain ski areas, as well as several nearby trails.
Mammoth Lakes is blessed with some fabulous places to stay, and The Village Lodge is hard to beat, surrounded by mountain views, enjoy the wonderful outdoor heated pool or relax and unwind in one of the hot tubs.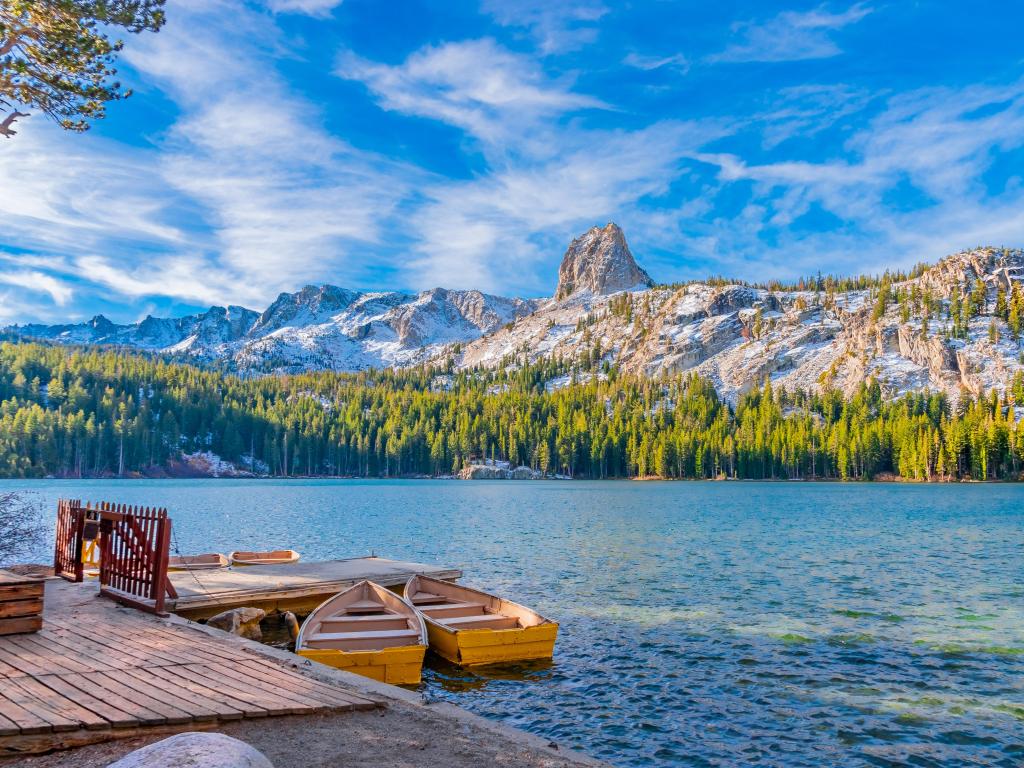 The town also makes a great base to explore the Devils Postpile National Monument, a stunning formation of basalt columns, as well as the eye-catching cascade of Rainbow Falls.
Saltwater Mono Lake, with its gorgeous limestone towers and the world-famous Yosemite National Park, replete with granite cliffs and imperious sequoias, is also within a relatively short and easy drive.
Spend the night in San Francisco
The Golden Gate City, located a little over 3 hours from Lake Tahoe on the Coastal Route, is home to famous attractions and locations that makes it the perfect choice to spend a night. Make the stay even more memorable by choosing The Palace Hotel, a Luxury Collection Hotel.
Famed bars, an awe-inspiring crystal chandelier restaurant, and a glass-domed indoor pool are just some of the features of this fantastic hotel, located in the Financial District, only a short walk from the vibrant Union Square.
Relax in luxury with leather tufted headboards, marble baths, and rain showers in rooms inspired by west-coast impressionism. The hotel is a 20-minute cable car ride away from shopping and dining at Fisherman's Wharf.
Take a trip to the rock and visit Alcatraz, the notorious former prison, which housed some of the most dangerous criminals in the US back in the 1960s before it closed, or simply take a cruise and see Alcatraz Island from the bay.
If you're feeling energetic, why not walk the Golden Gate Bridge, the most famous bridge in the world, before sampling some of the local delicacies in this foodie paradise, home to a host of Michelin-starred restaurants.
Things to see on a road trip from San Diego to Lake Tahoe
One of the best things about a road trip from San Diego to Lake Tahoe is that you are spoilt for choice when it comes to planning what to see and do.
Indeed, the route incorporates so many great sites, attractions, and interesting small towns along the way, you could easily spend a week or more exploring the region.
Our list of recommendations should provide you with a great highlights package.
The Direct Route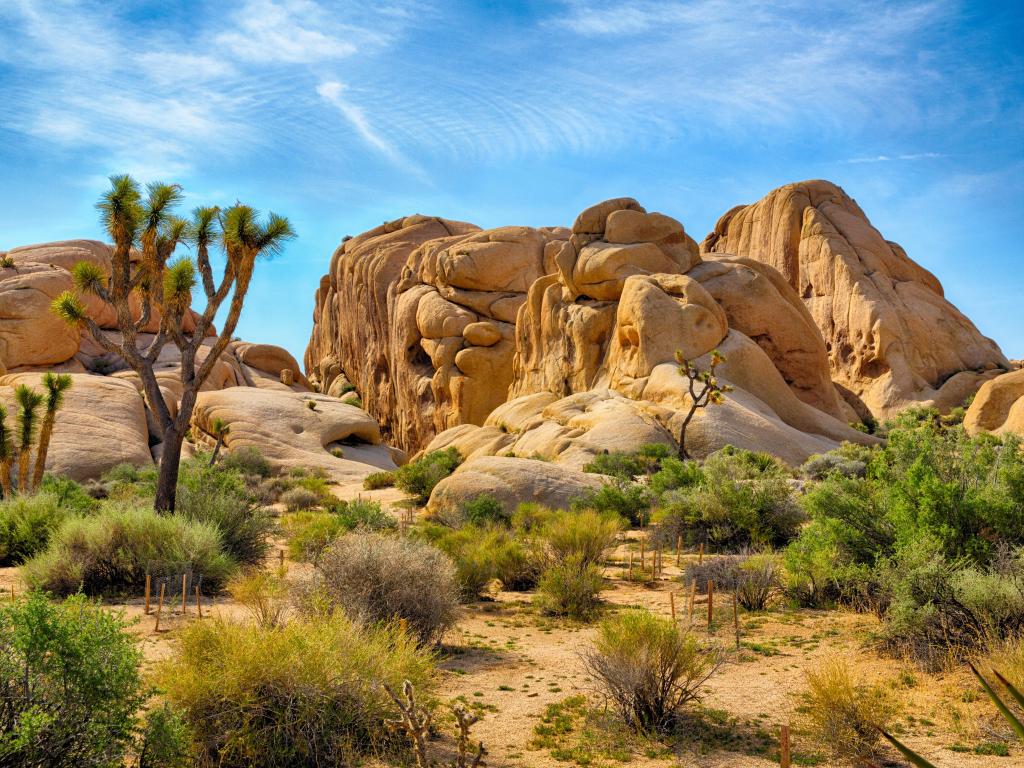 Joshua Tree National Park - Named for the region's iconic, twisted, bristled Joshua trees, this park also features rugged rock formations and stark desert landscapes.
San Bernadino, California – Vibrant city near the San Bernadino National Forest rich in culture, lovely places to eat, and interesting places to see.
White Mountain Peak – Offers some incredible panoramic views from its 14,246-foot summit.
Sequoia National Park – A sensational mix of massive mountain peaks, craggy foothills, deep eerie canyons, huge caverns, and some of the world's largest trees.
Mammoth Lakes – Beautiful location in the Sierra Nevada mountains and a great base to explore the Rainbow Falls, Yosemite, and the Mammoth and June Mountain ski areas.
Death Valley National Park - At 5,270 square miles, it is the largest national park in the Lower 48. It is also North America's driest and hottest spot with a record high temperature of 134 degrees Fahrenheit.
Kings Canyon National Park - Huge sequoia trees, including the massive General Grant Tree which stands some 267 feet tall.
Bishop, California – A great town to base yourself in and visit several lakes, forests, canyons, volcanic tablelands, and even a hot springs pool.
Inyo National Forest - Home to the Ancient Bristlecone Pine Forest, one of the oldest living trees in the world.
Sierra National Forest – Stunning, mountain scenery and beautiful lakes located within 1.3 million acres that vary in elevation between 900 and 13,986 feet.
Yosemite National Park – Home to huge, ancient sequoia trees, the iconic view of Bridalveil Fall, and the sheer granite cliffs of El Capitan and Half Dome.
Topaz Lake - A real desert gem, Lake Topaz is a reservoir located on the California-Nevada border. Framed by the Eastern Sierra it lies near the Toiyabe and Eldorado national forests.
The Coastal Route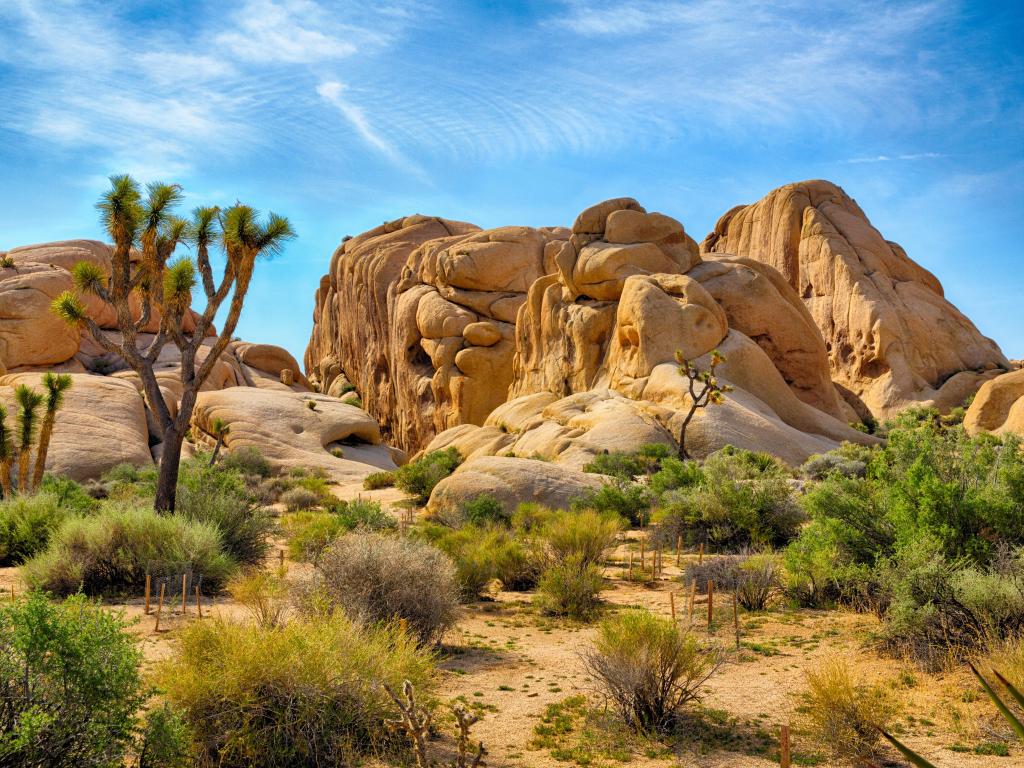 Long Beach, California – Experience a deep-sea adventure at the Aquarium of the Pacific, experience whale watching, take a tour of the coastal breweries, and try the local foodie scene.
Universal Studios, Hollywood – Go behind the scenes of some of your favorite movie blockbusters and enjoy the thrill of the amazing theme park.
LA Natural History Museum – Encounter dinosaurs, experience nature, and marvel at one of the most impressive gems and mineral collections in the world.
Malibu, California – Famous for its celebrity homes and beaches, catch a wave at the renowned surfer's hotspot, Malibu Lagoon state beach, and learn more about the local history at the Malibu Lagoon Museum.
Sacramento, California – Step back in time in Old Sacramento to the Gold Rush era, with wooden sidewalks and wagon rides, and a trip to the California State Railroad Museum.
Solvang, California – Known for its Danish-style architecture and numerous wineries, discover more about this unique city at the Elverhøj Museum of History and Art.
Tahoe City – Home to some of the best swimming, hiking, biking, and parks on the lake and the best waterside dining with wonderful lake and mountain views.
Best time to go on a road trip from San Diego to Lake Tahoe
If you have an adventurous spirit, then any time is a good time to undertake this magnificent road trip from San Diego to Lake Tahoe.
However, whilst Lake Tahoe welcomes visitors throughout the year, the best times to go there are spring and fall as it is extremely popular during the summer months and can get quite crowded. This can lead to higher accommodation prices.
Temperatures at Lake Tahoe in the summer months average a daily high of 73 degrees Fahrenheit. If you are thinking of taking the direct route, it gets significantly hotter around Death Valley where it has been known to reach an incredible 134 degrees Fahrenheit.
If you're making the trip in summer, Long Beach Waterfront in July is well worth a visit for its spectacular Independence Day firework display at the downtown waterfront, and the Big Bang on the Bay Party.
California is seen as a sun-lovers paradise all year round, but some of the mountainous areas can experience road closures due to snowy conditions during the winter so do bear this in mind.
If you are making the trip in the winter months, Lake Tahoe itself averages 142 inches of snow per year and boasts some of the world's best ski resorts, tucked away into the Sierra Nevada Mountain Range between California and Nevada.