Can you drive through Times Square?
Times Square is where Broadway, Seventh Avenue, and 42nd Street meet. Considered the liveliest place in Manhattan, it's an iconic symbol of bustling New York City, and seen by many as being the heart of the Big Apple.
You can drive through Times Square on 45th Street or 7th Avenue, and these short routes should take under 20 minutes to drive. However, crawling traffic and sky-high parking charges mean that many visitors prefer to take this route on foot.
Featuring in countless TV shows and movies, the huge neon advertising boards above the street are a true emblem of the city, and around 330,000 visitors flock to Times Square every day to take a photo. It's also an entertainment hub, where you'll find bars, restaurants, museums and theaters.
Can you drive through Times Square?
Located right in the heart of Manhattan, Times Square is part of the city's road network and it's possible to drive right through.
However, NYC authorities have pedestrianized Time Square on Broadway between 42nd and 47th Street, so it's harder than it used to be!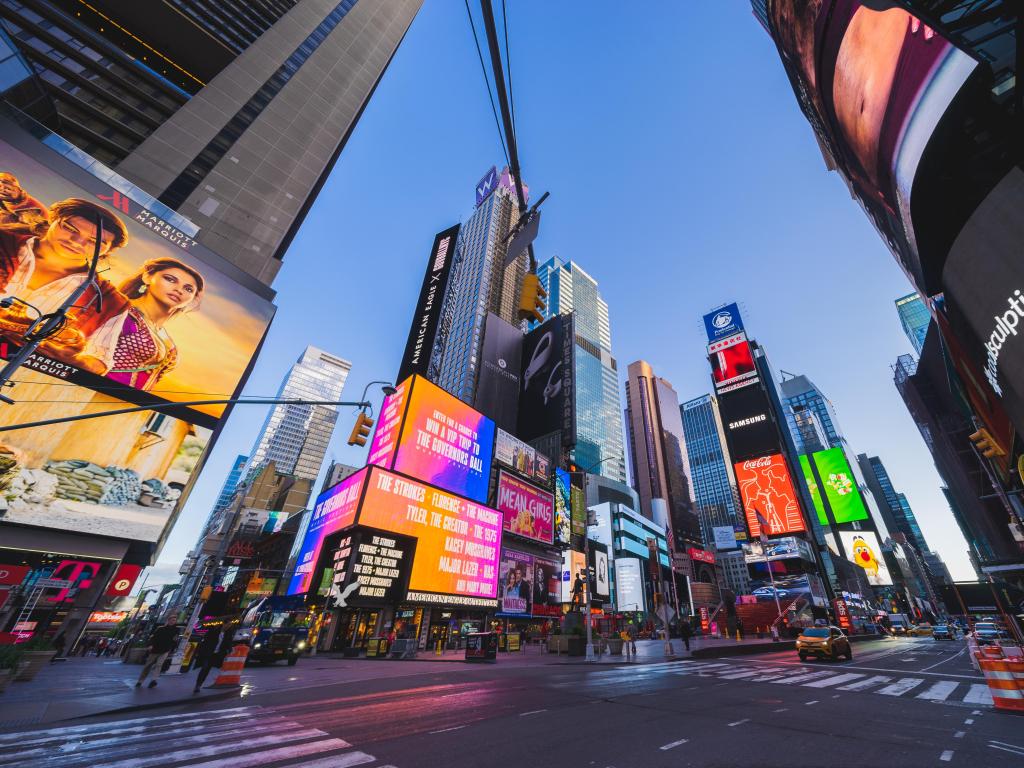 And as you'll see if you keep reading, you'll almost certainly encounter traffic congestion and limited parking along the way.
The most straightforward way to drive through Times Square is to follow 45th Street, which starts at United Nations Plaza and ends 1.8 miles away on 12th Avenue, right by the Hudson River.
The main ways to travel through Times Square

| Route | Starting point | Ending point | Distance | Driving Time | Walking Time |
| --- | --- | --- | --- | --- | --- |
| 45th Street | United Nations Plaza | 12th Avenue | 1.8 miles | 15 minutes | 35 minutes |
| 7th Avenue | Central Park | Clarkson Street | 2.9 miles | 15 minutes | 1 hour |
How to drive through Times Square on the 45th Street
Starting at the United Nations Headquarters, 45th Street crosses Times Square where it intersects 7th Avenue. It's a one-way street, so you can only make this trip by traveling west across Manhattan.
It's a straight route across the Big Apple's grid system so it's straightforward to navigate, and should take under 20 minutes to drive.
Along the way you'll be able to tick off some of the city's sights, since you'll pass Grand Central Station, the Met Life Building, the Museum of Broadway and Rise NY. Don't count on being able to stop and explore inside any of them though - you'll have to come back on foot for that.
Once you've reached Times Square you'll pass some of Broadway's iconic theaters and long-running shows, including the Imperial Theater, Music Box Theater and Booth Theater, as well as The Lion King and Moulin Rouge! The Musical.
Driving through Times Square on the 7th Avenue
For a slightly longer drive through the city, you can follow 7th Avenue south from the edge of Central Park. This is also a one-way street, so you won't be able to follow the same trip if you're starting from Greenwich Village.
On this route, you'll pass Carnegie Hall and Hershey's Chocolate World before getting the chance to see the famous steps in Father Duffy Square while you (inevitably) wait in traffic.
Carrying on towards Greenwich Village, you'll pass One Times Square and the Times Square Ball as well as the Museum at FIT before arriving at the end of 7th Avenue in Greenwich Village.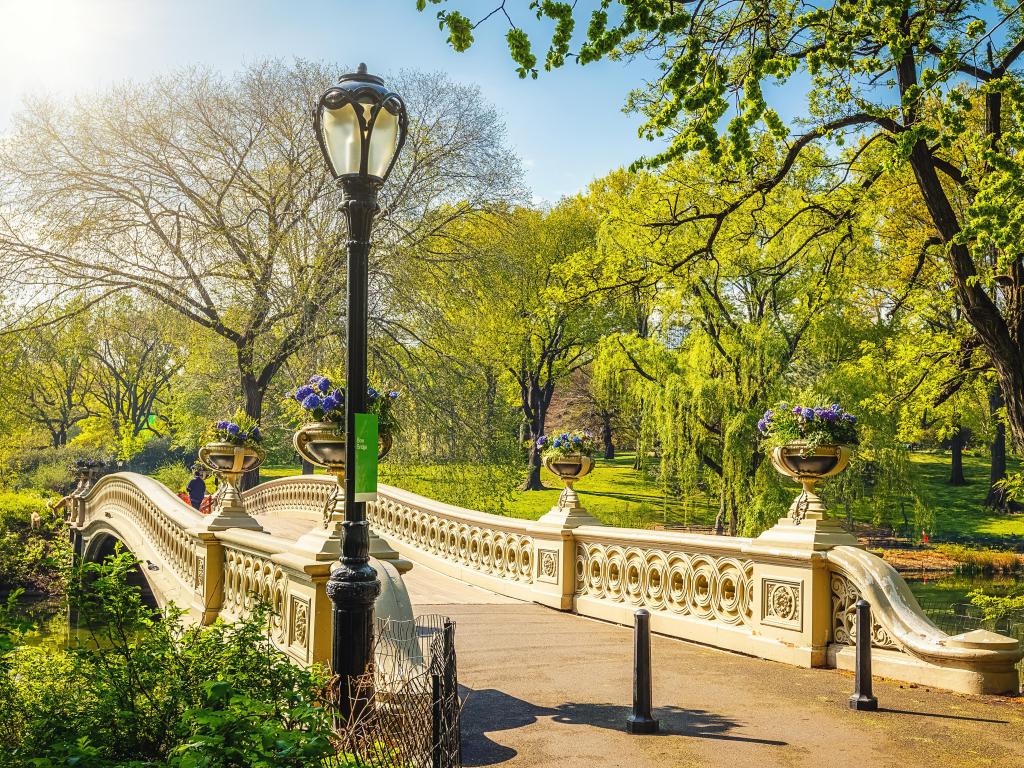 How long does it take to drive through Times Square?
The fastest way to drive through Times Square is to follow the route through 45th Street, which should take around 16 minutes to drive from east to west.
However, once you've factored in traffic, you should expect the 1.8-mile journey to take at least 20 minutes. That's an average speed of just 5.4 MPH.
Most people will want to stop and spend time in Times Square too, so don't forget to add that on to your journey time. If you plan on visiting one of the big sights like Madame Tussauds, allow at least 2 hours on top of your driving time.
Since you're most likely to be driving through Times Square on your way to or from other Manhattan destinations, we've put together a table of the distance and approximate driving time between some of the most popular sights.
Keep in mind that traffic conditions can increase driving time significantly, though.
Travel times between New York City sights via Times Square

| Starting point | Ending point | Distance | Time |
| --- | --- | --- | --- |
| Rockefeller Center | Empire State Building | 1.5 miles | 15 minutes |
| Central Park | SoHo | 3.5 miles | 25 minutes |
| Upper East Side | West Village | 4.5 miles | 30 minutes |
| MoMA | Statue of Liberty | 7 miles | 30 minutes |
| Hell's Kitchen | 9/11 Memorial & Museum | 7.5 miles | 30 minutes |
| Museum of the City of New York | Brooklyn Bridge View | 8.5 miles | 40 minutes |
Can you walk through Times Square?
Don't worry if what you've read so far has put you off driving to Times Square, since this Manhattan must-see is also accessible by foot. This is a great way to see the sights as you go, and it means you can take your time rather than having to move with the relentless traffic.
You can stop along the way too, and duck in to whichever of the stores, bars and restaurants take your fancy.
You can also take the subway to Times Square if you're staying further afield. The Times Square Subway stop is next to the intersection between 42nd Street and 7th Avenue, and is just 240 feet from One Times Square.
Things you need to know about driving through Times Square
On the map, the road through Times Square appears to be a very simple drive. New York is built on the block system so it's a straight drive along 45th Street.
However, the drive along 45th Street from United Nations Plaza to 12th Avenue is anything but. You'll crawl along the road, and pulling over to marvel at the sights is extremely difficult with the lack of parking spaces.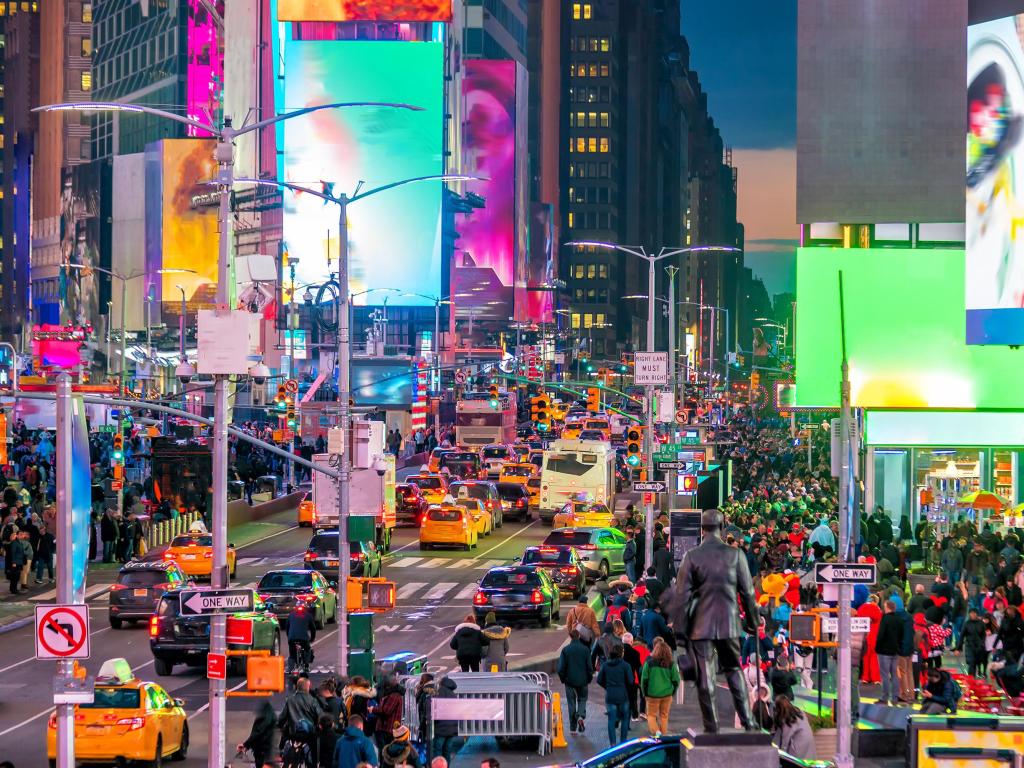 If you need to find parking, don't count on being able to find a parking spot. Instead, head for one of the Valet Garages close to Times Square. You'll find them at 235, 246, 300 and 621 45th Street. However, be prepared to pay as much as $55 for 2 hours parking (calculated at the time of writing).
Traffic is unavoidable on this route, especially on the East side of Times Square and between 6th and 7th Avenues. Take a breath once you pass Times Square and start to drive West towards the Hudson River, as it's common for traffic to ease a little at this point.
You'll also have to stay alert as you drive through Times Square. The sidewalks in the Big Apple are busy with pedestrians. Needless to say, stop at crosswalks, but be aware you'll come across jaywalkers too. You also see more people cycling these days. Keep your distance and be cautious when making turns.
Here are our other top tips when it comes to preparing for a drive through Times Square:
We've got to be honest here - our most helpful driving tip when you're visiting Times Square is not to drive at all! But, if you have no choice, here are our top tips to get you there as smoothly as possible.
Plan your route - use Google Maps to familiarize yourself with the layout of this part of Manhattan, and use a GPS when driving.
Always keep an eye out for street signs as you go - there are many one-way streets here to limit congestion.
You'll also see signs stating, "Don't Block The Box". At traffic lights, it might seem tempting to get a move on a green light, but make sure you can make it and don't get stranded in an intersection.
If you manage to find what looks like a parking spot on the street, check your surroundings to see if it's legal to park. If you're obstructing entrances, hotel loading spaces or fire hydrants, there's a high chance you'll get towed.
Don't be horn happy. Authorities see "unnecessary honking" as an illegal offense, and it carries a $350 fine. While it might seem commonplace, don't run the risk.
Traffic is a given, but give yourself a fighting chance by avoiding Manhattan's extended rush hours which usually last from 8am to 10am then 4pm to 7pm.
Times Square is home to one of the world's largest New Year's Eve celebrations. So, you can expect the road to be closed on New Year's Eve.
Likewise, the Macys Thanksgiving Parade travels along 6th Avenue. So you won't be able to intersect 6th Avenue on 45th Street during this time of year.
While 45th Street itself isn't a toll road, you may encounter tolls when leaving New York. For example, the New Jersey Turnpike heading West will charge a toll
An E-ZPass is helpful if you're driving further afield during your trip. By signing up and registering your license plate, you can get discounted prices for bridges and tunnels.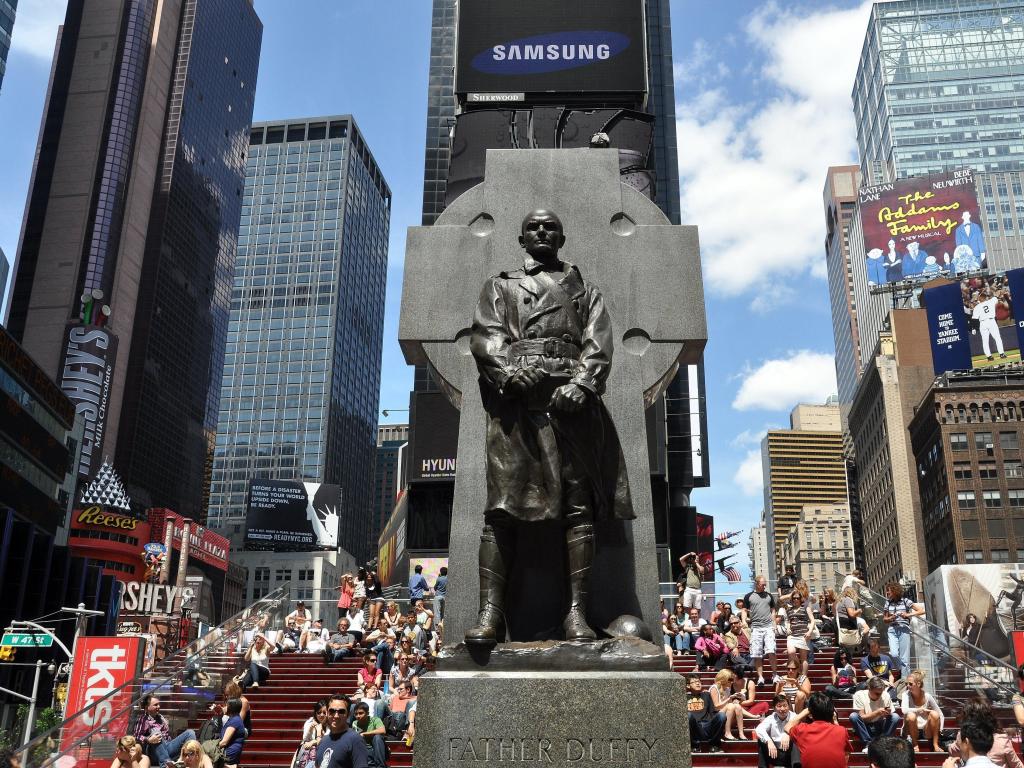 Things to see on a drive through Times Square
Whether you brave the traffic or make your way on foot, there's plenty to see once you finally reach Times Square.
Times Square Lights and Billboards - Be amazed by the dazzling lights and massive billboards that make Times Square famous. Snap photos at night when the neon signs illuminate Times Square.
Visit TKTS Booth - In the heart of Times Square, you'll find the TKTS booth. Here you can grab yourself discounted Broadway show tickets. Top tip, same-day tickets are the most reduced.
See a Broadway Show - Now you know where to snag a bargain, catch a Broadway performance. There are many theaters nearby with shows to suit every taste.
Ripley's Believe It or Not! - Explore the extraordinary Ripley's Believe It or Not! It's a unique museum showcasing oddities that'll pique your curiosity.
Madame Tussauds - See wax figures of celebrities at Madame Tussauds. Here you can take memorable photos with lifelike movie stars, musicians, historical figures, and much more.
Shopping - Engage in retail therapy at flagship stores. You'll find famous brands and souvenir shops, including the famous M&M shop for sweet treats.
Times Square Museum and Visitor Center - Pop into the Times Square Museum and Visitor Center. You'll learn about the history, transformation, and cultural significance of the iconic area and gather helpful information about what's on.
Broadway Walk of Fame - Stroll along the Broadway Walk of Fame and spot names of performers embedded in the sidewalk.
Dining - Times Square is home to many dining options, from high-end restaurants to casual fast-food joints. You'll find quirky experiences like the Rock n Roll themed Hard Rock Cafe and Ellen's Stardust Diner with singing servers.
Father Duffy Square - The red steps at Father Duffy Square offer a great place to sit and soak up the lively ambiance of Times Square. It's a great place to people-watch with so many passers-by.
Times Square is a must-see on any visit to the Big Apple, so however you choose to get there, make sure to give yourself some time to really experience its bright lights and buzzing atmosphere.