Can You Drive To Juneau, Alaska?
Juneau is the capital of the state of Alaska and this picturesque city - surrounded by magnificent mountains and glaciers - is located right at the heart of the Inside Passage of the Alaska Marine Highway. There is no road leading to Juneau and the most popular way of visiting is by ferry.
It is not possible to drive directly to Juneau. You can drive to Bellingham in Washington State and take a ferry. Alternatively, you could undertake an epic road trip along part of the Alaskan-Canadian Highway and take a ferry from Skagway to Juneau.
Continue reading to discover all the available travel options for a trip to Juneau, with helpful hints on things to see and do, plus information on the best time to make the trip.
Can you drive to Juneau, Alaska?
Juneau sits on the shores of the Gastineau Channel, less than 100 miles from the US-Canadian border, nestled at the foot of Mount Juneau. There is no way to drive directly onto Juneau or the neighboring towns and cities, which are all connected by the ferry.
The ferry service is the lifeblood of the communities in this region with Haines, Skagway, Petersburg, and Wrangell all situated within 200 miles of Juneau.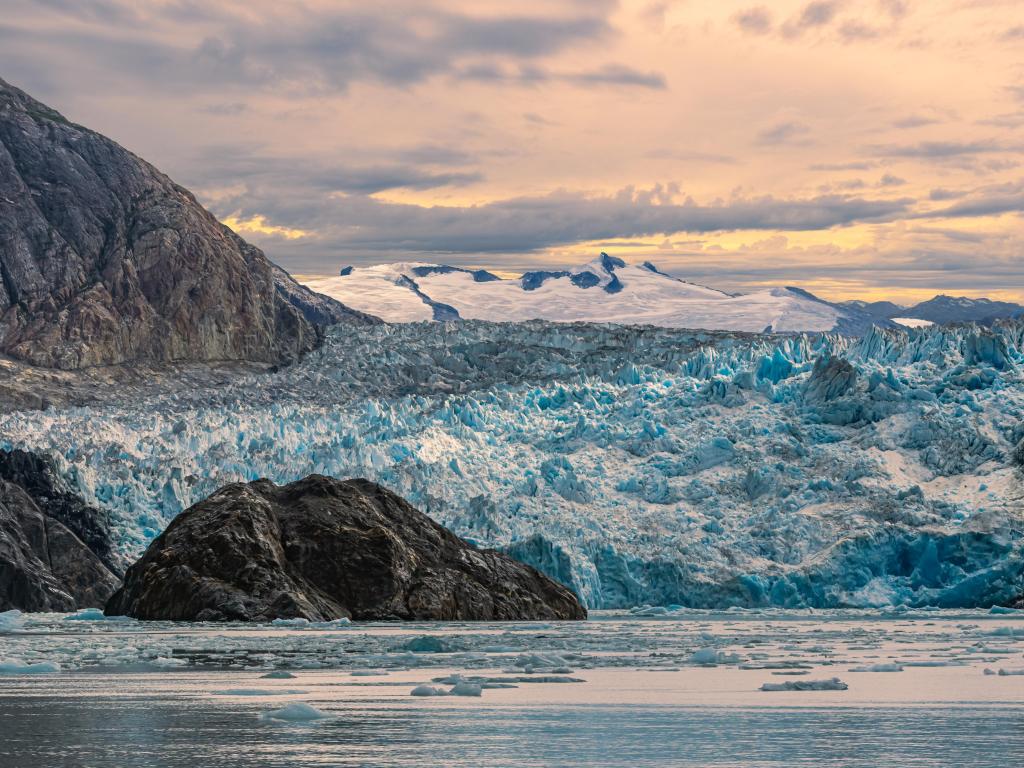 The truly unique experience offers the chance to see glaciers, snow-capped mountains, fjords, and a variety of wildlife including bald eagles, whales, bears, and porpoises as you cruise the Alaska Marine Highway to Juneau.
The ferry serves over 30 port communities along this spectacular shoreline and gives you the freedom to explore this amazing landscape in style. Stops along the route include Ketchikan, Wrangell, and Petersburg before arriving in Juneau.
The nearest major cities on the mainland are located further North with Fairbanks being the closest at 730 miles and Anchorage sitting on the western coastline 850 miles away.
Although it is situated on the mainland, Juneau is not accessible by road directly. Given the rugged wilderness surrounding Juneau and sizeable icefields and ever-shifting glaciers, a road crossing is simply not feasible.
How to drive to Juneau, Alaska from mainland USA
Comparison of ferry trip routes to Juneau, Alaska

| Departure Point | Distance from Juneau | Crossing Time |
| --- | --- | --- |
| Bellingham | 830 miles | 55 hours 30 minutes |
| Prince Rupert | 320 miles | 49 hours 30 minutes |
| Haines | 95 miles | 4 hours 50 minutes |
| Skagway | 110 miles | 6 hours 30 minutes |
The recommended route is taking the ferry from Bellingham to Juneau. This is the most convenient and relaxing way to make the trip and will give the best chance to experience the dramatic surroundings from the safety and comfort of the ferry.
You can drive a significant way along the 1,500-mile Alaska-Canadian Highway (ALCAN) which is renowned for its stunning scenery, and given its location is surprisingly well maintained. The ALCAN connects Canada and Alaska, starting at Dawson Creek, British Columbia stretching all the way to Delta Junction but does not lead to Juneau.
Leaving the Alaska Highway at Watson Lake and heading west to Skagway allows the option of driving a significant part of the route to Juneau. This will be a memorable drive, giving the chance to travel on the iconic Alaska Highway, one of the most scenic drives in the world.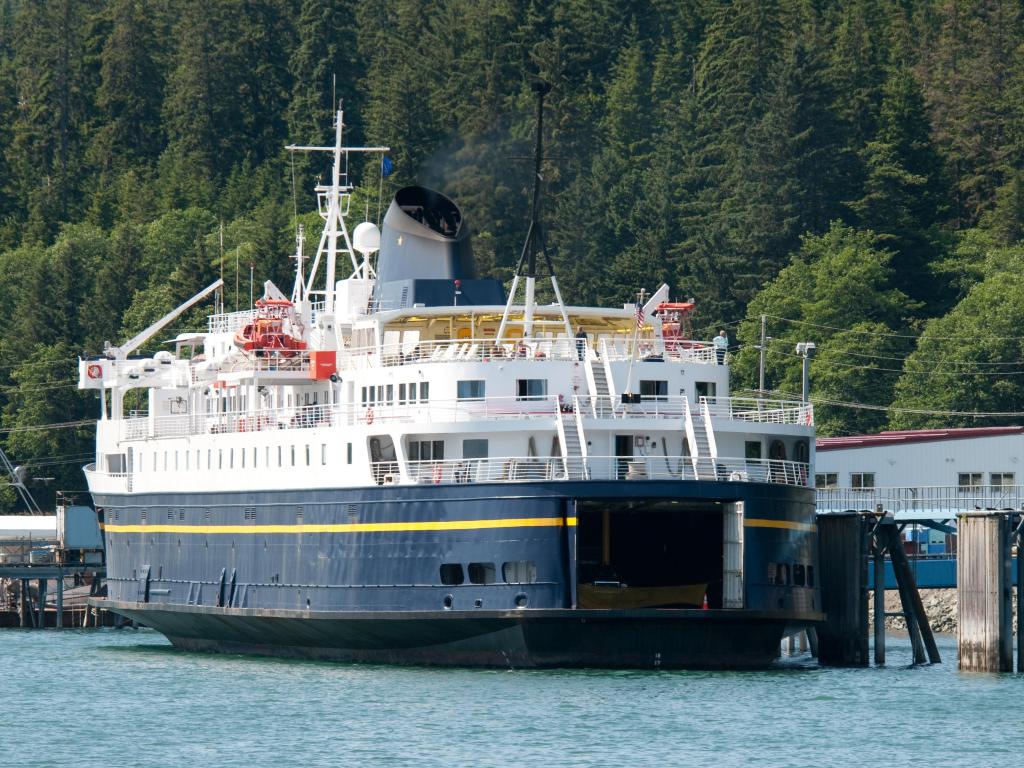 If you are making the journey from the US, then you can drive to Bellingham, 90 miles north of Seattle on the I-5 N, and then take the ferry to Juneau.
Traveling from Canada, you can also drive to Bellingham from Vancouver. Alternatively, driving through the heart of British Columbia to Prince Rupert on the west coast will allow you to take a ferry to Juneau.
It is possible to drive from Anchorage and Fairbanks joining the ALCAN at Delta Junction and passing Destruction Bay and Kluane National Park and Reserve before arriving at Haines Junction where you'll join the Haines Highway for a little under 3 hours before arriving at the port of Haines.
It is possible to fly to Juneau and the International airport is served by Alaska Airlines and Delta Airlines. However, flights from the US are only available from Seattle and Tacoma, and the only other flights are internal flights within Alaska.
Comparison of ferry trip routes to Juneau, Alaska

| Origin | Provider | Adult Fare | Car Fare* |
| --- | --- | --- | --- |
| Bellingham | Alaska Marine Highway System | $466 | $1,582 |
| Prince Rupert | Alaska Marine Highway System | $182 | $618 |
| Haines | Alaska Marine Highway System | $58 | $180 |
| Skagway | Alaska Marine Highway System | $64 | $199 |
*Price calculated at the time of writing, based on a single journey, and the car fare includes 1 adult ticket
How long does it take to drive to Juneau, Alaska?
A trip to Juneau is going to involve a ferry journey and the table below provides an overview of travel times from major cities both in Alaska and northern US and Canada. These times can vary given the nature of the location and the ever-changing weather conditions.
Travel times to Juneau from major cities in the US/Canada

| Starting Point | Distance | Travel Time |
| --- | --- | --- |
| Anchorage | 850 miles | 19 hours 30 minutes |
| Seattle | 920 miles | 57 hours 30 minutes |
| Portland | 1,090 miles | 60 hours |
| Vancouver | 880 miles | 57 hours |
| Calgary | 1,480 miles | 67 hours 15 minutes |
| Edmonton | 1,530 miles | 67 hours 30 minutes |
Note: The travel times listed above include the time it takes for the ferry to reach Juneau, Alaska.
The most popular way of traveling to Juneau is by ferry and it is one of the most popular destinations in Alaska. Bellingham is situated 90 miles north of Seattle and it takes around 2 hours to drive there. This port is easily accessible for travelers making the trip from the US.
Traveling from Canada takes around 1 hour and 40 minutes to make the journey from Vancouver to Bellingham. Taking the ferry from Bellingham allows you two days aboard the ferry where you can enjoy the amazing scenery from the comfort of your cabin or on deck.
Alternatively, you can take the ferry from Prince Rupert, which will take 49 hours and 30 minutes.
Another option that is quicker and cheaper is the ferry from Skagway to Juneau. From Skagway, the ferry journey to Juneau will take 6 hours and 30 minutes. Similarly, if you travel to Haines and take the ferry from there, the journey takes 4 hours and 45 minutes.
Traveling through untamed wilderness surrounded by breathtaking mountain scenery, with bison, bears, and moose being the closest neighbors for much of the journey.
This is, however, an extremely long drive and can be difficult and very remote and potentially dangerous given the terrain and weather.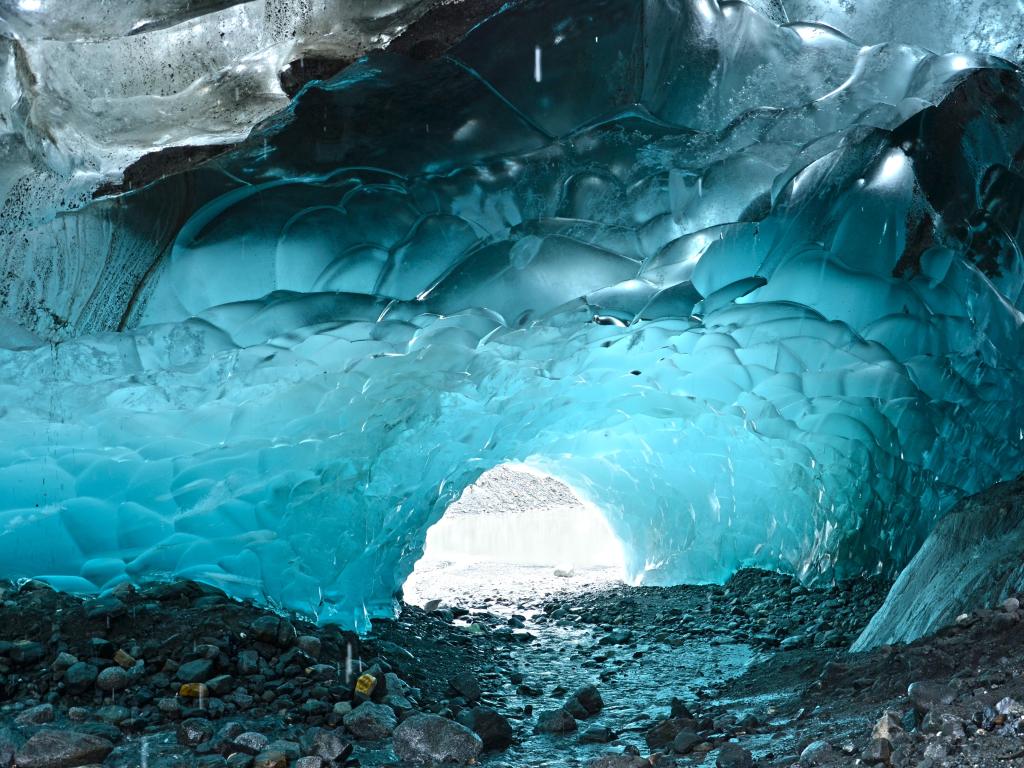 Which ferry port should you arrive at in Juneau, Alaska?
There is only one ferry port serving Juneau, and the port is situated 13 miles from the city of Auke Bay.
The short journey from the ferry to Juneau takes 20 minutes and takes you past the Mendenhall Valley and the Glacier Gardens Rainforest Adventure before continuing along the coastal road to Juneau.
Things you need to know about driving to Juneau, Alaska
Driving to Juneau is relatively straightforward as the journey to Bellingham is on major roads/interstate and then on board the ferry for the remainder of the journey.
It is advisable to book ferry tickets in advance and as the cruising time can take several days, it may be necessary to book a cabin for a night or two, depending on where you are traveling from.
It is also likely to be cheaper to book a date in advance rather than booking on the date of departure and it will also guarantee your place on board and avoid any potential disappointment.
Here are our top tips when it comes to preparing for a drive to Juneau, Alaska:
- The best time to visit Juneau is between May-August where you'll encounter long sunny days and as it's whale migration season, you have a great chance of spotting them, either from the ferry or from the shore.
- The longest day of the year is June 21 when you can expect to encounter 18 hours and 18 minutes of daylight and the summer daytime temperatures can reach 75 degrees Fahrenheit.
- In the winter months, the days can be dark and in late December there will only be 6 hours and 30 minutes of daylight. The temperature averages around 29 degrees Fahrenheit.
- The area is known for its rainfall with on average 230 days of precipitation annually so do be prepared as the weather can be very changeable.
- You will need a passport to visit Juneau unless you are a US resident and foreign nationals who require an entry visa must obtain a valid visa before making the trip.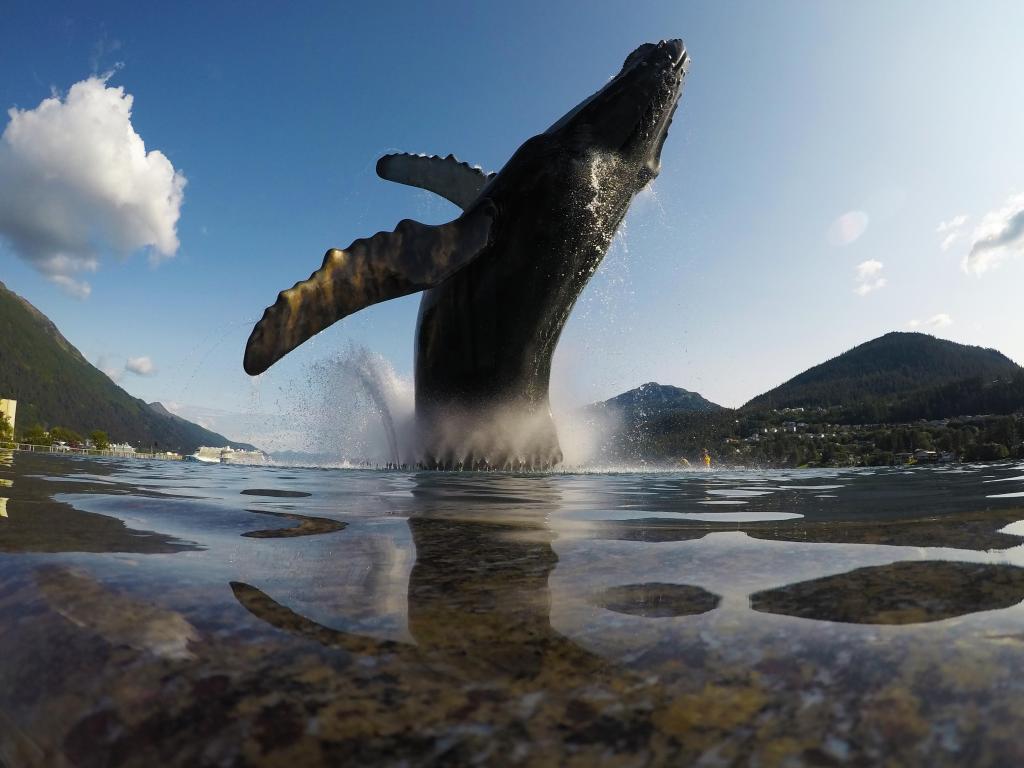 Things to see once you reach Juneau, Alaska
A trip to Juneau will be truly memorable and there is plenty more to see and do once you arrive. To help you plan your trip, here are a few of our recommendations for things to see and do in Juneau:
Mendenhall Glacier and Visitor Center - Experience the vast Juneau Ice Field and the 13-mile-long river of ice of Mendenhall Glacier. A remnant of the last ice age and one of 38 major glaciers in the region.
Juneau Humpback Whale watching – Book a boat trip and watch humpbacks and orcas congregate and bubble feed.
Tracy Arm Fjord – Take a cruise along the fjord and see glaciers, icebergs, and an abundance of wildlife including otters, seals, and bald eagles.
Nugget Falls - Also known as Mendenhall Glacier Falls, take the 1.5-mile trail to the falls from where you can also see the beautiful blue glacier and may be lucky enough to see bears hunting salmon and icebergs in Auke Bay.
Mount Roberts Trail - Walk from Juneau through sub-alpine meadows to get stunning 360-degree views over Juneau and the Gastineau Channel.
Admiralty Island – Home to one of the world's largest brown bear populations, visit Pack Creek Bear Sanctuary and witness the bears feeding on salmon. The island is also home to one of the largest colonies of nesting bald eagles in the world.
Alaska State Museum – Situated in downtown Juneau, featuring over 25,000 historical artifacts embracing Alaska's native heritage with an impressive Eskimo carved ivory collection and a large selection of gold rush and mining memorabilia.
Gold Creek Flume Trail – A popular scenic trail covering 2.3km from Juneau giving the chance to explore the area's historical areas and old mine.
Alaskan Brewing and Bottling Company - This award-winning brewery offers a selection of over 20 Alaskan beers, and you can sample them in the tasting room and take home some of your favorites.
Glacier Gardens Rainforest Adventure - Enjoy the picturesque botanical gardens and then venture through the rainforest to the beautiful viewing area at 500 feet.
Eagle Beach - A perfect place for hiking, camping, biking, and bird watching, where you can see bald eagles soaring, with views of the snow-capped Chilkat Mountains.
Perseverance National Recreation Trail – A spectacular trail walk from Juneau giving tremendous views of the mountains that surround Juneau
Goldbelt Mount Roberts Tramway - Take the aerial tramway up Mount Roberts rising to 1,800 feet through the rain forest to the Mountain House on one of the most vertical tramways on earth.
The Northern Lights - Juneau is an excellent location for catching the amazing phenomenon that is the Aurora Borealis. Climb one of the many trails surrounding Juneau to find the perfect place to witness this spectacular natural enigma.
If you fancy extending your trip onwards once you reach Juneau, you'll be well placed for a trip to beautiful Glacier Bay National Park. You can fly or take a ferry from Juneau to this majestic glacial wonder.
READ MORE - Traveling from Juneau to Glacier Bay National Park
A trip to Juneau will take you to one of the largest wilderness areas in the US, where you can explore glaciers, enjoy spectacular scenery and view amazing wildlife. Juneau has a bustling waterfront where you can enjoy the shops, and restaurants, and learn all about the area's fascinating history in one of the most truly magical capital cities.