How Long Does It Take To Drive To Alaska?
If you're looking to drive to Alaska and you've not done it before, you may wonder how long it actually takes to drive all the way there from the rest of the United States.
It will take between 6 and 10 days to drive from the contiguous United States to Alaska depending on where you start from and based on driving for up to 8 hours per day. The fastest possible drive to the Alaskan Panhandle can be done in 16 hours 30 minutes.
Read on to find out exactly how long it takes to drive to Alaska and what factors can impact the driving time.
How long it takes to drive to Alaska from different parts of the United States
The time taken to drive to Alaska depends a lot on where you start from in the United States. Starting in Washington State or Montana, the journey will be shortest at as little as 45 hours on the road, but if you're setting off from southern Florida, expect to spend 2 weeks driving all the way across the United States and Canada.
The fact is that you have to drive through a long stretch of Canada wherever you're coming from in the U.S. on your way to Alaska. Even if you're coming from Southern United States and have to drive through the whole country before you even enter Canada, you'll be driving through more of Canada than you will the U.S.
That's a mighty long way to go!
I've listed 10 major U.S. cities in order of the least time it will take to drive to Alaska below - if you live in or near one of these, that should give you a decent benchmark.
The driving time given below is in hours with a realistic expectation for how many days that will take if you're going to be driving for up to 8 hours a day before taking stops into account. All distances are to Anchorage so if you're going elsewhere in Alaska, it may take longer or less time to get there.
Time taken to drive from different U.S. Cities to Anchorage, Alaska, assuming up to 8 hours on the road per day.

| Starting City | Distance | Driving Time |
| --- | --- | --- |
| Seattle, WA | 2,260 miles | 43 hours (6 days) |
| Billings, MT | 2,631 miles | 46 hours (6 days) |
| Denver, CO | 3,184 miles | 55 hours (7 days) |
| Los Angeles, CA | 3,395 miles | 60 hours (8 days) |
| Chicago, IL | 3,580 miles | 60 hours (8 days) |
| Dallas, TX | 3,896 miles | 66 hours (9 days) |
| Nashville, TN | 4,056 miles | 67 hours (9 days) |
| Washington, D.C. | 4,278 miles | 71 hours (9 days) |
| New York, NY | 4,377 miles | 72 hours (9 days) |
| Miami, FL | 4,963 miles | 80 hours (10 days) |
The trip from the contiguous U.S. to Alaska is going to be long wherever you start, but if you live on the East Coast, I'd seriously consider your options - the drive will take you 20 days if you're planning to return so you'd better have a great reason for opting to do it instead of taking a flight!
How long do the four routes to Alaska through Canada take?
Depending on where in the United States you start from, you're likely to drive to Alaska along one of 4 different routes that each take a different amount of time to drive.
From the West Coast, you'll follow the route north from Washington, Arizona, Colorado, Utah and other neighbor states will cross through Montana and drive the length of Alberta.
For the majority of the U.S., the fastest route to Alaska cuts through from North Dakota while the residents of Maine will find that driving across the Trans-Canada Highway is the quickest option.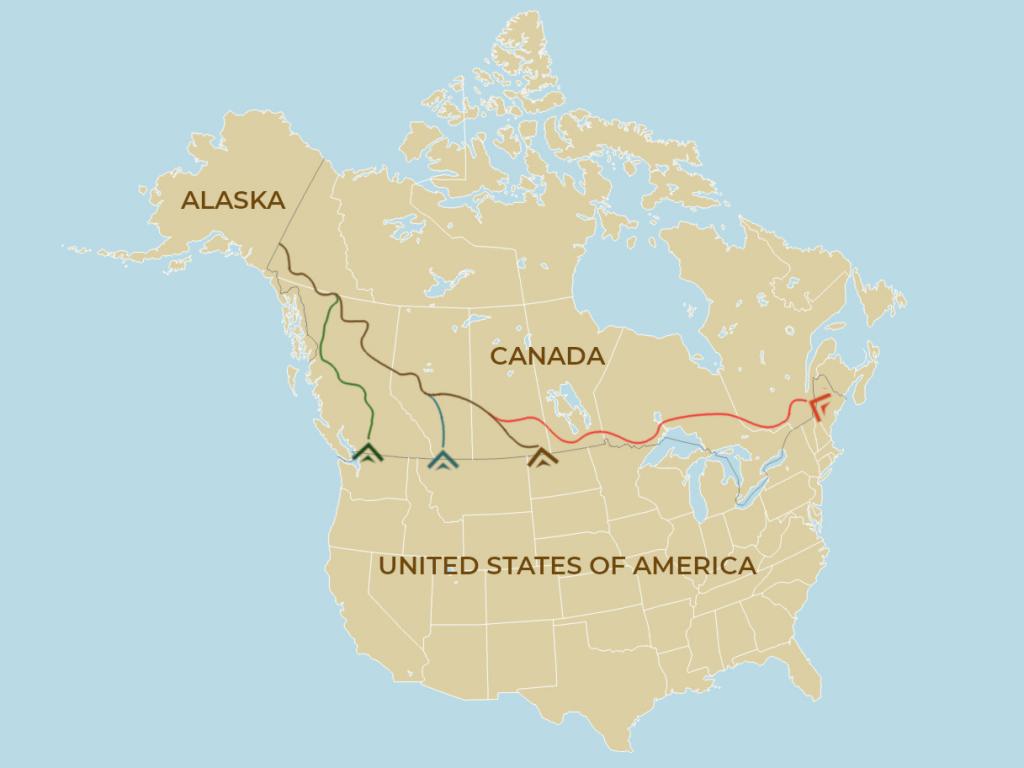 Taking time from border to border, this is how long these routes take - you'll need to add your own calculation for how long it'll take you to reach the U.S. border on top. Remember to add extra time for your drive from the Alaska border to Anchorage or wherever you're heading.
Route 1 to Alaska from Washington - 32 hours on the road (4 days) - add 2 hours for the scenic route via Yellowhead Highway
Route 2 to Alaska from Montana - 33 hours on the road (4 to 5 days)
Route 3 to Alaska from North Dakota - 37 hours on the road (5 days)
Route 4 to Alaska from Maine - 68 hours on the road (9 days)
Does it take longer to drive to Alaska in the winter?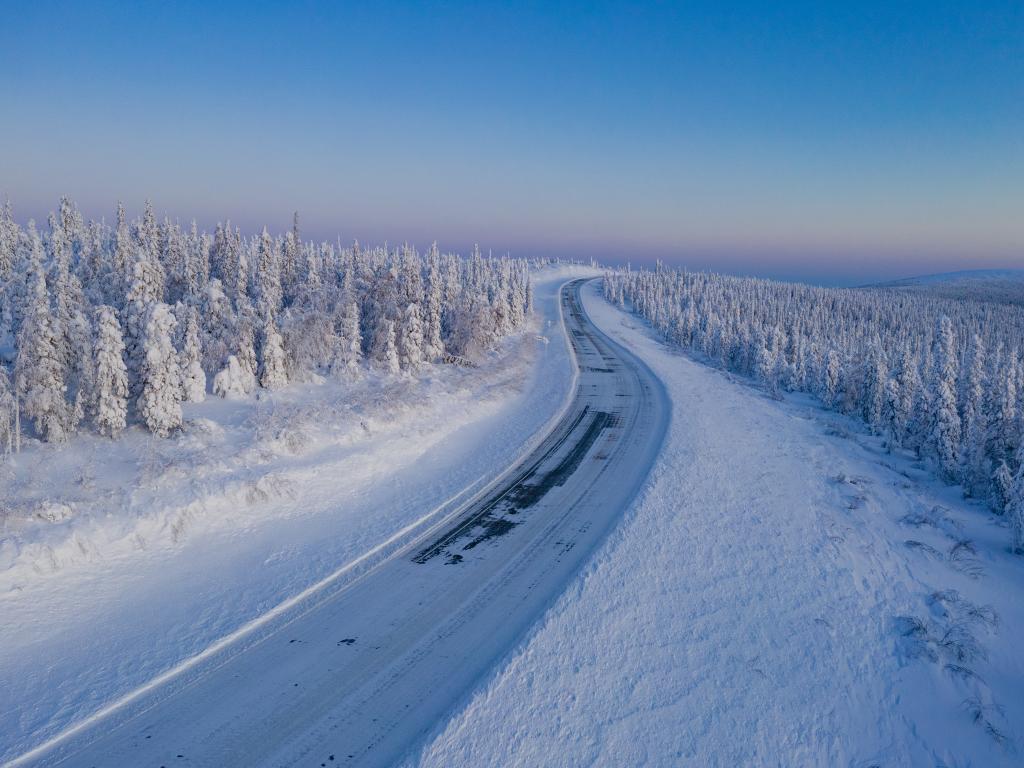 If you're driving from the Lower 48 states of the United States to Alaska in the winter, be prepared for your journey to take much longer than the navigator will say or you might think.
The roads are paved the entire way and the quality of the roads is generally very high - that's not going to be your problem.
The weather in the winter in parts of northern Canada can turn very harsh with snowstorms and lots of ice on the roads.
This will mean that even if your car is well prepared with winter tires, 4 wheel drive and good insulation, you'll often find yourself driving much slower than what you'd be able to do in the summer months.
Bake in at least 50% on top of the normal amount of time it takes and allow for more frequent overnight stops if you're driving to Alaska in the winter.
At times, a major snowstorm will mean that even the well maintained and generally clear Canadian roads become impassible which can mean having to wait a day or two for them to be cleared and reopened - be prepared for having to turn back and spend longer on your way.
Key factors that will affect how long it will take you to drive to Alaska
Wherever you're starting from in the U.S., the drive to Alaska is likely to take 6 days or longer including the drive to the Canadian border, the long route through Canada and the final stint through Alaska.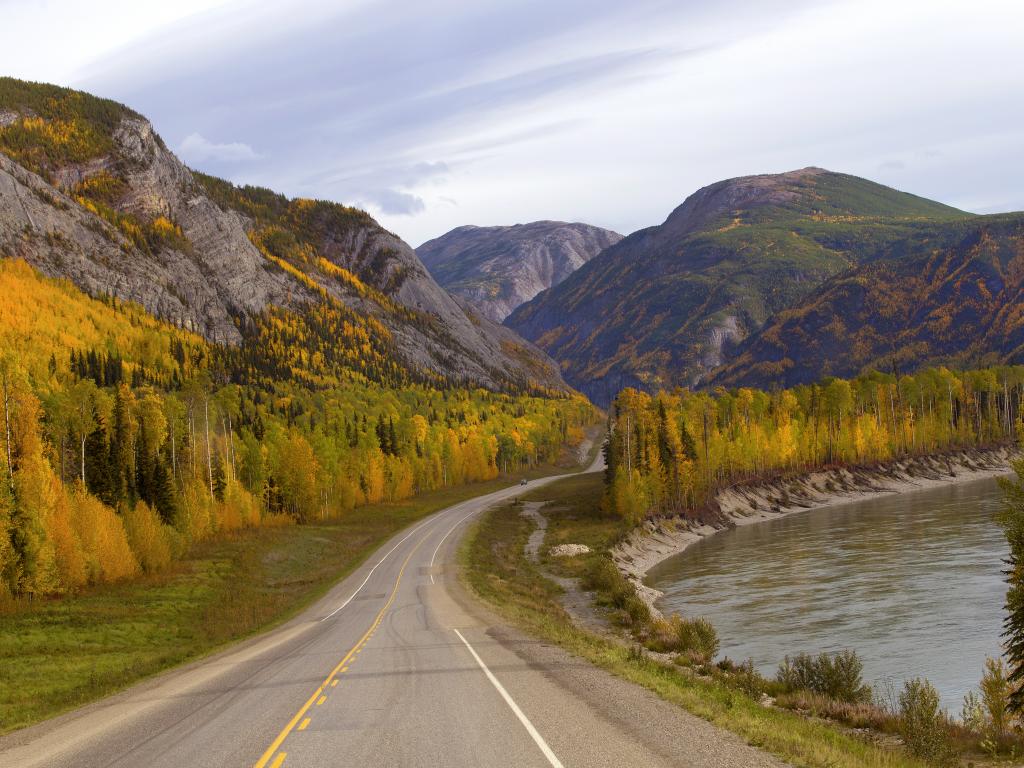 While most of the route is so remote that you shouldn't experience things like traffic slowing you down, there's a few factors that can affect how long it'll take you to make the trip.
How long are you prepared to spend in the car each day - Our calculations above allow for up to 8 hours in the car per day. That might not sound like a lot, but it's a long time to spend driving every day of the trip. When you add a few stops and a lunch break, you may be on the highway for 11 hours in a day which is tough if you're doing it for a week in a row.
Stops along the way - There are lots of amazing places to explore in Canada as you make your way to Alaska or even before you cross the border, back in the U.S. There's National Parks and a lot of wilderness and quaint small towns - add a few stops along the way with some non-driving days and your journey time will double.
Driving in the winter - It will take considerably longer to make the journey in the winter. While it's generally a good idea not to go during the winter months, read the section further down to make sure you allow enough time for the drive.
Your vehicle preparedness - although most cars should be able to make the journey up to Alaska without problems, it's a long drive and for much of it you will be very far from the nearest mechanic. If your car is not in great shape and you break down, you might find it will take a long time for your car to be fixed in the nearest town a couple hundred miles away.
What's the fastest you can drive to Alaska?
There are two main ways of deciding the fastest possible way to drive to Alaska - the time it takes to drive to anywhere in the Panhandle or the total time to drive to the main part of Alaska, so let's look at these in turn.
1. The fastest you can drive from anywhere in the 48 contiguous states to anywhere in Alaska
This one is a slight cheat as there are parts of Alaska stretching down the Pacific coast that are much closer than the main part of the state much further north.
Starting at the Sumas-Huntingdon crossing in Washington, it's only an 876 miles drive to the point where the Glacier Highway crosses from British Columbia to Hyder, Alaska.
These southern reaches of Alaska are completely split from the main part of the state and you will have to go back through Canada if you wanted to keep on driving to Anchorage and beyond, but we're after the technical fastest time here, so that doesn't matter!
Virtually the entire route except for a short initial stint along the Trans-Canada Highway will be along 2-lane highways (1 each way) which have an 80 kph speed limit in Canada (50 mph in old money). Some stretches do have 100 kph markers which helps!
So assuming you are a law abiding citizen and you maintain the speed limit all the way with a few minor slow downs when going through towns, it'll take about 16 hours to drive border to border.
Further assuming your car does less than 876 miles on a single tank and is not electric, I'll allow for two 15-minute stops to fill up, visit the rest room and buy some snacks for your mad speed dash.
So if everything goes perfectly well, there's no unexpected traffic, road works or other delays and you only stop for a grand total 30 minutes over an entire day of driving, the fastest you can possibly drive to Alaska is 16 hours and 30 minutes.
If you are a sane person who actually enjoys things like breakfast, lunch and dinner and you don't want to drive continuously from 5 a.m. until 10 p.m., I'd say the real answer is something more along the lines of two and a half days.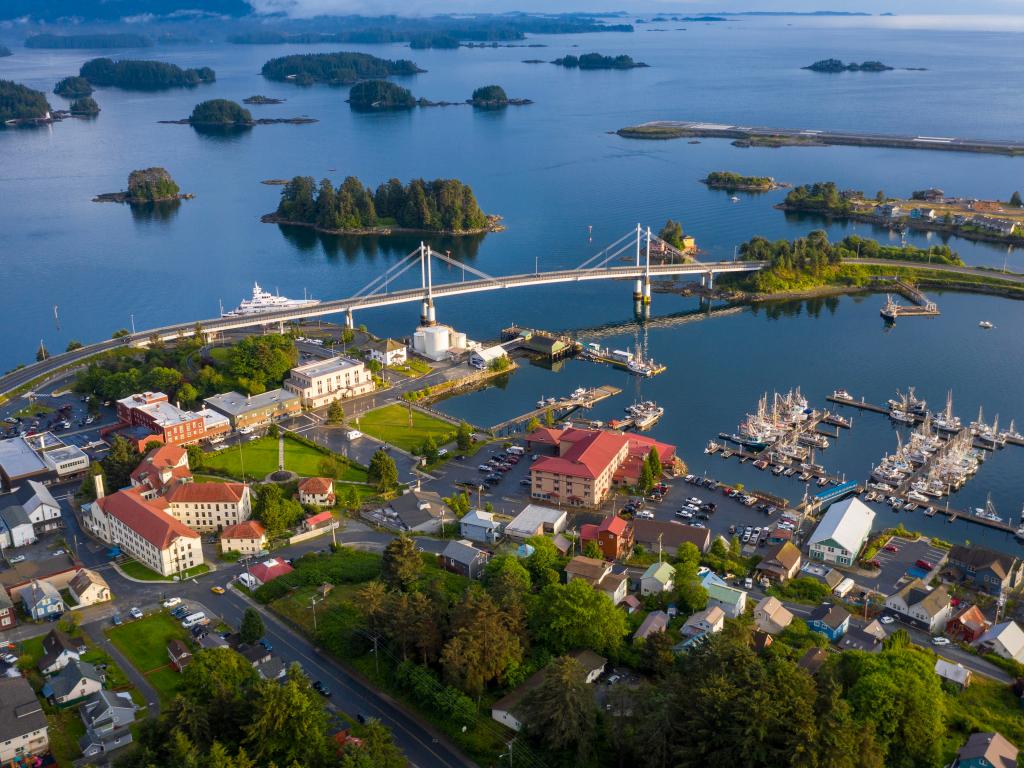 2. The fastest you can drive from the Lower 48 states to the Alaska border in Yukon
If you're going all the way through Canada to Yukon and the main border crossing with Alaska, the journey will be a fair bit longer.
The fastest option here is to start in northern Montana and cross the border into Alberta at the Piegan–Carway Border Crossing. The route will pass through Calgary and Grande Prairie before doing the entire length of the Alaskan Highway from Dawson Creek.
The 1,849 miles (2,976 km) can be covered in as little as 32 hours' worth of driving. Assuming a minimum of 6 stops for fuel, food, restrooms and driver changes at 15 minutes each, the fastest you can drive from the U.S. to the main part of Alaska is 33 hours and 30 minutes.
If you're not planning on spending a day and a half straight inside your car and want to actually stop, sleep and eat on the way, you'll need to allow at least 3 days to make the drive and that's assuming you drive all day from when you wake up until you reach your hotel and fall asleep.
A realistic minimum for the drive is 4 days which allows for 8 hours on the road per day and some time for rest in-between.
How long will it take to drive from the Alaskan border to Anchorage?
Most of the initial times we looked at involved driving to Anchorage, seeing as that is the most common first destination and by far the biggest city in Alaska.
Getting from the Yukon - Alaska border to Anchorage is fairly straight-forward. The Alaska Highway continues from the border and the road is good all the way to Anchorage plus you get perks like good cell and data coverage (which you might miss after driving through some remote parts of Canada).
Although it looks like a short extra bit on the map relative to the overall journey, it's just over 400 miles from the border to Anchorage and it'll take you the best part of 8 hours to make the drive.
If you're planning your trip, that will add 1 full day on the road to any journey from the U.S. to Alaska.
I hope you've now got a much better idea of exactly how far Alaska is and how long it will take you to get there - don't underestimate this long drive and make sure you prepare properly for the long drives through the wilderness and the days you'll spend on the road.