Can you Drive to Kangaroo Island?
Kangaroo Island is known for being one of the most beautiful islands in the world, due to its pristine beaches, diverse and plentiful wildlife (which does include kangaroos), stunning rock formations and unique options for food and drink.
You can't drive directly to Kangaroo Island as there's no bridge from the Australian mainland. You need to take a short ferry ride or flight if you want to enjoy the native animals and plants that make Australia's third-largest island their home.
This stunning island is largely protected as a nature reserve, which means that you can still see enjoy its untouched natural environments and amazing views. Read on to learn about the best available travel options for getting to Kangaroo Island, along with helpful tips about the journey.
Can you drive to Kangaroo Island?
Kangaroo Island - which is located 130 kilometres southwest of the nearest city Adelaide - is open to visitors, and there's no entry fee except for the cost of getting across the water.
Although there's no bridge on the route to Kangaroo Island, there are two ferries that go to Kangaroo Island multiple times each day, Kangaroo Island Sealink (a vehicle ferry) and Kangaroo Island Connect (a passenger ferry).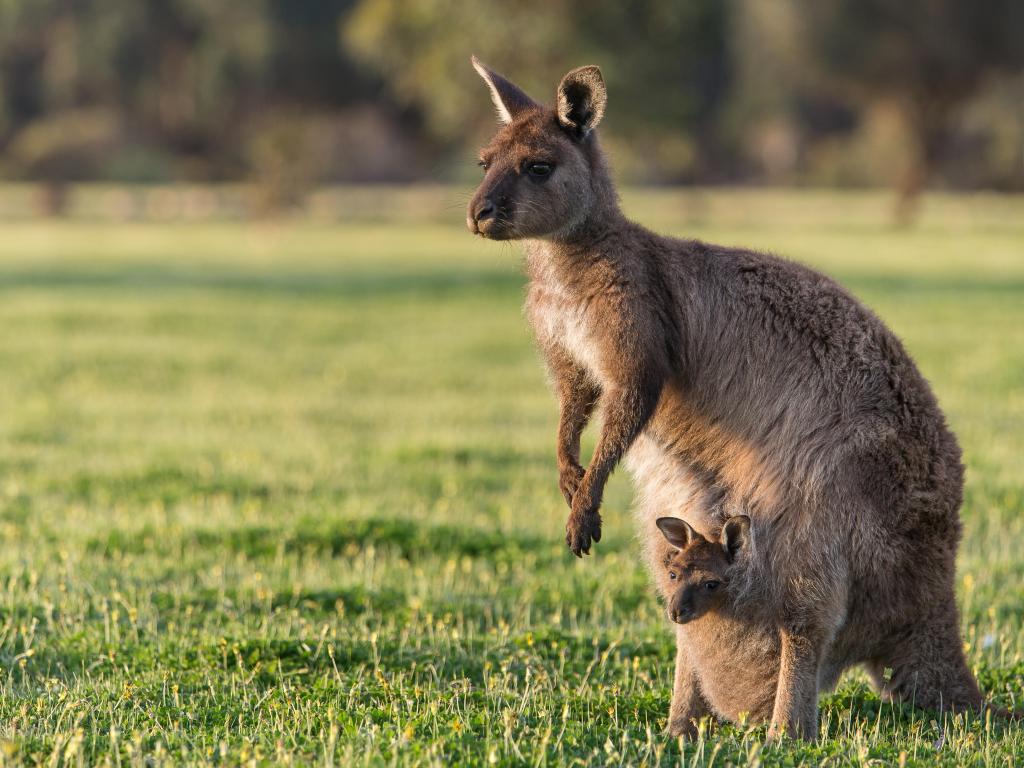 You can also take a 30-minute flight from Adelaide to Kangaroo Island, but we'd recommend that you either take your car on the ferry or hire a car on arrival so that you can see as much of the island as possible.
If you would like to explore the drive from Adelaide to Kangaroo Island in detail, check out our essential guide for the road trip from Adelaide to Kangaroo Island.
How to drive to Kangaroo Island from the mainland of Australia
Comparison of ferry trip routes to Penneshaw, Kangaroo Island

| Departure Point | Provider | Distance | Crossing Time |
| --- | --- | --- | --- |
| Cape Jervis | Kangaroo Island Connect | 16 km | 30 minutes |
| Cape Jervis | Kangaroo Island Sealink | 16 km | 45 minutes |
Ferries travel between Cape Jervis on the mainland and Penneshaw on Kangaroo Island, so before setting sail you'll need to make your way from your starting point out to Cape Jervis.
It's also possible to get to Cape Jervis from Adelaide using public transport, but the bus service is infrequent, and you might find yourself with a long wait for the ferry. For this reason, most people find it more convenient to drive.
A visit to Kangaroo Island is a popular side trip for travellers spending time in Adelaide because it's such a quick drive from the city. Simply leave the city via the M2, following it along the coastline, then drive through Aldinga, Myponga, Normalville and Second Valley to reach Cape Jervis.
There are a few small differences in price and travel time, which we've put together in the tables below to help you figure out your options. The big difference between the Sealink Ferry and the Connect Ferry is that you can take your own car on the Sealink, which is why the price is slightly higher.
The Sealink Ferry is also slightly larger, with an onboard cafe, but the trip distance and travel time are the same.
Comparison of ferry prices to Kangaroo Island

| Provider | Adult Fare | Car Fare* |
| --- | --- | --- |
| Kangaroo Island Connect | $40 | No vehicles allowed |
| Kangaroo Island Sealink | $55 | $110 |
*Price calculated at the time of writing, based on a single journey, and the car fare includes 1 adult ticket
How long does it take to drive to Kangaroo Island?
It's possible to travel to Kangaroo Island from anywhere in Australia, but we've listed some of the popular routes below so that you can get an idea of the travel time from Adelaide, Melbourne or Sydney.
Travel times to Cape Jervis, Kangaroo Island from major cities in Australia

| Starting Point | Distance | Travel Time |
| --- | --- | --- |
| Adelaide | 110 km | 1 hour 30 minutes |
| Melbourne | 800 km | 9 hours |
| Sydney | 1,430 km | 15 hours 30 mins |
The 1 hour 30-minute drive from Adelaide to Cape Jervis, where you'll board the ferry, takes you through some beautiful rolling countryside as you make your way down the Fleurieu Peninsula. If you have enough time to take the drive slowly you could stop on the way at one or two of the peninsula's wineries.
If you're coming from Melbourne or Sydney, take the M1 towards Adelaide then turn off at Callington to make your way along the Fleurieu Peninsula.
The drive from Melbourne will take 9 hours and cover 800 kilometres, while you will need to drive 1,430 kilometres from Sydney, which will take 15 hours and 30 minutes.
After you reach Penneshaw in Kangaroo Island, where the ferry port is, the island's main city Kingscote is a 40-minute drive away, which will clock in 60 kilometres.
Which ferry port should you arrive at on Kangaroo Island?
There's only one ferry port on Kangaroo Island, Penneshaw, which is located on the eastern side of the island. Both of the ferry companies dock in Penneshaw, from where it's around a 2-hour inland drive to reach West Bay Beach on the other side of the island.
Kangaroo Island's main airport is located roughly 60 kilometres further west, near to Kingscote. If you only have limited time and want to explore the western end of the island, you'll save a little time by arriving by air. Arriving by air also means you'll be closer to Kangaroo Island's main dining options.
Things you need to know about driving to Kangaroo Island
Travelling to Kangaroo Island is a very straightforward trip. After you've left Adelaide, the roads are relatively quiet so you shouldn't experience any significant delays along the way.
Once you're on the ferry, the island is located very close to the mainland, just 13 kilometres at its closest point. The travel time on the ferry is less than one hour.
Here are our top tips when it comes to preparing for a drive to Kangaroo Island:
Ferry tickets can be purchased online or at the ticket window when you arrive, but seats are limited so consider booking in advance.
Tickets are also cheaper online. Prices get more expensive the closer to the date of travel, especially in the summer and during school holidays.
Other than a ferry ticket, you don't need any documents to travel to Kangaroo Island. Once you've entered Australia, you're free to travel to any of its islands.
You'll need some form of transport to explore Kangaroo Island. Unless you're joining an organised tour, that means having your own car. You can of course bring your own car on the ferry, but it might be more economical to rent one for the day once you arrive.
Things to see once you reach Kangaroo Island
The natural sights of Kangaroo Island are the perfect antidote to busy city life. During a visit to the island, you can see many of Australia's most iconic species - and watch out for the dolphins that sometimes play in the wake of the ferry boats too!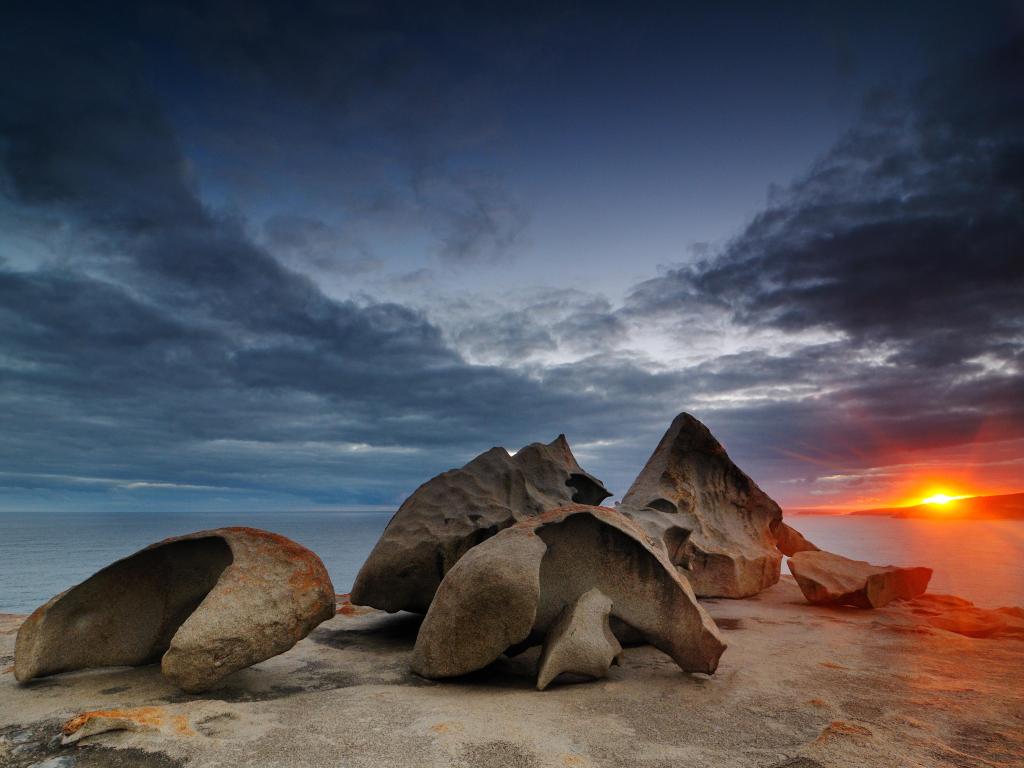 Flinders Chase National Park - Unique rock features and iconic formations that you can explore, as well as sprawling trails and diverse landscapes.
Seal Bay Conservation Park - A protected wildlife area where you can see a variety of wildlife, the most famous being the seals, of course.
Bales Beach - A perfect roadside picnic spot and peaceful beach location.
Hanson Bay Wildlife Sanctuary - A sanctuary featuring koalas, kangaroos, and other wildlife.
Vivonne Bay - One of Australia's best beaches, which is perfect for sunbathing, fishing, and even surfing when conditions are good.
Little Sahara - Giant sand dunes that can be hiked, explored, and even surfed on sand boards!
Kingscote - The most concentrated centre for shopping restaurants, and businesses.
Island Beach - A calm area perfect for renting kayaks, canoes, and paddle boards, or simply wading at the shore.
Penneshaw Penguin Centre - Visit a colony of the world's smallest penguins!
Kelly Hill Conservation Park - Explore underground limestone caves and stunning stalactites and stalagmites in an adventure tour.
A trip to Kangaroo Island is an incredible opportunity for taking scenic drives, exploring natural areas, and taking in impressive landscapes such as rugged clifftop views.