Can you Drive to Prince Edward Island?
Prince Edward Island is the smallest Canadian Province, and the only island province in the country. It's a fantastic place to enjoy outdoor activities and admire rugged ocean views while you hop between the island's many fishing villages, Or visit Charlottetown, its colorful capital city which sits right on the Atlantic.
You can drive directly to Prince Edward Island (PEI) across the Confederation Bridge, which connects Cape Jourimain in New Brunswick with Borden-Carleton on PEI. You also have the option of taking a ferry, which departs from Caribou in Nova Scotia.
Famous for its wide dunes and sandy beaches, PEI is steeped in history. Having been first a French then a British colony since 1604, and home to the Mi'kmaq people for many centuries longer, it hosted the Charlottetown Conference back in 1864, where the Canadian state was shaped, but then refused to join the confederation for another 3 years.
Can you drive to Prince Edward Island (PEI)?
You can reach Prince Edward Island by car, but the only way to do that is to cross the Confederation Bridge that unites New Brunswick and Prince Edward Island over the Northumberland Strait.
If you take this trip, you should be aware that there is a toll to cross the impressive 13-kilometer Confederation Bridge, which currently starts at $50.25 CAD (at the time of writing).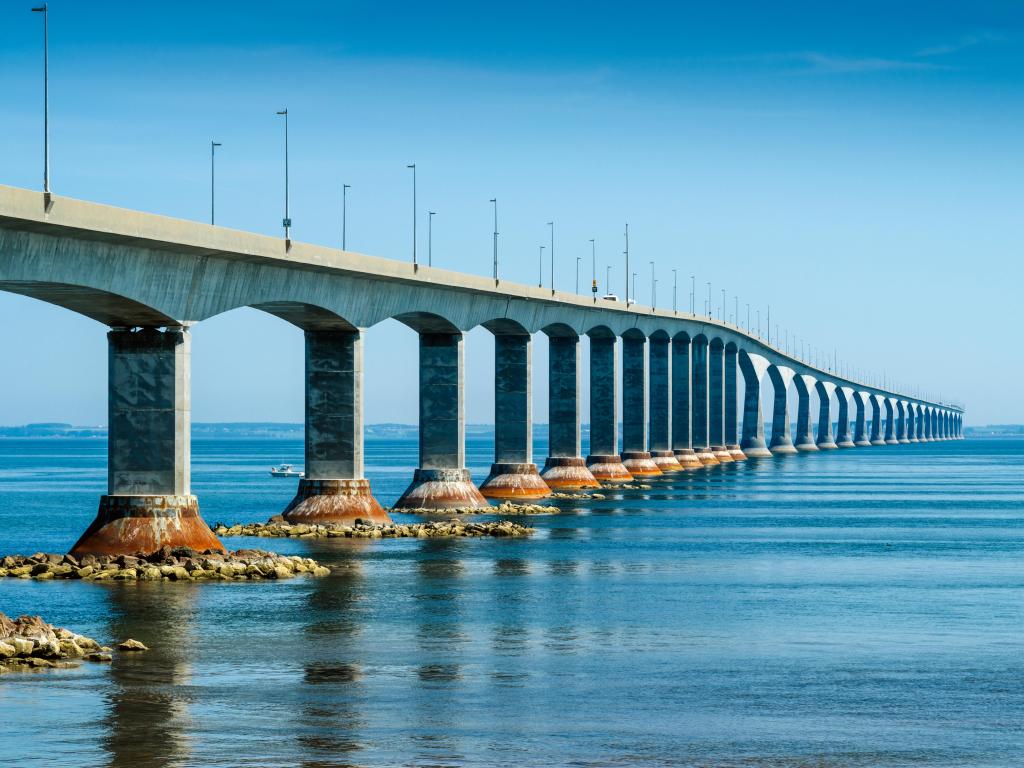 Alternatively, you can cross the Northumberland Strait by ferry if you visit between May and late December. There are a few options, but the best is to take the boat from Caribou (Nova Scotia) to Woods Island on PEI. In the summer months the island also welcomes many cruisers.
If you're traveling from further afield you might like to consider flying to the island's single airport in Charlottetown. You can get here from Halifax, Montreal, Toronto and New York, but it's also possible to take a fantastic road trip to Prince Edward Island from any of these cities.
How to drive to PEI from mainland Canada
Table comparing routes from mainland Canada to PEI

| Departure Point | Mode | Distance | Crossing Time | Price |
| --- | --- | --- | --- | --- |
| Bayfield | Bridge crossing | 13 km | 10 minutes | $50.25 |
| Caribou, Nova Scotia | Vehicle ferry | 30 km | 1 hr 20 minutes | $84 |
*Price calculated at the time of writing, based on a single journey, 2 adults, 1 car
Islanders and visitors alike tend to favour the Confederation Bridge to reach PEI. It's the quickest option, taking only 10 minutes, and costs less than taking the ferry.
While the ferry ride is scenic, the weather can be challenging and the sea can be rough, plus you have to wait to board the ferry, so it's a less flexible option too.
Prince Edward Island is connected to the rest of Canada by the Trans-Canada Highway. Wherever else in Canada you're traveling from, this road brings you from Quebec then south through New Brunswick before swinging east towards the Atlantic. You'll turn off at Aulac to head for Confederation Bridge.
You can also get here from the United States. Either follow I-95 through Maine then connect with the Trans-Canada Highway at Woodstock, or cross the border at Calais, Maine, and pick up New Brunswick Route 1. Then just head for the Confederation Bridge or the ferry port in Caribou.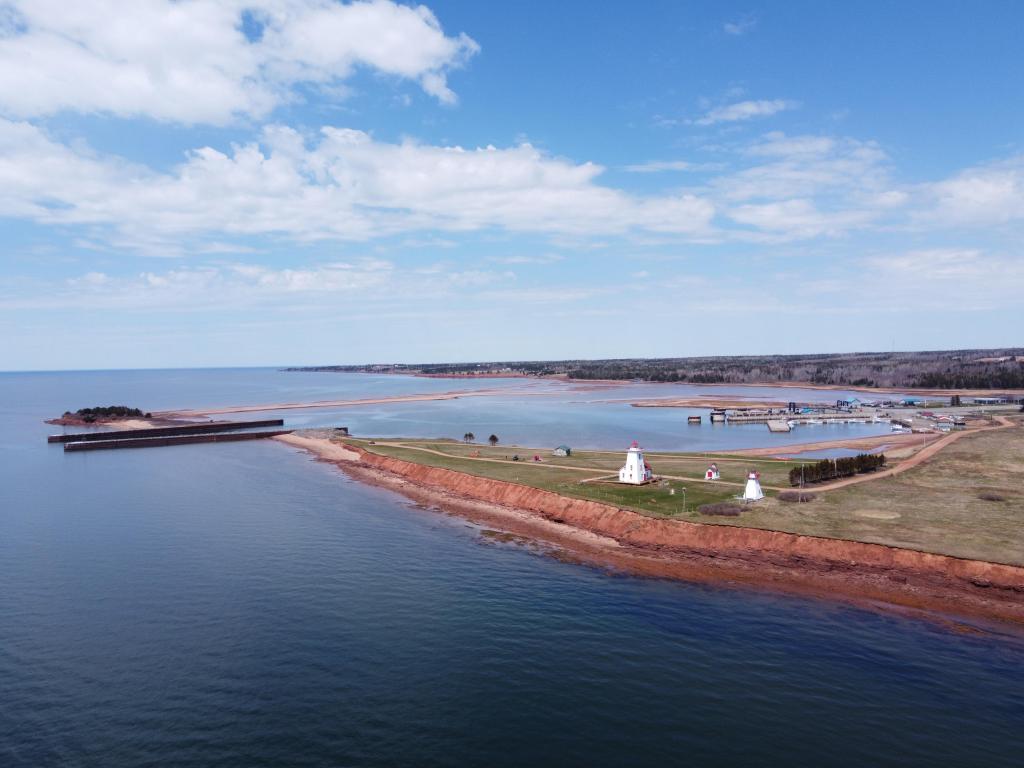 How long does it take to drive to PEI?
The time it will take to drive to Prince Edward Island obviously depends on where you're starting from. PEI is right on the eastern side of Canada, so most travelers will face a bit of a drive just to get to the Confederation Bridge.
Once you've arrived at the New Brunswick or Nova Scotia coast, then it's a relatively short drive or ferry ride to reach the island. The 13-kilometre drive across the Confederation Bridge only takes 10 minutes, so you'll be heading on to your final destination on the island in no time.
Travel times to Prince Edward Island from major cities in USA/Canada

| Starting Point | Arrival Point | Distance | Travel Time |
| --- | --- | --- | --- |
| Wood Islands, PEI | Charlottetown, PEI | 50 km | 40 minutes |
| Halifax, NS | Caribou, NS | 170 km | 1 hour 50 minutes |
| Quebec City | Confederation Bridge | 860 km | 8 hours 20 minutes |
| Boston | Confederation Bridge | 870 km | 8 hours 50 minutes |
| Montreal | Confederation Bridge | 1,080 km | 10 hours 20 min |
| Toronto | Confederation Bridge | 1,630 km | 15 hours 40 min |
Note: The travel times listed above include the time it takes for the ferry to reach Prince Edward Island
Which ferry port should you arrive at on PEI?
If you're driving to Prince Edward Island, you'll exit the Confederation Bridge at Borden-Carleton. There aren't many major attractions in the town itself, but it's close to Charlottetown and to all the places of interest that we've listed below.
To get to Charlottetown, join the Trans-Canada Highway PE-1E once you arrive on the island, and simply follow this scenic highway until you reach the province's capital city. Take the exit onto Capital Drive to make your way to the center of Charlottetown.
Things you need to know about driving to PEI
It's fairly easy to reach PEI, as there are only two ways to do it: either across Confederation Bridge or by taking the ferry.
There are occasional out-of-season discounts for ferries, so check the websites of the major provider, Northumberland Ferries. Still, the fastest and cheapest option is using the bridge.
On very rare occasions, the Confederation Bridge might also have to close to traffic due to severe weather conditions. This doesn't happen often, and the good news is that if you're traveling in a regular car you're very unlikely to face restrictions.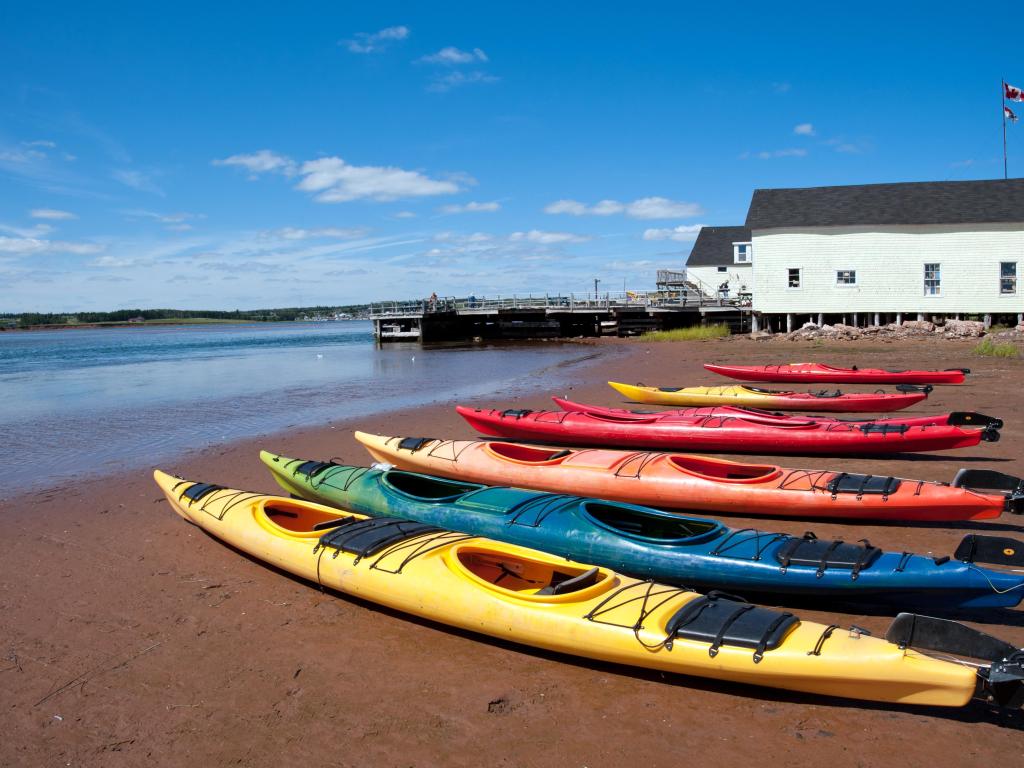 Here are our top tips when it comes to preparing for a drive to PEI:
If you're traveling from Maine or elsewhere in the United States, don't forget to bring your travel documents (requirements vary depending on your nationality) and leave a little extra time in case there's a line at the border crossing.
From Prince Edward Island, you can take the CTMA ferry onwards to Cap-aux-Meules on the Iles-de-la-Madeleine, which is located northeast of PEI. The ferry runs once a day from April to November.
If you do decide to take the ferry, be aware of the often-harsh Atlantic weather. There will be times when the ferry isn't running, so check weather reports and operating schedules in advance.
Things to see once you reach PEI
This small Canadian province is packed full of beautiful coasts and countryside to explore, and you'll find some fantastic towns and villages spread across the island too.
Charlottetown – Enjoy the vibes of the province's capital and indulge yourself in the local food scene.
Murray Harbour – A genuine insight into a local fishing community.
Cape Bear – This romantic lighthouse set atop a striking red rock cliff is where the distress call from Titanic was first received.
Malpeque Harbour – A beautiful place with fishing boats, colorful houses, oysters and lobster gastronomy.
Greenwich Dunes – Situated in St. Peter's Bay, these sandy dunes fascinate with views and mussel farming.
PEI National Park - Take in the stunning red sandstone views that the island is famous for.
Anne of Green Gables House -This historic building was the setting for L M Montgomery's classic novels.
Gateway Village – Right by the Confederation Bridge, you'll find a visitor welcome center here, A place to enjoy local gastronomy and shopping.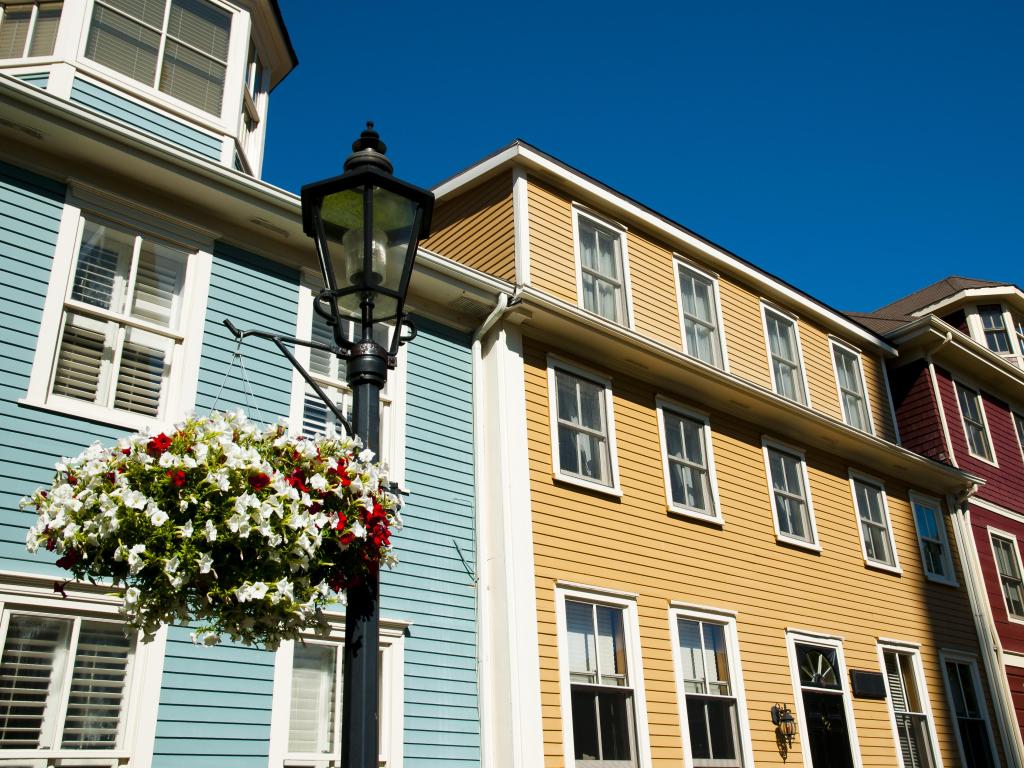 Now that you know the best way to drive to Prince Edward Island, and what you can do when you arrive, there's only one thing left to decide, which is when you're going to visit!