How Long Does It Take To Drive Through Arizona?
Located in the Southwestern United States, Arizona is a large state that shares borders with California, Nevada, New Mexico and Utah. It also has an international border with Mexico to the south.
It takes around 7 hours to drive north across Arizona from the Mexican border up to Utah, a journey of 470 miles. The shorter 375-mile route east to west from California to New Mexico via Tucson or Flagstaff is also quicker, at 5 hours 15 minutes.
Whether your drive through Arizona is going to take you across deserts, mountains, or through the cities of the Sun Corridor, keep on reading to find out more about how long each route will take you.
How long does it take to drive through Arizona
Comparison of routes across the state of Arizona
Route
Main road
Distance
Driving time
East to west


via Flagstaff

I-40
360 miles
5 hours
East to west


via Tucson

I-10 and I-8
370 miles
5 hours and 10 minutes
North to south
US-89 and I-17
470 miles
7 hours 10 minutes
There are three main routes you can take to drive across Arizona. The longest runs north to south between Utah and Mexico, and takes just over 7 hours without any traffic or major road closures. Allowing an hour or more for rest stops, this route will take you at least 8 hours to complete.
Alternatively, you can drive east to west across Arizona, which takes you from New Mexico to California, and you have a couple of options if you're driving between these two states. Both routes take around 5 hours 15 minutes.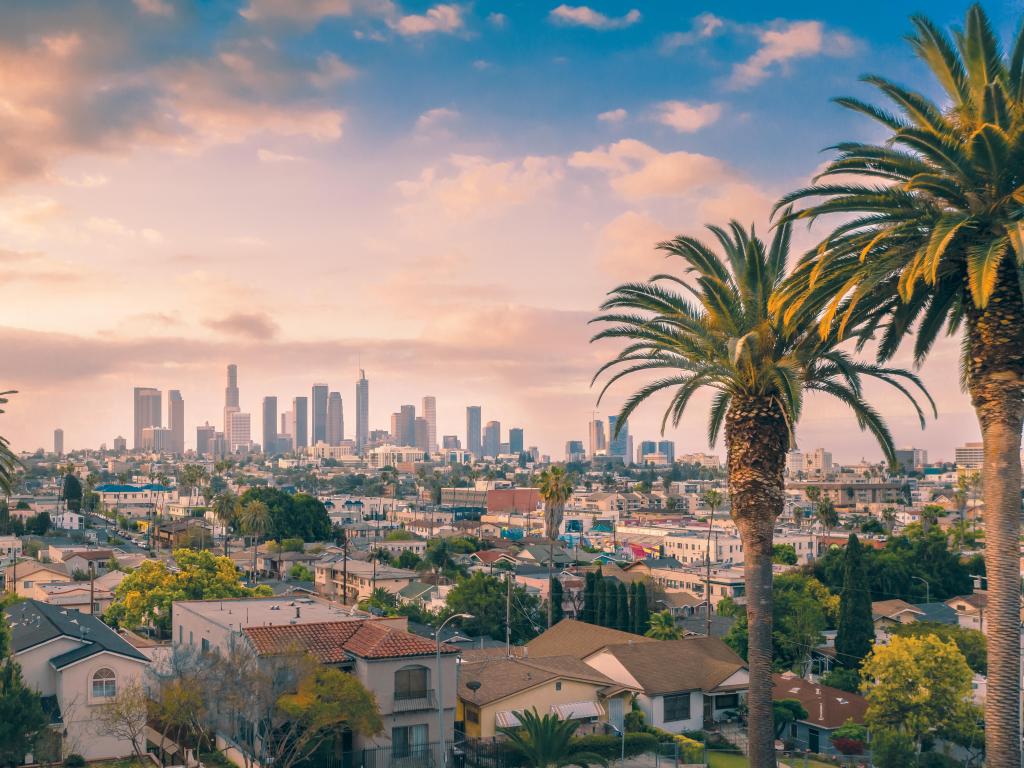 The shorter of the two routes crosses northern Arizona's narrowest point, with the 360-mile taking you along I-40 via Flagstaff. You can also drive via Tucson, following I-10 along the 375-mile journey across southern Arizona's narrowest point.
If you take either of these east-to-west routes we'd suggest making at least one stop, and allowing around 6 hours for the journey.
Driving across Arizona from Utah to Mexico
This route starts at Arizona's northern state boundary with Utah, at the welcome to Utah sign. The road enters Arizona in a fairly remote area but the nearest town to Arizona's northern state boundary with Utah is Big Water, UT.
This route continues south through Flagstaff and Phoenix before concluding at Arizona's international border with Mexico, in a town called Nogales, AZ.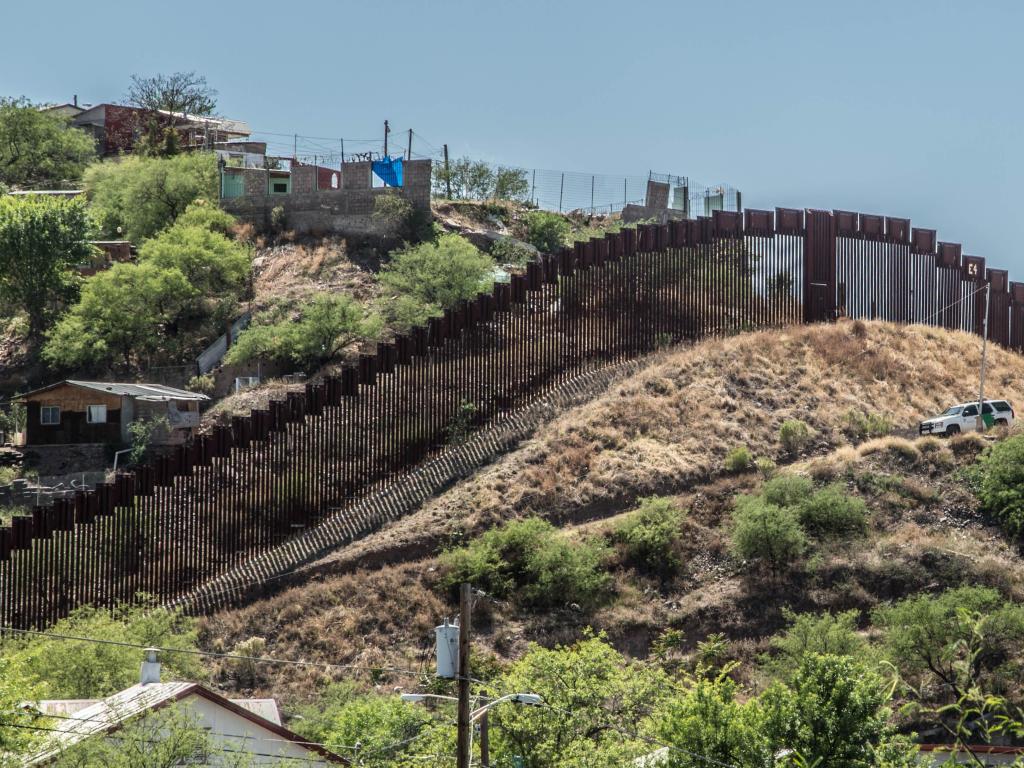 This 7-hour drive can be completed in a single day, but we'd recommend stopping at least twice for rest or meal breaks even if you're not visiting any of the places you'll pass through on the way.
There's no need to stop overnight unless you want to, but either Phoenix, halfway along the route, or Tucson, which is just under 2 hours from the border, would be great options if you do want to break the journey up.
You'll enter Arizona on US-89, passing the striking landscape of Wahweap Bay and the Glen Canyon Dam before carrying on south through Willow Springs and Cameron. From here you can take a detour to the Grand Canyon from here if time allows.
Outside Flagstaff, you'll drive a couple of miles along I-40 before exiting onto I-17 to continue south. You'll pass near Coconino National Forest on the next stretch of the drive - a real contrast to the desert landscapes you've seen so far - before carrying on through Flower Pot and Black Canyon City to reach Phoenix.
As you drive through the state capital Phoenix, change onto I-10 which takes you out of the city and on through Arizola to Tucson. Where the interstate divides here, switch onto the I-19 then just keep going until you reach the border of Arizona and Mexico.
With two major cities and a number of highway and interstate intersections to travel through, there's a chance of delays on this route during rush hour.
Driving through Arizona from New Mexico to California through Flagstaff
This route starts in Lupton, which sits along Arizona's eastern boundary with New Mexico, then takes the I-40 west through Flagstaff to reach California. The closest town to Arizona's western boundary with California is Needles.
This is a really simple route to navigate, as it follows one road the entirety of the way across the state. It takes you past Petrified Forest National Park and the northern end of Coconino National Forest, so there are some great opportunities to stop and explore if you want to break the journey.
The stretch between Flagstaff and Kingman includes some higher altitude sections and ice or even snow is a possibility on this route in the colder months so drive cautiously if you're travelling this route in winter. You'll be rewarded with some stunning scenery along the way.
Again, we'd suggest you make one or two quick rest stops on this route even if you don't want to stop and explore along the way. This will add 45 minutes to 1 hour to your journey, taking it up to just over 6 hours in total.
Crossing Arizona from New Mexico to California through Tucson
Our third route option also starts on Arizona's western state boundary with New Mexico. The nearest town to the starting point is Lordsburg. It finishes near Yuma on the border between Arizona and California, very close to the international border with Mexico.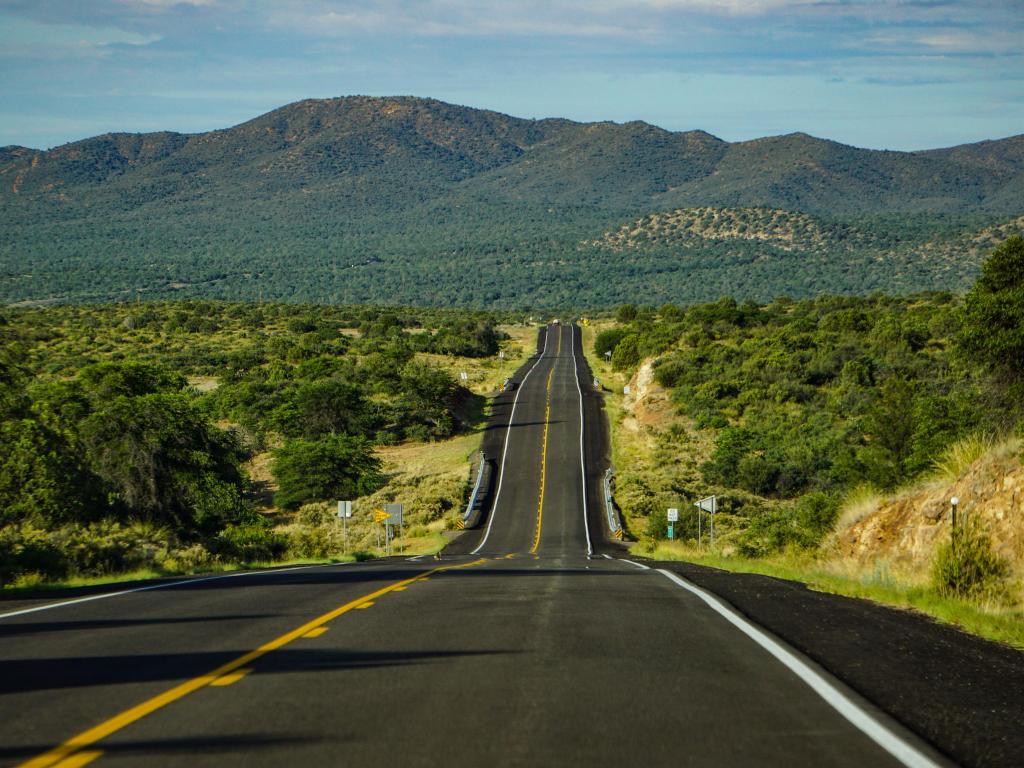 The route starts out on I-10, passing Bowie and Benson on the way to Tucson. From here you'll continue on the I-10 for a few more miles until you reach Arizola, where you should change onto I-8 and continue heading west.
I-8 will then take you all the way to California, running parallel to the Gila River across the wide-open landscapes of southern Arizona.
Unless you want to stop and spend time in some of the places you'll pass on your drive, you only need to make a couple of short rest stops, so you should allow around 6 hours in total to drive across Arizona on this route.
Seeing as you probably won't be starting your drive right on the borders of Arizona, we've put together a list of driving time for commonly taken trips which utilise these routes across the state.
Comparison of the routes that cross Arizona

| Starting from | Arriving to | Distance | Driving time |
| --- | --- | --- | --- |
| Needles, CA | Lupton, AZ | 360 miles | 5 hours |
| Yuma, AZ | Lordsburg, NM | 390 miles | 5 hours 40 minutes |
| Blythe, CA | Lordsburg, NM | 390 miles | 6 hours 10 minutes |
| Las Vegas, NV | Lupton, AZ | 410 miles | 6 hours |
| Big Water, UT | Nogales, AZ | 470 miles | 7 hours 10 minutes |
Things to know that can impact your driving time
Traffic is the most likely thing that will impact your driving time across Arizona. On the north-south route from Utah to Mexico you'll be passing through Flagstaff, Black Canyon City, Phoenix, and Tucson.
In fact, Interstate 10 from Phoenix to Tucson is considered one of the busiest, and also one of the most dangerous, roads in Arizona, so drive carefully on this stretch and allow extra time in case you do hit traffic there, as well as when passing through Coconino National Forest.
On the east to west routes there's also a chance of hitting traffic in either Flagstaff or Tucson, depending on which route you're taking.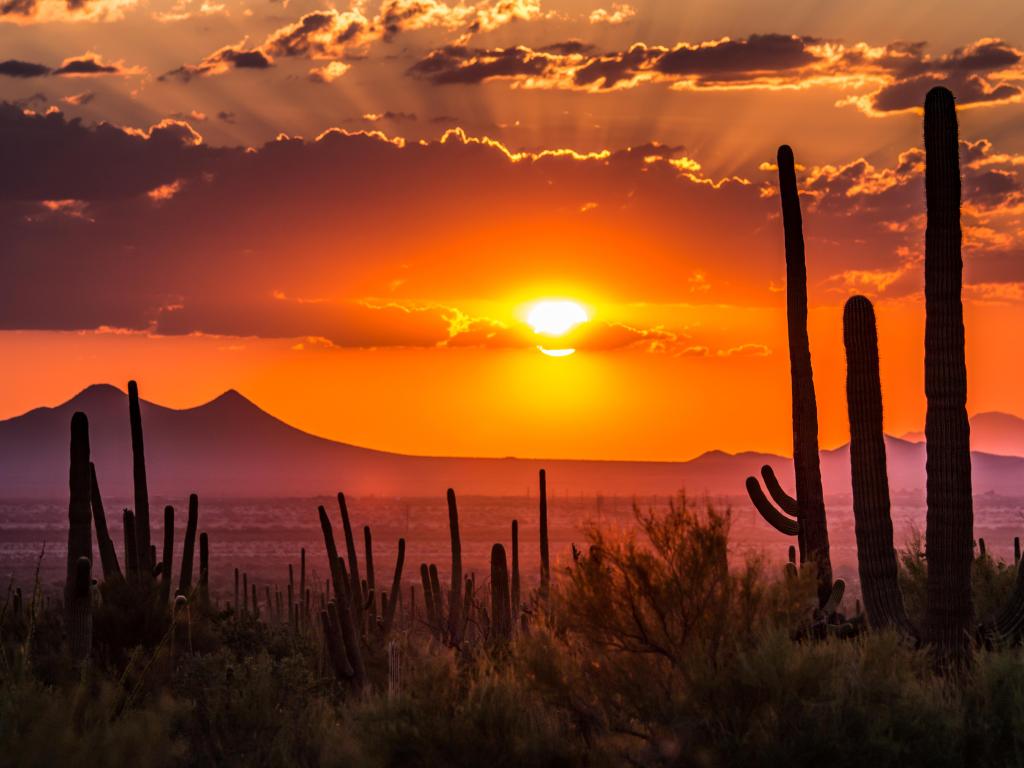 The number of stops you take depends on your needs as a driver, especially if you're travelling with children or if your car needs more frequent refuelling. Even so, we'd always recommend stopping around once every 2 hours (or 150 miles).
Speed limits will also affect your driving time. These routes follow interstates or major highways almost all the way, so you'll be able to drive up to 75 mph on the interstate, dropping down to 65 mph on highways. Where interstates pass through urban areas the speed limit is also reduced to 65 mph so watch out for signage to indicate any changes.
Our routes and time estimates take these speed limits into account, but any closures, roadworks, weather conditions or diversions may impact these. Be sure to check local advisories before you travel.
As we've already mentioned, despite its desert image, even sunny Arizona can experience low temperatures and ice during the winter. On the drive from Flagstaff and across the Kingman Pass you might need to slow down to reflect cold weather conditions.
Tips to drive across Arizona in the shortest possible time
With traffic being the most likely cause of delays, our top tip to drive across Arizona in the shortest possible time is to avoid rush hours. If you're more interested in speed than enjoying the landscape, you could even make this drive overnight.
To reduce the length of any stops you need to make, alternate drivers so that you can make a quick swap and get back on the road, and stock up on snacks in advance. You could also choose an economical car to avoid extra refuelling stops.
Finally, whilst it's always good to get where you're going quickly, don't forget to drive safely. Take your time driving through the winding roads of Arizona, especially if you're inexperienced in navigating these curves.