Road Trip From Phoenix To The Grand Canyon
If you're looking for a respite from the scorching heat of Arizona's capital, a road trip from Phoenix to Grand Canyon might be just what you're looking for. The route mapped out below happens to be incredibly scenic, so your journey will be every bit as gorgeous as the (admittedly epic) destination.
The road trip from Phoenix to Grand Canyon takes 4 hours and 30 minutes. Make time to cool off at Lake Pleasant and Slide Rock State Park, marvel at Montezuma Castle and the red rocks of Sedona on the way, and explore the scenic Flagstaff area.
This itinerary is truly unlike any other in the States, so continue reading to get an idea of just what you're in for.
How far is Grand Canyon from Phoenix and how long will the road trip take?
The road trip from Phoenix to Grand Canyon covers around 225 miles and can be done in 4 hours and 30 minutes if you drive through Sedona (and you have every reason to do so!). You can essentially take off whenever you want and still make it to the Canyon that same day.
With that said, this is one of the most unique and beautiful itineraries in this part of America and most definitely the best one in Arizona. Instead of trying to squeeze everything into a single day, stop along the way and do as much sightseeing as you can.
Another reason to split the trip up is that you're very likely to get caught in traffic at least once. Phoenix is a huge city and can really do a number on your travel time, and Sedona is the textbook definition of a tourist town, so you can expect moderate to heavy traffic throughout most of the year.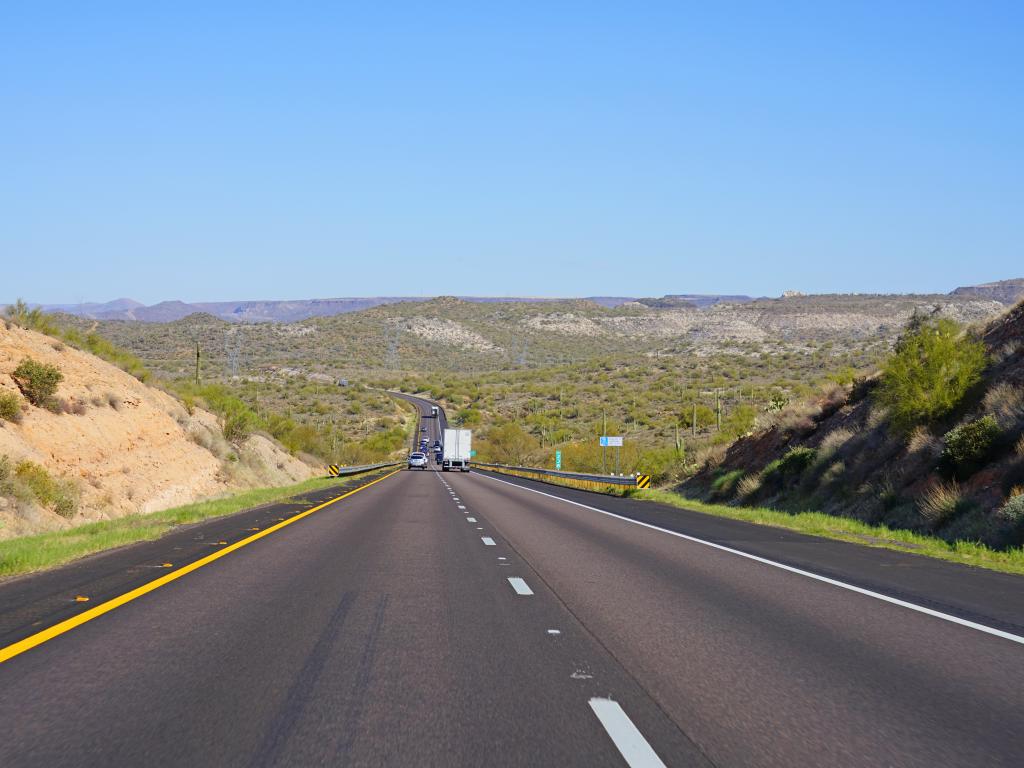 Best road trip route from Phoenix to Grand Canyon
The best road trip route from Phoenix to Grand Canyon passes through the Red Rock Scenic Byway – although you can arrive an hour quicker by avoiding this road and Sedona altogether, you'd definitely be missing out, as this is arguably the most scenic stretch of the entire trip.
Road trip route from Phoenix to Grand Canyon
Take Interstate 17 out of Phoenix, past Phoenix Sonoran Preserve and Lake Pleasant. Drive through Black Canyon City and cross the Verde River, and check out Montezuma Castle National Monument before resting at The Crack at Beaver Creek.
Past Montezuma Well, get on State Route 179 (or the Red Rock Scenic Byway) and follow it through the quaint Village of Oak Creek. Past Red Rock State Park and the Chapel of the Holy Cross, you'll enter Sedona – this is the perfect place for a stop if you haven't made one yet (and even if you have!)
Leave the city and follow another scenic road, State Route 89A, through Slide Rock State Park and past various hiking trails to the city of Flagstaff. From there, follow Interstate 40 as it runs parallel to the Historic Route, then make a right onto State Route 64 – stay on this road all the way to Kaibab National Forest and Grand Canyon National Park.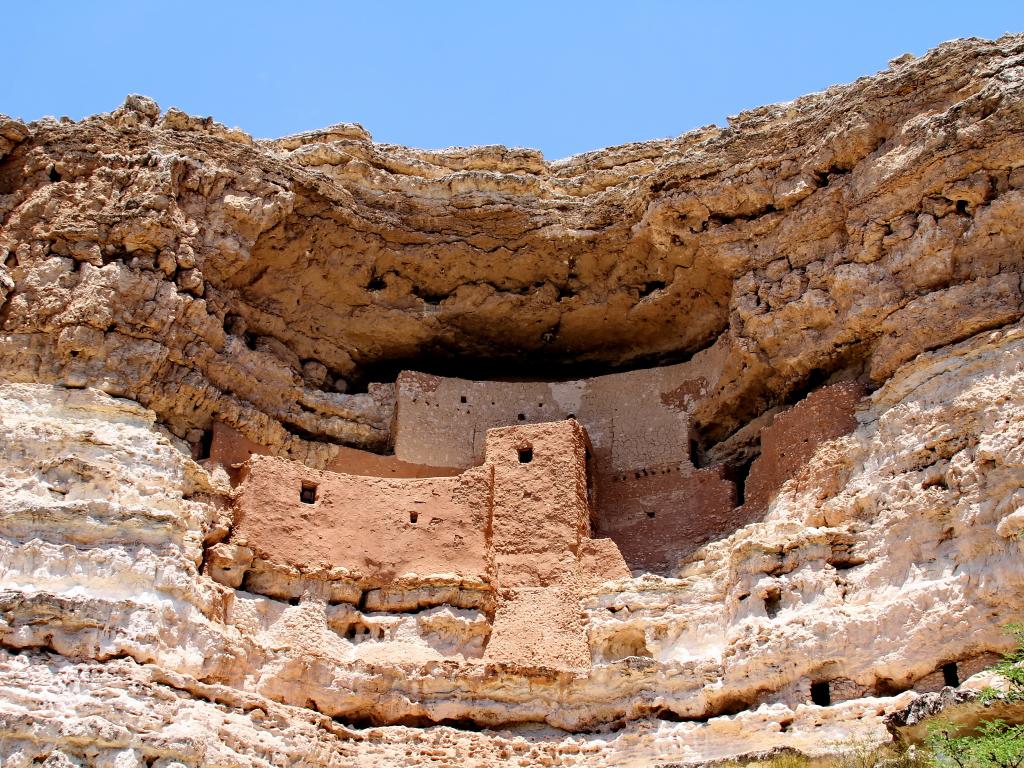 Best places to stop between Phoenix and Grand Canyon
Short or not, this scenic route will command your full attention, so you'll need to stop somewhere overnight and cover as much ground as you can. These are some of the best hotels along this amazing route:
Explore the unique and beautiful Sedona
Thanks to its signature red rock formations, Sedona is a staple of any good Arizona road trip. Being the tourist magnet that it is, the city features plenty of great hotels, but Adobe Grand Villas stand out among the crowd.
With their unique, adobe-inspired design and exquisite attention to detail, the rooms at this resort are nothing short of incredible – they're all fairly different from each other aesthetically, so every return trip will feel like a brand new experience for you. Besides just looking great, the rooms come equipped with fireplaces, as well as amazing window views of the desert and the colorful garden.
Hiking and canyoneering can take a lot out of you, so Adobe Grand Villas' swimming pool and spa areas will relax you and have you up and running for the next day's adventure. You can enjoy a 3-course meal at the on-site Adobe Grand Restaurant, and you'll be greeted with freshly baked bread before you've even unpacked your bags.
Topping everything off is the great location – many of Sedona's main attractions will be within walking distance or a short drive away. The price you pay for a room at the Adobe is well above those of most other Sedona hotels, but then again, so is the quality of the accommodation.
Relax at the Grand Canyon in style
When picking out a hotel at GC (or near any major national park), it's important not to make a hasty decision and pick a lousy hotel – you are on vacation, after all, and there's more to the experience than hiking and sightseeing. A great hotel in the area that ticks all the boxes is the Best Western Plus Inn of Williams.
From its stylish, comfortable rooms to the cozy lounge area, you will feel right at home during your visit. Nothing beats a relaxing dip in a heated outdoor pool or hot tub after a long day spent outdoors, and after a swim, you will go to sleep completely invigorated.
On top of that, throw in a glass of wine and a romantic dinner at the amazing on-site steakhouse for good measure. If you somehow still have the strength to move, blow off some steam in the fitness area before bed.
This hotel also very affordable, all things considered – considering that many mediocre resorts in the Grand Canyon area are usually on the expensive side because they're near the national park, the Best Western Plus Inn of Williams is an absolute bargain in every way imaginable.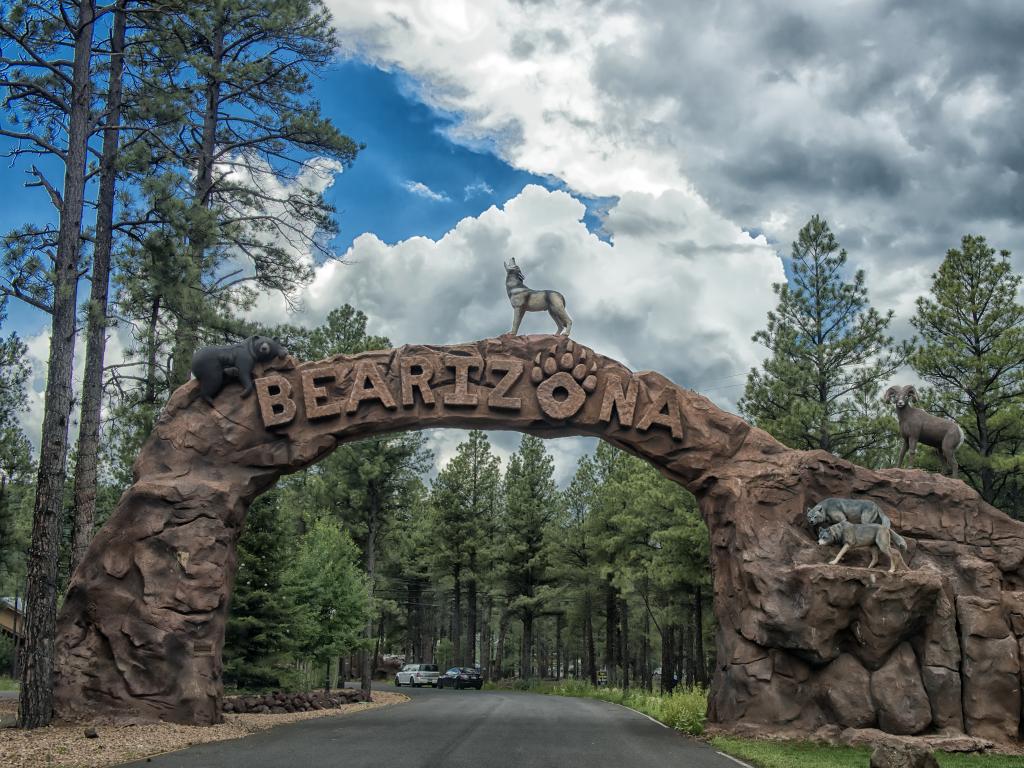 Things to see on a road trip from Phoenix to Grand Canyon
As opposed to rushing straight to GC, wait until you have at least a week of free time to explore as you drive along this route. These are just a few of the countless places worth checking out during your road trip from Phoenix to Grand Canyon:
Phoenix Sonoran Reserve – Featuring plenty of hiking trails and vast expanses of cacti and other desert plants, this reserve is living proof that the desert can be just as beautiful as any field or meadow.
Lake Pleasant Regional Park – As it's one of the larger bodies of water in the area, Lake Pleasant is one of the go-to spots for water-related sports and activities in Arizona.
Sunset Point – Offers a great view of Black Canyon City and, as the name suggests, a beautiful view of the sun setting behind the mountains.
Montezuma Castle National Monument - This early example of a 'housing complex' is a testament to the resourcefulness of the Sinagua people.
Red Rock State Park – Combining unique rock formations, luscious greenery, and the scenic Oak Creek Canyon, there's a reason why this is the state's most significant environmental education park.
Chapel of the Holy Cross – Thanks to its unique design and positioning between Sedona's buttes, this chapel is a sight to behold, irrespective of religious beliefs.
Sedona – Parks, wineries, red rocks, and the Tlaquepaque Arts & Shopping Village all help make this city the heart and soul of Arizona.
Coconino National Forest – With terrain featuring everything from deserts to mountains, this forest alone warrants days of exploration.
Slide Rock State Park – Features an all-natural water slide and the beautiful red rocks that make this itinerary so special.
Flagstaff – A major city sandwiched between various landmarks, each more scenic than the last.
Walnut Canyon National Monument – Another example of the ingenuity of the Sinagua, who took advantage of the canyon's unique form to create their pueblos.
Sunset Crater Volcano National Monument – This monument protects the beautiful Sunset Crater, which hasn't erupted in around a millennium.
Williams – A lively, artsy city that carries with it the spirit of the Historic Route 66.
Kaibab National Forest – The 'entrance' to Grand Canyon stands out thanks to its beautiful ponderosa pines among a sea of Aspen trees.
Vermillion Cliffs National Monument – Featuring a beautiful blend of buttes, sandstone formations, and gulches, this area demonstrates the desert at its very best.
Spreading the trip out over several days will leave you room for some bigger detours you might enjoy – taking a few extra hours to check out Prescott, Horseshoe Bend, and other deviations from the route would do wonders for this already-amazing trip.
Best time to go on a road trip from Phoenix to Grand Canyon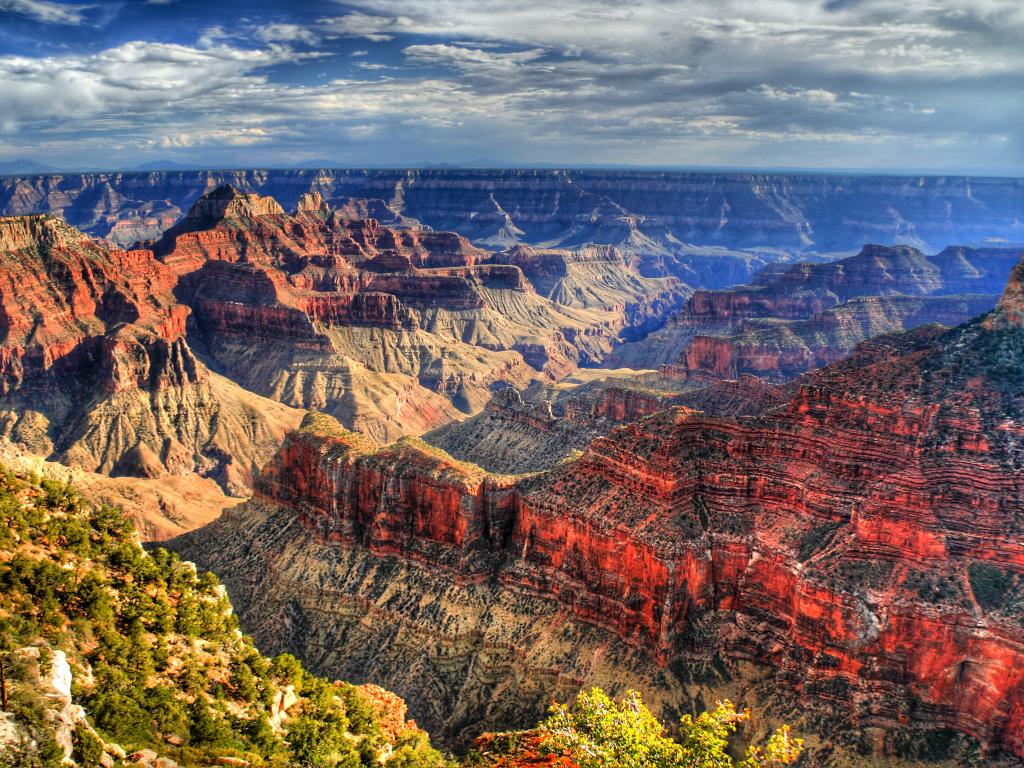 There's really no objectively 'best' season to go on a road trip from Phoenix to Grand Canyon, but visiting during different seasons can have different perks.
Although the park is definitely still beautiful in the winter, visiting around this time can be hard to recommend – on top of having limited lodging options, you'll mainly just have access to the South Rim, and while every effort is made to keep the roads as clean as possible, the low temperatures and high elevations can make it difficult to get around.
Naturally, the crowds at the Canyon will be largest in the summer, but this is also when temperatures are at their highest. The good news is that Phoenix is generally hotter than any other part of this itinerary (save for some of the lower-altitude spots at GC), so if you're accustomed to the heat in the capital, you should have no trouble driving north once you're out of the city.
If you want to avoid extremes, both in terms of crowds and temperatures, fall and spring are both great for a road trip from Phoenix to Grand Canyon. The only catch is that you'll want to avoid visiting in early-to-mid spring after a particularly snowy winter, because there's likely to be leftover snow at higher altitudes well into April.