Road Trip From San Diego To Phoenix
Driving from San Diego to Phoenix will take you on a unique drive across Southwest United States passing through forests, mountains, major cities, and seemingly endless deserts.
You could certainly fly from San Diego to Phoenix, but if you're looking for a journey where you'll see it all, this is the road trip for you.
The 355-mile drive will take you around 5 hours and 30 minutes. It's feasible to do it in one go, but taking the more scenic route and splitting it into 2 or 3 days will allow you to appreciate the parks, forests, and cities you're going by anyway.
If this sounds like a journey you want to take, here is everything you need to know, and some places and sights you don't want to miss.
How far is Phoenix from San Diego and how long will the road trip take?
All things considered, the drive from San Diego to Phoenix isn't a particularly long one, the shortest route being 355 miles. This route will take you around 5 hours and 30 minutes following the I-8.
Route
Distance
Driving Time
Fastest Route


(via I-8)

355 miles
5 hours 30 minutes
Scenic Route


(via I-10)

420 miles
6 hours 30 minutes
This is without accounting for any pit stops you might need to make, so you'll need to tack on an hour or two for those.
Also keep in mind that depending on when you leave San Diego, you might experience some traffic delays.
Heading out during rush hour will slow you down considerably, as will leaving on a Friday or Saturday and contending with other drivers leaving for the weekend.
If, however, you'd like to take the much more scenic 420-mile route, you'll only need to add an extra hour to your route.
You could still do this route in a day, but you'd be missing out on so many of the amazing sights you're going to be passing.
And anyway, what's the point of taking the scenic route if you don't stop to look at all the scenery?
Best road trip Route from San Diego to Phoenix
The fastest way to get from San Diego to Phoenix is by the I-8, which will take you right along the US/Mexico border. By taking this route, you'd still have the opportunity to stop at some state parks, like the Cuyamaca Rancho State Park.
The longer route, however, gives you many more opportunities for experiencing both city life and sightseeing. This one will take you north towards Los Angeles on the I-15, past several parks and forests before heading east through the desert towards Phoenix.
Road trip route from San Diego to Phoenix
If you need to get to Phoenix quickly, head out of San Diego via the I-8, following this highway the rest of the way through California and Arizona until you reach exit 115.
Take exit 115 onto AZ- 85 until you reach the I-10. Hang a right and follow the I-10 the rest of the way into Phoenix.
If you've decided you'd like to take the scenic route, leaving San Diego heading north on the I-15.
Continuing along this highway until you reach the I-215, following that road until you hit exit 29. Take a right to get onto CA-60, merging onto the I-10 once you reach it. From here, you'll follow the I-10 the rest of the way to Phoenix.
Best places to stop between San Diego and Phoenix
If you're looking to break up the long drive and relax on your road trip, here are a couple of great options for spending the night on you way.
Explore Temecula
If you're a wine connoisseur, you're going to love Temecula. This city is a popular destination for tourists and is also well-known for its nearby vineyards.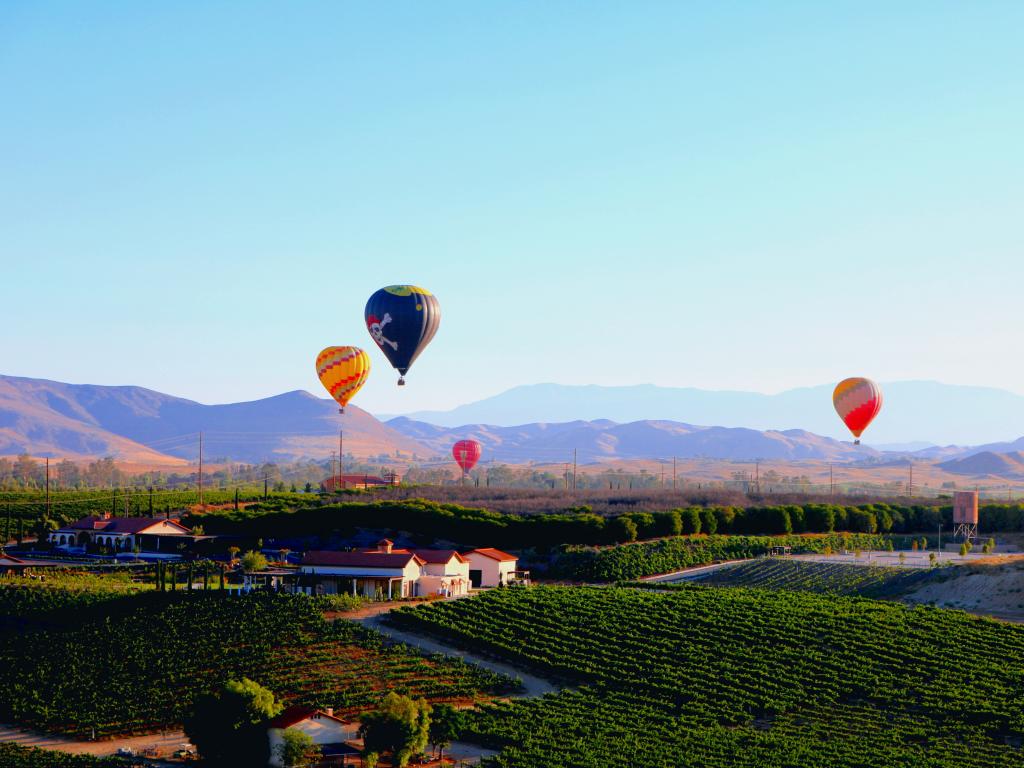 Book your room at the Ponte Vineyard Inn, where you'll enjoy the hotel's peaceful and picturesque environment.
The on-site restaurant features outdoor dining so you can enjoy the weather while you eat. The inn is surrounded by gorgeous vineyards and it's only a 10-minute drive away from the Temecula Creek Inn Golf Course.
While you're in Temecula, you should take some time to explore Old Town Temecula, and visit one of the city's spas for some pampering.
You can also sign up for one of the many wine tours, and visit several wineries in the area like the Wilson Creek Winery.
If you feel like going around in style, why not take one of these wine tours in a horse-drawn carriage offered by the Temecula Carriage Company?
Relax in Palm Springs
This popular resort destination in the Sonoran Desert is the perfect place to get a little R&R before making the rest of the trek towards Phoenix.
The stunning L'Horizon Resort & Spa is a perfect place to relax in Palm Springs - you'll spend the day pampering yourself at the spa and lounging by the pool before enjoying an intimate meal at the restaurant. The rooms here are really amazing - check them out!
While you're in Palm Springs, visit the Palm Springs Art and Air Museums to learn more about the city's history and culture.
If you decide to take this road trip in April, you'll also get the chance to check out the nearby Coachella Valley for the Coachella Valley Music and Arts Festival.
There are plenty of other tourist attractions in the city, and Palm Springs is very close to Mount San Jacinto, which you'll be able to visit via the Palm Springs Aerial Tramway.
Things to see on a road trip from San Diego to Phoenix
Although the road trip itself is relatively short, don't worry. There's no shortage of things you'll want to stop and see along the way—some of them maybe even twice!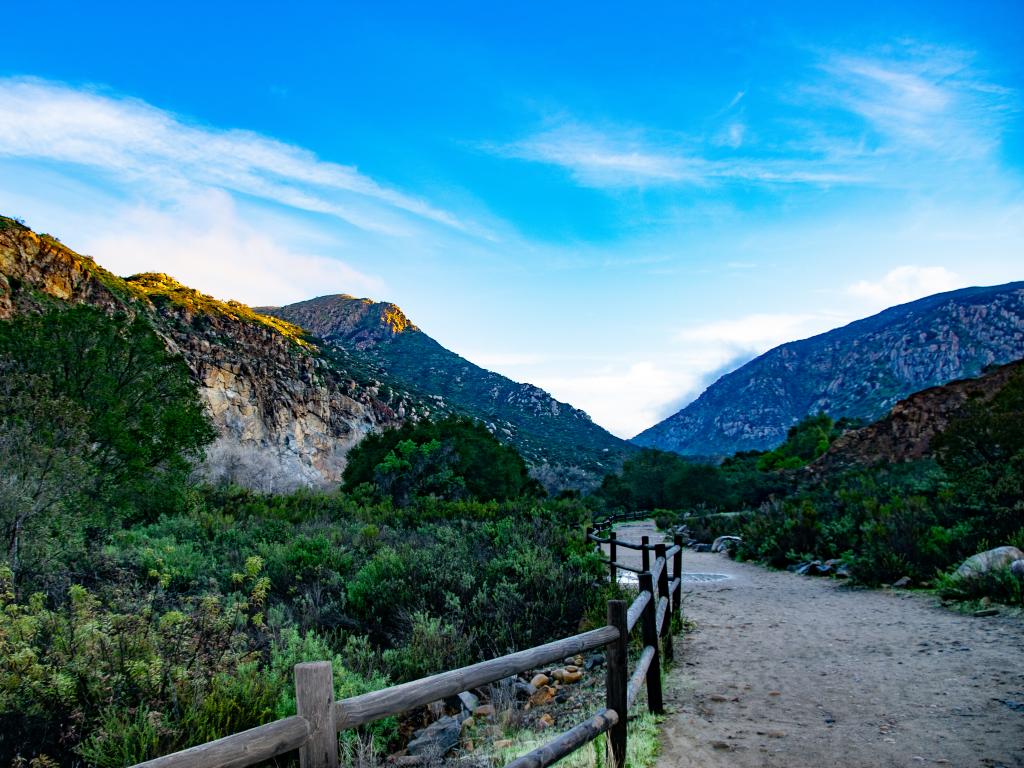 Mission Trails Regional Park - On your way out of San Diego, why not stop at Mission Trails Regional Park? Explore one or two of the hiking trails, and get in some fishing at the park's Lake Murray.
Escondido - A mere 15 miles away from the coast, Escondido is also close to the San Pasqual Valley, where you'll be able to visit the San Diego Zoo Safari Park. Make sure to take the drive out to the coast while you're checking out Escondido to see the beautiful California coastline.
Skydive Perris - If you're not afraid of heights, check out this favorite skydiving location. You'll be able to skydive solo, in tandem, in their indoor facility or outside. This is the perfect place to go for a truly once in a lifetime experience.
Los Angeles - Explore this city famous for its art and culture. Stop by a few of the many sights in this huge city, like the famous Hollywood sign, Venice Beach, or Universal Studios.
Moreno Valley - Just east of LA you'll find the much smaller Moreno Valley. But don't worry, there's still plenty to do here. Check out the March Field Air Museum which holds over 70 different aircraft. If you're a fan of racing, pay a visit to the Perris Auto Speedway.
San Gorgonio Mountain - This mountain, also called Old Greyback, has the tallest peak you'll find in Southern California.
Palm Springs: Manicured green lawns, palm trees, endless swimming pools, spas and golf clubs right in the middle of one of the world's hottest desert.
Mount San Jacinto Park - If you decide to stop in Palm Springs, you're going to want to check out this park. The Palm Springs Aerial Tramway can take to the mountain, but the park itself has plenty of other hiking trails you're not going to want to pass up on.
Joshua Tree National Park - This park and its strange, otherworldly Joshua trees along with its rugged landscape are sure to take your breath away. This is the perfect place to do some camping since nighttime provides amazing stargazing opportunities.
Kofa National Wildlife Refuge - This refuge was first established in 1939 to help protect the desert bighorn sheep native to the area. The refuge itself now encompasses over 665,400 acres of land and provides many hiking trails for visitors.
White Tank Mountain Regional Park - You'll find this desert park just outside of Phoenix. This 30,000-acre park is the largest in Maricopa County.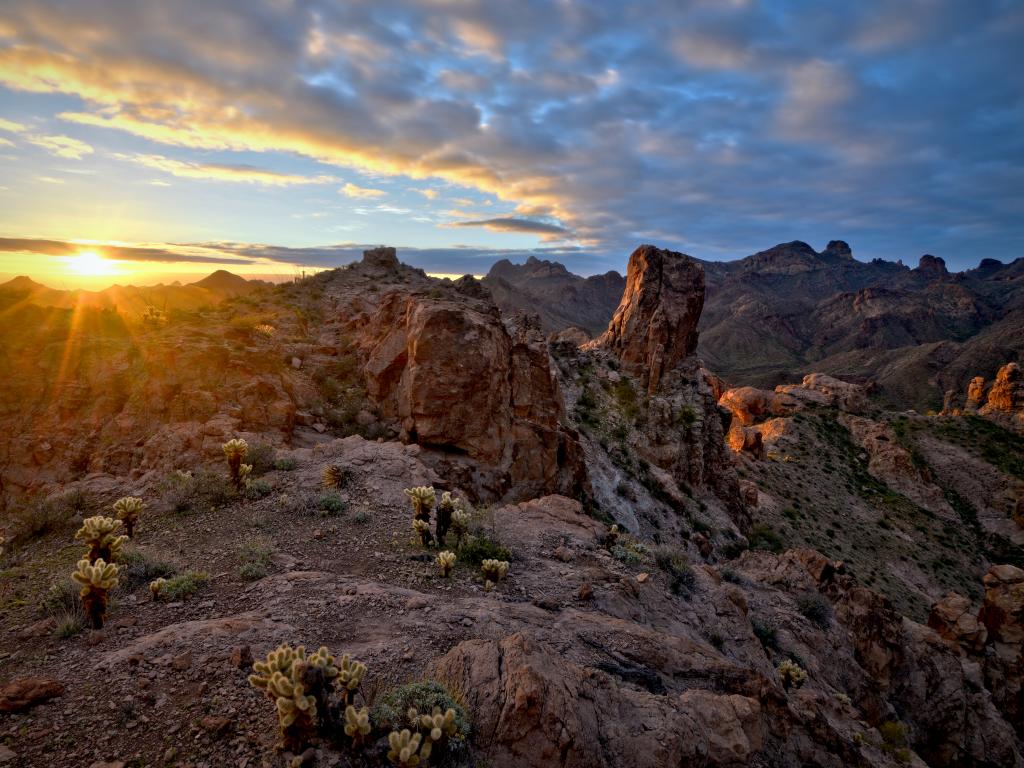 Best time to go on a road trip from San Diego to Phoenix
Since a good chunk of your drive will be through the desert, you should know that southern California and Arizona summers tend to be very hot and dry.
Temperatures in Phoenix can very quickly reach well above 100 °F during the summer months. You can certainly take this trip in the summer (I've done the reverse of this drive in August once), but you'll want to make sure you're staying hydrated and bring plenty of water with you.
Another thing to consider about Phoenix in the summer is that many of the city's attractions will keep you outdoors - exploring the Sonoran desert, visiting the city's botanical gardens, and visiting Papago Park will keep you outside in the heat so be mindful of that.
If you're looking for some milder weather, heading out to Phoenix between November and April will be your best bet. The desert flowers bloom in spring and the weather is mild making it a lot nicer to hike and explore the outdoors. Plus, if you go in April you might get the chance to check out the Coachella Music and Arts Festival before you reach Phoenix.
Keep in mind, though, that the weather during the spring can be somewhat unpredictable. Even though you're driving through the desert, you can get caught in a rainstorm and the temperatures can fluctuate a lot.
Winters in Phoenix will bring you temperatures around the mid 60s, far more comfortable than summer temperatures. Be aware, however, that winter is peak tourist season in Phoenix. While the rest of the United States experiences rainfall, snow and chilly weather, snowbirds will be heading down to Phoenix to enjoy the warmth.
Just to remind you again, no matter what time of year you decide to go, make sure that you bring a lot of water and that your car's air conditioning is working well. San Diego may have perfect temperate weather all year round but the Sonoran desert can get mighty hot.